Charcoal gray is a deep, moody color that creates a serene and relaxing atmosphere in any room. Depending on the undertones, this color can either be cool or warm, and it reads as a neutral hue when paired with various types of décor. As a result, it's an incredibly versatile color. Besides, like all grays, charcoal gray is perfect for modern design styles, such as minimalist, mid-century, and industrial. That said, here are colors that go with charcoal gray.
10 Colors that Go with Charcoal Gray
1. Pair charcoal gray with other grays
If you prefer a monochromatic color scheme, pair charcoal gray with other grays. Though it feels quite dull, laying gray on gray can create an environment just as intriguing as pairing gray with other hues. But, again, contrast and texture are essential.
Image Source: homedit.com
However, you don't want your gray hues to be too similar in color. Ensure they are different tones to create interest. Therefore, choose grays from all across the color spectrum. If you want your space to be mostly light grey, include some middle-ground greys and dark tones.
Pairing different gray tones can work perfectly, whether looking for a dramatic note or a lighter scheme. Besides, pale colors usually create a more relaxed look, while darker, richer colors have an impact and can improve the cocooning feel of a small space.
The gray walls will go with furniture in different gray shades to achieve a chic, tonal look like the one on this cocoon-like bedroom. This neutral color scheme works because there is enough contrast to add interest and texture variation to the room.
2. Pair charcoal gray with white
White is among the best bright colors that go with charcoal gray. These two colors complement each well for a sleek or minimalist design. Since charcoal gray is a dark hue, you can combine it with white to add drama to your solid color. Choose one of the colors as the base and the other as an accent. However, avoid a 50/50 split since it will feel awkward. Rather, use the 60-30-10 guideline to achieve a timelessly elegant look.
Image Source: decorpad.com
For light accents, pair charcoal gray with a warm white or contrast white with deep, moody charcoal. A warm white, such as the one used on the walls in this classic bathroom, is the ideal complement to the lower set, which is the charcoal gray cabinets. The contrasting scheme is brought together by warm brass hardware.
3. Pair charcoal gray with blue
The charcoal gray color complements lighter colors well, providing a more subtle contrast than white. Besides, a charcoal gray and blue color combination is always a perfect fit. They make an excellent pair and look great together.
Image Source: clecabinets.com
When designing your kitchen, charcoal gray can give your kitchen a clean look while preserving depth. In doing so, it will offer a relaxing environment. For instance, the charcoal gray is paired with dark blue to play off the icy overtones of the cabinets, while a dark shade of gray on the backsplash offers contrast and texture.
4. Pair charcoal gray with canary yellow
Using contrasting colors is a good idea when designing your house—for instance, the color yellow with charcoal gray walls. Yellow is a bright, eye-catching color that adds a splash of brightness to any surface it's put on. Though charcoal gray and yellow appear different, they usually look stunning when put together.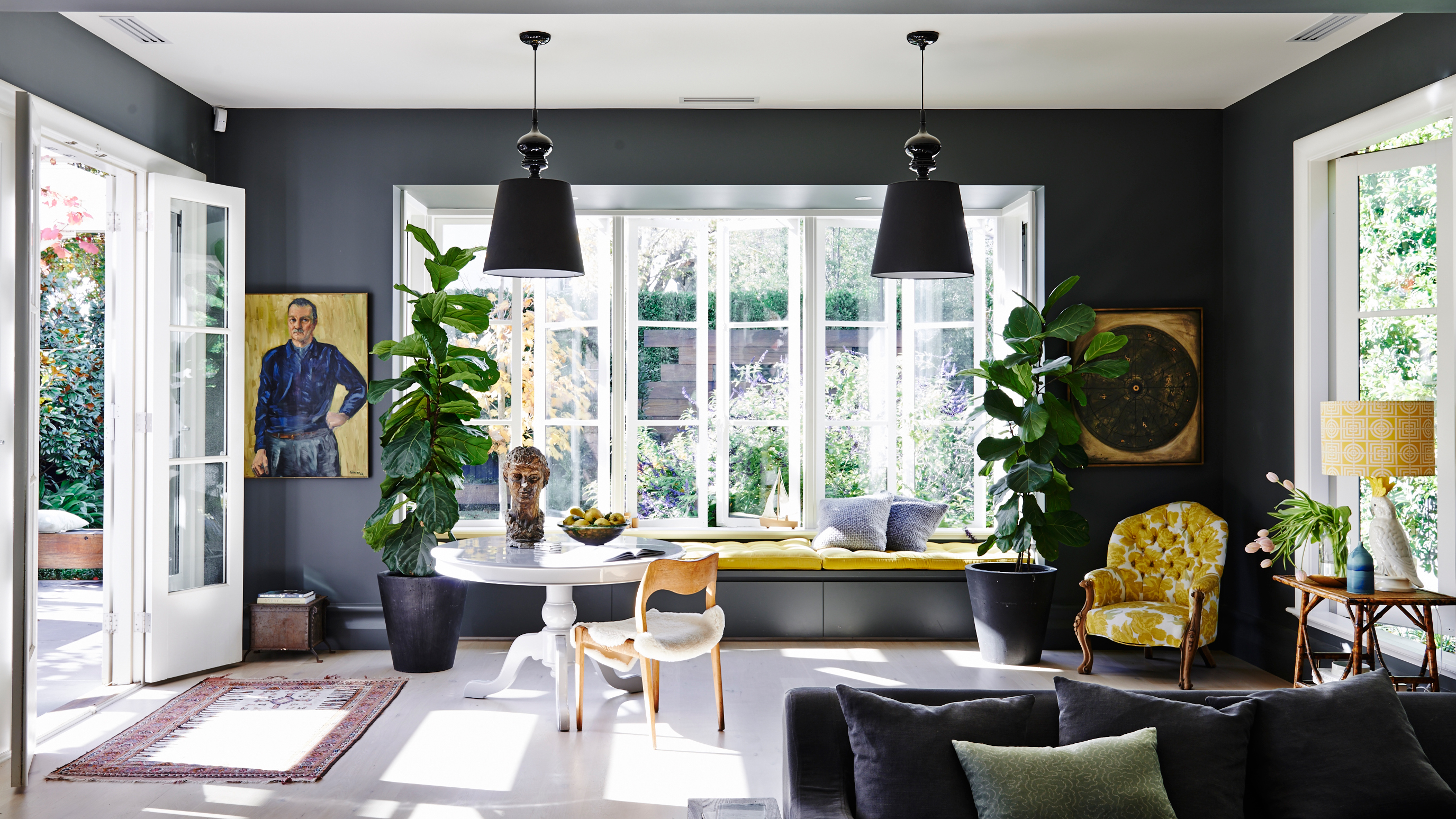 Image Source: livingetc.com
For instance, a charcoal gray living room with canary yellow accents creates a minimalist yet trendy environment in the house. The pair offers the ideal blend of striking and liveable since the yellow is bright yet soft and subdued, and the grey gives the room a more classic, timeless appearance.
5. Pair charcoal gray with navy blue
Pairing charcoal gray with navy blue creates a satisfyingly moody and dramatic look ideal for a living room, bedroom, or study. Moreover, since it goes with so many colors, charcoal gray adds visual weight to a room and makes it easy to coordinate furniture and decor. Besides, like charcoal gray, navy blue generates a sense of authority, reliability, and confidence, and the two hues complement each other effectively.
Image Source: pinterest.co.uk
For instance, dark gray walls give the room a dramatic tonal impression in this blue living room. On the other hand, the window allows plenty of light, keeping the room from seeming too gloomy. Besides, another color has been added to this navy blue living room, which perfectly tones down all of the colder tones going on. Accent furniture such as coffee tables is ideal for adding a splash of color.
6. Pair charcoal gray with red
Different combinations of gray and red create varied impressions; however, it depends on the shade used. And due to their powerful hues, charcoal grey and red may seem overwhelming. However, if you use the right colors, the red may complement the grey and make it work. A primary red usually creates a lively and vibrant mood. On the other hand, a deep red makes a powerful and striking statement.
Image Source: decorsbuzz.com
Pairing cool charcoal gray and red is a simple but effective way to make a place more bright and eye-catching, and it only requires a small quantity of accent color. By pairing these two colors, you can bring life and energy into a neutral space. For example, this living room has an eclectic mix of furniture and decor, and the red walls serve as a stunning focal point.
7. Pair charcoal gray with blush pink
If you love blush pink decor but don't want it to feel too plain, you can incorporate dark charcoal gray paint to create a classy and serene appeal in your room. Blush pink is light and stunning, while charcoal gray is bold and dark. This means that despite their color variances, they are well-balanced. So, if you enjoy stylish and pastel colors, this is the ideal color combination.
Image Source: nospacelikehome.uk
Furthermore, charcoal gray and blush pink create a calm and contemporary house décor. The barely there color is innately feminine and subdued, making it the perfect color for a calm space. On the other hand, the blush pink rises and challenges the bold charcoal shade's masculinity.
To enhance the space's calming impact, include touches of blush pink through soft velvety textures and dot it within the room, such as in artwork, painted side tables, etc. In addition, the charcoal gray accent wall will soften the transition between the contrasting tones.
8. Pair charcoal gray with rust orange
As mentioned earlier, charcoal gray creates a calming, relaxing effect while preserving elegance and a modern look, making it popular for bedroom decor. Pairing charcoal gray with warm tones, like the rust orange, adds an earthy, soulful element. Besides, orange is perceived to be uplifting, high-energy, and exciting. Therefore, the light gray tones balance out the zingy warmth of rust orange and give a calming backdrop that allows the vibrant color to stand out.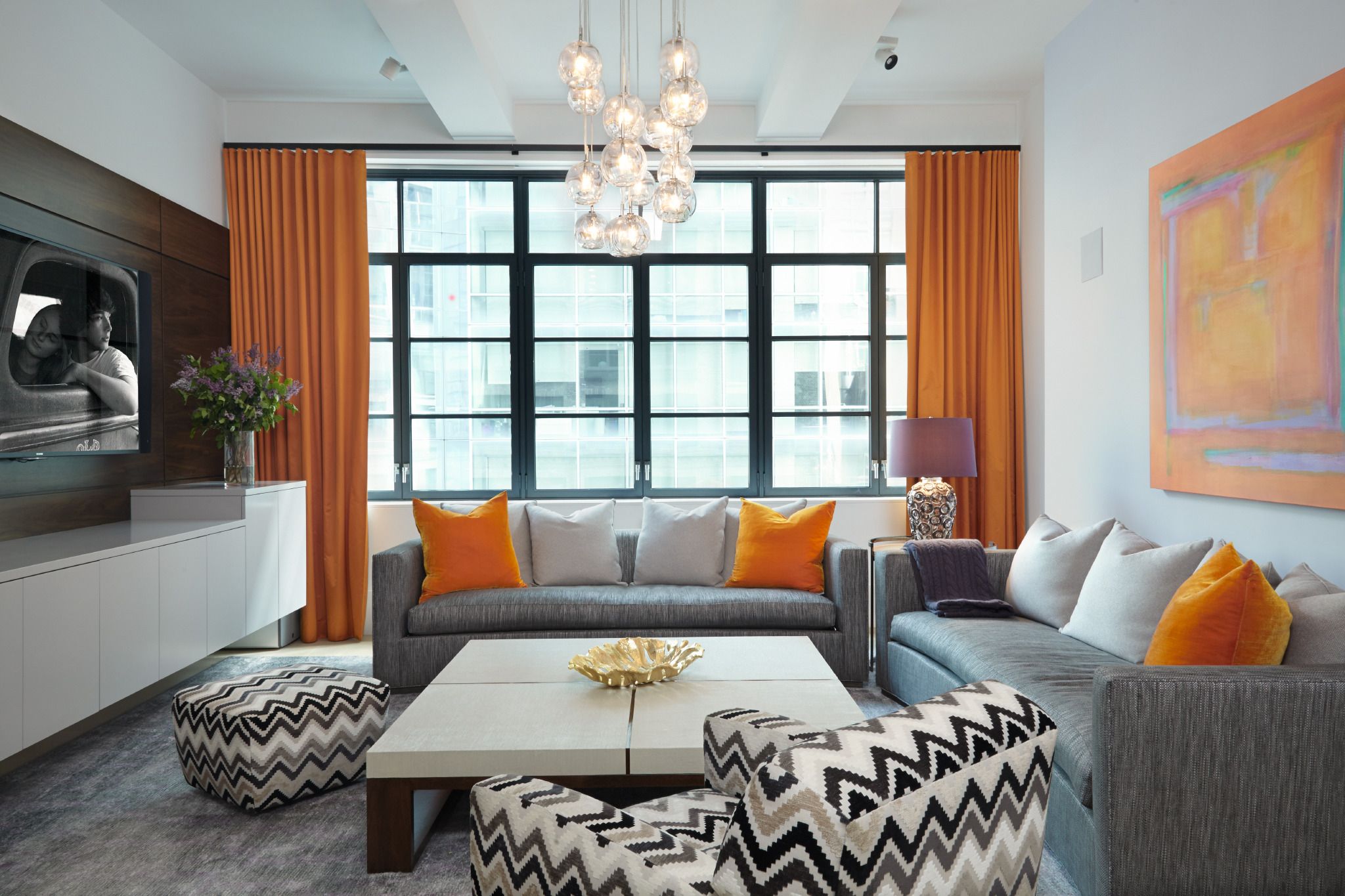 Image Source: elledecor.com
Decorating your space with rust orange accent colors will give it more sense of style. However, too much orange shade can be overwhelming, so use the 60-30-10 guideline to achieve the ideal balance. An earthy burnt orange is an ideal soothing color palette for a bedroom or living area and is great for a rustic design.
9. Pair charcoal gray with sage green
Sage green is among the colors that go with charcoal gray. Pairing these two colors creates a soothing and relaxing environment. Besides, the subtle green color complements the cool undertones and calming nature of charcoal gray and virtually becomes neutral.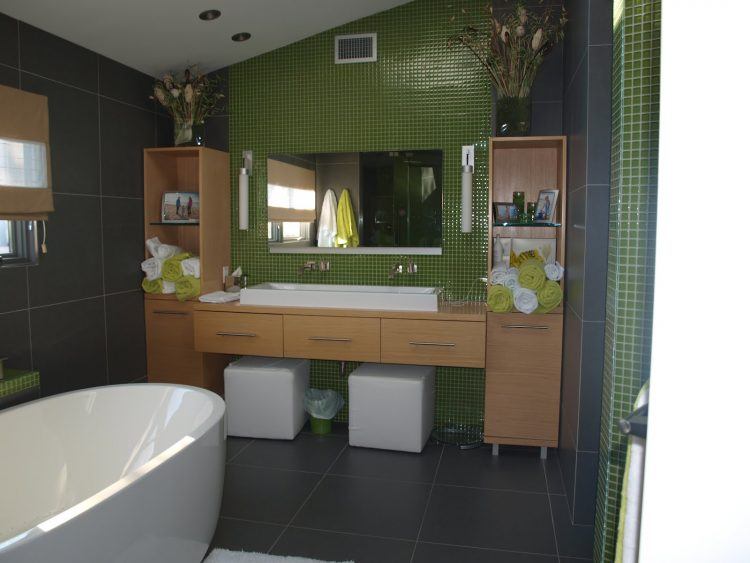 Image Source: housely.com
With this classy and fresh hue combination, you can use a palette of soft pastels for a grey wall scheme. However, you don't have to be limited to a few colors; the sheer quality of subdued shades allows you to be a bit more experimental. For example, you can choose soft furnishings in grey tones with blush pinks and sage greens.
For example, this classic bathroom combines the two colors with wainscoting and floor tile to create an airy and comfortable space.
10. Pair charcoal gray with lavender
Lavender is a versatile hue that works well in home interior design. When lavender is paired with charcoal gray, it takes on a classy tone. The purple in a subtle, near-gray tone is a delicate accent addition to the solemn dark gray, offering a fresh, floral-inspired touch. However, though lavender can be relaxing, too much of it can have the opposite effect and make you look outdated.
Image Source: trendir.com
Instead of painting lavender on all the walls in a room, use it as an accent wall, patterned wallpaper, or wainscoting, or incorporate it into a gray design with soft textures like a soft cushion, sofa, or crisp linen bed sheets. A good example is the one in the image above.
Tips on How to Use Charcoal Gray in Your Home Decor
Try an accent wall if you are not ready to paint the room charcoal gray.
As a stylish alternative to black, choose charcoal gray. The dark shade has the same depth and overwhelming sense of presence as the black shade and has a softer feel that's easier to live with.
Use charcoal gray bed linen to create a bright, neutral bedroom. Besides, this is a great way to include a bold color into a scheme without making it overwhelming.
For starters, invest in charcoal gray couches as they are a popular option for contemporary homes. Apart from hiding dirt and spills, it is also a versatile hue that goes with almost any scheme.
With charcoal gray paint, you can add purpose and personality to a kitchen, living room, playroom, or home office.
Paint your kitchen cabinets with a charcoal gray color. The dark background will make everything else stand out.
Frequently Asked Questions on Colors that Go with Charcoal Gray
1. What colors don't complement gray?
Almost any color looks good with charcoal gray since it is a color that is as neutral as black or white. Therefore, you can pair it with any hue. Nonetheless, avoid creating chaos by combining all different colors with the same amount of charcoal gray. The key to achieving a classy appearance is to tweak and combine well. First, choose a base color, then accent colors that complement the charcoal gray.
2. Is charcoal gray a cool color or a warm color?
Cool grays have undertones of blue, green, or purple, while warm grays contain undertones of yellow, brown, or red. Conversely, charcoal gray can appear cool or warm depending on the base color, and when paired with various styles, it's considered a neutral tone.
3. Is charcoal gray a good color for home interiors?
Recently, charcoal gray has become increasingly popular in home interior design. Though it's dark and overwhelming, if you use it correctly with other colors, you will achieve a modern, stylish, and unique look. However, consider other trendy colors for your home interiors if this shade does not appeal to you.
4. What colors create a relaxing atmosphere in a room?
The neutral color spectrum, such as tan or beige, is the most calming. So go for neutral walls for your bedroom design. Besides, since neutrals can become too muted, incorporate a complementary accent color such as gray, sea green, or soft mint.
5. What color complements a dark gray sofa?
We recommend pairing a warm, taupe-like gray with blush pink, mustard yellow, coral, or gold. For a cooler shade of charcoal gray that leans bluer, go for colors such as hunter green, navy blue, teal, or mint.
Featured Image Source: uooz.com