If color trends are anything to go by, now is the time to move from neutral colors and use warmer or bold colors to decorate your house. And, if you are a fan of Benjamin Moore Paints, you will know they named sage green as their 2022 Color of the Year. So, to keep up with this color trend, we will tell you how you can incorporate this green into your interior design with the colors that go with sage green.
But first;
Why Should You Use Sage Green?
We use colors to communicate feelings and characteristics, and the sage green color is a hot favorite to use right now. The color takes after the sage herb, so it has a pale green appearance. As a color in the green family, sage green can communicate growth, fresh starts, intelligence, nature, tranquility, harmony, security, and calmness.
According to Canva, sage green can help you communicate wisdom. Using sage green to decorate your interiors will help you mostly communicate positive connotations, but only if you can match it to the best complementary colors. While each color has its positive side, you can also look at the negative feelings or characteristics your favorite color can communicate.
As mentioned above, sage green has a pale appearance which means it can also communicate a lack of passion, immaturity, inexperience, or stagnation. So, you need to know how to use this color inside your house so you can only communicate the positive characteristics.
Lucky for you, we have done a lot of research, so we can tell you where to use sage green and which colors you can match it with to create a wonderful living space. They include:
1. Sage Green with Black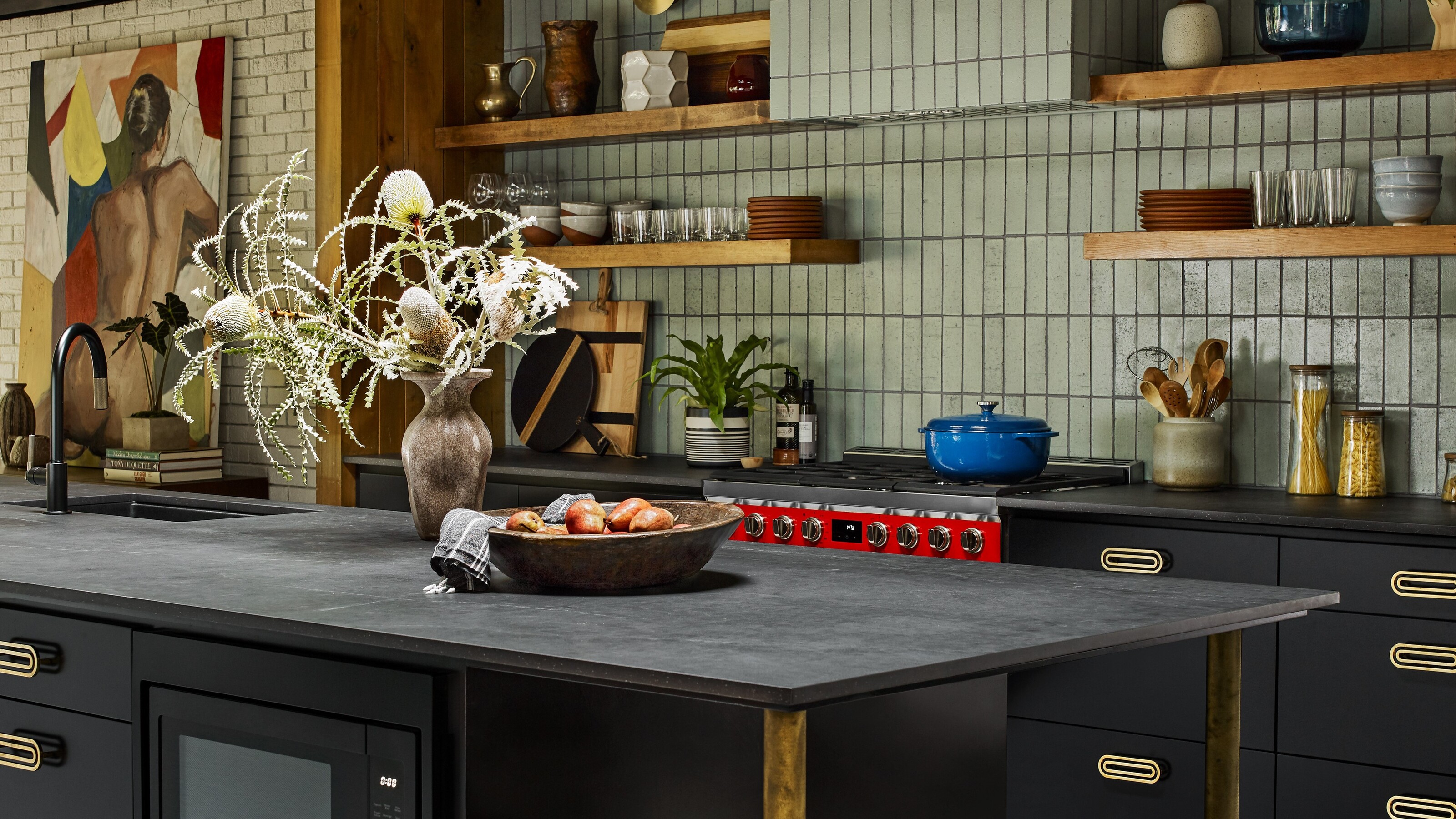 Image source: livingetc.com
If your interior design needs to look sophisticated, bold, timeless, and daring, you will want to pair sage green with black. This timeless color combination is ideal for many rooms, including the bedroom, bathroom, and kitchen. Black is one of the boldest colors you can use on interior surfaces, and it is also easy to pair with other plain colors like sage green.
As you choose the best colors that go with sage green, you need to understand what message the colors communicate. Since sage green is a calming color, its pairing with black will introduce a new feel and style. Black is the color of elegance and mystery. Therefore, you cannot limit your creative ideas when you master the best shades to use with both colors.
The image above shows the two colors paired to create a sophisticated yet elegant modern kitchen. The pale sage green kitchen tiles are pitted against wooden surfaces to provide the best contrast to the matte black kitchen cabinets and counter. The red oven introduces a daring color dynamic, while the potted plant and flower vase add a touch of nature. When you decide to pair these two colors, we recommend introducing hints of natural elements such as wood and plants to create a timeless style.
2. Sage Green with Brass
Image source: thespruce.com
This earthy shade of green is a calming color you can substitute for the less exciting neutral colors like cream and off-white. But, if used incorrectly, the color can communicate unwanted feelings like dullness, lethargy, and bad mood. For this reason, we recommend pairing sage green with an outspoken color like brass.
Brass is a powerful color you can use to tone down the effects of too much sage green, especially when you use the latter as the theme color in a room. In addition, the subtle gold and yellow look of brass makes the color a great accent or component to pair with dominating sage green.
Our idea above uses brass handles and bulb shade to add more life and excitement to sage green kitchen cabinets. If left without the brass color, these cabinets would be too dominating and even appear dull to some people. But, using brass helps add more color and sophistication to make your kitchen unique. In addition to the exciting pop of color, the white tiles on the walls will reflect light off the brass shade to keep your kitchen more lively.
3. Sage Green with Lavender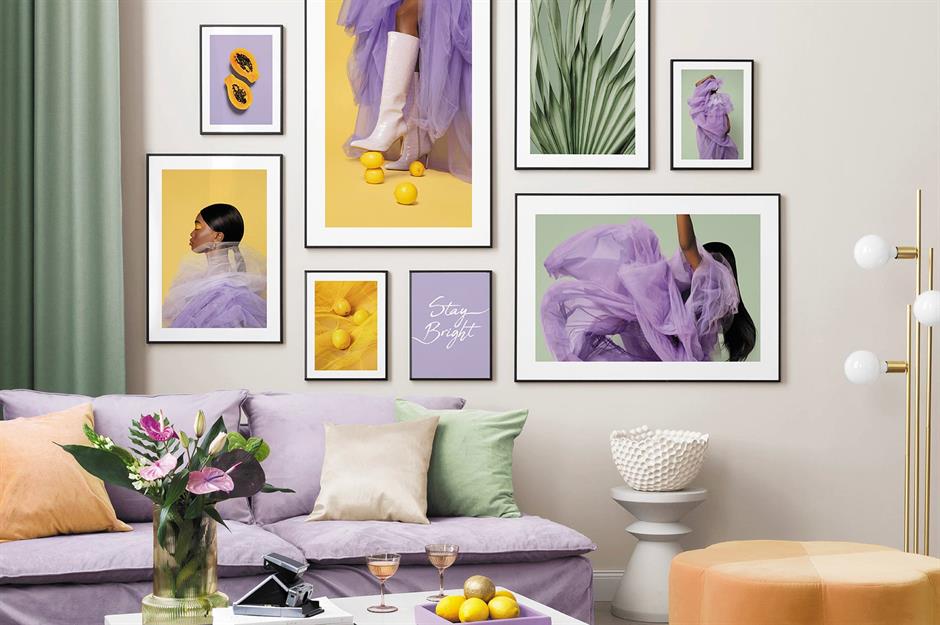 Image source: Pinterest
Both colors are named after similar-looking herbs and are ideal for the most creative interior home decor. Sage green is a calming color, just like the lavender color that appears slightly paler than the more dominating purple color. Like sage green, lavender is a color of calmness, silence, and serenity, making it one of the best for pairing with sage green in spaces you will spend a lot of time in.
For its close relationship with purple, lavender also showcases refinement, royalty, and luxury. Its faded appearance makes it easy to use as a theme color. When pairing it with sage green, you can use lavender as an accent color to complement sage green. This is because lavender is brighter and definitely more attention-grabbing.
Our image above shows a sitting room decorated with both colors in equal measure. The lavender couch is married perfectly to the sage green curtains, while the wall art also introduces more of the lavender and sage green colors. Notice how the yellow creates a contrasting effect on the walls, while the flowers and fruits reintroduce the nature origin of both colors.
4. Sage with Navy Blue
Image source: home-designing.com
While sage green carries calmer characteristics like calmness, harmony, and passion, navy blue bears contrasting feelings like self-importance, authority, and power. When you combine these colors, you create a powerful space that exudes wisdom and courage.
However, to avoid the overbearing nature of this blue, we'd advise using it to accentuate a dominating sage green theme. So, you can add navy blue effects on sage green walls. In our example above, these colors combine to create a bedroom full of character and style.
The sage green wall is perfectly complemented by a navy blue and white headboard, while the navy blue throw blanket also takes more attention from the wall. The cream on wardrobes plus the orange on handles and side tables are excellent colors that showcase a creative and daring look.
5. Sage Green with Brown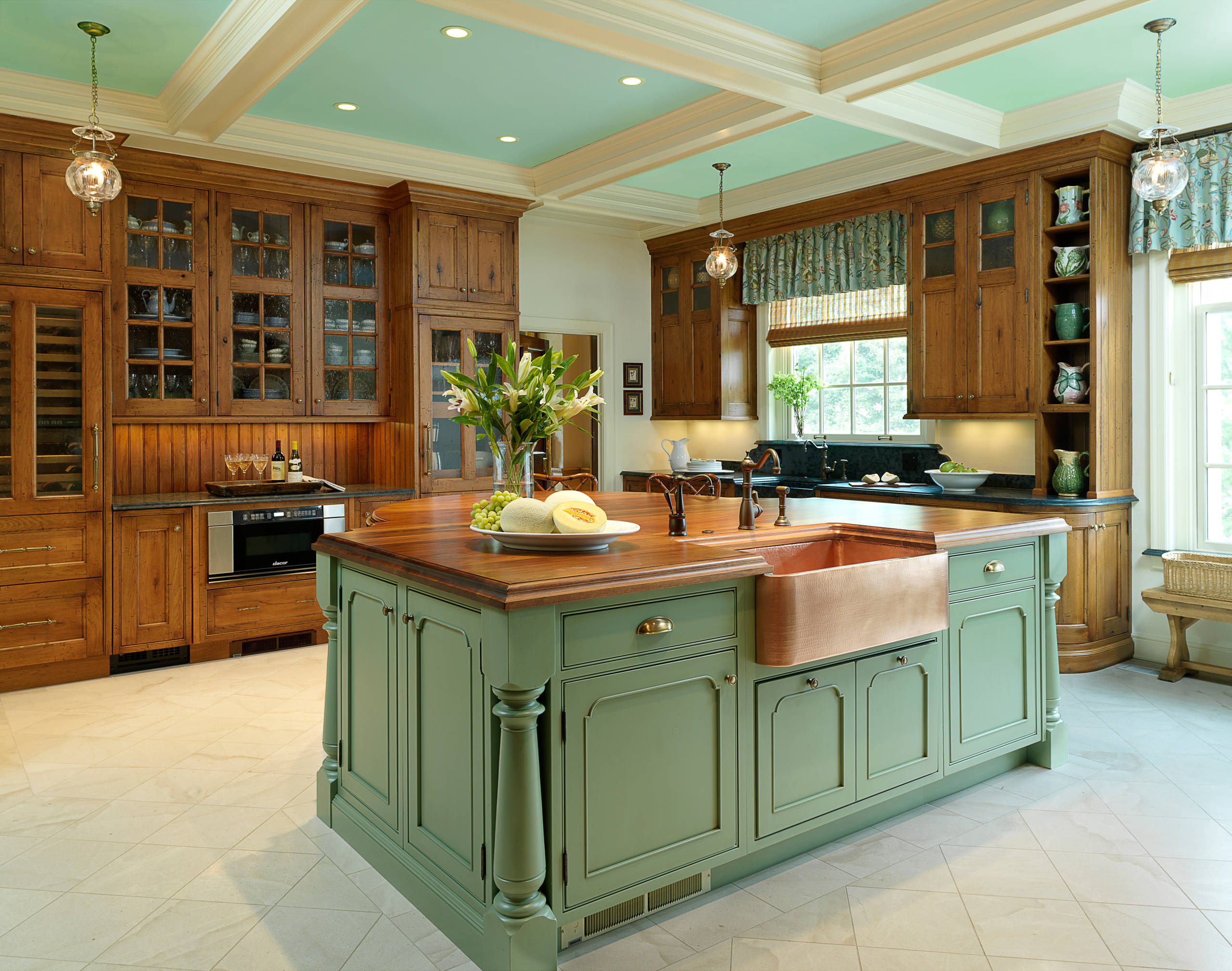 Image source: houzz.com
Do you have sage green paint on kitchen cabinets or walls? It is an earthy color that creates a warm space to relax or work with. However, you can create an even safer, welcoming, and traditional look if you pair sage green with a bold color like brown. Brown is one of the most earthy colors and has very good visual and mental effects.
A room with lots of brown induces a feeling of safety and resilience. Then, when added to the warm and sophisticated look of sage green, there is no limit to how creative your design can be. This is a great color combination for the kitchen because both colors do not welcome much natural light. However, you use more overhead and under-cabinet lights in the kitchen so the colors will not dull the room.
Our idea above is tailored to a traditional country kitchen. However, if you want to pair these two colors perfectly, we advise decorating a large kitchen with many cabinets. In addition, you will have to guarantee ample natural and electrical light to pull off the look.
Our kitchen above has many brown wooden features creatively complemented by the sage green island. The lighter sage green ceiling does well to project more light, while the backdrops of white and the flowers make a clean and welcoming kitchen.
6. Sage Green with Pink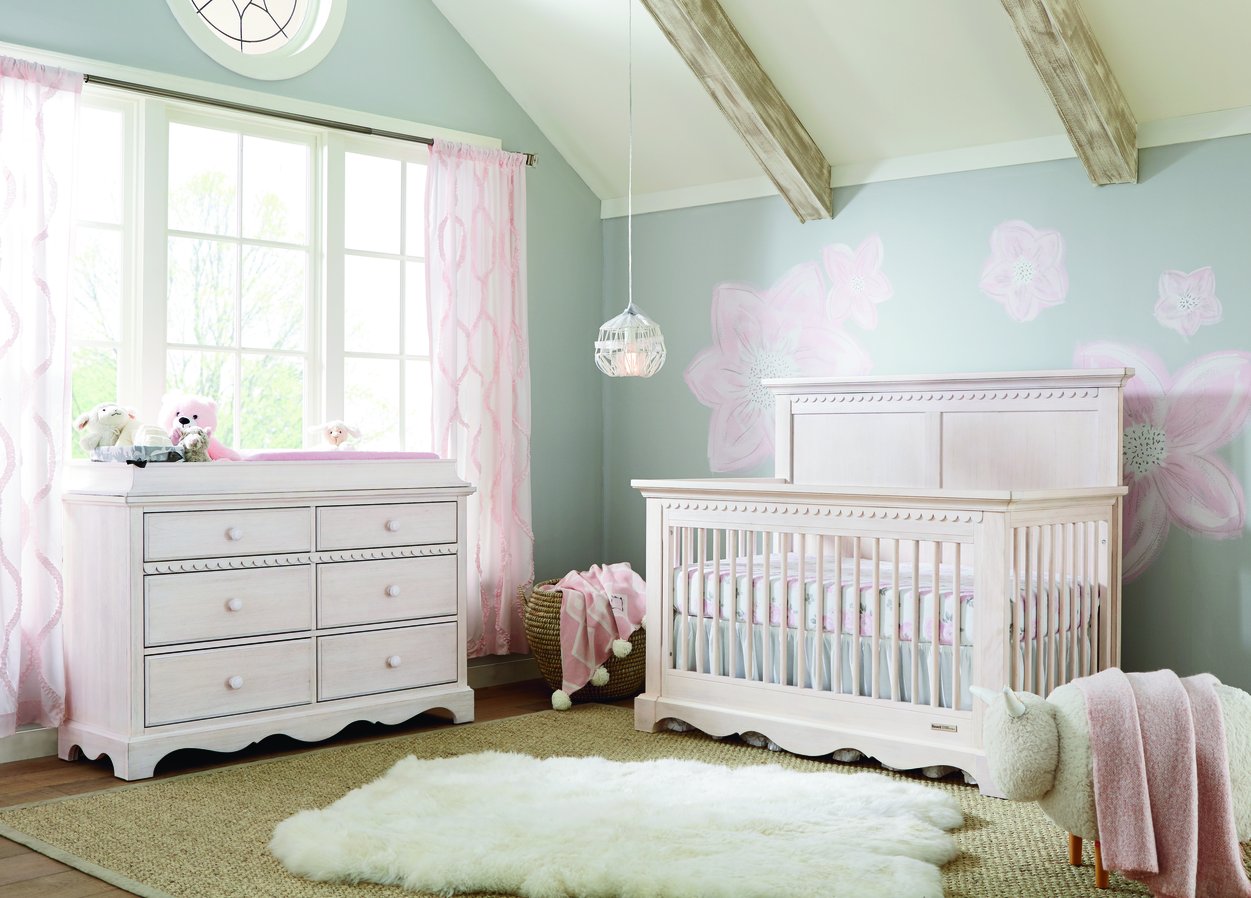 Image source: twitter.com
You need to complete your baby registry while awaiting your new baby's arrival. Preparing your baby's nursery is one of the most important projects to undertake while there is time. And as you do so, you will want to choose colors that calm your baby since some, like red, are understood to be too busy or frustrating for a baby. Pink is one of the most used baby colors. And luckily, it pairs well with sage green.
Pink paired with sage green is a calming combination, making it the perfect choice for a nursery. With both colors sophisticated and associated with kindness, you can use them to decorate a room you want your little one to spend the most time in.
Our example above is a great color combination for a nursery, especially for a baby girl. The light sage green walls marry well with the pale pink curtains and flower drawings. Additionally, the sage green carpet contrasts the bright white color of the mat, crib, and dresser.
7. Sage Green with Mustard Yellow
Image source: roomdsign.com
You can also combine sage green with a color that oozes character and creativity, such as mustard yellow. As you know, yellow is the most luminous color on the color wheel, but it is also harder to pair with paler colors like sage green. As such, we recommend mustard yellow since it is a darker and unique shade of yellow that you can combine with sage green in almost equal measure.
One of the places to use mustard yellow would be a sitting room, especially when you have sage green walls. In this case, you can add the mustard as an accent color or use it on a larger piece of furniture or long curtains. The best thing about any shade of yellow is that it allows in and reflects more natural light to create a bright room feel, even in winter.
The image above depicts a mustard yellow couch positioned against a sage green wall. You can incorporate sage green walls like this in different themes or house styles, from contemporary to traditional homes. The yellow couch captivates the eye, thus taking some attention from the equally warm wall. In addition, you can pair this color combo with a few accent pieces like a tall, evergreen house plant, a white table, or a dark-colored accent chair.
8. Sage Green with White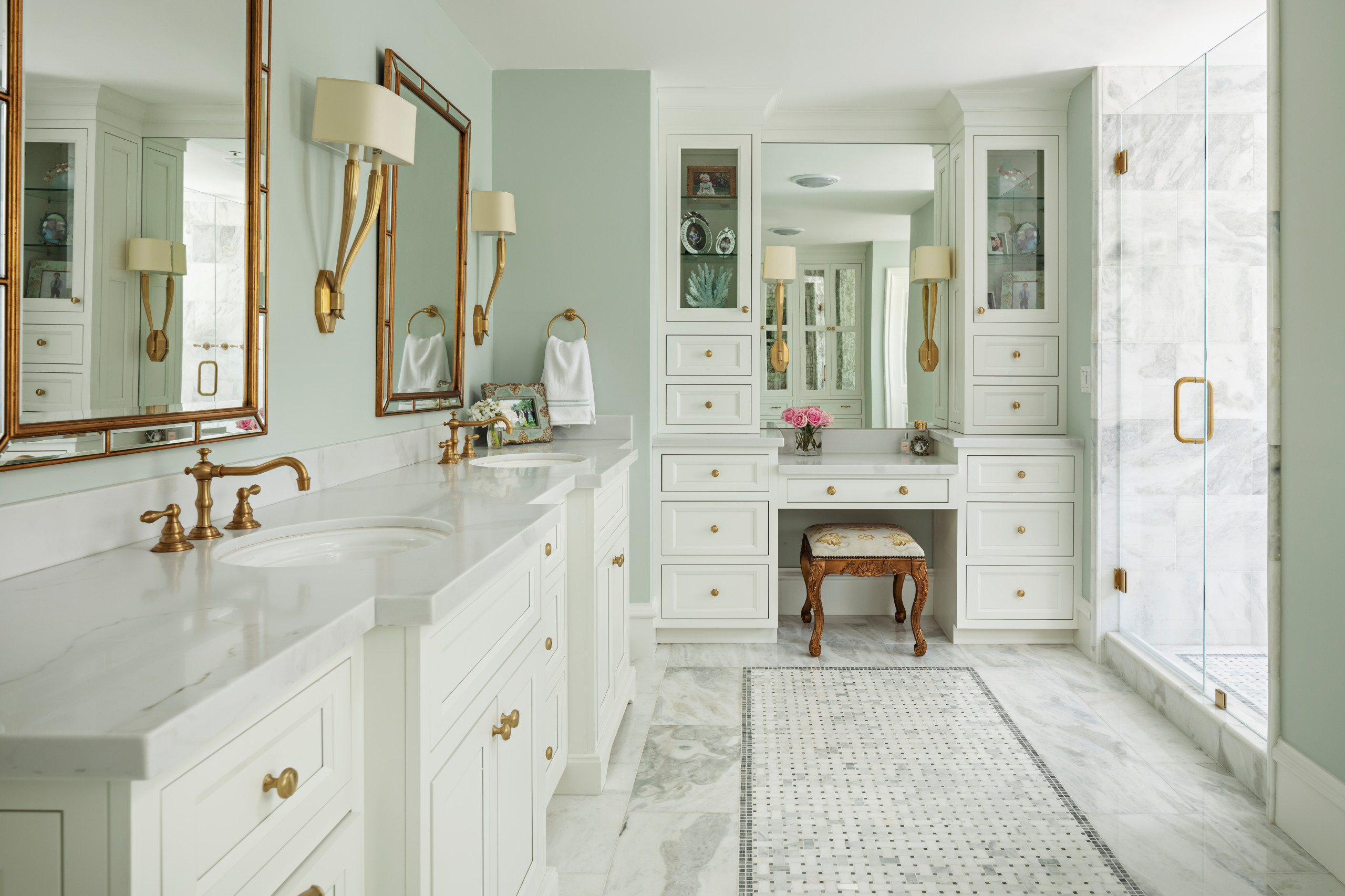 Image source: houzz.com
While sage green speaks to character, positivity, and intelligence, white is the color that brings in all light and is associated with purity, cleanliness, and peace. Sage green pairs well with pure white to create a clean environment. You can use the combo in any room, including a kitchen, bathroom, bedroom, or living room.
White is one of the easiest colors to pair as a neutral color. You can work with a sage green theme and accentuate with white in equal measure or vice versa. But, since white is a dominating color, we recommend pairing it with a muted shade of sage green to reduce the amount of light reflected in a residential space.
Our image above shows a large bathroom decorated with white and sage green. The soft sage green walls work sufficiently to reduce the dominating effect of white surfaces, while the bronze handles and mirror frame add a needed pop of color. Since these shades of colors are bright, you will not worry about natural light in your bathroom. However, you will need sophisticated pieces, like our image's classy footstool and modern carpet, to perfect the look.
9. Sage Green with Gray
Image source: homedecorbliss.com
Gray comes in many shades, including dark gray, charcoal gray, and a near-neutral shade of the color that pairs well with sage green. Gray, like white and cream, is another neutral interior decor color that appears on your home's walls and other soft furnishings or natural materials.
Compared with the sage green color that communicates style and experience, gray is the color of neutrality and balance. But, like sage green, gray is another dull color that can render your space boring or even depressing if the combination is overdone. We recommend using one of the colors as a theme and in a soft, calming shade.
Our image above shows a perfectly decorated bedroom with a fresh gray-green shade combination. While the pale gray wall with the grainy gray of the bed and desk can make a room feel dull, the exciting sage green of the curtain, bed, and chair introduces an unexpected color statement. If you go for this combo, don't forget to throw in a living plant to vitalize the mood, and we also highly recommend using a bolder third color, such as the white of the sheer or a dark brown, to create a sophisticated look.