There are big TVs, and then there are massive TVs. I had to look into the best 85-inch TVs to go all-out on a giant display. Whether you want a more immersive home theater or gaming experience, such a massive screen will blow your mind away.
Huge brands like Samsung, Sony, and LG have produced large-screen flagship models, mostly packed with tons of really cool features. These big-screen TVs turned the game on its head, from OLED screens and expanded voice controls to 4K/8K and object-tracking sound capabilities. Furthermore, all of these come with a smart TV setup, ensuring I get all the modern digital convenience from just one device.
But before I forked out thousands of dollars on an 85-inch TV, I made sure I had enough room for it and sit far away (10-12 feet) enough to enjoy it fully. That said, what are the best 85-inch TV options at available today?
My top pick is the Samsung Q90t because of its sleek design and top of the game specs. The screen gives me a 4k display and is a QLED screen. The sound quality is on point, and the screen is an easy pick for my number one option. The Samsung Q900A comes in close second place because it has the latest neo QLED TV technology. The screen is affordable too. The Samsung Q70T comes in strong in third position because it has FreeSync technology, which works great for me as a gamer.
Here are more details on my top 5 picks for the best 85 inch TVs in the market.
Which Brand Is The Best TV To Buy?
1) Best Overall: Samsung Q90T 85-Inch TV
SAMSUNG 85-inch Class QLED Q90T Series - 4K UHD Direct...
DIRECT FULL ARRAY 20X* (85" Only): Additional lighting zones...
ULTRA VIEWING ANGLE: Engineered to reduce glare and enhance...
QUANTUM HDR 16X: A wider range of brightness and color come...
OBJECT TRACKING SOUND: Two top and two bottom built-in TV...
QUANTUM PROCESSOR 4K: This powerful processor uses deep learning...
It comes as no surprise that Samsung has the best 85-inch TV around. The Q90T is a QLED screen capable of producing over one billion colors and a spectacular 4K UHD resolution!
The screen has an anti-glare coating and an ultra-wide viewing angle to offer the viewing experience no matter where you sit. It has an array of dimming zones that augment contrast and inky blacks, plus an ambient lighting sensor that automatically modifies the picture to suit the room's lighting environment. It also has a built-in mic that monitors ambient sounds to adjust the audio from the media playing accordingly.
Image Source: samsung.com
Its updated Tizen OS gives me access to all my preferred streaming apps. The Samsung Q90T also supports Samsung Bixby, Google Assistant, and Alexa. These built-in virtual assistants give me total hands-free control over the TV. Four built-in speakers use object tracking to produce 3D audio, providing a more immersive audio experience. Just as key, its Multi-View feature also allows screen mirroring, enabling me to broadcast an iOS or Android device on an 85-inch TV screen.
2) Best 8K: Samsung QN900A 85-Inch QLED 8K TV
Sale
SAMSUNG 85-inch Class QN900A Series – Neo QLED 8K...
QUANTUM MATRIX TECHNOLOGY WITH MINI LED: A brilliantly intense...
SAMSUNG NEO QUANTUM PROCESSOR 8K: Upgrade every picture to 8K...
INFINITY SCREEN: Immerse yourself in the stunning sharpness and...
OBJECT TRACKING SOUND+: Dynamic sound that tracks and follows on...
QUANTUM HDR 64X: Witness extreme brilliance across the spectrum...
Unveiled as part of the latest Neo QLED TV technology, the QN900A stands out as one of the most affordable 85-inch 8K TVs. It's built around an entirely new Quantum 8K processor, which features an integrated neural network that learns as I watch. I enjoy the feature because it optimizes pictures and sounds while recommending new movies and shows.
Image Source: me.pcmag.com
The dual 40W speakers, featuring Samsung's proprietary SpaceFit Sound technology, use eco sensors to adjust sound and volume to match your space. The screen has anti-glare and anti-reflection coatings, providing optimal viewing angles from just about anywhere in the room. An updated Multi-View lets me watch up to 4 videos at a go, making the most out of an 85-inch TV. It also allows Samsung Galaxy users to use the tap-view feature for screen mirroring.
The QN900A has a voice-enabled remote control for virtual assistants—the remote runs on a solar panel powered by ambient light to cap it all off.
3) Best 4K: Samsung Q70T 85-Inch TV
Sale
SAMSUNG 85-inch Class QLED Q70T Series - 4K UHD Dual...
QUANTUM PROCESSOR 4K: This powerful processor uses deep learning...
MOTION RATE 240: Minimizes motion blur on screen, so...
AMBIENT MODE+: Blends into your space by turning a blank screen...
QUANTUM HDR: Expands the range of color and detail beyond what's...
DUAL LED: A system of dedicated warm and cool LED backlights...
If you simply want a great large-format 4K display, the Samsung Q70T is arguably the best 85-inch TV you could get. Samsung Q70T is a QLED panel with an updated processor that excels at 4K UHD resolution, including intelligently scaling up non-UHD content.
Image Source: samsung.com
This Smart TV features the updated Tizen OS, giving me access to my favorite streaming apps. It has built-in Samsung Bixby and Alexa controls and is compatible with Google Assistant. Furthermore, the multi-view function allows me to mirror smart devices. As a gamer, I also relish the AMD FreeSync technology, which prevents screen tearing and stuttering.
The screen has dual LED lighting in warm and cool colors, producing enhanced color volume and saturation. It also comes with ambient light and sound sensors, meaning my picture and sound adjust automatically to deliver the best viewing experience in all environments. Worth pointing out it has an Ambient Mode+, which turns my TV into a splendid work of art when it's not in use.
4) Best Sony: Sony X950H 85-Inch TV
Sale
Sony X950H 85-inch TV: 4K Ultra HD Smart LED TV with...
PICTURE PROCESSOR X1 ULTIMATE: Sony's best processor analyzes...
TRILUMINOS Display: See exactly what the creator intended with...
FULL ARRAY LED with local dimming: Experience brighter highlights...
GAME MODE: Take your PlayStation experience to the next level...
SMART ANDROID TV with GOOGLE ASSISTANT: Use your voice to control...
A "best 85-inch TV" product guide would be incomplete without a Sony television. The X950H is the best the company has to offer.
The TV comes with an all-new X1 Ultimate processor, which uses ambient light and sound eco-sensors to optimize the picture and sound that suits my room automatically. Furthermore, the TV uses Sony's Triluminos technology and Dolby Vision HDR for arguably the best 4K resolution outside an OLED TV.
Image Source: bestbuy.com
The Sony TV also features Netflix Calibrated and IMAX Enhanced modes to enjoy my favorite movies and shows just as their creators intended. Plus, Sony's Acoustic Multi-Audio technology -two speakers and dual tweeters- creates the impression that the entire screen makes the sound. An immersive cinematic experience is the least of my worries with this screen.
The X950H also comes with the Android TV OS, giving me access to the built-in Google Assistant and preloaded streaming apps all right out of the box. Alternatively, I can mirror an Android or iOS device to the TV using Chromecast or AirPlay2. Console gamers will undoubtedly appreciate the dedicated game mode, specifically optimized for the PS4, which minimizes input lay while optimizing the refresh rates.
5) Best Value: Samsung TU8000 85-Inch 4K TV
Sale
SAMSUNG 85-inch Class Crystal UHD TU-8000 Series - 4K...
CRYSTAL PROCESSOR 4K: This ultra-fast processor transforms...
MULTI VOICE: Smart TV with Alexa and Bixby
SMART TV POWERED BY TIZEN : Go beyond Smart TV with next-gen...
HDR: Unveils shades of color you can't find on HDTV.
CRYSTAL DISPLAY: Experience crystal clear colors that are...
As I was looking for a budget large-format TV that could give me the most bang for my buck, consider the Samsung TU-8000.
Image Source: reviewed.usatoday.com
This 85-inch TV runs on the updated Tizen OS, with preloaded apps such as YouTube, Hulu, Netflix, and AppleTV+. This also includes the Samsung TV app, which lets me watch dozens of live TV channels without cable or satellite subscriptions. It features integrated Bluetooth connectivity for a soundbar or wireless speakers and connects to my smartphone.
The latest crystal display combines with HDR to deliver crisp, clean 4K resolution. Considering it also has remarkably narrow bezels, the viewing experience is fantastic and immersive. The back of the unit has integrated cable management channels and clips for organization, which is always a plus.
What Can You Expect From The Best 85-Inch TV?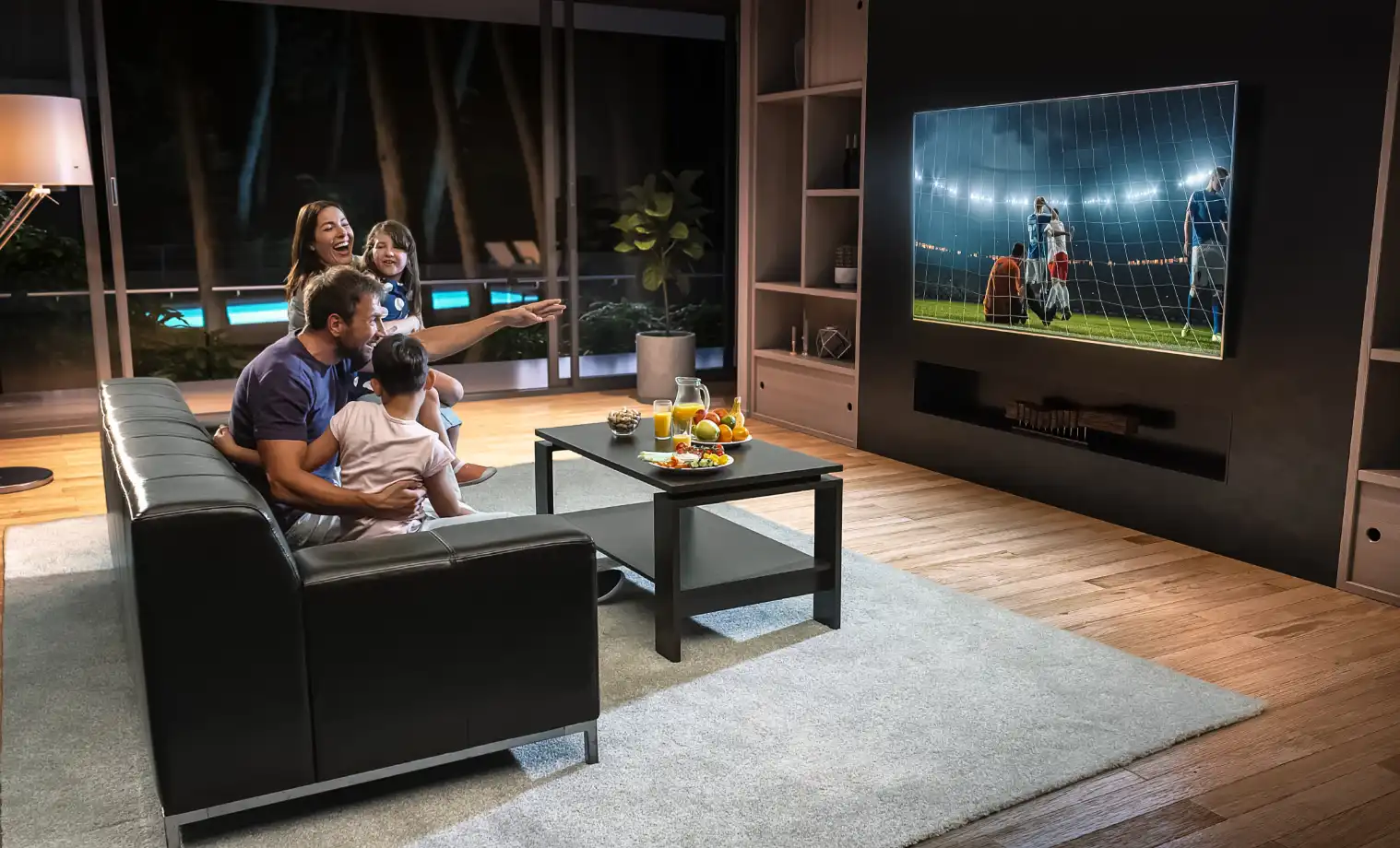 Image Source: thegoodguys.com
The good thing is that large-format TVs enhanced for me was the viewing experience, delivering a truly cinematic one for movies and a fully immersive experience when gaming. For starters, 85-inch TVs come with various technologies and software to produce breathtaking resolutions, crisp detailing, and augmented contrast at their price points. Furthermore, I can rely on the latest panel technology for a skinny, less bulky, sleek TV that compliments my home theater decor.
Big screens also have wider viewing angles and enhance color saturation and significant volume at extreme angles, the latter thanks to Dolby Atmos' support. This means everyone gets a full treat regardless of where they sit. Since these smart TVs also have plenty of smart features, such as voice commands, streaming apps, and screen mirroring capabilities, to give you more control over your TV and deliver a more fulfilling home entertainment experience.
85-inch TVs are equally nifty for gaming since they support Nvidia G-Sync and AMD FreeSync technology. This means better contrast and detailing while never worrying about screen tearing and stuttering. More so, automatic low latency modes minimize input lag for nearly real-time reactions, giving you that upper hand you need to stay competitive.
Things To Consider When Buying the 85-Inch TV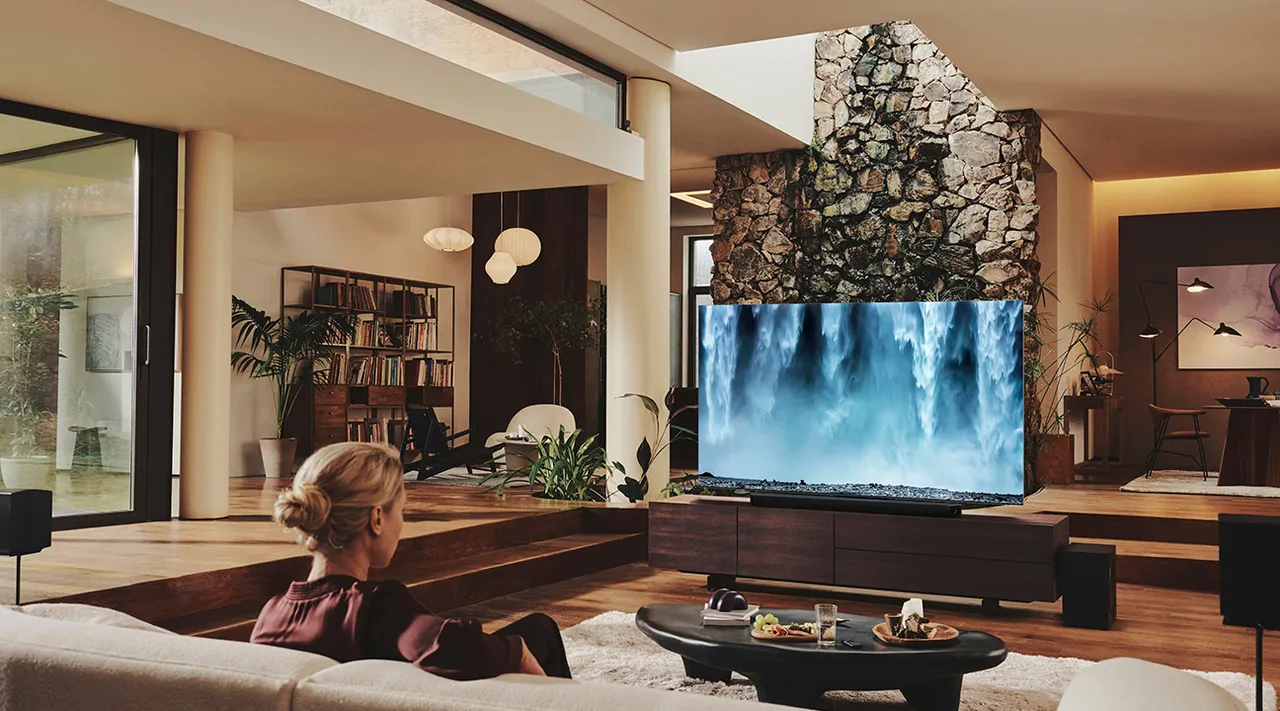 Image Source: zdnet.com
There's plenty I considered when buying the best 85-inch TV. After all, I was spending a handsome sum and needed to get full value for my buck.
a) Display Technology
All modern TVs use LED lighting as their screen basis, the difference in how they are applied to deliver different picture qualities. The best 85-inch big screen TV will have one of these two:
1) OLED
This is the most expensive technology but also provides the best picture quality. OLED works through individually lit pixels to deliver deep inky blacks for sharper contrast and organic compounds for richer, bright colors.
However, OLED panels still bear the risk of "burn-in": Like the older Plasma and Projection TVs, when used for too long or the same image displays over an extended period, it can potentially create a ghost image and gradually damage the unit. It's worth noting the risk is far less likely on OLED than with older technologies.
Additionally, the substrate that produces color in OLED is made from organic materials, which break down over time and use. This makes the panels susceptible to color degradation or dulling. However, this drawback also takes a long before it sets in.
B) QLED
Some TV manufacturers, such as Samsung, have developed proprietary QLED ("Quantum-dot LED") panels to deliver excellent picture quality at a price lower than OLED. The quantum dots substitute the organic materials found in OLED, thus mitigating the risk of burn-in and color degradation. Since several quantum dots can fit per pixel, QLED TVs deliver excellent detailing, great color ranges, sharp contrast, and volume. However, the picture quality could be more exquisite than OLED.
b) Resolution
There are several resolution options for 85-inch TVs:
Full HD 1080p – Earliest of all options, 1080p can produce decent picture quality. As far as 2021 goes, this is arguably a middling resolution, and it might not get the most out of an 85-inch TV.

4K UHD – The new gold standard in home entertainment, 4K delivers enhanced picture quality. 4K capability often includes HDR support, such as Dolby Vision, HDR10/10+, Hybrid Log-Gamma (HLG), or Technicolor HDR, to produce near-real-world color and contrast levels.

Future-Proof 8K – Brands such as Sony and LG are waltzing into the future with their 8K technology, with four times the pixels of a 4K unit and 16 times that of a 1080p TV. As expected, 8K 85-inch TVs and minimal 8K content are expensive.
The jump in picture quality from 1080p to 4K is quite dramatic, but the same cannot be said of 4K to 8K. But that's not to say the change is not noticeable to a degree.
c) Refresh Rates
Refresh rate refers to the number of times the image displayed on the screen is refreshed or repainted per second, normally expressed in Hertz (Hz). 60Hz and 120 Hz are the most common rates, although some units feature variable refresh rates, changing between the two depending on the media shows.
A higher refresh rate means the image is updated faster, hence smoother image motion and enhanced overall picture quality. This is more significant to gamers, often coupled with automatic low latency. Both combine to deliver a more seamless gaming experience, especially during fast-paced action scenes.
d) Additional Factors
I kept in mind other secondary factors when buying an 85-inch TV. For instance, I needed a couple of built-in HDMI ports, particularly an HDMI 2.1, to accommodate current and future UHD sources.
It is hard to get the best sound quality with all the bells and whistles of 85-inch TVs. This is mainly because the characteristic thin but striking profile leaves little room for prominent, powerful speakers. As such, a quality soundbar or surround sound system to get fuller, richer sounds comes in handy.
Even though I dug deeper into my pocket to get an 85-inch TV, I found and took advantage of cheap deals as I was willing to look for a bargain. For example, I checked out upcoming sales and made some minor concessions. The best deals can help you to save a few hundred or even thousands of dollars.
As necessary, I have to ensure a TV has a price protection policy. Most manufacturers give around a one-year warranty. Since a good 85-inch TV is a top-of-the-line device, the components are remarkably resilient and, more often than not, do not need a warranty. But it's better to have the warranty and not need it than the converse.
Frequently Asked Questions About 85-Inch TVs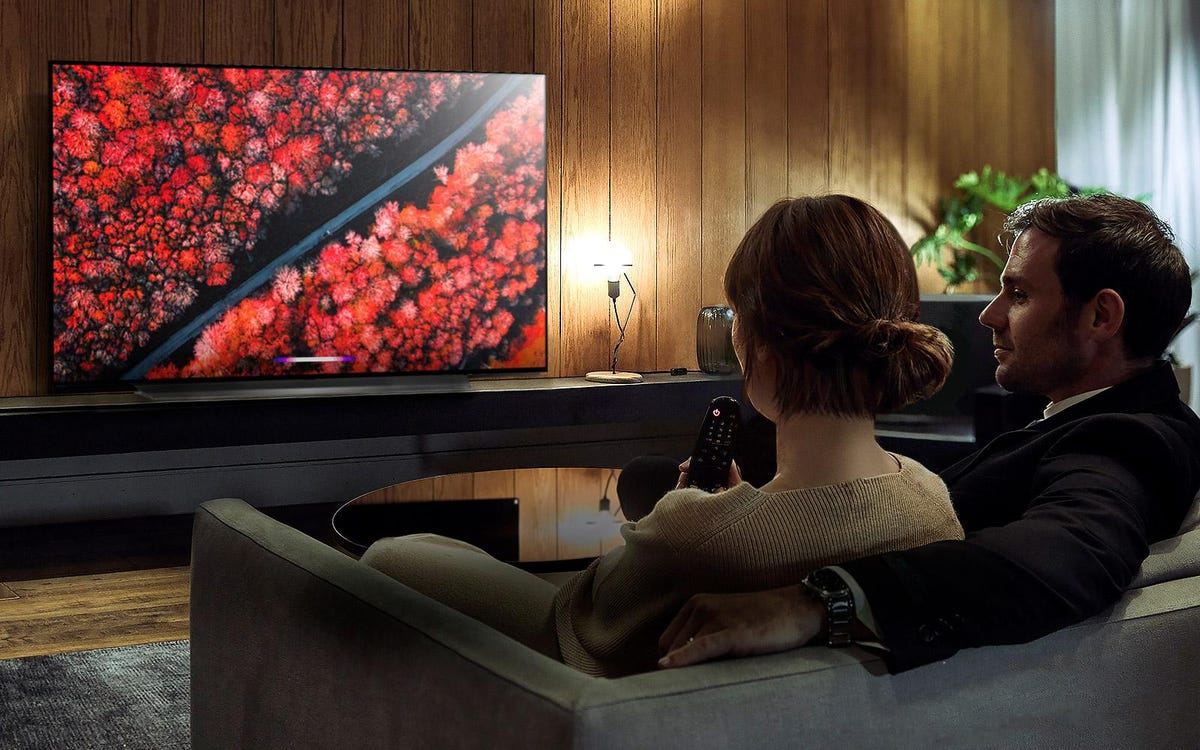 Image Source: forbes.com
i) Which One Is Better: OLED To QLED?
Both are great! However, with its cutting-edge technology, OLED produces a broader range of colors, enhanced detailing, and deeper contrasts, culminating in breathtaking picture quality. However, it is worth noting while QLED might not match the former, it does make up for OLED's drawbacks.
ii) Is An 8K TV Worth It?
Honestly, no. At least not at the moment. 4K resolution is currently the ideal choice for the best 85-inch TV. First, 8K TVs are generally expensive, yet minimal 8K content is available. If you're considering this capability, it's only prudent to wait a few more years. In any case, tech evolves insanely fast. It'll only be a short while before 8K goes mainstream.
iii) What is the best 85" TV on the market today?
Samsung Q90t  is the best 85-inch TV in the market today. Its sleek design, 4k display screen, and good-quality sound make it the best choice. 
iv) Is 4k enough for an 85-inch TV?
Image quality is an important factor when choosing a TV. A 4k TV with a refresh rate of 120Hz is a great pick for gaming, watching sports, and watching movies. Lower image quality does not work well for such a large screen size, and luckily, Oled tvs can comfortably accommodate 4k.
v) How far should you sit from an 85-inch TV?
10 or 17 feet away from the screen allows me to enjoy the stunning picture quality that an 85-inch tv offers. Any closer might be harmful to the eyes.
v) Can I mount an 85-inch TV on a wall?
There are a few ways of hanging the tv on the wall using a wall mount to enjoy fantastic picture quality. While it might be uncomfortable to hang a TV on drywall, a good wall mount will do a great job of holding a large TV for fun movie nights.
Final Thoughts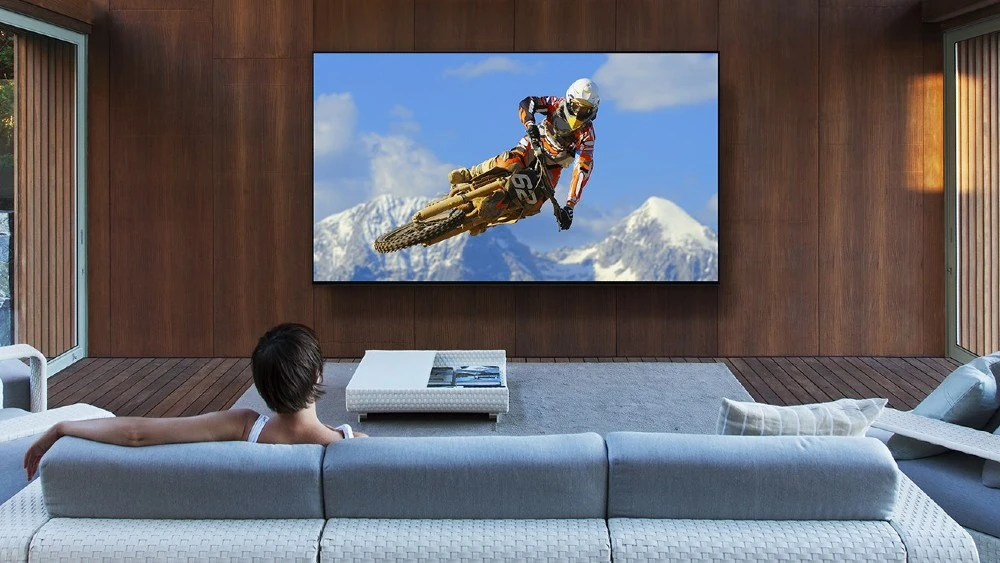 Image Source: robbreport.com
Once I experienced gaming and watching movies with an 85-inch Oled TV, there was no going back. There are TVs with great features out in the market, and once you get a hold of one of the reviewed TVs in this article, your viewing experience will never be the same.