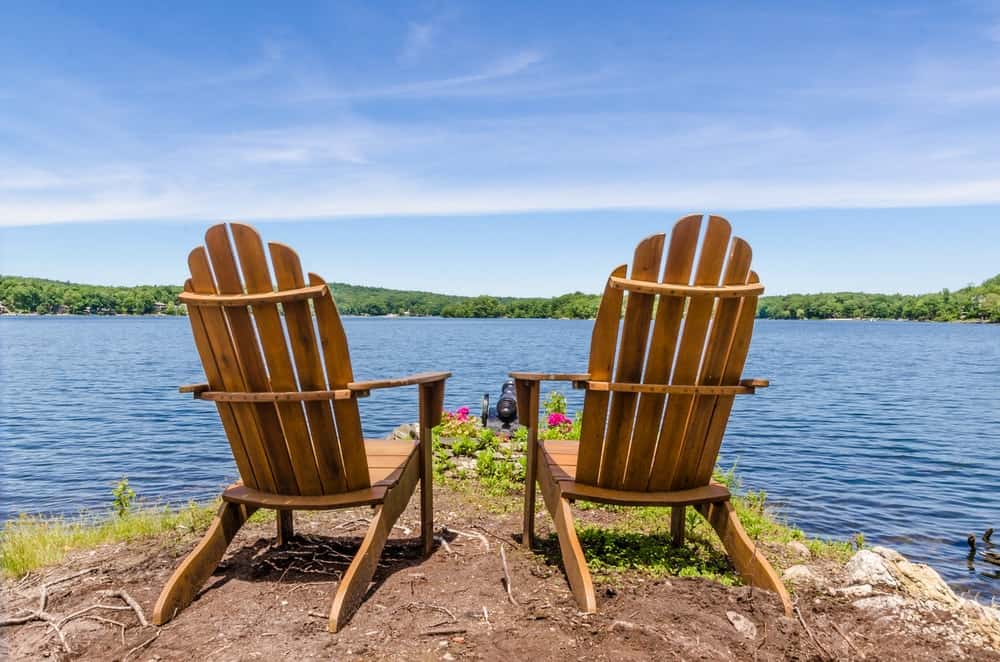 8 Best Adirondack Chairs for Winding Down All Summer Long
Warmer weather equals more time spent outdoors in porches, backyards, patios and even fireplaces. So why not have comfortable and stylish outdoor furniture to post up in and really kick back your summer? The best Adirondack chairs-these truly iconic pieces of furniture-simply take your outdoor lounging to a whole new level of charm and comfort.
A Brief History of the Adirondack Chair
It all started in the summer of 1903 when Thomas Lee went for a vacation with his family at a cottage in Westport, New York, hence the more traditional name as the Westport plank chair. Thomas was quite underwhelmed by the uncomfortable Victorian furniture available, so he set out to design and build what he thought was the perfect chair for outdoor lounging. He then began tinkering with knot-free slabs made from the evergreen eastern hemlock; a sturdy, low-resin wood.
With helpful insight from his family members, he soon enough happened on an organic design. It involved putting together eleven pieces of lumber from a single plank. He came up with a low chair with a deeply-pitched seat, a slanted high back and generous armrests. The rest of the story gets a bit foggy beyond this point, but the Adirondack chair (even as we know it today, particularly the look and feel) had been born.
Campfire tales aside, here's our roundup of the best Adirondack chairs you'll find on the market:
1. Best Rated: POLYWOOD Classic Folding Adirondack Chair
This Polywood chair has over 80% of reviewers giving it a 5-star rating, most attributing it to the material. Polywood lumber is heavy-duty plastic made from recycled materials, which gives this chair an incredibly sturdy construction. Not to mention how impressively comfortable the actual sitting is.
The Polywood Adirondack chair is exceptionally durable, holding up quite well even after a couple of years of use. It also cleans up pretty easily; you'll only need a rag and warm soapy water. Furthermore, this chair hardly ever chips or fades at all.
2. Best Value: Lokatse Home Outdoor Wooden Adirondack Chair
The biggest draw for this Adirondack chair is arguably its affordable price point. While you might be tempted to think inexpensive chairs would be rough, this one from Lokatse is quite smooth and polished, even on the end cuts. Many reviewers vouch for the comfort and coziness of this chair, including its great quality build.
Due to the attractive price, the Lokatse Wooden Adirondack Chair is a great option if you want to buy a set. They tend to look splendid in numbers around outdoor firepits.
3. Best All-Weather: Flash Furniture Charlestown All-Weather Adirondack Chair
If you're looking for a sturdy, comfortable Adirondack chair that's also weather-resistant, then this is an excellent option for you. It can withstand summer, rainstorms, hail and plenty of moving around more than other wood chairs, all while retaining its bright color. The wooden grain material also looks very natural in the outdoors.
This Adirondack chair is heavy and well-built, meaning it can survive the outdoors all year round. You never about it being blown over by strong winds or during a storm. Most of all, this is one of the most comfortable chairs to sit in. Plus, it's maintenance-free.
4. Best Reclining: Highwood Hamilton Folding and Reclining Adirondack Chair
The best Adirondack chair always has a way of exceeding expectations, which this one from Highwood Hamilton does. It comes with a rounded back, offering even more comfort than the original flatbacks. This folding chair reclines into three different positions:
The first if you'll be leaning forward a lot, say around a campfire.
The second is the most comfortable, ideal when you're chatting with someone across from you.
The third is superb for just lying back.
For even more comfort, this Adirondack chair comes in two different sizes; adult for the average person and king for extra-tall people. However, you'll need to assemble it yourself, although this is a pretty straightforward process.
5. Best Modern: Polywood Modern Adirondack Chair
If you want a modern design on the classic Adirondack chair, then it doesn't get any better than this option from Polywood. This one sports an evidently stylish look and feel that will certainly make a difference in the overall appearance of your outdoor area. It also holds up quite well too, thanks to the mahogany build.
You'll also be pleased to know that this Adirondack chair is built to last. More so, it can go over a couple of seasons without losing its visual appeal. So much so that some reviewers mentioned it was difficult to differentiate their new set from similar old ones.
6. Best Wood: Outdoor Interiors Eucalyptus Wood Adirondack Chair
This Adirondack Chair from Outdoor Interiors is made of dense and durable eucalyptus hardwood, making it long-lasting and easy to maintain. Eucalyptus hardwood performs much the same as (the more expensive) teak, withstanding harsh weather conditions all year round. It's also heavy enough to hold up well against wind gusts and storms.
This chair is extremely comfortable, with just the ideal angle for settling in cozily. Its wide arms offer enough room for lounging or holding your drink. Plus, it comes with a detachable ottoman for extra support and comfort for your legs.
7. Best Plastic: Lifetime Adirondack Chair
A plastic chair can be a great option if you're looking at longevity and weather resistance. This Adirondack chair from Lifetime looks like wood, with less sheen and some faux graining to resemble the real deal.
The weather-resistant simulated wood is arguably more resilient and durable than actual wood and still looks as high-quality. It's also stain-resistant and easier to clean. More so, it's UV-protected, hence minimal chipping, peeling or cracking over time. Additionally, this plastic chair is available in five neutral shades that mimic natural wood stains.
8. Best for Kids: KidKraft Wooden Adirondack Chair
When you're looking at the best Adirondack chairs, you might want to consider your kids. This kid-sized option is excellent for children to relax on the porch, in the backyard or even in their rooms. The Kidkraft Wooden Adirondack chair is exceptionally high-quality and durable. Chances are, your kids will grow up with them for years to come.
Factors to Consider in the Best Adirondack Chair
1. Form & Function
The best Adirondack chairs are excellent to relax back into and offer great support for your back and bottom. This includes wide arms for balancing drinks and small plates that also make for a good spot to hold as you get out of the chair. The deeply-reclined design also makes your laps a snug resting place for small children and pets.
Ideally, an Adirondack chair should be paired with a footstool or ottoman to give you proper leg support. You can also include cushions and headrest pillows to get that extra comfort. Finding the fine balance between form and function ensures that you get an Adirondack chair that's superb for easing and dozing off.
2. Material
Adirondack chairs are made of a variety of materials. You'll need to account for several factors to find the right material for you.
Durability - how does the material perform over time when it's left outdoors?
Appearance - how does the design fit into your outdoor space? How does the material age over time? Is it fade-resistant?
Comfort - how comfortable is the chair?
Weight - how easily can the Adirondack chair be moved around?
Maintenance - how easy is it to look after the material?
Price - how much value for money are you getting?
a). Teak
Teak is arguably one of the best woods for outdoor furniture. It's a durable and resilient hardwood; it produces its own oil and isn't easy to scratch or dent. Teak is also wind-, water- and rust-resistant, meaning it can stay outside all year-round.
Unfortunately, it only comes in one color-teak. Teak is also a bit hard to maintain since it must be rubbed down and treated regularly to avoid a "silver patina". It's also quite pricey compared to other materials.
b). Aluminum
Though not as popular, aluminum Adirondack chairs present a form and function tradeoff. Aluminum is lightweight and durable but somewhat compromises on comfort and appearance. Aluminum Adirondack chairs are tough and resilient, withstanding the outdoors with no significant effects. They're also cheap and easy to maintain. However, the light build leaves them vulnerable to strong winds.
c). High-Density Polyethylene (HDPE) Lumber
HDPE Lumber is a synthetic resin made of recycled milk jugs for building high-quality, solid and durable (outdoor) furniture. HDPE Lumber Adirondack chairs are remarkably sturdy, rust-and weather-resistant, meaning they can stay outside all year-round. They're also pretty comfortable, stylish and luxurious. Plus, HDPE Lumber is fairly easy to maintain, only needing clean, soapy water and a soft-bristle brush. On top of it all, HDPE lumber Adirondack chairs come in a wide variety of colors.
The only downside is perhaps the price. That said, the cost is offset by the comfort, luxury and resilience HDPE offers. More so, it's more friendly to the environment since it's made of infinitely recycled plastic. Besides, the chairs are built to last a lifetime!
d). Injection Molded Plastic Adirondack Chair
Plastic Adirondack chairs are a good option if you're looking for temporary outdoor furniture. They are resistant to water and rust; they can stay outdoors all year round. Plastic chairs are also inexpensive and easy to maintain, needing just dish soap and a moist cloth.
The lightweight construction means they are vulnerable to wind gusts and might be unstable when occupied, sometimes breaking within a year. As much as plastic Adirondack chairs come in plenty of colors, they also tend to lose their appearance quickly. More so, their craftmanship is not particularly the best, so they're not as stylish or luxurious as other options.
3. Size & Height
Most Adirondack chairs measure:
36-42 inches tall
30-34 inches wide
35-38 inches deep
15-45 pounds in weight
These dimensions are quite sufficient for most people to fit in comfortably. But you will also want at least 3-4 feet of space in front of your chair so that you don't have problems getting into and out of them.
To find the ideal Adirondack chair for you, you have to pay keen attention to its height. Shorter people should preferably go for lower seat heights (and vice versa) to make getting into and out of the chair undemanding. 14 to 16-inch Adirondack chairs tend to be the sweet spot for most people.
4. Style
As much as the basic Adirondack chair design is pretty straightforward, modern twists add plenty of flair to the style. If you're looking for some flourish in your Adirondack chair, you can consider:
Classic Adirondack Chairs - A design that falls back to the original design, later polished into the more comfortable, contoured Adirondack chairs of the 1930s.
Modern Adirondack Chairs - These are modern chairs with straight backs.
Shellback Adirondack Chairs - Sleek style with an elegantly rounded back and curved armrests.
While looking at the different styles, you can also opt for a folding Adirondack chair for easy storage.
5. Color & Accessories
Depending on the material you opt for, your Adirondack chair can come in any of a variety of colors and finishes. Ultimately, this narrows down to your personal preferences and what you think adds genuine visual distinction in your outdoor space.
You'll also probably want to accessorize your Adirondack chair with complementary additions. Cushions and headrest pillows add padding to your chair for even more comfort. You can also opt for a built-in Ottoman or an extendable footrest for extra leg support. Now you can sink back, relax and rest.
Frequently Asked Questions on Adirondack Chairs
1. Are Adirondack chairs good for my back?
There's no definitive answer to this question since there's very little scientific information on this subject. However, the reliable consensus seems to agree Adirondack chairs are quite good for your back, mostly because their unique design takes off the pressure on your lower back and bottom and allows you to lean back in an upright position.
Keep in mind Adirondack chairs stand quite low to the ground. As such, getting in and out of them can be a considerable issue for some people.
2. How should I clean my Adirondack chair?
A couple of buckets of warm soapy water and a soft, nylon bristle brush are good enough to get the job done, especially if you just want to wash off the surface dirt. If you have stiffer things to dislodge, you can opt for a trusted furniture garden cleaner. The best part is, you'll only have to do this maybe once a year, or less if your Adirondack chair sits in a nice sunny spot.
Never use a pressure washer: Water jets are strong enough to leave a rough feeling or even abrasions on the timber.
3. Which finish oil should I use?
If you decide to oil your Adirondack chair, a purely decorative choice at that, go for a high-quality garden furniture oil. They are readily available, easier to apply and last quite long. Start with a small area to see how your desired finish looks on the chair. Ensure you follow the manufacturer's instructions.