Stainless steel has always been one of the best materials to cook in. The problem most people have lies in which brand has the best quality cookware. A stainless steel cookware set will bring cohesion to an otherwise mismatched kitchen, especially if you never bought a cookware set.
Furthermore, a set that can handle everything from heat to the dishwasher and will still last ages is key. Below is a list of the best brand for stainless steel cookware.
Best Brand for Stainless Steel Cookware
1) Cuisinart 12 Piece Cookware Set, MultiClad Pro Triple Ply
Sale
Cuisinart MCP-12N Multiclad Pro Stainless Steel...
Polished cooking surface does not discolor, react with food or...
Cookware also features cool grip handles secured with stainless...
Oven safe up to 550F, Rims are tapered for drip-free pouring.
Dishwasher safe, Tight-fitting stainless steel covers seal in...
12-piece cookware set. The set consists of: 1-1/2- and 3-quart...
My parents gifted me all-stainless steel cookware set when I moved out. I had them for over a decade and decided they looked tired enough to retire. So my next step was to order this set from Amazon, hoping it would last as long as my previous set. From the get-go, the set is well-packaged, and every utensil arrives intact. That's important for stainless steel.
Image Source: cookwareinsider.com
After a few uses, it's safe to say I love this set. They distribute heat evenly and are perfect for sauteing, braising, and frying. The heavily cladded bottom of each pot or pan ensures that the pans are heated evenly and quickly. Additionally, the lids fit perfectly and don't let any steam out. Compared to my previous set, these are the best stainless steel cookware sets I have owned.
Next, the pans are easy to clean. With a watchful eye, you probably won't need to soak the pans, as food sticking to the bottom won't happen. However, if food sticks, an overnight soak, and dish soap in the morning do the trick. Of course, a quick trip to the dishwasher won't hurt either.
All the pots and pans are very heavy (it would be a major red flag if the stainless steel sets weren't heavy). However, the large stock pot gets heavy when filled. So it did not go well for me when I cooked my favorite one-pot beef stew, and I could not lift it off the stove. So plan on how you will manage a full stock pot.
2) All-Clad D5 Dishwasher Safe Cookware Set
Sale
All-Clad Brushed D5 Stainless Cookware Set, Pots and...
Set includes: 8 & 10-inch fry pan, 1.5 & 3-quart sauce pan w/...
5-ply bonded construction with alternating layers of stainless...
For an added touch of refinement, it features a beautiful and...
Compatible with all cooktops and optimized performance for...
Heat-resistant stainless-steel handles, designed a comfortable...
I like cooking on high heat, requiring a set that can tolerate high temperatures without a problem and food sticking. I was impressed by how well the pans heated quickly and efficiently. However, I would advise you to preheat your pan and oil on low heat, then switch to high heat.
Image Source: crateandbarrel.com
Since these stainless steel pans heat up evenly, you can cook or bake almost anything. You might be wondering, is this stainless steel cookware nonstick? Yes, it is. However, it's not the nonstick cookware set you are used to. It depends on how you cook, the heat distribution, and the technique. I found that medium heat is the best to cook anything and not get stuck on food.
The stainless steel lids are excellent and just as heavy as you would expect. They don't let any steam out, which makes them perfect for soups and broths. I would have preferred glass lids, but it's of no consequence since glass lids fog, and you can't see anything. Of course, you can't use metal utensils if you don't want the bottom of the pots and pans to scratch.
After cooking in one of the stainless steel pots and placing it in the dishwasher, I was horrified to see it had a cloudy rainbow cast. But I suppose that happens to most stainless steel cookware in the dishwasher. So to remove the cast, I soak the pots and pans in a vinegar-water mixture, and with a little elbow grease, it washes off.
3) Calphalon Stainless Steel Kitchen Cookware Set
Sale
Calphalon Classic Stainless Steel Pots and Pans,...
Impact-bonded aluminum base distributes heat evenly, for...
Stainless steel long handles stay cool on the stovetop
Convenient measuring marks, pour spouts, and straining covers...
Dishwasher-safe for easy cleanup
Oven-safe up to 450 degrees F, so you can easily go from stovetop...
This set is an excellent choice if you need to brown or sauté food. After a few cooking tests, I realized that this set has excellent heat conductivity, and the stainless steel pans are perfect for cooking beef patties. I make the most delicious burgers using these pans. This is the set for you if foods like burgers and seared scallops are your thing.
Image Source: thehomedepot.com
I enjoyed this set because it is versatile; a home or professional cook can easily manage their kitchen with this set. Of my cookware collection, this is the set I would gift a friend since it doesn't require much maintenance because there's minimal sticking. In addition, the tempered glass lids are a huge bonus as they fit the pots and pans perfectly and don't let any steam out.
This set will still function on other stovetops if you don't have an induction stovetop. With good heating capabilities, your food will stay warm after you cook for a long time. In addition, the ergonomic handles prevent burns since they remain cool even at high temperatures.
Of course, like most stainless steel cookware sets, the pots and pans are made with impact-bonded aluminum cores sandwiched between stainless steel layers. If you use this set as instructed, especially with preheating heat requirements, it will serve you for a long time.
4) T-fal C836SD Ultimate Stainless Steel Cookware Set
T-fal C836SD Ultimate Stainless Steel Copper Bottom 13...
Set includes: 8 inches fry pan, 10.5 inches fry pan, 12 inches...
Multi layer strength: Heavy gauge base with multiple layers of...
Stainless steel interior: A well loved cooking surface, the...
Sturdy handles & vented lids: Riveted stainless steel handles are...
I have had this set for a year, and I couldn't be happier with the performance. Since most cookware sets are made with carbon steel (best for browning and sauté), aluminum, or copper (best for stews) core, the same applies to this set. However, the core of the pots and pans also contains stainless steel, making the heating capability excellent.
Image Source: thinkcook.com
I like that the set is heavy-duty and the handles are sturdy and supportive. The handles are also well-mounted and won't come loose. There is no nonstick coating on any pan set, but to prevent food from sticking to the bottom, you should use low to medium heat. Another great tip is to grease the pan and preheat it before starting your cooking process.
The glass lids have a small hole to let some steam out so I can see if my food is evenly cooked. I like this feature because I can see through the lid instead of steam-fogging it. This set is a good option for testing cookware to see how it holds up first.
Cleanup is easy, and most food remnants come off with a normal sponge and bar keepers friend cleaning agent. You can use steel wool and other stainless steel cleaners
with this set because they do not scratch. In the year I have had them, there is no scratch on them.
5) Legend Stainless Steel Cookware Set
Legend Stainless Steel Cookware Set | 5-Ply Copper Core...
CHEF-GRADE STAINLESS STEEL COOKWARE SET: Legend Cookware...
GENUINE 5-PLY DESIGN WITH COPPER CORE: Each layer of our kitchen...
DISHWASHER & OVEN SAFE UP TO 230°C/450°F: This kitchen pans and...
14-PIECE SET INCLUDES THE FULL PACKAGE: This stainless steel pan...
"LEGEND FOREVER" LIFE-LONG WARRANTY: While Legend Cookware...
I highly recommend this set if you are looking for a cookware set after having a horrendous fail with nonstick cookware. Not only is it a good starter set, but it can also take abuse and mishandling of everyday cooking. Therefore, it is also an excellent professional set.
Image Source: thehonestconsumer.com
Like most typical stainless steel cookware, they can be used in ovens and on induction cooktops. This is a bonus since I love using my induction stove. The even heat distribution is a bonus since I tried to make a sunny-side-up egg, and it came out excellent. I was sold the moment the egg turned out round since I would have to scramble the eggs on my previous cookware set.
The set can handle high heat, which is excellent when cooking wok-type dishes. What stood out to me was the five-ply construction of a copper core topped off with stainless steel in alternating layers. Copper is an excellent conductor of heat. The stainless steel handles are beautiful and remain cool even on high heat.
Another excellent feature is how I can comfortably bake homemade bread in these pots. They can withstand extreme temperatures of up to 240 degrees Celsius., and have measurement markings. This stainless steel cookware set is a great way to go if you have an induction cooktop.
Factors to Consider Before Buying a Stainless Steel Cookware Set
Before committing to the stainless steel cookware life, you should try to keep a few things in mind. These tips will give you the best chance at selecting a cookware set that you like and will last long.
a) Choose High-Quality Cookware
Image Source: reviewed.com
This is where brand names come in. When selecting your cookware set, it is important to consider the renowned brands and then visit the lesser-known ones. A good brand will give you value for money for every set that you buy. Therefore, it is worth considering that cookware sets with merit and people's trust should be first on your list.
I understand the pull toward a cheaper set that promises the best cooking. However, you risk spending money, and the set is a disappointment and a waste of money. You will pay more for good quality, but the set will serve you for decades.
b) The Thickness Matters Most
Image Source: cristelusa.com
Always remember that stainless steel cookware sets are very thick and heavy. This is perfect for conducting heat. Additionally, a hot pan with five-ply stainless steel is more likely to cook food evenly. If the cookware set is not as thick as you expected, it is not recommended to buy it.
Any good quality stainless steel set is reinforced with either 304 or 326 steel. Normally, it is denoted as 18/10. Therefore, be mindful of this because they conduct heat well and repel salt deposits. This way, you can always rest assured that eating food from a stainless steel pan is safe.
c) Durable Handles, Lids, and Rivets
Image Source: betterhomeandgardens.com
Stainless steel cookware sets are only as good as their handles and lids. Sturdy construction involves not only the pots and pans but also the handles and lids. The whole pot or pan could break apart if the lids and handles aren't made well. The rivets should also be sturdy. If you can see any, ensure they aren't lost.
d) Aesthetics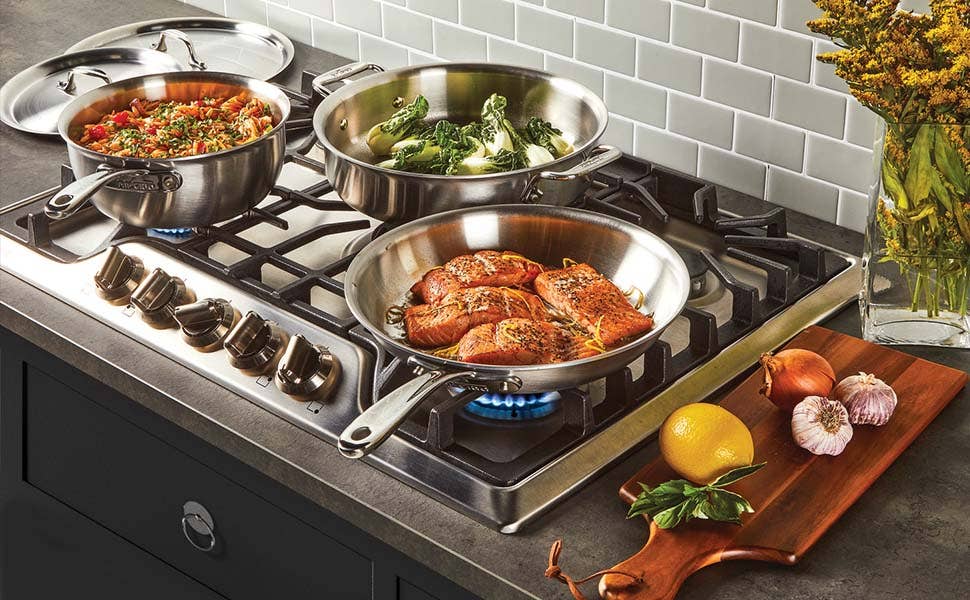 Image Source: allclad.com
Stainless steel cookware sets are beautiful. They look great, especially if you hang them up. However, it is pertinent to ensure that the set you choose blends in with the aesthetic of your kitchen; otherwise, you will have to store the set out of sight. Sometimes, a badly colored set can be an eyesore.
FAQs
i) What is the best gauge of stainless steel cookware?
18/10 is the best gauge. It is very tough and has the best heat distribution and conductivity.
ii) How can you tell good quality stainless steel cookware?
The most efficient test would be a simple magnet test. Take a magnet and place it close to your cookware sets. If the magnet sticks, then it's safe. If it doesn't, then it might contain nickel.
iii) What should I avoid on stainless steel cookware sets?
Bleach, chlorine products, hard water, harsh abrasives like baking soda, oven cleaners, scouring powders, and cleaners that contain ammonia.
iv) Why do chefs like using stainless steel?
Apart from its excellent heat distribution and conductivity, stainless steel is tough and indestructible. This means it can survive the harshness of a busy kitchen.
v) Why is food sticking to my stainless steel set?
Stainless steel has pores that open and close when exposed to heat. The motion will hold on to your food and stick to the bottom. However, preheat your pan first, then lightly grease it to stop this.
The Bottom Line
Unlike cast iron, stainless steel is rust-resistant, which is why most people prefer to cook in it. A stainless steel set should be a staple in any household since it is a great investment for future meals. Taking good care of a stainless steel set is easy and should be done after cooking to ensure longevity.
Featured Image Source: reviewed.com