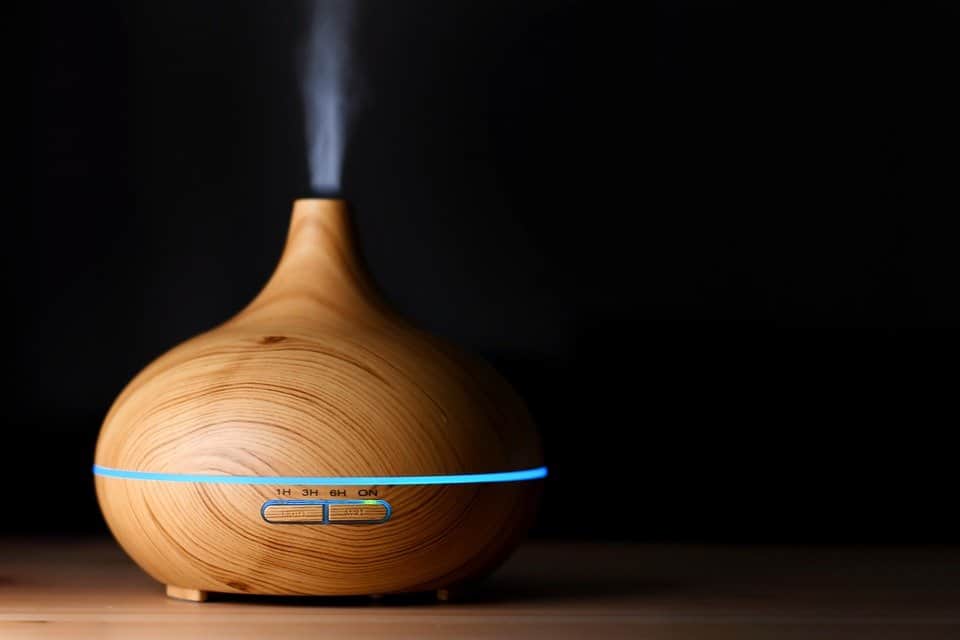 Best Humidifier for Bedroom Use to Breathe Easier at Night
When temperatures drop and humidity levels dip, especially in the winter months, cool and dry air in your home can be devastating to your sinuses and skin. But you probably don't just want to sit there and suffer through chapped lips, cracked hands or even nosebleeds at times. If your home has persistently dry air, or you just want to fight the occasional cold-particularly at night, the best humidifier for bedroom use can do wonders to enhance your air quality and health.
What Does a Humidifier Do?
Quite simply, a mist humidifier adds moisture to dry air. The moisture is released as either cool mist, water vapor or ultrasonic frequencies that prompt water droplets into a chamber to increase humidity. According to Michael Breus, Ph.D., popularly known as The Sleep Doctor, the best humidifiers can help to improve dry throats and mouths and have been reported to decrease congestion for better quality to your sleep. More so, if you keep plants at home, a quality humidifier should help to keep your green babies thriving.
Here's our roundup of the best humidifier for bedroom use you can get to reap the full potential of rich, moist air:
1. Best Overall: Levoit Smart 4L Cool Mist Humidifier
Sale
LEVOIT Humidifiers for Bedroom, Smart Wi-Fi Cool Mist...
A Helpful Gift: Share the Classic 200S with your loved ones to...
Perfect for Nurseries: With low noise levels and a certified-safe...
Aromatherapy: The Smart Ultrasonic Cool Mist Humidifier doubles...
Help With Insomnia: Turn the display lights off, switch the...
For Every Room: With a 1.05 gal / 4 L tank, this humidifier lasts...
The right humidity in the air -while you're sleeping- has a big impact on how you wake up feeling the following day. It also helps you to avoid dry nasal passages and scratchy throats. A good humidifier, especially the quieter models, can benefit even the lights sleepers. The compact Levoit Smart 4L Cool Mist is specifically designed as the best humidifier for bedroom, mostly due to its suitability for rooms up to 376 square feet and exceptionally quiet operations.
This ultrasonic cool mist humidifier features a patented silencer, plus an ultra-quiet DC hydraulic fan, which keeps the sound ratings at just 25 dB. For context, this is about as quiet as an isolated, rural area or just above a whisper. Thanks to a one-gallon tank, the Levoit Smart 4L can operate between 10-40 hours (based on the settings) before needing a refill. Furthermore, it comes with a Vesync app where you can monitor and program the humidifier.
2. Best for Larger Rooms: Levoit LV600HH
LEVOIT Humidifiers for Large Room Bedroom (6L), Warm...
Warm & Cool Mist: The humidifier provides both cool mist and warm...
Auto Mode: The humidifier's built-in humidity sensor...
Aromatherapy: Add your favorite essential oils to the aroma box...
Perfect for Large Room: With a mist output of up to 500 mL/hr,...
Convenient Remote Control: Adjust settings in the middle of the...
If you've been looking for the best humidifier for large rooms, the Levoit LV600HH is an excellent and versatile option. Most humidifiers only offer adjustments in terms of high and low settings, but this cool and warm mist humidifier is well more than just that. It comes with an auto mode (thanks to an incredibly precise humidity sensor), an aroma/essential oil diffuser box, a remote and time for scheduling, plus an adjustable night light.
This humidifier has a 1.5-gallon water tank, providing run times between 20-36 hours for rooms up to 750 square feet. If you're looking for a powerful ultrasonic cool mist humidifier, the LV600HH is almost a no-brainer for a consistent humidity level in your house throughout the year. However, it also has a few minor drawbacks; namely, it has to sit on a platform to stop the mist from building up on the floor.
3. Best Value: TaoTronics TT-AH001 Humidifier
Sale
TaoTronics Humidifiers, 4L Cool Mist Ultrasonic...
4L Tank Capacity, Works for All Night: Over a gallon of water...
Informative LED display: Built-in Humidistat tells you the...
Nightlight & Sleep Mode: Choose to turn on the nightlight, or...
Safe to Use: Automatically shuts off when water runs out;...
Please do NOT use with essential oils, which will damage the...
This is definitely not the most powerful or largest humidifier you'll come across, but it certainly delivers the best value for bedrooms up to 320 square feet. It comes with a one-gallon tank that can run within a 12 to 30-hour range before requiring a refill. It has a built-in humidistat that allows you to track and find the desired humidity level for your room. The TT-AH001 also has an auto-off feature, automatically shutting off the appliance when water runs out. This cool mist ultrasonic humidifier also comes with filters, which the manufacturer recommends changing every 4 to 6 months.
Perhaps its biggest draw is the exceptionally quiet operation, making it ideal for a small bedroom or a baby's room. Despite the more compact size, it still disperses mist quite well. It comes with a night light that you can leave on or sleep mode when you want to turn off its lights completely. The TT-AH001 also looks pretty stylish and is available in black, white and grey variants.
4. Most Quiet: Pure Enrichment MistAire Ultrasonic Humidifier
Pure Enrichment MistAire Ultrasonic Cool Mist...
ULTRASONIC COOL MIST TECHNOLOGY: Safely moisturizes the air for...
1.5-LITER WATER TANK: Provides ideal coverage for bedrooms,...
OPTIONAL NIGHT LIGHT: Offers soothing glow for maximum relaxation
AUTOMATIC SHUT-OFF: Turns humidifier off when water level is low...
WHAT YOU GET: Humidifier, AC power adapter, disk cleaning brush,...
The first thing you'll notice about this ultrasonic humidifier is its shape. The ergonomic design makes it superb for bedrooms, medium-sized rooms and even offices. The shape also makes it easy to keep track of the water levels, although it still comes with an auto-off feature.
It has a 0.4-gallon water tank and runs up to 16 hours at its low setting. You'll probably not find a more quiet humidifier on the market, plus you can use MistAire's blue glow as a night light. The only downside is this humidifier can be somewhat difficult to clean, but the package does include a brush, which makes it fairly easier.
5. Vicks Warm Mist Humidifier
Vicks Warm Mist Humidifier, Small to Medium Rooms, 1...
VICKS WARM MIST HUMIDIFIER: This warm mist humidifier, for...
VICKS HUMIDIFIERS FOR KIDS, ADULTS: Humidifier diffuses 95%...
COUGH & CONGESTION RELIEF: When you or your kid has a cold, it...
VICKS VAPORIZERS, HUMIDIFIERS, & STEAM INHALERS: Moisture &...
HUMIDIFIERS FOR BEDROOMS, DESKS, TABLES: Our humidifiers &...
If you mostly want to resist the occasional cold, instead of running a humidifier throughout winter, warm-mist humidifiers are an excellent choice. This model from Vicks is quite affordable and popular, partly because it comes with a compartment for Vicks VapoPads, plus a medicine cup for soothing inhalants such as Vicks Vapostream.
For regular use, this humidifier has a one-gallon tank that can run for up to 12 hours if you change between the output settings. It's a great option if you'll just be running your humidifier at night. It has a convenient tank opening which makes it easy to fill and clean. The Vicks warm-mist humidifier also sports a light indicator that notifies you when the tank needs refilling.
One key thing to bear in mind is warm-mist humidifiers, particularly ones that use medicinal additives, require more frequent cleaning to make sure they continually stay germ-free.
Why Should You Consider a Portable Humidifier for Bedroom?
As opposed to whole-home humidifiers, humidifiers for bedroom use are easy to use and usually reasonably priced. Despite the obvious size difference, these portable units are still powerful enough to help you cut down on dry air. Using the best humidifier for bedroom can prevent dry sinuses, chapped lips and hands, while also reducing static electricity.
As much as winter might be the most popular time to use a warm mist humidifier in your bedroom, using your air conditioner in the summer can equally wreak dry air havoc. Therefore, running a humidifier all year round could help when your home's humidity level falls under the ideal 30-60 percent range. You can always use a hygrometer if you're unsure about your house's humidity.
Factors to Consider in the Best Humidifier for Bedroom
1. Type of Humidifier
Choosing between a warm and cool-mist humidifier is arguably the first thing you'll have to decide. Both types effectively work by adding moisture into the air, but their applications tend to differ ever so slightly.
a). Cool-Mist Humidifier
Cool mist humidifiers are more suited to homes with children and pets since there's no risk of burning from the heating element. Furthermore, these humidifiers can also help shrink nasal passage swellings, making it easier for you to breathe. There are two variations of cool mist humidifiers:
Evaporative humidifiers- use a fan to blow air through a wet wick, cooling the air as it picks up the moisture from the wick.
Ultrasonic humidifiers- use a nebulizer (a small vibrating diaphragm) to create the cool mist. Ultrasonic modifiers don't have fans, hence they are usually quieter.
b). Warm Mist Humidifier
Warm mist humidifiers draw on a heating element to boil water which creates the warm mist. Also known as steam vaporizers, these are better suited when temperatures drop. They are cheaper than cool most humidifiers, although they also consume more energy. It's worth noting that warm mist humidifiers can cause nasal passages to swell, which makes breathing more difficult. While not completely unheard of, it would be best to avoid using them to relieve cold symptoms.
Furthermore, they're not particularly the best for homes with children since the hot water in the humidifier tank can burn a child or pet if the humidifier leaks or tips over.
2. Size
Generally, the size of the humidifier you'll opt for largely relies on the size of the room you want to add moisture to. For the best humidifier for bedroom, you'll probably go for a portable unit, also known as tabletop humidifiers, which more often than not are placed on a nightstand or desk.
Portable humidifiers are compact, with smaller water tanks that need to be refilled more frequently. To put that into perspective, most portable humidifiers hold the same capacity as a water bottle. On the other hand, they are much more affordable and be moved from one room to the other quite easily.
3. Water Tank Capacity
Water tank capacity relies on the size of the humidifier. If you're looking to use a humidifier all night or all day-or both-you'd be better off going for a product with a large enough capacity. Whatever the case may be, it's important first to check at the manufacturer's estimated run time to have an idea of how frequently you'll need to refill the tank.
You can also opt for a humidifier with a removable tank, making it very easy to refill from a kitchen or bathroom faucet. While at it, you'll also have to consider how heavy it'll be when you're carrying it back. If it's too heavy to be practical, you can always bring water to the humidifier with a jug or pitcher.
4. Run Time
You'll also have to consider how long the humidifier can run before it needs refilling. Some can operate for a couple of hours, while others can run for a full 24 hours. If you opt for a humidifier that needs frequent refilling, it would be best to get one with an auto-off feature. This ensures the humidifier will stop running as soon as the water runs out.
5. UV Filtration
Moist, humid conditions can easily quickly turn into breeding grounds for bacteria, pathogens and mold. As such, some humidifiers come with UV light. A specialized light filtration system eliminates microbes that could be breeding in the humidifier's tank while also preventing them from being emitted into the air with the mist.
6. Humidistat
A built-in humidistat is a nifty feature to have on a humidifier. It monitors the room's humidity and regulates the appliance accordingly. As much as this is not particularly necessary, it helps prevent releasing excess moisture into the air, which can fog up windows or leave a musty odor in the room.
7. Ease of Cleaning
Most manufacturers and experts recommend cleaning your humidifier at least once every week. This prevents the growth of microbes, bacteria and mold. Ensure you go for a humidifier that is simple to disassemble and easy to clean since you'll be doing it pretty often.
Frequently Asked Questions on Humidifiers
1. When should I use a humidifier?
Humidifiers are mostly used in the cold season, thanks to their effectiveness in easing chapped lips, scratchy throats and parched skin. Some people also use these devices to relieve discomfort caused by mold or pollen, mostly in spring and summer. As such, it's not completely inconceivable to keep a humidifier running all year round. That said, the best time, arguably, to use a humidifier is while you sleep at night.
2. How close should the humidifier be from my bed?
If you're dealing with a cool-mist humidifier, you don't have to worry much about this. However, a warm-mist humidifier should be placed far away enough from the bed for safety reasons, particularly at night. You should take even extra caution if you're using the humidifier in a kid's room.
3. How do I clean a humidifier?
The general process of cleaning a humidifier is to "empty, rinse and dry the base tray or reservoir before refilling." You can even disinfectant the appliance with a bleach solution if you want to be thorough. However, ensure you refer to the instruction manual before you do so.