Recliner chairs are known to be comfortable and ergonomic. Additionally, one of the best parts about recliners is that they make it considerably easier to sit down and stand up. However, when it comes to recliners, one size doesn't always fit all. Therefore, we have highlighted the best compact recliners in the market. The best compact recliner is the best option for most small spaces since you can have all the best features without the bulk of a traditional recliner.
Our first recliner chair in this list is the CHITA Power Recliner Swivel Glider which has excellent lumbar support and all the bells and whistles you would need in a recliner. Our second recliner is the Plococo Electrical Power Recliner Chair which has an ergonomic design and a long backrest for comfort. Of course, our third choice is the electric Cinkehome Electric Power Recliner Chair which has a quiet operation even as you switch angles.
The Best Compact Recliners for Small Spaces
| | | | |
| --- | --- | --- | --- |
| | | | |
| | | | |
| | | | |
| | | | |
| | | | |
1) CHITA Power Recliner Swivel Glider
CHITA Power Recliner Swivel Glider, Upholstered Faux...
【Power Glider Swivel Rocker Recliner Chair】Designed with...
【Not An Average Nursery Chair】Although not quite visible, the...
【Recliner with Footrest】Extending footrest and reclining...
【Bonus Features】 Built-in USB charging ports for easy...
【Simple Assembly & Warranty】Just slide the back into the seat...
What we like: Soft seat cushion that's comfortable.
What we don't like: Hard to fit through doorways.
Perfect for: Nurseries, living rooms, and bedrooms.
Not so great for: Tall people since it's short when reclined.
With an automatic reclining component, and the dual swivel and gliding function, this reclining armchair is the epitome of comfort. We recommend it specifically for its excellent lumbar support and how easy it is to put together. It took us less than 10 minutes to assemble and place in its reserved space.
Additionally, we also like how easy the material is to wipe off. Any spills and dirt are easy to scoop with a paper towel. Furthermore, this modern recliner is quiet, and the deep seat ensures you are comfortable, as the armrests provide extra support. The chair is heavy, but other than that, it's an amazing investment.
2) Plococo Electrical Power Recliner Chair for Small Room
Electrical Power Recliner Chair for Small Room,Dark...
【OKIN MOTOR POWER RECLINER CHAIR】 Built with a powerful OKIN...
【110-145 DEGREE RECLINING】 The chair reclines up to 145. For...
【USB CHARGE PORT 】 The chair has USB-A outlets that keep your...
【HIGH ELASTIC SPONGE and SKIN FRIENDLY FABRIC】 The back,...
【Size information: 】Overall Dimensions: 35"D x 30"W x 40"H....
What we like: Perfect for saving space.
What we don't like: It's not plush enough.
Perfect for: The elderly and people with physical limitations.
Not so great for: People with a larger body frame.
This small recliner chair is a great addition to any room in your house. Not to mention small spaces where you might need a seat. The foam cushions make it a comfortable seat. Additionally, we liked the ergonomic design, especially the tall wingback that makes it perfect for anyone with a long torso.
Image Source: overstock.com
We liked how far the reclining mechanism goes (145 degrees) and the adjustable footrest that ensures you have the perfect lounging angle. This recliner chair is the perfect spot when you're watching TV, for a reading nook, or for patio lounging. Additionally, it has an easy control button that makes the swivel and reclining process easier.
3) Cinkehome Electric Power Recliner Chair
Electrical Power Recliner Chair for Small Room,Dark...
【OKIN MOTOR POWER RECLINER CHAIR】 Built with a powerful OKIN...
【110-145 DEGREE RECLINING】 The chair reclines up to 145. For...
【USB CHARGE PORT 】 The chair has USB-A outlets that keep your...
【HIGH ELASTIC SPONGE and SKIN FRIENDLY FABRIC】 The back,...
【Size information: 】Overall Dimensions: 35"D x 30"W x 40"H....
What we like: Comfortable and stylish seat that goes well with any existing décor.
What we don't like: Too low
Perfect for: A relaxing day.
Not so great for: People with arthritis.
This electric power recliner chair is one of the best recliners for any contemporary style. If you have a small space, then you might not want to pass up on this chair. Additionally, even if you have too much space, it still looks good. We like how the swivel base allows you to adjust angles and does so quietly.
Image Source: ubuy.com
Furthermore, its slim frame might be just what you need for the tiny space that can accommodate a chair. Either way, we appreciate how easy it is to clean. The material is a stain-resistant polyester fiber, which you can wipe down with a damp cloth at any time. This recliner chair is also excellent when you feel like relaxing.
4) Jummico Recliner Chair
JUMMICO Recliner Chair Adjustable Home Theater Single...
Material: The Recliner covered by high quality breathable fabric...
Application: It's a good choice for living room, bedroom, home...
Footrest: Steel frame design leads to more stable; Freely...
Maximum capacity: 265 lbs Seat Height; 17.7" Seat Dimensions;...
Easy to assemble and good service: Just slide the backrest to the...
What we like: Multiple color options.
What we don't like: Requires another layer of soft cushioning.
Perfect for: Anyone with limited floor space
Not so great for: Anyone who wants their footrest higher than 45 degrees.
If you prefer breathable fabric on your recliner chair, then this is for you. This is one of the best recliners for small spaces since the material is high-quality, and the foam-filled cushions are well-padded for comfort. We also liked that this is a manual recliner that will look great in any living space.
Image Source: lifely.com
Apart from being sturdy, we appreciate that you can save space since it's a small recliner. Additionally, we tested the support it provides, and it didn't disappoint. If you care about your posture, then the adjustable back cushion will keep you in an upright position. The metal frame is also strong.
Additionally, the armrests are comfortable and made of a wooden frame. Since taller people require more room to extend their arms, the flared arms are the perfect length.
5) Cooexult Rocker Swivel Recliner Chair
What we like: Comfortable rock and swivel base.
What we don't like: You have to push the leg rest so it can fold in.
Perfect for: Relaxing, reading, or working.
Not so great for: People who only want a rocker. It's also a glider recliner.
With a reinforced metal base for increased sturdiness, this recliner club chair is made of real leather, and its durability is unmatched. For a reclining chair, it's a good option. Now, while it's not the best wall hugger, we think it has multiple redeeming qualities. For example, the recline is independent of the footrest, and it also swivels and rocks at the same time.
Image Source: walmart.com
A great surprise is how comfortable and soft the stuffed headrest is. Within a few minutes of relaxing on it, we all wanted to take an afternoon nap. While you would expect a leather recliner to be hot and uncomfortable due to how stifling leather can be, that's not the case with this recliner chair.
Additionally, all the color options look good with every interior design option. You don't have to worry about the seat being an eyesore.
Buying Guide for The Best Compact Recliner
Recliners for small spaces have always been a favorite piece of furniture to adorn most households. Since recliner chairs are very desirable, you need to be sure of what you want your recliner chair to have before buying a recliner chair. Here are some things to consider:
a) Your Space and Layout
The dimensions of your living room or bedroom are important when you want to buy a recliner. Remember, even if you are buying the chair online or from a shop, the dimensions will help you pin down where you can place it. If you aren't going for a wall hugger, then it's important that the space between the way and the backrest of the chair be 1-3 feet.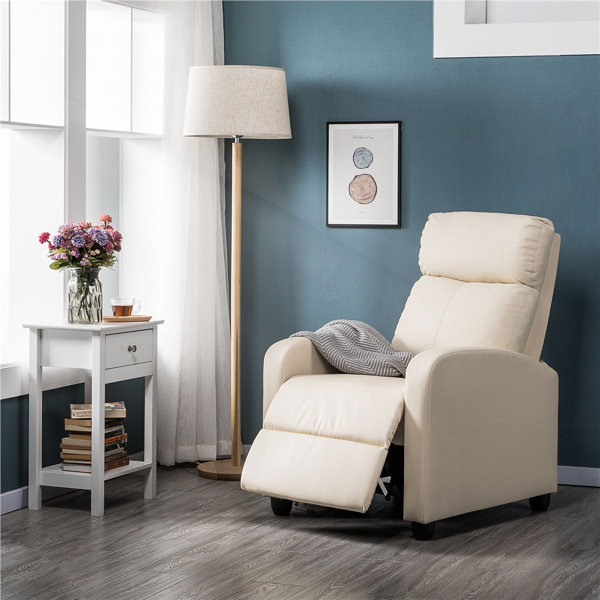 Image Source: Wayfair.co.uk
Remember that recliner chairs are an investment. It's the space you come home to after a long day. While the space around furniture varies from person to person, you should consider that a recliner needs to recline and extend its footrest.
b) Your Height
Generally speaking, traditional recliner chairs are comfortable for everyone, regardless of their height. They were made to accommodate tall, short, light, and heavy people. The result was bulky recliners that, after some time, start to become an eyesore. However, modern recliners, especially compact ones, are made to be space-saving.
Image Source: berkowitzfurniture.com
Therefore, you should ensure you can sit comfortably on the chair. Your feet should touch the ground, and your head should rest comfortably on the headrest. An adjustable headrest is also recommended. Furthermore, there shouldn't be any space left between the backrest and the seat cushion. It could be dangerous for children and pets.
c) Recliner Chair Construction
Whether you prefer a solid wood frame, or a massage recliner with a metal frame, the construction matters. For starters, the materials used to create the cushioning are important. A vegan leather recliner might not be as durable as real or top-grain leather. Additionally, polyester blends and linen are also available.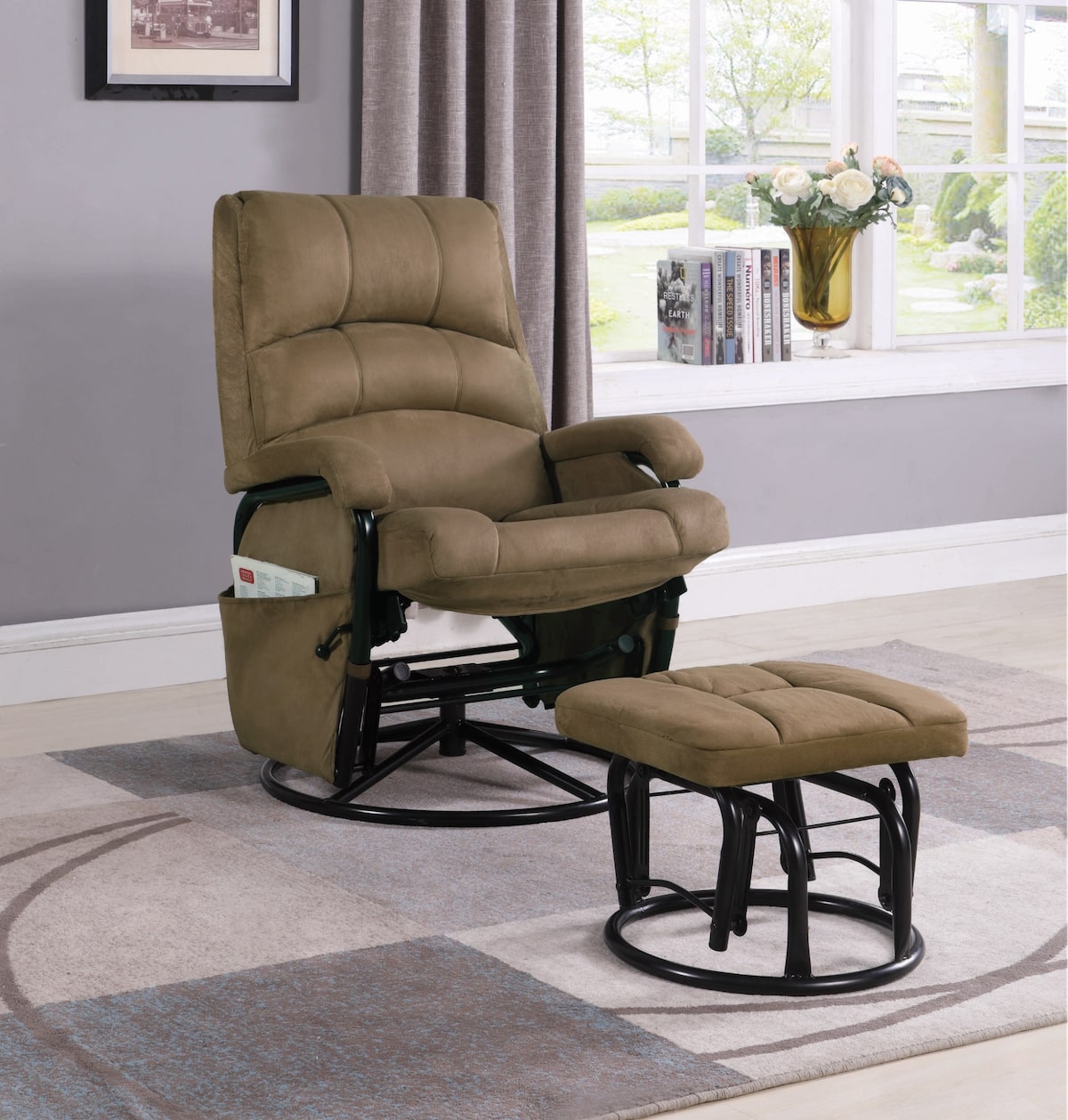 Image Source: coasterfurniture.com
Choosing can be a little harrowing when it comes to ergonomic design. Regardless of how the recliner is made, it must provide lumbar and leg support. The foot extensions should also be strong enough to hold an adult's weight.
d) Manual Vs. Power Recliners
You should know that manual recliners don't need to be connected to a power source and have fewer locking positions. Additionally, compared to a power recliner chair, manual recliners cost less. However, if you want multiple locking positions, then a power recliner chair is the way to go. Additionally, power recliner chairs usually come with a heat and massage function.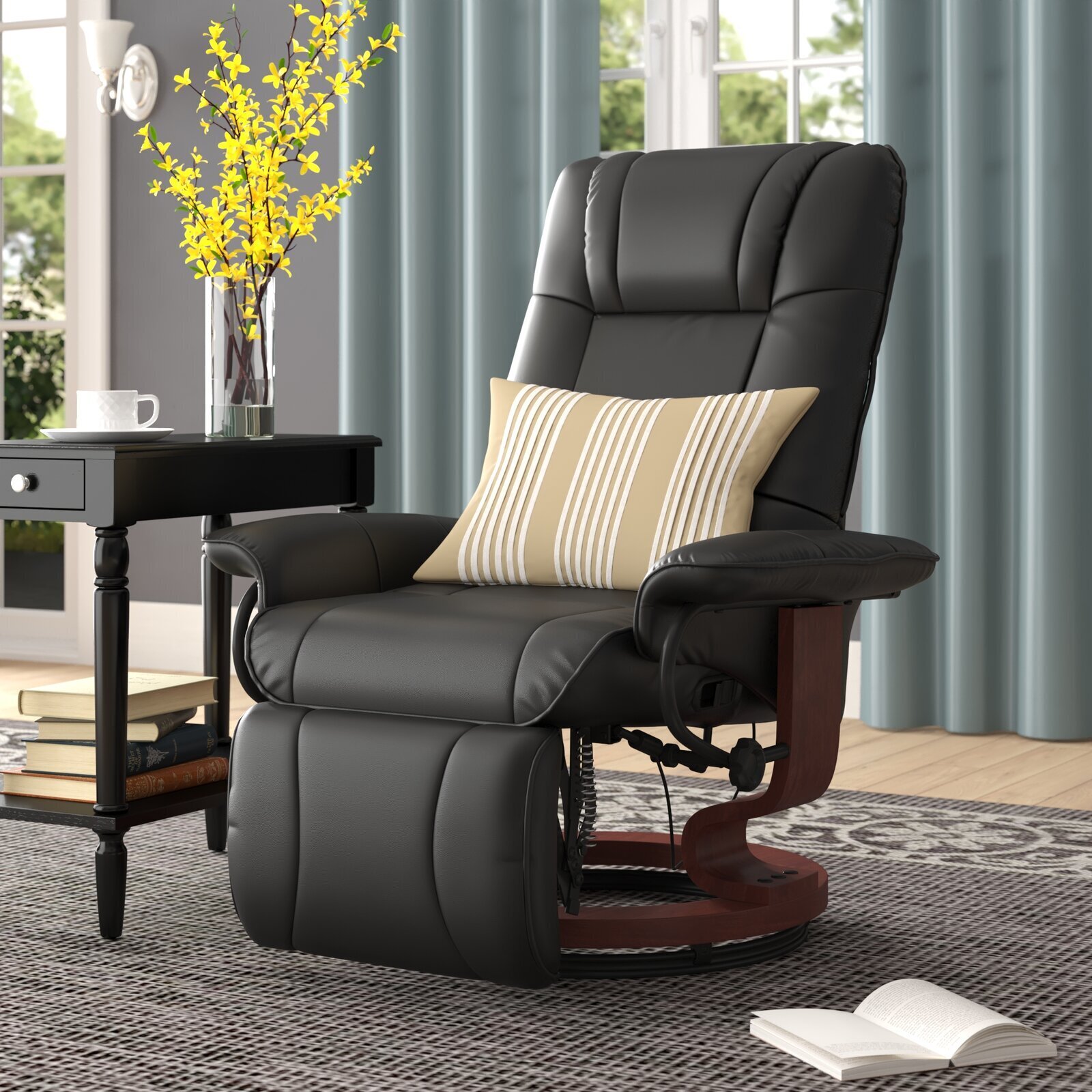 Image Source: fotermagazine.com
A manual recliner is perfect for any space since it's easier to move from one spot to the next. Furthermore, if you live in a story house, then moving the chair upstairs and downstairs won't be an issue. However, even an electric and compact recliner will still be heavier due to all the electric components.
e) Cost
Everyone is always looking to save money but still get a quality recliner. However, the cost should be hinged on the type of recliner and what features it comes with. The first part you should spend money on is the build and the customization. Don't compromise on quality even if you have to spend more money.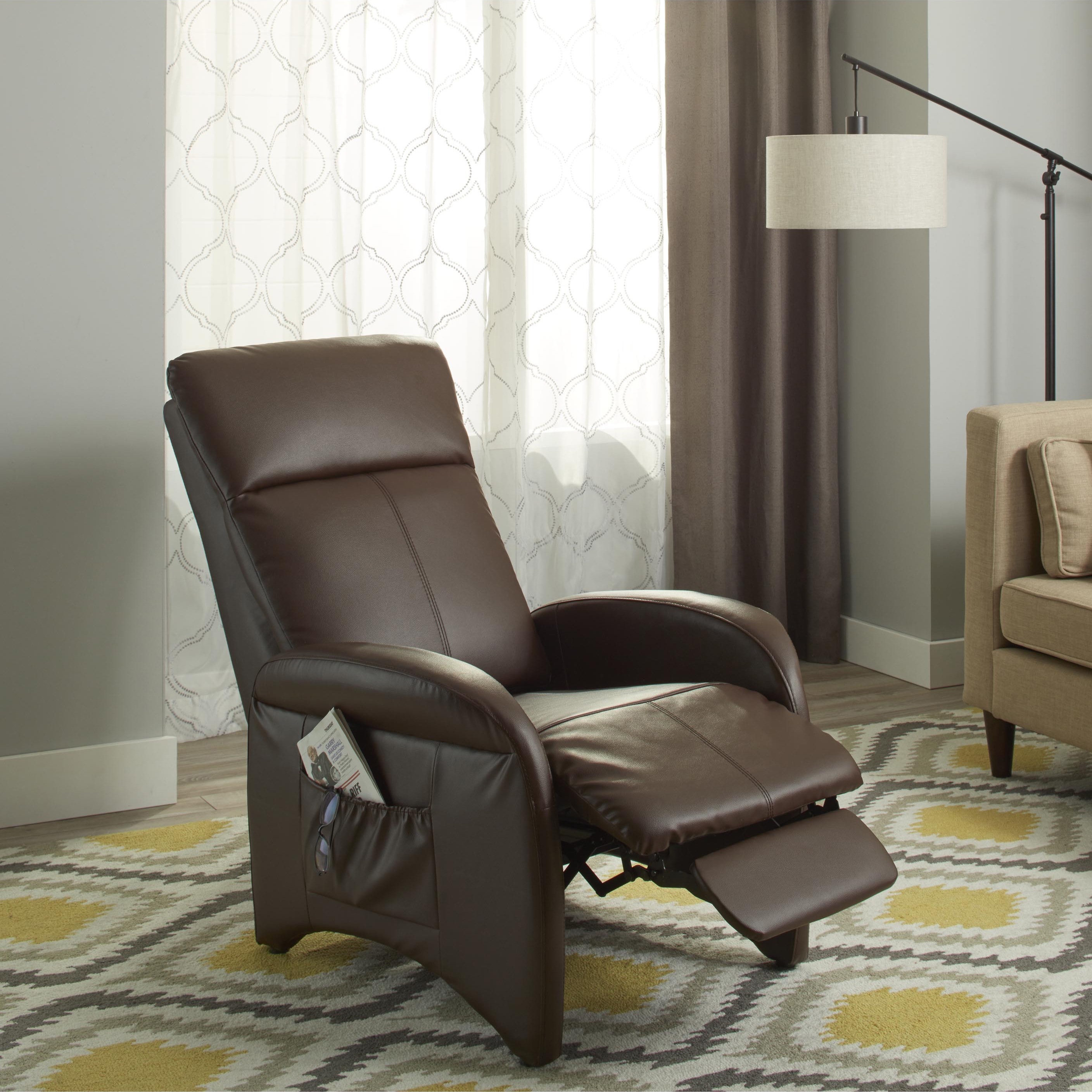 Image Source: overstock.com
As you consider cost, you should also consider the purpose of the recliner and how regularly it will be used. The fabric should be able to handle everyday wear and tear for a few years before you have to replace it.
Frequently Asked Questions About the Best Compact Recliner
i) Why do people sleep in compact recliners?
Recliners generally take the pressure off your back and joints. They allow you to rest. Additionally, sleeping in a reclined position is better than sleeping in a sitting position. Sitting all day is tiring.
ii) How much space do you need for a compact recliner chair?
You need a space between 40-45 inches wide. Additionally, when the chair is fully reclined, the headrest and footrest should be at least 5 inches away from the walls and surrounding furniture.
iii) What makes a compact recliner comfortable?
The padding in the cushioning makes the recliner chair comfortable. A common padding material is synthetic foam. Synthetic foam cushions usually have either high-density foam or memory foam. Other padding options are soft or shredded foam. They are less comfortable than high-density foam.
iv) Do compact electric recliners need power?
Electric recliners, even compact ones, have a motor and other parts that require electricity to function. Therefore, they have to be connected to a power source for the headrest, leg rest, massage, and heat function to work.
v) Where should a compact recliner be placed in a room?
Where to place your recliner depends on how much space you have available. You can easily place a compact recliner in your nursery for mom. Additionally, it could make an excellent addition to the negative space in your living room. Furthermore, even a balcony could do with a compact recliner.
The Bottom Line
Recliners combine style and ergonomics. Additionally, recliners for small spaces are an excellent way to upgrade the look of your small apartment. Not to mention, you can rest and sleep in them after a long day as you catch up with your favorite shows and snacks.