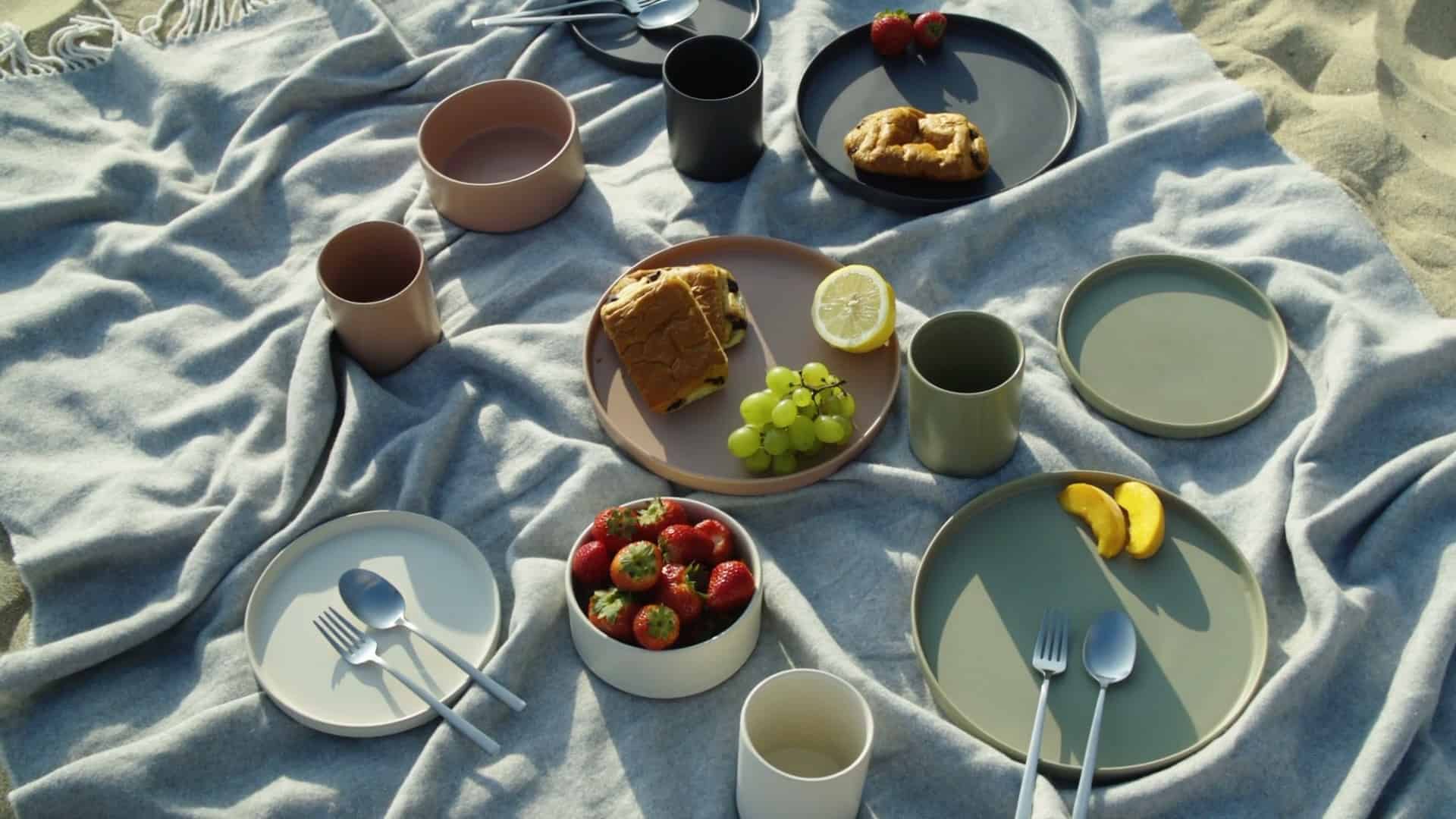 Best Dinnerware Sets For Everyday Use
Dinnerware sets are an extension of your style. They speak volumes about your personality and your preferences. Dinnerware is so much more than containers to hold your food and can change the whole dining experience by influencing the ambience.
A good dinnerware set brings a touch of class to your dinner table. Whether you're purchasing a dinnerware set for casual everyday meals or for special formal occasions to impress the guests, it's important to get a set that will remain in style and serve you for years.
We know that choosing a dinnerware set that you can use for years can be intimidating especially when you don't know where to start. That's why we've created this list of the best dinnerware sets that we think you'll love. A dinnerware set comprises of multiple place settings for the whole table.
There are many types of dinnerware sets, but the most common are 20-piece sets that cater to a table of four. This type consists of a dinner plate, a teacup, a saucer, and a salad plate.
Let's first start by looking at some of the factors to consider when making your decision.
How Do I Choose a Dinnerware Set?
Choosing a dinnerware set is a great opportunity to let your individuality shine through. In addition to purchasing fabulous dinnerware sets that you can enjoy with your family and friends, you also get to choose a set that suits your personality and brings a smile to your face whenever you have a meal.
Whether you're purchasing new dinnerware sets for yourself, as a wedding gift, or to replace your current dinnerware, taking the time to find the right set that speaks to your heat will make the purchase all the more special.
Some factors to consider when purchasing dinnerware sets include the following.
1. Budget
Before you decide to purchase anything, you usually calculate how much you're willing or able to spend on it. This is no different when it comes to purchasing the best dinnerware sets. It's good to be clear about how much you want to spend on this precious commodity.
The good thing about knowing how much you'll spend is that you're able to consider the other factors that we'll look at below based on your budget. There are dinnerware sets of various price ranges so you don't have to worry about not finding one that suits your needs within your budget.
However, we should mention that high-quality dinnerware is a great investment as it is more likely to last a very long time. Therefore, when you're setting a budget, you shouldn't feel guilty about spending an arm and a leg.
2. Number of People
How many people are you going to be entertaining with this dinnerware set? If you're purchasing a dashing set for everyday meals, you could consider the number of people in your family and get a suitable set to fit everyone.
3. Purpose and Level of Formality
Why are you getting the dinnerware set? This is a crucial question to answer because the right dinnerware is dependent on its use. Your dinnerware set determines the ambiance of your meal.
So knowing exactly what you want to use your dinnerware set for will help you choose the right one. For example, if you have children and are purchasing a set for them, you may want to choose one that is lightweight, durable, and safe to use by the little ones.
4. Material
When it comes to choosing a material for your dinnerware set, the world is your oyster. There are many materials from which dinnerware sets are made including earthenware, stoneware, melamine, porcelain, bone china, ironstone, and glass.
Some of the materials that are great for casual occasions such as everyday meals include earthenware, stoneware, melamine, ironstone, and glass. Porcelain and bone china are suitable for more formal occasions.
5. Tableware Shape, Color, and Pattern
Choosing the right dinnerware set also comes down to choosing the set that matches your current tableware and room theme. If you're into a contemporary look, you will love bold colored dinnerware sets with rustic patterns or square patterns.
Ensuring that your dinnerware coordinates with the rest of the table setting and room theme will add to the ambiance you want to set. For example, if your dining room pops with color, a neutral-colored dinnerware set such as ivory may be great. On the other hand, if the room has a neutral design, a brightly-colored dinnerware set may just do the trick.
What are the best dinnerware sets to buy?
Now that we've looked at the factors, let's dive into the best dinnerware sets that you'll love.
Starting us off is this artisan-crafted dinner set that consists of dishwasher safe and microwave safe pieces made from locally sourced and recycled clay. Sourced from Northern Portugal where they are passionately made in a family-owned factory, you can feel the love emanating from these pieces and a promise of a great meal.
This dinnerware set is perfect for a place setting of four. You can purchase more sets if you'd like to host a party of more than four. This dinnerware set is great for family meals, dinner parties, or even a casual afternoon brunch.
Available in four colors: ivory, rose, olive, and noir, you can carefully select the color that calls to you and suits your tableware. The semi-matte reactive glaze finish adds a touch of class to this set.
Are you annoyed when your food spills onto the tablecloth? With this Far and Away dinnerware set, you don't have to worry about that because the vertical rims prevent that from happening. Also, the rims allow you to comfortably stack the pieces in the cupboard without fear of them slipping.
2. Lenox White French Perle 4-Piece Place Setting
Sale
This dishwasher and microwave safe dinnerware set consist of a dinner plate, an accent plate, a bowl, and a mug. Also referred to as a pasta bowl by Lenox, this bowl holds a generous serving that will leave your guests licking their lips in satisfaction.
Each of these pieces is made from stoneware. Pleasing to the eye with ornate swirls, scrolls, and a strung-bead motif, these dinnerware pieces will make your food pop.
You've heard that we eat with eyes first, and this Lenox dinnerware set promises to make your beautifully cooked meal come alive. This dinnerware set can be perfect when you're entertaining formally or simply want to impress your guests with a dash of class, history, and a relaxed mood.
The hand-applied finish around the reams gives the feeling of care and dedication and will make your guests appreciate the meal you've poured your heart into.
Although this dinnerware set is a classic and complete beauty, you may experience some cons such as visible cutting and fork marks. But don't you worry! We have a solution for that in the next chapter of this article. Scroll down to see.
Nonetheless, this dinnerware set is durable, and to prove just how much, Lenox offers a lifetime replacement of broken dishes. If you have a farmhouse, or simply love the country vibe, you may want to get yourself this dinnerware set.
3. Fiesta 4-Piece Dinnerware Place Setting, Turquoise
Sale
Do you want to hear your guests hum with an appreciation for your food? We know that you're a great chef, now we'd like to give your delicious meal a great background with the neatly sculpted concentric rings on these pieces. This Fiesta 4-piece dinnerware set blends well with any home decor.
The bold colors add a pop to the whole room making your dining experience a joyous and memorable one. All the pieces are dishwasher and microwave safe, oven-proof, freezer proof, and lead-free. So if you are looking for a dinnerware set that you can use for multipurpose while still maintaining its quality, you can go for this 4-piece by Fiesta.
The quality of Fiesta is unmatched and they aim to please their customers with high-quality and color-popping dinnerware pieces.
If you don't like this turquoise color, you can choose another color from the wide variety of colors that Fiesta loves to shower their customers with.
As a well-established manufacturer that has been around for decades in the United States, it's no surprise if you find your friends with a collection of these fabulous pieces.
And the best part? You don't have to worry about patterns clashing since Fiesta maintains its patterns. So you'll always have a dashing set of matching pieces in bold colors. Go bold with Fiesta!
Fiesta prides itself on durability and proves this with a 5-year chip resistance warranty. So if you find yourself wanting to add color to your kitchen, look no further than this 4-piece Fiesta dinnerware set. Enjoy these high-quality plates and bowls.
4. AmazonBasics 18-Piece Kitchen Dinnerware Set
Amazon Basics 18-Piece Kitchen Dinnerware Set, Plates,...
18-piece dinnerware set of plates and bowls; service for 6
AB-grade porcelain for everyday use; lightweight yet durable
Elegant modern design for easy coordinating with existing...
Dishwasher-safe, freezer-safe, and microwave-safe; plates can...
Includes 6 each: 10.5-inch dinner plate, 7.5-inch salad/dessert...
What's the best list without a budget-friendly option? If you're on a budget but still want to get yourself a great dinnerware set that will bring joy to your heart and serve you for years, this porcelain dinnerware set may be perfect for you.
This classic set has a timeless appeal with a modern touch that makes you feel like all is right in the world. Able to make any meal feel warm and friendly, you may enjoy serving a meal to your loved ones in this dinnerware set.
All the dinnerware pieces are dishwasher and microwave safe, oven-proof, and freezer proof. These qualities and the fact that they don't retain heat from the microwave that may burn your fingers, make them a practical choice great for daily home use. Each set includes a dinner plate, a dessert plate, a bowl, and a mug.
Also, because they are inexpensive, blank, and lightweight, these AmazonBasics pieces are perfect for you if you want a quick option that will not dent your pocket. In fact, if you don't want to think so hard about which dinnerware set to get, and also want one that you can easily replace when you want to, pick this option.
However, if you are a perfectionist or have some OCD tendencies, we strongly suggest that you steer clear of this dinnerware set as it may set off some alarms when it comes to the tiny details.
Unfortunately, because of its budget-friendly nature, you won't find the comfort of extreme durability with this dinnerware set. After enjoying these pieces for some time, you may notice some flaws and imperfections that may irk you if you are a perfectionist.
This isn't to say that you'll have to throw these pieces. Not at all! In fact, it may be perfect for you if you have children or an active family that don't take particular care of how they handle their dishes.
So, you could use this dinnerware set for everyday meals with your family and save the more classy, expensive ones for special occasions.
Finally, if you're looking for the perfect gift for your friend who's just moved into their first apartment, look no further than this AmazonBasics 16-piece dinnerware set.
How to Maintain Your Dinnerware sets
Getting yourself one of these fantastic dinnerware sets is just one part of the puzzle. Maintaining its pristine condition is the second part. Here are some tips on how to keep your dinnerware set looking great for years to come.
Remove hard-water spots with vinegar. Soaking your precious pieces in white vinegar for about three minutes before you rinse and dry them will keep them looking sparkling and brand new. If you can't control the type of water you use on your set, you can control the effect it has on your precious dishes.
Use baking soda to remove coffee stains and fork marks on your dinnerware sets. We all love coffee. That refreshing feeling that gets you up and running is something to celebrate. However, discovering the coffee stains on your mug isn't as exciting. Therefore, rubbing a paste of baking soda mixed with water onto the areas with coffee stains or fork marks before rinsing and drying will clear them up.
Put a piece of fabric in between the plates and bowls to prevent scratching. The pain of chipping or scratching your dishes is excruciating. To prevent this, keep your dinnerware set pieces safe by separating them with fabric or placing them in a padded storage case.


Conclusion
We've come to the end of our review of the best dinnerware sets. We hope that you've learned something new will use the information to get yourself a dinnerware set you love. Remember to pay attention to the factors to consider when choosing a great set including:
Budget
Number of people
Purpose and Level of Formality
Material
Tableware Shape, Color, and Pattern
After selecting the dinnerware set you love, ensure that you take care of it by maintaining using the points we've discussed above. Let us know which set you choose and why.