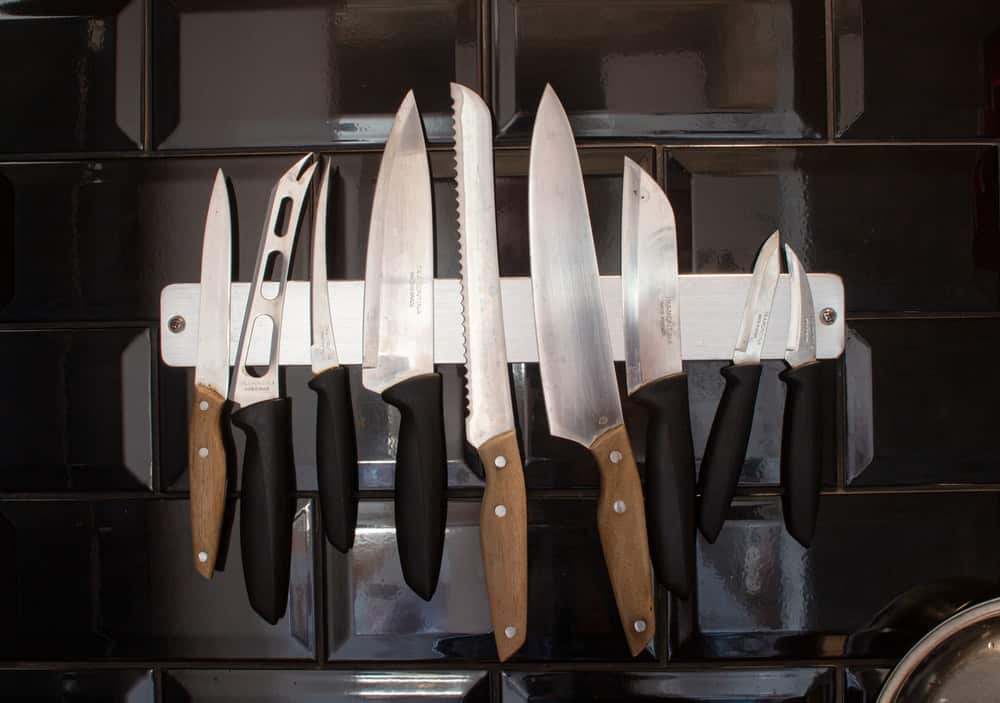 Best Electric Knife Sharpener for Razor-Sharp Knives
Sharpening your knives manually is a time and energy-consuming task that doesn't always give you the results you want. Thankfully, with the best electric knife sharpener, you can effortlessly and quickly improve the condition of your dull blades to a razor-sharp level.
This article reviews the various electric knife sharpeners you can buy and the factors to keep in mind when making your choice.
What is the best thing to sharpen a knife with?
1. Chef's Choice Trizor XV Edgeselect Electric Knife Sharpener
Chef'sChoice Trizor XV EdgeSelect Professional Electric...
CONVERT YOUR KNIVES: Ideal for converting traditional 20-degree...
DIAMONDS: Advanced stropping stage and 100 percent diamond...
EASY TO USE: Advanced, patented flexible spring guides for...
THREE STAGES: 3-Stage EdgeSelect sharpening system for optimum...
RAZOR SHARP: The 15 Trizor XV combines the strength and...
The best electric knife sharpener in our review is the Chef's Choice Trizor XV which is the perfect tool for converting the dull edge of your kitchen knife into a sharp blade. It features 100% diamond abrasives and an advanced stropping stage ideal for sharpening straight and serrated blades. This makes it an excellent choice for enhancing your kitchen knives, hunting knives, pocket knives, and more.
You won't have a hard time using this electric knife sharpener since it has an ON/OFF switch for easy operation. Additionally, the flexible spring guides facilitate an automatic adjustment of the sharpening angles to eliminate the need for manual modification.
It comes with a three-stage sharpening system that will meet your exact requirements to give you an edge that will smoothly handle your cutting tasks. The first two stages use diamond abrasives to hone the knife-edge, while the third stage features a flexible abrasive system that polishes serrated knives to lengthen their cutting life.
Sharpening your knives with this electric knife sharpener will be effortless since it takes about a minute to turn a dull blade razor sharp and about 10 seconds for resharpening. This product comes with a 3-year warranty and will provide great value for your money.
2. Presto EverSharp Electric Knife Sharpener
Sale
Presto 08800 EverSharp Electric Knife Sharpener, 2...
The product is electric knife sharpener
Easy to use
The product is manufactured in china
Two-stage sharpening system quickly and easily sharpens most any...
No guess sharpening; precision blade guides position the knife at...
The Presto 08800 EverSharp is the second-best electric knife sharpener you can get. It features a two-stage sharpening system that will get your dull knives sharper than a razor in no time.
You don't have to guess the ideal sharpening angle since this tool has precision blade guides that will place the knife at the perfect angle. As such, this electric knife sharpener can give you consistent results each time you use it to enhance your blades.
The sapphire sharpening wheels will transform your dull blade into a sharp knife in a few seconds. This is because sapphirite is a professional-grade material that is used in blade-sharpening shops. As a result, the sharpening quality is just as good as what you get from hiring experts to improve your knife's edge.
3. Presto Professional Electric Knife Sharpener
Presto 08810 Professional Electric Knife Sharpener
Easy 3-stage sharpening system for professional results at home,...
Sharpens kitchen and sport knives, even Santoku knives.
Blade thickness selector adjusts guides to optimum sharpening...
Select thick for hunting knives, medium for chef's knives and...
Blade guides hold knife at the perfect angle for no-guess...
In third place, we have the Presto Professional Electric Knife Sharpener, which has a three-stage sharpening system that will get your knives sharp at the comfort of your home. You can use this knife sharpening tool to enhance the performance of your sports knives, kitchen knives, chef's knives,
The sharpening slots on this electric sharpener are organized according to thickness. This means that you can select the thick option for your hunting knives, the medium option for your chef's knife, and the thin option for paring knives. This user-friendly design makes this Presto product one of the best electric knife sharpeners on the market.
The blade angle guides will automatically set the ideal angle to eliminate the need for guessing the sharpening angle. This professional electric knife sharpener has a ceramic wheel for honing your blade until it has a razor-sharp edge. So, if you are looking for the ideal tool for transforming your set of dull knives into efficient blades, this model is the solution you need.
4. EdgeKeeper Electric Knife Sharpener
EdgeKeeper Electric Knife Sharpener, Red, 8.25-Inch -
SHARPEN IN THE CONVENIENCE OF YOUR HOME: This two stage sharpener...
SHARPEN AT THE PERFECT ANGLE: The slot angles position the knife...
EASY TO CLEAN & LIMITS MESS: A removable magnet catches all metal...
NON SLIP FEET: The sharpener features non slip feet for safe...
MEASUREMENTS: The sharpener measures approximately 8.25 inches...
We can't talk about the best electric knife sharpeners without including the EdgeKeeper Electric Knife Sharpener. This model has a two-stage sharpening system and will provide a razor-sharp edge by the end of the two sharpening stages.
Sharpening your knives at the wrong angles can cause more harm than good. Fortunately, you won't have to worry about this with the EdgeKeeper Electric Sharpener since each slot positions the knife-edge at the perfect angle to give you ideal results every time you use it. No need to look for professionals to sharpen your knives anymore since this unit will meet your needs from home.
Do the melt shavings you leave after sharpening your blade bother you? If so, you'll love the EdgeKeeper Electric knife sharpener since it comes with a detachable magnet that you can use to gather up all the residue after the sharpening process. This makes it easier to maintain a clean and tidy surface in your kitchen.
The vibrations that electric knife sharpeners produce can cause them to move about during operation. To counter this situation, this product features non-slip feet that keep the machine in place for a safe, sharpening experience.
5. Work Sharp Culinary Kitchen Knife and Tool Sharpener
Work Sharp Culinary Kitchen Knife Sharpener with...
Factory-sharp edges: The only kitchen knife sharpeners using...
Fast pre-programmed sharpening: the E5 sharpens your knives at...
Sharpen any knife, any brand: designed to accommodate all the...
Built in vacuum: The only knife sharpener with a built-in vacuum...
Award winning design: the E5 electric kitchen knife sharpener was...
Lastly, we have the Work Sharp Knife Sharpener, which, unlike standard knife sharpeners, which use sharpening stones or sharpening wheels, uses flexible sharpening belts. This is the same technique used by manufacturers for creating factory-sharp edges. As such, this sharpener can get your dull blades as sharp as they were when brand new.
This machine is easy to use since it has a push-button for operation. Rest assured, you'll have a sharp knife in as little as 90 seconds. It features three settings that allow you to sharpen, shape, or hone your blades. When you reach the end of the sharpening cycle, this electric knife sharpener automatically turns off.
It is designed to accommodate all knife types, from the most exotic to the more basic styles. It can work just as well on tools like kitchen scissors and poultry shears without any hassle. This Work Sharp appliance features an in-built vacuum to keep the metal debris from your kitchen countertop. As a result, you'll have minimal clean-up to do after sharpening sessions.
As a bonus, this unit comes with a ceramic honing rod which won't require any strength or force to sharpen your knife.
Factors to Consider When Choosing the Best Electric Knife Sharpeners
There are some things that you must keep in mind as you search for the best knife sharpener for your knife set. This section contains those considerations and will help you make the most suitable choice.
1. Budget
Electric sharpeners range in price as much as they are diverse in models. They could be as affordable as $20 or as expensive as $200. So, you'll want to know what to expect for the amount of money you are planning to invest in your electric knife sharpener.
The most expensive units will include three stages; sharpening, honing, and refining. The primary reason these models are pricey is because of the diamond abrasives inside them. Diamond is great for sharpening because it is among the hardest materials on the planet. Unfortunately, it also carries a hefty price because of its value which is why these sharpeners range between $130 to $200.
The moderately priced options are the most common models on the market. They cost anything between $50 to $130 and could have abrasive wheels made from diamond but mostly have sapphirite wheels. Sapphirite is also hard and durable but is much cheaper than diamond. These sharpeners will also have two stages which involve combining the honing and polishing processes into one.
The low end of knife sharpeners features low-quality models that typically have two sharpening stages. Unfortunately, the angles on these units are fixed, which makes them less flexible than the more expensive ones. Additionally, rather than diamond or sapphirite, they will have ceramic, synthetics, or carbide tungsten wheels. They are quite affordable and will come below $50.
2. Types of Knives
Your kitchen has either Western or Asian-style knives. The Western knives are made according to American or European standards, which involves blades with an 18 to 20-degree angle. They are the most common type of knives in most kitchens and are compatible with both electric and manual sharpeners making them a flexible option.
On the other hand, Asian knives have a Japanese style and feature a sharper angle of about 12 to 15 degrees. Japanese knives are small and slim and are often used for filleting salmons or cutting sushi. These knives are not compatible with typical sharpeners and require a specialized unit. So, if you have an Asian-style knife set, you'll want to ensure that the model you choose can sharpen this style before you spend money on it.
3. Sharpening Angles
Depending on the style and purpose of your knife, it will fall anywhere between 12 to 35 degrees. The angle of the blade informs its strength and durability. The higher the angle, the better the blade. Here's a small guide to help you identify the exact angle of your knives;
Butcher knives, chopping knives, and cleavers - 30 - 35 degrees
Hunting knives, outdoor utility knives, and pocket knives - 25 -30 degrees
Most kitchen knives, chef's knives, carving knives, ceramic knives, and boning knives - 18 -25 degrees
Japanese knives, paring knives, and fillet knives - 12 -18 degrees
4. Abrasive Material
Abrasives refer to the grinding wheels inside the electric sharpeners. They can be made from a wide range of materials, but the most common include diamond, sapphirite, carbide tungsten, ceramic, and synthetics.
Diamond is the most durable and hard material, which is why it is used in high-end models. However, you can still find diamond abrasives in some affordable units. It is typically placed in the medium and fine honing slots.
Sapphirite is second to diamond in durability and performance and is a great alternative because it is more budget-friendly. That is why it is popular in most mid-priced electric sharpeners. The quality of the other materials is less than that of diamond and sapphirite. As a result, they are mostly used in low-end electric sharpeners.
5. Sharpening Stages
Some electric knife sharpeners have two stages, while others have three. The first stage has coarse grits that grind some material from the blade, which creates a new and sharper angle. The second stage has fine grits, which fine-tune the new blade angle into a smooth edge. The third stage normally features fine honing or stropping, which is ideal for slim knives.
If you are looking for a replacement for your manual sharpener at home, you can opt for a two-stage unit. This will serve your sharpening needs adequately without having to overspend on a three-stage unit. The three-stage types are better left to chefs since they can identify the more subtle differences in the blade during cutting.
The first stage will eat into your blade, which is why you should only use it for overall maintenance, restoring misshapen blades, and converting knives.
Frequently Asked Questions
1. What is the best electric knife sharpener on the market?
The best electric knife sharpener you can buy is the Chef's Choice Trizor XV Edgeselect Electric Knife Sharpener, a durable and user-friendly model.
2. Are electric knife sharpeners any good?
Yes, they can save you a lot of time and energy since they can sharpen knives better within a shorter period than manual sharpeners.
3. What do professional knife sharpeners use?
Professional knife sharpeners use three-stage electric knife sharpeners to get your knives back in shape.