The best flooring for hot climates makes all the difference in a home. Aside from the aesthetically pleasing quality, it increases the home's value and is also an integral aspect of interior design.
On the flip side, the wrong type of flooring can make a home less appealing in decor, comfort, and style.
Various flooring types are suited to various homes, and location is a huge factor to consider in choosing a flooring option. Living in hot and humid climates requires a flooring option that is best suited for such heat and humidity.
Want to know the best options? Find out some flooring tips below.
General Tips for Choosing the Best Flooring for Hot, Humid Climates
Image Source: thespruce.com
When deciding on flooring types, an important thing to note is that the thermal mass of a flooring material suggests how well-suited it is to your climate.
Discover different types that fit in great with the style and aesthetic you have envisioned, no matter how hot and humid the climate gets. However, the factors to consider when choosing a flooring option remain the same: choose moisture-resistant, durable, and cool-surfaced options.
As an example, lighter flooring materials have lower thermal mass. Hence, they are better suited to warmer climes with moderate heat. Likewise, denser materials absorb heat and are ideal for colder regions to produce warmth for the feet.
So, in hot and humid climates, choosing the ideal floor type can make a tremendous difference and provide comfort.
With that in mind, let's dive in and look at the best flooring for hot and humid climates.
What Types of Flooring Are Ideal for Hot and Humid Climates?
Now you know why it is crucial to choose the right flooring. But how do you choose the right flooring that fits your style and is also ideal for your climate?
Here are the best types of flooring for hot and humid climates.
1. Vinyl Flooring
One attractive quality of vinyl floors is their luxurious 'false' wood appearance. However, what makes it an excellent choice for warmer and humid climates is its durability and resistance to moisture absorption.
Vinyl flooring doesn't absorb heat compared to other flooring types, which means you get to enjoy the comfort of cool floors.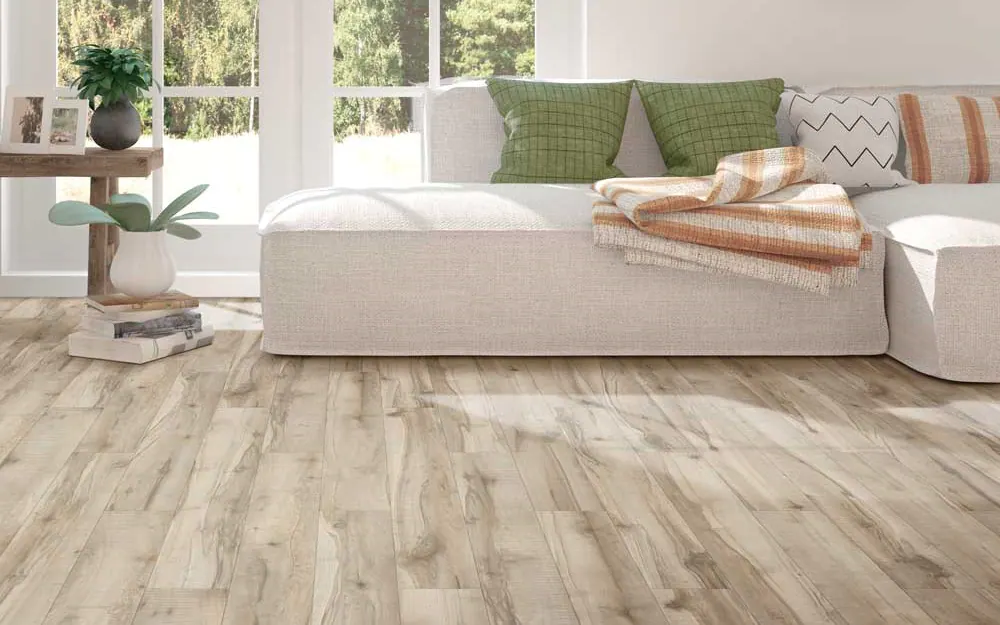 Image source: homedepot.com
Additionally, they hold up well in moist conditions and serve as the ideal material in damp areas of the house, such as bathrooms, kitchens, or basements.
As for maintenance, you can get through many summers without having to change your flooring. They're also easy to clean, long-lasting, and super affordable.
If you're concerned about how vinyl flooring fits your style, you should know that it comes in a broad range of luxury designs and aesthetic options.
The beautiful options available with vinyl flooring:
A. Vinyl Plank
If you want to mimic hardwood flooring, vinyl planks are ideal. Thanks to quality vinyl plank flooring, you can get any type of wood grain, color, and texture.
B. Sheet Vinyl
Sheet vinyl is a durable and affordable choice for homeowners who want vinyl flooring for larger areas.
C. Vinyl Tiles
This type of vinyl flooring is excellent for homeowners looking for luxury and aesthetic designs in their homes.
While hardwood flooring is common, it is hard and expensive to maintain and replace if there is a problem. When choosing a new floor, luxury vinyl would be the best option!
2. Concrete Flooring
Concrete flooring is in demand right now due to its suitability for hot and humid temperatures. It is also a popular choice due to its low maintenance requirements and creative finishing options, which range from stains to textures.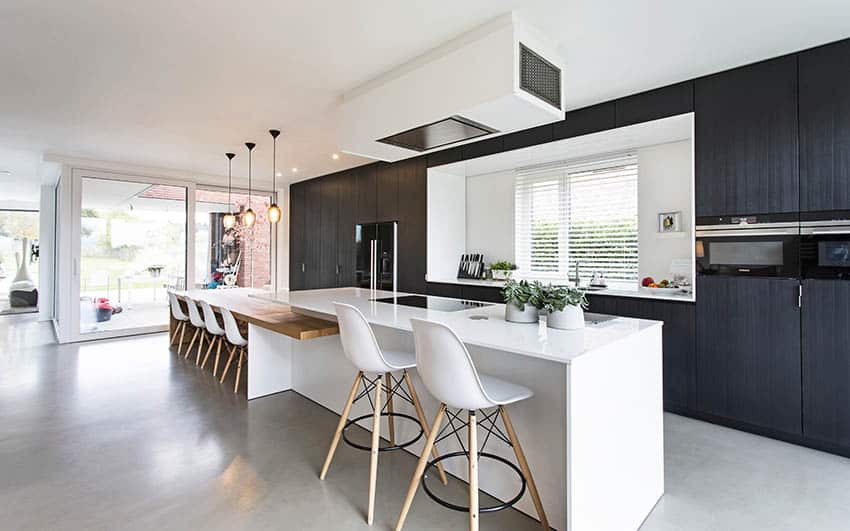 Image source: designingidea.com
Apart from being a low-maintenance material, concrete naturally remains cool, which is great in the heat. This durable floor doesn't absorb much moisture when it's properly sealed, meaning that in the event of floods, it prevents the growth of mold or mildew.
Furthermore, concrete floors are unique in their own right, give off an edgy feel, and deliver a modern aesthetic. Additionally, they're less likely to get damaged, can last for long periods, and are easy to clean.
If you're wondering how concrete floors can fit into your aesthetic look, here are some stylish concrete floor ideas for inspiration.
3. Laminate Flooring
Laminate flooring is an easy-to-install option that is suitable for hot and humid climates. As with other flooring materials, laminate floors are durable, and one distinct quality is that they are stain-resistant.
However, some types can absorb moisture, which is a flaw. You can easily bypass this drawback by choosing a type made of high-pressure laminate, which minimizes moisture absorption.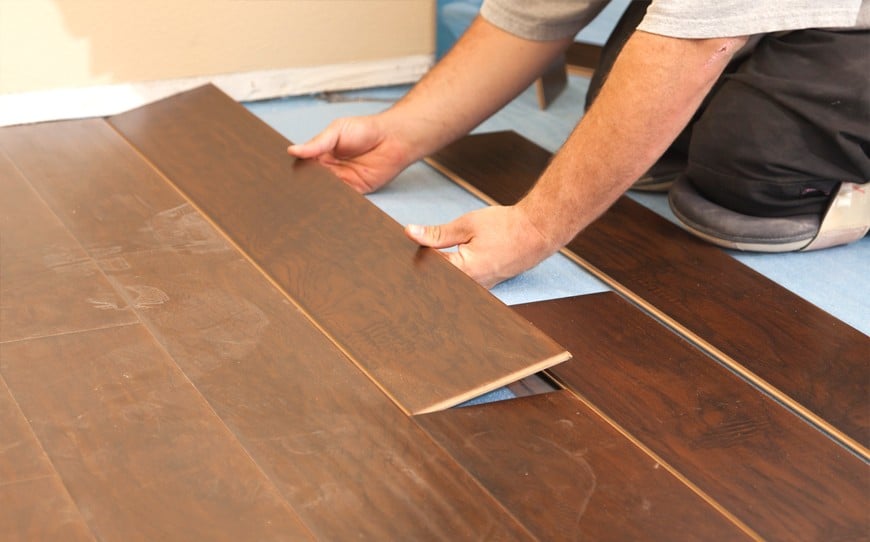 Image source: gcflooringpros.com
Like vinyl planks, laminate flooring delivers a polished hardwood floor look. However, proper installation with a high-quality underlayment beneath your laminate flooring is required for a long-lasting result.
4. Porcelain Tiles
Porcelain tiles fit right into the category of ideal flooring options for hot and humid climates due to their calm nature. Although these durable floors will also work perfectly in damp climates, they are a durable option for humid climates because of their low moisture absorption rates.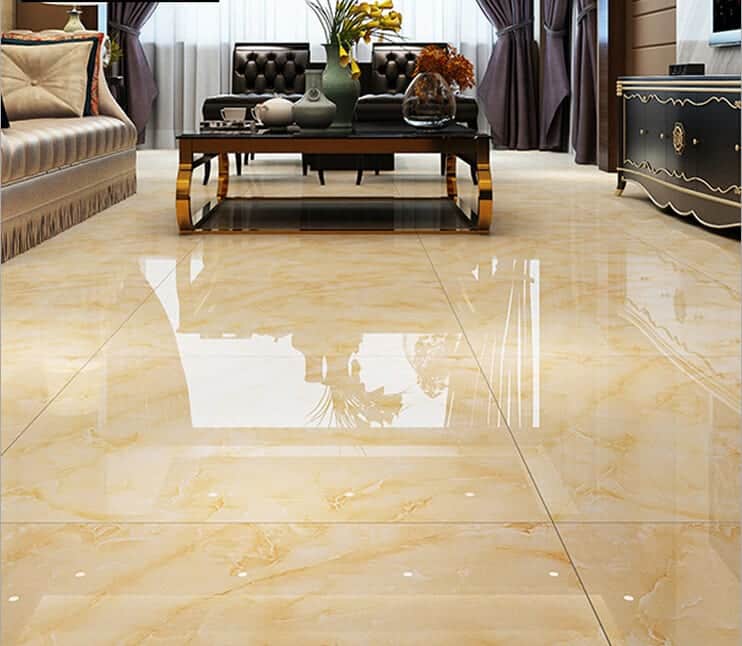 Image source: hpdconsult.com
Additionally, there is no better option for high-traffic environments like homes and offices, as porcelain floor tiles are durable, highly resistant to wear and tear, and resistant to scratches and scrapes from pets' rough nails. Porcelain is also easy to clean and maintain.
In addition to being easily resistant to humidity and temperature changes, these best flooring materials are excellent for retaining cool air in your space. Tile floors are an obvious choice if you reside in a hot, humid climate!
5. Rubber flooring
Rubber flooring is a fantastic alternative for a hot and humid climate; however, it's a little out of the ordinary. Rubber flooring is excellent for cafeterias and medical facilities. Interestingly, though, it can be a terrific option for usage in other spaces, provided it has the proper finish and texture.
Image Source: thespruce.com
The best part about this type of flooring is that it doesn't really absorb a lot of moisture, making it simple to clean and maintain. This can ensure that problems with moisture absorption are eliminated, particularly in rainy areas.
It's a terrific DIY flooring option as well because it's simple to install and frequently less expensive than other flooring options. With the proper color and finish, it's perfect for your home.
Frequently Asked Questions on the Best Flooring for Hot and Humid Climates
Image Source: flooringstores.com
1. What is the best flooring for hot and humid climates?
Luxury vinyl tile and concrete are the best flooring materials that will help your space stay cool. These two materials can hold up well to heat, damp conditions, and high traffic. The best bit is that these flooring materials will work perfectly for any kind of space and are particularly easy to maintain.
Even so, laminate, porcelain tiles, and rubber flooring materials will work great as well. When properly sealed, these flooring options will stay cooler in warmer climates.
2. Is vinyl flooring good for hot climates?
Yes, vinyl floors are in fact the best flooring materials for hot climates. Vinyl floors are water-resistant and simple to maintain. Additionally, they stay cool but still warm up pretty fast underfoot.
Besides being able to withstand climate changes, vinyl floors can endure for 10 to 20 years if fitted and maintained correctly. Having said that, vinyl is a fantastic option for the areas of your home that see the most traffic. Also, the wear layer on the surface of the majority of vinyl flooring prevents stains and scratches.
Even better, vinyl flooring can be laid over radiant heat or accommodate an insulation layer. Due to its adaptability, vinyl flooring is a fantastic option for use anywhere in modern homes.
3. What is the best flooring for extreme temperature changes?
Luxury vinyl flooring is the best flooring material for extreme temperature changes. This is mostly because it is not susceptible to expanding or shrinking, even during extreme climate changes. This flooring type is also anti-slip, scratch, scuff, stains, and damage-resistant, as well as inexpensive.
Additionally, compared to other flooring materials such as tiles or hardwood floors, it warms up relatively quickly and remains cool, providing a comfortable place for your feet to walk.
4. What are the best flooring materials for standing all day?
Walking on hard floors can be hard on your feet, ankles, knees, hips, and spine or even aggravate foot issues like plantar fasciitis. Therefore, the best flooring materials for standing all day need to have thick padding to provide the needed comfort.
Wall-to-wall carpeting with thick padding is ideally the best flooring option for standing all day. However, carpets don't do well in wet areas, such as bathrooms, because they stain easily and are difficult to deep clean. Again, they are not usually the best option for areas with high traffic because they tend to get dirty pretty fast.
So alternatively, you could go for rubber flooring. The rubber's little spring promotes ergonomics and makes standing or walking much more pleasant. Plus, it serves well in high-traffic places, has low acoustics, and has low maintenance costs.
Although tile, stone, and hardwood floors are the least flexible, they can be partially cushioned in areas where people stand or move around a lot.
5. What flooring option absorbs heat the most?
Concrete flooring options are the best in terms of absorbing heat. These floors are a cost-effective solution to controlling the temperature within a house, in addition to their advantages in terms of easy styling. Moreover, they are low maintenance, durable, reasonably priced, and can be created with a variety of finishes and textures.
Concrete flooring material has a high thermal mass. This means it naturally has the ability to absorb heat during the day and release it at night, allowing less money and energy to be spent on conventional heating and cooling.