Do you plan to replace your sofa cushions? Or are you working on DIY projects and wondering which foam to use for the cushions? There are different types of foams to choose from. But what is the best foam to use for sofa cushions?
With these different upholstery filling materials, it is challenging to know which is the best to go for. So, in this article, we shall look at the different types of foams to help understand them and make an informed decision.
Types of Foam Used for Sofa Cushions
As already noted above, foam comes in different types. And it is their differences that also cause a variation in the level of comfort you get while using them. These foams include the following;
1. High Resilience Foam
High-resilience foam is about 2.8-3.0 lb. per cubic ft. and is the best for use in sofa cushions. It responds quickly and is also great at providing an extra bounce.
High-resilience foam delivers the longest lifespan and the most comfortable seat cushion. This excellent grade foam is frequently used in luxury furniture and yacht cushions.
Image Source: RoncoFurniture.com
For any weight to be classified as high resilience, it has to be at least 2.5 lb. per cubic ft. After all, it gets its high responsiveness from its buoyancy and resilience. Consequently, the foam cushion returns to its original shape shortly after being compressed.
High-resilience foam cushions are suitable for people who want more bounce. It is springy but offers enough support for comfort. Such cushions will also not soften till 8-10 years later.
2. High-Density Foam
High-density foam is exceedingly dense due to its compact cell structure, hence the name. Because of this, it is widely known for being incredibly durable, leading to a long lifespan.
Image Source: Therange.co.ke
Its distinct structure functions in a sofa to fit a user's shape. This can quickly revert to its former form while still offering outstanding levels of support. Plus, sofa cushions with high-density foam do not sag quickly.
3. Open Cell Foam
Open cell foam is soft and ideal for sofa cushions. From its name, you can tell that it has open cells where air easily moves through. This feature makes the foam compress better and more efficiently.
Image Source: Foamtech.com
When you sit on this foam cushion, your body weight will expel all the air, and the cushion takes your body shape. Then, once you get up, air will flow back to fill those air spaces, restoring the foam's original shape. This feature makes open cell foam a great option when making the best sofa for a heavy person.
With the air spaces in between, this foam also provides a cooling effect, preventing heat buildup.
4. Medium Quality Foam
This foam is commonly used in the furniture industry for sofa cushions. They come at a density of 1.9 lb. per cubic ft. It is mostly used due to its economic price-to-performance ratio.
Image Source: Foamfactory.com
This foam provides support and comfort but is slightly lacking compared to high-density foam. The medium-quality foam lasts for about 4 years and returns to its shape after compression at a medium pace. However, it also gets softer over time and deteriorates.
5. Latex Foam
Latex foam comes at a density of 5.6 lb. per cubic ft. and is an excellent choice for sofa cushions. However, it is more expensive than the other options but can last over a decade.
This foam has an unmatched feel because of its rubber construction. In addition, it provides cushions with a bouncy and spring-like resistance and air filtration. The air filtration holes help keep the foam cooler and more comfortable to sit on.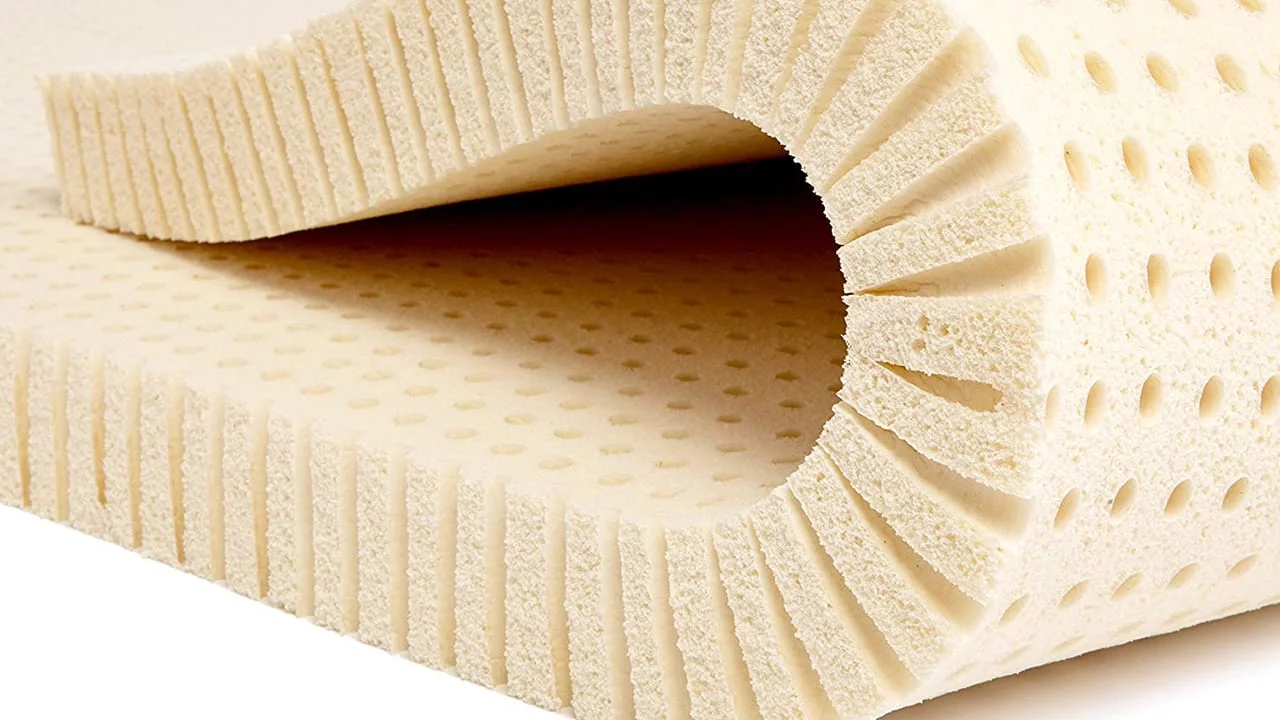 Image Source: IndiaMart.com
Unlike other foam that gets softer with age, latex is rubber and will only get firmer and harder. Once latex foam deteriorates and gets more solid, it may crack and break.
Because latex foam is expensive, they are not as popularly used as other options. They also last so long that the foam will outlive its fabric in most cases. The material is also heavy and not as easy to maneuver as other foam options.
6. Basic Polyurethane (PU) Foam
Polyurethane foam is the most popularly used in the furniture industry. This is because it is affordable and works well with sofa cushions. PU comes in many different forms and densities.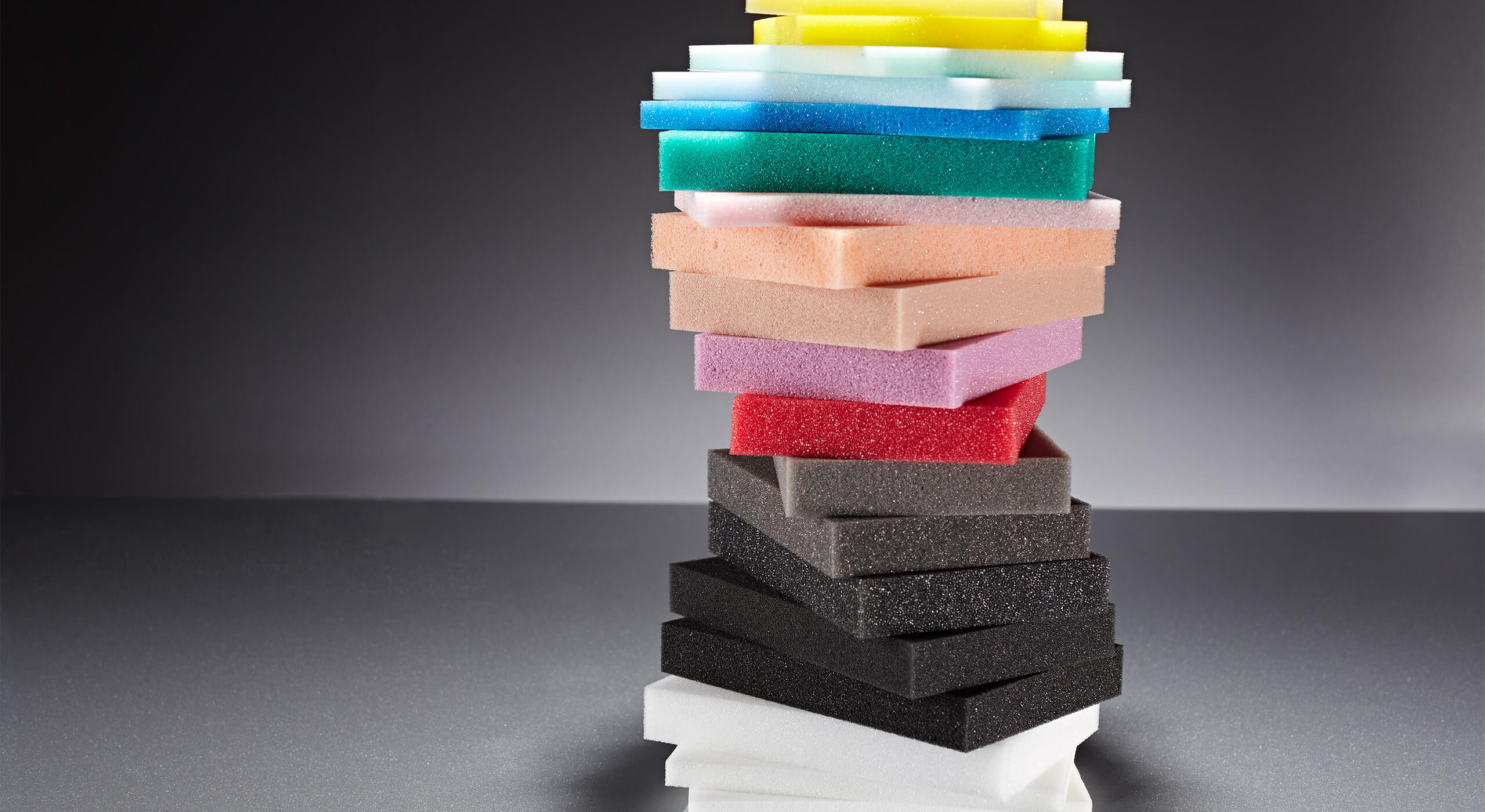 Image Source: YouTube.com
The commercial-grade PU foam comes at a density of 1.2 lb. per cubic ft. and does not last as long as high-density or medium-density foam.
When PU foam cushions deteriorate and develop sink areas, they do not return to their original form. PU couches are inexpensive, and you can get the best for less than $ 1000. This foam is ideal for use on display furniture. However, this may lengthen its lifespan as the furniture is not used often.
7. Lux Foam
Lux foam cushions are 2.2 lb. per cubic ft. and are ideal if you want something more firm. This foam is long-lasting and buoyant, making it an extremely attractive choice if you like comfortable sofas. Unfortunately, Lux foam cushions are only available in medium firmness.
Due to its high-quality nature, lux foam is normally used in making luxurious furniture seating cushions. However, because of its firmness, lux is also ideal when making the best couch for back pain.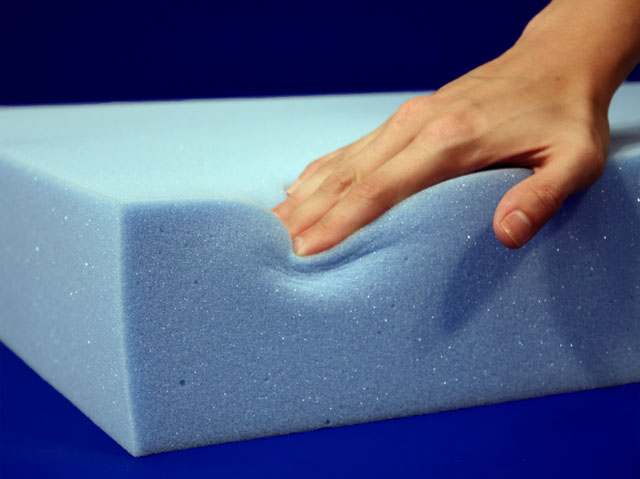 Image source: Foamfactory.com
Lux foam is ideal for various uses since it offers sufficient support without being overly hard. Furthermore, after compression, it will immediately return to its original shape thanks to its quick return action.
What Is Foam Density?
Foam density shows the strength of the foam. It measures how much weight a foam can support per cubic foot. Additionally, the denser foam is more compact than a less dense one.
For example, to get the density of the foam, you will divide its mass by the volume. You can also use this method to find memory foam density; let's see how. For 10 cubic feet of foam that weighs 30 pounds, you will divide 30 by 10. So, you will find that it has a density of 3 pounds.
It's crucial to understand that not all foams have the same characteristics and that some products may contain different types of foam. Because of this, comparing items that incorporate several foam types can be challenging and misleading.
For instance, many foams contain fillers that improve their overall density and durability. Foams without fillers, on the other hand, have a lower density.
Foam density is relative, and you shouldn't use it to compare products of different types, as this can be confusing. These densities can range from 0.8 to 6 PCF.
A greater PCF can increase the cost of a product while also improving its quality. Therefore, it's critical to research the components of a product before buying if foam performance is a non-negotiable aspect for you.
What Should You Look for When Buying Foam for Sofa Cushions?
a) Foam Type
First, you should choose the type of foam to use. For example, you can select polyurethane foam, fibers, or feathers.
You ought to pick the best variety to ensure you get what you most prefer. But every variety may provide additional comfort based on its qualities.
b) Density
The amount of foam in the cushion greatly impacts how firm it is—the firmness of foam increases with density. As a result, if you prefer a stronger feel to your sofa cushions, you must select higher-density foam over lower-density foam.
Additionally, most manufacturers employ less dense foam on the back cushions than on the seating region.
c) Firmness
Foam firmness is the measurement used to indicate how easily a foam will compress. For example, you will likely get a plush effect if you apply pressure on cushions with less firmness. On the other hand, a firmer foam will remain stiffer even when pressure is applied to it.
d) Durability
Increased durability ensures you enjoy using long-lasting foam. It will also not degrade quickly after prolonged and constant use.
The foam used in sofa cushions lasts only a few months before performing less effectively than when first used. 
Types of Cushion Filling and Stuffing
Cushions are made differently. So, we shall go through some of the fillers used to make sofa cushions and how they differ.
a) Hollow Fibre
Hollow fiber acquires its name from the hollow threads used to make it. Cotton threads are occasionally used in hollow fiber filling, but polyester is most frequently used.
Because the threads are hollow, air can pass through them, making the fabric breathable and warm. In addition, hollow fiber feels lighter and more bouncy than dense foam.
The drawback of hollow fiber is that it is less robust because of its fluffiness. Additionally, sitting on cushions consisting of hollow fibers may eventually cause hollow threads to become damaged. This results in the gradual deformation of your seat cushions.
b) Down/Feathers
Perhaps the most pleasant cushion filling is feather or down. Because it is made from genuine goose feathers, it is also the most expensive. However, you can purchase cushions filled with down or feathers, typically seen in comforters or pillows.
Image Source: Alibaba.com
Although down cushions and pillows are the height of luxury, there are some drawbacks to consider. Over time, the feathers may shrink, giving your pillows a lumpy and uneven texture. Additionally, down-filled cushions may not be as firm as you would want.
c) Polyester Fiberfill
Polyester filling is a synthetic mixture mostly used in sofas and cushions. Furniture with cushions made of polyester is more affordable because the filling is less expensive than some other options.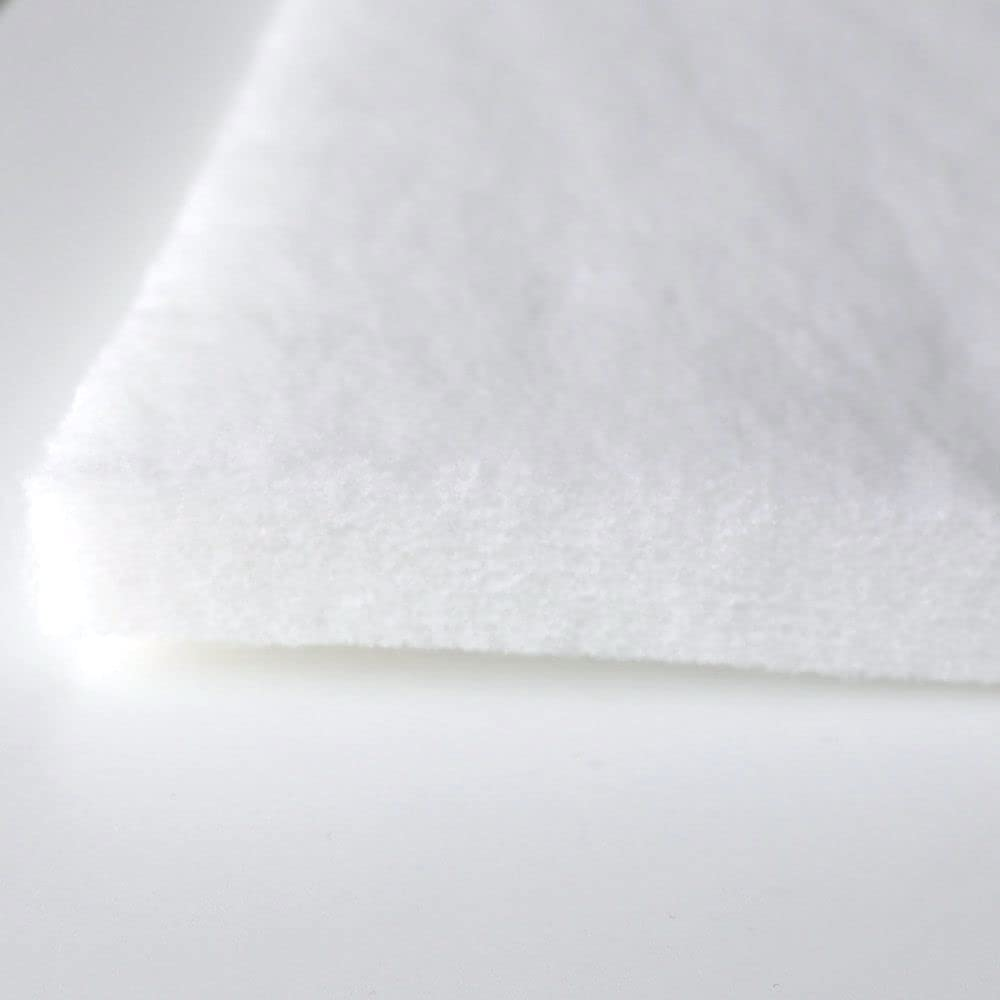 Image Source:Foambymail.com
There are many different polyester blends to choose from if you plan on filling your cushions. However, if you buy furniture with polyester cushions, you may not know what the manufacturer used as they do not usually disclose that information.
d) Batting
Although batting isn't used as a cushion filler, it is frequently used to wrap cushions to avoid slippage, offer additional softness, and provide more support. Cotton, polyester, or wool can be used to make batting, and they are mostly used with foam filling. Plus, you can get some cushions with amazing features like water resistance and hypoallergenic properties.
e) Feather Mixes
There are feather blends to consider, which can provide an excellent cushion filling at a much lower cost. Pillows and cushions often contain 85% duck and 15% down, which are slightly less expensive.
Additionally, a cushion of 50% duck and 50% down provides excellent support but may cost a little more. Remember that feather cushions require frequent shaking and plumping to prevent flattening and discomfort.
Finally, most cushion fillings may be washed, but you should always follow the manufacturer's cleaning instructions because some fillings require specialized care.
Frequently Asked Questions on the Best Foam for Sofa Cushions
1. How long do foam sofa cushions last?
The foam used in pricey, high-quality sofa cushions has a ten-year lifespan. On the other hand, polyester and polyurethane foam are more frequently found in less-priced sofas. However, after around three years, these usually start to lose their heft.
2. Can I add foam to my couch cushions?
The simplest solution to firm up sofa cushions is to add more foam. There are several options; if your couch cushions have zippers, adding more foam is fairly simple. Just unzip the cover and fill it with the desired quantity.
3. How do I keep my couch cushions from sagging?
Your couch cushions are likely to sag after being used for some time. However, you can prevent the sagging by using a few simple tips;
Regularly fluff them
Invest in quality furniture
Add batting
Wash the covers regularly
Use anti-sag supports
Place cardboard or plywood under the cushions