If you are someone who craves a home that is full of artistic expression and personality, bohemian decoration is your ultimate ticket to creative freedom. From embracing earthy tones to matching and mixing patterns, we are about to embark on a journey filled with inspiring ideas that will bring the boho vibe into every corner of your space. Keep reading!
What is Bohemian Decoration?
Bohemian decor is an interior design style incorporating artistic expression, individuality, and global features. If you want to implement this style in your house, you might want something as personalized and unique as yourself!
Image Source: decorilla.com
You can expect to find eclectic furnishings, rich tapestries, and warm, inviting color palettes in bohemian interiors. Read on if you're looking for more inspiration on how to add bohemian decor to your home.
6 Bohemian Decoration Ideas
1. Furnishings 
One of the main components of the bohemian design style is inspiring, eclectic furnishings. You can get creative by mixing and matching various styles, textures, and patterns.
Image Source: thespruce.com
Vintage, antique, and upcycled furniture fit really well into the Bohemian style, as mass-manufactured furniture doesn't quite have the authentic personality to suit it.
Comfort and a North African influence are also crucial in this style. Plush floor cushions and ornate rugs add warmth to the floor of your home and bring the focus to relaxing, compared with the functionality of other designs like minimalism. Low furniture also adds to this effect, with sofas that sit close to the floor and low coffee tables.
For bedrooms, you can even opt for a crate bed or other bed frame that sits very close to the floor to give an aesthetic focused on lounging and opulence. You can really let your flair shine through with this design and experiment with unconventional combinations.
2. Wall Decor
Bohemian decor celebrates artistic expression, and the walls of your home provide a perfect canvas to showcase this aspect. Opt for textured or patterned wallpapers that feature motifs inspired by nature. Depending on your preference, this could be an animal pattern or something floral or botanical.
Image Source: adriaworkshop.com
If wallpaper isn't your thing or you don't want to commit to such a permanent change in your home, you can use paint in warm, inviting colors and adorn the walls with Bohemian embellishments. Wall hangings and tapestries add extra softness to the room, which enhances that bohemian feel.
Alternatively, macramé plant hangers or dried flowers can continue the theme across your walls. Get creative, and don't be afraid to splash your personality onto the walls too.
3. Flooring  
Bohemian decor emphasizes a connection to nature, and organic materials are often used in this style. To best embrace these earthy textures, you should opt for flooring made out of natural materials.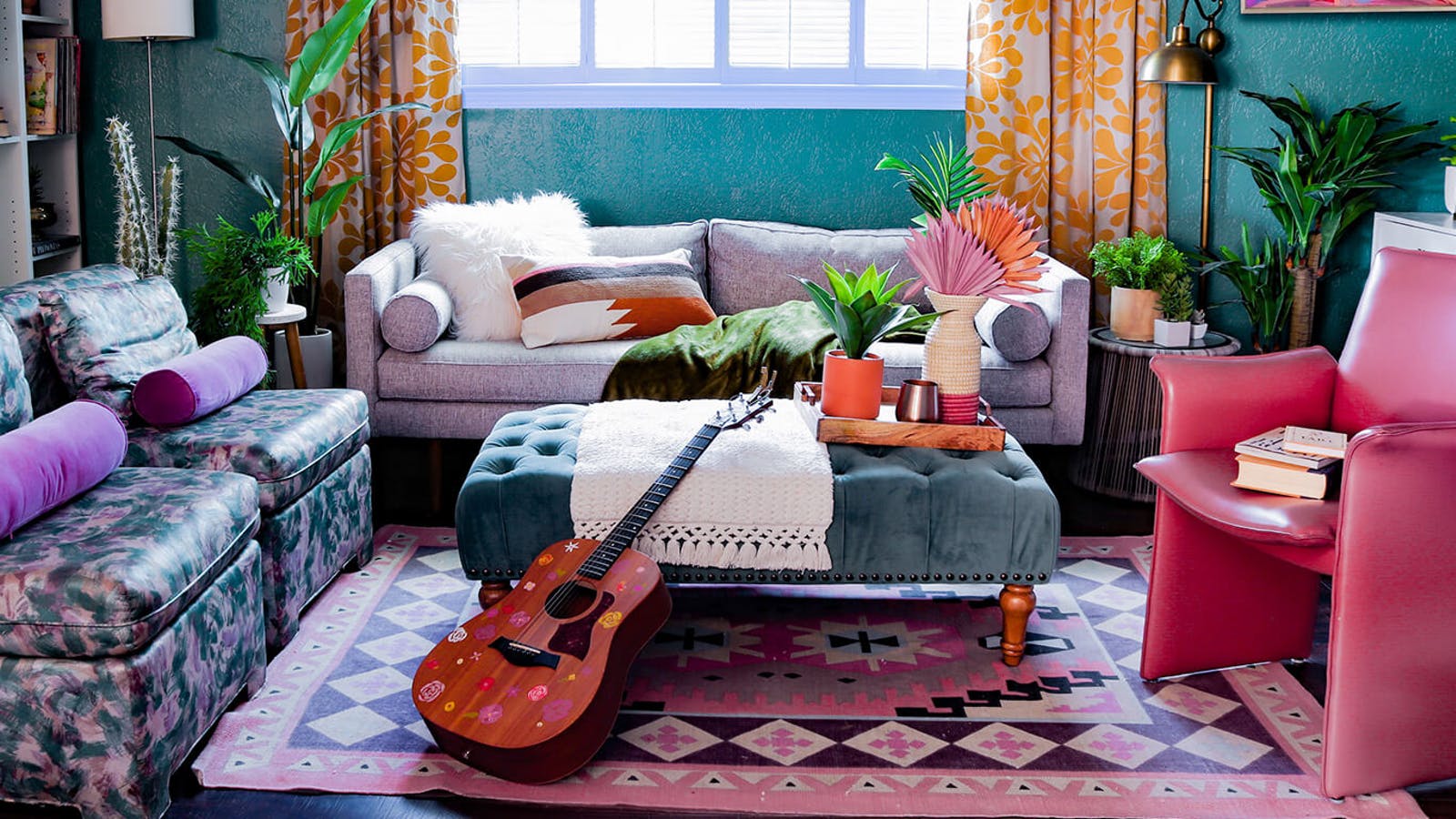 Image Source: lick.com
Solid wood flooring is an excellent choice for this style, particularly in warmer and darker tones. These beautiful floors are perfect with an ornate Persian rug laid atop them to create that soft, textured feel that dictates this style.
4. Colors and Textures
Although there are no rules for Bohemian decor, warm earthy colors, metallics, and jewel tones are often used. Consider deep browns, grays, and greens for the base colors, and then add vibrant purple, bright orange, and electric blue accessories. Combining and layering the colors is what makes this boho flair unique.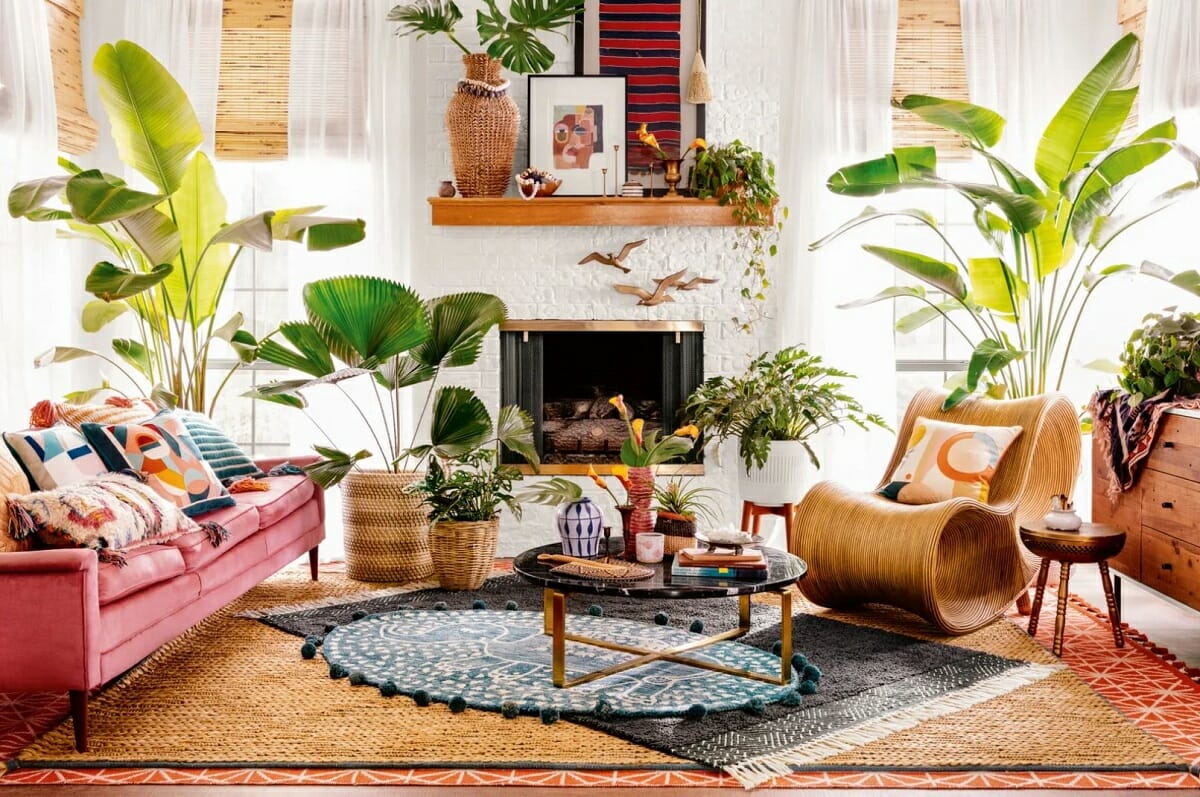 Image Source: decorilla.com
You can mix colors and textures and shouldn't be afraid to use styles that wouldn't go together conventionally. Use dyed textiles and patterns from around the world, such as suzani from central Asia or ikat from Cambodia, to add space with a sense of fun and exoticism.
Consider layering throws on top of furniture. Try hanging area rugs and tapestries on the walls along with your photos and art. If all of this seems too much, remember that saturated color is crucial to boho style; white can be a background for bright colors. Use white to add a little visual space to the equation strategically.
5. Natural Elements
Natural elements create a space that feels connected to nature and promotes a sense of calm and tranquility. You may infuse your space with the beauty and calm of nature by using natural elements, improving the bohemian decor, and creating a welcoming and harmonious ambiance.
Image Source: mydomaine.com
For instance, add abundant indoor potted plants to your space to create a fresh and vibrant environment. To enhance visual appeal, use a variety of plants in various sizes, shapes, and textures. Consider plants such as ferns, peace lilies, pothos, spider plants, or succulents, depending on your space and lighting. Put them in decorative pots or hanging planters to bring greenery into your home.
On the other hand, choose furniture and decor items made from natural materials. Go for pieces made from wood, bamboo, rattan, or wicker. This includes rattan chairs, bamboo blinds, wooden coffee tables, or woven baskets. Natural materials bring an earthy feel to the space and add warmth and texture.
6. Lighting and Accessories
Your boho-style space will come together with the help of soft, ambient lighting. Instead of overhead fixtures, decorate with lanterns, candles, and floor and table lights. Nowadays, global design markets make it convenient to find multiple shapes and styles—ideal for the mix-and-match look.
Image Source: freepik.com
This design strongly emphasizes embracing nature, so add ferns and hanging plants to liven up your living space. Hanging plants add vibrancy to space and enhance air quality; the more, the merrier. Peace lilies and philodendrons withstand a wide range of temperatures and light conditions. On the other hand, consider succulents, which are widely available in multiple colors and textures and are ideal for those with a less-than-green thumb. These eye-catching plants require little more than a sunny location and occasional watering.
Finish your boho space with handmade items, family heirlooms, and objects from your travels. Accessories should be personal, so we recommend featuring what you love: mismatched dinnerware, vintage bottles, maps, tapestries, or anything else that strikes your fancy. Remember that though Bohemian style tends to be eclectic, it can still be sophisticated and glamorous; thus, you shouldn't hesitate to try out an ornate chandelier or a massive gold-framed mirror. All that is required is that everything in the room tells a story about you.
Will Bohemian Decor Go Out of Style?
Bohemian decor has already stood the test of time, as we have seen this style in houses, caravans, and teepees all over the world for centuries. However, it is essential to note that Bohemian goes beyond a passing trend; it reflects a mindset and a way of life.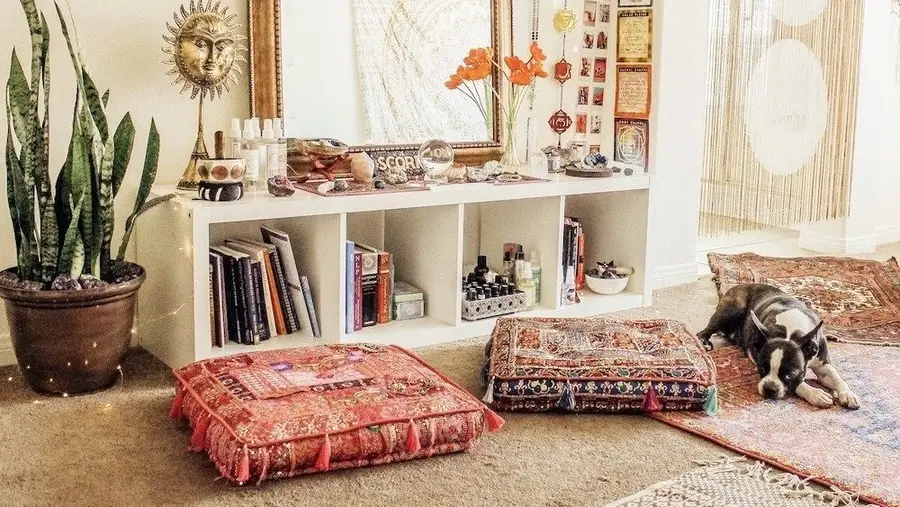 Image Source: howchoo.com
If you feel that you are connected to earth and nature and that your home should be an expression of your individuality and creativity and exist in praise of globalization and cultural diversity, then this style will have everlasting appeal.
Since there is so much room for different furniture, patterns, colors, and textures in the Bohemian style, it is easy to update, add, or remove elements as time passes.
Frequently Asked Questions on Bohemian Decoration
1. What is the Bohemian Style of Decorating?
Bohemian style, also known as boho or boho-chic, is a free-spirited aesthetic combining various cultures and artistic expressions into an eclectic look emphasizing organic materials and nature.
The boho style promotes a relaxed and carefree environment, encouraging self-expression and a love for unconventional beauty. Its versatile style allows for a mix-and-match approach, making it easy to incorporate for anyone who wants to infuse their space with a bohemian spirit.
Mixing patterns, woods, metals, animal hides, materials, and trinkets from your travels is highly recommended when putting together your Bohemian flair space.
2. What Are the Characteristics of Bohemian Decor?
Boho decor is a free-spirited approach to interior decor. This style fully embraces vibrant colors, playful textures, and patterns. It also encourages "thoughtful maximalism" and embodies individual expression through the curation and layering of multicultural artwork, textiles, and decorative items.
3. What Does the Bohemian Style Represent?
The Bohemian style is based on color, life, and culture. It tries to replicate the nomadic life of the Romani people. The French word "bohémien," which means "Romani," is where the term "Bohemian" comes from—a Bohemian is someone who lives unconventionally, usually in a colony with others.
Overall, the bohemian vibe represents a way of life that values artistic expression, individuality, nonconformity, spirituality, and a connection to nature. It celebrates creativity, freedom, and a rejection of societal norms in favor of self-discovery and personal authenticity.
4. What is an Example of a Bohemian?
A musician living in a cheap apartment with eight roommates, a pet monkey, or an artist well-known for wearing filthy coveralls may be classified as bohemian — purposefully nonconformist and unconventional in both look and lifestyle.
5. What Are the Materials of Bohemian Style?
Chenille, cane, burlap, sisal, silk, and other natural-looking materials are popular in bohemian decorating. Furniture with a distressed, worn-out appearance is also a popular style element. These natural-looking materials make the environment seem more relaxed and comfortable.