Some love to eat meat raw, while others love it cooked. But one thing is the same between these two groups of people; they need to cut meat into smaller chunks during preparation. And since most of the cutting is done on raw meat, you will need a sharp knife that does the job easily.
Did you know that dull cutting blades cause most kitchen knife injuries? If you want to guarantee safety when slicing, de-boning, or butchering, here is how to find your best knife to cut raw meat.
Which Is the Best Knife for Cutting Raw Meat?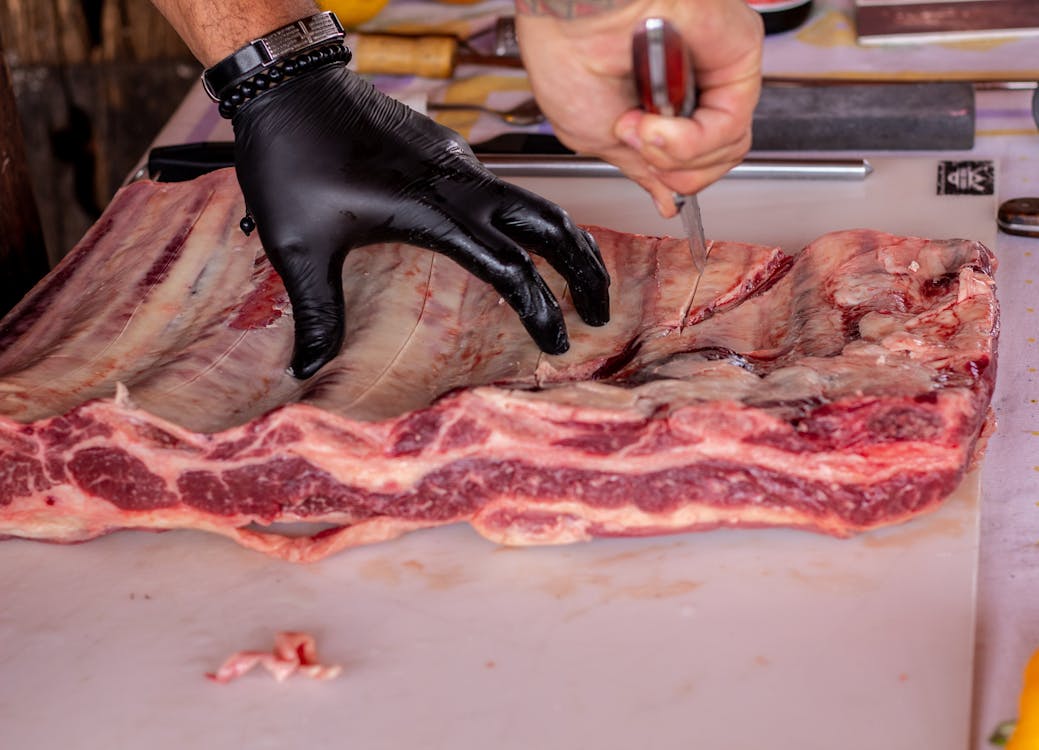 There are different and affordable kitchen knife sets on the market, which can complicate things when you want to buy the best for your kitchen. But buying gets easier when you understand the key features you want in your new knife. For example, if cutting raw meat is your goal, looking for one with a long, slightly curved blade made of heavy-duty steel makes sense. In addition, the knife needs to be durable, so go for one with thick but sharp blades.
Image Credits: dalstrong.com
Since this knife needs to be sharp to be effective, you could even look for a self-sharpening knife set to save more time when preparing meat.
There are good reasons you may want to get a kitchen knife for cutting raw meat. Firstly, they are specifically designed for cutting raw meat. This is how;
The long blade allows easy slicing, especially when preparing steak
The curve on the blade allows easy maneuvers around the skin and bones
The knife is sharp and durable
This type of knife is also called the butcher's knife. Because there are many options in the market, we wanted to make your buying process easier by recommending the best knives. So, here are five options that we tested so you can comfortably order online.
| | | | |
| --- | --- | --- | --- |
| | | | |
| | | | |
| | | | |
| | | | |
| | | | |
1. XYJ Authentic Serbian Chef's knife
Sale
XYJ Authentic Since 1986,Outstanding Ancient...
【XYJ Brand】Established in 1986, XYJ knives feature high...
【Handmade Forging Technology】XYJ knives are sharpened...
【Multi-purpose&High Quality Cleaver】XYJ knives are forged by...
【Convenient To Carry】XYJ knives come with an exquisite gift...
【Maintenance】Due to the high carbon content of forged knives,...
While this butcher knife design slightly deviates from our recommended long blade design, we absolutely loved how easy it is to slice raw meat and vegetables with it. The XYJ chef knife is made with high-quality materials that guarantee longevity, and its shape and size will motivate you to get creative in the kitchen.
We tested knives with three main features in mind; sharpness, grip, and quality. So, here is why we were impressed with this knife. First, it is a very sharp knife, and we recommend using it carefully and storing it out of reach of children or inexperienced meat cutters.
Image Credits: xyjknife.com
Then, the knife is made with high-manganese steel designed into a V-shape to slice through your raw meat easily. Finally, it comes with a tang handle that provides enough grip- as long as your hands are dry and not oily.
In addition to those three features, this XYJ Authentic knife also came with a protective leather case/sheath and a nice mini cleaver knife in the gift set. Unfortunately, this knife can easily rust, so you always want to clean and dry it after each use.
2. TUO Butcher Knife
TUO Butcher Knife - 8 inch Scimitar Breaking Knife -...
⚡ MULTI-PURPOSE KNIFE - This butcher knife not only can be used...
⚡ HUMANIZED DESIGN - 8 inch scimitar knife is manually ground...
⚡ RAZOR SHARP BLADE - This breaking cimitar knife is forged...
⚡ ERGONOMIC HANDLE - The curved carving knife handle wrapped by...
⚡ PROFESSIONAL KITCHEN STEEL - TUO cimeter knife is...
Are you looking for the best butcher knives you can use at home? If so, we recommend getting this TUO knife that cuts meat, vegetables, and even bread. We tested it for four main features; reliability, sharp blade, good grip, and longevity. And after many hours of use, we have the following to report.
Long story short, it is a good knife for cutting raw beef, poultry, pork, and fish. The chef's knife will also cut cooked meat with no hassle. The knife comes with a long 8-inch curved blade ideal for slicing meat, not to mention maneuvering through cartilage and bones.
Image Credits: tuocutlery.com
With a Pakkawood handle, you are guaranteed good grip and durability. On top of that, the knife is made for good ergonomics with the handle's full-tang triple riveting design that compliments the weight of the blade, so you can swing it easily.
Finally, this butcher knife is made with high-carbon stainless steel, with the blade hard-ground to maintain sharpness for a long time. Unlike our first knife recommendation, this TUO knife is also vacuum heat treated for rust and oxidation resistance, so you can clean and store it without worry.
3. Dalstrong Butcher Knife
Dalstrong Butcher Knife - 14 inch - Gladiator Series -...
Outstanding craftsmanship, cutting-edge technology, stunning...
Incredibly razor sharp, full-tang, imported high-carbon German...
Award winning design, with satisfying heft, premium materials and...
This knife is expertly crafted and designed to masterfully slice...
See why thousands of professional chefs and home cooks love and...
This Dalstrong knife is made with forged German carbon steel, and we can tell it is made for durability. In addition, the knife blade is tempered, stain-resistant, and hand-polished with a satin finish, so cleaning it will be a breeze. The handle is durable and makes the knife very ergonomic, thus safe for all your meat-cutting needs. The handle is black G10-Garolite military grade and sports a triple-riveted design that enhances grip and comfort.
Image Credits: dalstrong.com
It is one of the best chef knives you can buy for your home or professional kitchen. It is a tall, 14-inch blade that allows enough knuckle clearance, and the sharp blade makes cutting meat easy. When testing, we could easily trim meat fat and cut through cartilage.
But while we found it very effective for meat cutting, we admit it was also pretty expensive, especially since we found it just as good as our second recommendation above.
4. Victorinox Fibrox Pro 10-Inch Butcher Knife
Victorinox Fibrox Pro 10-Inch Butcher Knife with...
BUTCHER WITH EASE. Cut whole roasts or large cuts of meat with...
GRANTON EDGE. Hollowed out areas along both sides of the blade...
EASY HANDLING. This knife features an ergonomic Fibrox Pro handle...
KNIFE DIMENSIONS. Stainless steel blade -- 10" in length. Meets...
TRUSTED SWISS QUALITY. Expertly crafted in Switzerland in 1884,...
Of all the knives we tested, we recommend this Victorinox butcher knife for a good grip. In addition to grip, it has all the good features of the best knife to cut raw meat.
This knife comes with a carbon stainless steel blade that will retain sharpness thanks to the conical ground and ice-tempered treatment. The biggest challenge when cutting meat is having small pieces sticking to the blade's sides. Luckily, this knife's blade is hallowed, so the meat cannot stick. In addition, the blade comes with a bolsterless edge that makes sharpening a breeze.
Image Credits: victorinox.com
This chef knife comes with a Fibrox Pro handle that is ideal for a good grip even when your hands are wet or oily. In addition, the handle has a non-slip texture and adds good weight to the knife, thus making it safe for handling. Though it is a bit expensive, this knife meets the National Sanitation Foundation (NSF) standards.
5. Univinlions Hand Forged Butcher Knife
univinlions Hand Forged Butcher Knife for Meat Cutting...
【Easy To Maintain】Due to the forged butcher knife has higher...
【Multifunctional Cleaver Knife】 This kitchen cleaver is...
【Handmade Forged Technology】Our professional chef knife uses...
【Ergonomic Full Tang Wooden Handle】You will have the most...
【Worry Free Product After-Sale Service】We designed and...
Our final recommendation, this Univinlions hand-forged cleaver knife is your best option when you need a very durable blade. It will help you prepare all types of meat, where you can cut, de-bone, slice, and chop. In addition to meats, you can also use this knife to prepare vegetables and fruits.
As with the other knives, we tested this option for sharpness, grip, and durability, and we were not disappointed. It is a very sharp knife whose blade is sharpened manually during manufacturing. If you are a busy butcher, you will notice the blade stays sharp for a long time, and it is easy to sharpen when needed.
Image Credits: aliexpress.com
The blade is the most durable part of a knife because you can keep eating into it every time you sharpen it. So, we recommend an option that won't wear out in a few years, and it's what you get with this butcher's knife. Its blade is 2.5 mm and is made by folding and flapping stainless steel, and the end product is a knife with a unique hammer pattern. Not only does this design guarantee durability, but it also ensures pieces of the meat you are cutting do not stick to the sides.
The full-tang wooden handle guarantees good grip and ergonomics. In addition, the handle is joined to the blade using three sturdy rivets, so you are sure the knife is durable, even in a busy environment. The only dealbreaker we can report about this knife is that, although it is vacuum heat treated, you still need to wash and dry it after each use to prevent rusting.
How Can You Pick the Best Knives for Cutting Raw Meat
Image Credits: cutco.com
As you can see from our recommendations, butcher's knives come with different features. However, if you want to explore other options besides those above, here are some factors that can help you make the right decision.
a) The Blade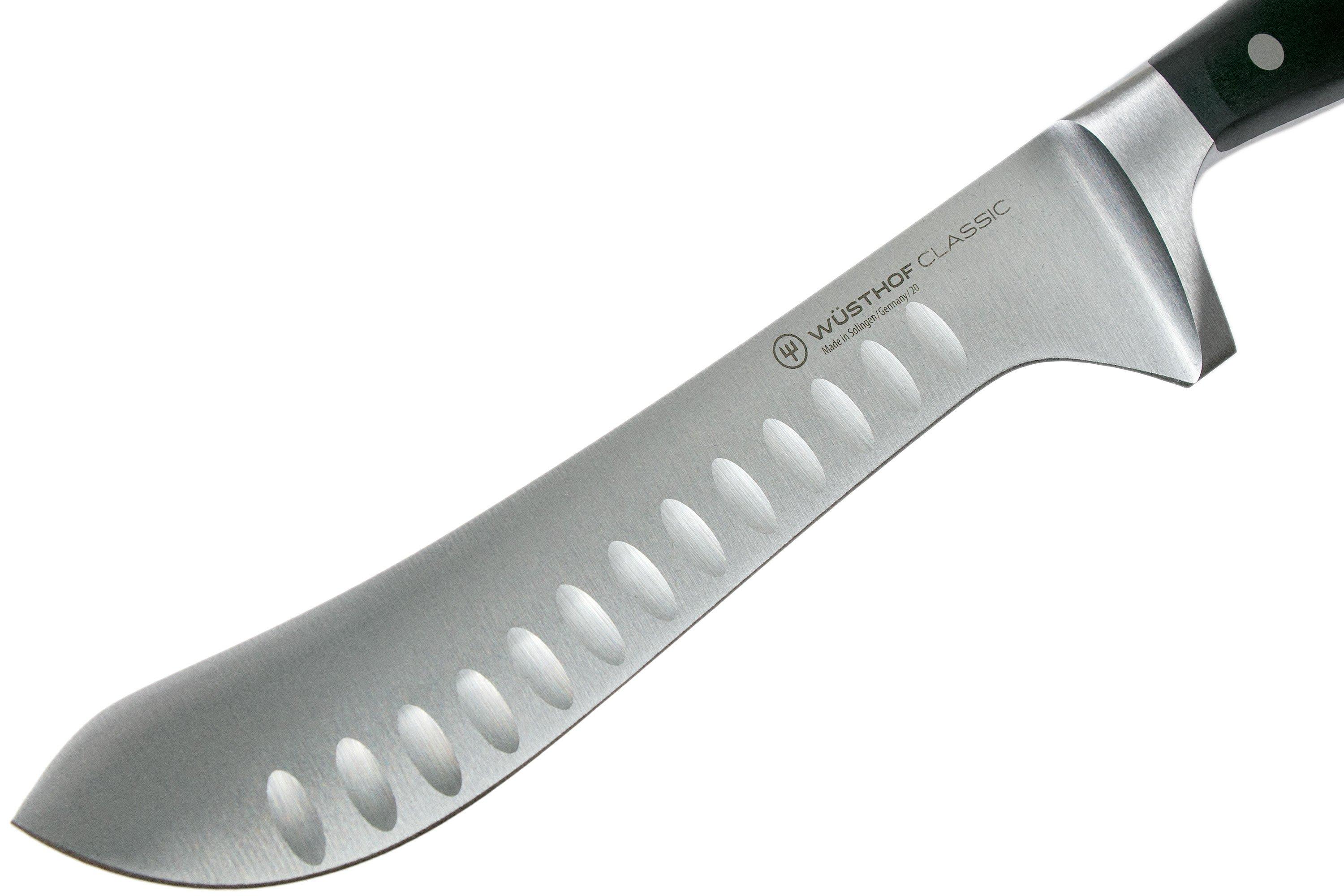 Image Credits: knivesandtools.ie
You can distinguish butcher knives from other knives by looking at the blade. These high-quality knives usually come with thicker, curved blades made with sturdy, forged steel. When choosing the best blade, ensure to get one that can hold sharpness for a long time. Edge retention is also a feature to look for so you are certain mechanical, thermal, or chemical elements will not dull the knife.
b) The Handle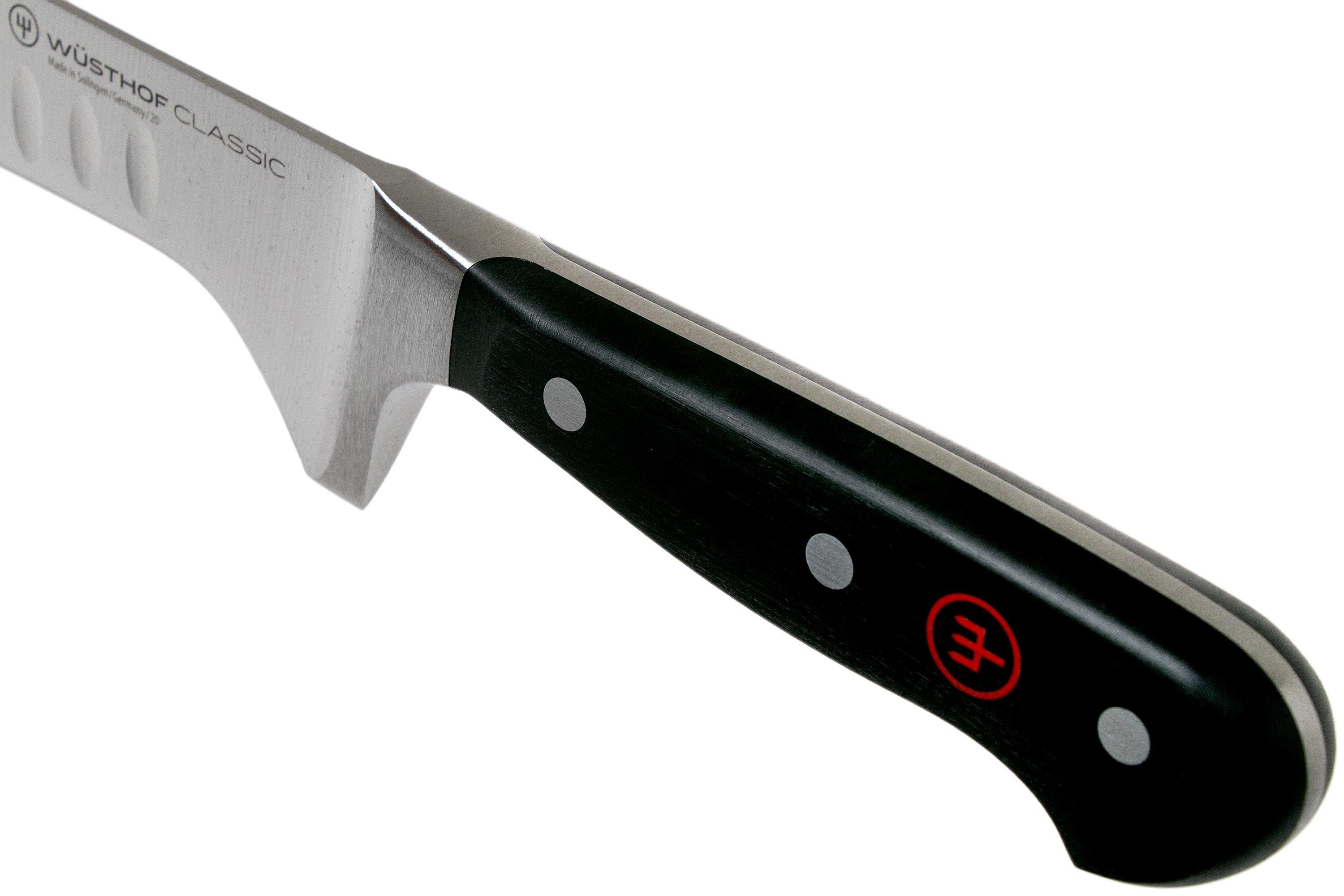 Image Credits: knivesandtools.ie
When cutting or handling meat, things tend to get slippery because the meat is wet and fatty. So, when buying a chef knife for cutting raw meat, it is imperative that you consider a handle that gives you a good grip. You can choose between plastic, wooden, and a non-slip handle, like the one on the Victorinox butcher knife above.
In addition to good grip and safety, a handle determines how durable a knife is. You can learn this by understanding how the handle is joined to the blade. It is best to opt for full-tang, riveted handles, as these guarantee the best durability.
c) The Size
Image Credits: dalstrong.com
When choosing your best knife, you must first understand the best size for your needs. Butcher knives range, in length, from 6-14 inches. The smaller sizes, like a boning knife or a paring knife, are ideal for specific tasks. The bigger sizes include the carving knife and chef's knife and are suitable for busy homes or professional chefs.
d) The Balance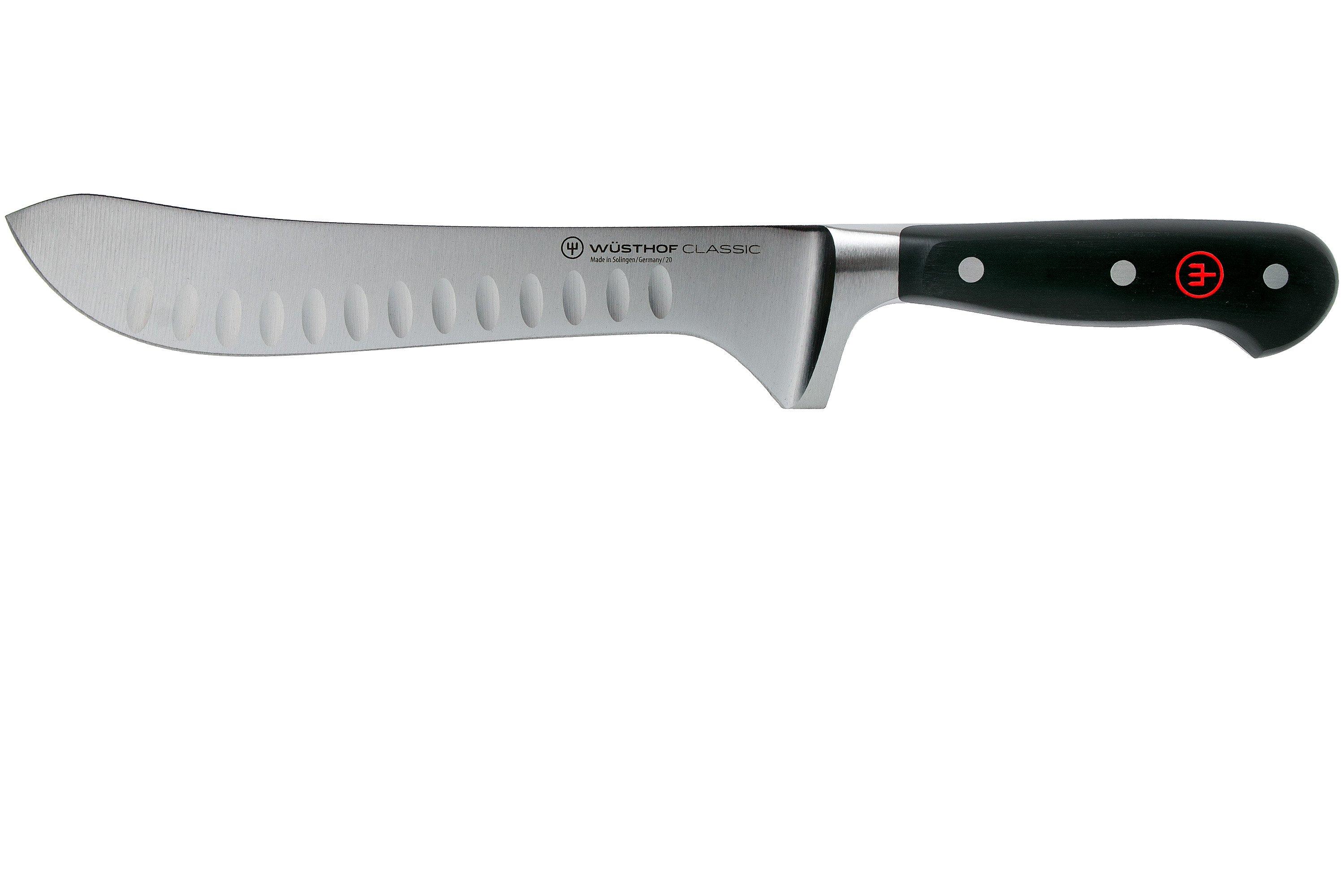 Image Credits: knivesandtools.ie
Finally, consider how well-balanced your knife feels before buying it. As you know, cutting meat requires you to be careful to prevent injuries. So, when the knife is sharp and the handle grippy, how does it feel in your hand?
If the handle feels heavier than the blade, the balance is off, which would not be your right knife. Rather, you want the handle to complement the weight of the blade so you can cut raw meat with more control. The best-balanced knives usually have full tang handles, which means the blades run through the handle.
Conclusion
Safety is always the top priority when buying any knife. But if you are buying a knife for cutting raw meat, safety takes a whole new meaning since meat is often an unstable surface to cut. To get your best purchase, we recommend looking for a knife that feels balanced in your hand. In addition, the knife should be sharp with a good and reliable grip.
If you are unsure which knife to buy, we hope our recommendations above help you decide. We used the knives to test for safe handling so you can buy them confidently. We are also convinced these are aesthetically good knives, and what better way to cut raw meat than with a stylish knife?