If you're cooking for a few family members, a full-size food processor won't be necessary; instead, you need the best mini food processor on the market. Whatever ingredients you want to try, the right mini-processors will handle them all. Besides, they save time chopping, grating, pureeing, and dough-making like a standard professional food processor.
A mini food processor is compact, easy to clean, and sturdy enough to perform the same functions as a food processor but with a much smaller footprint. However, before choosing the right mini food processor, let's understand more about this kitchen appliance.
The top-best mini food processor we reviewed is the Cuisinart Mini-Prep Plus (DLC-2A) Food Processor. It's versatile with the grind buttons or touchpad chop, simplifying your ingredient preparation. Our second best option is KitchenAid 3.5-Cup Medium Food Chopper which only came second because it is difficult to completely clean. The third mini food processor we selected is the Hamilton Beach Mini Food Processor and Vegetable Chopper. It has additional features at a very affordable price making it our budget pick.
What's a Mini Food Processor?
A mini food processor is a small-size kitchen appliance that can easily chop, shred, grind, slice, and puree almost any food. It's a versatile kitchen appliance that can also help the home cook make vegetable and citrus juice, kneads bread dough, beat cake batter, beat egg whites, and grind meat as well as vegetables.
Image Source: kitchenaid.com
Investing in the right mini food processors is worth it since they're compact for any counter space, less time-consuming, and easy to clean. It also functions just like the full-size versions. Now that we know what a mini-food processor is let's check out the four best mini-food processors on the market.
1. Cuisinart Mini-Prep Plus (DLC-2A) Food Processor
As someone who loves cooking, I can confidently say that the Cuisinart Mini-Prep Plus Food Processor, DLC-2A is an excellent addition to any kitchen.
One of the things I love about this unit is its 3-cup capacity. It's perfect for small quantities of ingredients, and I find it ideal for making quick pesto for my weekend scones. Furthermore, it's equipped with a 24-ounce work bowl with a built-in handle for extra control as you process, while the grind buttons or touchpad chop simplify your choices.
Image Source: bobvila.com
Additionally, the option to grind or chop lends the mini processor versatility in food preparation. You can run or pulse in either mode. The blade usually reverses direction, enabling the use of blunt and sharp sides depending on your needs. Also, it has a lid that contains two holes in it so that you can add liquid. Moreover, most of its parts are dishwasher-friendly for easy post-use cleaning.
Lastly, I love the freedom that the 36-inch power cord provides. I can use the mini food processor anywhere in my kitchen without worrying about being tethered to a power outlet. The model also comes in different color options for optimum counter decor possibilities.
2. KitchenAid 3.5-Cup Medium Food Chopper, KFC3516ER
Sale
KitchenAid 3.5-Cup Food Chopper, medium, Matte Black
3.5 Cup bowl with locking blade, handle and pour spout for easy...
Simplify sauces & dressings with drizzle basin, to easily...
Precise control with 2 speeds and pulse operation for coarse or...
Compact, lightweight and the perfect size for every day use in...
Simple cord wrap and compact design for easy storage
The KitchenAid Medium Food Processor usually holds up to 3.5 cups. It's compact and features two processing modes and a pulse option for chopping ingredients according to your needs.
Image Source: kitchenaid.com
The one-touch thumb press on the handle's top to chop or puree is so convenient. It saves me much time and energy compared to using a manual chopper. Additionally, the drizzle basin is a great feature. It usually serves as a funnel to help add oil for perfectly emulsified dressings.
I love this Kitchenaid mini food processor for the versatility of applications and economy of space; it's lightweight, just like most KitchenAid mixers, and has an ideal size for everyday use in the kitchen. When it comes to storage, the simple cord wraps underneath the processor's base for easy storage. Moreover, the work bowl usually locks the blade in to prevent it from falling out when emptying it, plus the appliance is dishwasher safe.
I have been using this unit for a while now, and it's been a game-changer in my cooking routine.
3. Hamilton Beach Mini Food Processor And Vegetable Chopper
Hamilton Beach Mini 3-Cup Food Processor & Vegetable...
Simply stack and press to chop: The patented stack & press design...
Perfect size for everyday use: Chop and mix up to 3 cups of...
Easily chop, puree and emulsify with stainless steel blades:...
Easy to clean: The bowl, lid and removable blades of the Hamilton...
Power through tough ingredients: This small food chopper has a...
The Hamilton Beach Mini Food Processor and Vegetable Chopper usually hold up to 3 cups. Therefore, it is the ideal size for everyday use and compact for easy storage. This small food processor has durable stainless steel blades that work on different ingredients. I use it to chop carrots, nuts, and onions, and it works like a charm.
Image Source: rtings.com
The oil dispenser on the lid is also a great feature, as it makes it easy for emulsification when making salad dressing, dips, and sauces. Besides, this mini food processor model uses a simple stack and press design, making it easy to disassemble and assemble.
Moreover, the pressing button also powers this kitchen appliance, so there are no buttons or additional settings. The cord wraps underneath the processor's base for compact, easy storage. Also, this small food chopper uses a 350-watt motor to offer all the power you need to prepare all kinds of food. Lastly, it's easy to clean, and the bowl, blade, and lid are dishwasher-safe.
4. Ninja Food Chopper Express Chop, NJ110GR
Sale
The Ninja Food Chopper Express Chop, NJ110GR, is an excellent kitchen appliance I have been using for a while. It's compact and convenient, making it ideal for frequent usage in the kitchen. Besides, the 16-ounce size of this food chopper makes it perfect for preparing small batches of food.
Image Source: bobvila.com
The 200W motor of the Ninja Food Chopper is powerful enough for chopping and grinding various ingredients. Also, the stainless steel blades are razor sharp and can mince garlic, slice onions, and mince nuts in seconds. The unique blade design allows for even and consistent chopping.
What I love most about this mini food processor is the convenience of use; it comes with a one-touch pulsing button that makes it easy to use. Besides, the lid locks securely, and the cord wraps nicely around the base for easy storage.
Furthermore, the unit is easy to clean. The food processor bowl, lid, and blade are all dishwasher safe, and the compact size makes it easy to clean by hand.
5. ZYLISS Easy Pull (Hand Held) Manual Food Chopper And Food Processor
ZYLISS Easy Pull Food Chopper and Manual Food Processor...
Multi-blade designed food chopper blends ingredients in seconds
Booster arms on the top and bottom of the bowl keep food from...
Hand powered pull design is great for travel, small kitchens, RVs...
Use for chopping, preparing, blending and pureeing ingredients;...
If you're looking for the best mini food processor manually operated, count on the ZYLISS Manual Food Processor and Food Chopper. This model is ideal for people who love road trips and camping; it will make your life easier for meal preparation in the woods. No more cutting boards and knives since this model has multi-blades that blend ingredients in seconds. Additionally, it can hold up to 3.13-cup capacity.
Image Source: carousell.ph
The booster-level handle design usually makes chopping large and small quantities of food easier. Also, the booster arms on both sides of the bowl prevent food from sticking to the surface. The blade is great for chopping vegetables, pureeing, blending, and preparing ingredients.
This manual mini food processor is environmentally friendly and great for small kitchens, RVs, and camping. It's made of BPA-free plastic; most parts are dishwasher-safe for easy cleanup.
How We Selected the Best Mini Food Processors
For every mini food processor, we minced parsley to determine how it deals with delicate ingredients, chopped onions with the minimum and maximum load to evaluate chopping ability, and ground Parmesan cheese to see how effective and even it is when dealing with a fine texture.
We also evaluated other important features such as versatility, capacity, ease of use, and cleaning, their compact size for easy storage, and the ability to prepare small quantities of ingredients. Besides, the selection process considered additional features such as convenient controls, dishwasher-safe parts, and cord storage.
What Are the Factors to Consider When Buying the Best Mini Food Processors?
1. Bowl Capacity
Pay attention to the bowl capacity when you look for the best mini food processor. Standard food processors usually have an 8-14 cup capacity, while mini versions hold less than 5 cups. Also, when buying this kitchen appliance, consider the number of people you intend to feed and the types of meals you prepare. For example, some mini food processors are not large enough to break down an entire onion, so choosing something small won't be handy for heavy food prep tasks.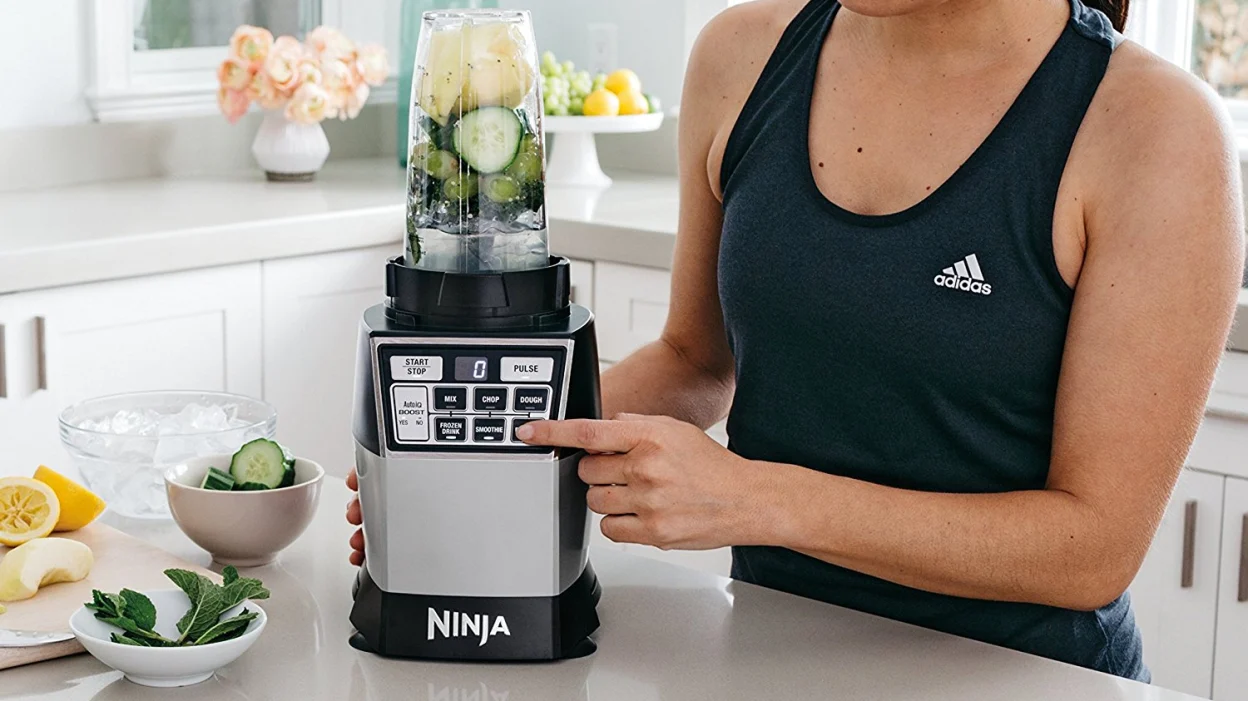 Image Source: mashable.com
Furthermore, the appliance's size is also a major consideration; bowl capacity makes a big difference. You will chop more food at once in a large bowl instead of in small batches. Although you can buy a mini processor to save on kitchen storage space, it also has practical applications. It's great for small ingredients and handy in dressings, baby food, and sauces.
2. Blades
It's important to consider blades before buying the best mini food processors. Blenders usually rely on motor power to break down food such as ice and frozen fruits, but food processors rely on the blades' sharpness for food processors. A food processor requires sharp blades that won't get dull over time to chop and dice without entirely pulverizing ingredients. Also, the stainless steel blades don't corrode or rust when exposed to moisture.
Additionally, most mini food processors usually come with an "S" curved shape blade. Some models feature additional blades for multiple functions like slicing, kneading, and shredding. Besides, these extra blades should be hassle-free when it comes to changing.
3. Power
Another vital to consider when buying the best mini-food processor is the power of the kitchen appliance since a powerful motor is one of the main components of high-quality mini-food processors. Full-size food processors usually run on 450-1000 watts, while mini food processors typically use 250-300 watts. However, it is crucial to note that wattage isn't always a precise measure of a machine's power. It usually shows how much electricity the appliance requires but states nothing about how effectively it is used.
Furthermore, some high-end food processors use induction motors with a magnetic field to conduct power. The result is a quieter machine that offers less heat. However, induction motors are rare in mini food processors.
4. Easy Cleaning
You don't want to buy a kitchen appliance that will give you a headache when cleaning. Besides, a food processor should make your life easier. So, when looking for the best mini food processors, look for a model that is easy to disassemble and clean. Also, look for a model to wipe down and toss the detachable parts into the dishwasher. This should be easy since the bowl, lid, and blades are plastic and stainless steel.
5. Electric Vs. Manual
Many food processors are virtually always electric; however, some are manual when it comes to mini food processors. So, when shopping for the best mini-food processors, which would you prefer?
Image Source: edition.cnn.com
Electric: These models are more powerful, larger, and take up more space. If portability is your concern, some manufacturers make cordless models you can charge up, use outdoors, or on the go.

Manual: This model, also referred to as food choppers, work like french fry cutters or salad spinners. You usually turn a handle or pull a cord to spin the blades. They're usually smaller and more affordable than electric models. Furthermore, they are a great choice for camping trips or in a squeezed small kitchen.
6. Settings and Controls
The mini food processor's user interface must be easy to use and streamlined. Although the most basic model might have an on/off switch, most of these kitchen appliances on the market come with two speeds or more and a pulse function. Pulsing rotates the blades in short bursts, which offers you more control.
7. Safety
Your safety first! The lid lock mechanism is one of the vital safety features of mini food processors. In some scenarios, the package offers rubber gaskets and splash guards to keep things leaking all over the place. Also, the machine won't operate until every part is firmly locked together. Some models also provide pusher rods and feeding tubes, which usually help your hands avoid the risky spinning blade.
8. Noise Level
If you live with other family members or friends, pay attention to how much noise a mini food processor makes. The decibel levels of most mini-food processors are between 60 and 90. (dB), which is not quite loud.
If noise concerns you, you should opt for a mini food processor with a low decibel rating or noise reduction capabilities. It's also a wise idea to read reviews from other customers to understand the noise level before purchasing.
9. The Price
Mini food processor costs range depending on features, brand, and quality. Generally, more expensive food processors often have additional features such as variable speed controls, better build quality, and more powerful motors. But, a lower-priced model can still have all the features you require for basic food processing tasks.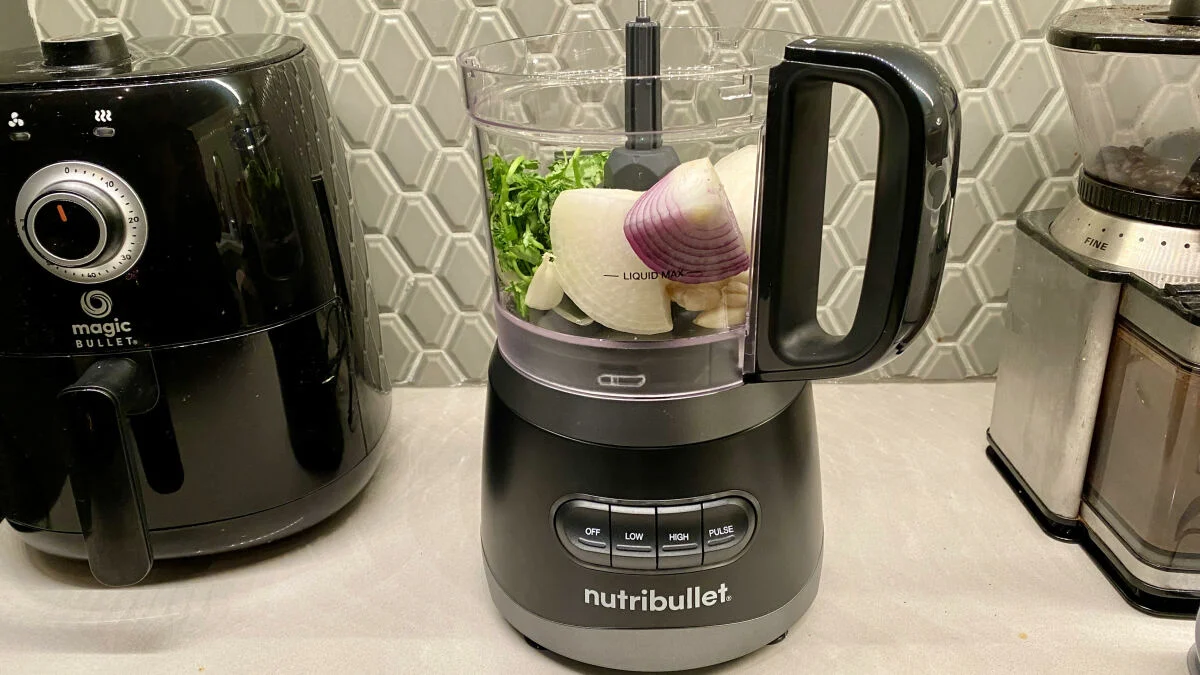 Image Source: mashable.com
Conversely, when considering the price of a mini food processor, it's wise to think about your budget and how often you plan to use it. A more expensive model with more advanced features can be worthwhile if you use it regularly or for more demanding activities.
10. Warranty
When selecting a mini food processor, it is wise to consider the warranty that comes with it. A warranty can offer peace of mind since the manufacturer will repair or replace the appliance if it breaks down within a set time frame.
Therefore, consider a warranty that suits your requirements when purchasing a mini food processor. A longer warranty may be preferable if you intend to use the appliance regularly.
Frequently Asked Questions on the Best Mini Food Processor
1. Is cleaning a mini food processor easy?
Yes. Because of its small size, cleaning a mini food processor tends to be easy. Besides, most models have one lid, a work bowl, and only one blade to wash. Some models are partly dishwasher safe, but ensure you read the manufacturer's instructions. Conversely, be cautious when washing the blades because they're quite sharp.
2. Can you purchase other blades or other attachments for a mini food processor?
Unlike full-size food processor models, mini food processors usually adhere to the rule of "what you see is what you get" because they are only designed to do small and specific tasks. So, the blades they come with are the ones you can use with them. However, some come with additional attachment accessories, such as a whisk though this isn't the standard.
3. Which are the best mini food processors recommended by professional chefs?
4. What's the best use for a small food processor? 
Almost all the food processors are great for mixing salad dressings, condiments, and sauces; making fresh salsas, peppers, and garlic; chopping fresh herbs; dicing onions and other small vegetables; and grinding coffee, nuts, and whole roasted spices just like a spice grinder. However, most mini food processors aren't good for making bread dough, grinding meat, slicing or julienning, grating cheese, or chopping large, bulky vegetables such as potatoes and carrots.
5. What is the difference between a mini chopper and a mini food processor?
Although a mini chopper and a mini food processor are vital kitchen appliances, the two have major differences, including their functionality. Mini choppers are specifically designed for chopping, mincing, and dicing small quantities of food, such as onions, nuts, and herbs. Conversely, mini food processors can perform a wider range of functions, such as blending, pureeing, and emulsifying. In terms of size and capacity, mini choppers are smaller and are designed to hold up to 4 cups of food. In comparison, mini food processors have up to 8 cups of capacity.
6. Do mini food processors slice?
Yes, however, it depends on the blade attachment on the mini food processors. Mini food processors usually have multiple blade attachments for various functions, including slicing. Slicing blades are normally thin and have a serrated edge that can conveniently slice through fruits and vegetables. Moreover, some mini food processors come with adjustable slicing disks that can be used to create even slices of different thicknesses.
7. Can you make dough in a mini food processor?
Yes, you can conveniently make the dough in a mini food processor. However, it depends on the power and capacity of the appliance. Unlike larger food processors, bread machines, or stand mixers, Mini food processors are not designed for heavy-duty dough-making operations. Still, they can manage small amounts of dough.
8. Why do you need a mini food processor?
A mini food processor can be a versatile and useful kitchen appliance for various reasons, especially for those who want to save time, space, and money while still being able to perform various food preparation tasks.
9. Do Mini Food Processors Grate Cheese?
Yes, mini food processors can conveniently grate cheese, depending on the blade attachment. Mini food processors come with multiple blade attachments for different functions, including grating and shredding. Grating blades are usually made of metal with razor-sharp edges that can grate cheese conveniently and efficiently.