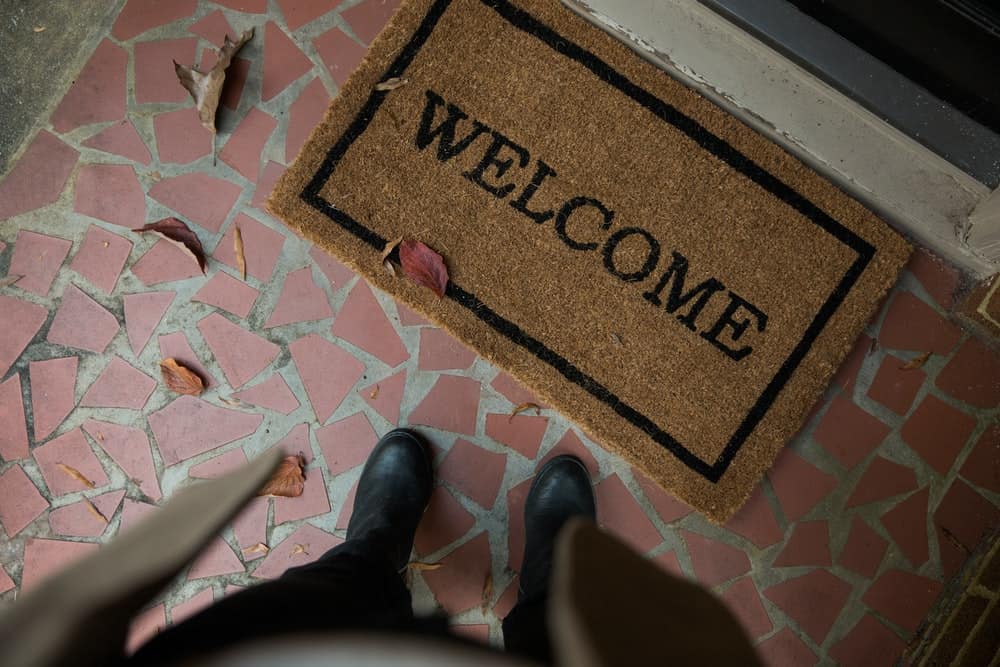 Best Outdoor Doormat to Add to Your Front Door
Doormats are one of the most underrated home accessories. They not only provide a good first impression, but they also come in handy to keep dirt away from the house. The best outdoor doormat will attract dirt, dust, and suck in water, which means you spend less time cleaning or wiping the muddy prints and wet footprints. It goes ahead to give a warm welcome to your guests.
What type of doormat is best for outside?
Although outdoor doormats should be functional, they shouldn't look like a tool. There are a good number of designs, ranging from artistic, fun to beautiful, used to enhance your entryway and set the tone for your home. The joy of shopping for doormats is amplified by the fact that these items tend to be inexpensive, and this means you can get several for your house.
However, with so many options available in the market, it can be quite confusing to find the ones you like. We have narrowed down your options by listing only the best outdoor doormats to make it easier for you. In addition, we have a buying guide to help you know what you should look for when shopping for an outdoor doormat.
Are Outdoor Door Mats Necessary?
While many people may only use doormats during harsh weather, generally, the rule of thumb is that a doormat should be used on a daily basis. Using a doormat is essential to keep your door area clean, dry, and welcoming.
Also called entry mats, doormats also serve to protect the floor from wear and tear due to foot or luggage traffic. So, here are some of the best outdoor doormats to help you find an outdoor mat that offers beauty, safety, and protection to your floors.
1. Gorilla Grip Durable Natural Rubber Door Mat
Sale
Gorilla Grip Durable Natural Rubber Door Mat,...
Premium Construction: 100 percent, high quality natural rubber...
Absorbs Moisture and Dirt: strong, rubber beveled border helps to...
Versatile: heavy duty durable design, yet soft and flexible;...
Sleek Low Profile Design: mat measures 29 by 17 inches with a .25...
Easy to Clean: Simply vacuum with a hand-held vacuum, sweep with...
With the Gorilla Grip Rubber Doormat, you won't have to worry about the number of feet that show up at your front door. This is because this mat features a polypropylene fabric that is soft yet tough enough to withstand water and dirt.
It also features a rubber beveled border and patterned grooves to ensure all the grime or water is trapped. It is extremely durable. Cleaning is also very easy. You need to choose to vacuum the mat using a vacuum cleaner or rinse it with a garden hose. You also get to choose from over 20 colors and patterns to find one that matches your needs.
2. Dog Gone Smart Dirty Dog Doormat
Sale
Dog Gone Smart Dirty Dog Doormat Cute Paw Print Ultra...
Our mats have a GSM abosrption rate of 3000 that is higher than...
The only mats to use the heavy "Gripper Non-Skid" backing on the...
Constructed with double basting and even stitching for rugged...
The microfiber strands dry five times faster than ordinary...
Runner measures 60 x 30 inches and is machine washable
Dirty paws will have you cleaning with a vacuum and broom after your pet moves around your house. This Dog Gone Smart Dirty Dog Doormat will help you solve such issues.
It features quick-drying microfibers, great quality, and is also machine washable. It can withstand just about everything that comes with your dog, from the wettest coats of fur to the muddiest paw prints.
3. SlipToGrip Universal Doormat | Anti-Slip Durable & Washable
Sale
SlipToGrip Universal Doormat | Grey, XL Size 42" x...
Patented design - Universal door mat with Duraloop: exclusive...
Anti-slip and durable - XL size 42" by 35" poly mesh (a soft...
Weatherproof surface - Mats are waterproof and moisture...
Easy to wash - PVC material - Just spray water through the soft...
Phthalate & BPA free: Highest quality outdoor / indoor mats,...
The SlipToGrip Universal Doormat boasts no-frills and a simple plaid design made of durable poly mesh fibers. These synthetic fibers not only provide a cushioned feel but are also quite effective in capturing debris.
Additionally, it featured non-slip backing and raised border that makes it very convenient. The waterproof construction makes it very easy to clean. Ideally, this mat is perfect for porches, back doors, garage doors, and more.
4. Ubdyo 30x18 Doormat - Front Door Mat
Extra Durable Door Mat - Front Door Mat - Door Mats...
🏡 STOP WASTING YOUR TIME CLEANING! Door mats indoor collect...
🏡 NO LEAKING AND SLIPPING: durable Ubdyo doormat outdoor...
🏡 SUITS EVERY DOOR: door mats for outside entry won't get...
🏡 EASY CLEANING: simply spray water over outdoor mats for home...
🏡 MAKE YOUR HOME BEAUTIFUL: welcome others into your home with...
Another durable mat for scraping dirt and cleaning your shoes would be the Ubdyo 30x18 Front Doormat. This mat is designed to withstand the most water-logged rainboots and the muddiest shoes.
It is made from recycled rubber, ensuring the mat absorbs moisture and dries faster. The artificial grass surface provides a thorough scrubbing of dirt and debris. Furthermore, it requires less cleaning, doesn't shed and comes with excellent bristles perfect for an active family or garage entryways.
5. Plus Haven Coco Coir Door Mat with Heavy Duty Backing
Coco Coir Door Mat with Heavy Duty Backing, Natural...
Coconut Coir: The door mat is made of 100% pure coconut coir,...
Attractive Design: The eco-friendly material has a heavy-duty...
Low Maintenance: It is water-resistant, and will dry quickly....
Indoor and Outdoor: The rug is designed specifically for both...
Great Gift: Easy to use and even easier to love, the coco coir...
Natural coir is one of the recommended materials used for outdoor doormats. The Plus Haven Coco Coir Doormat with Heavy-Duty Backing is made from pure coconut coir that is extremely durable and quite effective in capturing dirt, water, and other debris.
This mat comes with a thick pile that is not only low shedding but also dries faster, which makes it low maintenance, even under heavy use. It includes an anti-slip rubber backing to ensure it is safe for use on every floor type.
6. DII Heavy Duty Rubber Outdoor Half Round Wrought Iron Door Mat
Sale
Heavy Duty Rubber Outdoor Half Round Doormat, 24X36,...
Doormat measures 24x36", 100% recycled Rubber material with...
Easily scrape off dirt, dust, grit, mud, grass or snow.
Durable rubber material provides nonslip stability with maximum...
Heavy duty & durable rug carpet widely used for all weather...
J&M offers delightful Home & Kitchen products, to see what else...
A soggy and odor-filled doormat is quite a terrible way to welcome guests on a rainy day. Luckily, this doormat is designed to solve the problem with its swirled wrought iron pattern.
This design is not only there to make the mat look attractive but also helps trap debris and expertly drain water. It is entirely made of rubber which means it won't be a soapy mess to have it at your front door.
7. Aoonby 32"x 48", Absorbent Front Back Door Mat
Indoor Doormat 32"x 48", Absorbent Front Back Door Mat...
🐾ABSORBS MOISTURE & DIRT: Our indoor doormat can quickly...
🐾ANTI-SLIP & LOW PROFILE: Our heavy duty door mats use 100%...
🐾DURABLE, SAFE & Fashion: Coonby Front Back Door Mat features...
🐾EASY TO CLEAN: Sweep with a broom or vacuum regularly or...
🐾VERSATILE & RISK-FREE: Widely used for all weather outdoor...
The Aoonby Absorbent Front Back Door Mat features five different sizes and stylish patterns to ensure you can find a size and design that matches your entryway. You can machine wash and vacuum this doormat as many times as you want while still looking brand new.
Additionally, it has an eco-friendly material that doesn't shed and a pattern that fits just about anywhere. It is water-resistant, ensuring you remain with a clean and dry floor.
8. Apache Mills Masterpiece Flagstone Grey Stone Door Mat
Apache Mills Masterpiece Flagstone Grey Stone Door Mat,...
Made from heavy duty recycled rubber, old scrap tires are made...
Flocked fiber surface in beautiful, full color designs
Molded construction with deep channels that trap dirt and scrap...
Stain resistant, made for outdoor use
Made in the U.S.A.
This decorative welcome mat from Apache Mills boasts a faux stone pattern that is perfect for rustic exteriors or entryway. The pattern looks natural but with additional visual interest.
It is made from flock fiber and heavy-duty rubber from scrap tires. It can absorb about 1.5 gallons of water for each square yard. The flocked fiber comes in handy in removing dirt and grime from shoes while the deep channels keep the dirt trapped.
9. Durable Corporation-108H2436 Outdoor Entrance Mat
Durable Corporation-108H2436 Durite Recycled Tire-Link...
NOTE : all tire link mats sizes in the length are approximate and...
Multi-purpose heavy duty mat made from recycled tires can be used...
The open weave keeps debris and water off the surface of the mat
Virtually indestructible doormat will last for years
Door mat rolls up for easy storage and cleaning
This Durable Corporation is another sturdy option and a perfect choice if you're looking for heavy-duty doormats. It is referred to as the best doormat since it can withstand mud, sand, snow, and torrential rain.
With its herringbone design, the mat drains easily, which means no washing is needed. You only need to sweep away the debris. It is fade-resistant and holds up quite well, even in direct sun or high traffic areas.
10. Mohawk Home Ornamental Brick Entryway Door Mat
Sale
Mohawk Home Ornamental Brick Entryway Door Mat, 2'x4',...
FASHIONABLE FUNCTIONALITY: The decorative doormat features a...
ALL WEATHER: Molded from recycled rubber with a coarse polyester...
LOW PROFILE: The low-profile height offers ideal functionality...
EASY CARE AND CLEAN: Simply vacuum, shake out, or sweep off...
MADE IN THE USA: As the world's largest area rug manufacturer,...
The Mohawk Home Ornamental Brick Entryway Door Mat is a good-looking doormat made from recycled rubber. This recycled rubber allows it to withstand different weather conditions. It comes in two color patterns to match your front porch decor.
Unlike other doormats, this one stretches to be slightly longer. This way, it provides your front porch with more coverage without feeling overpowered, creating that perfect first impression. Cleaning is simply spot cleaning using water to ensure it remains fresh.
11. KMAT Door Mat Inside Outside, Anti-Slip Durable Rubber Doormat
KMAT Door Mat Inside Outside,Anti-Slip Durable Rubber...
★[High Quality and Durability] KMAT indoor outdoor rug are made...
★[Non-slip and Absorb Moisture & Dirt] The woven fabric is...
★[Easy To Clean] To lightly clean, hand vacuum, sweep with a...
★[Low Profile Design]KMAT front door rug measures 30"L x...
★The KMAT versatile entrance mat is a tasteful and durable and...
This mat stands out because of its anti-slip and heavy-duty features. The KMAT Door Mat is a welcome mat made from a durable rubber that is resistant to adding and also water-resistant. As one of the best outside doormats, this welcome mat features a raised pattern that helps trap dirt and moisture.
Its waterproof rubber backing also helps prevent leaks and slips. Cleaning is done by a simple shake, vacuum, or sweep. You get a good value for money with this mat.
12. Wicked Good Lobster Rope Doormat
Wicked Good Lobster Rope Doormats, Handwoven Nautical...
HANDWOVEN in Maine from lobster rope designed to tether traps in...
WEATHERPROOF outdoor doormat can withstand wind, sun, salt, snow,...
HEAVY-DUTY POLYPROPYLENE mats weigh 7-10 pounds, are 1" thick and...
EASY TO CLEAN fast-drying rope can be hosed down right at your...
FOR NON-SKID SURFACES ONLY.
Made from a recycled lobster rope, this mat is sturdy enough to withstand any type of environment. The Wicked Good Lobster Rope Doormat is also easy to clean and dries quite fast.
If you're worried about this material, then you should know that in the past life, this material was used at sea, withstanding the waves, wind, and direct sunlight. The mats come in different weights ranging from 7 to 10 pounds and an inch thick.
What is the Best Material For An Outdoor Doormat?
Different doormats are made from different materials. Here are the most popular type of materials used;
1. Rubber
Rubber mats are durable, tough, flexible and waterproof but are not the prettiest. They look best in industrial settings since they are more functional in keeping dirt away rather than giving a warm welcome. Furthermore, rubber outdoor door mats may become super hot during summer and develop cracks during winter.
2. Coir
Coir mats come in a variety of cute and funny designs, which adds lots of versatility to your door decor. However, a coir doormat will break down easily and shed. They are always cute at first but are unable to stand up to bad weather.
A coir doormat will need to be replaced often because sand, sun, rain, and snow will accelerate their breakdown. Since it is not the most durable doormat material, natural coir is only recommended for indoor use.
3. Fabric or Carpet
There are a variety of choices available when it comes to fabric or carpet doormats. However, if you're planning to put the doormat outside, then ensure it is made from synthetic fibers.
Doormats made from natural fiber are best designed for indoor use, so don't place a doormat outside if it is made from wool, cotton, or a cotton blend. Therefore, you should only find carpet or fabric doormats that are made for outdoor use and fast drying.
4. Synthetic Rope
Find outdoor mats with synthetic materials that won't easily break down even in harsh weather. Fortunately, there are different styles and color options available for outdoor doormats designed from synthetic rope.
Although all the synthetic rope options are made to last longer than a natural fiber, there are some that are more durable than others.
How Do You Pick the Best Outdoor Doormat?
Here are a few important features you should consider to help you find that perfect outdoor door mat.
1. Size
Your outdoor mat should cover most of the patio, deck, or step leading to your door. It should also be large enough to allow one to stand on both feet.
Standard outside doormat sizes start from 18 x 30, which is also the most purchased size. This is because a standard front door measures approximately 36 inches wide. However, if you want bigger sizes, we recommend 24 x 36/38 or 21 x 33/34 for a front doormat.
Remember to measure the size of the door mat you want before buying. A rule of thumb is that the best outdoor doormat should be the same width as your front door or a bit less.
2. Durable
A durable doormat will provide you with long years of use. You will want to ensure that your favorite doormat is not easy to rip, tear, or get destroyed. You don't need it to be flimsy or breakdown since its main purpose is for stepping on it.
3. Purpose
There are different mats that are designed for different purposes. So, do you want an outdoor doormat that is cute and has a bit of flair on your entryway? Or, do you want an outdoor door mat that can conveniently clean shoes or feet before getting into your home?
Some outdoor doormats are more functional, and others are more fashionable. Others will be a balance of both. So, once you recognize the need to add an outdoor doormat in front of your home, you want to think about the main purpose it will serve there.
4. Weatherproofing
Whichever outdoor door mat you choose, it should be able to withstand different weather conditions. Ideally, it should be able to absorb water, dirt, snow, or anything else you want to prevent from getting into your home.
In addition, your personalized doormat should have a texture that enables you to scrape all the dirt and debris before getting indoors.
Frequently Asked Questions (FAQs) on Door Mats
1. Is a coir doormat for outside?
Yes, coir mats are great for outdoor use. Natural coir, which is a rough fiber from coconut, is one of the most durable and abrasive materials. It can trap moisture, dirt, and sand from your shoes, and they are also good-looking.
2. Can I use my outdoor doormat on the beach?
Yes, you can. When you're camping at the beach or have a shelter set up, then a doormat can help reduce the amount of sand getting in your structure. The best doormat should be easy to clean by just shaking to remove the trapped sand.