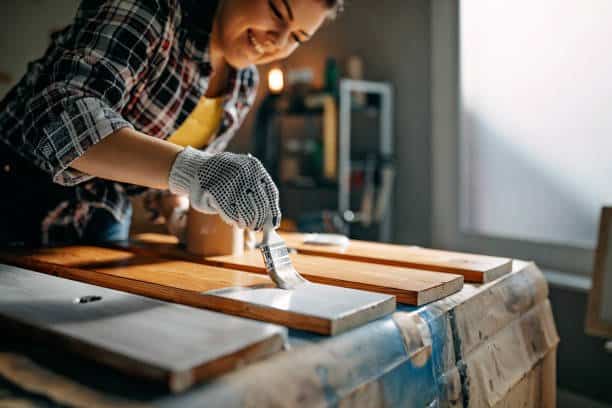 Best Paint for Wood Crafts on Various Surfaces & Materials
Are you shopping around for the best paint for wood crafts, and you don't know where to start and which one is the best? Several paints claim to be the best in the market that serve different, but they have less or more the same purpose, and as much as you may have great wood crafts, if you don use the best paint for wood crafts, they become less attractive. Paints usually have unique quality pigments and a unique price point depending on different factors, and the best paint for wood crafts can give your furniture a supreme finish.
Finding the best paints for wood crafts can be a dainty process that will take up too much time, and therefore, we have eased your work by compiling the best paints for wood crafts in the market with their pros and cons and a detailed buying to help you know what to look out for.
1. Crafts 4 All Acrylic Paint Set
Crafts 4 All Acrylic Paint Set - 12 -Pack Painting...
Our art paints are uniquely crafted to bring out maximum...
These versatile paint supplies work for most mediums; canvas,...
Made with a non-toxic formula, this acrylic paint kit produces...
These paint sets have a premium consistency, perfect for...
The perfect gift for beginners or seasoned pros, this premium...
Crafts 4 All Acrylic Paint Set is a unique paint kit that includes three free brushes at a cost-friendly price and comes with up to 24 distinct colors that you can choose as you finish your craftwork. The acrylic paint has a fast drying time making it easy to correct painting faults, and it's suitable for beginners starting their painting artistry. Additionally, the three free brushes come in handy for beginners who are not doing artwork in several colors and are a perfect blend of colors and offer a long-lasting texture able to contain subtle marks and brush strokes.
Crafts 4 All Acrylic paint sets are water-based acrylic paints that allow your product to make many adjustments to wood crafting and easily be cleaned using soapy water. Each acrylic paint observes the EN71-3 (EU standard) and ASTM D-4236 (USA standard) that guarantee that they are environment friendly and non-toxic, posing no health risks.


2. Apple Barrel Acrylic Paint Set
Apple Barrel PROMOABI 18pc Matte Finish Acrylic Craft...
CONVENIENT SIZE & FUN BRIGHT COLORS - This versatile acrylic...
MATTE FINISH - Each of these bold and bright colors dries to a...
EASY & SMOOTH APPLICATION - Use on a variety of surfaces...
SIMPLE CLEAN UP - Clean up is easy with Apple Barrel acrylic...
AMERICAN MADE - Apple Barrel is proudly made in the USA
Apple Barrel Acrylic Paint Set is a perfect combination of quality and quantity and comes in one of the best color combinations in the market, which are impressive and methodical. The acrylic products are made using grade-A raw materials, which undergo strick-quality controlled manufacturing, and the formula provides paints that give a high-value pigment standard. These Apple Barrel containers come in flexible plastics, making them easy to squeeze out, and the bottle has a rigged exterior cap that makes it easy to open and close the container.
The water-based acrylic colors have an in-between matte and glossy finish with a high gliding smooth consistency complemented with a fast-drying feature. Apart from the creamy consistency, these acrylic paints feature a high lightfastness that increases a painting's longevity. You can use them with various painting tools, such as brushes, foams, or a sanding sponge. Furthermore, thanks to the acrylic paints being AP certified and non-toxic, they are safe for your health and the environment.
P
3. FolkArt Home Decor Chalk Craft Paint
FolkArt Home Decor Chalk Craft Paint is a type of wood-crafting paint that uses chalk-painting to enhance crafting skills by offering an ultra-matte finish combined with sustained structural power. The chalkboard paint is suitable for painting projects because it needs minimum surface preparation, which doesn't include priming the surface before application and thus increasing your work speed.
The chalkboard paint has a consistent depth texture throughout your usage, and it can also be used to create creative and unique shades thanks to an excellent mixing capability. Thanks to the quick-dry feature, it can be layered multiple times in a thin coat, and after you finish your fun designs, you can sand it. However, the paint is for indoor use only, and being ACMI-AP, it will endure light exposure for years and enhance the longevity of your craft. It is usable on most surfaces like terracotta, ceramic, canvas, or metal.


4. Castle Art Supplies Acrylic Paint Set
Castle Art Supplies 24 Acrylic Paints Tubes Set for...
TOP QUALITY PAINTS THAT WON'T LET YOU DOWN! Painting with...
EASY TO USE & SMOOTH APPLICATION. This clever paint is specially...
LAY DOWN LAYER UPON LAYER. The quick drying nature of our acrylic...
QUALITY YOU CAN TRUST. We know the disappointment of receiving...
BUY TODAY - WORRY & HASSLE FREE! Creating beautiful art should be...
Castle Art Supplies Acrylic Paint Set offers a great balance in all quality aspects, and both professionals and beginners can start painting using this paint kit. The craft paint uses a highly successful formula that is oil-based. This increases the longevity of the different colors offering premium and clarity texture that crafts your wooden sculpture with paints offering a gloss finish. The acrylic paint offers a balance in viscosity that allows colors to flow with structural integrity and can be used as nail art, wood, canvas, and ceramic fabric.
Castle Art Supplies Acrylic Paint comes with aluminum tubes that prevent damage to the container despite prolonged use. You can squeeze out colors on different surfaces to provide a watery feel. Another reason why this acrylic paint qualifies as one of the best paints is the superior fast dry feature that will increase your craft speed and also allows you to fix mistakes during the working process.


5. Rust-Oleum 285140 Ultra Matte Interior Chalked Paint 30
Sale
Rust-Oleum 285140 Ultra Matte Interior Chalked Paint 30...
Use on a variety of interior surfaces like wood, metal, ceramic,...
Low-odor, latex formula allows for easy clean up with soap and...
Dries to the touch in just 30 minutes and covers up to 150 sq....
Excellent adhesion and easy application with minimal prep
Dries to an ultra-matte velvety, smooth finish
Rust-Oleum is a suitable product for an ultra-matte finish making it among the best paints for wood crafting for surfaces with little to no exposure to the atmosphere. The matte finish chalked paint is suitable for indoor and interior projects, and even though it has a level of smell, it's not offensive that it affects people, making it easy to work with the formula.
Rust-Oleum 285140 formula will take about 30 minutes to dry, and the paint is more suitable for people working within a short period. The painting product is the right paint for people working on large projects, and each container covers a large area and can be used on all wooden accessories such as picture frames and candle-holders.


Types Of Wood Craft Acrylic Paints
Various paint types can be used on wood crafting, and it comes down to your preference, with some factors influencing your choice.
1. Regular Acrylic Paints
This is among the most popular and economical choices, and also the liquid can seep through natural wood, making the regular acrylics perform exceptionally well. These types have the widest color range and create unique shades and also, because most of them are water-based, they are easy to mix, dilute, blend or tint and use an undertone painting.
You may need to seal acrylic paint to ensure the applied paint has proper adhesion, and the product used to seal is called a sealant. However, they may perform poorly if you are painting over an already colored surface and may be difficult for adhesion and don't perform well in outdoor conditions.
2. Spray-Paint
These types are not as popular as acrylics, and spray paints can add attributes to your craft that acrylics won't be able to and if you buy a fade and free-angle spray paint, that will increase your workflow powerfully. These offer a texture quite different from acrylics that will make your craft stand out from the crowd, but they also will need less concentration to use and effort.
They make a good addition to your collection as they add variation to your style and can also be refill containers for protective finishes and topcoats. However, it's difficult to get a detailed craft, and you will need to wear proper gear and have a well-ventilated and wide area to apply the spray paint.
3. Multi-Surface Acrylics
This makes a great option for professional artists. They come with a good pigment concentration amount that will stick well to many wooden surfaces and offer a high lightfastness to increase the crafted surface longevity. However, they may be more expensive than regular acrylics.
4. Outdoor Specialized Paints
These paint sets are manufactured with an industrial-grade waterproof capability, and if your craft is for the outdoors, this will be the best paint set for you.
5. Chalk Paint
Chalkboard paint has a small strong market, and they offer strong adhesion for painted and bare wooden surfaces; you won't need a lot of surface preparation with these paint types as they don't need a seasoned artist to prime or strip before applying.
6. Metal-Flake Paints
Like the name, they are created with original metal flakes and blend with a formulation. The metallic paints make great protective finishers for a painted wooden surface and add a glaze to a dull-looking craft job.
7. Pre-Primed, Adhesive-Inducers, And Top Coating Paints
These paint types don't need a primer and will increase the adhesiveness of the previous paint job, and these paints have features that don't need you to put a protective finish after your main crafting is done. These paints can be chalk, metal flaked, spray-on, or acrylic in nature and will save you plenty of time and energy and allow you to finish your projects faster with less effort.
Factors to Consider Before Purchasing the Best Paint for Wood Crafts
1. Durability
The durability of the paint should be among the first things a customer considers because any paint that doesn't last long is more waste than anything. All quality paints should last long despite the environmental conditions making this quite an important factor.
2. Color Stability
Some paints for wood crafts usually fade away when place in continuous exposure to rain and sunlight, and these paints may end up being a waste of your money and waste the beauty of your wooden structures. Therefore, try and settle for products with colors that will be stable and hold up for about three to five years.
3. Thickness
When purchasing the best paint for wood crafts, thickness is critical because thick paints might not be the best to work with and might need a thinner to work effectively. For lighter paints, you might need to add paint powder to the paints to increase the viscosity, and therefore, you should always try to get moderately thick paint.
4. Fast-Dry Technology
Before purchasing the best paint for wood crafts, ensure you dry quickly because, without this feature, you will face several multiple problems, such as a slow workflow. This is because you will not fix mistakes and make edits during the process, blurring the surface texture. The best paint for wood crafts should take an average of 6 hours to dry, and anything that takes longer than that might not be the best choice.
5. Safety
Your safety will always come first when it comes to painting because some paints usually cause allergies to the skin. Some paints contain toxins harmful to your eyes and affect your respiratory organs, such as the lungs. It would be best to consider using protective gear such as gloves or goggles and a face mask or an apron.
Look for paints with EN 71-3:2019 (Latest European standard), ASTM D-4236 (USA standard), or any AP-certified paints to guarantee that they are non-toxic and won't harm your health. Also, the paints should be BPA-free and approved by the FDA if the paints are in plastic containers, and you can find information in the package labels section.
Frequently Asked Questions on the Best Acrylic Paint for Wood Craft
1. Which one is good an oil paints or water-based?
Oil-based paints offer a sheen effect, and it will die over time, but a water-based paint can sustain its sheen for a long period, but it will depend on your preference.
2. What paint is the best to use on wooden furniture?
A glossy or satin finish is the most suitable paint for wooden furniture, and you can choose between latex and oil-based paint but ensure you use a primer fast. Latex is also the best because it has a minimal odor and is also oil-based.
3. What will determine the level of efficacy for different Paint types on wooden crafts and Surfaces?
The porosity will determine the efficacy level where some paints will work less or won't work on wooden crafts as they are porous surfaces. However, certain types will be more effective for the same reason of porosity.
4. Why Does Lightfastness Rate Matter in the best paints?
The lightfastness rate will matter because it determines how resistant paint will be to light exposure and may have difficulty retaining an organic structure. In addition, this will determine how long the paint will last on your wooden pieces.