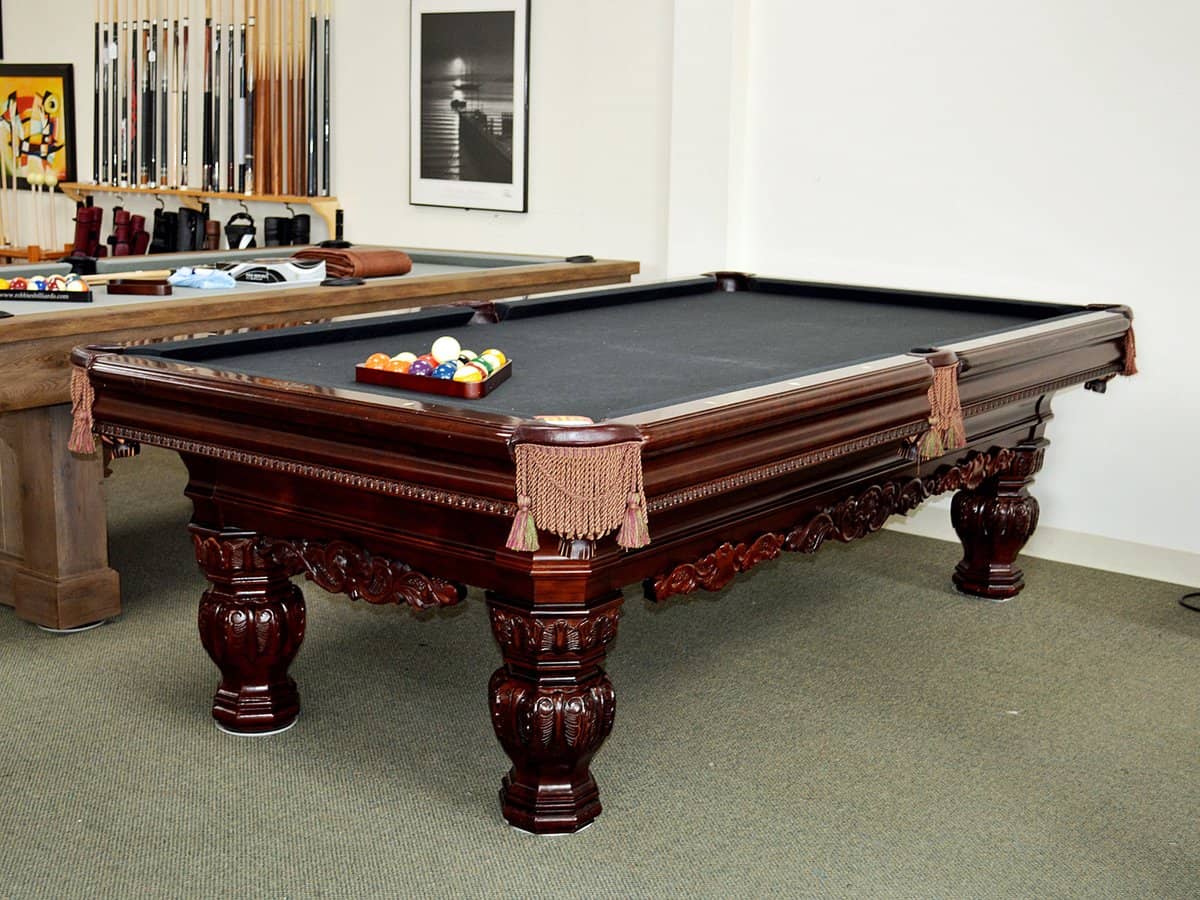 Best Pool Table Brands for Your Pool Sporting Equipment
If you have some space that could use a pool table, why not get one? But, it could be a challenge when you can't decide the best brand to buy from. Many companies design pool tables, but only a select few will leave you satisfied. We will share a few of the best pool table brands you can buy from today.
What Is a Pool Table?
A pool table is a bounded game table with six pockets used to play the game of pool plus other cue sports such as snooker and billiards. The table can also be referred to as a billiard table, and it comes with a flat, quarried slate mostly covered with a green cloth. The slate is also surrounded by vulcanized rubber cushions and sits on a sturdy frame and legs that elevate the playing surface from the floor.
The game of pool is called pocket billiards in some countries. It involves striking a cue ball with the end of a cue (a long, slender stick) so it can roll to other balls to knock them into the holes or pockets. These pockets that funnel inwards are located around the edges of the pool table, at each corner, and the center of both long sides.
Knowing this, you will need to consider the quality of the table, slate, frame, cushions, and even the legs before buying your billiard table. At this stage, you will need to consider the best pool table brands, and we will help you discover them.
1. Olhausen Pool Tables
If you know a thing or two about the game of pool, Olhausen is a top pool table brand that you may have come across. It is the best brand in the market, and for one reason, the company was founded to make pool tables only and continues to deliver on that promise to date.
It is a family-owned brand that has been passed down to four generations. It began with two brothers, Butch and Don Olhausen, making pool tables as they learned from their father, who owned a workshop. Soon after, they purchased a pool table manufacturing company and sought to manufacture double the capacity yearly.
Today, they are leaders in the business known to produce premium pool tables. However, premium pool tables like these will come at premium prices, so be prepared with a heavy budget of more than $3000.
Best Olhausen pool table: Olhausen Billiards 8 ft Belmont Pool Table
Olhausen Billiards 8 ft Belmont Pool Table – Matte...
🎱 SOLID MAPLE & FRUITWOOD with MATTE ORIGINAL CHERRY FINISH....
🎱 YOUR CHOICE OF STANDARD CLOTH COLOR included. Your local...
🎱 READY–TO–PLAY PACKAGE included with: (2) 58" natural...
🎱 DELIVERY & INSTALLATION by knowledgeable, friendly and...
🎱 TOP– QUALITY MATERIAL & CONSTRUCTION of solid hardwood,...
This 8 ft Belmont pool table is from the company's Portland series. It comes as a ready-to-play package with all accessories, including two maple cues. It is also made in the USA in the companies Tennessee factory with Accu-Fast cushions and T-Nut Rail construction to guarantee the best playing surface
The table is made with solid maple and fruitwood and topped off with a matte cherry finish. If you need to make a statement in your game room, the table comes with the Olhausen logo inlay and features pearlized diamond sights and cherry leather pockets.
The slate is one feature that makes this table one of the best. It is diamond-honed, comes with a framed liner, and lies on the company's superior Uniliner frame. Thus, it guarantees a sturdy, flat, and professional playing surface to last you many years. In addition, the slate is covered in a professional cloth that comes in ten colors.
Why should you buy from Olhausen?
Only one good factor should guide you to buying a pool table from the Olhausen brand; quality craftsmanship. Whether you need it for home or a competition game room, Olhausenpool tables offer the following benefits.
They are made with quality cushions. This brand uses Accu-Fast Cushions made with a pure gum rubber base that guarantees durability even in the most extreme environments. In addition, these cushions are canvas-backed for permanent bonding to the rails. They come with a Lifetime Warranty and are 100% made in America.
Excellent Uniliner Frame construction. This feature is what gives all Olhausen pool tables their superior strength. The frame can withstand pressures exceeding 25,000 lbs.
Genuine, high-quality slate. The brand uses a 3-piece Genuine Slate with diamond-shaped sights and is polished for the perfect playing surface.
Wood selection. This company uses North American hardwoods such as Walnut, Maple Wood, and Red Oak to make the strongest pool tables.
High-quality finish. If you want a long-lasting pool table, the quality of the finish will give you the peace of mind you need when buying. Olhausen billiard tables are painted with an acetone-based finish plus a UV finish line to prevent scratches, yellowing, moisture, and humidity damage.
2. Brunswick Pool Tables
If budget is not a problem and you want the best pool table brand, Brunswick is another company to consider. The company has been in the business for more than a century, enough time to gain exposure and improve their craft. Today, Brunswick billiards are available worldwide. Let's see why you can consider this brand for a new pool table.
This company was started in 1845 by John Moses Brunswick. By then, he was a thriving woodworker known for building the best carriages. With a lot of dedication, his billard table-manufacturing company was gaining the right reputation, and until today, it is one of the companies known for making high-end pool tables.
Best Brunswick pool table: Brunswick 8-Foot Glen Oaks Pool Table
Brunswick 8 Foot Glen Oaks Pool Table with Merlot...
FREE ON-SITE DELIVERY AND PROFESSIONAL INSTALLATION - All our...
BEAUTIFUL FINISH AND CLASSIC DESIGN - This billiard playing table...
DURABLY BUILT - This 8 foot long pool table is made from superior...
WITH AN AWESOME POOL ACCESSORY KIT - The Contender Play Package...
DAZADI MONEY BACK GUARANTEE and WARRANTY - Your table will arrive...
If you are after a high-quality pool table, why not get this one from Brunswick that comes with free shipping and installation across the country? The 8-foot Glen Oaks table is ideal for any game room, and it comes with all accessories included.
Brunswick pool tables are constructed with high-quality materials, and it is the case with this model. It is made with engineered wood products and fine veneered hardwoods then assembled with high-torqued, bolted techniques and heavy gauged steel to guarantee durability and the best playing performance.
On top of the sturdy frame, this table comes in a classy exterior with a beautiful Espresso finish and a Contender-colored woolen cloth available in different colors. The table also sports carved corners and a ball and claw design for the legs, making it a perfect addition to any game room.
Though expensive, this table comes with a Dazadi money-back guarantee plus a Lifetime Manufacturer's warranty.
Why should you buy from Brunswick?
A Brunswick table promises the best pool table quality, from craftsmanship to performance. Here are a few top features that make Brunswick one of your top pool table brands.
The brand uses high-quality wood plus a Brunswick certified Slate.
The pool tables have a high-performance nut plate construction that allows a 70% torque to each connection for better playability.
The rail is gripped directly to the table with a dome washer to guarantee constant tension for better playability and durability.
The company uses SuperSpeed rubber cushions that allow better accuracy. They also use pneumatically controlled machines for the best rubber and rail bonding.
The pool tables are kiln-dried, then stained and sealed to prevent damage from elements.
3. Eastpoint Sports
Eastpoint sports, while not as famous as Olhausen or Brunswick, is an up-and-coming American brand specializing in recreational products for pool, table tennis, foosball tables, gaming tables, and more. Their pool tables are more affordable than most brands, but they don't compromise too much quality.
The company is based in New Jersey and was founded in 2009 as a Leisure products company. If you need an affordable model, the Eastpoint Sports pool table can even come in a 2-in-1 design that will not only look amazing but will also allow more versatile use.
Best Eastpoint Sports Table: 87" Masterton Billiard Table
Sale
EastPoint Sports Billiard Pool Table 87 Inch - Scratch...
SET INCLUDES: (2) Pool Cues, (1) Pool Balls Billiard Set, (2)...
BUILT-IN LEG LEVELING SYSTEM: Featuring built-in leg levelers for...
RECOMMENDED ROOM SIZE: 17 Ft L x 13 Ft W
ASSEMBLED DIMENSIONS: 87in L x 50in W x 31in H
PROFESSIONAL GRADE: Designed with professional K66 rubber bumpers...
This Eastpoint Sports table is an affordable option you can get. Still, it is designed with durable features such as the K66 rubber bumpers for a consistent bounce and predictable shots. In addition, it comes in a traditional ball and claw leg design for guaranteed stability. The legs also use the build-in leg levelers for balanced play and precision.
The table is made with strong wood to withstand heavy home use, and the classy slate is covered in a green cloth for the most professional look. It also comes with all accessories you need to play the game plus sports durable parlor-style drop pockets.
It is the best table for home, and you can assemble it in your man cave, basement, or family game room. The only dealbreaker is, while the table looks like most options from a top pool table brand, some reviewers noted the wood quality was subpar.
Why should you buy from Eastpoint Sports?
As mentioned earlier, this brand is not among pool table brands that make premium pool tables. However, it is your best option when looking for a good table on a lighter budget. Here are a few features that make the brand worth consideration.
The pool tables are more affordable compared to other pool table brands.
Their pool tables come with complete pool table accessories.
The pool tables are made with professional K66 rubber bumpers for better playability.
The pool tables have expertly designed drop pockets plus a built-in leg-leveling system to guarantee the best precision.
4. Hathway Pool Tables
This is another brand for when you are on a budget. Hathaway pool tables are a part of the larger Blue Wave company that manufactures recreational products, including saunas, swimming pool kits, and table games.
The company was founded over ten years ago to manufacture pool chemicals, but today, with an expanded manufacturing plant and more recognition, they also manufacture some of the best pool tables in the world.
Their pool tables are not very expensive; you can even find one for under $1000.
Best Hathaway Pool Table: Hathaway Fairmont Portable 6-Ft Pool Table for Families
Hathaway Fairmont Portable 6-Ft Pool Table for Families...
EASY TO TRANSPORT – This gorgeous table includes durable, steel...
FAMILY FRIENDLY – The Fairmont's compact 6-foot frame is...
NO ASSEMBLY REQUIRED – Every table ships fully assembled and...
DIMENSIONS - Table dimensions: 76" L x 43.25" W x 32" H - Playing...
ACCESSORIES INCLUDED: Nylon carry bag, 2.25-in standard billiard...
If you fancy a game of pool with your family, you will find this affordable and portable option from Hathaway an ideal buy. Plus, not only is it completely foldable, it comes with a nylon carry bag that is rip-resistant.
When looking for a family pool table, you must dread the thought of having to assemble it or needing to pay someone to assemble it for you. That is not the case with this table; it comes fully assembled, and all you need to do is unfold it to reveal a sturdy steel frame, fast action cushions, a blue bed, and chrome plated corner castings.
The table also comes with the needed pool accessories plus a 180-day manufacturer warranty.
Why should you buy from Hathaway?
Are you wondering why Blue Wave/ Hathaway is one of the top pool table brands in the market? Well, here are a few features that might answer your question.
While most are not made with premium wood like other brands, Hathaway uses K-66 Gum or K819 Rubber Cushions for playability.
The lightweight pool tables are easy to assemble.
You can find the best pool tables in different designs, including foldable pool tables.
Their pool tables come in different sizes, thus ideal for competitive games or family fun.
Some of the pool tabes double up as tennis tables and dining tables, thus saving you space.
5. Plank & Hide Pool Tables
Plank & Hide is one of the best pool table brands when you are looking for premium features. The pool tables are a bit costly, but this brand markets itself as a luxury furniture manufacturer. Headquartered in Ohio, Plank & Hide offers authentic designs using the highest-quality wood to manufacture unique pool tables.
If you would like to purchase from this brand, you will find they have different pool table styles categorized into industrial, vintage, classic, and competition series. The industrial series includes pool tables designed with solid steel in modern designs.
Vintage series are pool tables designed with solid hardwood to guarantee durability. However, you might find these designs plain. The classic series pool tables are also made with solid hardwood, but the design differs from the vintage series in that the legs are one-piece for a durable foundation and stability.
Best Plank & Hide Table: Morse 8" Billiard Pool Table
Plank & Hide Morse 8 ft Billiards Pool Table - Barnwood...
Double main beams provide 66% more frame to slate support...
One piece leg for strongest foundation possible
100% Solid wood cabinet
6.5-inch Oversize professional all wood top rails
Enclosed wood corners with genuine leather drop-pockets
This table speaks volumes for a brand that makes and sells luxury furniture. For starters, it is made with top-quality wood and sports a beautiful Plank & Hide logo inlay.
The table has a double main beam construction that guarantees 66% more frame to slate balance than other pool tables in the industry. And speaking of the slate that rests above a solid wood cabinet, the table boasts a Barnwood Elm color that really stands out in your game room.
Unlike other tables that use steel top rails, this premium table comes with all-wood construction with 6.5-inch oversized rails to make it an ideal professional table. Additionally, it comes with enclosed wood corners that also feature leather drop-pockets to complete the elegant look. For extra support and stability, the table also comes with a 1-piece leg design.
Why should you buy from Plank & Hide?
Plank & Hide is a luxury brand you can trust to get the best pool tables for any game room. The designs are versatile, using top-quality materials and authentic techniques for the best tables. Here are a few features that make the tables worthy of consideration.
Unique designs. Unlike some best pool table brands on this list, Plank & Hide is one of a few brands with specialized designs for different environments, including professional competitions and vintage designs.
High-quality materials. This brand sources the best materials like solid maple wood or tough steel to design the most durable pool tables your money could buy.
Their pool tables come with all accessories.
Some pool tables offer versatility; you can also use them as dining tables when not playing.
Other Notable Best Pool Table Brands You Can Consider
While we have covered just a few options, there are many other best pool table brands you can go for, including;
Diamond billiards
Fat cat Pool tables
Minnesota Fats
Empire USA
Imperial
Presidential billiards tables
Barrington pool tables
Mizerack pool tables
Harvil pool tables
Valley-Dynamo
Factors To Consider for Your Best Pool Table Brands
As you have seen, there are just too many pool table brands that it becomes too difficult to choose one. If you are in such a predicament, we have the best markers to help you select the best brands. These are factors like;
a) Reputation
While you look for quality, a brand's reputation is a crucial factor to consider. It helps to consider how long a brand has been in operation, the types of billiard tables they sell, their customer service, and even location.
b) Your budget
Most brands set different MSRPs for their pool tables. Thus, if you want to get a quality table, your budget determines which pool brands you can buy from as well as which pool tables you can get. As you have seen from this review of the best pool table brands, some will cost more than $3000 while others might not hit the $1000 mark.
c) Frame
When you play pool, one part of the table you rely on the most is the frame or cabinet. It also relates to the quality of the billiard table as it needs to carry the full weight of the slate.
d) Slate
If you want the best pool table, you need to pay close attention to the bed of the table. Slate, as it is commonly known, can be made with rock, wood, or acrylic. This part needs to be strong and durable. When buying, understand that the thicker the slate is, the longer the table will last and the more expensive it will be.
e) Legs
When you look at pool tables, you might have noticed the different leg designs each comes with. You can get antique, pedestal, or post legs for your best billiard tables. While the three types of legs are ideal for most playing environments, you will need to consider how often you will use the table to make the best decision.
The legs support the entire weight of the table, plus the players leaning in it.
f) Cushions
Cushions make the game of pool playable. Thus, when looking for the best pool table brands, look for those whose cushions are made with vulcanized rubber or gum, as they will allow the best bounce to your balls.
g) Finish
The best pool table brands understand that a table's finish guarantees durability and improves the game room look. As such, ensure the brand you choose caters to scratches, cracks, and moisture prevention before you buy any table from them.