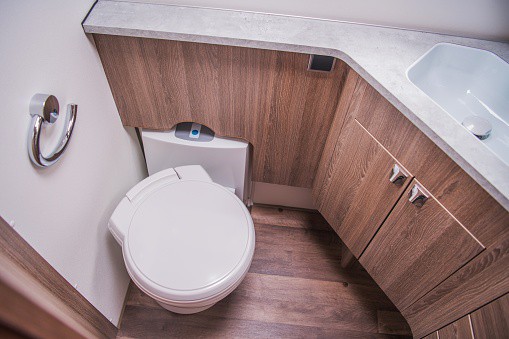 Best RV Toilet Options for Improved Camping Experience
RV toilets allow you to spend time outdoors without compromising the comfort of being at home, especially when it comes to having your own personal toilet to use. A toilet is quite essential, especially if you're planning on taking a long trip. The best RV toilet for your will improve your comfort while camping.
Most RV toilets are smaller than the household toilet and may be a bit challenging for larger individuals to find a comfortable position. This is why it is critical to know how to select the right design and type of RV toilet. There are many other things you need to consider besides your personal comfort.
However, with the wide range of RVs available in the market today, it can be challenging to find one that matches your needs. To help make the search easier, we have curated the five best RVs, their pros and cons, as well as some factors you need to be aware of before choosing the best RV toilet.
5 Best RV Toilets
1. Camco 41541 Portable Travel Toilet
Sale
Camco 41541 Portable Travel Toilet-Designed for...
5.3 gallon holding tank is detachable; 2.5 gallon flush tank
Sealing slide valve locks in odors and protects against leakage
Side latches secure the tank to the toilet
Bellow type flush and sturdy construction
Measures 15.5 inch H x 14 inch W x 16 inch; Please note: Total...
If you're searching for a portable camping toilet, then the Camco 41541 Portable Rv Toilet is the best option in the market today. Also known as a porta potti, it has proven to be a great companion when it comes to remote camping and long tours. It comes with an excellent 2.5-gallon flush tank and a 5.3-gallon waste holding tank.
It is made of a durable polyethylene material that provides a stable structure. Just like the composting toilets, these portable toilets won't require black water tanks. The tank is detachable so that you can easily empty the human waste into public or residential bathroom toilets and flush it down.
Unlike other porta-potties, this one has a good reputation when it comes to the smell. It features a slide valve that keeps the odors from escaping leaving your RV smelling fresh. In addition, the dimensions and size of this toilet ensure that the kids won't struggle and will enjoy an improved fit with the bowl's compact design.
As one of the most portable toilets available, the Camco 41541 Compact Portable Toilet is simple to install, and it will require little to no water. However, with the big tank, it means that the toilet can be heavy. Despite this, this toilet offers impressive features and benefits that ensure ease of use during off-grid camping and long hauls.
2. Thetford 31672 Aqua-Magic V RV Toilet Pedal Flush High Profile
Aqua-Magic V RV Toilet Pedal Flush /High Profile /...
Aqua-Magic V is the RV toilet with a classic style and taller...
The toilet has a single-pedal system - press it halfway to add...
Aqua-Magic V has a textured lid which sheds water and resists...
A lightweight 17-1/2 inches plastic RV toilet, easy to install,...
Easy-to-use single-handle flush; half way adds water, full...
Thetford is a popular company that is a widely known company for making high-quality toilets. The Thetford 31672 Aqua-Magic V RV Toilet is one of their best options that is efficient and lightweight with the feel and look of a regular house toilet.
This unit has a height of 17.5 inches, taller than other RVs, and this equates to improved comfort. It is quick to install, and you won't need to hire a professional to get the job done. It also includes kit instructions in the package that makes it even more simple to install.
The full bowl flush system ensures that the waste goes to where it should such that it isn't left in the toilet's bowl. Its foot pedal provides an adjustable flush not to use too much or too little water. Furthermore, its toilet lid is durable enough and features water-resistant properties to keep things cleaner and fresher.
Thetford 31672 Aqua-Magic V RV Toilet has a lot to offer, including a comfortable seat and a full bowl flush to ensure everything remains clean. If you're looking for a comfortable and classic Aqua Magic style toilet that is easy to install and maintain, then you should consider this unit.
3. Dometic 302320081 320 Series Standard Height Ceramic RV Toilet
Dometic 302320081 320 Series Standard Height RV Toilet,...
Deep, 100% Vitreous Ceramic Bowl | Full-Size Residential Style...
Dimensions – 22" L x 14.75" W x 19.75" H | Weight –...
Rim Design Prevents Spills | Gravity Flush
Efficient with Water at Only One Pint per Flush
Ergonomic Foot Pedal: Press Partially to Add Water, Press Fully...
With a standard height of 19.75 inches, the Dometic 320 Series Ceramic Toilet is quite similar to a full-sized in-house toilet. It is well made with sturdy materials to promote durability and reliable comfort. It has a wooden seat and a deeper vitreous ceramic bowl to prevent splashback and promote maximum comfort.
Moreover, it comes with a spray faucet that makes the cleaning effective and fast. This camping toilet also features a low water waste flush and an ergonomic foot pedal. Although this gravity flush toilet is not adjustable, it still saves an impressive amount of water. It also has an elevated rim design that keeps the water from spilling while driving if you leave too much of it in there.
When it comes to installation, this unit is easy to install, and simple instructions are included to help make the installation easier. The 2-in-1 foot pedal operation allows you to fill the toilet bowl and evacuate the contents of the bowl.
4. Alpcour Portable Toilet – Compact Indoor & Outdoor
Alpcour Portable Toilet – Compact Indoor & Outdoor...
THE ULTIMATE PORTABLE TOILET – No More Emergency Potty Runs...
AMAZING 50+ FLUSH CAPACITY – Built-In Piston Pump Flusher...
SUPER COMFORTABLE SETUP – Unit is Made of Durable, Heavy Duty...
EASY CLEAN CONVENIENCE – Sprayer Keeps Bowl Clean a Full 360°,...
TRAVEL-FRIENDLY. ECO-FRIENDLY. – Complete Kit Also Features a...
If you're in search of an RV toilet that can be used both outdoors and indoors, the Alpcour Portable Toilet might be the best option for you because it doesn't require permanent mounting. It is also a great choice for cab-over campers or camper vans that don't have an onboard toilet installation.
Its waste tank has a capacity of 5.3 gallons which eliminates the need for frequent emptying. This toilet also has a 3.2-gallon freshwater tank that supplies the hand sprayer and built-in flusher with water, and it can be used for up to 50 flushes. This means that you won't need an external water hose, and you can easily keep the bowl clean without additional tools.
Weighing at only 11 pounds, and the fact that it comes with a storage kit means that it is easy to pack up and transport. In addition, it features a rotating empty valve on the valve that makes it easy to pour the waste out. Moreover, the waste level indicator on the side ensures you won't have to guess the exact time to empty it.
5. Nature's Head Self Contained Composting Toilet
Nature's Head Self Contained Composting Toilet with...
No one - and I mean no one - will beat my customer service and...
Easy to install by any reasonably handy person.
Absolutely No Odor. No Maintenance. 5 Year Warranty.
Huge Capacity. 2 people using full time will empty every 4-6...
A vast improvement over older composting toilet designs. This one...
Nature's Head is known to provide environmentally sustainable, all-natural, and well-designed toilets. Nature's Head Composting Toilet is a great option if you're into farming or have other uses for compost since it offers an impressive no-waste solution. This means that it offers an environmentally friendly solution for dumping waste.
An outstanding benefit of this composting toilet is that it doesn't require water, and you also cut down the cost of repairs and clogs that don't apply to a composting toilet self-contained system. It features stainless steel construction, a secure toilet seat, an elongated bowl, a vent hose with a circulation fan, and full-sized dimensions for maximum comfort.
Furthermore, the compost is easy to discard, and it is surprisingly simple to install. However, the functionality of having to keep the liquid and solid waste separate can be challenging. It comes with a urine jug which requires daily emptying, which can be tiresome. Despite this, it is a highly environmentally friendly composting toilet that you won't have to worry about the dumping area or black water tank.
Factors to Consider Before Purchasing the Best RV Toilet
1. Types of Toilets
When it comes to buying an RV toilet, it is important to consider the different types, including;
Macerating Flush RV Toilets- Comes with motor-powered blades to break down waste into smaller and more manageable particles.
Gravity Flush- Most common and uses the pull of gravity to make a flush.
Vacuum Flush Toilet- Similar to a macerating flush but will vacuum pumps waste to liquefy it.
Composting Toilets- An RV composting toilet will not use water to flush contents but instead separates solids and liquids then convert them into humus which can be deposited in the soil.
RV cassette or Cartridge toilet- It is permanently connected to your RV bathroom but has a cassette holding tank that requires emptying when full
Portable RV toilets- A portable toilet is used in the cab-over campers and camper vans. Its collection containers are light and small enough to be dumped in residential toilets or public toilets.
2. Toilet Profile
There are two main profiles in an RV toilet which are high and profile. Ideally, high profiles are taller than low profiles. However, the ideals choice for you is dependent on personal preference. Since RV bathrooms tend to be a little tight, taller individuals might prefer a high profile one while shorter individuals a low profile.
3. Flushing Mechanism
Most RVs have either a foot pedal or hand lever flushing mechanism, and both have a 2 in 1 feature that allows one to fill the bowl and dispose of the waste. However, things are a bit different when it comes to a portable or a composting toilet. They come with a hand sprayer or built-in flushing mechanism that allows easy cleaning of the bowl.
4. Available Space
The length and width of the RV toilet are some of the important considerations when matching a new toilet with the amount of space available. You also want to consider whether you will need some space to pull a lever on the side of the toilet or reach behind during the installation process.
Although height is not something, many people consider when it comes to a toilet. This is because in-home toilets usually have the luxury of optimal height and more height, but for an RV, every inch counts.
5. Durability
You need to find a toilet that has a durable design that can last for several years after installation. At the same time, some of them are plastic RV toilets made from a durable material that is easy to clean and less likely to rust or corrode.
6. Ease of Installation
The best RV toilet should be one that is simple to install because you don't want to pass through the cost and hassle of finding a professional to do it. However, what can be a bit challenging about installing an RV is connecting them to an incoming water source because you need to have adapters and proper pipe fittings.
Frequently Asked Questions (FAQs) on RV Toilets
1. How Do I Use An RV Toilet?
An RV toilet is used just like a standard toilet. Most of them come with a foot pedal for flushing and pumping water for the flush. However, they have a lesser capacity for storing waste, which means they require an emptying routine. When it comes to cleaning the RV toilet, you can use soft-bristle toilet brushes, sponges, gloves, and non-abrasive toilet cleaners to clean the lid and toilet seat area.
2. Do RV Toilets Require Special Toilet Paper?
Although RVs may not require special toilet papers, there are toilet papers specifically designed for RVs. These ones tend to break down easier than the regular toilet paper and may save the trouble of unclogging your toilet as well as make the cleaning process smoother.
3. How do you fix a clogged RV toilet?
A clogged RV toilet can be a challenge to many but fixing it is not very complicated. Before you call a plumber for a camping toilet repair, you can try to fix it by opening the valve and pouring hot water down. The hot water will help break down what is causing the clog. Furthermore, there are also some chemicals specially formulated to fix a clogged toilet, but it is important to ensure they are safe for septic tank use.