Do you look forward to those cold evenings with your family seated around a campfire, discussing family issues and politics, or singing to favorite family tunes? Can you remember how horrible it feels to have flying firewood embers poke holes in your clothes or how teary your eyes get when the wind directs all the smoke toward you? We have good news: you can use the best smokeless fire pit to forget those terrible moments instead.
The top-rated smokeless fire pit is the Outland Living Firebowl 893. The fire pit comes preassembled, it's easy to use, and the fire bowl is designed to endure high temperatures. It's an updated model that comes with a reasonable price tag. The second-best option on our list is the Outland Living Firebowl, 883. The main difference with our #1 is the price tag and customer reviews. Also, it may not provide as much warmth as larger fire pits or wood-burning options.
The third best smokeless fire pit on our list is the Solo Stove Bonfire 2.0. It is an efficient, easy-to-use, visually appealing smokeless fire pit. The fire pit features a 360-degree airflow system, which enables efficient wood burning. However, it becomes very hot while in use, and it was a bit expensive.
We will discuss how a smokeless fire pit works, its benefits, and a list of some of the best ones you can buy.
How Does a Smokeless Fire Pit Work?
Smokeless fire pits work by using a combination of enhanced airflow and effective combustion to create a clear, clean, smokeless flame. In contrast, traditional fire pits depend on natural convection to draw air in from the bottom and produce a draft that lifts smoke and gases upward and away from the fire. Nevertheless, if the fire is not hot enough or if there are obstructions in the airflow, this process may not be effective.
Image Source: breeo.co
Conversely, smokeless fire pits often feature a design that promotes improved airflow and combustion. Most models have a double-wall design that channels air around the fire, allowing for better air heating and improved combustion. Besides, some models feature vents or ports in the walls to allow more air to enter and mix with the fuel inside.
Smokeless fire pits may also use alternative fuels or burning methods that emit fewer emissions and less smoke. For instance, some models use natural gas or propane instead of coal, which results in a cleaner burn and less smoke and particulate matter. To further cut emissions, some use catalytic converters or other technologies.
Now that we know how a smokeless fire pit works, let's check out the best models for your outdoor activities.
1. Outland Living Firebowl 893 Smokeless Fire Pit
Sale
Outland Living Portable Propane Fire Pit, 19-inch,...
Perfect No-Mess Campfire: With our fire pit, say goodbye to dirty...
Compact and Easy to Transport: Travel-size fire pit is...
Beat the Campfire Ban: CSA approved fire pit is safe to use...
Complete Fire Pit Kit: Includes pre-attached 10-ft hose to keep...
Signature Outland Living Quality: Durable high-quality steel...
I recently came across the Outland Living Firebowl 893 Smokeless Fire Pit in my neighbor's backyard. I was impressed with its features.
Setting up the fire pit is a breeze and takes almost no installation. It's easy to hook it to a propane tank thanks to the 10-foot line and regulator that are connected. In a short time, I managed to get a blazing fire going. Besides, this smokeless fire pit is lightweight and compact, making it a great fire pit for backyard, picnics, camping vacations, and other outdoor events.
Image Source: outlandliving.com
The fire pit features a revolutionary system that takes air from the base of the pit and moves it around the fire, ensuring complete and efficient combustion. I no longer have to continually readjust my sitting posture to prevent smoke from entering my eyes. On the other hand, the fire bowl is designed to endure high temperatures, making it durable for many years.
2. Outland Living Firebowl Outdoor Propane Gas Fire Pit, 883
Outland Living Firebowl 883 Mega Outdoor Propane Gas...
Product 1: ✓ PERFECT NO MESS CAMPFIRE: Say goodbye to dirty...
Product 1: ✓ NO ASSEMBLY REQUIRED: Sturdy fire pit is easy to...
Product 1: ✓ BEAT THE CAMPFIRE BAN: CSA approved fire pit is...
Product 1: ✓ COMPLETE FIRE PIT KIT: Includes pre-attached 10-Ft...
Product 2: [VERSATILITY]: The Stormate Collapsible Garbage Bag...
Another propane gas fire pit to count on is the Outland Living Firebowl, 883. It is easy to care for, with an easy-to-light design and no mess to clean up afterward. With a powerful 58,000 BTU burner, this gas fire pit is enough for warming up a backyard or campsite.
Image Source: outlandliving.com
The fire pit features 6 pounds of lava rock cover on the burner and a 10-foot hose, which provides enough length to conceal the 20-pound propane gas tank needed to fuel it. Besides, the size of the flame is controlled by a huge knob on the front of the fire pit and four robust feet, which keep the firebox safely elevated off the ground.
I received my Outland Living Mega 883 Fire Pit nearly entirely assembled; all I had to do was set it up, add the lava rock, and attach a grill-size propane tank. The burner was quite easy to ignite, and the flame was easy to adjust. However, the fire didn't create the same visual entertainment value I get from natural wood or wood pellets. However, still, the heat radiating from the lava rock was comforting.
3. Solo Stove Bonfire 2.0 Pit
Sale
Solo Stove Bonfire Fire Pit - Smokeless Large 19.5 Inch...
Solo Stove Bonfire, the world's most unique fire pit, pushes the...
SECONDARY COMBUSTION - Double wall design maximizes airflow and...
EFFICIENT BURN/LOW SMOKE - A more complete burn means little to...
NO MORE DODGING SMOKE - Since Bonfire burns with almost no smoke,...
EASY TO USE & PORTABLE - The Bonfire's singular construction...
The Solo Stove has an impeccable structure and features that keep the flame going with no smoke. What you get in return is a memorable time without the smell or irritation of smoke or the destructive flying fire embers.
Image Source: thebarbecuelab.com
One of the features I love about the Solo Stove Bonfire Pit is its 360-degree airflow system, which enables an efficient wood-burning effect that is a joy to watch and leaves only pure ash to easily clean. Also, it is made with a heavy-duty 304 stainless steel material and a double-wall structure with strategically placed holes to enable enough air circulation for smoke re-burning. This unit is fueled by wood pellets that burn to produce heat.
It weighs 20 pounds, making it ideal for a backyard fire or lightweight enough to carry in a car for a campsite fire. The solo stove pit is 14 inches long and features a bottom and top width of 19.5 and 17.5 inches in diameter, respectively. I recommend the unit to anyone looking for an efficient, easy-to-use, visually appealing smokeless fire pit.
4. Inno Stage Stainless Steel, Smokeless Fire Pit Bowl
Smokeless Fire Bowl Pit for Outdoor Wood Pellet Burning...
【Pattented Double Wall Design of Fire Pit Bowl- Efficient...
【Practical Two-tier Structure with Specially Added Handle for...
【Cool Shape of Bonfire Pit Made from Sturdy Metal】Awesome...
【Handy Size with Portable Carrying Storage Bag】Outer diameter...
【Maintenance 】 After each use, please clean it up and dry it...
Having used the Inno Stage Smokeless Fire Pit Bowl for two years, I can confidently say it's one of the easiest-to-use units on the market today. It is made of stainless steel, making it strong and durable. Besides, it is perfect for backyards, RV trips, and other outdoor spaces.
Image Source: youtube.com
The two-part structure measures 12.5 inches long and 15 inches wide. The top part features multiple small holes, and the sidewalls feature extra holes for good air circulation, enabling smoke re-burning. I love the unique logo on the structures, which allows for a great view of the fire.
Additionally, cleaning up after using this fire pit bowl is stress-free, thanks to the ashtray that comes with the package. I recommend this unit to anyone who loves spending time outdoors and wants a reliable, easy-to-use fire pit.
5. Tiki Smokeless Wood Burning Outdoor Fire Pit
TIKI Brand 25 Inch Stainless Steel Low Smoke Fire Pit -...
Includes stand, weather-resistant cover and wood pack
Patented internal airflow system for better fire, low smoke and...
25" Diameter with approx. 16" depth and diameter on the inside
Ash pan for easy cleanup and less mess
You can use traditional firewood, but when used with a TIKI Brand...
The Tikifire Smokeless Wood Burning Outdoor Fire Pit has a classy aesthetic, a dark brown finish, and metal bands that wrap around the body. Besides its great look, it also works well, thanks to an internal airflow system that produces a more effective burn while creating less smoke and ash than other models. It features a removable ash pan to ease post-fire cleanup.
Image Source: usatoday.com
This TIKI fire pit offers a massive, bright flame and plenty of smoke-free warmth compared to most of the fire pit models I have used before. Also, it is easy to use since it comes with two unique features: a burn-assist cone and light-the-bag wood pellets.
Besides using wood pellets, I usually use regular firewood, and the fire lights up in minutes without requiring lighter fluid. It gives off a super-strong flame for around 30 minutes, and the remaining embers can burn for up to one and a half hours.
What Are the Benefits of Smokeless Fire Pits?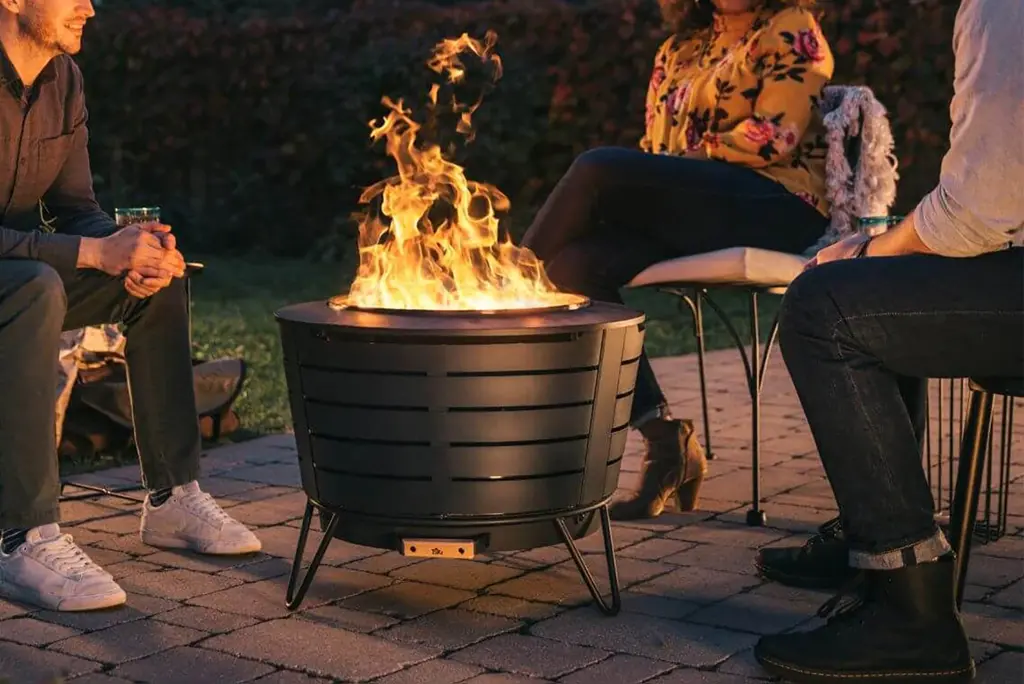 Image Source: nytimes.com
1. Reduced Smoke
Smokeless fire pits are usually designed to burn wood or other fuels more effectively, producing less smoke and emissions. This improves their environmental impact and makes the experience of people gathering around the fire more enjoyable.
2. Less Ash and Debris
Compared to traditional fire pits, smokeless ones create less ash and debris, simplifying cleanup and reducing the risk of fires caused by embers or sparks.
3. Safer
Smokeless fire pits are usually considered safer than traditional ones since they emit less smoke and emissions. Also, they often have heat-resistant materials, which might reduce the possibility of accidents.
4. More Comfortable
Unlike traditional models, smokeless fire pits create a more comfortable outdoor environment for everyone around the fire. People don't have to continually move away from the fire to avoid the smoke smell on their clothes because there is less smoke; thus, they can sit closer to the fire.
5. Versatility
Smokeless fire pits are versatile and can be used in various outdoor settings, including patios, decks, and campsites. They also come in different styles and sizes, so you can pick one that matches your needs and preferences.
Factors to Consider Before Buying a Smokeless Fire Pit
1. Fuel Types
These are common fuel types that can be used in fire pits:
Image Source: bobvila.com
i). Firewood
Firewood is cut and burned in fire pits, wood stoves, and fireplaces. When using firewood in a fire pit, it is normally split to a diameter of 3 to 6 inches and cut into pieces of about 16 inches in length to make it easier to burn.
ii). wood pellets
The Tiki fire pit is one of the models that use wood pellets. When you buy a Tiki fire pit, it usually comes with one pellet bag. Using wood pellets makes it easier than ever to start a fire in a smokeless fire pit, and their fire quality is unmatched. However, wood pellets can be a bit expensive.
iii). charcoal
Most smokeless fire pits that use wood or wood pellets can also use charcoal. Most fire pits come with a grill top that can slide on and off, allowing it to serve as a camp stove using charcoal.
iV). Propane
Propane burns cleanly and is easy to use. Propane fire pits are often portable and perfect for camping trips, backyard parties, and other outdoor events.
V). Natural gas
Natural gas is an easy, clean-burning fuel source that can conveniently connect to a permanent fire pit installation. Natural gas fire pits are usually popular in urban areas where wood-burning fire pits are prohibited.
2. Size and Design
As with all home-use products, you may need to think about where and how you intend to use a smokeless fire pit before purchasing. A large fire pit is okay if you use it for a backyard fire since you don't need to transport it. On the other hand, if you intend to use the smokeless fire pit when camping in the wild, make sure to get a small, portable fire pit.
For a smokeless fire pit to be effective, it needs to be suitable for the functions you like. For example, for a fire pit that can grill hot dogs and cook some foods, you should probably get the larger options from companies like Tiki or large smokeless fire pits like the Solo Stove.
3. Available Space
Before buying a fire pit, ensure you have enough space to use safely in your home or confirm the outdoor area you want to use has enough room for people to gather around.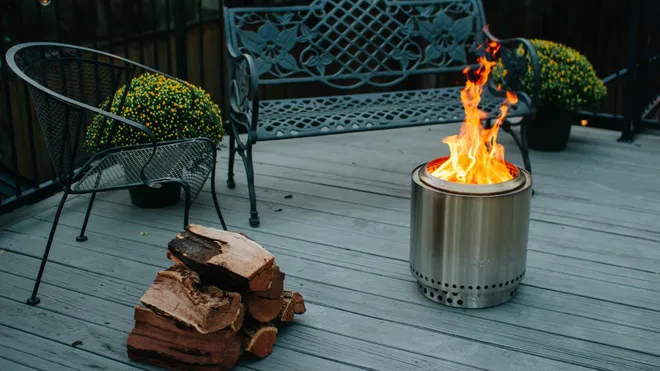 Image Source: usatoday.com
Leave enough space between the pit and your seats. With large fire pits from a company like Tiki, the area is especially vital when you grill food since they emit some smoke and excess heat. In this case, sitting very close to the fire pit defeats the purpose of owning the product in the first place.
4. Material
Since smokeless fire pits are usually used outdoors and must withstand excessive heat and the environment, it's wise to look for models made from long-lasting materials. Smokeless fire pits are either made of stainless steel or an alloy of steel. The stainless steel finish is more aesthetically pleasing, resists rust and corrosion naturally, and can sustain higher temperatures.
On the other hand, alloy steel must be stored indoors after use to prevent rust. Also, this material tends to discolor under intense heat. And so, stainless steel's durability makes it better than steel alloy. As a result, stainless steel smokeless fire pits may be twice as expensive as alloy steel fire pits.
5. Safety
Before buying the best smokeless fire pit, we recommend paying attention to its safety. Although smokeless fire pits are generally safer than conventional models, they usually generate extreme heat. We recommend placing a fire pit 10 feet away from structures and setting it up on masonry, such as brick or stone.
Image Source: yahoo.com
The good thing is that some fire pits come with additional safety features, such as a screen that helps prevent injuries from sparks. Besides, smokeless fire pits are equipped with relatively thin steel walls that cool as soon as the fire burns out.
We, therefore, recommend giving the fire pit time to cool instead of trying to extinguish the fire with water or other methods. After all smoke and smoldering have stopped and the walls have cooled to ambient temperature, you can safely clean and store them.
6. Ease of use
When shopping for the best smokeless fire pit, go for one that is easy to use and set up. Propane smokeless gas fire pits are usually the easiest models to start; just press a button, and the light goes up with no messy ash to clean up.
Like campfires, wood fire pits are lit using kindling, firewood, and a fire starter or natural fuel—the ash below the grate empties when the fire is put out. Since pellets are drier than wood, they are easier to light and maintain than wood fire pits. So, as you choose according to your preference, keep in mind the unit's ease of use.
7. Additional Features
When shopping for the best smokeless fire pit, look for one with extra features that meet your needs. For instance, some fire pit models come with grate surfaces, allowing you to use the fire pit for grilling food. Other fire pits come with heat deflectors, increasing the warmth those around the fire will enjoy.
Furthermore, some fire pit models are equipped with a stand that allows the fire pit to be used safely on a grassy area, wood deck, or other sensitive surfaces. However, other fire stands are decorative additions to the overall design. Besides, some models come with handles or a storage bag to make them easier to carry.
8. Your Budget
You may need to window-shop the units thoroughly before making your purchase. The prices inevitably vary depending on factors such as size, fuel type, brand, and functions a unit is used for. Some brands are more expensive because they have more functions, compatibilities, and different sizes. Ensure you know your needs and use your budget to guide your purchase.
9. Warranty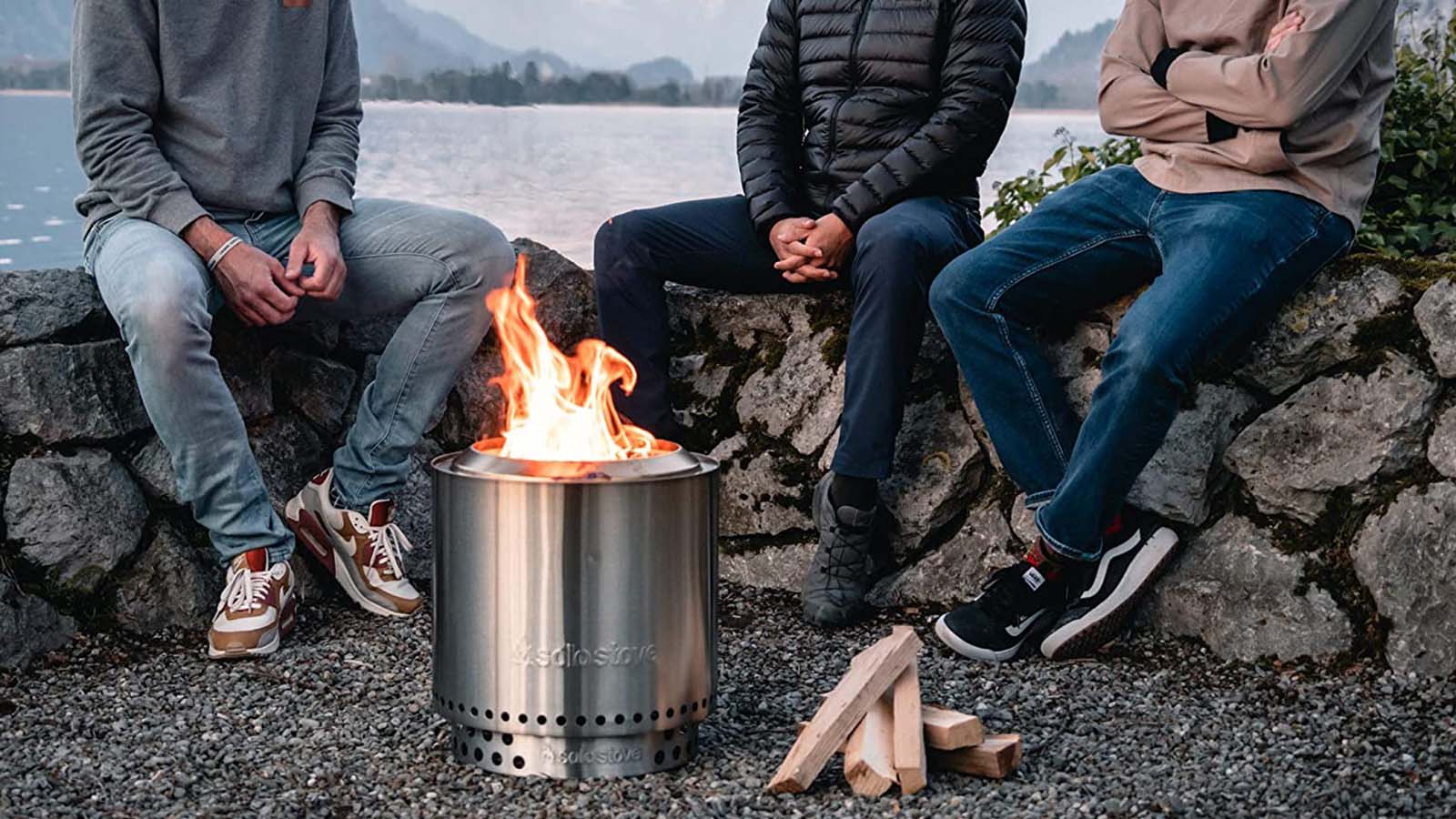 Image Source: edition.cnn.com
Educate yourself on the brand's warranties, especially the costly ones like the Solo stove. Since these units are used regularly, they are prone to unavoidable damage at any point. In case of damage, you are better off using your warranty, which can cover any repairs needed.
Frequently Asked Questions About Smokeless Fire Pits
1. What Is A Smokeless Fire Pit?
A smokeless fire pit is the latest invention in the fire pit industry. It is a fire pit that emits little or no smoke at all, ensuring you enjoy the warmth of a bonfire with maximum eye or nose comfort. The smokeless fire pit is perfect for families whose members have breathing complications or allergic reactions caused by smoke or other smells. Using the best smokeless unit, everyone can gather around a fire and have a great time.
2. Do Smokeless Fire Pits Work?
One thing to note first: all fires have smoke. However, these fire pits manage the flow of air and smoke within the fire itself, creating the illusion of fire without smoke. The airflow is controlled depending on the fire pit design, but mostly, it comes in from the sides and then circulates to the bottom of the fire pit. From the bottom, the air mixes with the smoke in the fire, causing the smoke to re-burn itself, thereby reducing the smoke's appearance, feel, or irritation.
So, yes, these fire pits work. They reduce the smoke's effectiveness, leaving you comfortable beside a fire, irrespective of the wind's strength.
3. Are Smokeless Fire Pits Worth it?
Smokeless fire pits are worth every dime if you know how uncomfortable smoke from a bonfire gets. Remember the commotion when trying to enjoy a bonfire with your family or friends; all of you were, at one point, forced to change your seating arrangement every time the wind's direction shifted? You probably moved too much, froze in the cold since you couldn't enjoy the fire, and retreated to the house. Using a smokeless fire pit, you will enjoy sitting in one place and having a good time with your loved ones.
4. Are There Any Extra Benefits To Owning A Smokeless Firepit?
Apart from having little to no smoke from your burning fire pit, you get the following benefits from owning the best smokeless fire pit:
A smoke-free fire pit burns your firewood more effectively due to the smoke's re-burning effect. Your wood will serve you longer than it would have, with a lot of smoke flying away.

You will have a consistent, quality wood-burning fire. A smokeless fire uses extra air that enters the fire as hot oxygen to re-burn all smoke. Thus, this gives you a well-contained fire unaffected by wind movement.

You can set up smokeless fire pits to grill or cook foods such as hot dogs and roast marshmallows.
5. How Can I Stop My Fire Pit From Smoking?
Since all burning fires produce smoke, you need to invest in a good fire pit to eliminate much of the irritating smoke. Smokeless fire pits like this list emit little or no smoke, so buying the best in the market may be best.
6. What is the Best Outdoor Fire Pit Without Smoke?
The best smokeless fire pit has to be the Outland Living Firebowl Propane Gas Fire Pit. The fire pit runs on propane gas and is easy to care for, with an easy-to-light design and no mess to clean up afterward. Our top option for a wood-burning fire pit is the Solo Stove Bonfire Pit. It features a 360-degree airflow system and is easy to clean.
7. What is the Downside of a Smokeless Fire Pit?
Although smokeless fire pits have benefits, there are several downsides, including the cost. These fire pits are more expensive than traditional models because of their specialized design and materials. Some smokeless fire pits require special fuel types, such as propane gas and wood pellets, which can be more expensive than standard firewood. Also, if you want to warm up a wide outdoor space, smokeless fire pits may not create as much heat as traditional ones.
8. Do Smokeless Fire Pits Put Out Much Heat?
The heat output from a smokeless fire pit varies depending on the model and the fuel used. Nevertheless, since they are designed to burn fuel more effectively with less waste and smoke, smokeless fire pits may not often provide as much heat as traditional ones. But they still provide plenty of warmth and comfort.
9. What is the Safest Type of Fire Pit?
The safest fire pit is designed and used under all relevant safety standards and regulations. Each one's safety varies depending on its usage, structure, fuel source, and design.
10. Do Smokeless Fire Pits Burn Faster?
Smokeless fire pits usually burn fuel more effectively than traditional ones, which can result in a faster burn time. This is because smokeless fire pit models are designed to burn fuel more thoroughly, meaning less fuel is wasted, and more heat is produced.