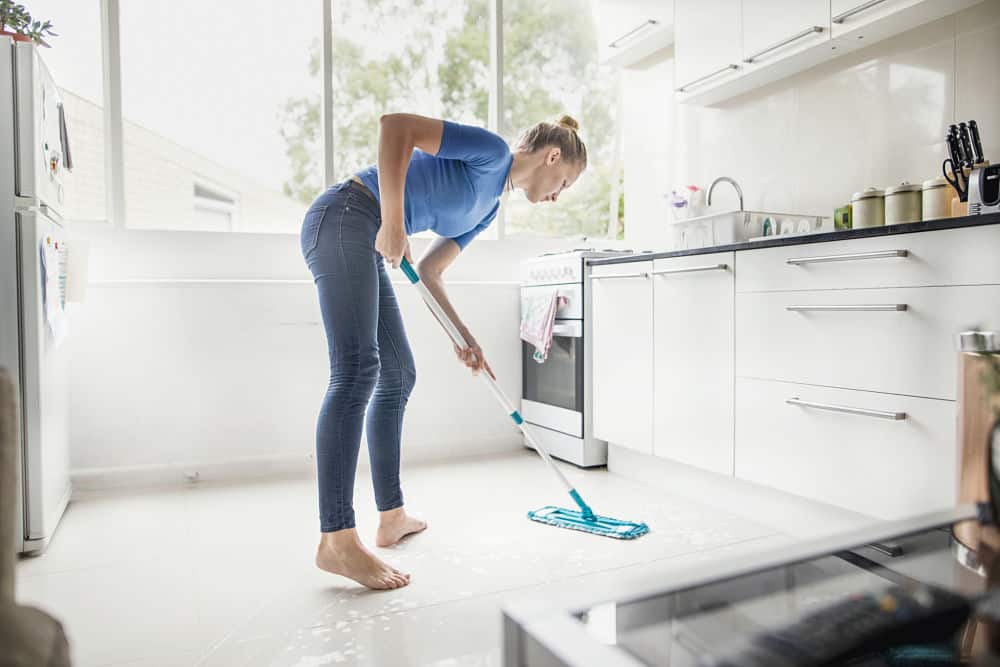 Best Vacuum For Tile Floors Cleaning
Discovering the best vacuum for tile floors can prove to be a mission. Tile flooring is particularly common for not only it's affordability but also it's potential to spice up a room with either new colors or patterns. Tile floors can get dirty in a manner that's unique to only them. As a matter of fact, they show more dirt than other floors, rugs, or carpets. As a result, one should invest in the best vacuum for tile floors, and also oftentimes clean up.
Then again, not every vacuum will clean tile floors effectively and safely. Regular vacuums leave dirt behind even after multiple cleans, while others damage the tile floors. Given that, researching the best vacuum for tile floors is very crucial. Experts advise that to protect your tile floors, vacuum every once a week. Nevertheless, you may need to clean more frequently if you have a lot of activities going on in your house or you are a parent. The best vacuum for tile floors doesn't need to come with luxurious features or abilities. A good ordinary vacuum is enough, but with features that suit tile floors.
What makes some vacuums best for tile floors than ordinary vacuums is a motorized or specialized brush. Some bristles can sweep dust-up rather than rely on suction alone, which makes vacuums with moderate suction power considerably more effective at cleaning tile floors. Whereas, other motorized brush heads only make it worse, scattering dirt and dust around, so the choice to turn the brush off would be a huge advantage. For the tile floors, you should buy a non-motorized brush vacuum since it can easily roll while you move the vacuum across the floor.
The Best Vacuum For Tile Floors
The Eureka Mighty Mite comes with a long hose and a 20 foot (6.096 m) power cord, weighing a mere 9 pounds (4.082 kg) and running on 12 amps. It is designed for use on multiple surfaces, all you have to do is to change the attachments. This is one of the best vacuum for tile floors and it uses dirt-bags that hold up to 96 ounces (2.721 kg), which lessens the regularity of replacement. The bags contain the dust and particles well and are easy to remove. Replacement bags are affordable and readily available.
The long cord enables you to clean broad areas at a go without having to change power outlets. To prevent damage, the vacuum contains an auto shut-off capability that protects it against overheating. Not only is this a lightweight and versatile vacuum, but also it can be altered into a blower to manage leaves in the garden. The blower port enables you to clean even the garage. The suction power of this vacuum is strong.
It comes with a power touch handle with fingertip controls that are simple to utilize. There is also a deluxe floor brush and a hard floor nozzle that can be attached to the unit for some extra cleaning power. This boosts the vacuum to have more than enough power to clean debris as well as suck up heavier items off the tile floors.
This is the best vacuum for tile floors for those who require to clean around furniture and don't keep pets. Being a portable size, it's an ideal machine for cleaning the stairs. Again, it is a canister vacuum, so adjusting the height of the suction piece from the floor is done manually. That is especially vital since this best vacuum for tile floors does not have modifiable suction settings.
Conclusion
Different specific tools are sold with this unit and they are a dusting brush that won't scratch floors, an extension wand, a crevice tool, and an upholstery nozzle. If you have been looking for a vacuum that is compact and lightweight, this one is the best vacuum for tile floors, certainly serves the need, and outperforms other vacuums of comparable size and class. This model is high-powered, but also louder in comparison to other models.
The hose is observed as one of the biggest problems of this model. This is because, when you first purchase, the hose is relatively stiff. After a duration, it can develop kinks that lessen the suction power of the vacuum. Be cautious not to kink the hose or you'll lose your suction power. Likewise, its performance drops when dealing with a lot of pet hair.
The Eureka Mighty Mite 3670G canister vacuum is undoubtedly the best vacuum for tile floors, for the price, and furthermore beats other luxurious models that are designed for tile floors. It is the best vacuum for tile floors, cleaning furniture, carpets, auto interiors, and high ceilings.
Features
Bagged
20-foot power cord
Weight: 11.9 pounds
Fingertip controls
Powerful brush rolls
Powerful suction (12-amp motor)
Comes with accessories like an extension wand, dusting brush, crevice tool and, carpet/bare floor nozzle,
1-year limited warranty
Other Great Vacuums For Tile Floors
This Bissell PowerEdge Pet Vacuum has a 20 feet (6.096 m) long power cord also is lightweight with just 7.5 pounds (3.402 kg). It may not be the best to clean your whole home, but it's an expert on bare floors. However, it is intended only for hard floors like wood or tiles, sometimes you can use it on short or low pile carpets.
It boasts of a rare V-shaped floor nozzle that is designed to catch dirt and debris along the edges of a room and in very tight spaces. The V-shaped nozzle underneath directs the bigger debris on the floor directly into the center suction path so that it is picked up by the vacuum. It restraints the debris from dispersing, and makes it simple to capture fine dust. Regardless, it does not come with attachments and that can cause problems for users with houses with hard-to-reach tiles. It is a bagless stick vacuum and comes with a dirt cup that is easy to empty and to replace.
Bissell PowerEdge Pet Vacuum is a reasonable choice for cleaning areas that you would have to sweep without heavy pebbles, a lot of loose pet hair, or spilled dog food. Additionally, you can use this vacuum for cleaning specific spots in huge homes or ordinary cleaning in the small apartments that don't include carpets. This vacuum doesn't use a roller brush for its dirt extraction efforts, which means no roller to detangle or maintain. While brushes are useful in the carpet cleaning process, they aren't essential for tiles.
Conclusion
The low cost is the greatest selling point of the Bissell PowerEdge Pet Vacuum. For someone on a tight budget, this is the best vacuum for tile floors. Although, the downside of this vacuum includes doing a poor job cleaning up along edges, and its design intended to funnel heavy items into the middle for strong suction means it is useless for cleaning stairs.
Features
V-Shaped innovative suction technology
Corded vacuum
Easy-empty dirt cup
Weighs 7 lbs (3.402 kg)
Bagless vacuum cleaner
Valid warranty
Foam/Corrugated Filtration
Brush Roll
20-foot (6.096 m) power cord
Power rating: 6 Amps
11-inch cleaning path
Washable filters
Bissell's Featherweight Stick weighs only 3 pounds (1.36 kgs) and not only is it lightweight but also transforms into a hand vacuum and vacuum for stairs. The design makes it the best vacuum for tile floors and also suitable for carpets.
This model's affordability is an ultimate bargain considering the quality you are receiving.
Because of its lightweight character, it is the best vacuum for tile floors for any injured person or elder members of your family who can't be able to move around heavy equipment.
Bissell Featherweight vacuum has the capability to transition between different surfaces and this is a wonderful feature for a good job done. Moreover, since it operates as a handheld cleaner, this machine can be moved to the corners, couches, and the stairs.  This is hands down one of the best vacuum for tile floors because of its multiple cleaning solutions.
This vacuum Bissell Featherweight has conversion features that help it to stand out. It comes with a floor nozzle for steps and a crevice tool. Plus, you can snap down the longer handle for a shorter version of the vacuum and it becomes perfect for stairs. Further, you can detach the vacuum completely and use some of the nozzle attachments to clean pet beds, corners, or cars, pet beds, and other tight space areas. This simple canisters and their filters are also easy to clean.
Features
Corded
Comes with a crevice tool
Bagless
Its a 3-in-1
How to buy the best vacuum for tile floors?
Weight and Maneuverability
Weight should be a crucial determining aspect in the pursuit for the best vacuum for tile floors. Using a lightweight vacuum makes life so much easier. Make sure you test how simple it is to control the vacuum cleaner before you purchase it. Some vacuums have certain sensors or components to make moving them around quite easy.
Compatibility with your Type of Tiles
It is very crucial to search for the best vacuum for tile floors with your home tile type in mind. Then shop accordingly. Glazed tiles are somewhat simpler to clean than the quarry tiles. Quarry tiles usually l attract and hold a ton of dirt. To clean them, you require an effective vacuum cleaner with several smart features. Glazed tiles are cleanable with nearly any vacuum cleaner that can clean bare floors. Some floors like laminate floors have recommended best vacuum for laminate floors.
Noise levels
Vacuums are relatively loud, but you should still try to acquire the quietest.
Price
The more you spend on the best vacuum for tile floors, the more features it comes with. Furthermore, technology is advancing in today's world creating a more effective vacuum to get the job done, and sometimes this might come at an additional price.
Bagged or bagless
Another important feature to consider before purchasing the best vacuum for tile floors is the size of the canister and whether it is bagged or bagless. A larger canister will enable you to clean broader areas without stopping to empty out the collected debris.
Bagged vacuums come with a bag for trapping dirt and more so, the bag is disposable or washable. It also needs less maintenance than the bagless vacuums. However, the bagless machines store dirt into a tight container that needs more manual cleaning.
Corded vs. Cordless Power Supply
The cordless vacuums are useful and very portable. Nevertheless, they do require downtime and have a time limit and also a dust bag limit.
On the other hand, corded vacuums can be restricting. One needs to be aware of the cord at all times but can add some extra time to cleaning sessions. It's a benefit when you don't have to worry about a cord pulling from the outlet and shut down the machine.
Brush roll-on/off feature
A brush head is a significant element in a vacuum for tile floors because this is what determines what dirt the vacuum will clean.
For the best vacuum for tile floors, buy a non-motorized brush vacuum.  This is because it simply rolls when you move the machine.
Wheels
The glazed tile floors are mainly slippery hence, you require the best vacuum for tile floors to have wheels that will not slip. You can make use of rubber wheels, or find plastic wheels with a non-slip coating.