Originally, wind chimes were believed to bring good luck and promote peak chi flow as well as enhance one's wellbeing through the calming, tinkling sounds in parts of Asia. These instruments have changed over time, with more forms and materials to choose from. Therefore, we've reviewed 5 great options to help you find the best wind chimes to elevate your outdoor space with charming, soothing tones.
| | | | |
| --- | --- | --- | --- |
| | | | |
| | | | |
| | | | |
| | | | |
| | | | |
What are Wind Chimes?
Wind chimes are half decorative, half percussive instruments made of pieces of metal, bamboo, glass or earth that hang together loosely so that wind can tinkle them. A light breeze is all it needs to make beautiful melodies. Chimes create what is best dubbed as chance music because the series of tones produced are only guided by the direction of the wind.
How Do They Work?
The main materials are usually suspended from a string/cord. When a breeze stirs the instrument, the chimes strike a centerpiece causing vibrations that create their characteristic pleasant sound. For a better perspective, let's look at the four main parts that make up a wind chime:
Suspension cords - the strings holding the chime together. They converge at the top of the instrument, tapering off into a hook for hanging. One center cord holds up the centerpiece and the sail.
Suspension platform - the circular part through which suspension cords flow to hold the tubes and other media beneath.
Clapper - the centerpiece that strikes the hanging tubes. It's usually round to guarantee consistent contact.
Sail - the decorative part that typically hangs from the center cord. Its weight gives the instrument lateral stability and partly determines the amount of wind required to move the chime.
1. Woodstock Chimes Musically Tuned Wind Chimes
Woodstock Chimes AGMS The Original Guaranteed Musically...
MUSICALLY TUNED: High quality wind chime hand-tuned to the...
DIMENSIONS: Measures 24-inches in overall length - total hanging...
EXPERTLY CRAFTED: Features an ash wood top with a beautiful...
EASY TO CUSTOMIZE: Woodstock Chimes does not offer engraving...
QUALITY YOU CAN TRUST: Created by Grammy award-winning musician...
Woodstock Chimes is widely known for its musically tuned, high-quality wind chimes. This particular wind chime is made from ash wood with a cherry finish to give it an elegant classic look. The materials are also weather- and rust-resistant. This wind chime hovers 24 inches long.
Its six silver aluminum tubes are tuned by hand to play the opening notes of "Amazing Grace". The wind chime creates a clear, light sound that most users say is pleasant and uplifting. It also features a wooden sail that can be removed from engraving or customization.
2. Bella Seashell Rainbow Wind Chimes
Bellaa Wind Chimes for Outside Windchimes Unique Shell...
Bellaa 22890 Windchimes Unique: wind chimes unique outdoor...
Wind chimes for outside clearance handmade products: wind chimes...
Capiz shells Sea Shell stained glass window hanging natural...
Windchimes outdoors unique Great gift idea: Gifts for mom,...
Windchimes unique outdoor clearance Happy Feelings: Shipped from...
This wind chime comes with rainbow-colored capiz seashells that look delicate and elegant. It's handmade from eco-friendly seashells with a bamboo base. Each seashell is strung on a thin string creating the illusion of floating. It hangs at 27 inches long.
This wind chime makes a relaxing, tinkling sound that's more muted than most metal and bamboo chimes. Its multiple colors and subtle look complement the sound, making it a beautiful decoration for both indoor and outdoor use.
3. UpBlend Outdoors Large Wind Chimes
Sale
UpBlend Outdoors Large Wind Chime - The Classic Bronze...
How we're different: The value & quality are unmatched in this...
Bigger than you think. Longer than a yard stick, this...
It really strikes a chord. In fact; it strikes an E-major...
A gift that resonates and works for any holiday season, birthday,...
Questions? No problem, each Havasu Chime purchase includes an...
UpBlend is known for its exceptionally well-crafted and beautiful wind chimes. Outdoors Large Wind Chimes feature six anodized aluminum tubes with a light bronze/copper shower. The striker, suspension stage and wind-catcher are made of mahogany-finished Beechwood.
The chimes are hand-tuned to the alto E-Major Pentatonic scale to create a relaxing, harmonious sound. Furthermore, you can adjust the striker to hit different notes depending on the mood.
4. Kearui Solar Wind Chimes
Kearui Solar Wind Chimes Light Outdoor, Memorial Wind...
♪Musical Wind Chimes Outdoor Light: The wind-chimes light...
♪Mutil-Color Changing Chime Lights: Changing colors alternating...
♪Energy Saving& ECO-Friendly: Solar-powered supply design is...
♪Waterproof: This wind chimes outdoor light equipped with...
♪Best Gift for Your Friend or Family: It can be used for a...
Kearui Solar Wind Chimes are designed for day and night use. It has four aluminum tubes and four durable plastic ones. The plastic tubes have solar-powered LED lights that alternate between red, blue, green, orange, yellow and purple.
The solar panel charges in the daytime, and the lights turn on automatically at night. They last between 12 to 15 hours on a full charge. This wind chime is rain- and moisture-proof and hung with a durable nylon string, hanging at 28 inches long.
5. Nalulu Classic Bamboo Wind Chimes
Nalulu Classic Bamboo Wind Chimes - Outdoor Wood Wooden...
We're More Stressed Than Ever - Help Your Loved Ones Relieve...
A Classic, Handcrafted, One-of-a-kind - The Nalulu Classic Bamboo...
We've Added a Stronger Hook and More - We Understand that You...
Make a Positive Impact on the Environment - Each Nalulu Wooden...
Our Customer Promise - To Deliver a High Quality, Soothing Bamboo...
The Nalulu Classic Wind Chime is crafted by hand from sustainable bamboo. As the name suggests, it sports a classic stylish look, with a dark wood color that makes it a superb, subtle choice that can fit different decors. This beautiful wind chime creates a soothing, gentle tone that's excellent for relaxing.
Factors to Consider in the Best Wind Chimes
The best wind chimes come in an elegant design, produce pleasant, enchanting sounds and stand up to the elements. The following factors to help you find your ideal wind chime:
1. Type
There are several types of wind chimes on the market, each with its unique look and sound. The more common types include:
a). Tubular Chimes
These are the most common wind chimes, usually shaped like tubes or rods. They are made from different materials, such as metal and bamboo.
b). Bell Chimes
These include bells in their setup. Some bell chimes are fully made of bells, while others include bells and chimes. They are popular for their delightful, light tinkling sound.
c). Decorative Chimes
These are keener on aesthetics than sound. Glass and seashell chimes are the perfect examples since they can both reflect light while still sounding pretty fantastic.
d). Celebration Chimes
These often come with personalized engraving options. Celebration chimes often offer a meaningful way to cherish a loved one or honor an important moment.
e). Feng Shui & Gong Chimes
These feature a metal brass and wooden clapper, and they stand out in both their look and sound. They sound like a gong when struck.
2. Chime Tone
The tone of a wind chime relies on its design, size, shape and material. The material usually has the biggest influence on how a wind chime sounds, meaning each type produces a unique tone.
a). Metal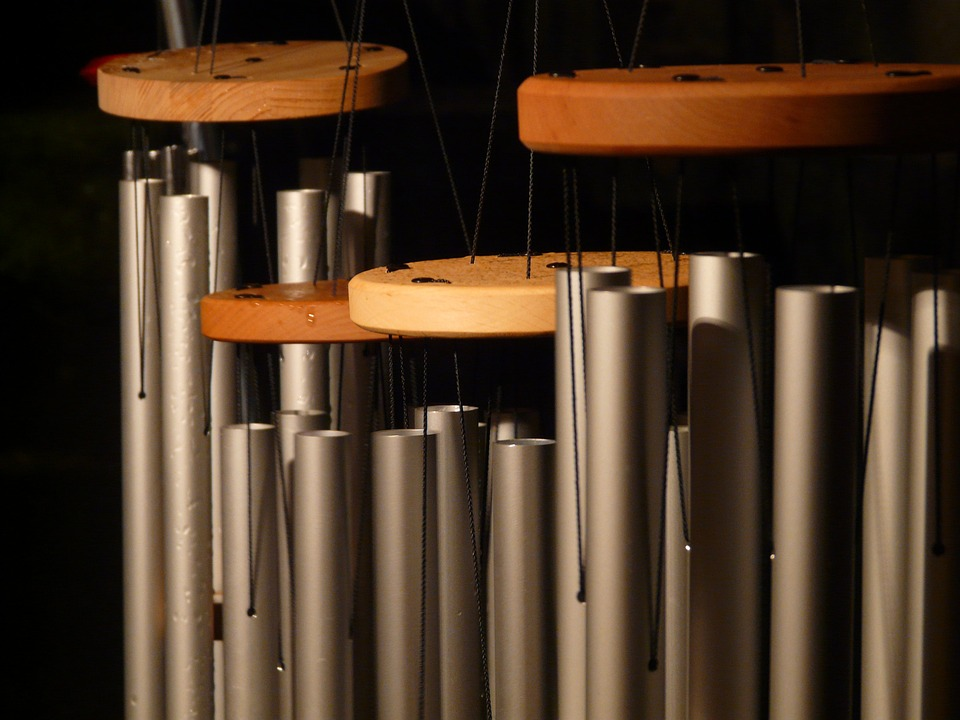 Image Source: pixabay.com
Metal wind chimes create a crisp, piercing sound. Furthermore, tubular metal chimes can be tuned to musical notes, ranging from low, calming notes to radiant high notes. Metal vibrates more than other materials; as such, metal wind chime sounds carry further.
b). Wood and Bamboo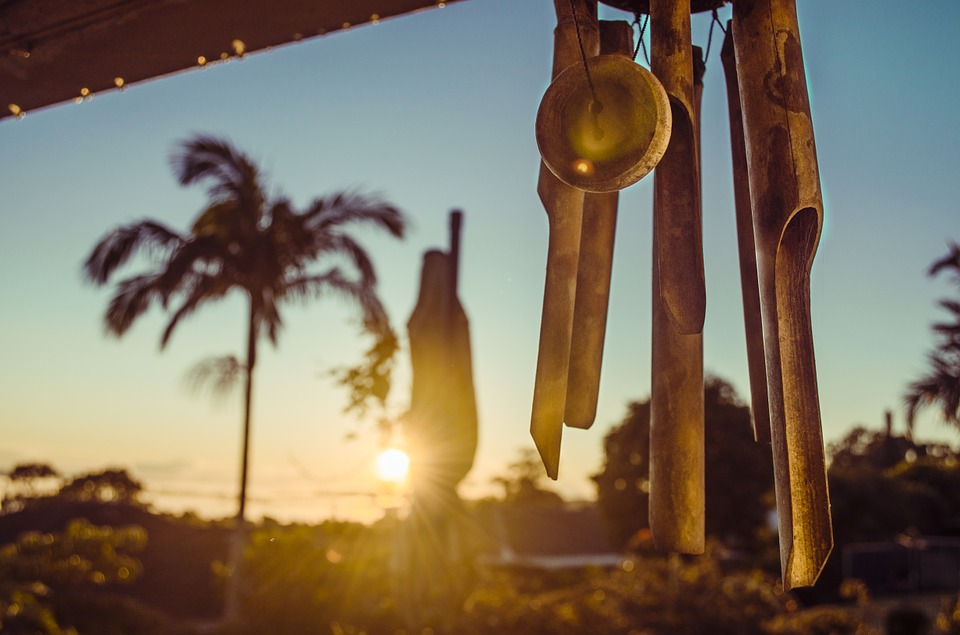 Image Source: pixabay.com
Wood and bamboo wind chimes produce hollow, mellow tones that sound more like an echo than a chime. However, the hard exterior helps to create a clear clunk. These two sounds combine to deliver a balanced, subdued tone.
c). Glass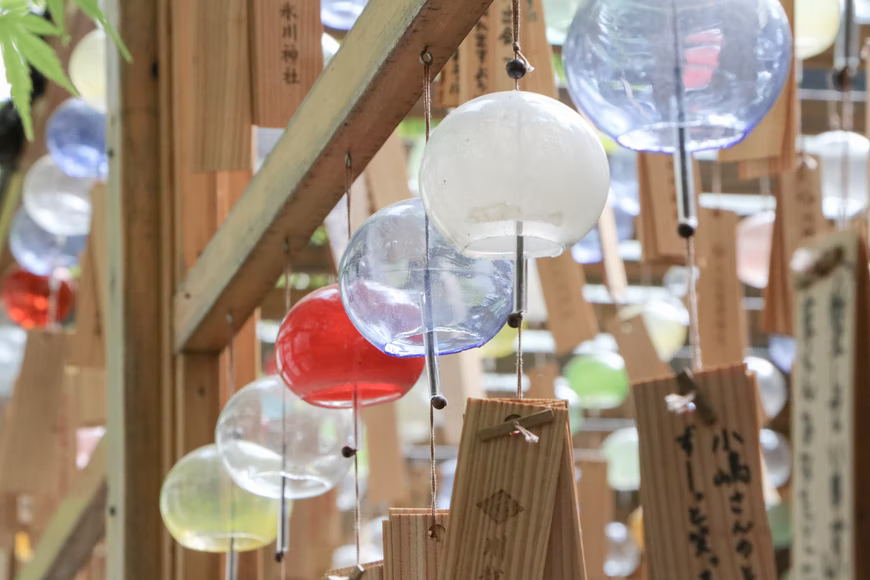 Image Source: unsplash.com
Glass chimes produce a light, musical tinkling. Their delicate sound doesn't carry as far as metal tubes since glass does not vibrate as much.
d). Clay
Clay wind chimes create a host of tones depending on the material's density. Light clay creates a high-pitch, almost hollow sound whereas dense clay brings out richer tones almost like metal chimes, albeit lacking the long-lasting vibration.
f). Other Metals
Aluminum wind chimes produce better-sounding wind chimes thanks to the metal's superior vibration. Copper and brass wind chimes are also growing in popularity due to sounding almost similar to aluminum tubes but with a softer sound effect. Quality steel chimes are almost just as good as their aluminum counterparts, but cheap steel translates to harsh sounding wind chimes that are more clank than musical.
3. Volume and Clarity
A wind chime's volume and clarity are mostly dependent on its material and size. As previously mentioned, metal wind chimes produce sharp, crisp tones and can also play particular musical notes. On the other hand, wood, bamboo and glass chimes have more subtle tones, although wood and bamboo create duller tones.
Hollow chimes create sounds that carry further than solid chimes because the hollow tubing yields more vibration hence emitting a louder and longer vibration. That means metal and bamboo tubes tend to be louder than chimes with flat shapes.
4. Chime Duration
The material and design of the wind chime are the main factors for how long the chime lasts. The longer a material vibrates, the longer its sound will last. Metal chimes vibrate easily and produce longer-lasting sounds, especially hollow tubing ones. Wooden and bamboo chimes usually create brief sounds.
The weight of the sail can also affect chime duration. A sensitive wind chime with a light sail only needs the slightest breeze to get going. Conversely, a heavy sail results in a less sensitive wind chime because it takes more wind to get them jingling; they tend to be quieter on calm days.
5. Note Variety
Metal wind chimes can create specific musical notes. Some can be tuned to play particular songs. Essentially, the more tubes a wind chime has, the more notes it can play. More tubes also mean more places for the clapper to strike, resulting in greater tone variation.
Tube size also comes into play for note variety. Longer tubes deliver lower, fuller tones, while shorter tubes create higher, sharper tones.
6. Additional Features
Wind chimes are equally an accessory to your house. You can look out for a unique design that best matches your space. Furthermore, you can also find wind chimes sourced from recycled materials, such as wine bottles. If you are quite particular about using wind chimes as part decorative, glass and crystal chimes are usually the go-to options.
7. Environment
Wind chimes are usually left outdoors and exposed to the elements, meaning they deteriorate over time. It's important to get durable a wind chime that can withstand the weather. Consider a rust-resistant option if you opt for a metal wind chime or a rot-proof one if you choose a wooden wind chime. Glass and seashell wind chimes won't rust or rot, but they require extra care since they're more brittle.
Placement is just as important. A covered outdoor space offers more protection from direct sunlight or rain. It's always best to keep your chimes indoors during heavy storms or extremely cold winters.
Just as crucial, you also have to consider your neighbors. If you live pretty close to each other, you might want a material whose sound doesn't carry too far.
How to Hang Your Wind Chime
1. Hang your wind chime directly from the ring hook. Never extend the top string by adding a string or chain, which can cause the whole chime to swing.
2. Most wind chimes are tuned to start jingling at 6 to 10 mph wind speed. Therefore, avoid hanging your wind chime within two feet of anything that might obstruct or divert a breeze or wind.
3. Hang your chime at a spot where wind can blow it from as many directions as possible. Try out different height as well since wind speeds tend to increase with higher elevation.
Frequently Asked Questions (FAQs) on Wind Chimes
1. Where's the best place to hang wind chimes?
Any spot where a gentle breeze or light wind blows will do. That means it shouldn't be too still or too windy. Experiment with different locations to figure out what works best for you.
2. What's the ideal number of chimes in a wind chime?
The number varies, so it depends on personal preferences. Basically, fewer chimes create simpler melodies, whereas more chimes produce more complex sounds.
3. Do wind chimes freak birds out?
Yes! In fact, wind chimes were partly used back in the day to scare birds away from crops. That being said, birds may get used to your wind chime over time and return to your garden.