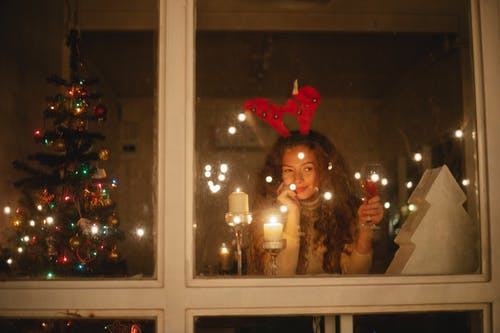 Best Window Candles for a Warm and Cozy Festive Season
Lighting up candles can be therapeutic and can make you feel so cozy and warm. Decorating your house with the best window candles can also give you a festive feeling throughout the year. Lighting window candles for a special occasion or the general purpose of decoration makes you enjoy spending time in your home.
Before we go on, let me share with you something interesting.
The Tradition of Lighting Window Candles
Where did the tradition of lighting candles in the windows during Christmas come from? If this question has ever crossed your mind once or twice, I have the answer for you. Lighting up a window candle dates back to the colonial period. The practice was brought to America by the Irish. It has always been a sign of "welcome."
In early America, when the homes were several miles apart, seeing a candle in the window always meant that the door of that home was open to anybody wishing to visit. However, when Ireland began persecuting the Irish and Protestantism tried to replace Catholicism, the priests were ordered to leave the country, and they went into hiding.
During Christmas, the faithful Irish Catholics would light a window candle and leave the door unlocked. This was their way of communicating with the priests and telling them that it was safe for them to sneak in and say Mass, and in return, they hosted the priest. The Irish brought with them this tradition as they migrated to America.
There are different types of window candles which we shall briefly go through before we discuss the best window candles.
Electric Window Candles
Electric window candles use AC power to light. The best thing about electric candles is that they are safe to use as they are flameless; this means that even if you have kids or pets, they are safe and cannot burn themselves in an open flame. An electric candle is also mess-free as it does not lead to any wax dripping as it lights.
Moreover, electric candles help you save time as they do not use batteries, which may change once in a while. Some electric candles feature auto sensors which make them less time demanding as you can leave them plugged in because they have darkness sensors that make the candles turn on by themselves when the room is dark. The candles automatically turn on when the room is bright.
Battery-Operated Window Candles
The second type is the battery-operated candles which use batteries as their power source. One of the greatest features of battery candles is that you can use them anywhere. All you need is the candle and its batteries.
Like electric candles, battery-operated window candles are also safe to use as they are flameless and mess-free.
Which are the Best Window Candles?
Now let us discuss some of the best window candles so you can have an easy time deciding which ones to buy. Enjoy reading.
1. Enchanted Flameless Ivory Window Candles (Set of 10)
Set of 10 Flameless Ivory Window Candles with Removable...
✅ (2020 UPGRADED VERSION) INCLUDES EVERYTHING YOU NEED:...
✅ AUTOMATICALLY TURNS ITSELF ON & OFF DAILY: Candle will turn...
✅ EASY TO USE REMOTE INCLUDED: Place candles wherever you want...
✅ LONG LASTING BATTERY: Cordless battery operated design allows...
✅ 100% SATISFACTION GUARANTEED: An Amazon best seller—for a...
Give your house a warm glow with these battery-operated LED candles. They come in sets of ten, so you have enough by buying just one pack. The package also includes stands, remote control with timer, suction cups, and batteries per candle. The remote control makes them easy to control as you don't have to be near the candle to activate it.
These battery-operated window candles turn themselves on and off daily at the same time and then go off after five hours. You only need to do the setting, and the rest will handle itself. You can install these candles anywhere in your home as they are cordless. Their batteries can last the whole holiday season, so you will not have to worry about replacing them before the holiday season ends.
2. 612 Vermont Battery Operated LED Window Candles
612 Vermont Battery Operated LED Window Candles with...
Cordless, flameless window candles with Flickering Amber Flame...
Automatic timer (On 6 hours, off 18 hours), repeats daily
Requires 2 AA Batteries (not included), last 60 days on one set...
Durable plastic construction resists breaks. Rectangular base...
Measures: 9.75" high, 1.75" deep and 3.125" wide....
These battery window candles by 612 Vermont come in a pack of four and require 2AA batteries to operate, and the batteries may last up to 60 days. However, the batteries are not included. They are also cordless, which makes them easy to use anywhere within the home. In addition, they feature an automatic timer that turns them on for six hours and off for 18 hours in a single day, and the cycle repeats itself daily.
These window candles are constructed with a high-quality plastic for durability as it resists breaks. The rectangular base ensures that the candles are stable and prevent tipping. These candles measure 9.7" high, 3.12" wide, and 1.75" deep. Their antique bronze color will match any house decor to add style to your home. These candles feature a flickering amber flame.
3. Holiday Joy Corded Electric Window Candles Lamp Kit
Holiday Joy - The Original Corded Electric Window...
Each kit comes with 1 corded electric candle lamp with bulb, 1...
Automatic Dusk/Dawn on/off light sensor
Window Candle dimensions: 0.75 inch diameter x 9 inch tall
Everything you need in one box, great to send as a gift
Holiday Joy is a window candle package that comes with six candle kits. Each kit includes one corded electric candle lamp and two bulbs, and one candle suction cup holder. The light sensor makes it automatically turn on at dusk and off at dawn, which makes operating it easy as you don't have to be there all the time to turn it on and off.
Holiday Joy electric window candle measures 0.75" in diameter, and it is 9" tall. The cord in this pack is about 5 feet long, long enough to meet your needs.
4. Darice Brass Plated Candle Lamp With Sensor
Darice traditional candles are suitable for people with large houses and many windows as they feature an auto on/off function; because the feature allows the candles to turn on at dust and off at dawn, which would otherwise be time-consuming every morning and evening.
A pack of these window candles contains six candle lamps with nine inches when the bulb is attached. They also come with a 5-foot cord for easy installation.
5. Xodus Innovations Battery Operated LED Window Candle
Xodus Innovations Battery Operated LED Window Candle,...
4 Pack of LED Battery Operated Window Candles with Orange Flicker...
Dusk to Dawn sensor automatically turns candle on and off.
Candle measures 8-7/8" High. Base measures 2-3/8" wide and 1-1/2"...
Requires 2 AA batteries/candle (sold separately).
Last up to 30 Days on one set of batteries.
Xodus innovations traditional candles come in packs of four and are LED battery operated with an orange flicker flame. These window candles measure 8-7/8" high, the base is 2-3/8" wide, and the depth is 1-1/2 inches.
The Xodus Innovations window candles feature a dusk-to-dawn sensor that automatically turns the candles on and off according to the time of the day. They use 2AA batteries, which are sold separately. However, these batteries can last up to 30 days before you need to get a new set of batteries.
6. Yostyle Battery Operated Christmas Window Candles
Christmas Window Candles Lights,14Pcs Battery Operated...
WARM CHRISTMAS WINDOW CANDLE: Simple design, bright warm white...
REMOTE CONTROL FLAMELESS CANDLE WITH TIMER: Led pillar candle is...
BATTERY OPERATION AND FLEXIBLE USE: Each LED window candle lamp...
HOLIDAY PARTY ESSENTIALS: Our flameless window candle set is...
RISK-FREE PURCHASE AND 100% SATISFACTION: Made of...
This is an ideal pack for you if you have a big house with many windows or planning to go through a holiday party. The pack contains 14 pieces of candles with a flickering flame with a simple design that adds to your Christmas decor and makes your home warm and lit with a bright white light.
You can easily control these Christmas candles with a remote control instead of leaving your warm throw blanket to go and change a setting. The timer settings of this candle include 2/4/6/8 hours, and the best thing is that you can decide to use flickering or stable candles, and you can also choose the brightness level. Quite interesting, isn't it? They are very flexible as they are battery-powered so that you can use them anywhere. Each candle uses 2 AA batteries which you have to buy separately.
7. Lamplust Christmas Window Candles
Christmas Window Candles with Gold Holders - Battery...
ALL INCLUSIVE: The set of 8 candles has everything you need for...
REMOTE & TIMER: Enjoy the convenience of the included 6-function...
HOLIDAY DECOR: Combine the style of traditional window candles...
WARM GLOW: The LED light in each flame is a soft, warm white with...
WARRANTY: LampLust is looking out for your satisfaction. Please...
When it's Christmas season, and you want to light up your home with window candles, why not get this set of these eight Lamplust candles that come with all 16 AA batteries that you will need to power them? They are among the best window candles for Christmas decor as they are flameless, remote-controlled, and portable, as well as energy-efficient.
You can set the 4/8 hour timer for the candles to turn on and off at the same time every night. The LED light flicker makes them look like real candles, and you can also set them to have a steady light. These Lamplust Christmas window candles also give your house a warm glow and have a 90-day warranty.
8. Creative Hobbies Electric Window Candle Lamp
Creative Hobbies Electric Window Candle Lamp with Brass...
Creative Hobbies electric candles are great for centerpieces,...
Long lasting and reusable with attractive brass plated metal...
Extra long 6 foot cord with on/off switch and polarized safety...
UL certified safe for indoor use.
Replacement bulbs available, see ASIN: B00MTRAWIM
Creative Hobbies are responsible for producing electric window candles suitable for use as centerpieces, table decor, window candles, party decorations, and even restaurants. The metal base is brass plated, and the candles are 6-3/4" tall, and when the bulb is included, this electric candle measures 9" tall.
The Creative Hobbies electric candle features a 6-foot cord and an on/off switch, and a polarized safety plug to ensure you are safe. At least creative hobbies care about you and want you to be safe as you use their products.
9. Celestial Lights Window Candles-Antique Bronze
Set of 4 Battery Operated Window Candles (Antique...
Includes 4 flameless taper candles, four bulbs and four candle...
Adjustable height, warm white light, six-hour on/18 hour off...
Each requires 4 AA batteries, not included
Measures 13"H or 15-1/2"H x 3-1/4" Diameter
Designed to work with B013VCF6WK replacement lamps
If you are still undecided on what window candles to buy to decorate your house, Celestial lights battery-operated window candles will not fail you as they are bright and affordable. The package includes four flameless taper candles, four candle bases, and four bulbs.
You can use them at different heights as they are adjustable. They will keep your house beautiful and provide you with a warm white light. The timer lets you have them on for six hours and off for 18 hours. It is also important to note that for each of the candles included, you will need 4 AA batteries, which you have to buy separately. The diameter is 3-1/4" while the height can be 13" or 15-1/2".
10. Automatic Electric Sensor Candle Lamp
As the name suggests, this electric candle turns on and off automatically at dusk and dawn, respectively. The pack contains a total of 6 pieces of electric window candles. It is made of brass and uses a 7-watt bulb.
The candle measures 9 inches with the bulb on, while the candlestick is 6-3/4" high. The base measures 1-13/16 inches in diameter. Another feature is the 5-foot cord with a small 5A fused cord. These candles will give your house a warm and welcoming effect that your guests will not want to leave. Give it a try.
What Factors Should You Consider When Buying the Best Window Candles?
When buying something for the first time or not very familiar with it, you may need to be a little cautious. Therefore, this article will tell you what you need to look for as you shop for Christmas window candles.
(a). Size
When it comes to the size of the window candle, you may need to pay enough attention to their sizes. If you have a space big enough to place them, then that may not be an issue. However, if your space is limited, the size of the base will matter, and you need to buy a candle with a base that will fit in your window as you plan to place it.
(b). Quality
When buying any product, you obviously want to buy one with the highest quality to ensure that it doesn't get damaged before giving you enough service. This is especially true if you have spent a lot of money on it. The flickering feature should not stop working after a few days, and the material used to make the candle needs to be of the highest quality. Good quality means durability, which means you'll not have to buy window candles every Christmas season.
(c). Number of Candles in the Set
Window candles come in sets of different numbers. Therefore, before you buy the candles, estimate the number of candles you need, and then you can easily select a set or various sets that will give you the number of the candles you need.
(d). Aesthetics
Who doesn't want a beautifully decorated house? But, of course, you do, and because of that, it is important if you get a nicely designed candle whose body resembles that of a real candle. On the other hand, the base should compliment the interior decor of your house.
(e). Power Options
We discussed earlier that there are battery-powered window candles and electric window candles. So, depending on what and where you plan to use the candles, you will need the power option that is the most appropriate. Remember to choose wisely and ensure that the option you go with is the most convenient.
Frequently Asked Questions About the Best Window Candles
(i). What kind of batteries do window candles use?
Battery-operated window candles use AA batteries. However, the number of batteries that each candle uses depends on the brand of the candle.
(ii). Can you use battery-operated candles for Christmas?
The answer is a huge yes. You can use both battery-operated and electric candles to add warmth to your home. A festive flameless candle adds style to your Christmas decor and makes you enjoy the festive season happily and conveniently.
(iii). Why do I have candles on my window?
Well, you have candles on your window because they are the sign of welcoming guests who may want to visit your home. Seeing candles on the window makes them know that they are welcome to dine with you.