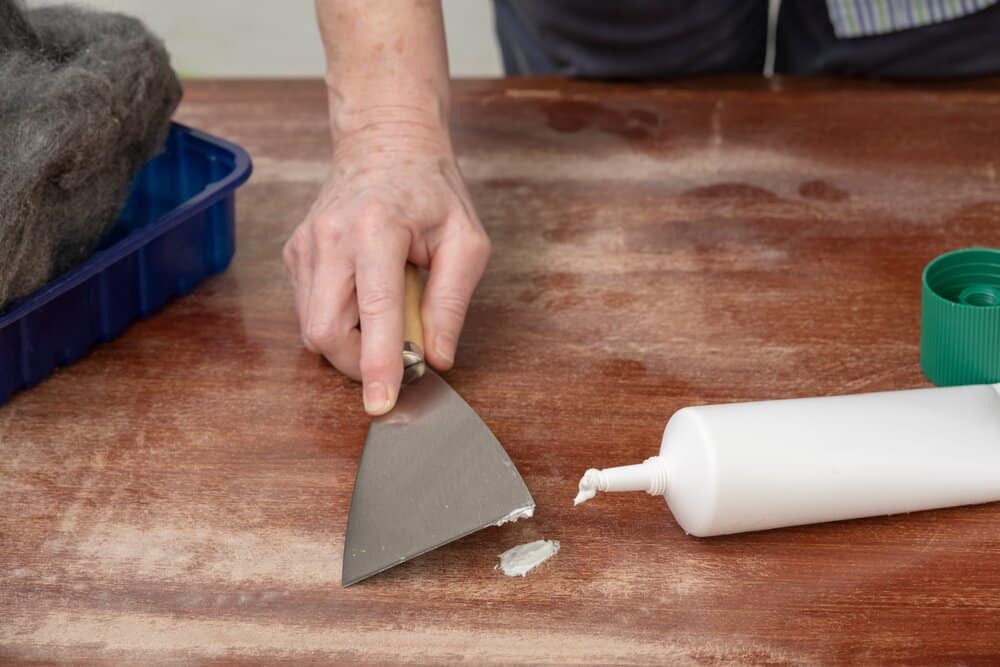 Best Wood Filler For Staining Heavy-Duty Outdoor Projects
Buying furniture is probably the most expensive thing you'll have to do when getting into your new house- well, right after electronics anyway. So in instances where you have a little damaged wood on your furniture, you'll not be so quick or thrilled to buy new furniture. The best wood filler for staining comes in wood-inspired shades and can be used in filling pores or to fill holes both for indoor and outdoor applications- even those DIY projects.
Which One is a good stainable wood filler?
Buying the best stainable wood filler will not only save you money but will also help you easily repair wood surfaces. The best wood fillers help you hide the appearance of nicks and cuts in wood trim and furniture and are also frequently used to fill in the gaps that are left after putting up a drywall or while installing a new door frame. Since most wood fillers are stainable, the best stainable wood for you will come in a texture that's similar to that of the wood surface adjacent to it, or you're putting it on.
What's A Wood Putty?
Wood putty is often used on oil-based surfaces. It's put on real wood surfaces before completing the sanding, staining, and the finishing steps. It dries pretty hard, so it'll need some sanding to achieve that smooth finish.
Typically, wood putty is used to fill nail holes and cracks that will create blemishes on your wood. So wood putty will often come in a can as a stiff mixture, with the consistency of dough, and you'll need a putty knife to apply on the wood surfaces.
It will also need you to add a hardener to get it to cure. It also resists shrinking and is a great solution for an outdoor wood project. You can use wood putty with wood stains, and it's also a great choice for small wood voids that need filling.
Wood Filler Vs. Wood Putty
These are the key differences between the 2 solutions:
Wood fillers contain either sawdust or real wood fibers that are then suspended in a binding solvent agent
On the other hand, putty consists of some plastic (such as polyurethane or epoxy)
Another main difference between wood fillers and putty is that wood putty will never really harden
Wood fillers, on the other hand, will get quite hard once dried
What Are The Types of Stainable Wood Fillers?
There are 4 basic types of stainable wood fillers that are categorized by their formulas. These include; gypsum-based fillers, epoxy wood fillers, vinyl-based fillers, and cellulose wood fillers
a) Gypsum-based Wood Fillers
Typically, a gypsum-based wood filler is best used for minor indoor repairs to either fill gaps or nail holes on your baseboards and drywall. These wood fillers come as a gypsum powder filler that needs to be mixed with some water to create a paste. Once the filler paste has dried, then it won't be so pliable. It then takes on a consistency that's similar to hardwood or even as hard as a rock, in some cases.
These gypsum-based wood fillers are the most affordable of the wood fillers. However, these wood fillers are still susceptible to water damage, even after they dry up, so they shouldn't be used in locations that may be exposed to any moisture.
B) Epoxy-based Wood Fillers
The epoxy-based wood filler is one of the most durable and resistant stainable wood fillers that also requires the most preparation before it's ready to use. The two parts must also be mixed together to have the desired adhesion and consistency while following the manufacturer's instructions. Once the epoxy has been completely mixed, it can then be applied to the areas needed.
Epoxy-based wood filler is most ideal to use in outdoor conditions since it can expand and contract depending on the changing temperatures. Additionally, because of the natural water resistance, these wood fillers are also best-suited to seal the foundation or walls against rain or wind.
C) Latex-based Wood Fillers
Latex-based wood fillers are specially formulated and mostly used in outdoor locations because they will require much less initial preparation compared to epoxies. These wood fillers also set quite fast once they have been applied. In addition, they are water-resistant within an hour after application.
Latex wood fillers are also much easier to work with, so they come quite in handy in fixing holes, rebuilding portions of rotted wood, or even while repairing gouges. Once the latex wood filler has fully dried, it gets a rigid consistency that's similar to hardwood.
Once dry, you can use a sandpaper to create a smooth finish on the filler. A latex wood filler also allows you to drive nails, fill holes, or fasten screws through it without damaging what you've done on the repair. This just shows you how durable this latex wood filler formula is.
D) Cellulose-based Wood Fillers
Officially, these wood fillers are known as cellulose-based stainable wood fillers, but you'll rarely ever see this whole term on the product's package. Instead, the package of a cellulose-based filler will indicate that it contains real wood fibers. Other than containing real wood fiber, these wood fillers are relatively more affordable compared to latex-based wood fillers and epoxies.
As water-based wood fillers, they're water-soluble, so they can be mixed with water-based wood stains to create a rich-colored material before the application. Some cellulose-based fillers can also be used outdoors, but most are strictly interior-only fillers. Always be sure to consult or read the product's directions to make sure you're using it as it should be used.
Wood Grain Filler Vs. Wood Filler
A wood grain filler is a thin material that's used to fill in the grain pores in the wood. It's not the regular filler or putty for wood that you'd normally find. Instead, it's a tad bit different.
A wood grain filler is a binding agent that is made up of silica and clay with a consistency that's more like that of a pasty peanut butter that's milky. Ideally, you should use the filler to fill in those large cracks in wood or for DIY projects.
This is also best used if you want to preserve that beautiful grain look on natural wood. With certain types of open-grained woods like mahogany or oak, it's better to use a wood grain filler rather than a wood filler.
How To Properly Apply A Wood Filler?
Applying the wood filler is quite easy, especially if you know what you're doing; here's the trick and step-by-step process on what to do:
Step 1: First, remove the damaged wood part. After that, just sand down that area and make sure you remove any debris that might be left behind
Step 2: Apply the filler into each of the gaps. The method of application will vary according to the type of container. For instance, if it's a tube, you can just squeeze the formula out to apply wood filler. Then apply an ample amount well to the portion of the wood you've removed
Step 3: It's always best to just fill the hole with more than what's actually needed. You can then use your putty knife to spread the excess filler throughout the area that's damaged. After that, you'll have to wait and let the filler dry out. Once it has perfectly dried out, sand that area down
Step 4: As a final step, stain the filled area depending on the wood species and theme
1. FamoWood 40022126 Latex Wood Filler
The FamoWood 40022126 latex wood filler is produced by a reputable and reliable brand. This is one of the best wood fillers that also provides the market with a stainable option. As a high-performance wood filler that comes in latex option that dries so incredibly once applied.
This filler also ranks high as one of the best versatile wood fillers that lets you do so much more on the dried surface. These options include sanding, drilling, etc. This indicates that it will do a perfect job on natural wood.
It also has an impressive quick firming up a formula that doesn't take more than 20 min to give you that nicely firmed up dry. At this point, it's ready to take on the job. What's also interesting is the fact that it won't shrink once it's completely dry.
A common concern that comes with using a wood filler is that sometimes, the gaps that you need to fill might need a lot of the filler to work right. But the FamoWood 40022126 latex wood filler ranks as one of the best wood fillers on the list since you'll just need an ample amount for it to work right.
2. Minwax 42853000 Stainable Wood Filler
Minwax 42853000 Stainable Wood Filler, 16-Ounce
Ideal for repairing cracks, small gouges, nail holes, knot holes...
Stainable Wood Filler is specially formulated to accept Minwax...
It is designed for use with oil-based and water-based wood stains
Wood filler
Stainable and paintable
This Minwax stainable wood filler works best with the specific strains that are produced by the Minwax brand. However, that's not to say that it won't work with other paints and stains from other brands. What stands out about this stainable wood filler is the fact that it works with both oil-based and water-based paints or stains. The Minwax stainable wood filler is one of the best since it perfectly combines both types.
Moreover, as one of the best stainable wood fillers, you can use them on the exterior and interior wooden surfaces. And since it's so easy to use, making it is an even better option altogether. It also dries pretty fast and shouldn't take more than 10 minutes to cure.
The fact that it dries pretty fast suggests that this filler is most suitable for small DIY projects as compared to the large ones. Since it hardens pretty fast, it makes it hard to use in a big project. This stainable wood filler has great stainable wood filler reviews from many users so that you can be assured of an impressive use.
3. Elmer's E887Q Stainable Wood Filler
Sale
Elmer's E887Q stainable wood filler comes in a lovely plastic container that allows you to use the filler inside easily. If you are a professional and going to be dealing with the product as frequently, this square-box design is just perfect for you.
As one of the best stainable wood fillers, it's also a great option for DIY projects, with a formula that's awesomely made to dry in no time. You also get to appreciate the creaminess it comes in to allow you to use it without any hassle for a smooth release and application.
One of the best things that you'll appreciate about this filler is the fact that it makes the wood less bumpy, making it incredibly easy to sand down and simple to use. In addition, you'll appreciate the flatness it gives the wood.
It's also worth mentioning the level of water resistance it has, especially because of the high amount of resins that have been used to make it. The formula is perfect for both your indoor and outdoor projects.
4. Bondo Home Solutions Wood Filler
Sale
Bondo Home Solutions Wood Filler, Sandable in 15 min,...
Make quick, durable repairs to damaged and rotted wood
Cures fast; sandable in 15 minutes for fast same-day repairs
Stainable and Paintable in 25 minutes.
Bondo formula accepts paint and stain beautifully
Durable 2-part solution provides permanent and non-shrink...
The Bondo wood filler is one of the best wood fillers that you pick up when you are left to work with rotten wood. You can be sure it'll do the filling you need with utmost precision. This filler also comes with such great versatility since you can use it for multiple applications, such as when you need to fill doors, windows, furniture, etc.
This formula will amaze you at the level of efficiency. It brings back the original strength of your furniture. Once it dries, you can sand it, paint it or even stain it. Additionally, it doesn't shrink, and the container it comes with allows easy application. Moreover, this formulation also has an incredibly fast curing time, at roughly 30 minutes.
5. Timbermate Walnut Hardwood Wood Filler
The Timbermate hardwood wood filler is a water-based wood filler that ranks as one of the best water-based fillers. So, that signifies just how easy it is to make and apply. This water-based wood filler formula also stains pretty well.
Additionally, this water-based filler doesn't shrink, making it also ideal for exterior use. If you have an interior project, then you don't need to worry about those edges since they won't crack at all.
Some water-based fillers might end up destroying the wood a little while you try to repair it, but this formula assures you an easy fix without any side effects. Additionally, unlike other water-based wood fillers, the package used here ensures that you won't have to waste any of the formulae since it all comes out, leaving the pack perfectly emptied out.
6. Elmer's E914 Carpenter's Color Change Wood Filler
Elmer's E914 Color change filler comes with the ability to fix up anything literally, you name it, dents, holes, scratches, gauge, etc. Once it has dried up, it catches the natural color, making it great to paint and stain.
Additionally, this is a sandable, stainable and paintable filler that comes in a non-toxic formula that doesn't shrink or crack. Once you apply the filler over your turf, you can still easily clean it since it can still sustain a cleanup with water without getting washed away.
This stainable wood filler is made for the interior only but is still so easy to apply over any furniture or wooden surface. In addition, it's super easy to sand for a perfect and smooth finish.
7. ELMERS Available Stainable Wood Filler
The ELMERS stainable wood filler is the perfect stainable solvent-free wood filler for hardwood floors such as P9891. What makes it perfect for stain is its ability to work on both exterior and interior wood surfaces.
No matter what you're dealing with on your wooden floors or furniture, whether you have a dent, hole, scratch, or simply a defect, this filler is perfect for all of them. Thanks to the ceramic microspheres, it will not only make the sanding easy but will also keep it from shrinking.
You'd probably wonder just how long it's going to stay on the application surface; when it comes to a question of durability, this filler is 3 times more sustainable than the regular fillers. So don't hold back yourself while using it over the stains and paints since it can be used on either. However, if you're going to be sanding, then make sure that you're using a high-speed sander.
Unlike other solvent-based wood fillers, this filler is solvent-free and can also be cleaned with water.
8. REALINN Wood Furniture Repair Kit
REALINN Wood Furniture Repair Kit- Set of 28 - Touch Up...
KIT INCLUDES our most powerful wood repair compounds, so you can...
RESTORE ALL KINDS OF DAMAGES such as scratches, chips, cracks,...
EASY TO USE - Apply the filler into the cracks, and then smooth...
UNIQUE COLORS - The touch up fillers are available in 12 colors:...
HIGH QUALITY fillers and markers that will repair your furniture...
The REALINN wood furniture repair kit is an entire arsenal of wood fillers that comes with a whole stack of tools to make your work easy and far more convenient. Even more impressive is the number of tools it comes with.
Even then, having these tools is not what makes it the best wood putty for staining. Instead, its ability to repair just anything ranging from discolorations, scratches, chips, holes, cracks, etc., is what makes it so impressive. It has a powerful formulation that makes it perfect for repairing any compounds and making the repairs possible.
This kit is perfect for any of the surfaces, which include wooden doors, floors, furniture – you name it, and this kit can effectively fix it. Other than the wood putty, it also comes with brushes, sandpaper, sponge, beeswax, touch-up fillers, touch-up markers, and the scraper. In total, there'll be 28 items in the kit to push your work to a whole other level of efficiency and convenience.
But there's no point in having all these in the kit and then having a hard application process. If you like to experiment with different colors, this filler set comes with touch-up fillers in 12 different colors and 8 colored touch-up markers. Additionally, both are permanent and effective.
9. DAP 00525 Plastic Wood Filler
DAP 00525 Plastic Wood Filler, Natural
It provides strong nail and screw anchoring without splitting.
It can be sanded, cut, drilled, screwed, planed, stained,...
DAP Plastic Wood Professional Wood Filler dries fast and hard,...
This professional-grade, heavy duty wood filler contains real...
DAP 00525 is a plastic filler that's an excellent choice if you're looking for a stainable heavy-duty wood filler. This stuff dries up pretty fast to leave behind a rock-hard filling to assure you that it's durable enough and you won't be making any repairs for a long time to come.
Additionally, other than being so easy to work with, this plastic filler also works so well with the sanding and staining to ensure you get a smooth finish. It's also a highly versatile wood filler that can be used on a wide range of surfaces.
As one of the best solvent-based wood fillers, the DAP 00525 is a water-soluble formula that comes with an incredibly long shelf life. This means that, like many solvent-based wood fillers, the leftover product can be reactivated using some water for use on another application.
However, on the downside, this also means that it's not the ideal filler for exterior use. On the other hand, this solvent-based wood filler comes in such great quality at a remarkably friendly price.
10. Varathane 215198 Wood Filler
Varathane 215198 Wood Filler, 3.5 oz, Cherry
Ideal for repairing scratches, gouges and holes in furniture,...
Water-based formula that will not shrink or crack
Dries hard to the touch in 1 hour
Durable solution will accept nails and screws when fully cured
For best results, sand smooth before applying stain or topcoat
Varathane stainable wood filler is also a reliable filler for fixing small indoors. Since its water-soluble in nature, this filler is not recommended for exterior use. However, it's easy to use and is non-toxic, making it also a great choice for beginners to use.
It has a drying time of one hour, which might not be record-breaking, but still is reasonable. The Varathane 215198 can be sanded and take on other preparation techniques that are needed for staining. You can also nail through it using nails and screws once it has cured. This filler is best used to fix gouges, scratches, small holes in cabinets, furniture, trims, and wooden floors.
What to Consider To Buy The Best Wood Filler For Staining?
Before you choose a stainable filler to renew your old furniture or to fix some of those baseboards, you should consider some important factors such as the drying time and the quantity of the filler that's required. Once you've gotten a better idea of what you require, then you can find the best stainable wood filler for your wood project.
A) What Type Of Project?
The type of fixing project you have will determine the kind of stainable filler that best suits what you need to be doing. In addition, you should consider factors such as the preparation time, the amount of filler you require, and constraints such as its overall drying time in cases such as when there's an impending rain. All this should inform your product choice.
Indoor projects can include projects that range from filling a gap that's between baseboards to a little touch-up on a piece of your fine wood furniture. Although, any quality filler can be used for indoor projects such as these. On the other hand, epoxy fillers with wood fiber should be your last-resort choice since they'll take you much longer to prepare and dry up after using than other formulations.
Outdoor projects that will require a stainable filler could include projects such as fixing the gouges in your fence, repairing cracks on your deck, or sealing up those holes in your home's exterior wall to protect it from external elements. The best choice for outdoor projects such as these is an epoxy-based, stainable filler. However, for relatively small repairs, you can use a latex-based filler or a cellulose-based filler that's rated suitable for exterior use.
B) How Versatile Is It?
Most stainable fillers are sold in relatively small containers, each specially suited for one type of minor repair or the other. However, if you're trying to do some renovations, you will need a lot of stainable filler to do all your projects, so it's best to invest in a bulk amount of filler that's suited for an extensive range of uses and applications.
Before you purchase a large quantity of this stainable wood filler, you'll need to confirm whether it's suited for both the indoor and outdoor uses. You'll also need to consider how malleable the filler you want to get is before it dries up the recommended uses by the manufacturer for the product.
The consistency the filler acquires once it has fully cured. For instance, it's always a good idea to use a stainable epoxy-based wood filler to fix the holes in your exterior wall since an epoxy best adapts to temperature fluctuations.
C) What's The Drying Time?
Settling on a suitable wood filler will require always noting the approximate drying time of the stainable wood filler you're eyeing. To determine exactly how long you'll need to completely finish the repair and smoothen out the area before your filler hardens. Some fillers dry up pretty quickly, which is convenient for your outdoor applications since your filler must dry up before it's exposed to the rain or snow.
If you'll need to use a stainable wood filler to repair a relatively large section of wood, then it's best to use a filler that will take a while to dry; since this allows you to have time to do the repair needed and form your filler into the shape you need it to be in. Since the drying time varies from product to product, always be sure to refer to the manufacturer's recommendation and directions to determine the drying time you'll need for the wood filler.
Frequently Asked Questions On The Best Wood Filler For Staining
1. Why does the wood filler not stain?
Typically, wood fillers won't absorb stain as well compared to natural wood. This is largely because of the powdery residue from the filler that infiltrates the wood grain surrounding the nail holes. Fortunately, you can always deal with this problem in many ways. However, note that different techniques will work for different projects.
2. What is a Minwax stain best for?
The Minwax wood finish is an oil-based penetrating wood stain. It gives a beautiful rich color that will enhance the natural wood grain filler. It's perfect for interior staining of unfinished wood furniture, cabinets, trim, doors, molding and floors as well.