Like fashion, music, and art, architectural trends are circular, and what was old becomes new again. A good example is brutalist architecture. The architectural style features powerful, imposing structures with a simple, unapologetic aesthetic that stands out for its bold originality. However, the designs are hard to love at first sight, with a newfound interest and admiration for this once-derided architectural style, all that is changing.
What is Brutalist Architecture?
Brutalist architecture is an architectural design that emerged in the 1950s in the United Kingdom as part of post-war reconstruction projects. The style was quite popular from the 1950s through the 1980s, especially in institutional buildings and civic projects and in the form of sculpture. Besides, the design asserts the right of building materials and structural aspects to be seen, admired, and celebrated.
Image Source: archdaily.com
The style commonly uses varied or contrasting textures and materials such as geometric lines, exaggerated slabs, concrete or brick, large forbidding walls, strong concrete frames, double-height ceilings, exposed raw concrete, and a primarily monochromatic palette. The brutalist structures prioritize stripped-back minimalism over flashy design and function over form.
Besides, the word "brutalism," invented by Swedish architect Hans Asplund as "nybrutalism" and popularized by a British architectural critic Reyner Banham in 1955, has nothing to do with the cold, menacing aggressiveness of this architectural design. The term is derived from the French phrase, béton burt, which means raw or unfinished concrete.
The negative perceptions around brutalist architectural style can be attributed to this word connection; such structures are often perceived as unfriendly, threatening, and uninhabitable. However, brutalist architecture is often regarded as one of the most polarizing architectural styles because of the strong emotions it elicits in both the design community and the general public.
Brutalist Architectural History
Europe and the United States experienced population booms in urban centers in the 1950s and 1960s. And so, architects were tasked with designing government buildings and large-scale institutional structures such as schools, hospitals, apartment complexes, and churches, which were desperately required to meet the changing demands of the time.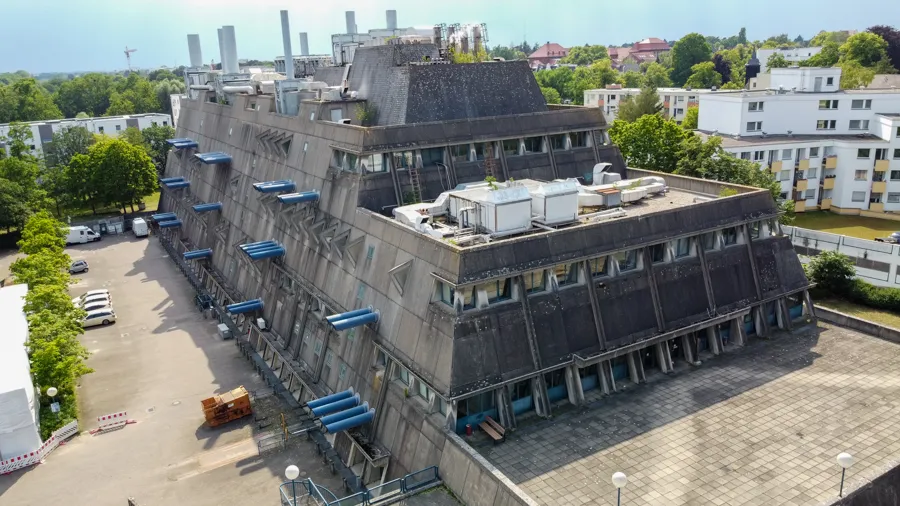 Image Source: abandonedberlin.com
Regarding construction materials, Brutalism was a low-cost option to the modernism of the 1950s and 1960s, and Europe desperately needed a low-cost architectural alternative. Brutalism served as this option.
The Brutalist movement is considered to have been influenced by celebrated modernist architect Le Corbusier's iconic Cité Radieuse in Marseille, France. Cité Radieuse is a post-war working-class housing unit for 1,600 people, part of his Unité d'Habitation social house project.
For this project, Le Corbusier used raw reinforced concrete because it aligned with his belief in material reality and the objectives of modern architecture and livable housing for everybody. His utopian living concept was extremely popular in post-war Europe, and he replicated the Unité d'habitation four more times (in Germany and France), inspiring many other architects.
However, by the 1980s, Brutalism's popularity had declined, and architects had mostly abandoned the style. But, Brutalist buildings will always stand out as monuments to a more practical era that focused on building to accommodate increasing populations in need of schools, hospitals, and homes.
8 World's Best Examples of Brutalist Architecture
1. Unité d'Habitation, France
Architect: Le Corbusier
Year Completed: 1952
As mentioned earlier, Unité d'Habitation is considered the beginning of Brutalism. The abrasive textures of its surface usually provide brightness and vigor, while the traces left by the moldings highlight the production process.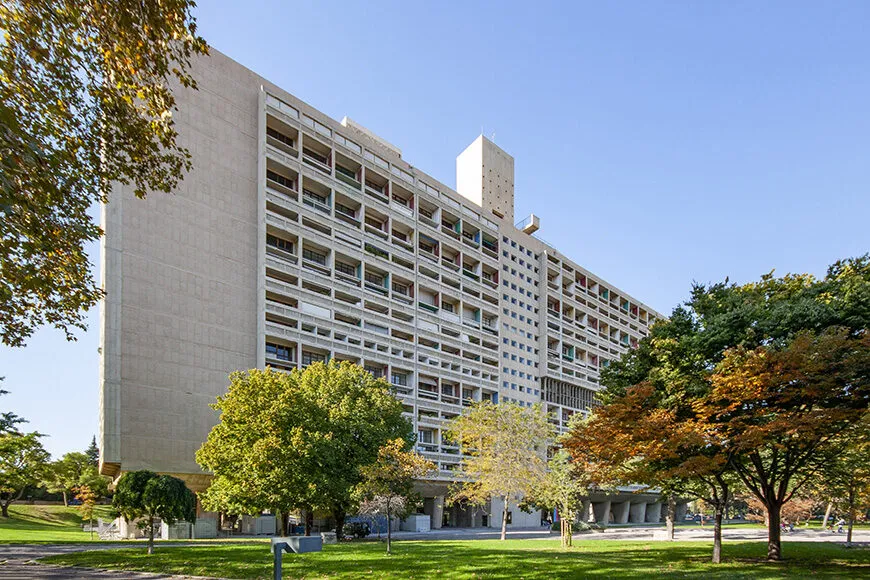 Image Source: inexhibit.com
The structure features a vertical garden City, which integrates all the services a person might require. Every third level is a City street with shops, restaurants, leisure centers, and preschool programs, while the top hosts a gym, running track, swimming pool, and a dramatic stage. Besides, since every module ran the building's length, every unit has a patio and a view on both ends.
2. Geisel Library, California
Architect: William Pereira
Year Completed: 1970
Geisel Library is a remarkable brutalist masterpiece designed by architect William Pereira in the late 1960s. The library is named after local La Jolla author and benefactor Theodor Seuss Geisel. It houses a substantial collection of Dr. Seuss books, drawings, audio recordings, and memorabilia, including a giant bronze statue of the Cat in the Hat that greets visitors.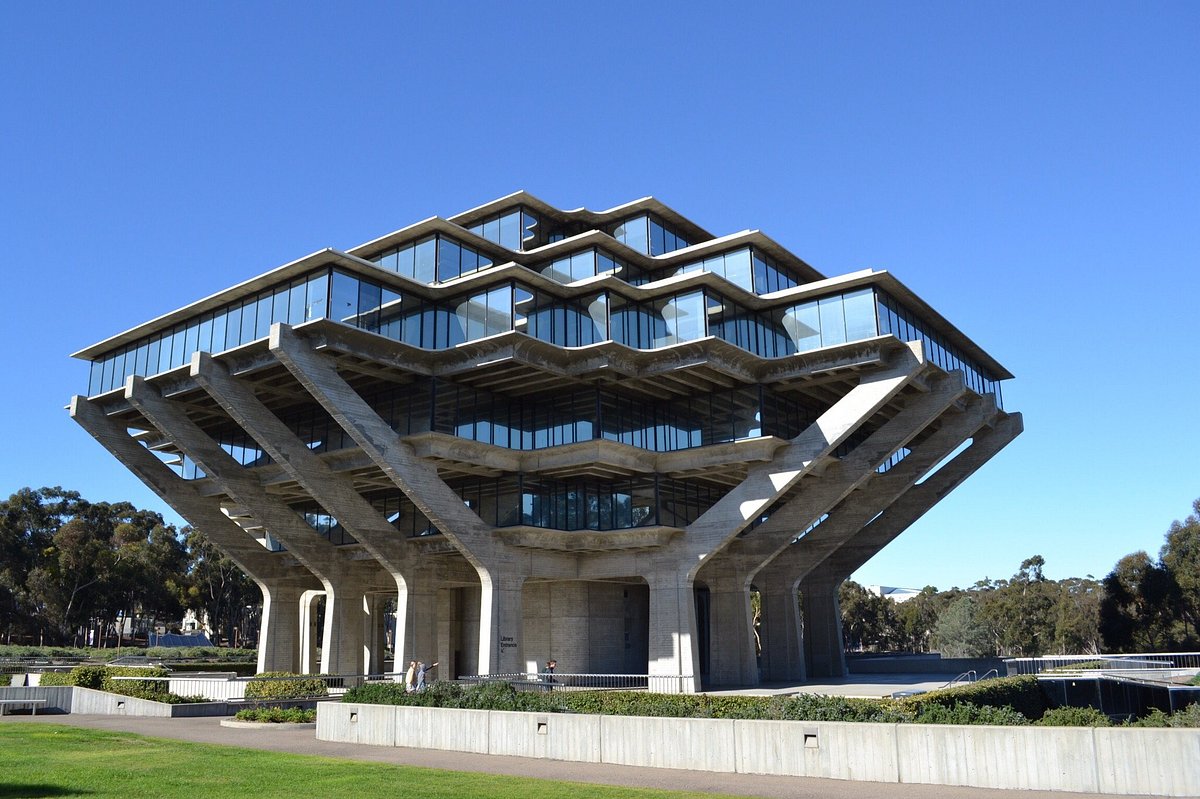 Image Source: tripadvisor.com
The exterior columns on this brutalist-style architecture building are designed to resemble abstract hands, holding up the library floors like a stack of books. On the other hand, the reinforced concrete structure usually creates a sculptural form at the edge of the canyon on the university campus, appearing to descend into the landscape.
3. Habitat 67 Montreal, Canada
Architect: Mosh Safdie's
Year Completed: 1967
Habitat 67 community and housing complex was originally inspired by architect Mosh Safdie's master's thesis. Later, it was built for the 1967 World's Fair. Safdie intended to integrate features of suburban living into an urban environment by using similar prefabricated concrete blocks.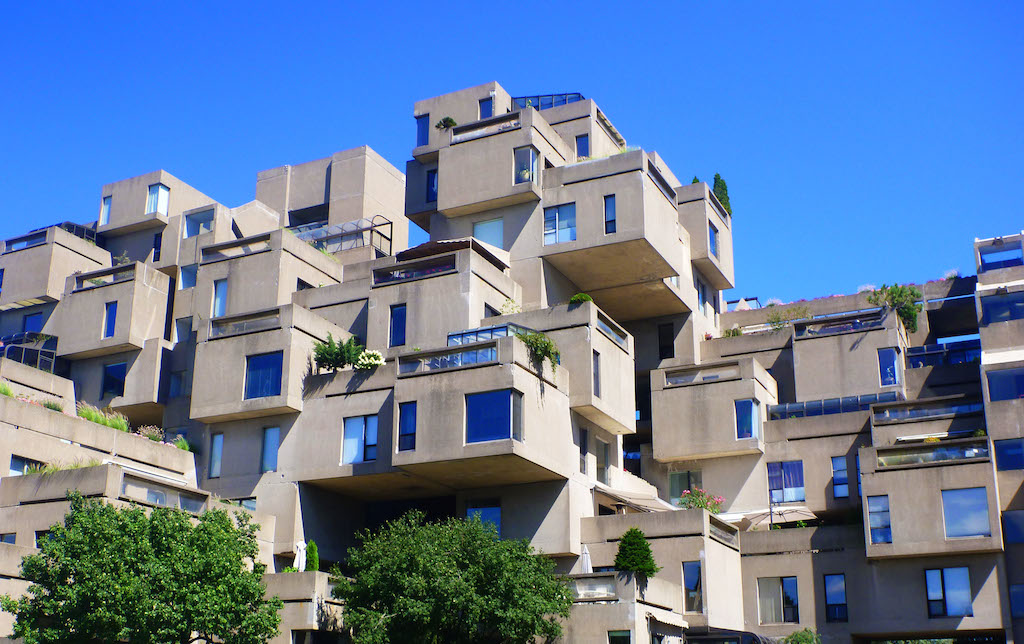 Image Source: abritandasoutherner.com
The brutalist building consists of 354 precast concrete blocks joined by steel wires and placed in random patterns. The structure's profile, which reaches 12 stories, provides the sense of organic development, as though it grew over time through spontaneous social activities.
Besides, the duplication of the basic geometric shape conveys a sense of oneness, while the random arrangement conveys a sense of dynamic energy. This makes the building one of Montreal's most iconic structures.
4. Boston City Hall, Boston, MA
Architect: Kallmann, McKinnell, and Knowles
Year Completed: 1968
This structure is one of the most divisive examples of brutalist architecture. It was designed by Kallmann, McKinnell, and Knowles, who won the 1962 international bid to build it out of 255 competition entries. Many people consider it an unsightly building, while others think it's a great example of American architecture.
Image Source: wikipedia.org
The Boston City Hall was designed to make a statement about modern civic democracy. Besides, the building was designed to express the interior activities of the building externally, using cantilevered concrete forms hanging over an outsized brick plaza, which is unusual for an American government building.
The public can access the lower floors, while the intermediary levels host governmental officials. The large protrusions on the structure at these levels are meant to connect the government and the City.
5. Barbican Estate, London
Architect: Chamberlin, Powell, and Bon
Year Completed: 1968–79
Barbican Estate is located in London in one of the most bombed-out areas. It is a towering complex of 2,000 apartments and houses mixed with cultural buildings. It's a perplexing and interesting, lovely, and uplifting brutalist building. One of the iconic features of the complex is the green squares and the terrace blocks erected on podiums and surrounded by a lake.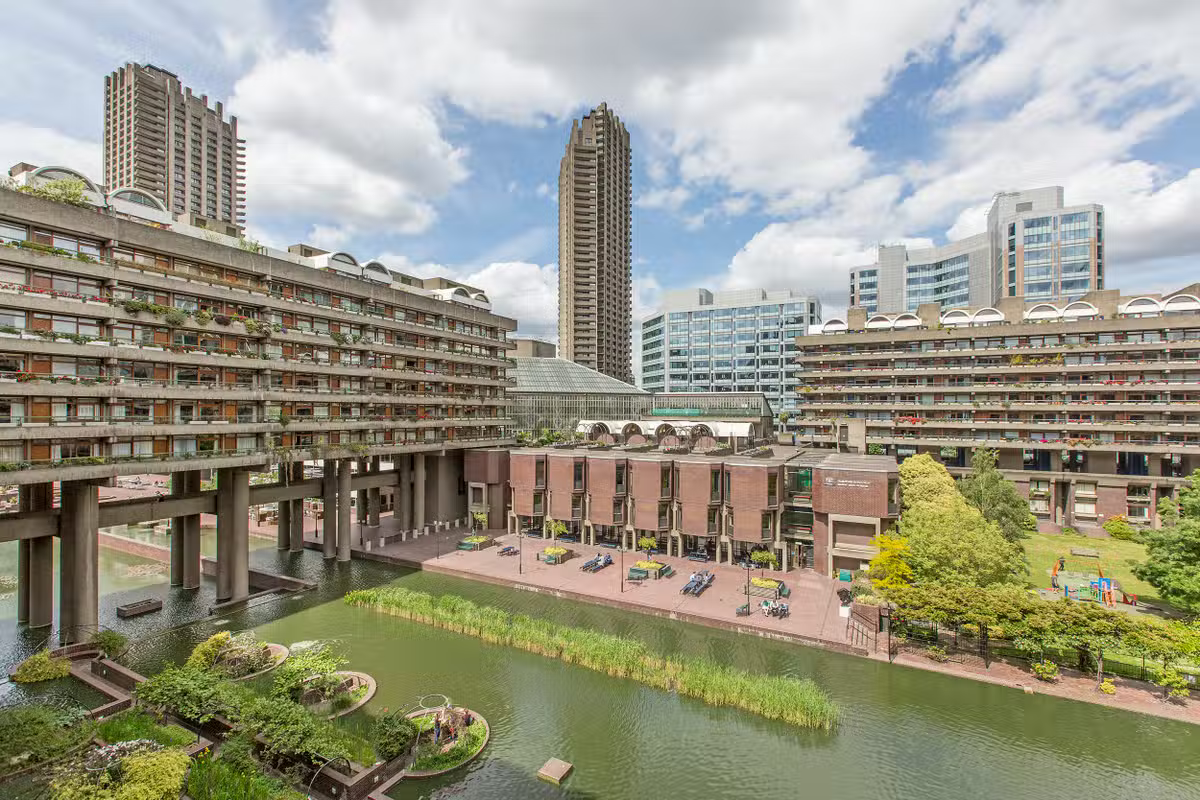 Image Source: standard.co.uk
The objective was to house people in architecturally significant buildings while surrounding them with a utopian dream of art and culture—all in the heart of busy London. Though the Barbican was voted "London's Ugliest Building" in 2003, it's hard to find a London architecture list that doesn't include it these days.
It was revolutionary when it was built to give pedestrians the same prominence as the automobile. The housing complexes and towers were completed first, but the massive arts center wasn't finished until 1982, when Queen Elizabeth personally christened it.
6. The Breuer Building
Architect: Marcel Breuer
Year Completed: 1966
The Breuer Building is one of Manhattan's most avant-garde structures. It's an inverted ziggurat made of granite and concrete and still is. Although it was widely disliked when it first opened as the Whitney Museum of American Art in 1966, it's now regarded as one of Breuer's best works and a good example of the brutalist movement.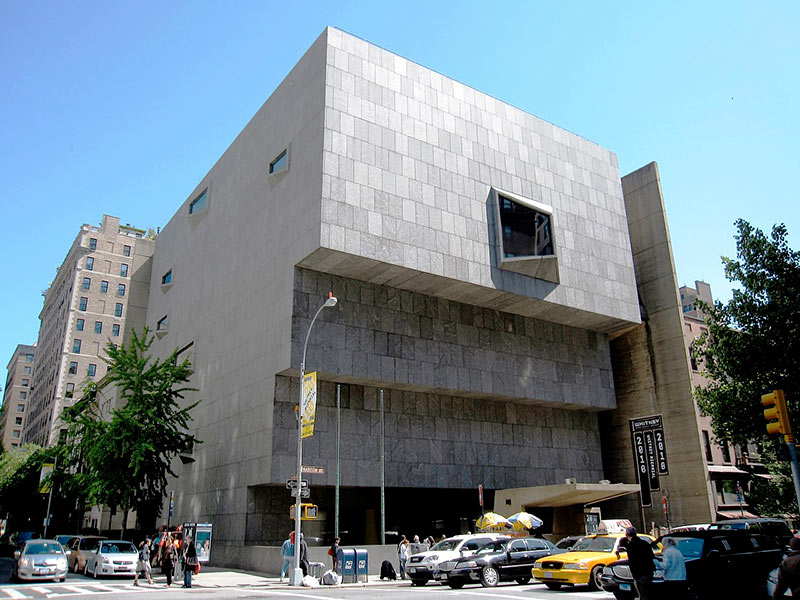 Image Source: lejournaldesarts.fr
Besides, it's one of New York City's most architecturally daring and original buildings; it is renowned as a home for art and a work of art in and of itself. The architect aimed to make a bold architectural statement in an affluent area known for its distinctive limestone apartment buildings and brownstone brick row houses.
7. Royal National Theatre, London
Architect: Sir Denys Lasdun
Year Completed: 1976
The Royal National Theatre is another controversial brutalist structure. Prince Charles once referred to it as a "clever way of building a nuclear power station in the middle of London without anyone objecting." On the other hand, architecture enthusiasts appreciate Denys Lasdun's seamless integration of horizontal and vertical elements. Besides, the architect also designed the structure with the public in mind, using huge outdoor terraces to engage the people.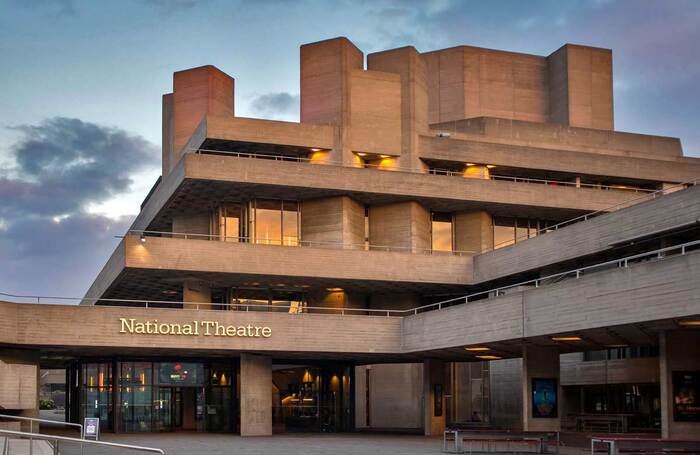 Image Source: thestage.co.uk
The building's bold, stark exterior is made of interlocking concrete forms, creating an imposing and imposingly large structure. Its sculptural presence is further enhanced by its dynamic and asymmetrical composition, which creates a sense of movement and dynamism. Besides, the structure's three main theatre spaces, the Olivier, the Lyttelton, and the Dorfman, are each housed in distinct concrete designs connected by walkways and bridges.
8. Trellick Tower, London
Architect: Ernő Goldfinger
Year Completed: 1972
This architectural design creates a striking and iconic profile with its left-hand service tower, which incorporates a lift shaft connected to the central block on the right by sky bridges. Besides, the exposed concrete tower creates a geometric grid of vertical and horizontal lines, which is complemented by the lines of the sky bridges and the soaring verticals of the utility building.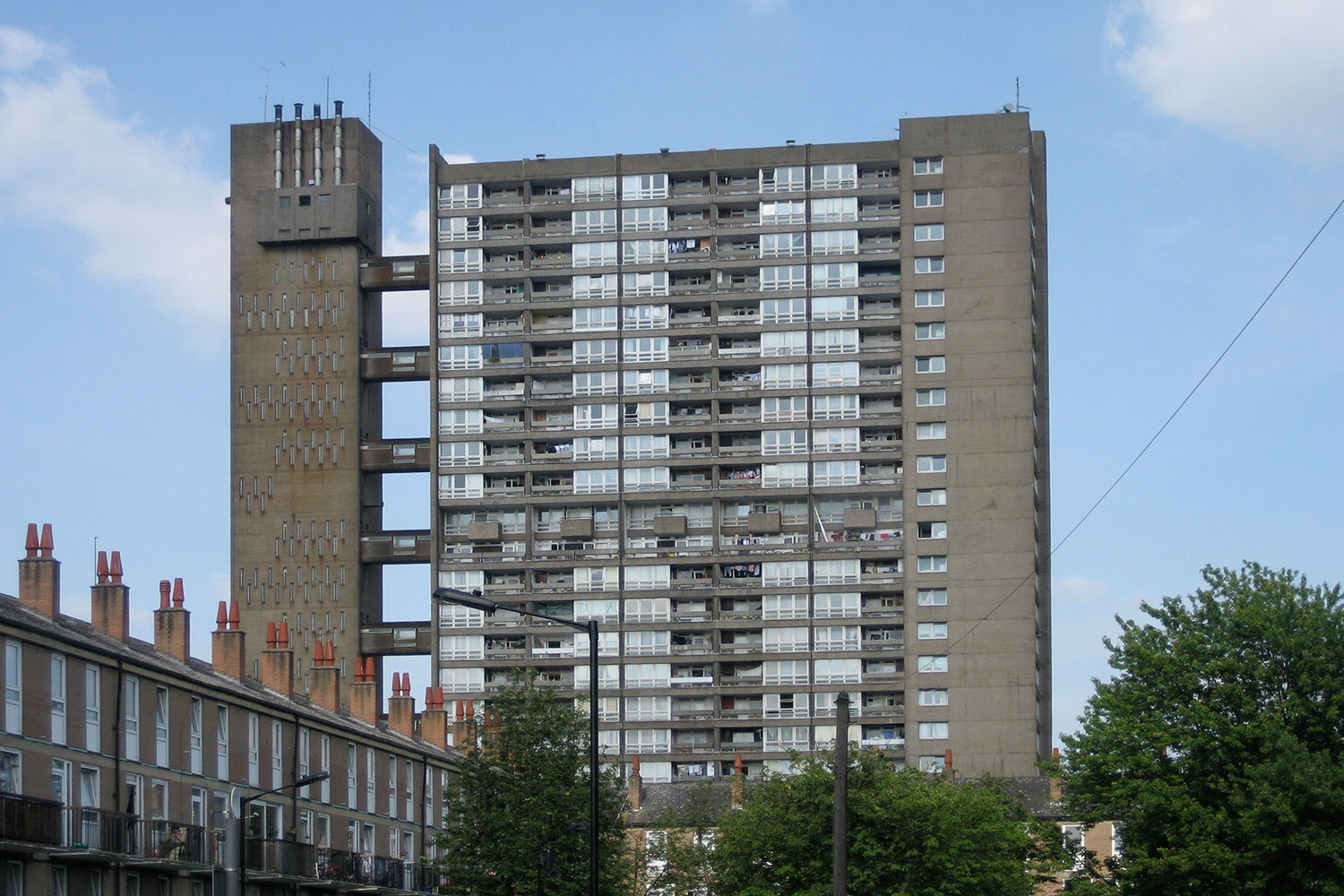 Image Source: designingbuildings.co.uk
The architect's objective was to replace outdated social housing. The design has 217 units, all of which have balconies. Sliding doors, for instance, help save space, while huge windows provide residents with natural light. Trellick Tower is currently a popular area to live in.
Although most units are still reserved for social housing, when apartments become available, they sell rapidly. A three-bedroom house just went on the market for little more than $1 million.
Key Characteristics of Brutalist Architecture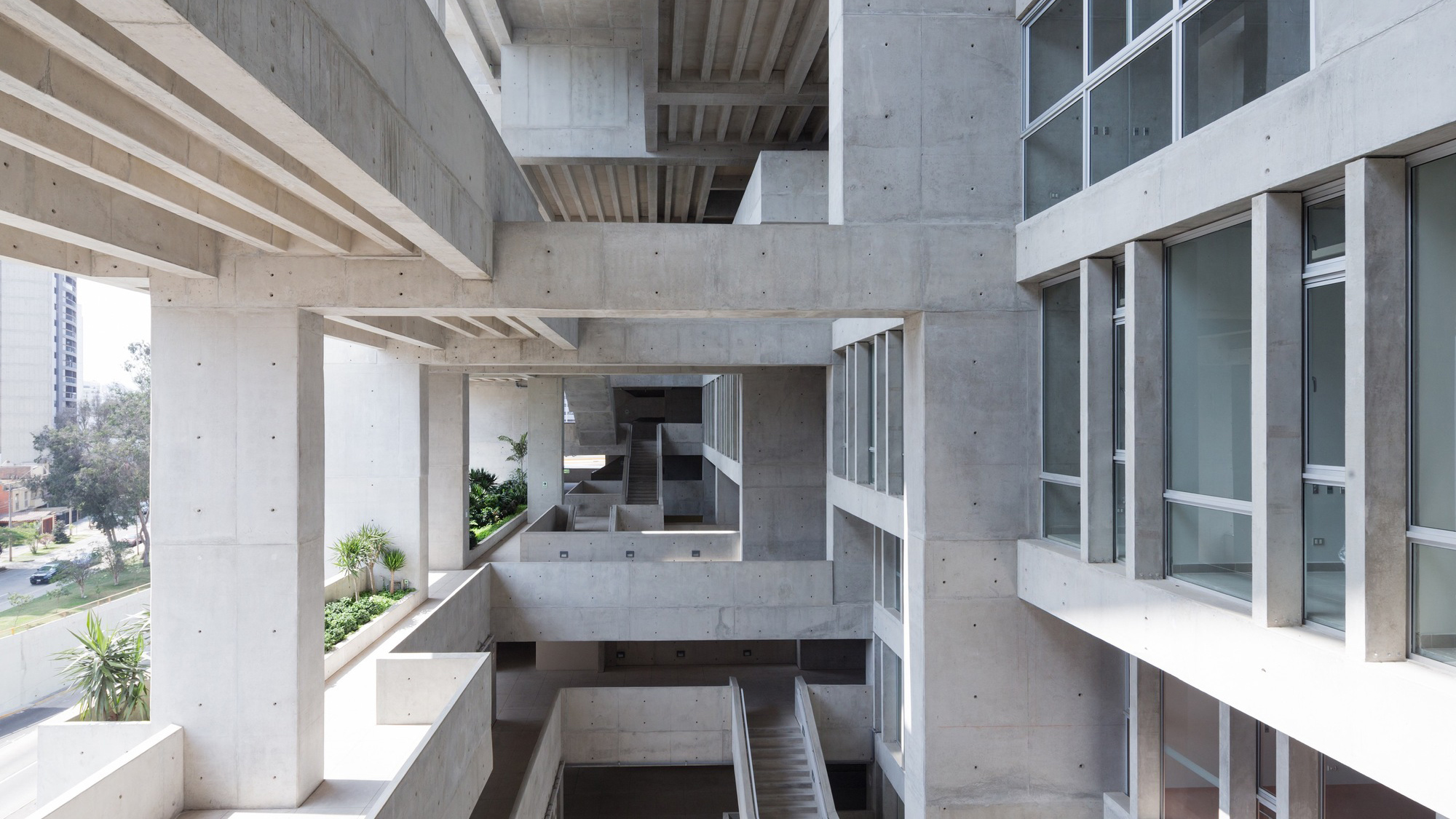 Image Source: creativebloq.com
1. Exposed Concrete
As mentioned earlier, this type of architecture is characterized by solid, exposed concrete, sometimes rough and unfinished shape. This material is often left unpainted or with a single-color finish to emphasize its raw, rugged nature. Other materials, such as rebar, can be used; however, most of the structure will have reinforced concrete or CMU.
2. Monochromatic
Brutalist buildings are monochromatic; they don't rely on color schemes. Because of their lack of color, they're easier to film, which is why they are used as movie backdrops. Besides, dystopian landscapes are also associated with architectural style.
3. Geometric Shapes
Brutalist buildings are often designed with simple, geometric shapes and block designs. This can include rectangles, circles, and other angular forms. Blocks contribute to the thick and dense aesthetic of Brutalist structures.
4. Overhangs
Overhangs are not always constant, but they are not uncommon. Unlike a pyramid, where the bottom is usually bigger than the top, brutalism architecture reverses this pattern, starting small on the bottom and ending large on the top.
5. Small Windows
Brutalism prefers small windows to large ones. Large windows are usually considered a distraction in Brutalism, whereas small windows help focus attention on the building.
6. New Brutalism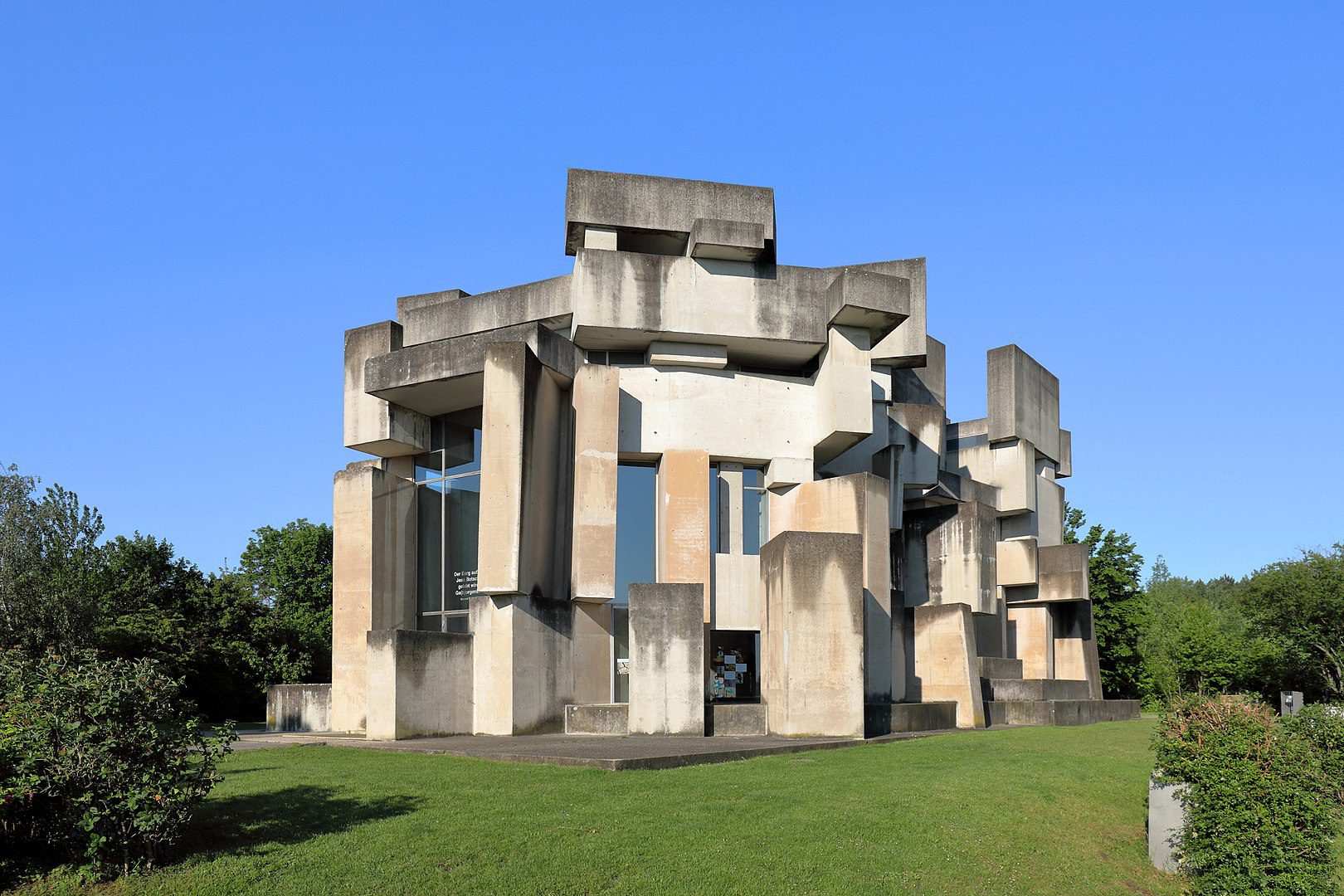 Image Source: discoverwalks.com
Brutalism has aesthetic value. Nowadays, brutalist buildings, unlike the earlier examples, are not all about rebar, reinforced concrete, or rough surfaces.
Frequently Asked Questions on Brutalist Architecture
1. Why Do Brutalist Architects Love the Style?
Mostly, it's because no other architectural style provokes the reaction as Brutalism. Brutalist architecture usually appears heavy and immovable, yet it's aesthetically sculptural, giving it unique characteristics that depend on depth to create compositions and patterns with light and shadows.
2. What's Eco-Brutalism?
This architectural style contrasts two conflicting concepts: nature's lively resiliency and dismal human design. Plants, trees, and other environmentally-friendly components adapt brutalist architecture into eco-brutalist structures. Although these new pieces help brighten spaces and use natural light more, many still believe something needs to be added.
The apartments and structures built in these areas are more attractive than useful, contrasting the area's brutalist roots. They use the inherent tropical environment to include ponds and naturally occurring flora in their designs.
3. Where's Brutalism Most Common?
Brutalist structures were most widely used for institutional buildings and social housing projects since they were economical and quick to construct. Brutalism peaked in the 1970s, and examples may still be found in Western cities like New York City, London, and Boston.
Featured Image Source: bbc.com