Choosing a sofa color is a huge decision as the sofa is usually one of the most important pieces in the living room. You need to make the right move and ruin your interior decor theme. You may be working on a decorating project from scratch or adding a sofa in an already decorated living room. Either way, when you know how to choose a sofa color, you can give your living room a new look.
In this article, we shall discuss how to improve your home decor by selecting the best color for your sofa.
Popular Sofa Colors
Below are some of the most popular sofa colors. They are popular and work well in different ways, and many homes use them for that reason.
a) Gray
The best thing about a gray sofa is its flexibility. It is a neutral color that you can pair with purple, pink, cream, and any other to match your taste. Light gray sofas calm a room, while dark gray creates a cozy cocoon for any living room.
Gray offers various designs ranging from velvet's modern feel to tweed's traditional texture. Additionally available in a wide range of hues and patterns are grey couches.
b) Brown Sofas
Many people are still becoming homeowners, making the popularity of brown sofas likely to grow. Many colors go with brown sofas, and the color has grown popular and has been termed the new black.
Brown is popular with fashion-forward homeowners who have embraced this color enthusiastically. If you are a fashion-conscious individual, you may like darker chocolate or Siennal red-brown. In addition, you can add more traditional tastes, which are more likely to complement rosette patterns found in rich velvet fabrics.
c) Blue Sofas
Strong blue sofas are a timeless option that can help you keep a consistent aesthetic throughout your home. This sofa color adds rich luxury to any room it is placed in. 
This color conjures up feelings of cozy richness. This color is an excellent choice for any home because it also features a family-friendly design. Using these sofas as a base, you can add colors to the area around them with throw pillows, multicolored carpets, comfortable curtains, and any other pieces with colors that go with blue furniture.
d) Black Sofas
Black is all about glamour and drama, making it the new sexy sofa color. It is a perfect color choice for those looking to make a statement. An elegant black leather sofa feels glamorous, giving your living room a polished look.
However, you can choose neutral gray upholstery to soften the edges if you love the idea of black but are unsure you can pull it off.
e) Beige Sofas
Beige is a gentle and calming neutral that makes it simple to create a clean, timeless look. Create a unique style by combining a variety of colors and finishes. The fabric's distinct shades of grey combine to give it a rich depth.
How to Choose a Sofa Color
a) Wall Color
Interior designers suggest that you consider the wall color and the room's general color palette before bringing in a sofa. If your room has neutral walls, you can choose a couch whose color compliments your space. However, if you have bold or patterned wall colors, try opting for a solid-color sofa for the best results.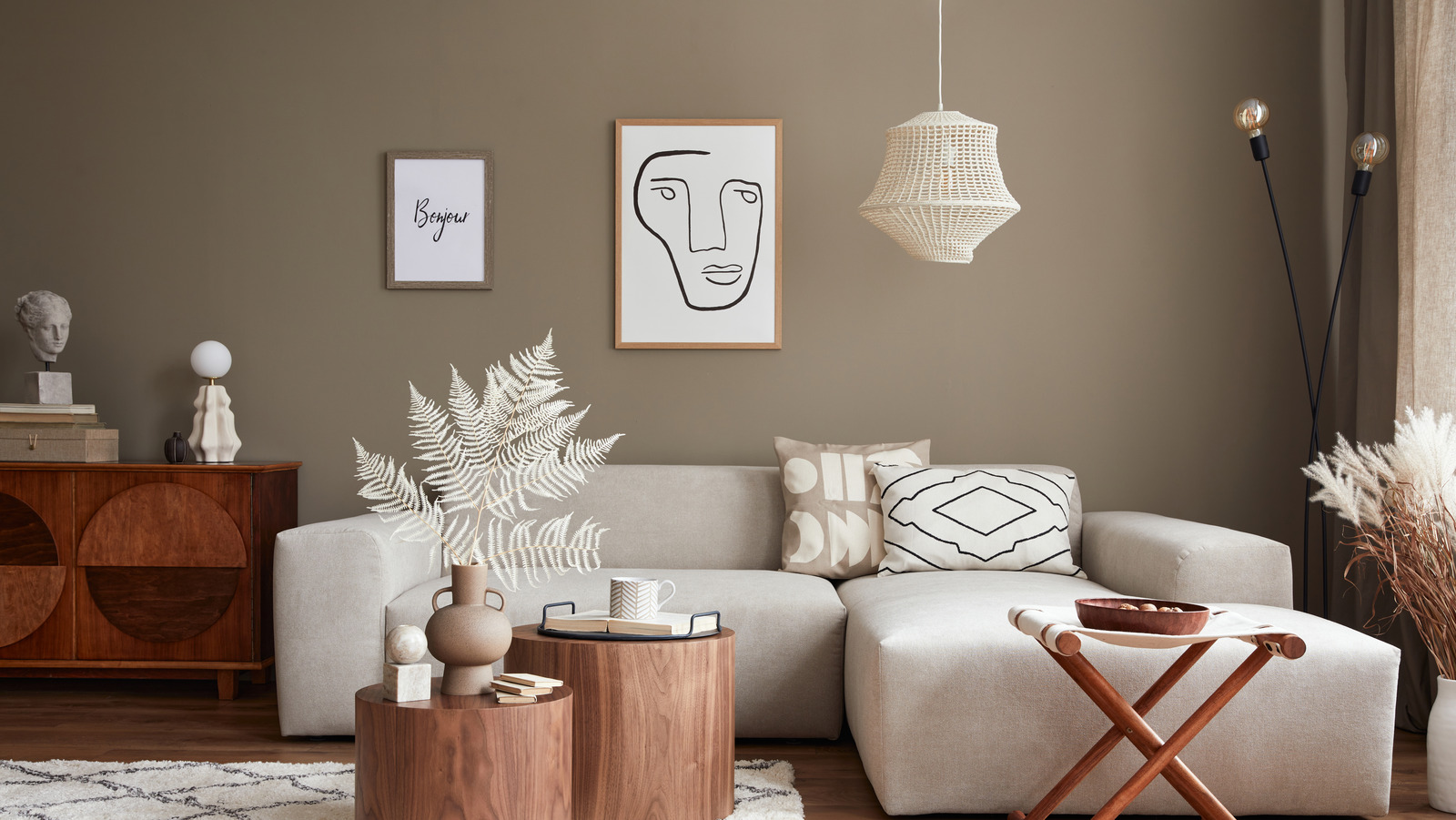 Image source: housedigest.com
You can ensure your space is clear and cohesive by selecting a sofa color that matches your existing color palette. It's just about creating continuity. Ensure you coordinate your couch with the living room paint if you want a flawless finish. Interior designers use this trick of matching the couch and wall colors to enhance the sense of space for small living spaces.
b) Existing Decor Colors and Available Space
Start with the area rug if you already have decor and want to incorporate a new sofa. You can't just bring in any sofa color. So, ensure that your chosen color complements the existing decor to avoid ruining the theme.
Image source: thespruce.com
Also, check the sofa fabric to match it well with the other existing textures. You can match it with that of the area rug to stay in line with the textures already used.
It is also important to consider the space available, as color affects the overall appearance. If your area is small, a bold-colored sofa can be overwhelming. Instead, opt for more neutral or minimalist colors like light gray.
c) Do you Like Light or Dark Shades?
Before you decide to select a couch color, you need to know whether or not you will be buying a lighter or darker shade. You can contrast a sofa with floor color to ensure it works greatly as the focal point, not just blending into the background.
Image source: sofasofa.com
If your house has dark wood flooring, a light-colored couch is the best option. On the contrary, if your floor coverings are light in color, like cream or white carpets, do not get a sofa with the same color, which is likely to create too much of a monochrome look, so dark colors do best.
d) Select a Color that Works with Many Color Schemes
If you plan to have your sofa for a long time, get a sofa with a color that goes with many color schemes. This means that you can redecorate your space without buying new furniture.
Image source: abakusdirect.com
Neutral colors are the best to work with in such cases. However, you are not limited to the neutrals alone, and you can explore and be creative till you get the desired look. If you choose bright colors, ensure you go for the most versatile one, which gives you an easy time during redecoration.
e) Avoid Trends
Sofas are an investment and are usually highly priced. Therefore, you should strive to keep yours for at least seven years. This is why you must avoid trends when choosing the best sofa color for your living room.
Image source: modsy.com
Trends come and go, and following them may leave you with a costly mistake. Although you can pay homage to some trends you like, keeping that on smaller pieces like accents and throw pillows is more important. This may not be as costly as replacing the sofa, so you can eliminate them when the trend goes.
f) Monochrome Match
You can use monochrome matching if you cannot find something appealing. Monochrome matching uses varying shades and tones of the same color.
Image source: thespruce.com
It is ideal for making your living room look well put together and cohesive. Monochrome matching also makes small spaces look visually larger than their actual size.
g) Vivid Contrasts
Depending on your personality and preference, monochrome may be too boring. In that case, you can go for vivid contrasts. Vivid contrasts in a bold color palette may make you look like a professional interior designer; it's just a matter of creativity.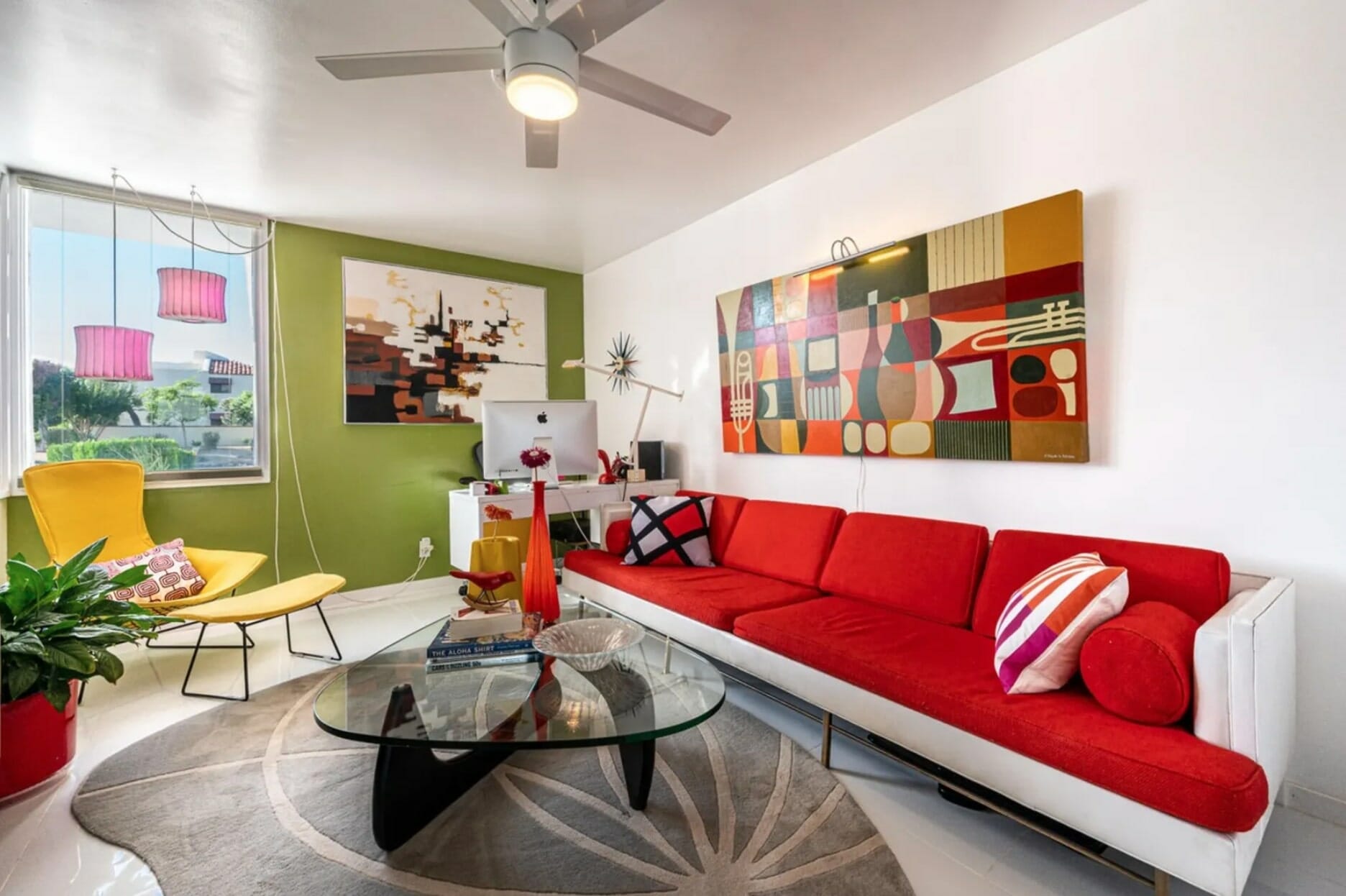 Image source: decorilla.com
Vivid contrasts look better in larger spaces than in such areas, and you can play around with colors, shapes, light, and proportion more freely than if you have a small space. This arrangement's best colors for your sofa are yellow, teal, red, or blue sofas.
What Colors Work with Different Sofa Colors?
If you are designing your home from scratch and have chosen your preferred sofa color, you may want to know what to do next. You need to decide how you'll be designing the rest of the room. We shall look at common sofa colors and what to match them with.
1. What Color Curtains, Walls, and Carpet Go with a Gray Sofa?
Image source: livingcozy.com
Have a look below to see what colors go with gray in interior design.
a) Walls
Gray is versatile, and the possibilities are endless when selecting the best wall colors for your new sofa. You can use anything from a different gray or bright white. Also, you could paint your walls with a bolder color, like burnt orange or emerald green.
All you need is to get the right balance for the shades. It is better to go for contrasting colors. For example, lighter walls will make the space airier if you choose a dark gray sofa.
b) Curtains
There are no hard rules when selecting the best color curtains for your gray sofa. You can use gray curtains, make them lighter than your sofa. However, gray is simple, and you can easily get creative with decorative features.
You can even go the extra mile by using beautifully patterned curtains. However, this also depends on whether you want to use your curtains to make a style statement or to be primarily functional.
c) Floor Rug
If you like having a carpet beneath your feet, it is important to note that a gray sofa works with any color. If you get a simple sofa, you may be trying to create a stylish but understated space. If so, you can use a cream floor rug, which works perfectly.
2. What Color Curtains, Walls, and Carpet Go With a Cream Sofa?
Image source: ahouseinthehills.com
a) Curtains
Consider choosing some off-white curtains with a modest design you love printed or embroidered on them if you want to make your room feel bigger and more airy. Alternatively, you might use a lot of color in this part of your space. Depending on the rest of your color palette, some burnt orange velvet curtains or silky olive green drapes would be ideal.
b) Walls
You have a lot of flexibility to select any wall color you like because a cream sofa goes with practically any color scheme. Your sofa will go well with any color scheme, from neutral colors like navy blue or deep purple to bold neutrals like mink or grey.
c) Floor Rug
Wood or laminate floors go well with cream sofas because they provide a blank canvas on which you may apply color, just like they do with any neutral color. A carpet in the same creamy tone would be an alternative.
Frequently Asked Questions on How to Choose a Sofa Color
1. How do I choose a sofa color?
There are various things to consider when choosing a sofa color. However, one easy way to do so is by basing it around the existing decor. Using the surrounding colors on the color wheel guarantees a match. This also saves you the guesswork of getting the perfect sofa color for your space.
2. What color is best for a sofa?
The best color for a living room sofa depends on the individual's taste and preference. My best may be better. However, some colors go well together and may make the best combination. For example, blue and gray are some popular and matching combinations. You can use blue for your living room sofa and add a gray rug.
3. What is a timeless color for a sofa?
Neutral. Neutral colors like gray, brown, and cream can stand the test when selecting a neutral shade. It guarantees that the sofa will remain versatile and be a timeless addition to your space.
4. What color sofa makes a room look bigger?
If you want your room to look bigger than it is, try getting light-toned sofas in neutral colors. For example, a white, light-gray, beige, or cream sofa could create a sense of openness. The soft hues reflect artificial and natural light entering the room. This effect makes the space look airier, brighter, and more spacious.
5. What color sofa is more practical?
Neutrals are more practical when used in sofas. Brown, beige, cream, and gray have been among the most popular sofa colors due to their practicality and versatility. Blue has also gained popularity over the years, and light shades make the best color choice when you intend to make your space look bigger.