Knotty pine walls and furniture create a perfect playground for colors and there are lots of explorable combinations. When choosing the colors that go with knotty pine, you can comfortably start from any end of the color spectrum.
Since we can work with any color, I have three approaches I use when matching knotty pine.
Warm colors
Cool colors
Earth colors
a) Knotty Pine and Cool Colors
Knotty pine is already on the warmer side of the color wheel and is easier to match with cool colors. Here are a few combinations I work with.
1) Sage Green and Knotty Pine
Sage green is a color that allows knotty pine walls and ceilings to pop while maintaining style and elegance. The color is not shouty at all and has an appeal that is enjoyable to look at. Sage green almost works as a neutral color would but has more character than the typical neutral.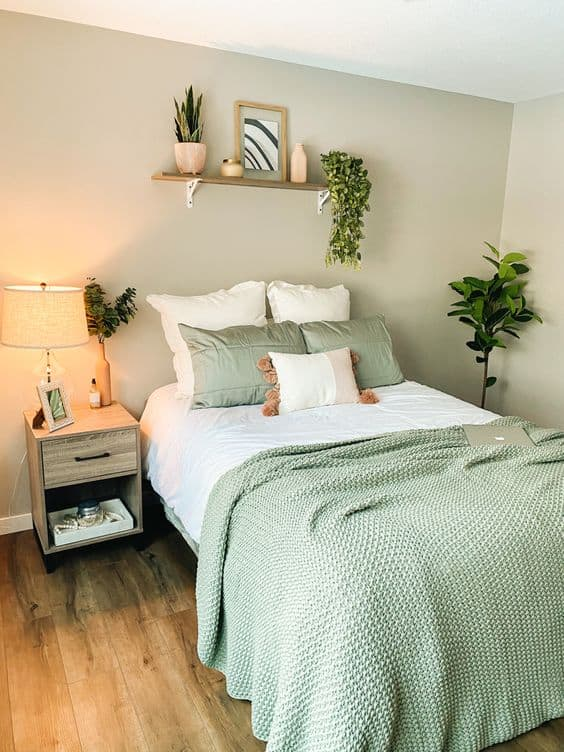 Image Source: roomyoulove.com
The best place to use sage green would be on bed covers and curtains to help keep the focus on the natural look of knotty pine. Additionally, a knotty pine ceiling would benefit from a sage green carpet.
Sage green can work well on doors and window frames against knotty pine walls and ceilings. Still, getting the sage green paint color is a bit hard, but you can get it mixed for you.
2) Knotty Pine and Grey-Blue
The knotty pine and grey-blue combination give an appealing warmth and a '70s aesthetic. You may mistake the color combination for pastel colors as it has a similar feel.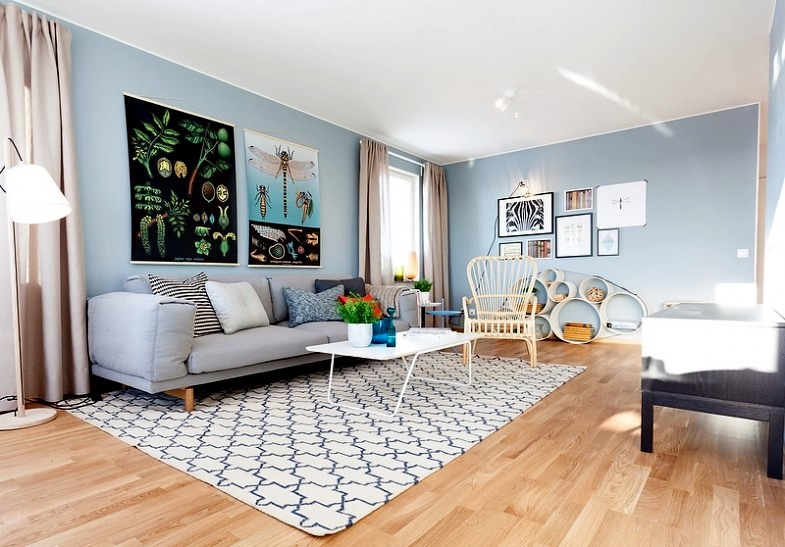 Image Source: ofdesign.net
Looking at a combination of knotty pine and grey-blue gives the same aesthetic as looking at a desert with a blue sky.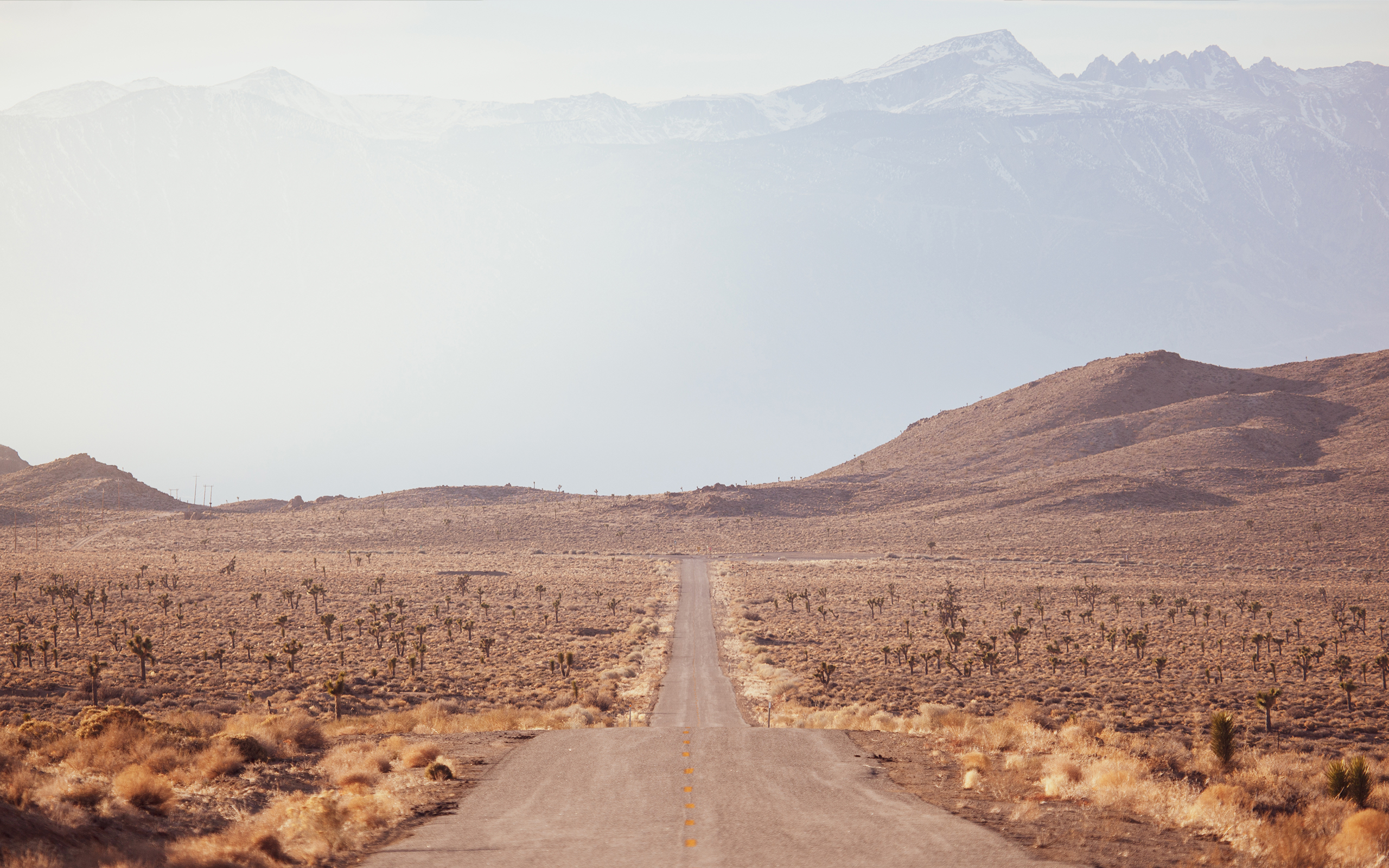 Image Source: bulldogdrummond.com
You can mix and match the color in a room however you want. You can have a grey-blue wall and knotty pine floors or cabinets. Also, you can have a grey-blue carpet and curtains if you have knotty pine furniture. There are many interior design styles to try out using these two colors.
3) Knotty Pine and Black
While black is not on either side of the color wheel, it might belong to the cool side if we had to include it there. Plus, there is a lot of character that black brings to any color. If you have knotty pine walls and floors, black on the doors, window frames, or light fixtures can bring a dramatic contrast to the interior design.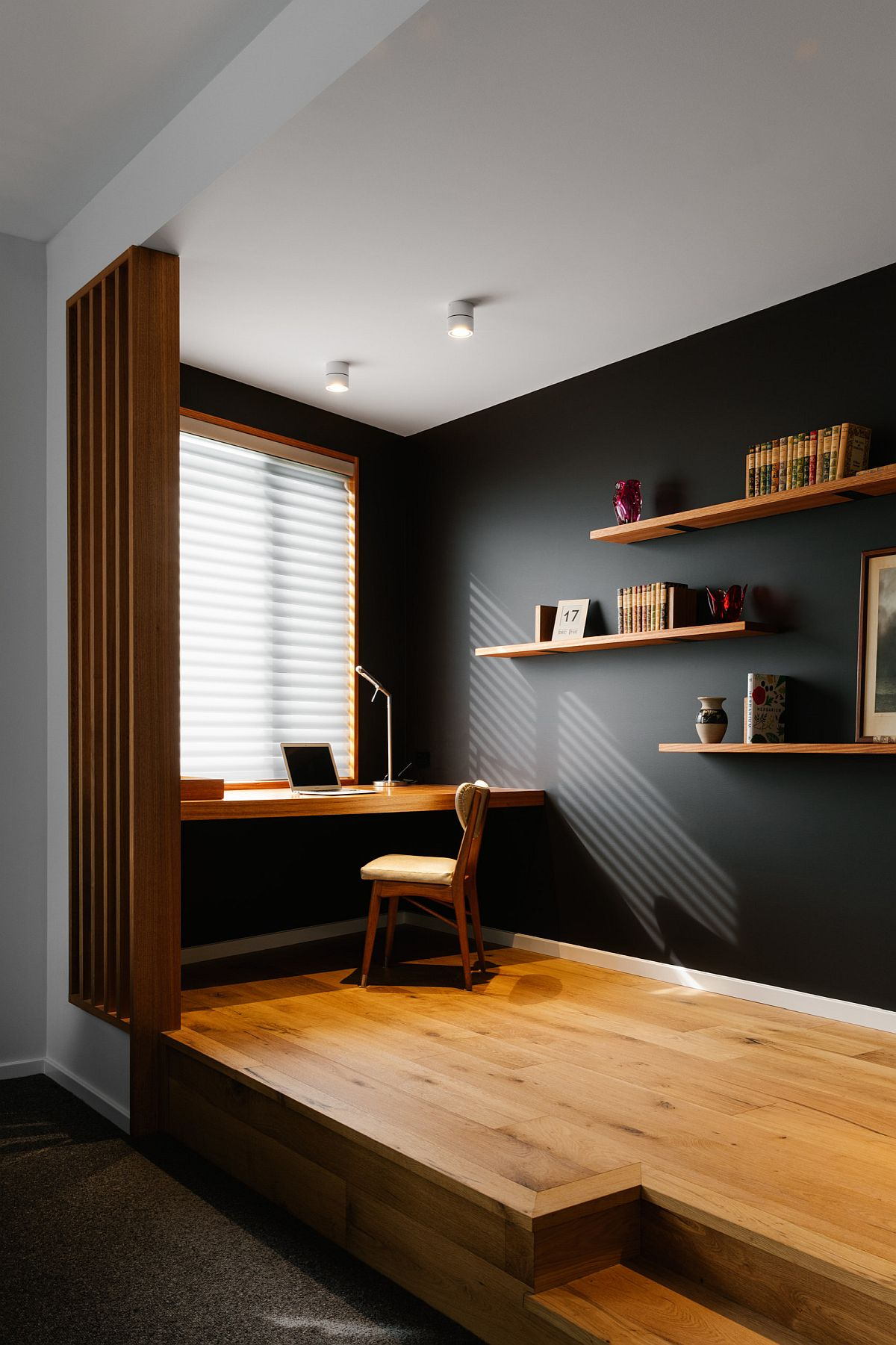 Image Source: decoist.com
Black can work nicely on furniture to bring an elegant finish to a knotty pine interior. However, I would not use black on walls with knotty pine furniture. Combining the two colors like that does not cut it for me.
4) Navy Blue and Knotty Pine
Navy blue really pushes the knotty pine to be visible, while staying strong in its own right. After all, navy blue is deep and easy to contrast using other colors. Additionally, it gives the knotty pine that country vibe and it is easy to introduce a white color to this combination.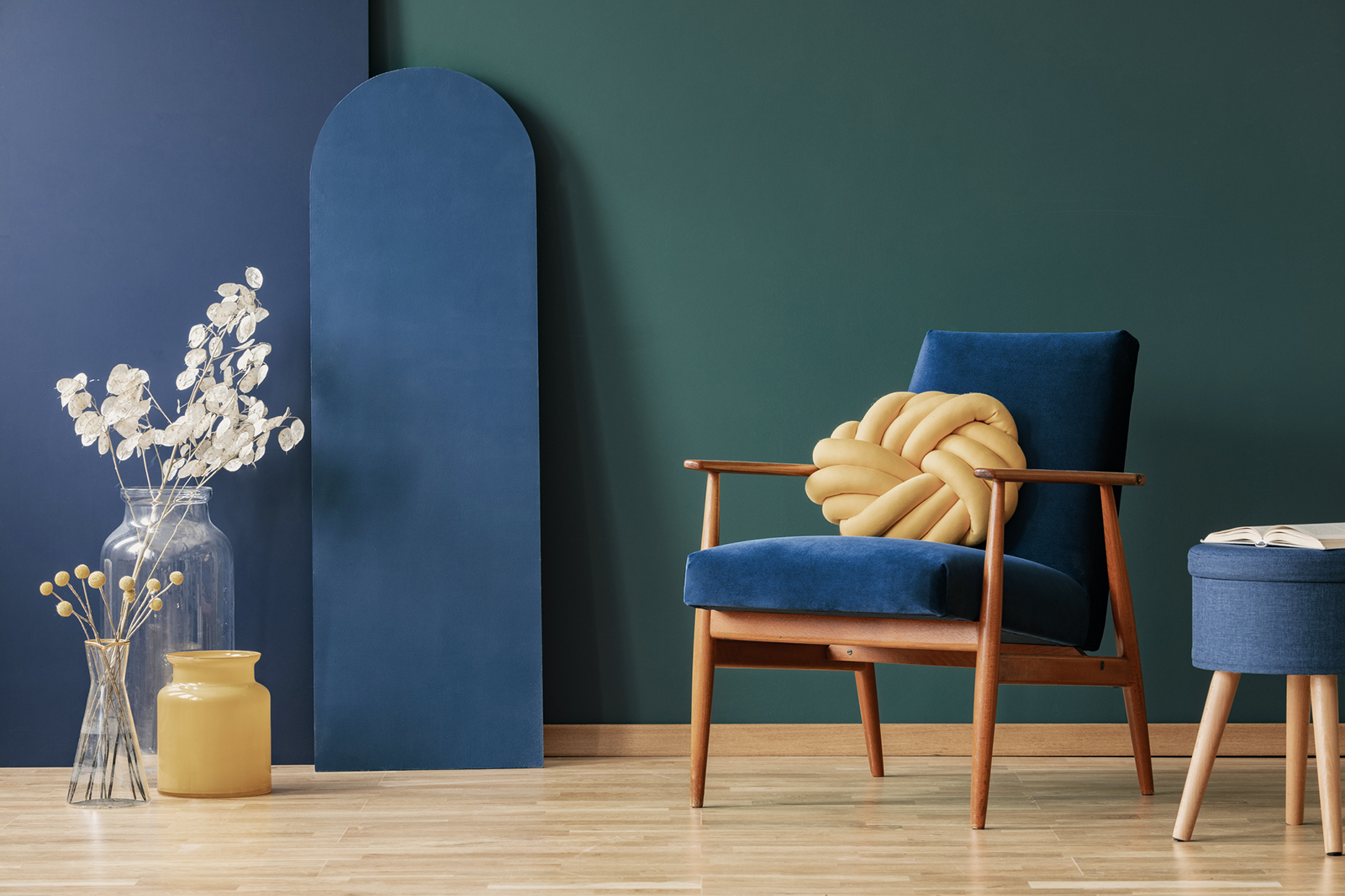 Image Source: interiordesign.lovetoknow.com
I prefer navy blue on couches or the carpet when using this color combination. If I were to use navy on the wall, then it would not be in the entire space but rather on just one side of the room. This brings balance to both colors and makes the contrast more interesting.
Navy blue works well in most country kitchens. Here, you can get utensils and appliances that are navy blue to enhance the look of the kitchen.
5) Teal and Knotty Pine
Teal brings a complex texture to the game and has a very rustic appeal. Knotty pine rooms would not go wrong with rustic teal furniture. After all, teal matches perfectly with warm tones like the one a knotty pine wood would have.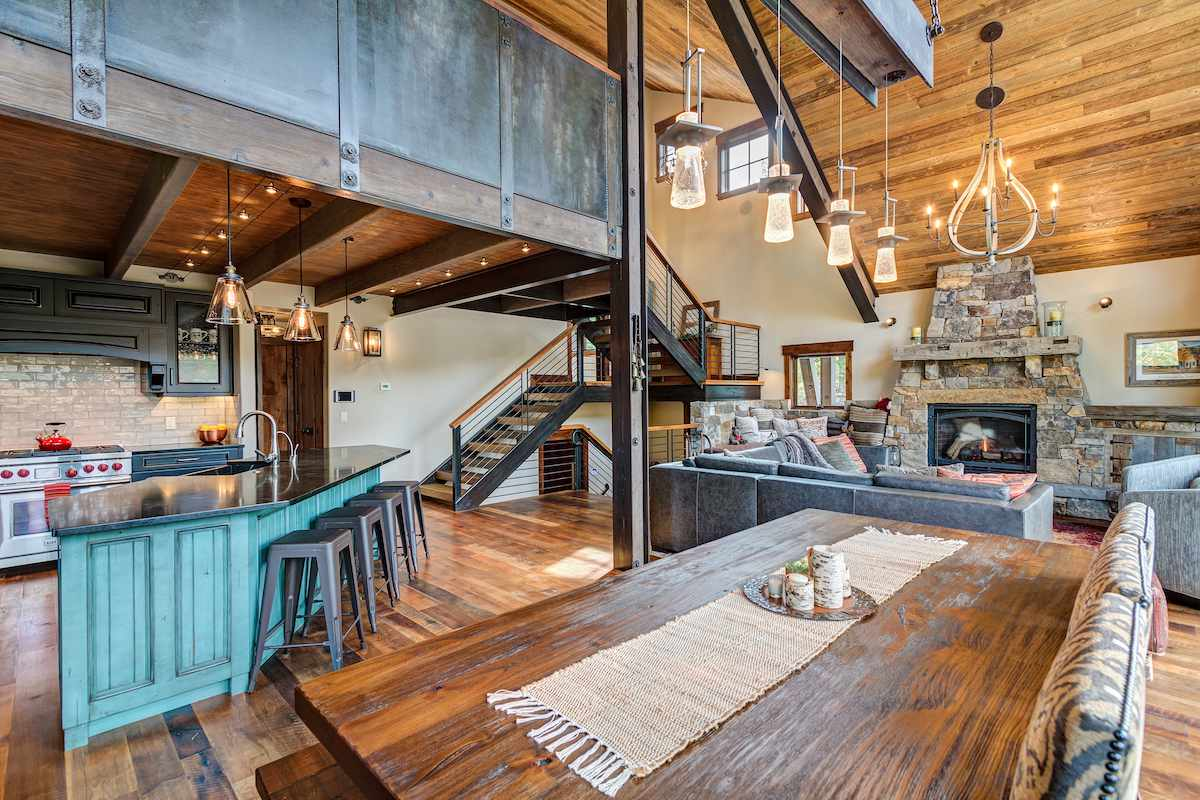 Image Source: mydomaine.com
The best thing about working with teal is I can layer it over knotty pine wood and bring a rusty feel to the wood. Nevertheless, I prefer using teal on wooden furniture and not on fabric or couches.
6) Forest Green and Knotty Pine
The best place to pick inspiration is from nature and what better situation than when designing the interior of a house? Forest green works well for wainscotting. Hence, a mixture of forest green paneling, white walls, and knotty pine furniture is a rich combination that I prefer over almost all other combinations.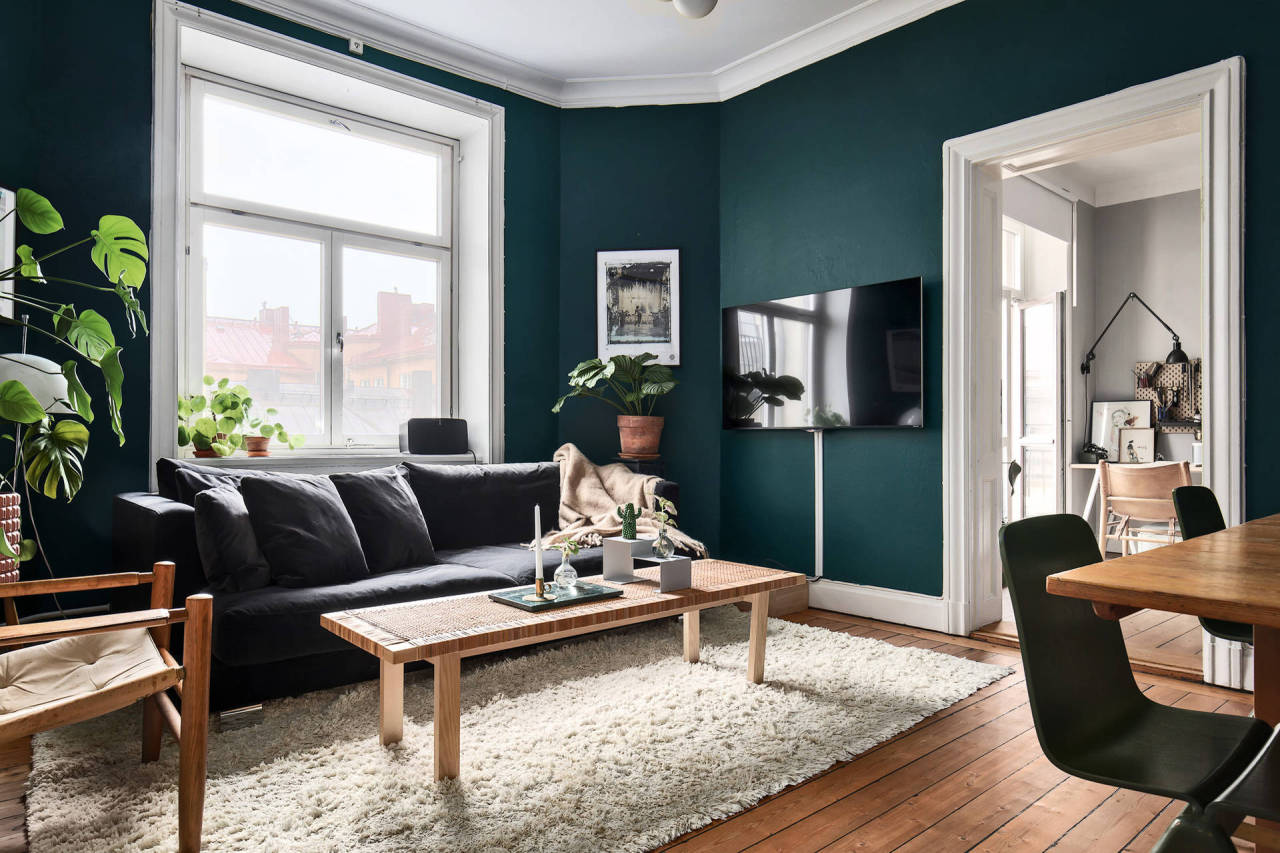 Image Source: pinterest.com
Furthermore, the combination makes it easier to have other things such as picture frames of your color choice, and even curtains or cushions. The reason why other colors can work with this combination is that the three colors would act as a backdrop and not the main characters in a room.
b) Warm Colors and Knotty Pine
Knotty pine is already one of the warm wood tones. Therefore, a lot of care has to be taken when mixing knotty pine with warm colors.
There are some elegant combinations I love using to make exciting interiors during my house remodeling projects.
a) Mustard/Lemon Yellow and Knotty Pine
Knotty pine is a warm color and matching it with other warm shades does not bring the contrast required for a color to be exciting. However, lemon yellow paint colors are vibrant enough to contrast with knotty pine wood paneling.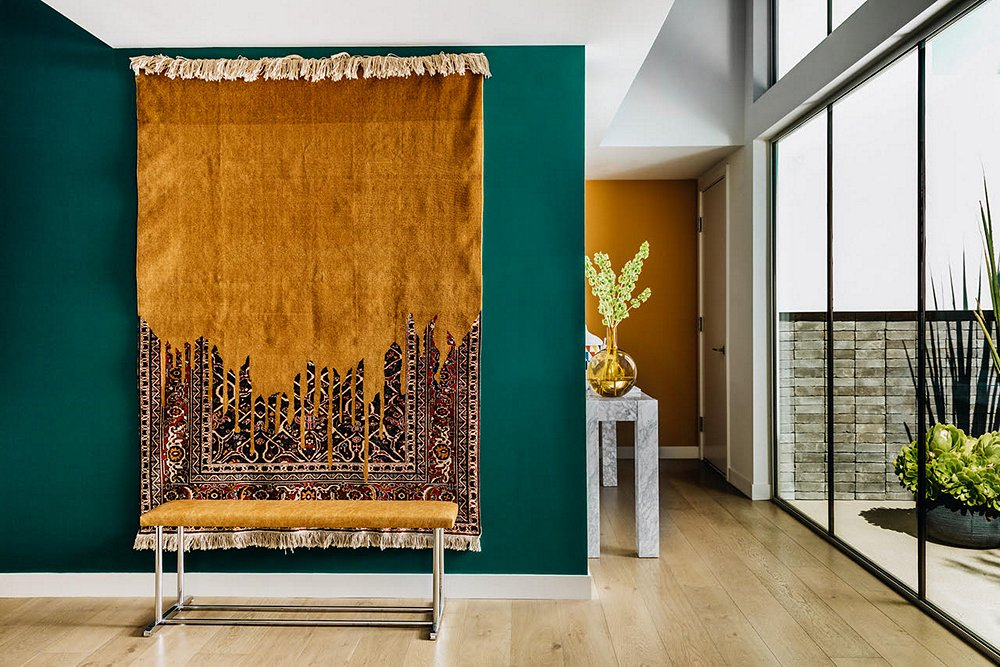 Image Source: blog.onekingslane.com
I would not use any yellow in the entire wall, but in sections to break the monotony. If I have knotty pine walls, I would use mustard yellow curtains to create some excitement. The other way to do it is to paint one wall in a room with yellow paint, and the rest can keep their knotty pine look.
b) Knotty Pine and Red Interior
If I am going for a Scottish vibe, red and knotty pine is the combination I would prefer. This mixture would work if my interior design is themed.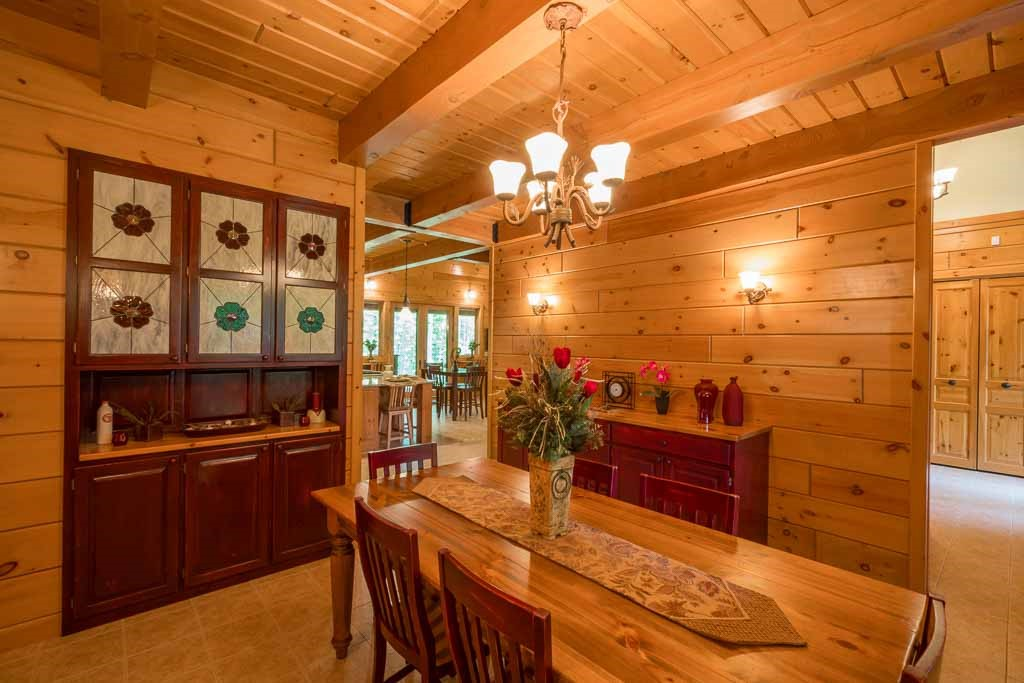 Image Source: woodworkersshoppe.com
The Scottish vibe works if I get checkered designs. Also, there are more combinations that can work for red and knotty pine. One combination I have found to blend really well is using a dirty or faded shade of red. This combination is exciting to use on couches or bed covers.
I like using red if there is knotty pine on all surfaces including walls, ceiling, and flooring material. Since red works with natural wood easily, it will have no problem blending with knotty pine paneling and other surfaces.
c) Knotty Pine and Crimson Interior
Traditional knotty pine and crimson are the closest to a royal interior you are going to get. I love this combination in the bedroom where I can be bold with crimson and throw it all over the bed. Crimson and knotty pine can work well for a bar in the house as they blend nicely with the wine bottles.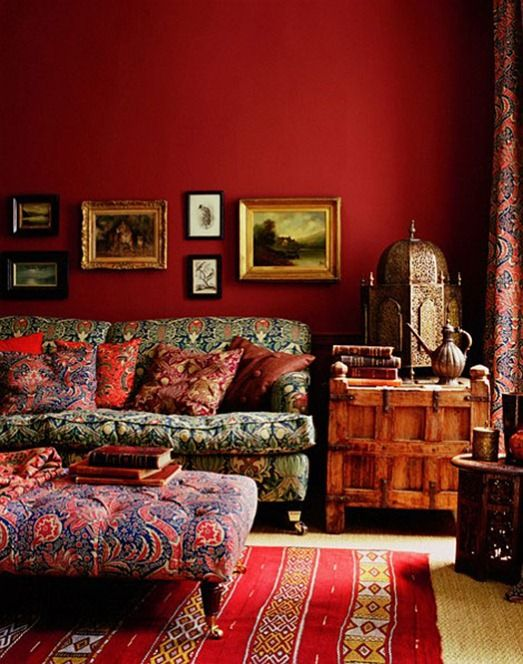 Image Source: balancedfoodandfuel.com
Crimson looks nice in a library as well. Plus, the one way I can use crimson in the living room is to have it on the curtains.
d) White and Knotty Pine
There are very limited ways to use the white and knotty pine color combination. To begin with, I would go for a white wall and a knotty pine floor. The other place I would use the combination is on wooden seats with white cushions. Otherwise, there are a few other places I would prefer the combination on.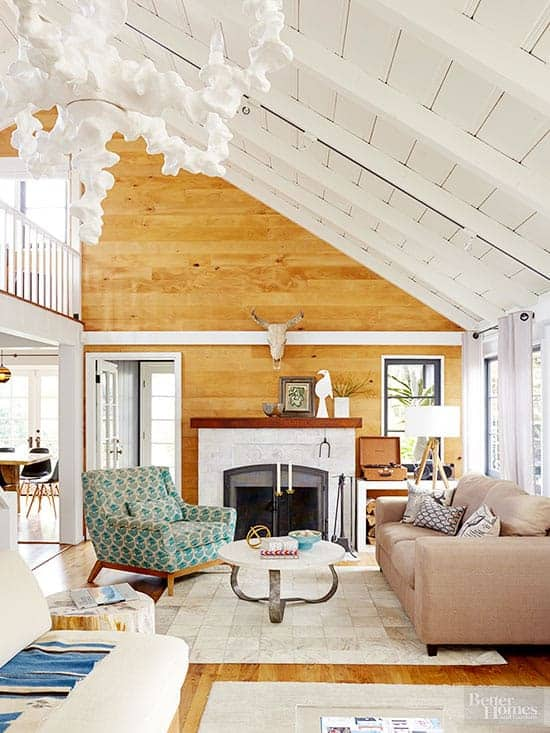 Image Source: bhg.com
To make the white wall interesting, I would add wainscoting to it.
c) Neutral Colors and Knotty Pine
The easiest colors to match with any other are neutral or earth colors. Knotty pine goes well with decor styles involving neutral colors if used well. Let's look at a few examples.
i) Knotty Pine and Taupe
Taupe works like magic with redwood flooring and will definitely work with knotty pine. Taupe normally blends with a darker shade, and I would advise that a third color should be introduced in the combination of knotty pine and taupe.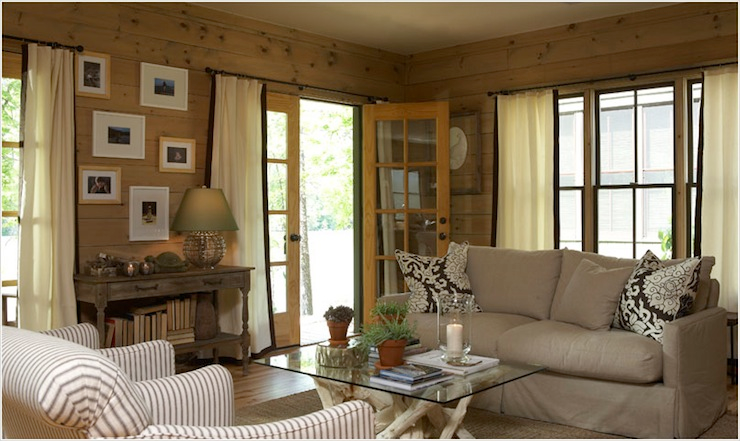 Image Source: decorpad.com
A great third color can be metal grey or even black. The very few instances where I would use black on the flooring is when taupe is involved. Plus, taupe will never go wrong on the couch.
ii) Knotty Pine and Off White
There is hardly a color combination as satisfying as off-white and wooden interiors. These two colors are simple and not in each other's faces. If you are a minimalist, this is the combination for you.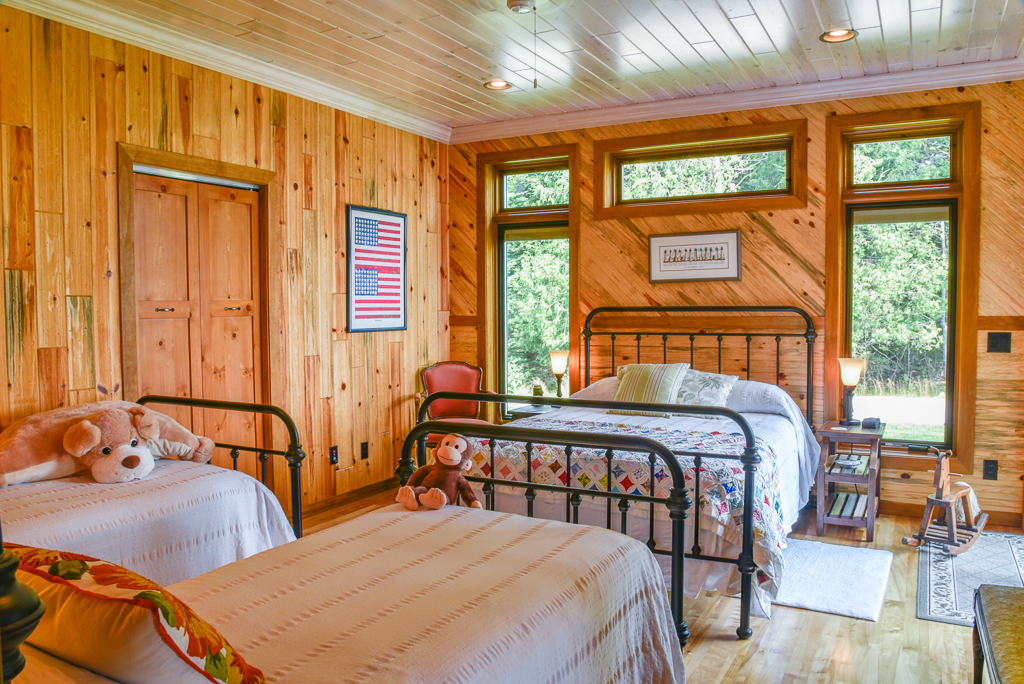 Image Source: woodworkersshoppe.com
Most modern looks go for off-whites and chocolate or caramel interiors. Luckily, knotty pine is not too far off from these brown or caramel.
iii) Knotty Pine and Ivory White
Ivory white is a special kind of white to have on the wall as it gives brown colors a lot of character. Knotty pine is no exception when it comes to using Ivory white.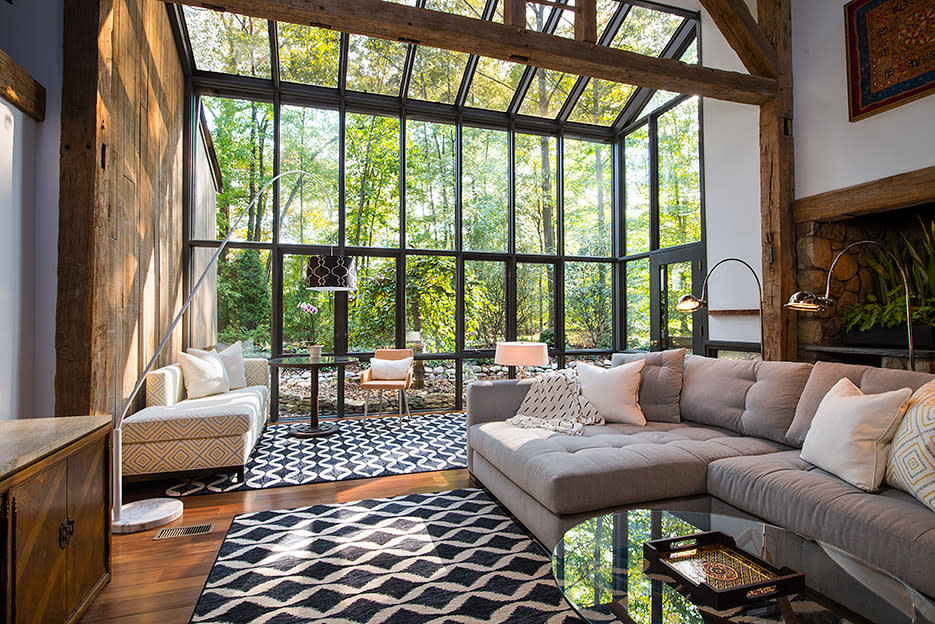 Image source: onyxivory.com
Ivory white can comfortably sit on any part of the house and look nice. Whether it is on the wall, couches, or carpet, ivory white never misses.
iv) Knotty Pine and Grey
Grey is a popular neutral color. Additionally, it is a great place to start when working with knotty pine because it will create a base for the color to stand on. Grey contrasts knotty pine well because it is dark and knotty pine is a warm color.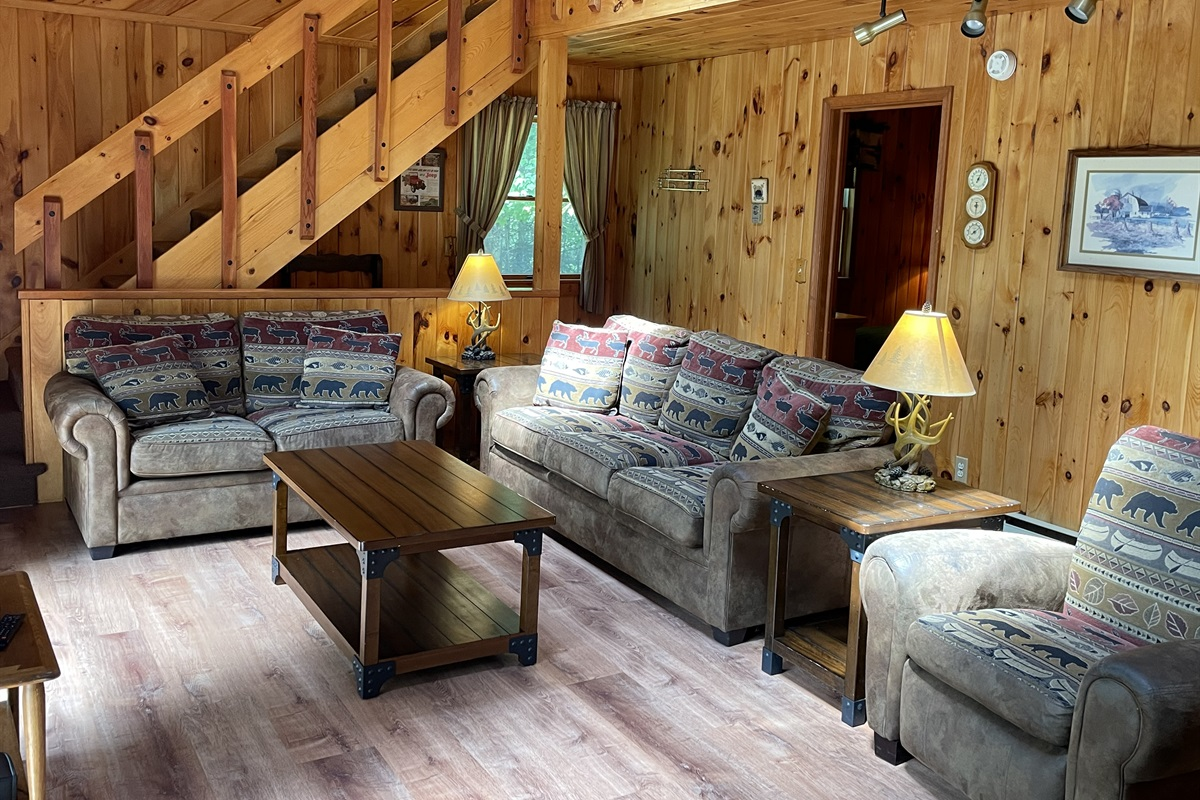 Image Source: cooperstownstay.com
A plain grey will make the knot pattern created by pine wood stand out. Moreover, combining grey and knotty pine makes it possible to have other colors, whether warm or cool. White can work perfectly with a combination of grey and knotty pine.
Final Take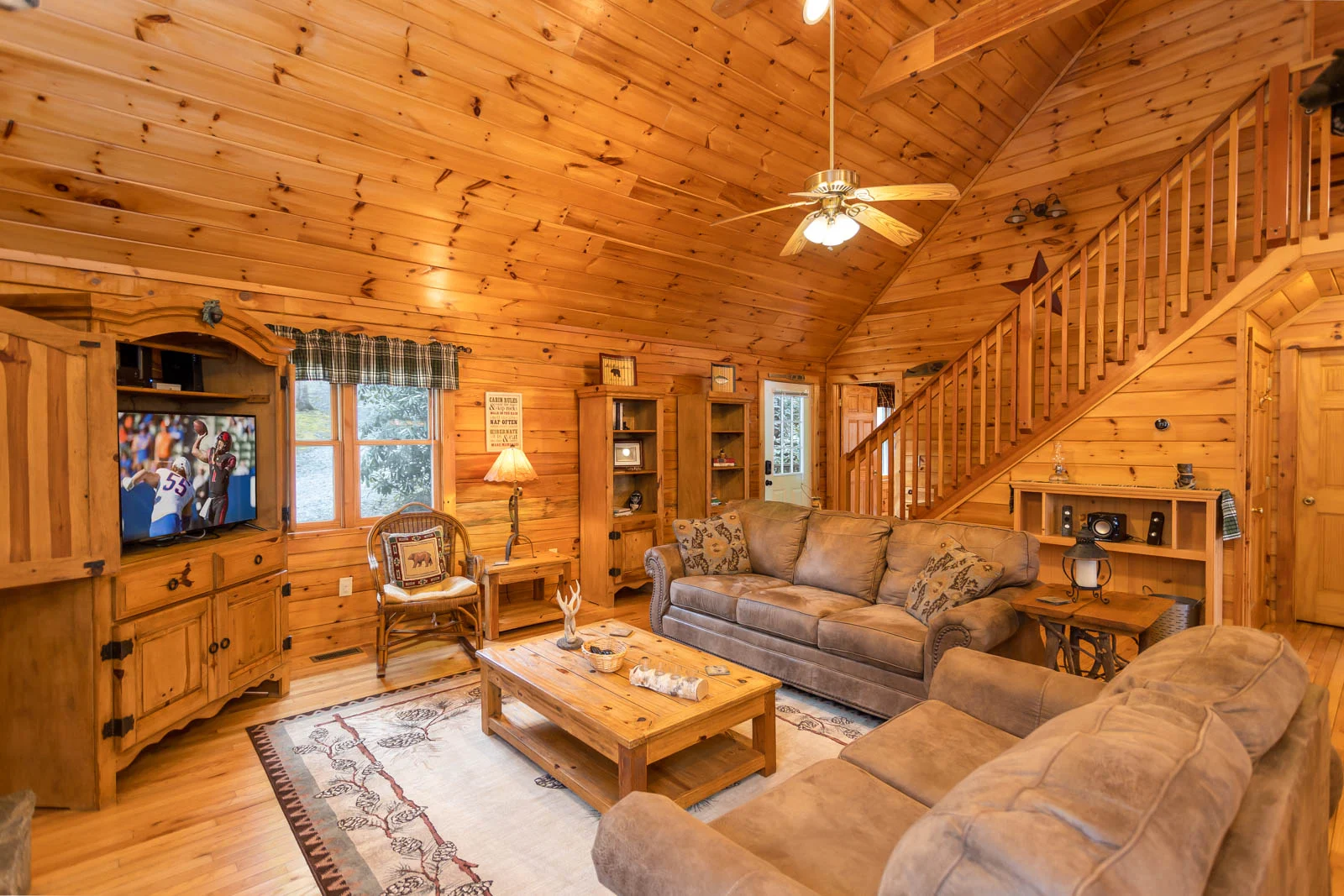 Image Source: carolinacabinrentals.com
Combining paint colors is one of the things that is both an art and a science. Knotty pine is one of those rare ingredients I like playing around with to come up with a neat and exciting interior design. Knotty pine will always catch the eye and is a good place to start when designing the interior of your house.
Featured Image Source: woodworkersshoppe.com