Thanks to its versatile nature, navy looks wonderful with almost everything, and there are many colors that go with navy blue. It is a primary modern neutral color that blends with almost any color, including other shades of blue. Colors that go with navy blue are not difficult to find since it is neither warm nor cold and, interestingly, belong to the neutral category.
Navy blue is one of those colors that works nicely in just about any setting, whether it be a home office, library, bedroom, or bathroom. It is your best option to avoid using the common neutral colors in your room. However, to improve the overall appearance of your room, you must combine this rich color with other colors because it cannot be used on its own.
Notably, it's important to understand navy blue's psychology before you start incorporating it into your space. Dive in!
What is the Psychology of Navy Blue?
The color navy blue is considered to give confident and strong vibes that help clear negative energy from any room or space. Moreover, because it is a dark hue, navy is linked to dusk and the passage between the light and dark phases.
Generally, blue is known to have a calming effect on the body and mind, which makes navy blue a perfect color in the bedroom. However, the navy blue color scheme is also associated with law enforcement, where the navy is associated with power and authority to convey superiority or dominance.
The navy color is also heavily associated with beach and nautical themes, which is why it's mainly used in coastal-style interior decor.
If you are interested in using navy blue as part of your home's color scheme, check out the color pairings we have listed below to inspire the best combinations that work perfectly with navy blue.
What Colors Go with Navy Blue?
Navy blue is an elegant and sophisticated color, making it a perfect alternative to neutral colors. Also, since navy blue is rich, it must be balanced with other colors in any space. Read on to learn in-depth which colors go with navy blue.
1. Navy Blue and White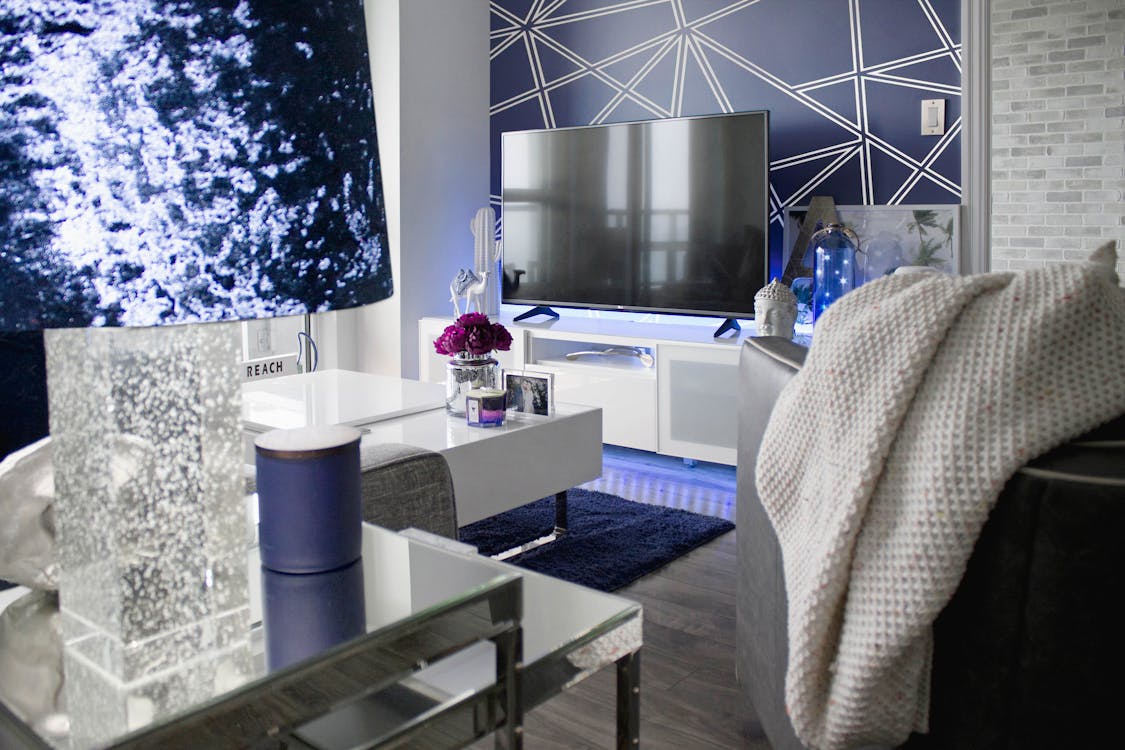 White and navy blue is a classic color combination, mainly used in striped fabric to make nautical-themed curtains. If you want to create a coastal or nautical theme, the white and navy blue color pairings are a straightforward choice.
Dark navy and light white contrast sharply, creating a striking look that is easier on the eyes than monochrome and has a more relaxed vibe. Bring the coastal vibe using navy blue cushions or small navy blue accessories like vases, candles, or wall hooks.
However, suppose you want to use white and navy blue colors without hitting the nautical theme. In that case, you can use luxurious fabrics not associated with the beach, like white faux fur cushions or a navy velvet armchair.
The elegant pairing can create visual depth in spaces with a lot of white furniture by adding navy blue accents like rugs and pillows. Alternatively, you can have navy blue walls or paint one of the walls navy blue to warm up the space.
Opt for large navy blue swathes like navy blue walls, navy blue bed linen with little white splashes like a white picture frame, or a white lampshade to achieve a sophisticated look.
2. Navy Blue and Pink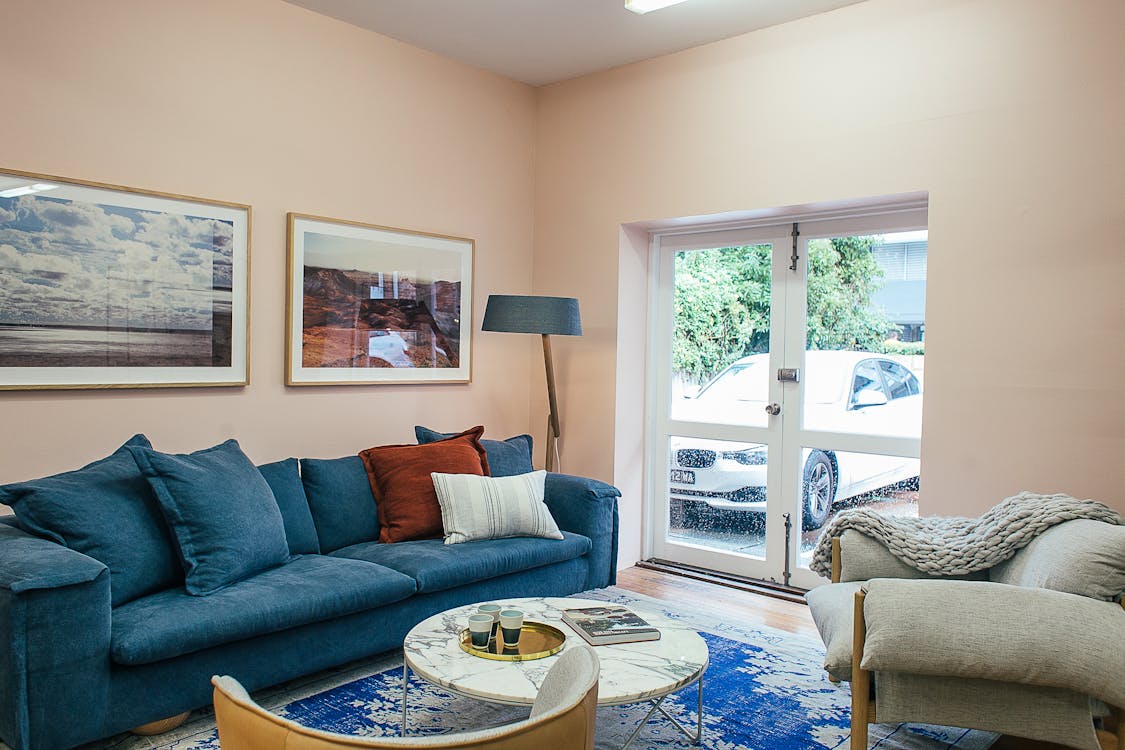 If you prefer to pair navy blue with a color that will make a bold statement yet still be feminine, then navy blue and pink are perfect. However, you will need to use pale shades of pink, such as blush pink, to soften a navy blue room and textures like silk or velvet.
Alternatively, add a neutral color and use simple textures to even out your color palette. A perfect example is a dark beige or light brown, where you can incorporate light brown wood flooring or a leather accent chair to prevent intensity from the navy and pink colors.
Another way of pairing navy blue with pink is by grounding the room with a navy blue and pink patterned rug or using throw pillows of both colors. Try to keep the large furniture pieces in neutral colors to balance the boldness of both colors.
3. Navy Blue and Shades of Blue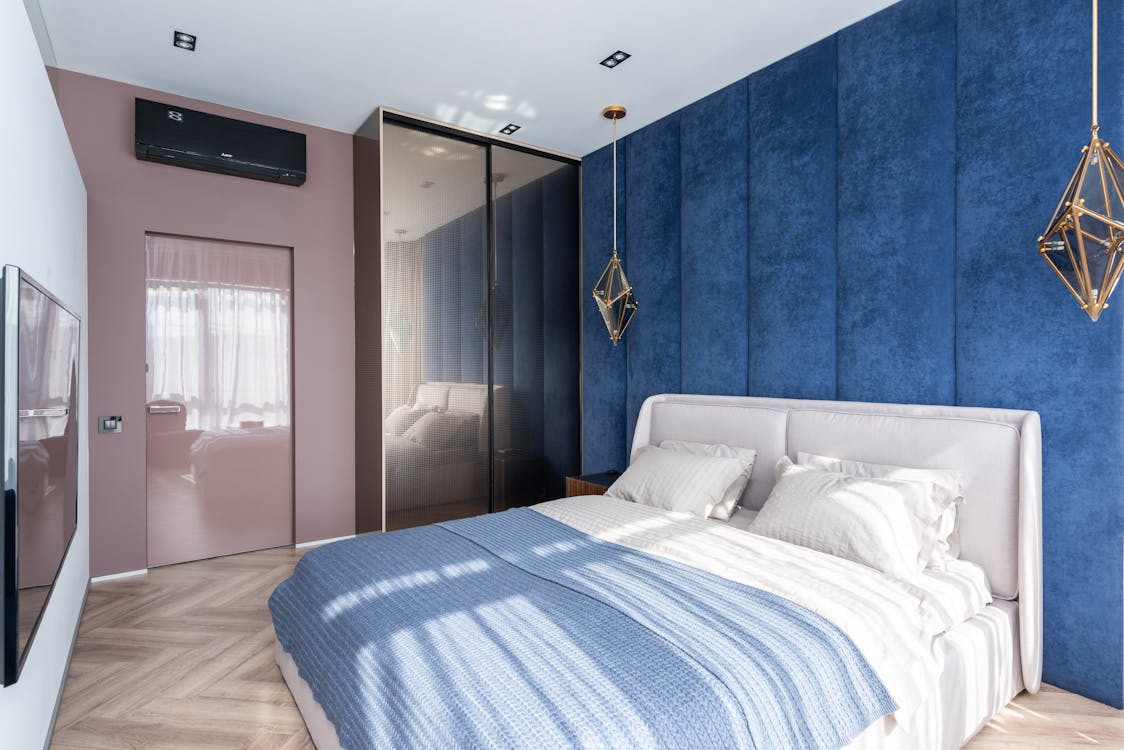 Different shades of blue complement navy blues and form serene color schemes. Although navy blue is almost similar to shades of blue like cobalt blue and royal blue, they are not the same since navy blue is less saturated and darker than these colors.
You can use a dark blue and combine it with sky blue to create a monochromatic color combination where you will incorporate the lighter shades of blue all over your space. For example, you can combine shades of navy blue: dark navy blue, light navy blue, and steel blue.
4. Navy Blue and Yellow
Image Credit: farmfoodfamily.com
Shades of yellow are your best bet if you want tones to brighten the navy blue shade. From soft butter yellow to rich mustard yellow, yellows make a perfect pair with navy blues.
The deep tones of navy blue contrast dramatically with the brilliance and warmth of yellow. Navy blue and yellow are complementary color schemes that will liven up any room.
In light of this, pick patterned or textured fabrics in the complementary colors of yellow and navy. It will be the ideal way to give your place an energetic feel.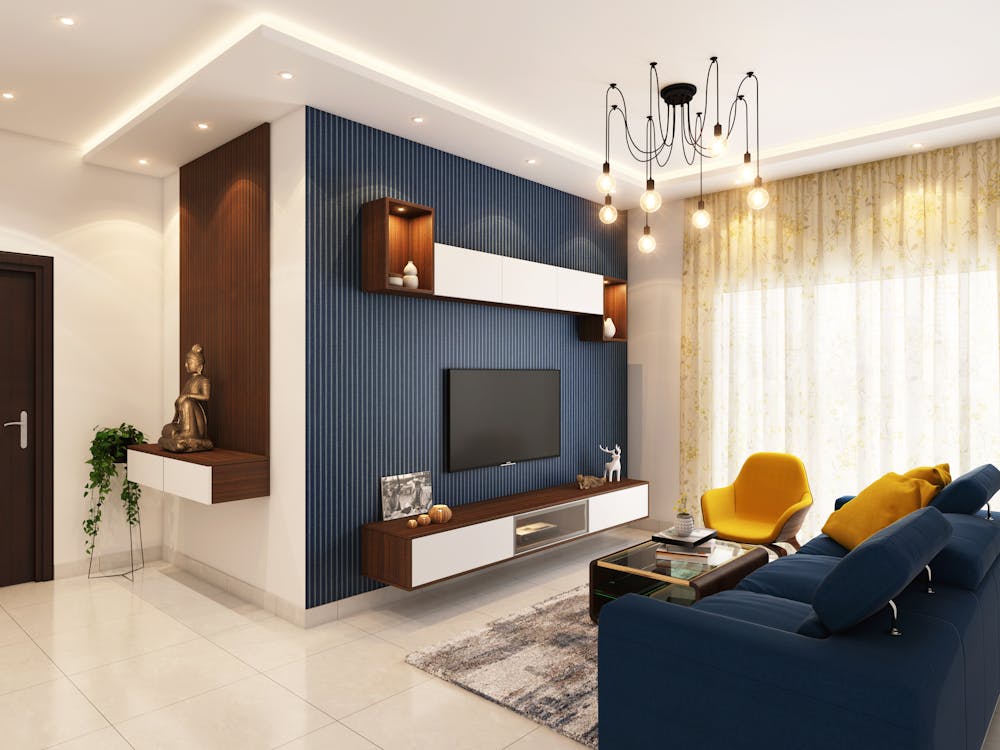 Lastly, if you want to give your living room a welcoming, cheerful feel, pairing navy blue with lemon yellow will give your better results than you expected. However, pair navy blue with a pastel yellow to achieve a softer look.
5. Navy Blue and Brown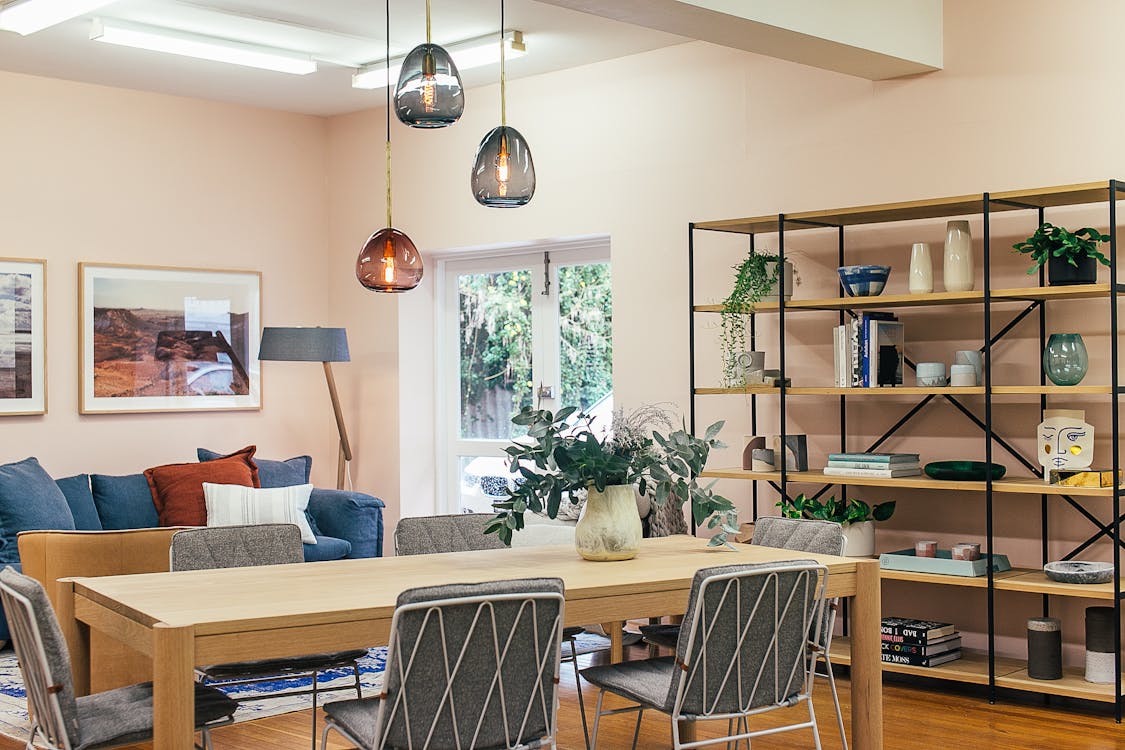 Brown is a great complement to navy blue, but it's crucial to balance the two. Therefore, choosing lighter shades of brown when pairing it with navy blue is your best bet. Use lighter brown shades like caramel or tan instead of deeper ones.
The warm and rich tones of brown are a great way to counterbalance the coolness of navy. Some people think brown is a boring color, but when used in a place, such as in brown wooden furniture or flooring, it gives the space a lot of character and a rustic appeal.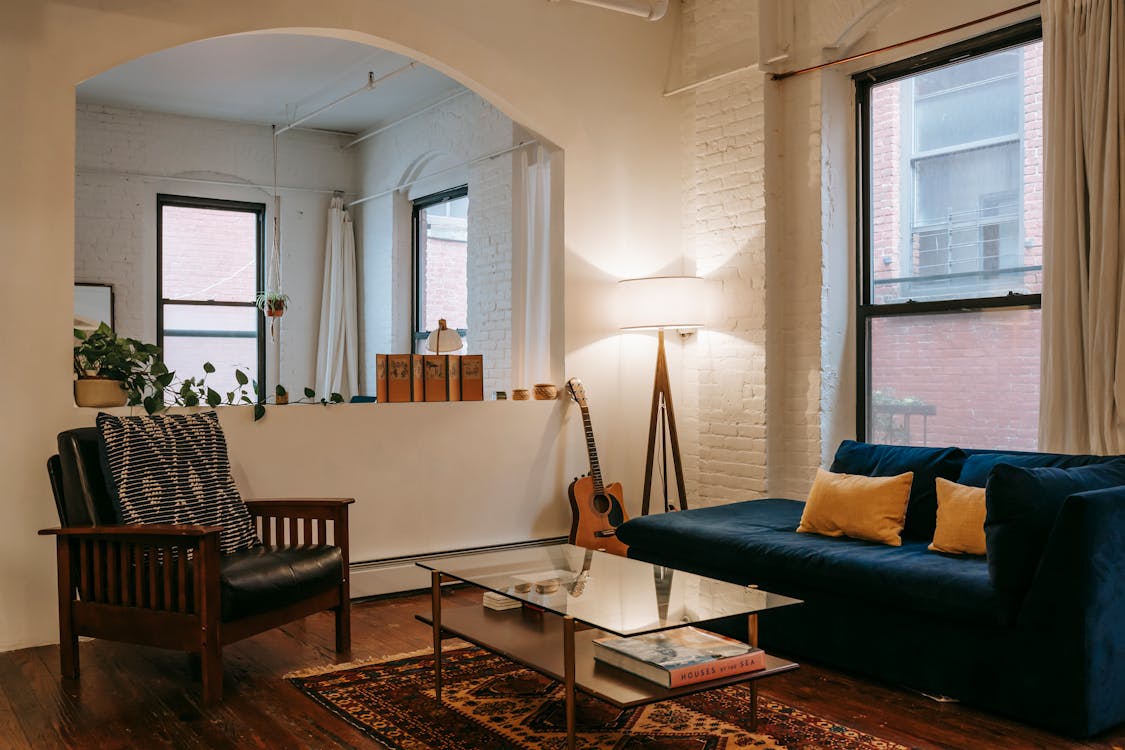 Another option to incorporate brown into your space while adding texture and warmth is choosing furniture with upholstery made of brown leather or faux leather.
6. Navy Blue and Purple
Purple is perfect as an accent color to give your space a powerful appearance as it balances the deepness of the color navy blue when used with lighter shades of purple like lavender and lilac.
Image Credit: interior design
Apart from using the jewel tones in living rooms, they can also be used in bedrooms for a more luxurious yet cozy space. Adding the navy color with brighter purple shades to a room is easy with patterned rugs, throw pillows, draperies, art, and even navy blue walls. 
Alternatively, you can use warmer elements like neutral bedding and wooden flooring to tone down the intensity of the two shades.
7. Navy Blue and Gold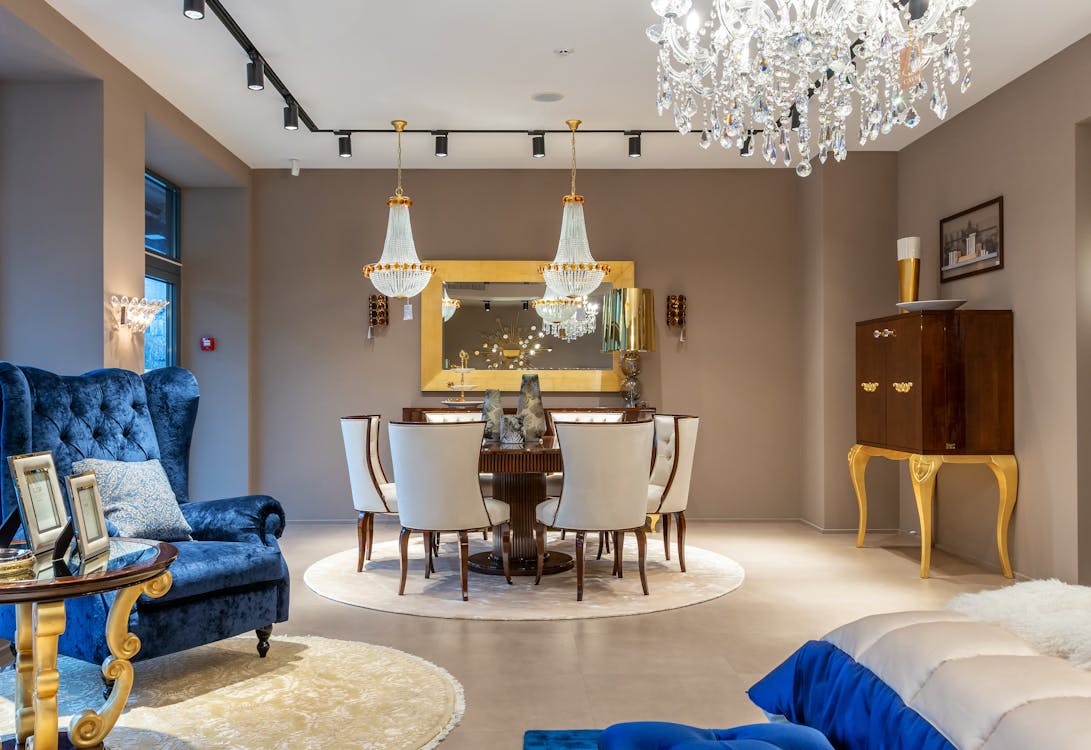 Navy blue and gold is another loved pairing that doesn't get old with many ways one can incorporate it into their room. Gold is undoubtedly the ideal metal to use with navy-themed decor as its yellow undertones contrast with the blue and add warmth to the chilly tones of navy.
For a boudoir look, use large amounts of gold, or add hints of gold for a classier appeal. For example, matte gold will seem modern and modest, while glossy gold finishes will make a navy space look luxurious. You may also opt for brushed gold or brass for a more relaxed or rustic look.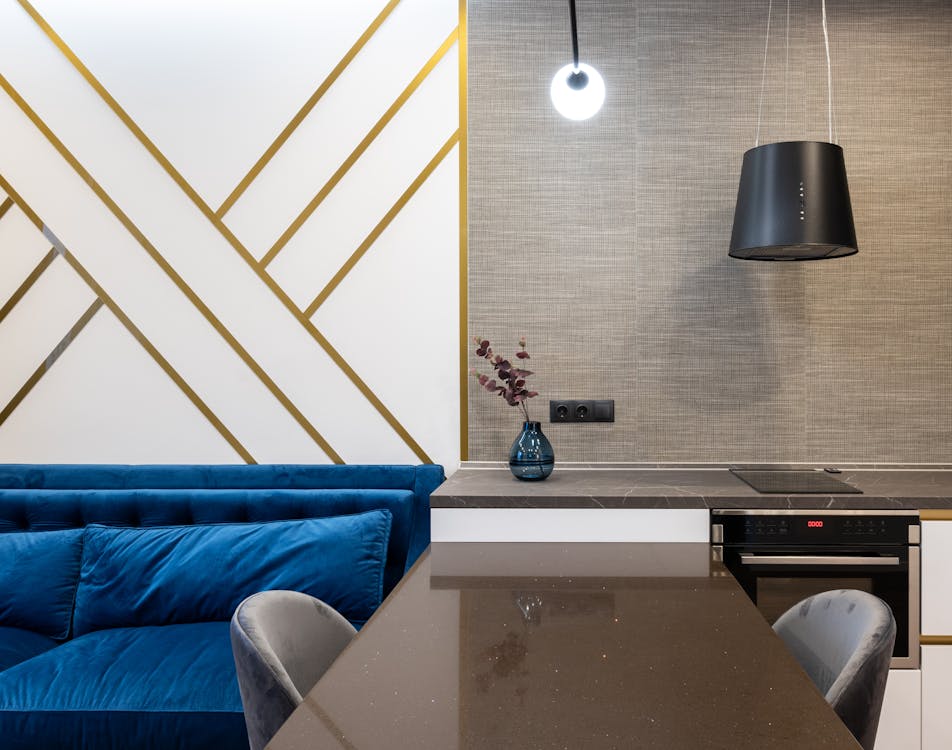 If you have navy blue walls, adding gold accent furniture can immediately add warmth and brilliance to your space. Another way could be choosing stools with gold legs, using gold-framed mirrors, wall shelves with gold brackets, table lamps with gold bases, or incorporating cushions in shimmery gold fabric.
Alternatively, you can opt for a gold-patterned wall covering and blue accessories to give a traditional pairing.
8. Navy Blue and Gray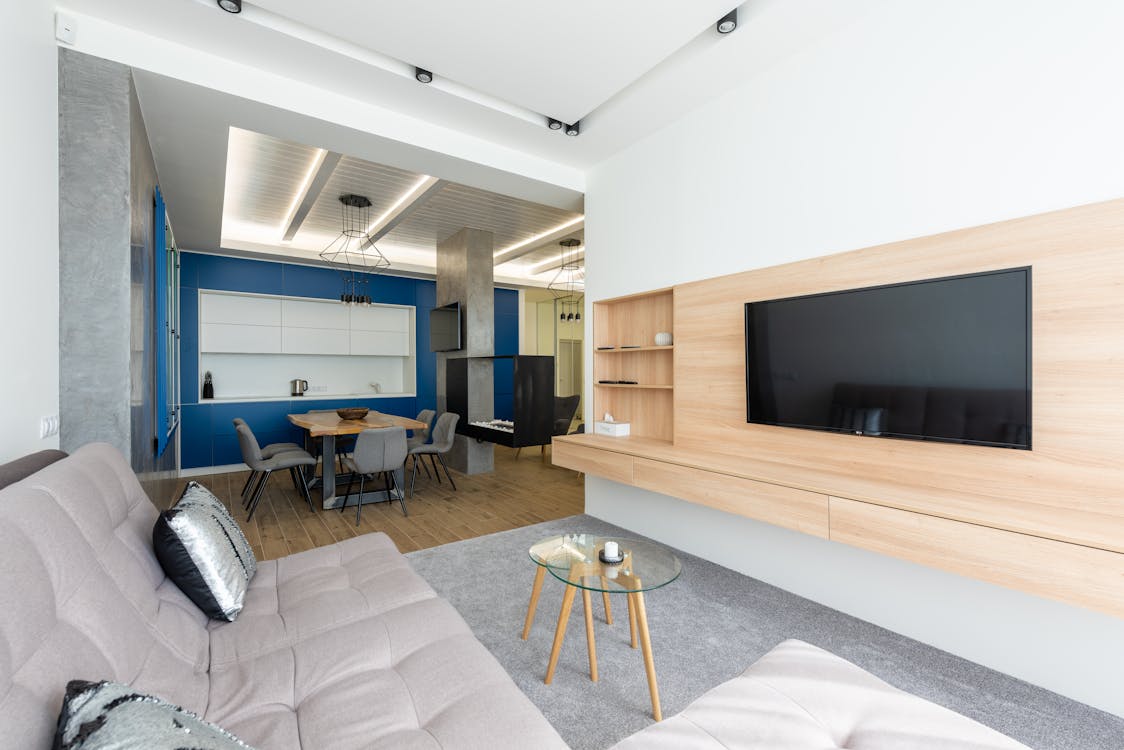 Gray is unquestionably our favorite neutral hue out of all of them. Use lighter gray shades to give your room a touch of sophistication.
However, pick a pale to medium gray when pairing gray with navy to ensure some distinction and contrast between the two hues. Dark gray can blend with navy and make a space feel flat and uniform if you choose that color.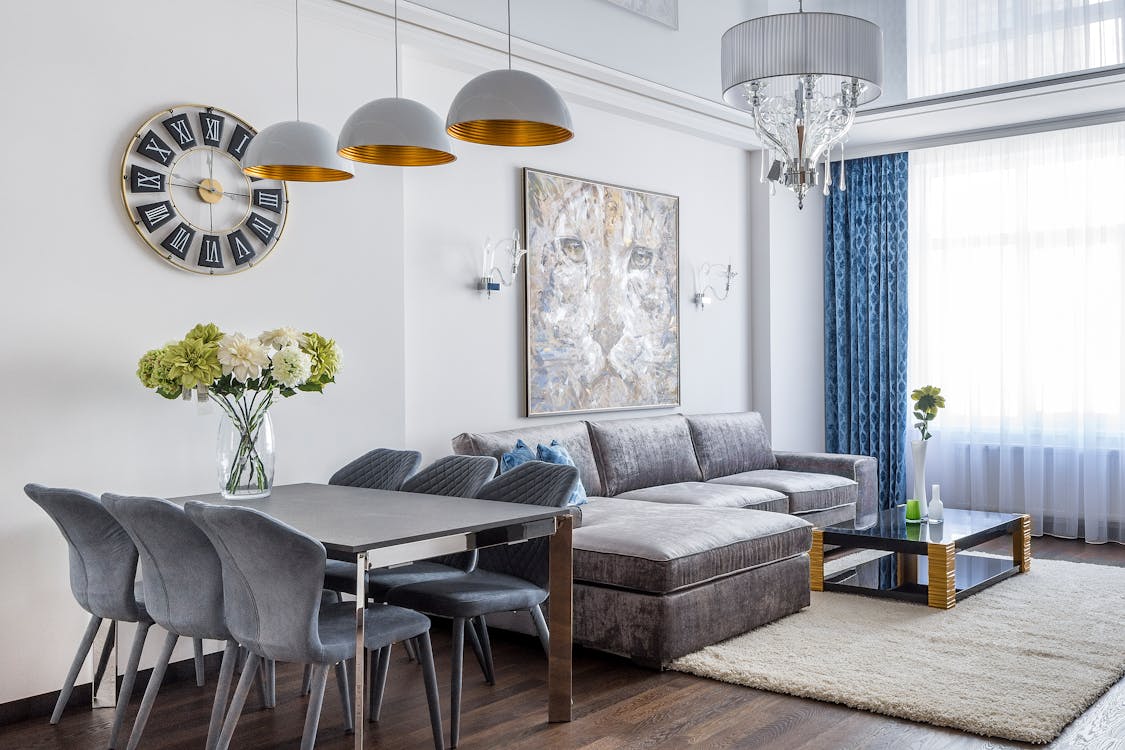 If you want to change the style, apply accents in another color brighter than the navy blue furnishings, such as emerald green, pastel pink, or gold, or combine gray and navy for a melancholy effect. Alternatively, if you have soft gray walls, create a gorgeous backdrop to enhance your navy blue furniture, or try adding navy blue accents with throw pillows and rugs.
You might think that a room feels cold and uninviting if it just uses gray or navy because these hues are both typically cool-toned. Instead, find a warm gray with undertones of brown to counterbalance this, or go with greige, a color that combines beige and gray.
9. Navy Blue and Red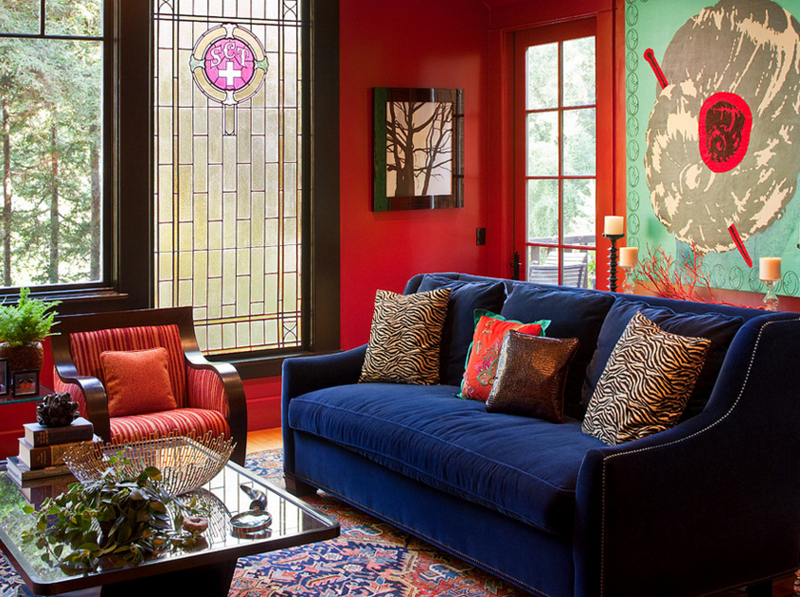 Image Credit: homedesignlover.com
Red contrasts and complements blue, and it goes better with navy than virtually any other shade of blue. The red color is bold yet warm, while the navy blue color is cool and gives understated vibes.
Bright poppy red and blue blend well together, and this color combination looks especially excellent when combined with white to give a space an Americana feel. Blend these colors with classic materials like tartan and cotton stripes for the best feel.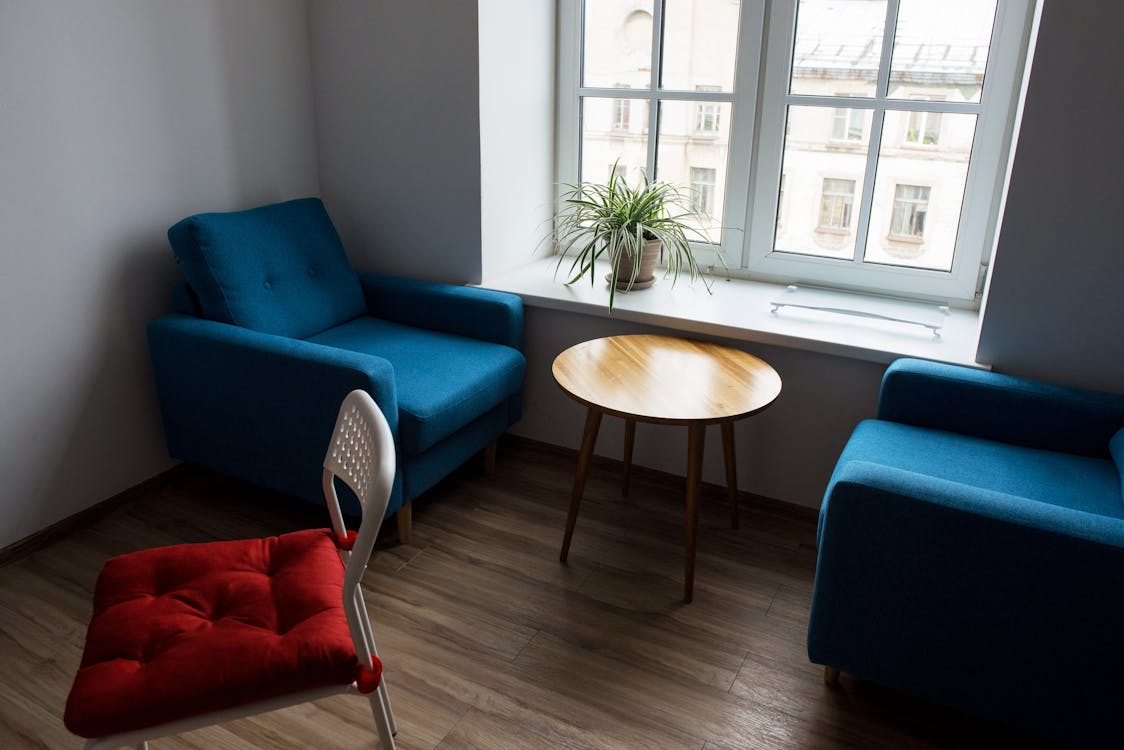 Deep reds like maroon can seem timeless and moody to create a more personal ambiance. These colors are a fantastic choice for an interior design concept in a snug room, a ski chalet, or a log cabin since they may be combined to create a warm and intimate atmosphere.
10. Navy Blue and Orange
Image Credit: decorpad.com
Since orange is the color on the color wheel that contrasts blue the most, it's safe to assume that any shade of orange will go well with navy. Adding bold carrot orange to any room will give it a fresh zing, making a room feel more playful and youthful.
Orange accents are one of the best colors with navy blue, especially for a young professional's apartment or a teenager's bedroom, because the color is fun and serious.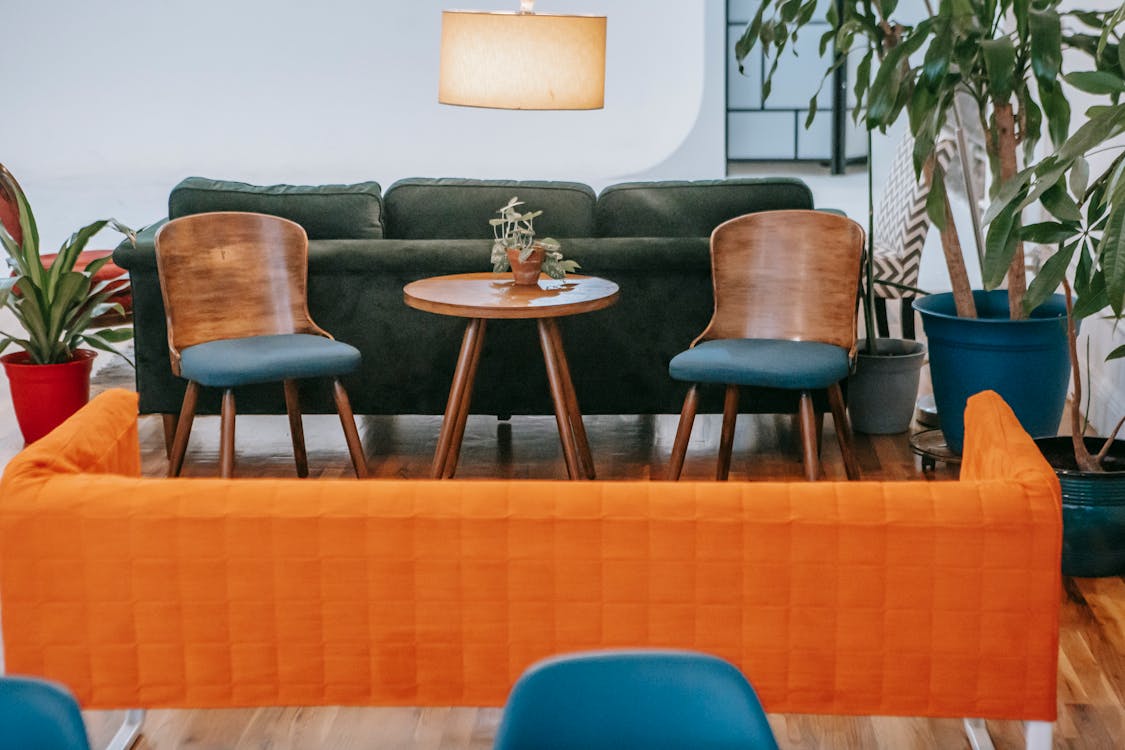 Coral and apricot are other shades of orange that would perfectly go with navy blue. Apricot is a softer shade of orange with yellow hints that feels cute and sweet and can be balanced well with navy blue, giving a more formal appeal.
On the other hand, coral is more subtle than the bright orange colors with hints of pink, which contrasts well against the navy to balance the calming energy of blue.
Lastly, if you are going for a more grown-up look, opt for burnt orange with navy blue, as it will give your room a comfortable and cozy feel.
11. Navy Blue and Black
Despite frequently being perceived as opposites, navy blue and black can be complementary when combined. In addition, they can be paired in various ways in home décor to achieve a consistent look and feel.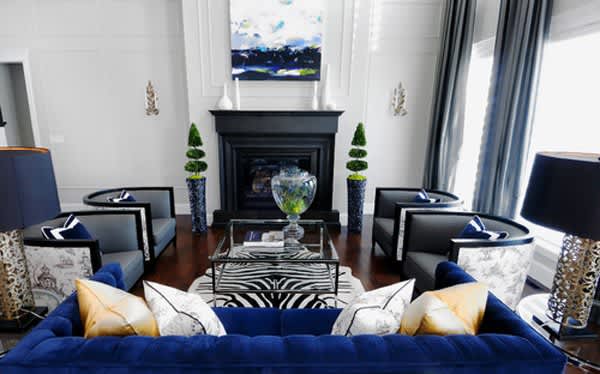 Image Credit: apartmenttherapy.com
A few ideas on using these two cool tones are to use them as accents, where you can add a navy blue or black throw pillow to a white couch. This will add some interest and contrast to your room. Alternatively, you can paint your walls black and then use navy blue as an accent color to create a dramatic look in your house.
12. Navy Blue and Beige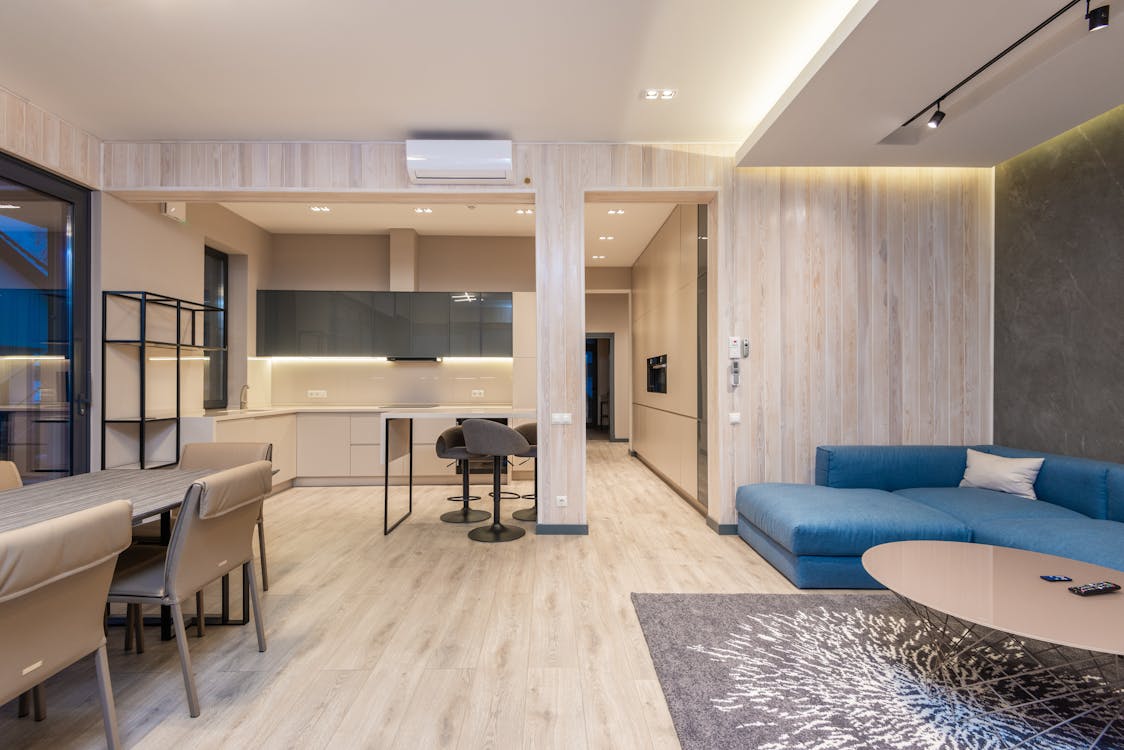 Beige is a cozy neutral color that works well as a backdrop for navy accent pieces or walls. Beige is a versatile color as it works well with any interior design aesthetic and lacks individuality. It won't impose a certain look on you.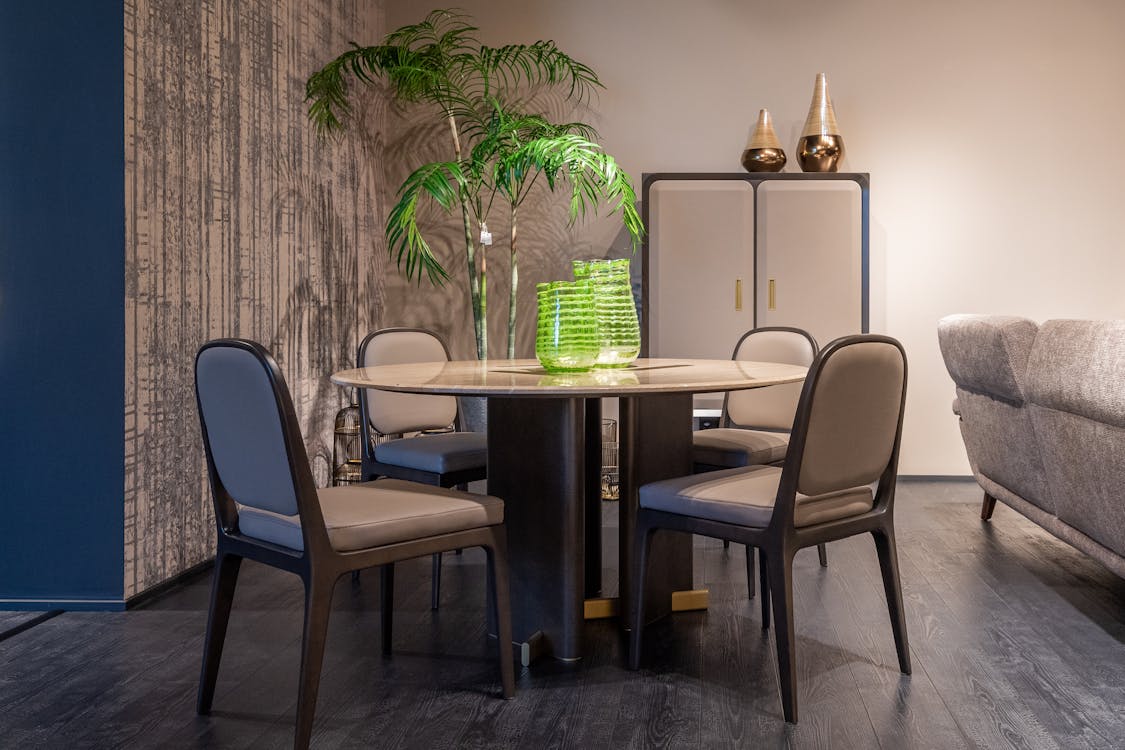 You can take advantage by ensuring that other spaces' components define the style. For a modern, minimalist effect, use sleek beige sofas; for a more natural feel, use rustic beige clay pots. In the correct environment, beige can also appear modern and stylish or attractive and luxurious.
13. Navy Blue and Bright Green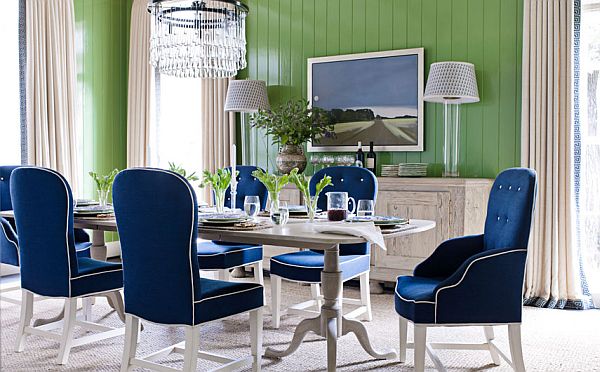 Image Credit: decorhomeideas.com
Bright colors such as lime green or earthy green, when combined with navy blue, help to emphasize color differences and give a modern vibe. If you are looking for colors that go with navy blue while adding a pop of color to your home decor, you will not go wrong with bright green shades.
They make a statement in any room, and because of their high contrast, they are the perfect color to add some life to a neutral room.
What are the Best Ways to Incorporate Navy Blue into Your Home?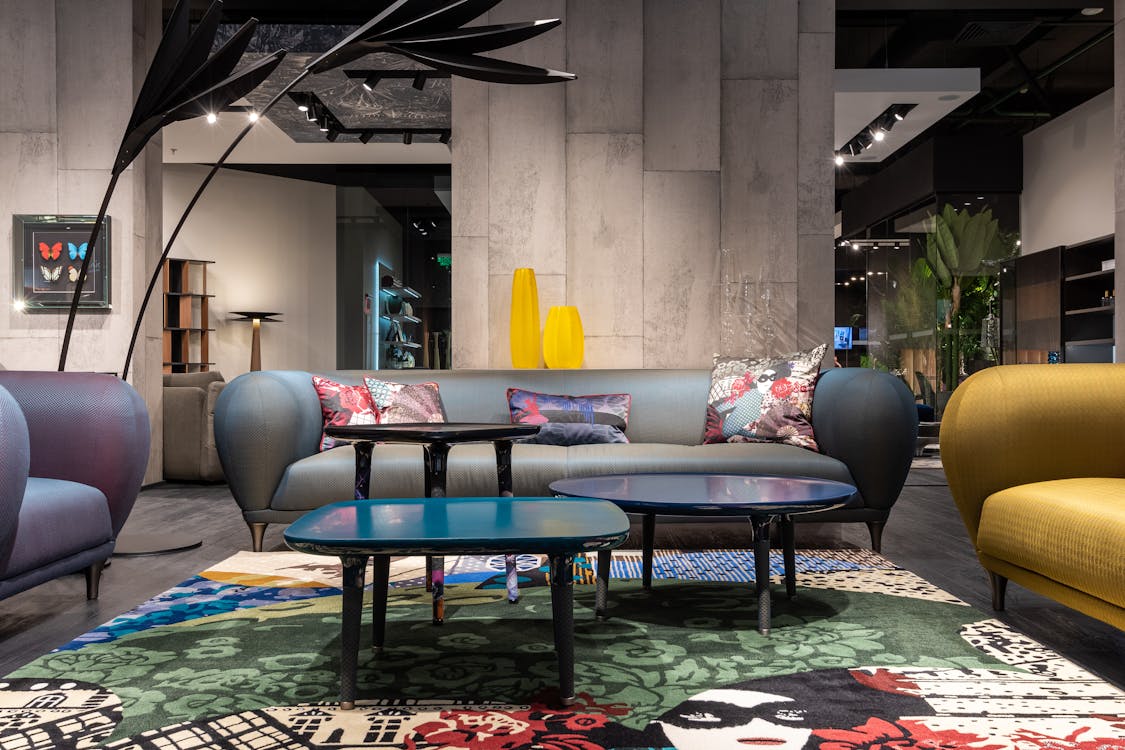 The navy blue color palette is a perfect choice to put on bedroom walls because of its calming vibe and is also seen as a transition color that helps you fall asleep
Navy blue makes a great substitute for neutral colors like gray or black
You can twist your traditional library by painting the walls navy blue
In the kitchen or bathroom, navy blue cabinets can perfectly substitute black and can be used in both traditional and modern interior design
You can add navy blue accents like throw blankets or pillows to add depth to light and neutral furniture
Conclusion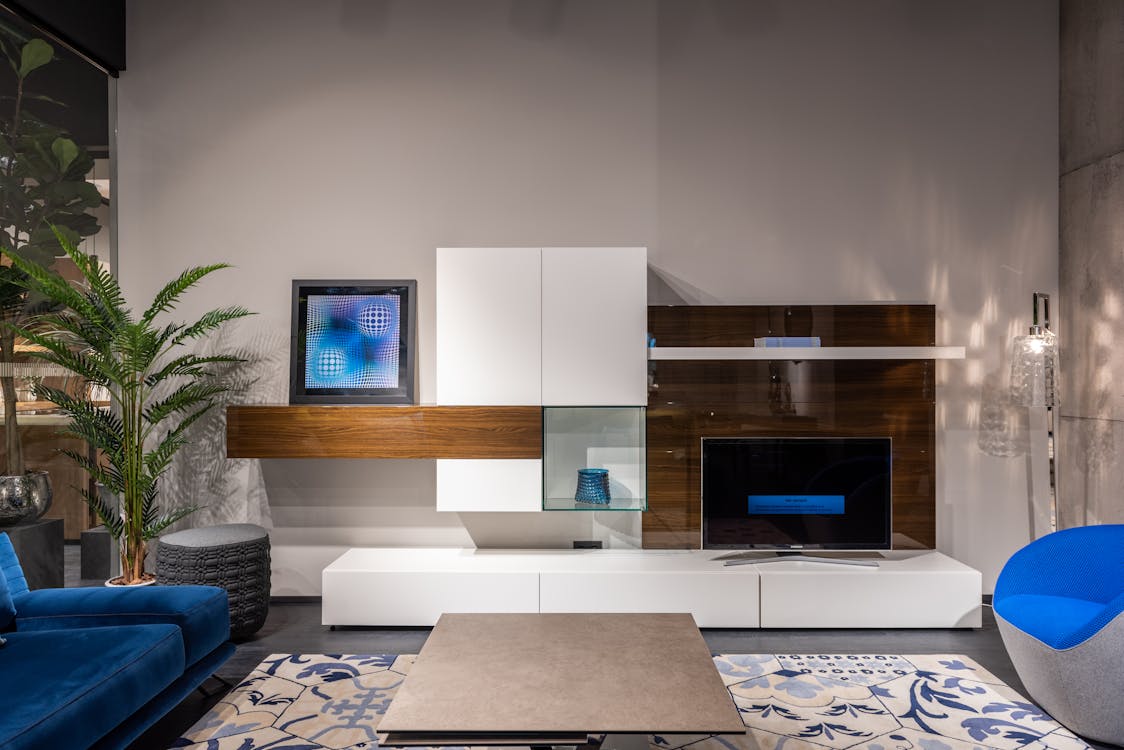 Countless options are available regarding colors that compliment navy blue in interior design. Darker colors can be employed to give a more opulent look, while lighter colors can be used to give a navy blue space a hint of brightness.
Using this straightforward guide, you can design a stunning and trendy navy blue room that is ideal for any home. Regardless of your color, ensure it blends well with the navy blue color palette and gives the space a finished appearance.