In the world of hospitality and recreation, a well-designed commercial swimming pool can be a major asset. It offers a fun and refreshing escape for guests while enhancing the aesthetic appeal of its surroundings.
However, constructing one is far from simply digging a hole and filling it with water. A host of factors must be meticulously evaluated to ensure functionality, safety, and enduring appeal.
From location and space to building codes and pool maintenance, let's dive into the design considerations you need to keep in mind when making a commercial swimming pool.
1. Evaluate Your Space and Location
Before you dive into aesthetics, evaluate your available space and location. It establishes the foundation for the pool design process. Here, you're considering not only size but also orientation regarding sun exposure, prevailing winds, and proximity to existing buildings or facilities.
Remember that accommodating changing rooms, lounging areas, or even a poolside bar might require additional space.
Don't dismiss potential challenges associated with terrain conditions and accessibility too; these will significantly impact construction logistics.
Whether you have a spacious hotel courtyard or a compact indoor facility, understanding your space will help determine the pool's size, shape, and potential for additional features like waterfalls or fountains. This initial assessment lays the foundation for the entire design process.
2. Understand Building Codes and Regulations
Another early and crucial step is understanding local building codes and regulations. They include rules on fencing, pool barriers, depths, signage, water quality, and noise control among others.
Legal compliance isn't something to take lightly; it saves you from fines or unnecessary reconstruction later on.
Researching local code requirements or hiring a professional who understands the legalities of commercial pool design could prove invaluable in this regard.
Working closely with a commercial pool builder experienced in municipal and aquatic facility projects will help ensure your pool meets all the necessary legal requirements, safeguarding your patrons and your business.
3. Select Appropriate Pool Materials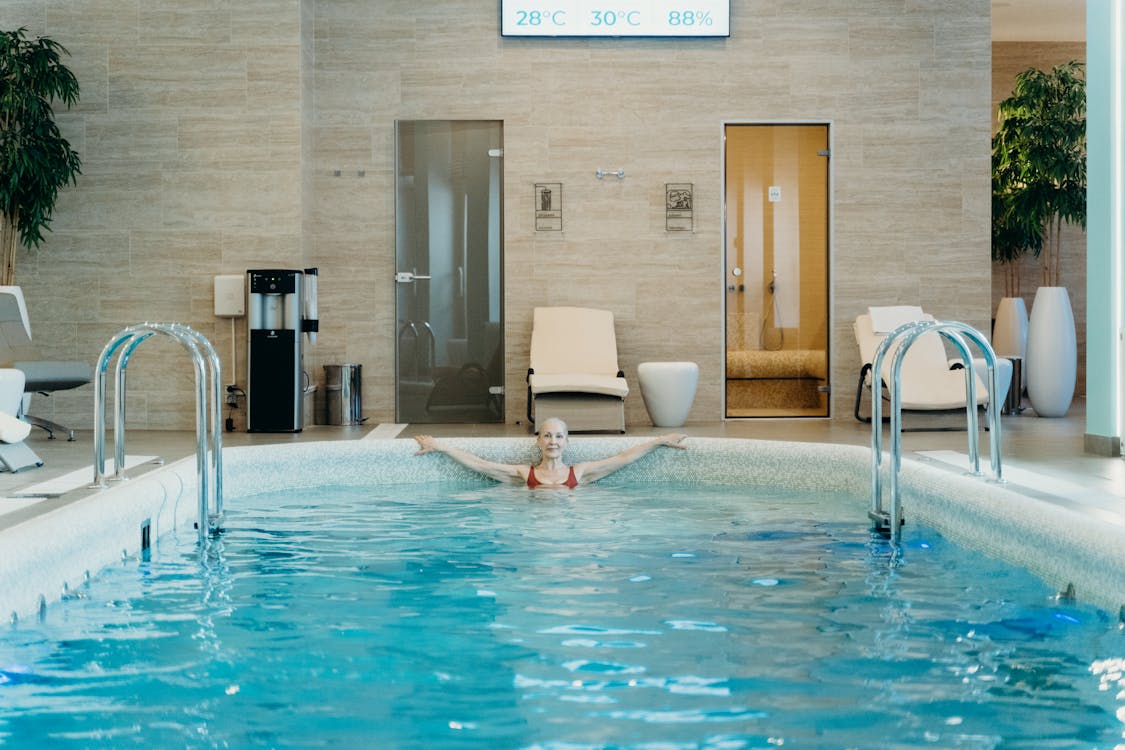 Image Source: Cottonbro studio from pexels.com
When it comes to pool materials, think durability and aesthetics. The most common choices are concrete, vinyl, and fiberglass, each offering different benefits.
Concrete allows for more design flexibility but requires more maintenance. Fiberglass is durable with a smooth surface, while vinyl liners offer a cost-effective option but may need replacement over time.
Selection should not just be based on your budget but also cater to the long-term functionality and style appeal of your commercial pool.
4. Prioritize Safety Measures
Safety is paramount when designing a commercial swimming pool. This includes both its built infrastructure and operational protocols.
Ensure the pool deck design has a slip-resistant surface, and consider the installation of handrails, ladders, and clear markings indicating depth changes. Think about proper lighting to increase visibility for nighttime swims.
In addition to physical safety measures, routine checks must be in place to maintain optimal water purity and clarity.
5. Consider Hiring an Expert Pool Builder
Taking on a commercial pool project can be overwhelming. Hence, hiring an expert commercial pool builder could be a game changer.
An experienced commercial pool builder is a key asset during the planning process. They can help you understand the unique requirements of commercial pool design, including competition pools, lap pools, and diving pools.
With their experience and expertise, they not only navigate complex building codes with ease but also bring your vision to life, all while keeping safety and longevity at the top of the ladder.
This approach leaves less room for error and saves you from future headaches. Remember that having a professional by your side enhances overall project efficiency and outcome.
Their expertise ensures that the pool facilities you create are not only safe but also adaptable to a wide range of aquatic activities.
6. Designate Zones for Different Activities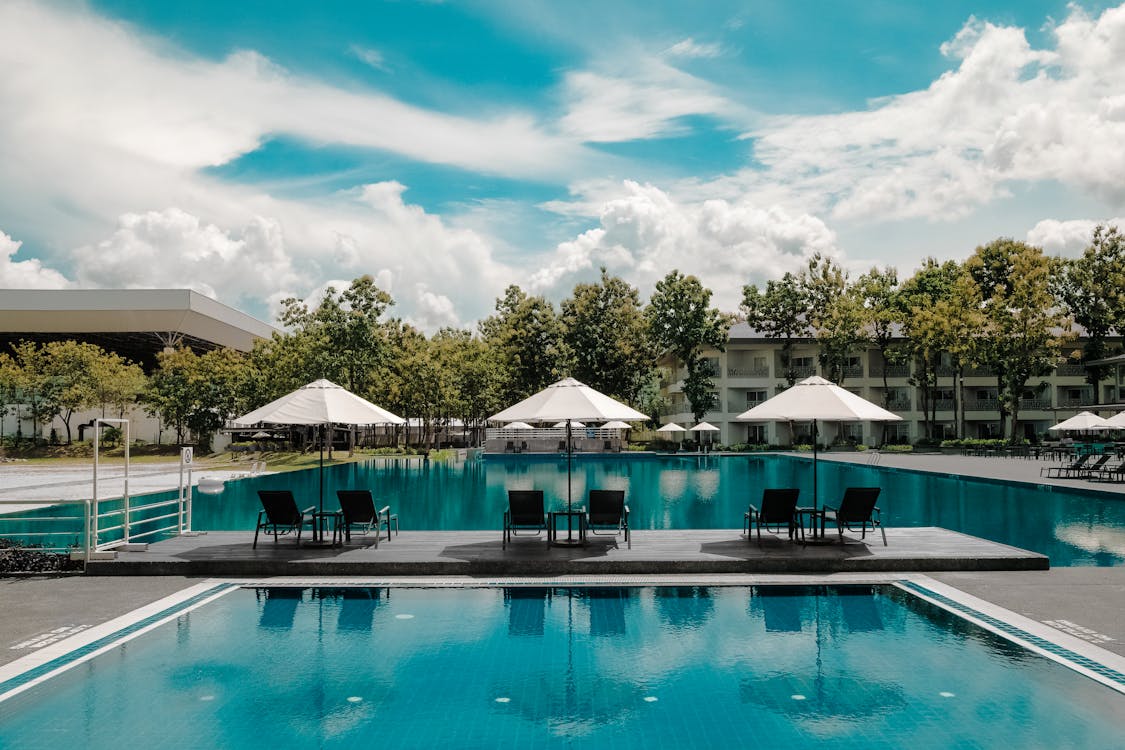 Image Source: Donald Tong from pexels.com
It's not enough to have just a swimming area in a commercial pool. Catering to varied preferences, you need different zones, such as a shallow area for children's pools, deeper sections for diving, and swim lanes for serious workouts.
Consider including relaxing loungers or cabanas by the poolside, where guests can unwind after a refreshing dip.
This kind of thoughtful design promotes optimized use of space and amplifies the user experience, setting your commercial swimming pool apart from others in the league.
Incorporating a swim-up bar or spa area can enhance the overall experience, allowing your commercial pool to serve a broader range of customer needs. Also, including additional features like water parks, slides, and interactive water features can enhance the overall enjoyment and recreational experience for visitors of all ages.
7. Contemplate Added Features: Waterfalls, Lighting etc.
A commercial pool is more than just a large body of water. Adding features like waterfalls, underwater lighting, swim-up bars, or even a lazy river can significantly enhance your pool's appeal and create a tropical or resort-like atmosphere.
Lights create the right mood for night swims, while water features like a waterfall or fountain make it aesthetically pleasing and inviting.
Remember, these little details can make a big difference in creating an appealing swimming environment, lifting you above the competition.
8. Factor in Maintenance Needs and Costs of Commercial Swimming Pools
Finally, be mindful of maintenance needs and costs associated with the commercial pool you're designing. Regular cleaning, water quality checks, filter changes, and equipment upkeep are among the usual tasks.
Considering these aspects at the design stage can help you plan robust systems that are easy to manage down the line. Your choice of materials may also influence ongoing repair or replacement expenses.
A well-maintained pool not only radiates cleanliness but provides a safer environment for your guests. So, do factor in running costs, such as electricity costs of a pool pump, to ensure seamless long-term operation.
Designing a commercial swimming pool is no small feat. As you've seen, it requires careful planning and thoughtful decisions about numerous aspects. By incorporating these considerations into your project, you're embarked on a path to create a stunning, durable, and incredibly appealing aquatic hub that patrons will love.
Conclusion
Designing a commercial swimming pool involves intricate planning and considerations to meet the diverse needs of its visitors. Whether it's a hotel, fitness center, water park, or community club, the commercial swimming pool design can significantly impact its success.
By evaluating the space, prioritizing safety, and incorporating appealing features, a well-designed commercial pool construction can become the focal point of any establishment, fostering relaxation, enjoyment, and recreation for all. Collaborating with experienced pool designers and builders, along with a comprehensive understanding of the unique requirements of your aquatic design, is key to creating a public swimming pool that surpasses expectations and stands the test of time.
Featured Image Source: Adrienn from pexels.com