The possibilities for a house renovation are almost endless. From simple updates to adding rooms, the cost of house renovation is an average of $15000 to $200000. However, many factors can affect the cost of renovating your home. From the size of the renovation to the materials you choose, there are a lot of variables at play. In this blog post, we'll discuss some of the key factors that can impact the price of your renovation project and the average costs of home remodeling projects. Let's get started!
House Renovation Cost Estimates
Let's look at the specific renovation project costs you may be considering
1. Renovation Cost by Room Type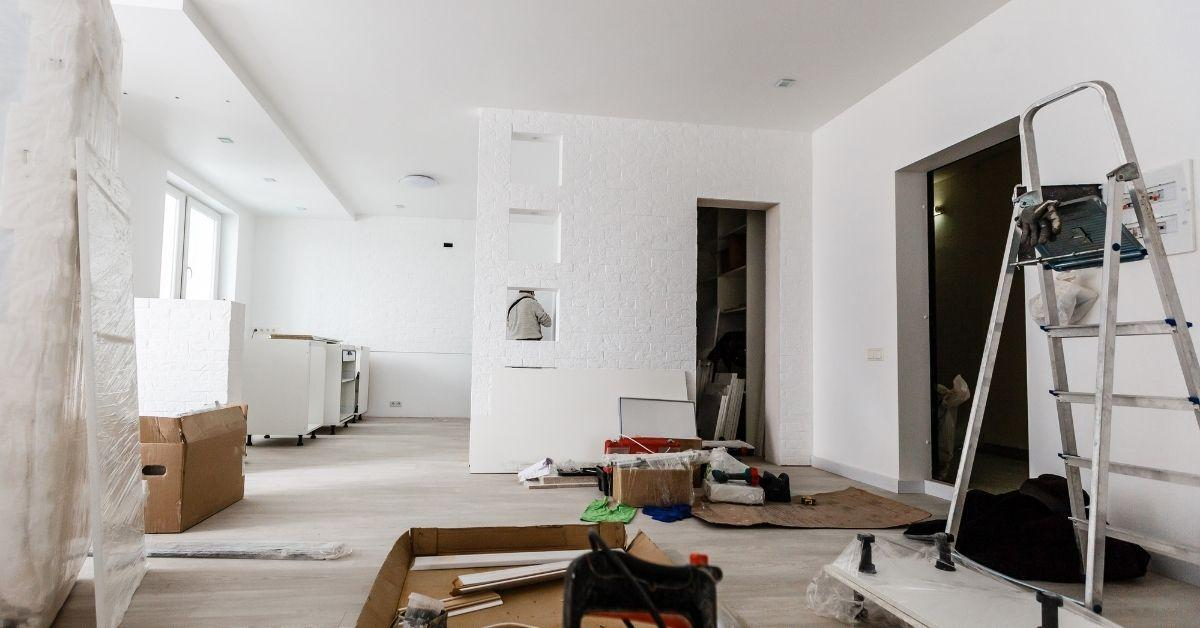 Image Source: propertyhunter.com.my
To better understand how much home renovations will run, it is best to consider the costs of renovating each room. This also helps determine where to prioritize your efforts if your budget can't suffice for the full scope of the desired work.
Generally, rooms with plumbing, kitchen, and bathroom cost more to renovate compared to other rooms. Bedrooms and living areas are inexpensive as they often need only new painting, flooring, or carpet. On the other hand, bathrooms and kitchens are more expensive due to cabinetry, appliances, and potential plumbing repairs or reconfigurations.
I. Bedrooms Renovation Cost
Remodeling a bedroom, on average, costs $2000-$5000. Most standard bedrooms are inexpensive to remodel. Carpet or flooring and painting are comparatively budget-friendly but still make a big difference in updating a room. Many homeowners put more emphasis on the master suite or master bedroom, which is still worth your money if you are looking to upgrade your home without breaking the bank.
II. Bathroom Renovation Cost
A modern and airy bathroom is considered a luxury by many homeowners. Also, buyers often focus on bathrooms when deciding whether or not to make an offer on the house. The key to a pocket-friendly bathroom remodeling is to keep the fixtures in the same place.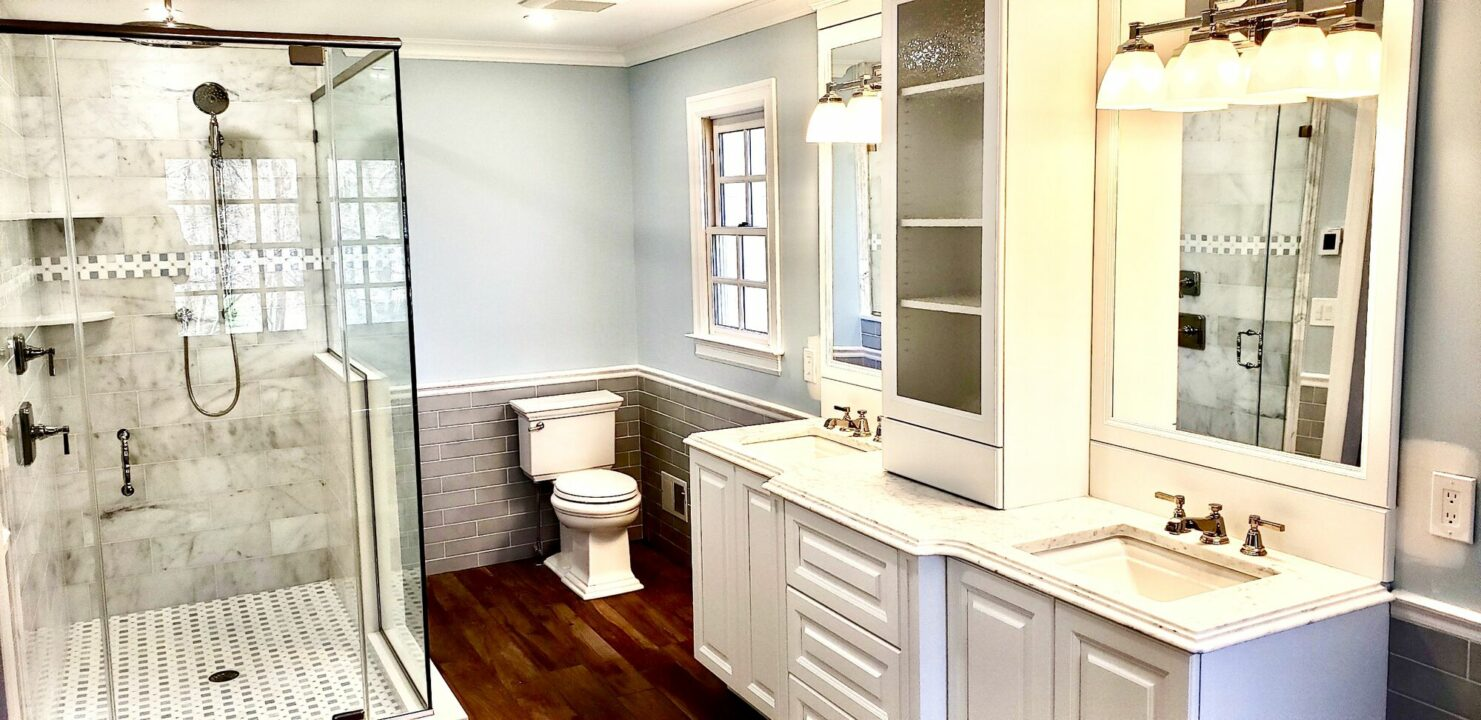 Image Source: magnoliahomeremodeling.com
Renovating a bathroom, on average, costs $20,000 – $40,000. With a lower budget, upgrades like fresh coats of paint, light fixtures, and counters and cabinets are an inexpensive way to upgrade your bathroom. But with a higher budget, adding features such as a stand-up shower stall and garden tub and installing quartz or granite counters and surfaces can make the bathroom a highlight of your house
III. Entryway renovation cost
A grand entryway is a high-end upgrade for any home. This could be as simple as a stone walkway, a new front door, or adding a foyer to the front of your house. But you can only get one chance to make a striking impression. The average cost of renovating an entryway is $2000-$10000. This includes the labor associated because foyer renovation may call for moving electrical elements, installing wider casings, updating the trims, and painting.
iv. Living room renovation
As the central living space for most families, the living room is a common and comparatively inexpensive space to upgrade. In addition to painting and upgrading flooring, many homeowners may add light or storage fixtures, new window treatments, or redesign the room for more space. Renovating the living room would cost an average of $2500-$10000.
v. Kitchen renovation cost
Traditionally, kitchens are one of the first rooms homeowners remodel, and this costs an average of $23,000 – $135,000. Modern kitchens often encourage buyers to make an offer. They rival the living rooms and family rooms as the focal point of homes.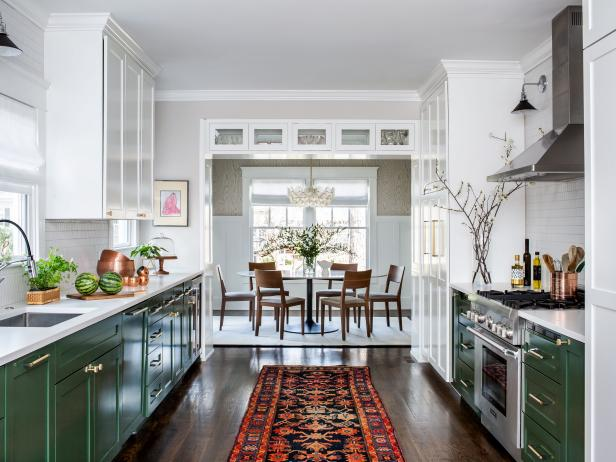 Image Source: hgtv.com
The kitchen is one of the most expensive parts of a house renovation, but an update can make a significant difference both aesthetically and functionally. With budgets below $5,000, homeowners avoid upgrading cabinets, countertops, and appliances in the kitchen.
Vi. Exterior Renovation Cost
Freshening up the exteriors of your home can focus on the structural integrity or curb appeal of your home. Some of the projects that you can work on are landscaping, window replacements, and adding or replacing light fixtures. For siding, roof, and window replacements, you will spend an average of $68,000, and to add a deck or patio, expect to part with an additional $17,000 on average.
VII. Basement renovation cost
Basement renovations usually don't come cheap. They have a high upfront cost but a generous return on investment. Basement renovation costs an average of $20000-$50000 if you are reconfiguring the whole thing and adding an extra ensuite. But if you are just adding carpet and paint, it can cost you an average of $8000. Improving a basement can involve insulation, installing drywall, flooring, lighting, moisture proofing, and creating storage. If you are on a budget, focus on creating a multi-purpose space that is moisture-proofed to the nines.
2. Home Renovation Costs by Type of Renovation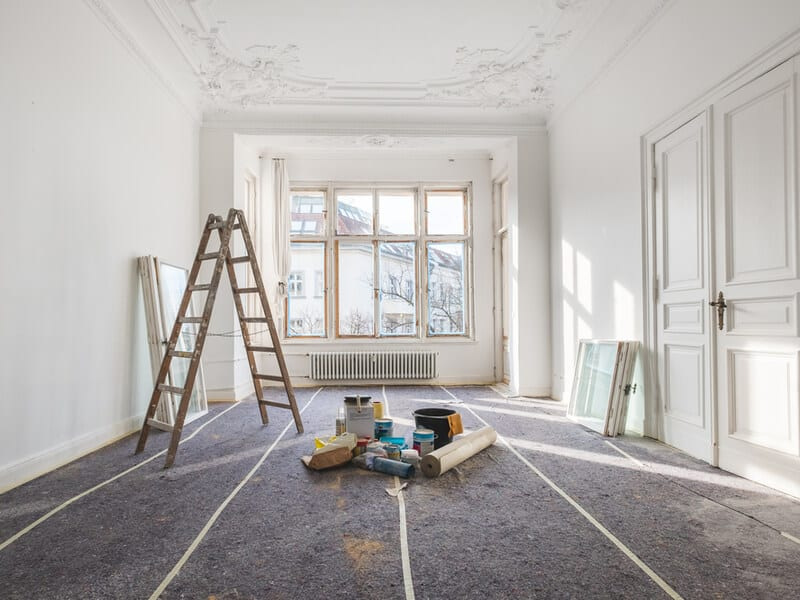 Image Source: mymove.com
There are several types of renovations that would affect the cost of updating an existing house.
I. Whole-House Renovation Cost
Renovating a whole house costs an average of $50,000 or $10 to $60 per square foot, although prices can rise to over $100,000 if you have a large home or you're incorporating luxury materials and custom designs.
II. Gut and Remodel Renovation
Gutting a house and remodeling the remaining framework into a livable space costs between $100,000 and $200,000 or $100 to $200 per square foot. This time-consuming and labor-intensive type of demolition and remodeling is necessary when the floor plan is wholly redesigned  
III. Historic Home 
Renovating historic homes costs about $100 to $400 per square foot. These homes require mechanical, structural, and system upgrades along with cosmetic improvements. If the house is in the registrar of historic places, you may qualify to access grants to assist with the renovation costs.
IV. Rehabbing a Home
Rehabbing a home is like the gut and remodel, but it is slightly less extensive. It focuses on cleanup and repairs for houses that need significant renovation. A typical range of cost estimates for rehabbing a home is $20000to $750000, or $20 to $50 per square foot
V. Home Additions
A home addition is a common remodeling or renovation project that can be costly because it includes almost every aspect of building a home, including rooflines, walls, wiring, plumbing, HVAC, and cosmetics. The average cost for home additions is $21,000 to $80,000, but the price can increase y depending on the extent of the addition. For instance, adding a new bathroom costs an average of $18,000 to $47,000, and it is the least expensive home addition.
VI. Home Improvements with Composite Decking
Composite decking boards are the fastest-growing decks in popularity besides wood. Even though they have a higher initial cost than wood, they can last longer. The cost of home improvements with composite decking can vary depending on various factors such as the size of the deck, the complexity of the design, the quality of materials, and the location. On average, the cost of composite decking materials can range from $7 to $12 per square foot. Installation costs can add an additional $5 to $10 per square foot. 
Factors Affecting House Renovation Costs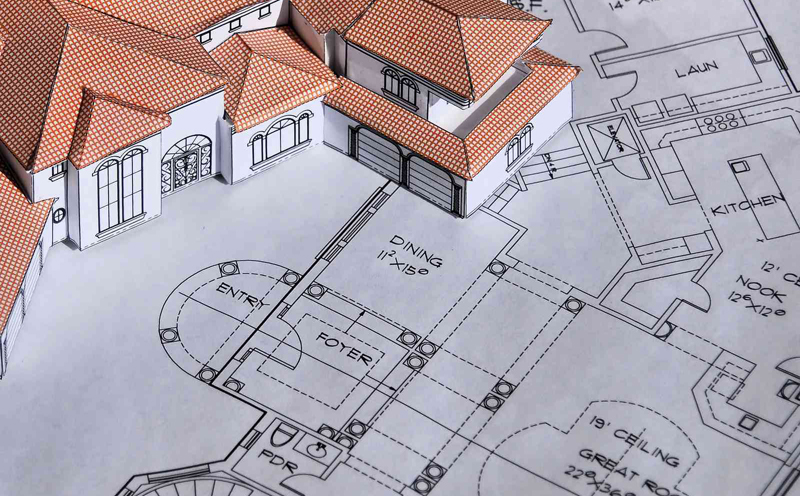 Image Source: contractorlocalquotes.com
1. Material Upgrades
The cost of house renovation can vary widely depending on the materials you choose. For example, if you're planning to upgrade your kitchen countertops, you could opt for lower-cost laminate or budget-friendly tile. Or, you could spend a bit more on granite or quartz countertops. The same applies to flooring, appliances, fixtures, and other materials. It's important to compare prices and consider both the initial investment and the long-term costs before making any decisions.
In general, higher-quality materials will last longer and require less maintenance than lower-quality options. That means they can actually save you money in the long run, even though they might cost more upfront. Of course, there's no need to go overboard with luxury materials if your goal is simply to update your home on a budget. But it's worth considering upgrade options that add value to your home and save you money in the long run.
2. Job Scope to Renovate the House
One of the biggest factors determining the cost of a house renovation is the scope of work. The more work that needs to be done, the more expensive the project will be. There are a few different ways to develop a scope of work for your renovation project.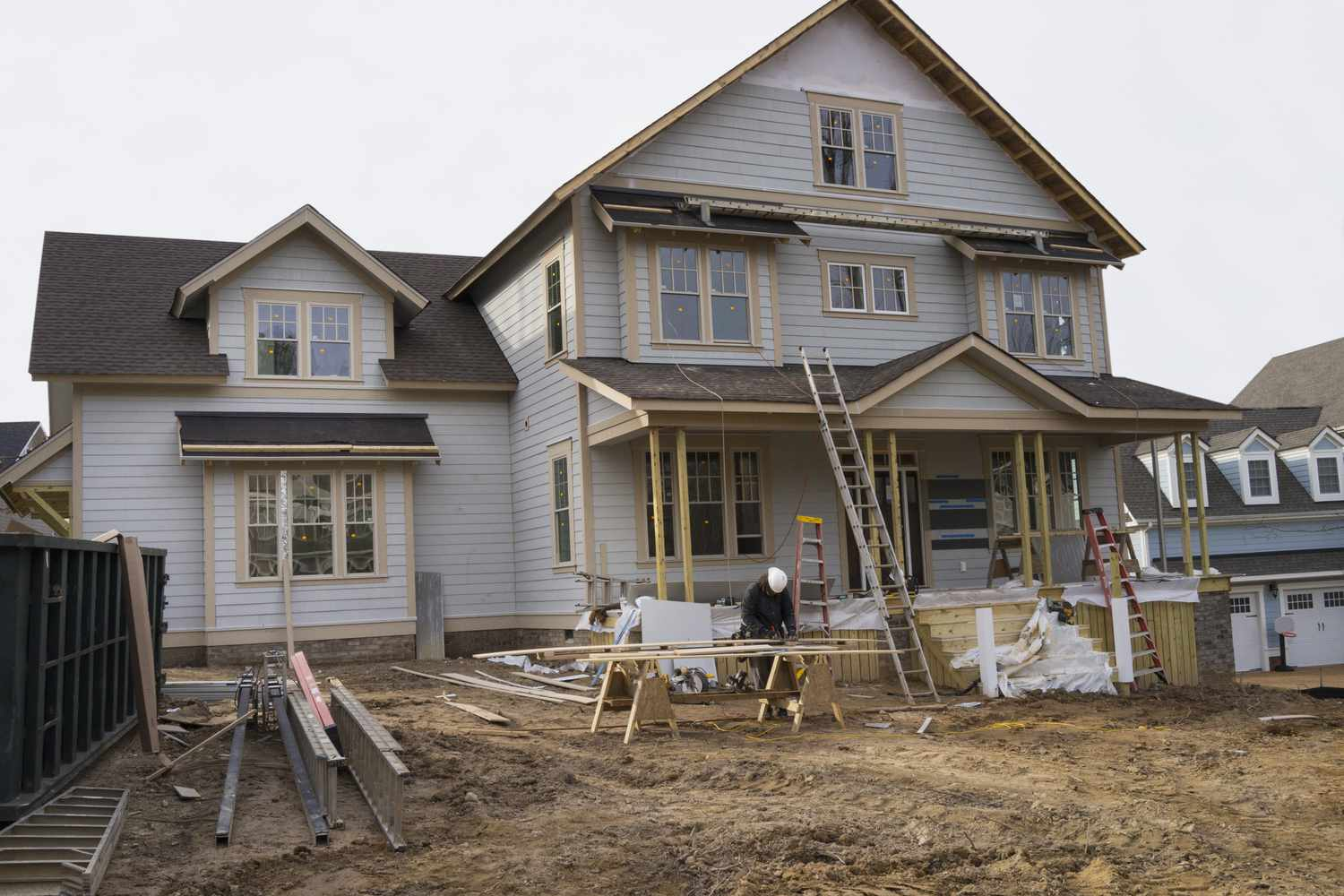 Image Source: thespruce.com
The first way is to develop a list of every work that needs to be done. This can be daunting, especially if you're unsure where to start. A good way to get started is by looking at other similar projects and seeing what they included in their scope of work. This can give you a good starting point for developing your own list 
Another way to develop a scope of work is to hire a professional renovation company. They will be able to help you determine what work needs to be done and how much it will cost. This can be an excellent option if you are not sure where to start or if you want someone else to handle the grunt work 
Once you have outlined all the work that needs to be done, you can start pricing out individual items. This may help you get a better idea of what the total project will cost. Remember to get quotes from multiple contractors so that you can compare prices and get the best deal possible.
3. Condition Of The Site
Another key factor that will affect the cost of your renovation is the condition of the site. If your home is in good condition, with no major structural problems, then you can expect to pay less for your renovation than if your home is in need of major repairs. This is because homes in good condition will generally only require cosmetic renovations, while homes in need of repair will require more extensive work.
Another way that the condition of your home can affect the renovation cost is by affecting the period of time it takes to complete the project. Homes in good condition can usually be renovated more quickly than homes in need of repair, which means that you'll pay less for labor costs.
It's important to keep in mind that homes in good condition tend to hold their value better than homes in need of repair. So even though you might pay more upfront for a home in good condition, you'll likely see a higher return on investment if you ever decide to sell.
4. Project Schedule
The cost of any home renovation is going to be largely determined by the project schedule. If you want the renovation project done as quickly as possible, you can expect to pay a premium for labor costs. This is because contractors will need more workers to complete the project in a shorter timeframe. 
If you are not in haste to get the project done, you can save money by giving the contractor more time to complete the work. This is because they won't need as many workers and will be able to spread out the cost of materials over a longer period of time.
5. Timeline
The timeline of a house renovation project may affect its cost. It is important to outline accurate expectations with your contractor to agree on a schedule and budget. A typical renovation could take anywhere from a couple of weeks if the project is uncomplicated to several months if the project is extensive or complex.
When it comes to the house renovation timeline, the labor cost is an important factor. Labor costs are more expensive in quick projects. Furthermore, you may find better deals on materials or supplies if you're willing to wait longer between the project's stages rather than getting everything done at once. Waiting allows you to purchase items when they can be found in bulk-buying situations or when they're available at discounted prices.
Also, more efficient contractors can often save customers money because they complete projects in less time than those with less experience.
6. The House Renovation Contractor You Chose
The house renovation contractor you choose to work with often greatly influences the project's overall cost. Different contractors have different experience, skill, and reputation levels, which can affect their quotations. Therefore, it is important to thoroughly research the contractors before making a decision and note that experienced contractors cost more.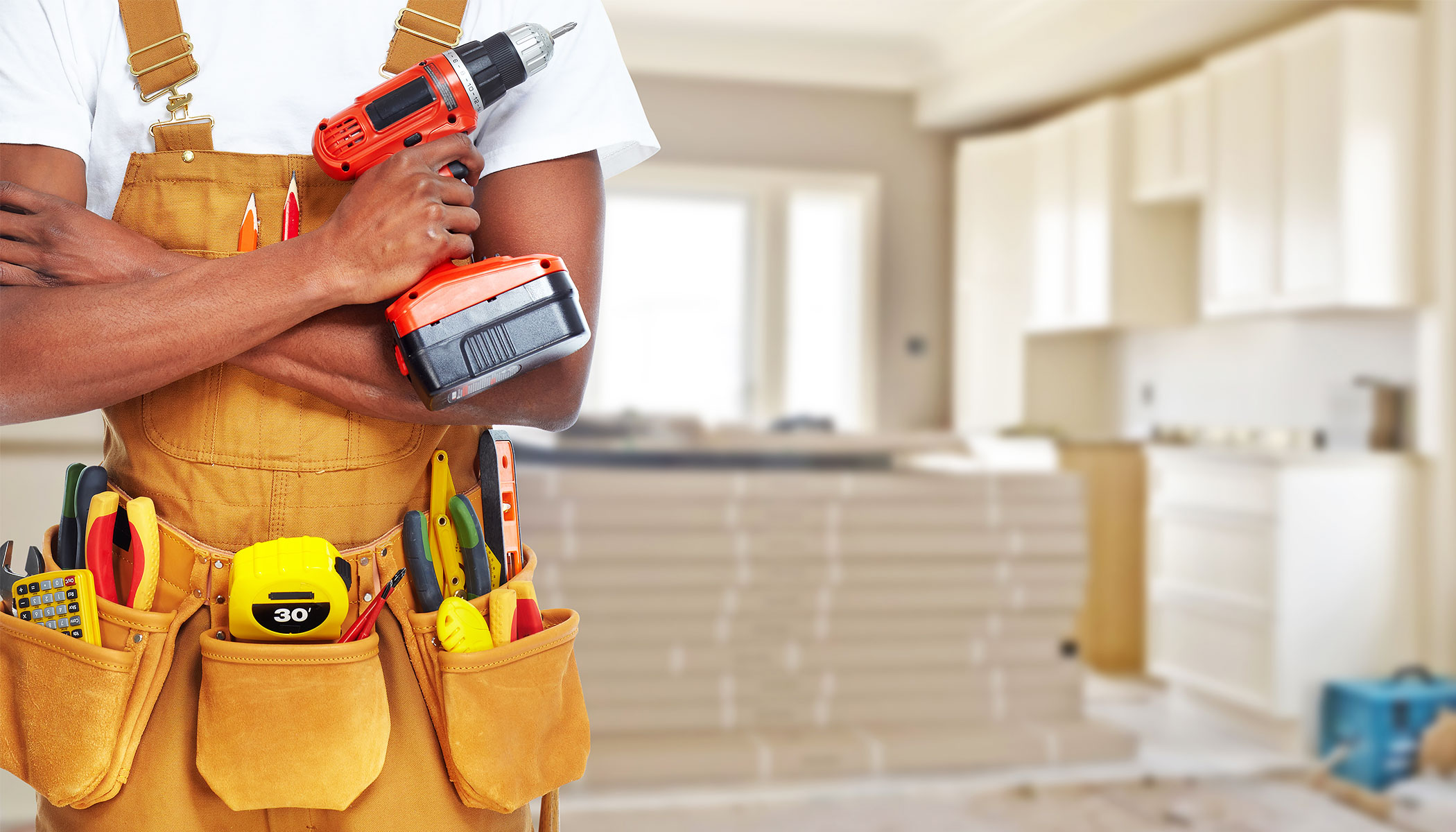 Image Source: bigsteelbox.com
Solo contractors often charge less than bigger companies, but the lower price tag may mean you'll be receptive to a final product that isn't exemplary. Even though your remodeler might be highly skilled, a one-person company probably needs to subcontract several tasks, which is more costly. On the other hand, larger remodeling companies often include builders, carpenters, and designers on staff and do not have to subcontract these jobs.
No matter the size of the company, it is important to choose a contractor with extensive experience with your remodel type. Experienced contractors have encountered nearly all issues that could complicate a project and are able to take the necessary steps to prepare for challenges that could increase your costs or slow down your timeline.
When searching for a reputable contractor, ensure you assess their background and look at customer reviews. It's also important to ask for samples of done projects or check out their references and portfolio to get an idea of the quality of their work
Setting a Home Renovation Budget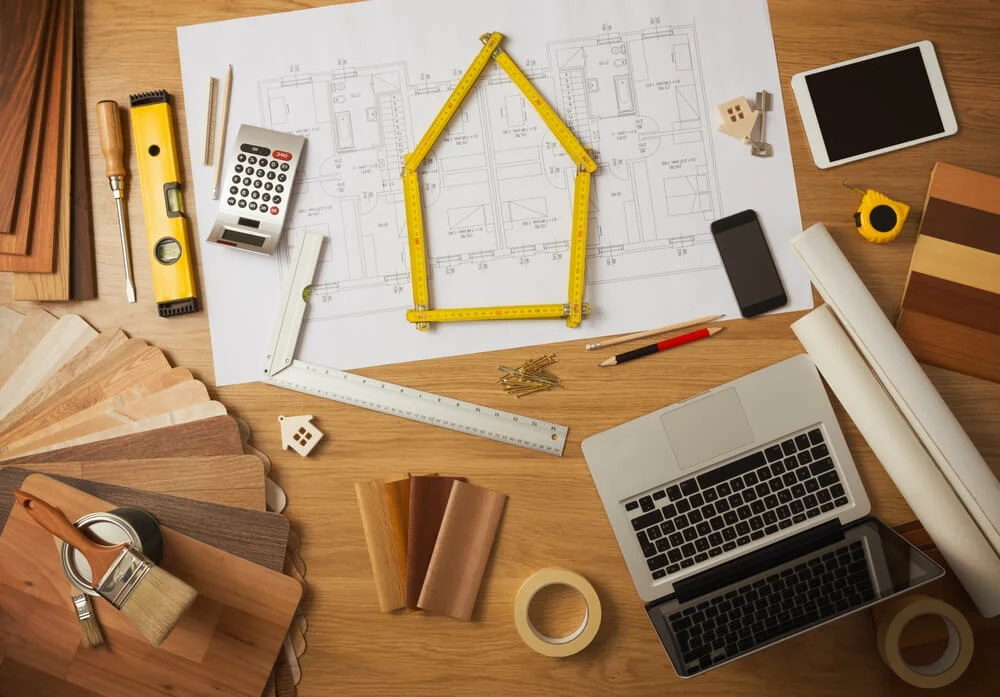 Image Source: kiavi.com
Setting a home renovation budget is critical to the project's success, whether small or big. The condition of your current house and the size of the project are the most important factors to consider when starting to plan a renovation.
To set your renovation budget, follow these steps to keep yourself from overspending
1. Make a List of Needs and Wants
Knowing exactly what you want before you kick-start your renovation project is the greatest approach to staying within your budget. Make a list of all the renovation should contain, then classify them into wants and needs.
Moreover, consider the order in which to do the renovations. For instance, if you'd want to upgrade the bathroom wall tiles, you shouldn't start with the cabinets, as this would mean dismantling them in the long run. Doing things orderly saves money and time.
2. Outline Cost Estimate
After deciding on your goals, make a thorough plan for your house improvement, including anticipated costs. This will assist you in setting a budget and informing the contractors of your desires. 
Create a blank spreadsheet showing how the home remodeling project has been broken down and the estimated costs for the materials and labor. As a common rule of thumb, you should not spend more on each room than the original value
3. Get Estimated Prices from Various Contractors
Once you know your wants, needs, and price range for each item, it is time to look for contractors who can finish the project on time and within budget. Some contractors may give you estimates based on what they think should be done, but work completed under these circumstances is always guaranteed to cost more.
Therefore, it is important to get quotations from several contractors who have good reviews but shy away from bids that go for the lowest estimates as they could be a sign of a contractor who cut corners, which may lead to extra costs in the long run
Your house may look perfect on the outside, but there might be issues lurking beneath the surface. Hidden imperfections are one of the reasons house remodeling projects often end up costing more than anticipated.
Instead of scrambling to come up with extra money after the fact, get a cushion upfront. You can factor in 10 to 20 percent or more of the contracted budget for unexpected expenses because they can occur. In fact, it's unusual that any renovation project goes completely smoothly.
Tips on How to Save Money on Home Renovation Costs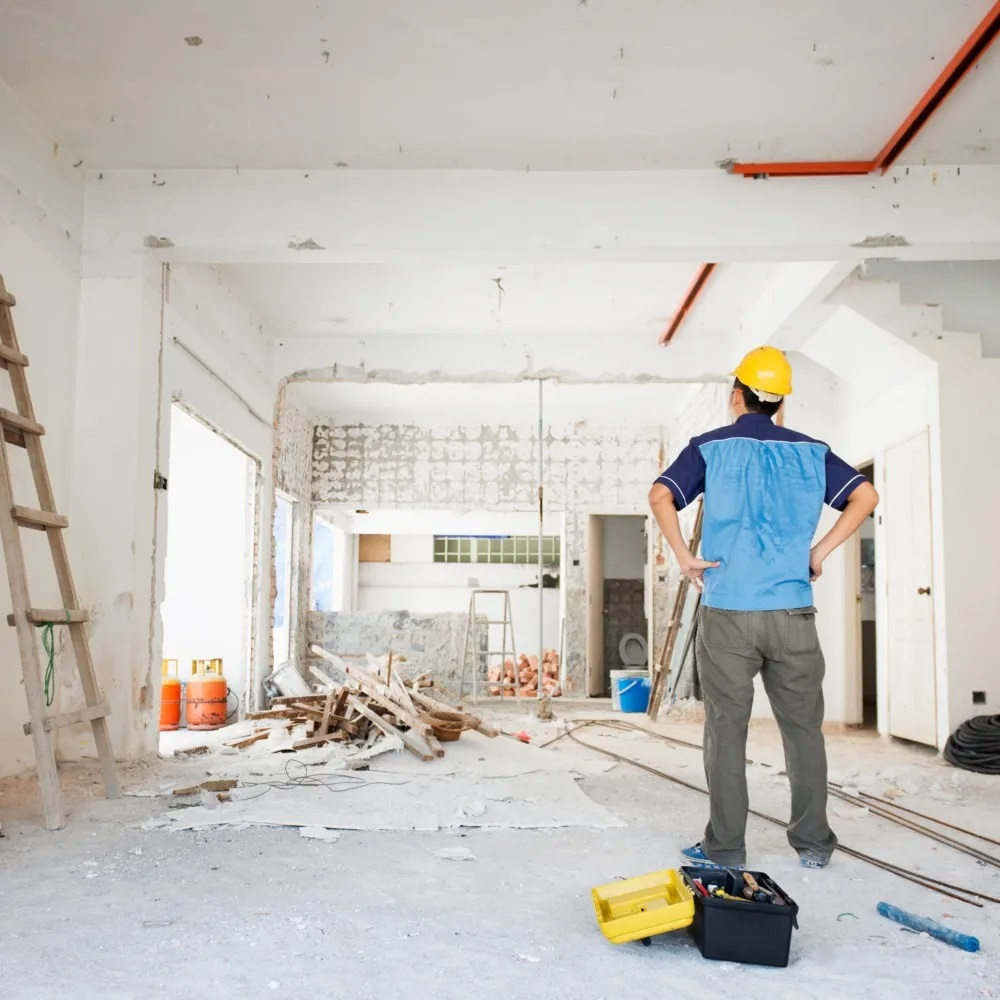 Image Source: gimmethegoodstuff.org
1. Organize Your Finances
The first step to funding a home renovation is understanding your financial situation. Pay down debts or consider debt consolidation to make your repayments more manageable, and see if you're able to reduce your weekly spending to build up your savings. The more money you can save each week, the easier you might find it to reach your project funding goals. 
2. Take Advantage Of Sales
Renovation businesses frequently hold sales to clear out old stock and make room for new stock. Keep an eye on promotional ads for local renovation stores to see if you can purchase the tools and materials you need at discounted prices to save money. While it might take you much longer to perform a renovation than you anticipated, you might spend far less than you thought possible, making up for any time inconveniences. 
3. Complete Demolition Yourself 
If removing cabinets or pulling up tile is part of your renovation, consider doing the work yourself. When no expertise is required, that is a good way to save on labor costs.
4. Order Finishes and Fixtures Yourself
contractor might charge an hourly fee to do the shopping for you and even charge a markup. Tell the contractor your plans so he can know you're taking on that responsibility yourself.
5. Do Your Own Painting
Having your house painted by a professional can cost $300 or more. You can take on this task to remove that cost from your renovation budget.
6. Shop Used
Rather than purchasing everything new, pick up used or refurbished items if possible. This can significantly reduce your spending on finishes and appliances.
7. Get Multiple Quotes
You might need to work with several experts in various fields to complete a house renovation. However, before signing any contracts, take your time to compare quotations from different professionals to ensure you get the best value for your budget
8. Consider Short- and Long-Term Savings
If you are tempted to buy the least expensive items on the market, you should remember you get what you pay for. This decision could help you save upfront on low-cost materials, but you may spend more on maintaining, repairing, or replacing these materials down the road.
Choose options that fit your renovation budget but will not cause issues weeks or months after completing the project. For example, if you need double pane seals, make sure you buy a really good, high-quality one. Low-grade seals are not going to last very long and they will end up costing more in the long run if you have to replace them constantly.
9. Rent Out A Room
If you have a room in your home to spare, consider advertising for a lodger. You might earn several hundred dollars per month giving someone a roof over their head, and you can put this money toward much-needed renovations. 
Frequently Asked Questions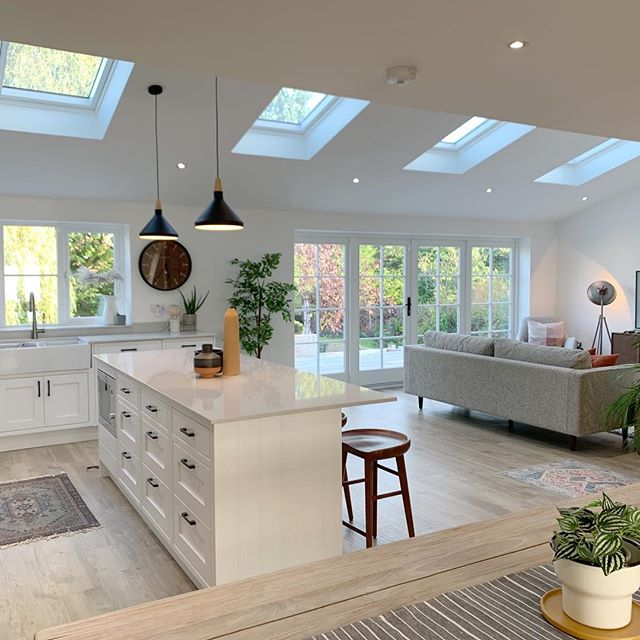 Image Source: loverenovate.co.uk
1. What home renovations cost the most?
Expanding a home's square footage by adding an extra room has the highest price tag. A kitchen renovation is naturally more expensive than other rooms because it includes many heavy-duty materials and appliances. Bathroom and basement remodeling are also pricier.
2. What is the meaning of house renovation?
House renovation is the process of repairing and improving the house so that it is in good condition again. It consists of projects that improve the existing structures and upgrades the materials and surfaces of the interiors and exterior of the house.
3. Why do I need to renovate my house?
The idea of renovating a house is not for everyone. However, you might discover it's the best option for you and your family. Renovating your current home allows you to avoid the hustle of moving, experience added comfort and luxury, improve your home's energy efficiency, and increase its value. Its other benefits include improving a home's functionality, increasing space, changing styles, and bringing your home back to life.
4. What should you renovate first in a house?
The kitchen should be one of the first projects to deal with because homeowners want to make a good first impression, and it is one of the spaces where guests and family spend the most time. This renovation project includes flooring, new cabinets, appliances, countertops, and, mostly, the layout to open up more space
5. What are the most important things to renovate in a home?
Whether you are preparing for a move or simply looking to update your home, renovating can be a huge undertaking. So it is important to know whether the reward will be worthwhile. So here are the renovations that offer the biggest impact on a home's value
Creating an addition. It could be a new bedroom or a living room extension
Redoing the kitchen to enhance functionality
Amplifying outdoor living space
Enhancing a home's accessibility
6. What is the average cost per square foot to renovate a house?
Renovating an entire house will cost an average of $10 – $60 per square foot. As a result, the more square footage involved in the renovation project, the more you are likely to pay.
7. How much does a home renovation cost?
Several factors dictate the home renovation cost, including location, contractor, market demand, time of the year, etc. Depending on the characteristics of the build, prices may change drastically. For instance, hiring a contractor for your house remodeling project can cost between $20 and $150 per square foot, and completing a whole house renovation could cost an average of $40000-$300000.
Final Thoughts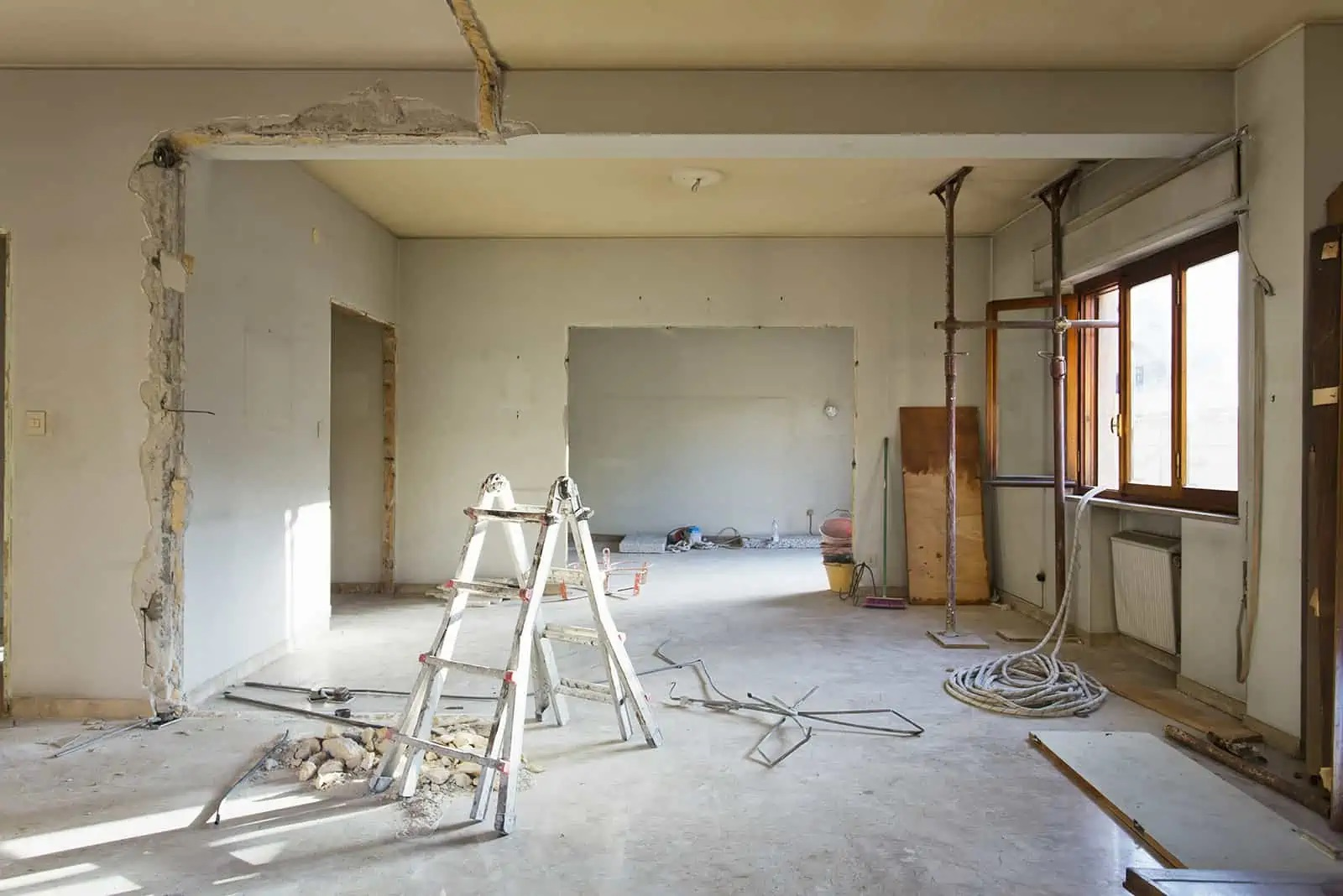 Image Source: probuildermag.co.uk
When it comes to renovating your house, there're a number of factors that will affect the overall cost. By understanding these factors, you will be able to better plan and budget for your renovation. The essential thing is to be aware of these factors and to plan accordingly. Now that you know what to expect, you can start budgeting for your home renovation project.