Wall display shelves for collectibles are a fantastic way to showcase your prized possessions. We've searched the web and found the best display shelves for you to add to your space, whether you're accustomed to using display shelves or not.
The best wall display shelf we recommend is the BAYKA Floating Shelf. This pick is perfect for any room in your home or office and is made of durable, high-quality materials.
Coming up at number 2 is the COASTER 5-Shelf Glass Curio Cabinet, that's great for displaying small collectibles. The main reason it comes second is that the glass shelves have a weight limit of 28.6 lbs, and you can only use it for small items. Our third shelf for your decorative accents is the ANDGOO Display Risers shelf that you can use to display your jewelry, Funko Pop Figures, and more.
Why Should You Use a Wall Display Shelf for Your Collectibles?
Image Source: scholarlylead.com
Most homeowners decorate their homes with display shelves for collectibles because they take someone a trip down memory lane. The collectibles can be collections or prized possessions that are very valuable to be left on a shelf or handled without care. Therefore, an ideal display case is necessary for preserving the integrity of an item while still showcasing it to be admired.
Display cases for your collectibles come in different options and styles, and you should choose only the ones with a strong glass and security system to keep your ornaments safe.
If you are looking for a decorative yet nostalgic home experience, we have listed the best display shelves for collectibles to help you with easy shopping. Read on. The displaying shelves we have listed are suitable for different collectibles ranging in size from small items such as toys and jewelry to large items to hold multiple oversized items.
What Are Display Shelves?
Image Source: popsugar.com
A display shelf is a furniture piece with shelves where you can store plants, books, collectibles, picture frames, and other decor elements to your taste. As much as you may like other furniture, display wall shelves add some character and spice to your house.
Displaying shelves for collectibles is a safe place to showcase your collectibles without worrying about damage, deterioration, stick fingers, or environmental distractions. There are many types of shelving, cabinets, and boxes designed for the best setting for showcasing your collectibles, such as coins, ornaments, stamps, family heirlooms, and anything that brings you happiness.
Notably, a displaying shelf is not the only place to store your collectibles. You can also achieve the unexpected by displaying your small collectibles on window sills and the large items in an unused fireplace.
Pros and Cons of Using Display Shelves for Collectibles
Image Source: overstock.com
With plenty of considerations in mind, you may find it difficult to decide whether to purchase display wall shelves for collectibles or not. For clarity on your predicament, here are some pros and cons for you to contemplate.
Best Display Shelves for Your Collectibles
Image Source: overstock.com
| | | | |
| --- | --- | --- | --- |
| | | | |
| | | | |
| | | | |
| | | | |
| | | | |
1. BAYKA Wall Shelves
Sale
BAYKA Wall Shelves for Bedroom Decor, Floating Wall...
【Keeps your Wall Organized】Three boards of different lengths...
【Three Floating Shelves for All】Simply designed with solid...
【Simple Combinations, More Creativity】 Added triangle design...
【Sturdier and Easy to Install: Large】16.5 × 5.5 × 4.6...
【Extra Uses】 BAYKA floating shelves can be used as cat...
We absolutely love this wall display shelf for collectibles. When it comes to wall-mounted shelves, it doesn't get any better than the BAYKA wall shelf. We had the pleasure of having these spacious shelves in our home, and we're impressed with the functionality and quality we are enjoying.
One of the major considerations for us when choosing this display shelf was the ease of installation, and we weren't disappointed. We got all the hardware we needed with this purchase, including a spirit level, to ensure that we placed this wall-mounted shelf correctly. In fact, it took us less than 20 minutes to set up these shelves.
Image Source: desertcart.co.ke
In addition to the ease of installation, this display shelf is extremely sturdy and able to handle up to 40 pounds. Therefore, if you have a cat that loves jumping around as we do, you can be sure your shelf won't buckle under the weight. The high-quality materials used to make this shelf make it very reliable with an elegant and sleek design.
We placed this shelf in our living room, and we can honestly say that our interior space has transformed, and our treasured collectibles are quite at home. The protective bar at the front ensures that our items don't fall off any of the three shelves. If you want a space for your precious items without getting a locking display case, these shelves are the way to go.
However, one drawback of this shelf is that it can seem small if you want a shelf to place several or huge objects. Therefore, consider our second pick below if you're looking for lots of space.
2. COASTER 5-Shelf Glass Curio Cabinet
What's better than a high-quality display cabinet? A high-quality display cabinet that comes with clear-as-day instructions on how to assemble it. The instruction manual is one of the reasons we fell in love with this display shelf that adds a sophisticated and modern vibe to our living room. You won't have to go to YouTube to get more information once you purchase this shelf.
We also love that his Coaster glass curio cabinet has a slender black frame and linear styling that complements our modern decor in a way that no other piece of furniture could. It also features glass panels on all sides to shed maximum light on our collections.
Image Source: coasterfurniture.com
To offer easy access to our interior shelving, there are push-to-open doors we can use. This display shelf also has deep shelves that make our collectibles and action figures the center of attention.
You will love that this curio cabinet comes in three sizes, allowing you to choose the best size according to your collectibles and ornaments. This showcase works well in an end wall or a living room, and the curio cabinet gives a breathtaking look to both modern and traditional interiors.
The weight limit of each glass shelf is 28.6 pounds. However, you can place heavier objects on the bottom shelf with a weight limit of 44 pounds.
We placed our display cabinet in our living room to match the modern interior design, but you can place it anywhere you like. However, note that this glass cabinet can easily be toppled over. Therefore, avoid placing it in an area where kids can easily knock it over while playing.
3. ANDGOO Display Risers Acrylic Showcase
ANDGOO Display Risers, 6 Pcs Rectangular Clear Acrylic...
💕Premium Materials - Large Size: 8.8*3*3.9in, 8.4*3*2.8in,...
💕Floating Visual Experience - Crystal clear food-grade acrylic...
💕Easy to Clean and Maintain - No assembly! ANDGOO acrylic...
💕Versatile Uses Meet All Your Needs - From jewelry to toys,...
💕You will Get - Comes with 6pcs Acrylic Display Risers. If the...
This option is slightly different from the other two above because it's not as big. This display shelf is created for smaller objects, such as perfumes and small collectibles.
ANDGOO display risers come with thick transparent acrylic that has extra durability and long-lasting service. This is the main reason we placed this shelf in our bedroom. We use it to place our collection of perfumes and other small decorative items.
In addition, this display shelf gives a floating visual experience thanks to the food-grade acrylic that gives this stand a stylish and exquisite look. This makes it perfect for our perfumes because it just adds to how elegant they look.
Image source: ebay.com
We spend minimal time cleaning the ANDGOO display risers because of how easy they are to clean. We also enjoyed the fact that this shelf does not need any assembly and features two protective films on the inside and outside.
You will like that this display set has a laser-cut finish smooth surface and comes with two sets, and has three differently sized risers to show your different collections. In addition, this display shelf is super versatile as it can be used to store collectibles, succulent plants, shot glasses, and any other crafts.
The drawback of this display shelf is that you can only place small and lightweight objects. The weight limit of 16 ounces doesn't allow you to place heavy objects because these will make the shelves wrap.
4. Ikee Design Wooden Wall-Mounted Display Shelves
Ikee Design Wooden Wall-Mounted Display Shelves Rack...
WOODEN DISPLAY RACK - 5 shelves wooden rack for displaying your...
REMOVABLE SHELVES - The wooden shelves slide in and out easily,...
WALL-MOUNTING DISPLAY SHELF - It can be easily mounted on the...
MATERIAL & SIZE - Wood; Overall: 11"W x 3 1/8"D x 16 1/8"H;...
Accessories are NOT included
We couldn't feel satisfied without at least one wooden display shelf. Ikee Design shelves are a perfect wooden example of where you can store your collectibles, small plants, action figures, picture frames, and other memorable collections to make your space feel special.
The classic natural oak finish and the fact that we can mount this shelf on the wall means that we have extra space for other objects. The weight limit for each shelf should be about 3 pounds which means that you can comfortably place collectibles of various weights on the shelves without much worry.
Image Source: organizingidea.com
We also often customize this wall-mounted shelf to accommodate the various objects we put there. For example, we remove some shelves to create extra height for our antique candle holders and other tall objects.
Aside from the shelves being removable, this shelf has a minimalist and trendy style for displaying your figurines, collectibles, collections, and action figures. A drawback of this shelf is that it's unsuitable for large collectives. Otherwise, you should be fine if you plan only to place your smaller collectibles.
5. DisplayGifts Collectible Solid Wood Display Case
DisplayGifts Collectible Solid Wood Display Case Wall...
Cherry Finish. Crafted from solid wood, Overall Measurements:...
Please Measure your Collectibles to make sure they fit slots...
Real Glass door to Protect and prevent dust, easy access. Felt...
No assembly required, comes in one piece
Wall mountable, easy to hang. Shot Glass NOT included.
Finally, we have the DisplayGifts display case that is crafted from solid wood and features a real glass door that prevents and protects our collection from dust. We also have easy access to our collections when we need to take them out.
Image Source: amazon.com
Another thing we enjoy with this shelf is the felt interior background that gives the case a great look. We didn't have to assemble this piece because it comes as a single piece. The versatility of this shelf gave us the option to hang, mount, or place it on the table. We chose to mount it on the wall.
You'll find that this shelf is a great option for displaying rocks, small curios, or other figurines. It includes door latches, brass hinges, and wall brackets on the back for hanging. The net weight of this shelf is 18 pounds. Keep this in mind as you purchase it and choose a location for it.
A drawback with this pick is that the shelves are very small. This means that you can only place your miniatures and other small collectibles.
What to Consider When Purchasing the Best Display Shelves for Collectibles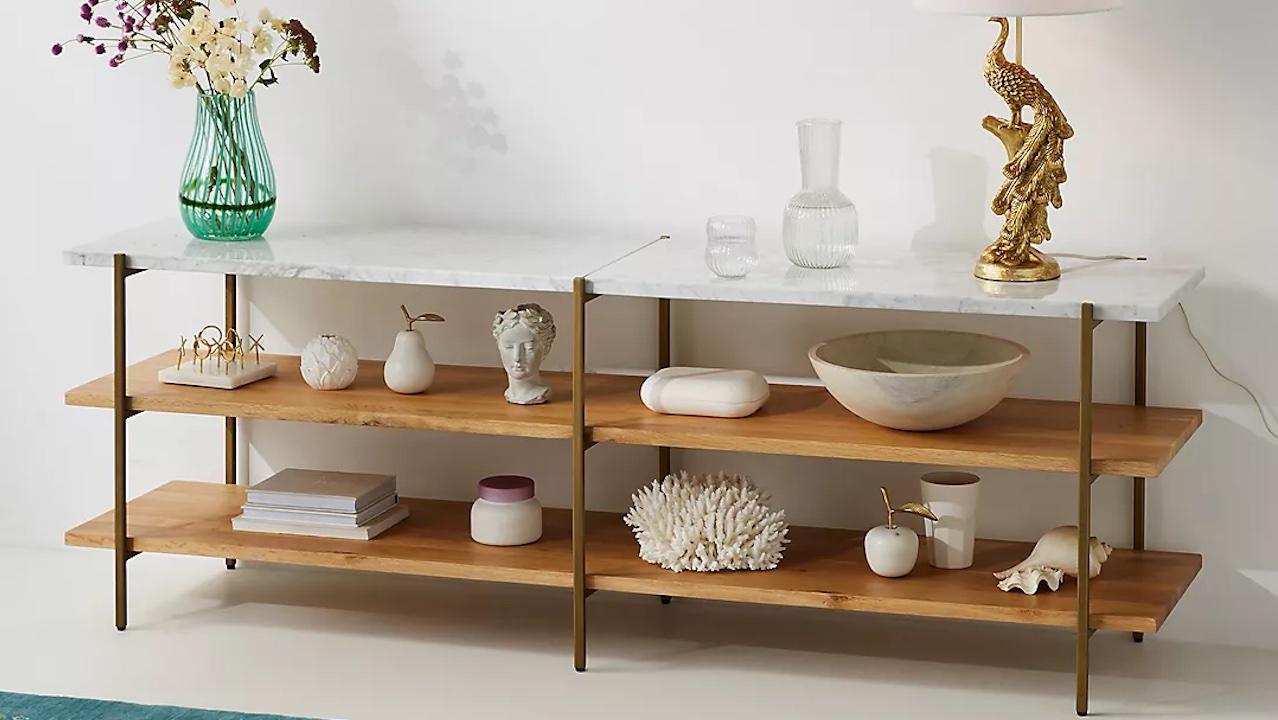 Image Source: cbsnews.com
If it's your first time purchasing display storage for collectibles and you don't know what to look for, you might feel worried. However, we got you. We have listed some factors to consider when shopping for the right shelving for your prized possessions.
1. Size
The size of your cabinet or display shelves is one of the most important factors to consider before purchasing. If you are working with a tall frame, it will make your room look airy and uncrowded. In addition, it creates the likelihood of focusing more on the decor and not on how bulky the display cabinet is.
2. Design
You shouldn't buy display shelves without thinking of your house's interior, such as chairs and accent lamps, because display shelves can make and break the look of your place. In simple terms, a contemporary and sleek display cabinet should be matched with a modern interior design, but a vintage one can give an overall aesthetic of a classically themed space.
3. Type
Display shelves usually vary in various styles to offer functionality and specific features. For example, vitrines or glass display shelves are suitable for your collectibles and other decors needing special attention but safe for occasional falling or dust.
Contrarily, a display rack or a bookshelf allows interaction and visual focus. As with wall-mounted display shelves, it gives a clean and bright approach to your house decor, and it will need constant cleaning because of debris and dust.
4. Price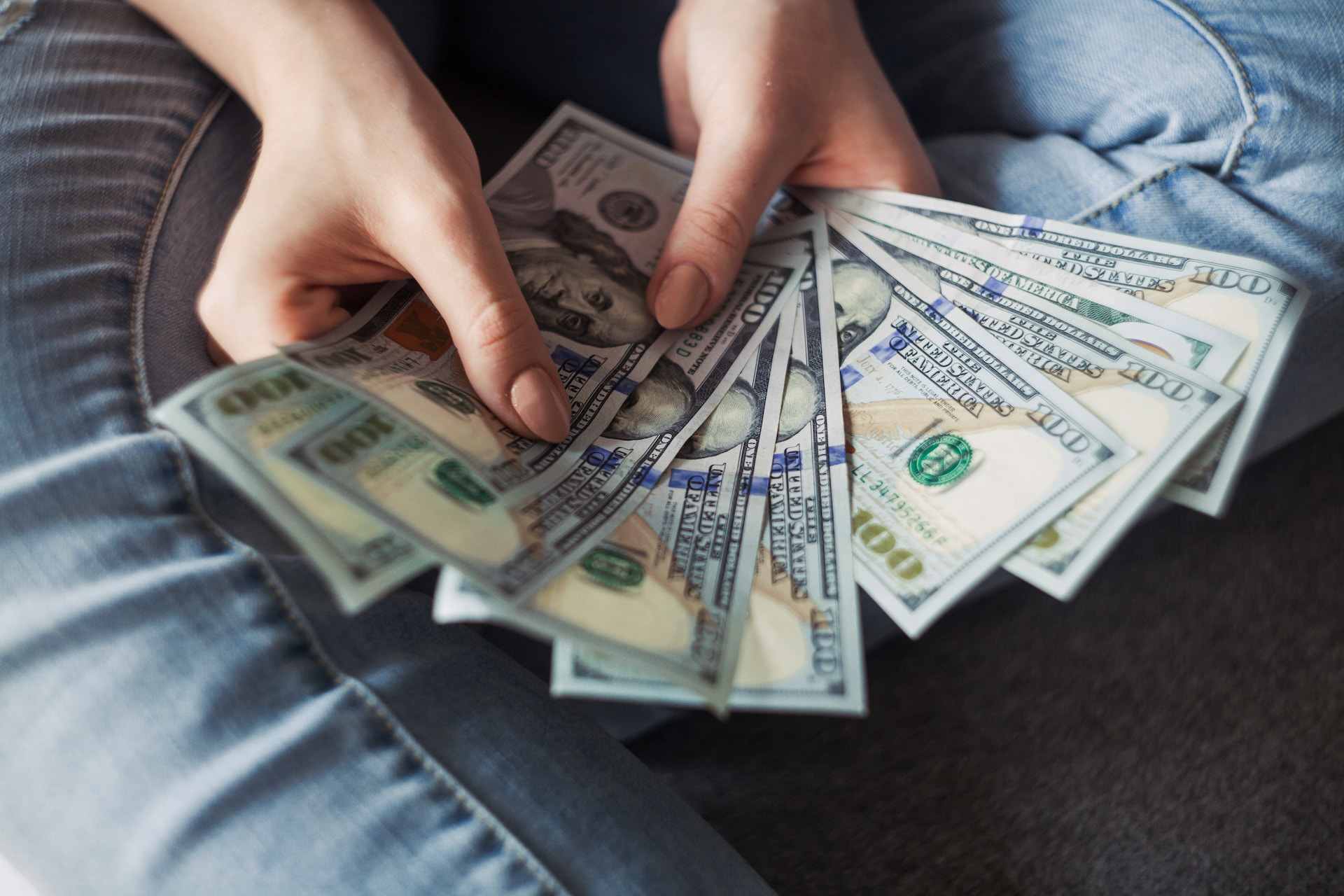 The cost or budget of displaying shelves always matters because the price is not always correlated with quality. You can DIY your display shelves to give a personalized yet more accommodating piece if you have a low budget.
For instance, versatile pegboard shelves are suitable for people who often redesign their shelves. It gives the option of changing the amount of storage and placement as long as it fits your current needs.
5. Frame and Construction
Without a doubt, the display's shelf case construction and the frame are important to consider when you shop for a display shelf. If the frame is flimsy and not created with high-quality materials, it could easily fall apart, with time becoming useless, and could destroy your collection.
In addition, the frame should be solid and resistant enough to protect your collection while preserving your display case's structure.
6. Lighting System
When shopping, you will realize that most display shelves for action figures and collectibles have lighting to make the items more enjoyable and visible. Most manufacturers use LED lighting to achieve the light details and give your setup more filters. Notably, if you search widely, some display cases feature other lighting types, including regular bulbs of different sizes.
7. Shelves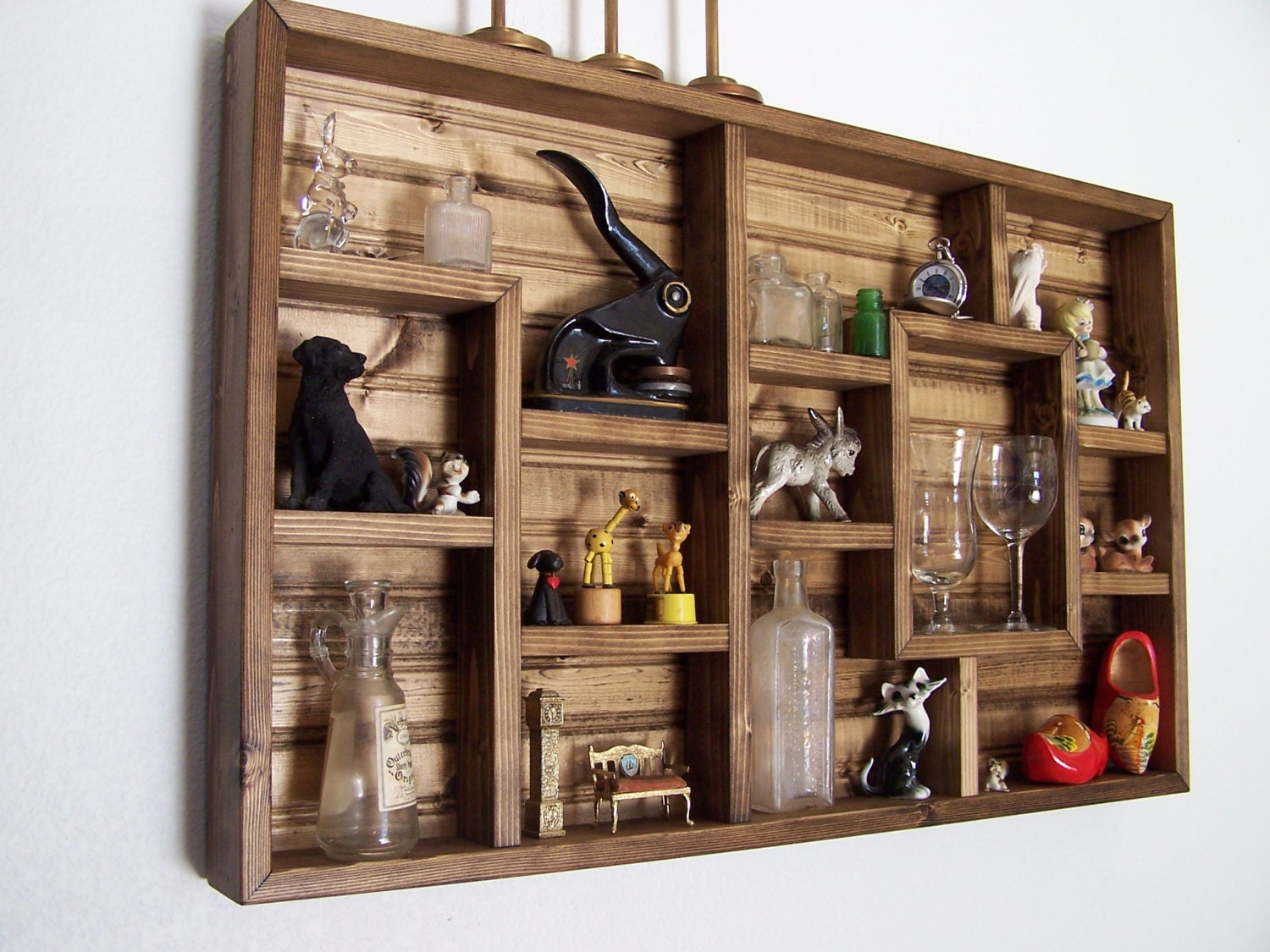 Image Source: etsy.com
Generally, having a displaying case with more shelves means showcasing more action figures and collections. However, a display case featuring too many shelves may not have enough height to accommodate the larger figures out there. So, to ensure your collections fit in your display case, measure the tallest items you plan to display and check if they will fit in your new display shelf.
8. Door
Almost all the closed display cases feature a door that allows you to place your items inside, whereas most have a sliding door. Normally, most sliding doors are acrylic, transparent, or glass, with exceptions. However, some display shelves come with a swinging door, not a sliding one. No matter the displaying case, all the closed display cases should have additional security.
9. Backing Materials
The backing material of a display shelf gives the background for the items you have displayed in it. Several materials are used to make the backing, and they include cork barking, mirror backing, loop fabric, a white laminate, and a large variety of wood types. Largely, a display shelf backing will be present for aesthetic reasons, but some materials will offer extra protection for the items on display.
What Are the Types of Display Shelves for Collectibles?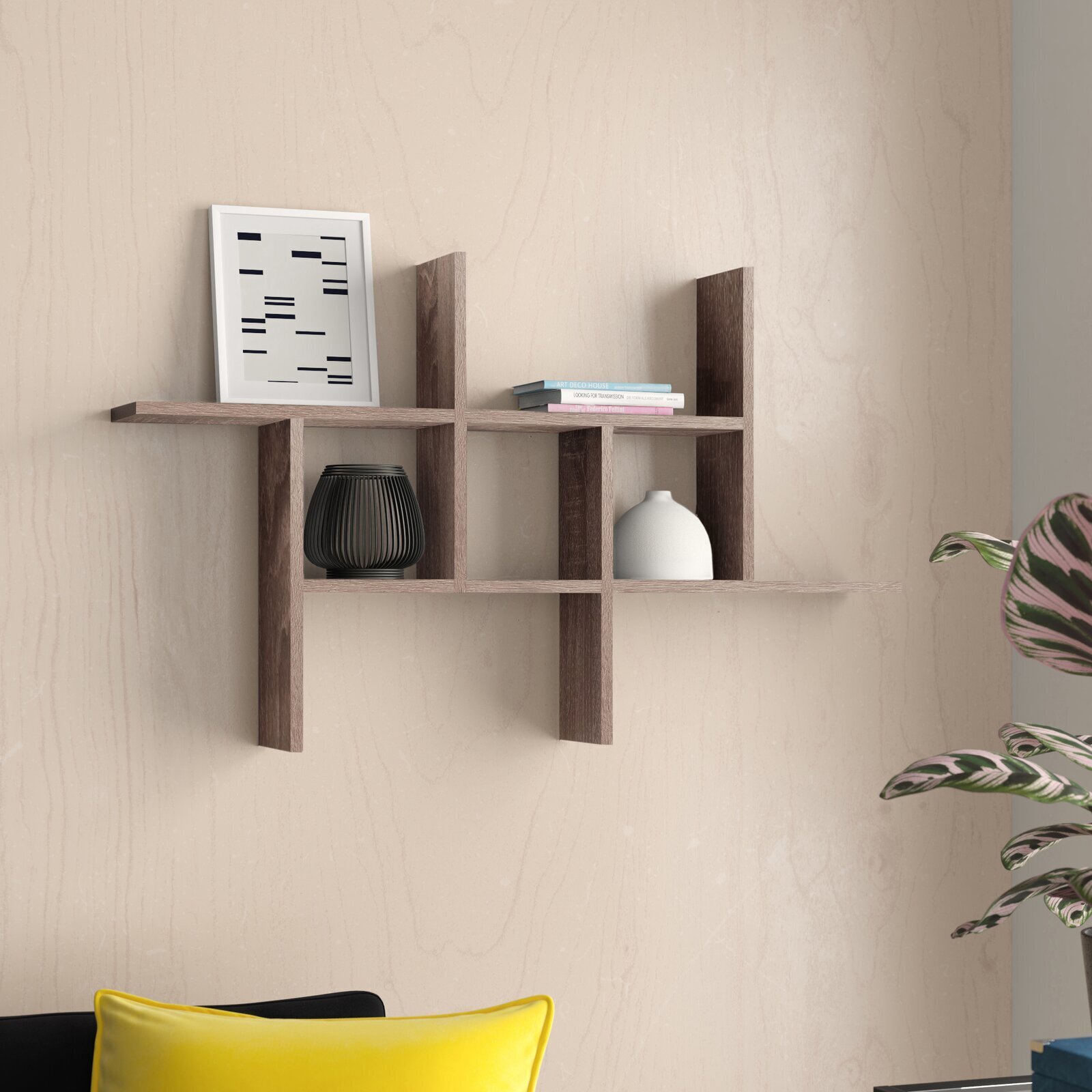 Image Source: foter.com
A) Wall Mounted Display Cases
These cases are the ones you hang on a wall, and they are preferred because they are practical, convenient, and they don't occupy a lot of space. Also, they don't need counter space or a stand, which adds convenience, and they are less expensive than the freestanding display cases.
The wall showcase is meant to be displayed against a wall where the products can be accessed and displayed from the same side. This type is heavily used by schools, museums, stores, and homes to showcase their prized possessions.
B) Freestanding Display Cases
These displaying cases can be placed against a wall, corner, or stand, and they are more spacious and larger than mounted display cases. There are three types of freestanding showcases, wall, counter, and middle-floor showcases.
A counter showcase is designed to display items through one side, the customer side, and allow them to be accessible on the other side. These displays are mostly used for retail stores.
On the other hand, the middle floor case is meant to display items from all sides, and it is meant to be positioned in the middle of a room. Schools, museums, and stores mostly use this showcase to showcase valuable collections.
How Much Weight Can Wall-Mounted Display Shelves Hold?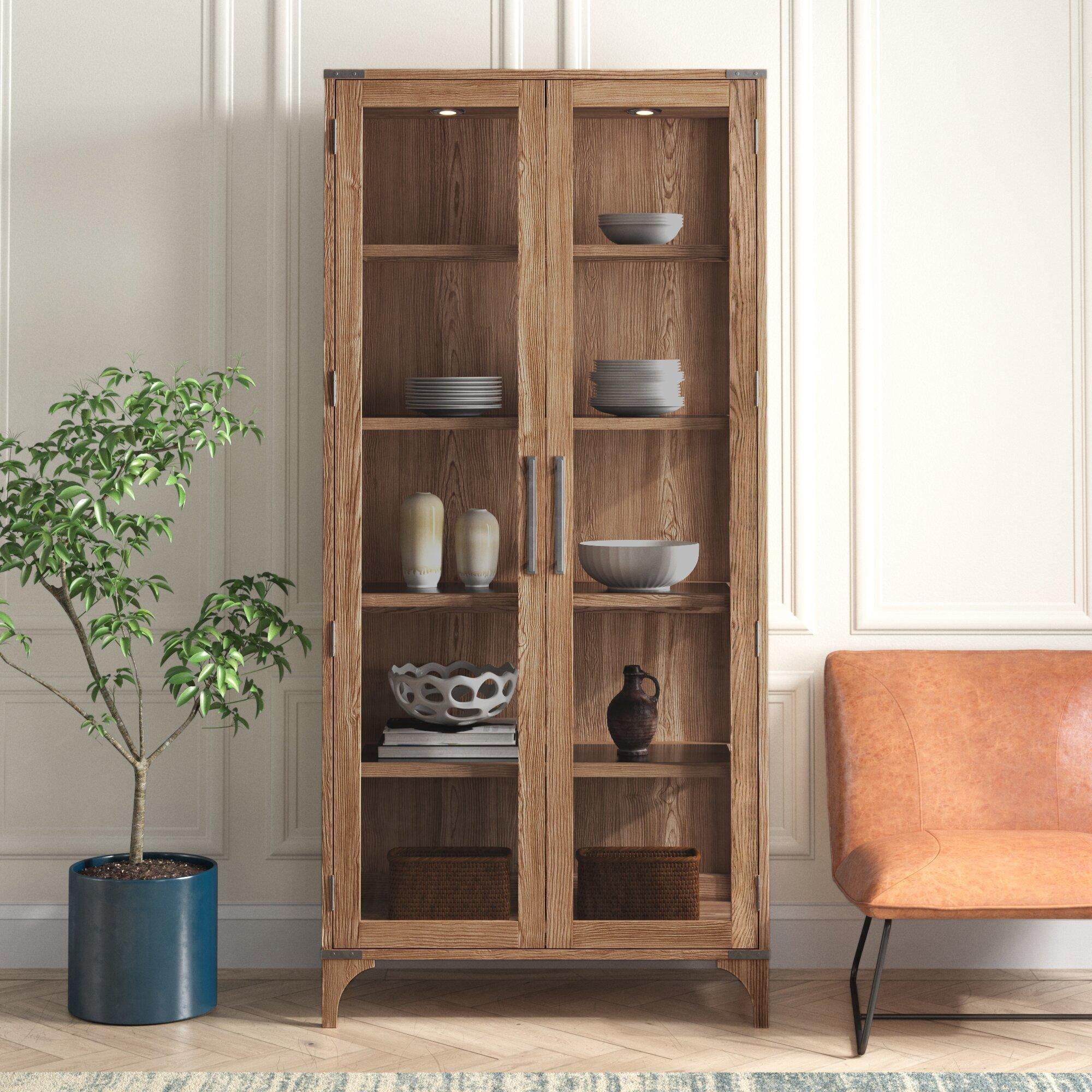 Image Source: cbsnews.com
On average, standard wall-mounted display shelves support about 30-50 lbs. However, this depends on the shelf materials, how many studs should be used to mount, and the depth of the wall-mounted shelf.
Some wall-mounted display shelves can support over 300 lbs, but these shelves have to be built and installed properly to carry this amount of weight. In addition, you can also consider what your shelf will be holding, how much objects weigh, and how it will affect the dimensions you need for your shelf. The answers will help you decide how big your shelf should be and the type of wood you should use.
Notably, if you want your shelf to handle a substantial amount of weight, specific wood types are sturdy and durable. Some include mahogany, cherry, walnut, plywood, pine, and MDF (medium-density fiberboard).
Frequently Asked Questions About Wall Display Shelves for Collectibles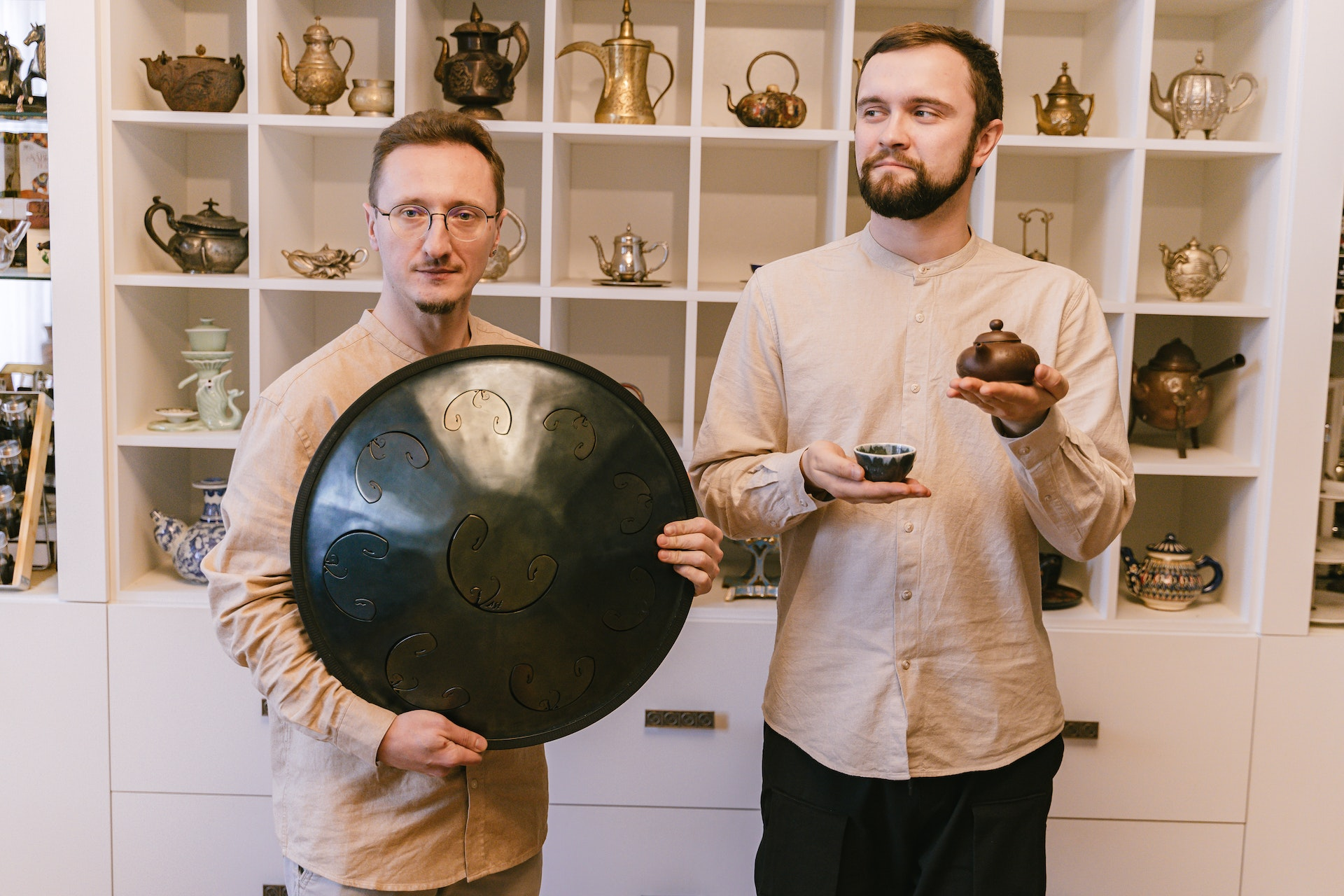 1. What is the best wall shelf for collectibles? 
The best wall shelf for collectibles is the BAYKA Floating Shelf. It's great for placing various types of collectibles and can hold up to 40 pounds in weight. If you want a spacious shelf that is easy to install, has a sleek design, and is sturdy, this is your best choice. 
You can read more about this display shelf that can support a wide array of decorative items above.
2. How do you arrange decorative items on shelves?
Some factors you can use to arrange decorative items on your shelves include size, color, and texture. When it comes to size, ensure that you don't overcrowd your shelf and leave some breathing room between items. You can also choose to put the taller items behind and the shorter ones in front to showcase all of them. 
Another approach is using odd numbers when placing your items. For example, you could have 3 decorative pieces on one decorative shelf and 5 items on another. This creates a visually appealing look. 
Finally, when arranging in terms of color and texture, we've found that grouping decorative items with the same color or texture creates a nice cohesive look. 
3. How do you arrange shelves on a wall?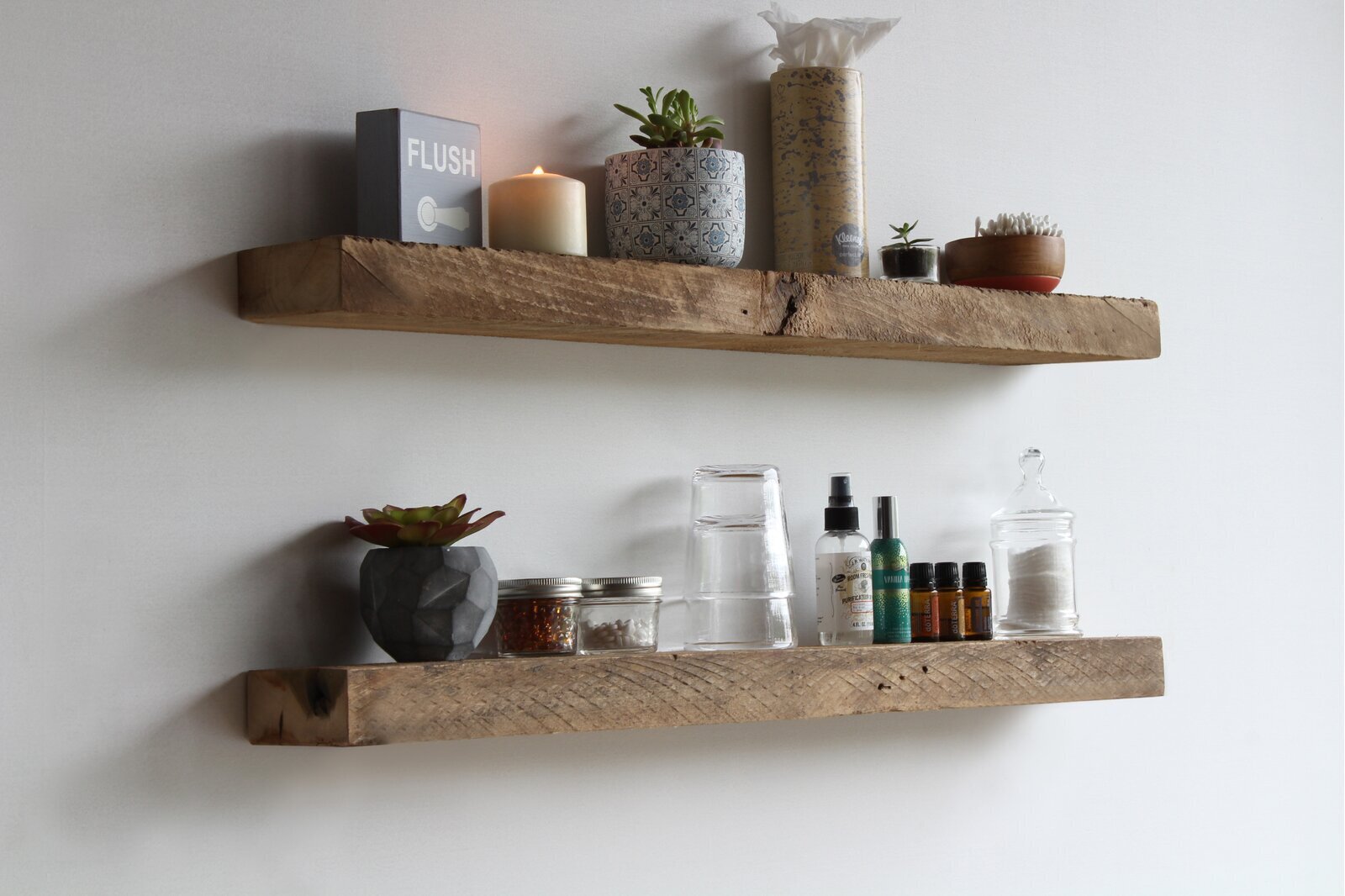 Image Source: foter.com
You can either arrange your shelves in a symmetrical or asymmetrical manner. The symmetrical arrangement means that your shelves will be evenly spaced out and balanced. 
The other way is to go the asymmetrical route. This entails arranging your shelves in a non-balanced way that creates interest and a pattern of your choice. 
Nonetheless, remember that the arrangement of your floating shelves, wall-mounted shelves, or other types of shelves depends on your preferences and the intended use of the shelf. Don't forget to use a measuring tape and level when setting up your shelves to ensure that they are straight and evenly spaced. 
4. What are the types of shelves?
The common types of shelves you'll come across include built-in shelves, wall-mounted shelves, floating shelves, ladder shelves, corner shelves, and bookshelves. 
If you're going for a minimalist design, floating shelves are a great choice, and if you have a small room and want to maximize every inch, consider going for corner shelves. 
All in all, the choice of shelf comes down to your preferences, the space you're working with, and the intended use. 
5. What is the most popular method of shelving?
Floating shelves are the most popular type of shelving thanks to their modern, versatile, and elegant characteristics. One of the main reasons many people opt to use floating shelves in their spaces is that they fit into any room. You can have floating shelves in your kitchen, living room, bedroom, office, and more. 
Because floating shelves don't have visible brackets or supports, they easily add a touch of elegance to any room they're placed into. You can use these shelves to showcase collectibles and decorative items.