Remodeling your kitchen can be an exciting chance to make the area your own and tailor it to your family's specific needs. It also gives you a chance to increase the return on investment for your house. However, there are practical aspects to consider while remodeling your kitchen, regardless of whether you want to live there or sell it.
We recognize the benefits of a do-it-yourself (DIY) kitchen remodel to save money and gain creative freedom. However, despite these advantages, it's still crucial to know when a DIY kitchen makeover job is viable and when hiring a professional is best.
Do you enjoy remodeling your home's interior spaces but are constrained by money? Using some of our favorite budget kitchen remodel ideas, you can bring your outdated kitchen into the present day.
DIY Kitchen Remodel Tips and Considerations
1. Make a List of Essentials Based on Inspiration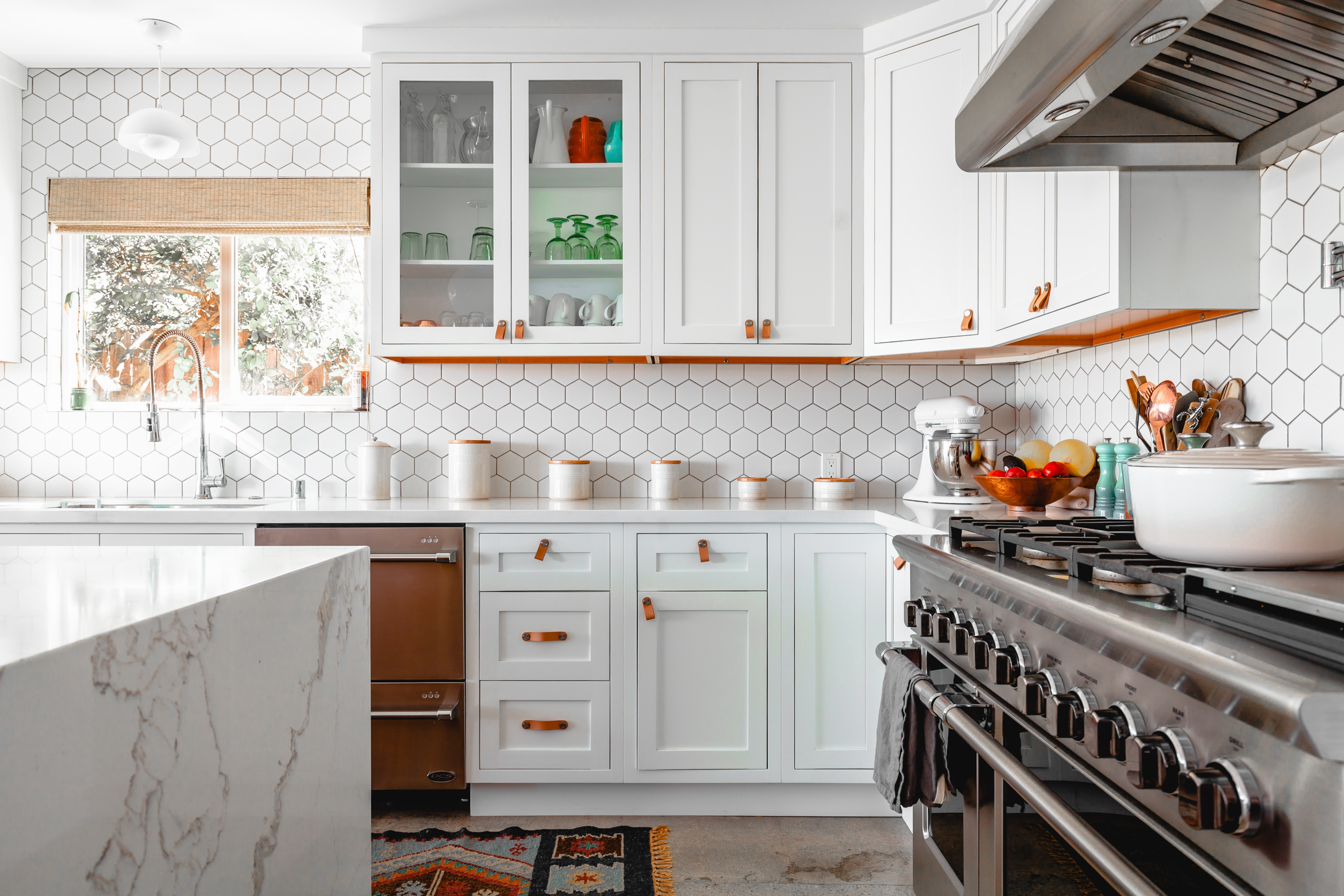 Kitchen renovations are not as common as wall painting, which can be done quickly and easily. Therefore, even if you DIY, it's crucial to plan the design and layout; you'll be content for years to come.
Do you prefer the look of a rustic farmhouse or sleek, contemporary lines? Comb through kitchen remodel ideas and before and after pictures (luckily, we did that for you). Then, to narrow your plan for your new kitchen, create a list of essentials.
2. Create a Budget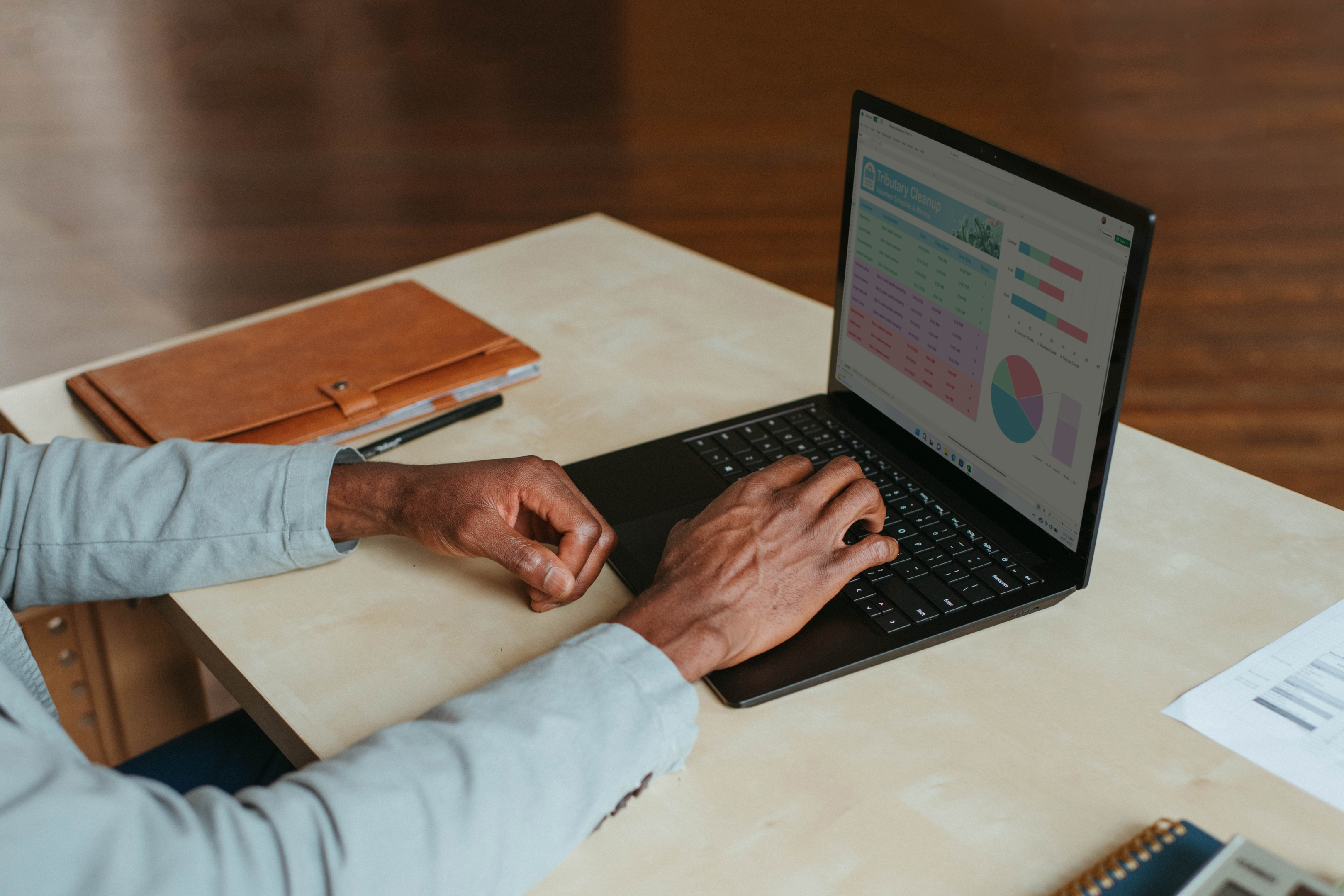 You don't want to be in the middle of your kitchen remodel and have to stop because you ran out of money. Make a list of your priorities if your budget is $10,000.
When you take the time to carefully estimate costs and compare them to those of a professional makeover, you can see exactly where your money is going and if your kitchen renovation plan is realistic.
Home Depot suggests allocating one-third of your money to cabinets, one-third to countertops and backsplashes, flooring, appliances, hardware, faucets, and sinks, and one-third to labor and installation if you want to use a professional.
3. Find Ways to Cut Costs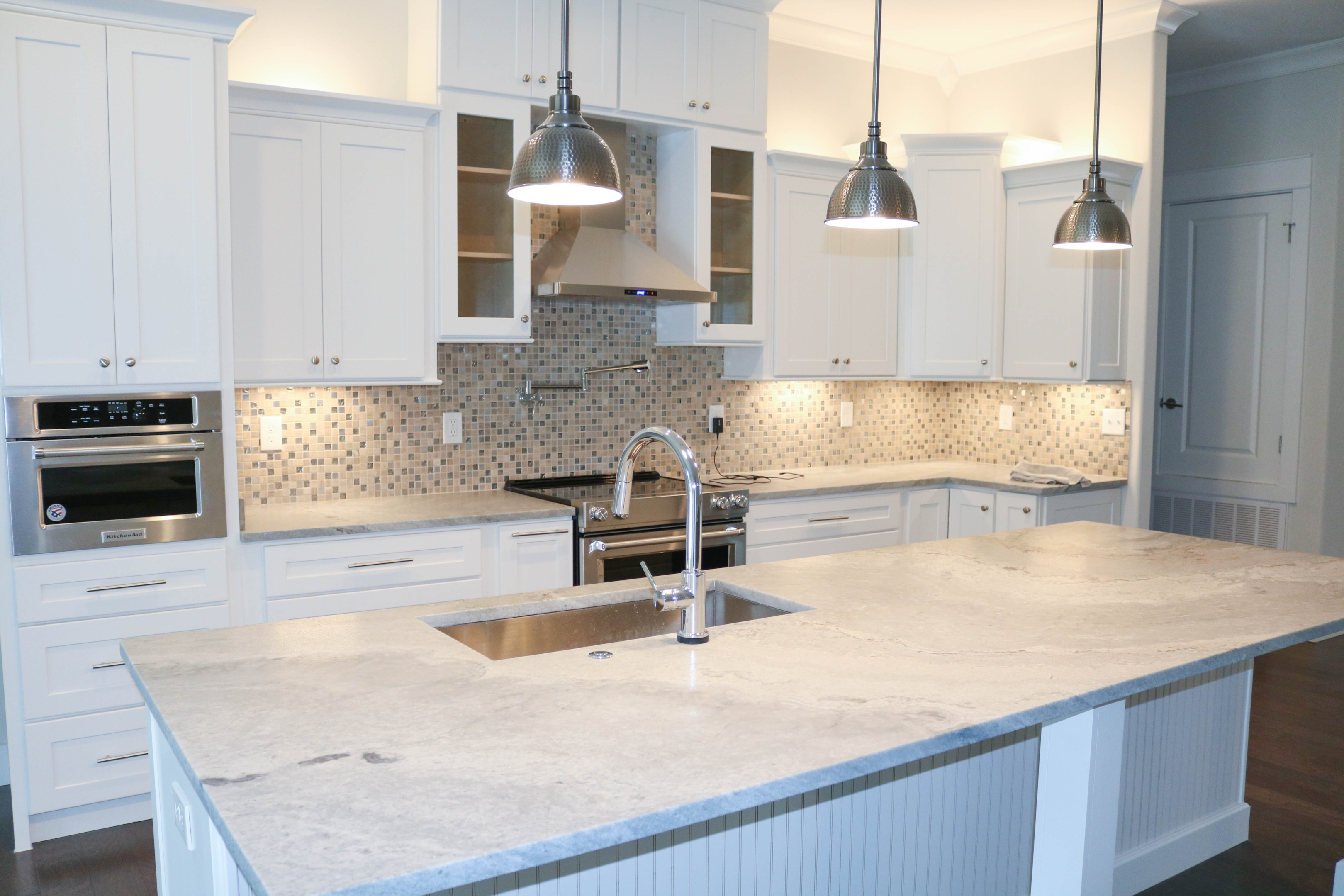 There are always methods to cut costs during a kitchen remodel, whether you decide to do it yourself or hire a professional. If you want to save money on labor, have friends and family help you with the demo or installation. Check for flooring and appliance rebates, among other product categories.
You can find hardware and lighting that has a high-end look without breaking the bank. You may save a lot of money by purchasing old kitchen cabinets from places like OfferUp, Craigslist, Facebook Marketplace, or Habitat for Humanity Restore.
To save money, opt for stock cabinetry rather than high-end custom cabinets, or keep the cabinets but get new doors from IKEA.
4. Compile Quotations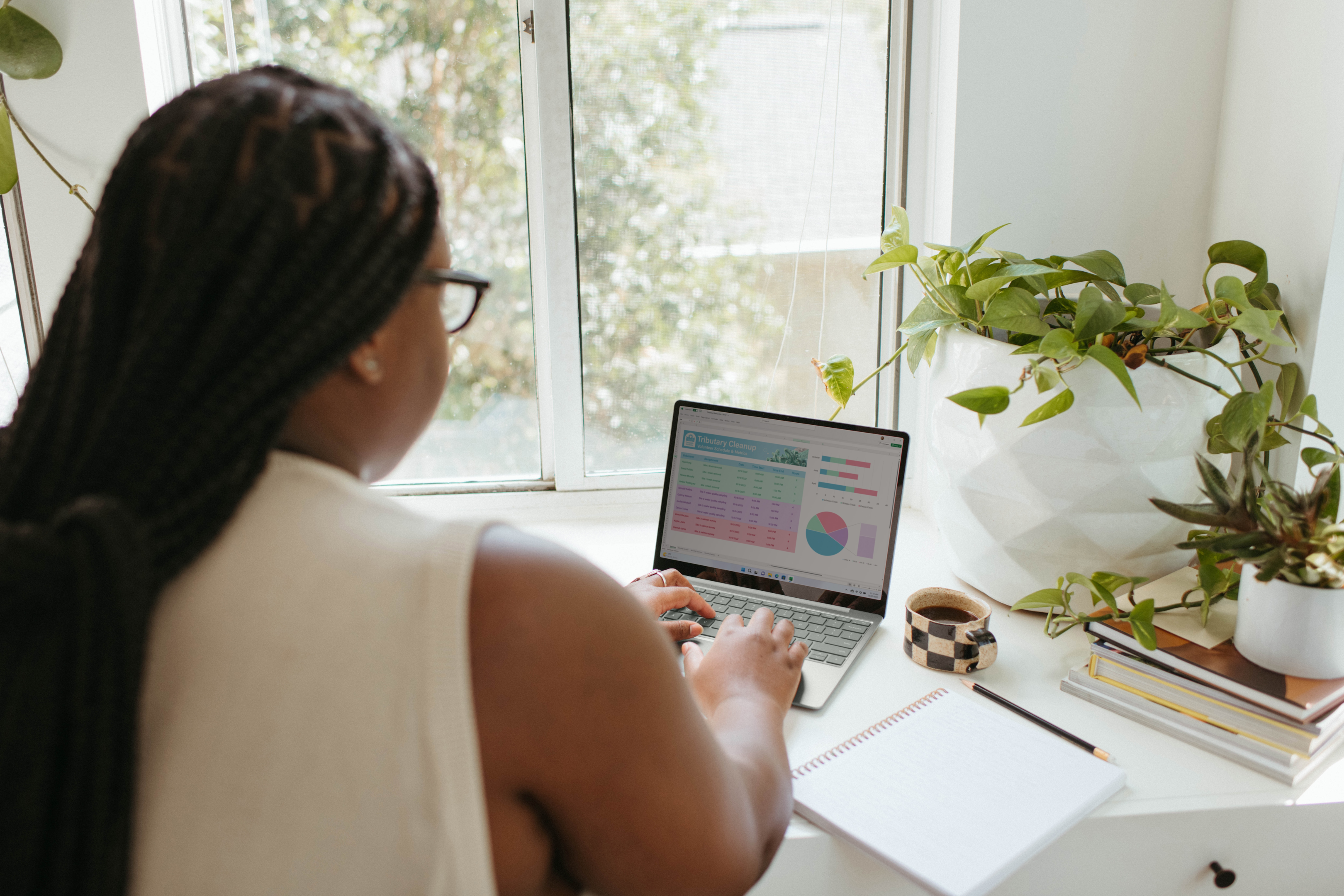 Some aspects of a do-it-yourself kitchen renovation may require the assistance of a professional, such as electricians to update the electrical wiring to current standards or plumbers to install a new sink and faucet.
Find a minimum of three prices. It's important to be sure the contractor you hire has the necessary certifications and insurance.
5. Paint Cabinets to Save money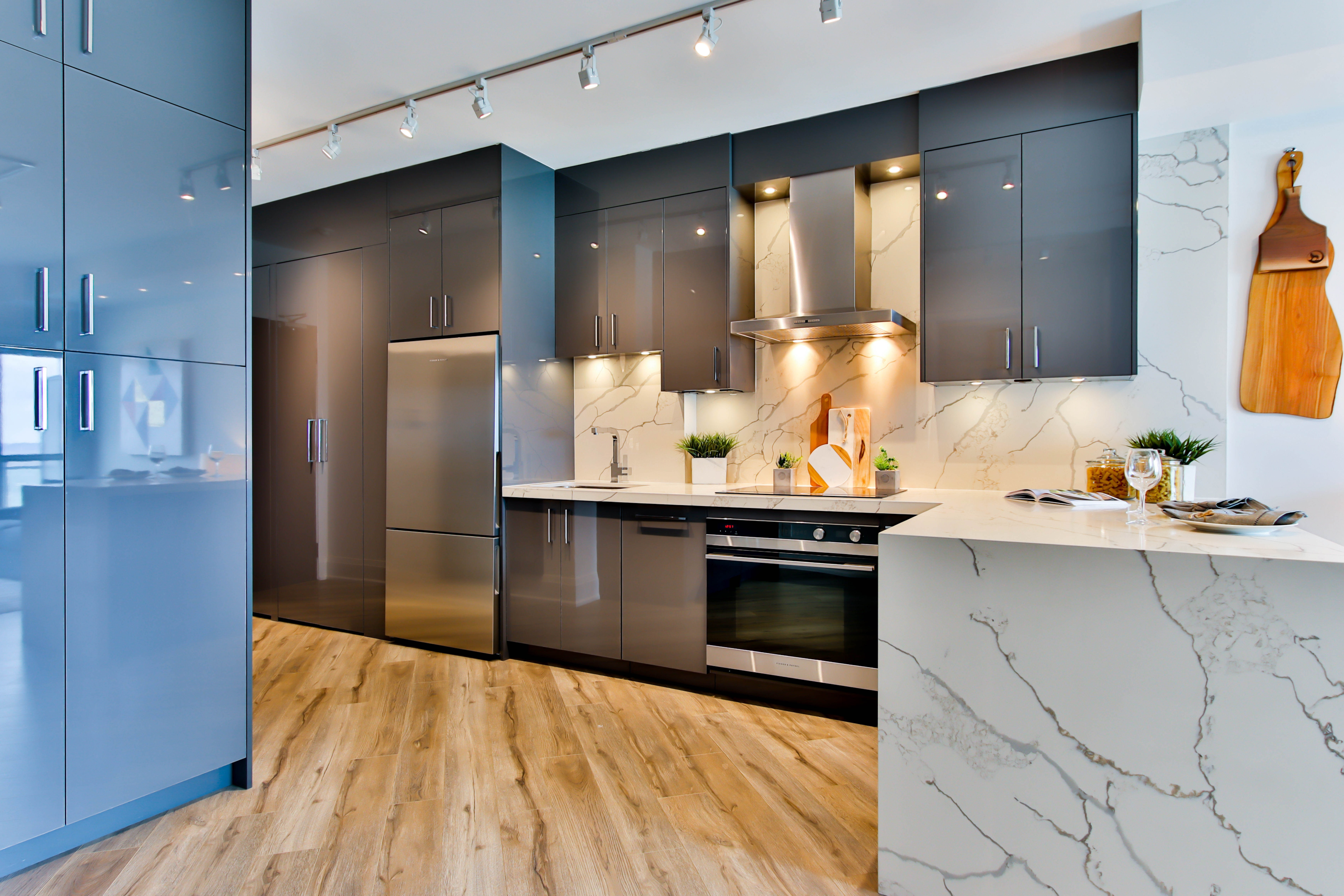 Investing in new cabinets can add an extra 30% to 40% to the total price of your kitchen renovation. However, if you like their placement and functionality but not their dark or drab finish, painting the kitchen cabinets may be more cost-effective than replacing them.
It's a very laborious DIY job, but you can do it independently, and your bank account will be grateful. Even professional painting services will be less expensive than brand-new custom cabinets. Remove the doors from several uppers to create open shelves for a light, airy appearance.
6. Invest in a High-Quality Faucet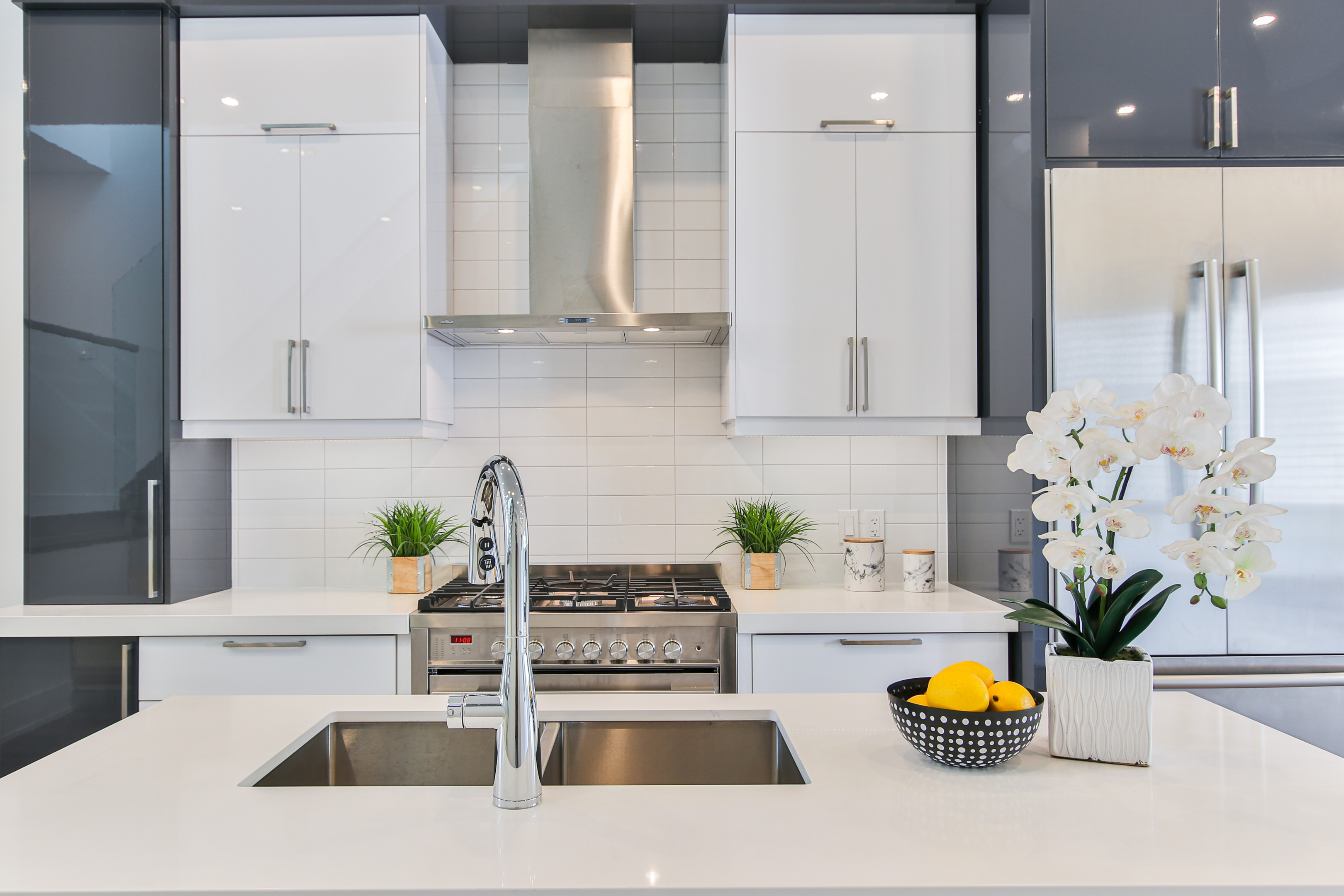 The kitchen faucet sees the most use of any fixture in the room, so it makes sense to invest in one that is both high-quality and easy to use. If your sink is in front of a window, you should measure the distance between the sill and the faucet and handle to ensure a comfortable working distance.
If you're looking for a sink to go with it, keep things basic: To avoid stopping when washing dishes, choose a single basin that is as large as space allows but no more than 10 inches deep.
7. Choose a Backsplash That Fits Your Style and Needs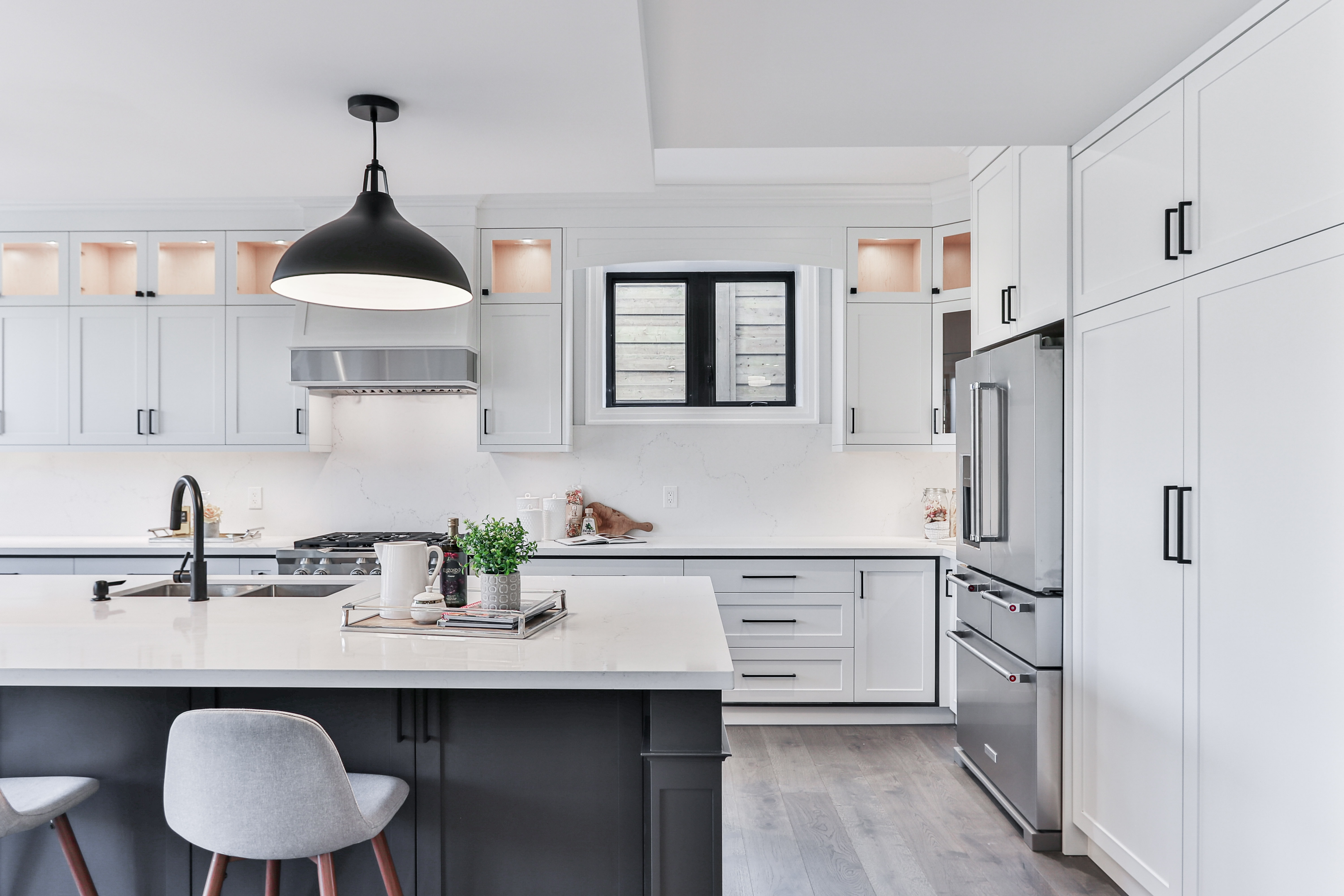 The wall space between your sink and your cabinets is a blank slate just waiting to be filled with your unique style. Except when using bigger tiles, laying them vertically, or arranging them in a herringbone pattern, the original appearance of subway tiles is preserved.
Although small mosaic designs are attractive, cleaning the grout lines can be challenging. Glass, metal, stone, mosaic, embossed ceramic, and other tiles, as well as non-tile solutions like headboard paneling or metal ceiling tiles, are just some of the many alternatives.
Pick something that expresses your style but is also universally appealing and easy to maintain so that it won't turn off potential purchasers should you decide to sell the house down the road.
8. Don't Dismiss Quartz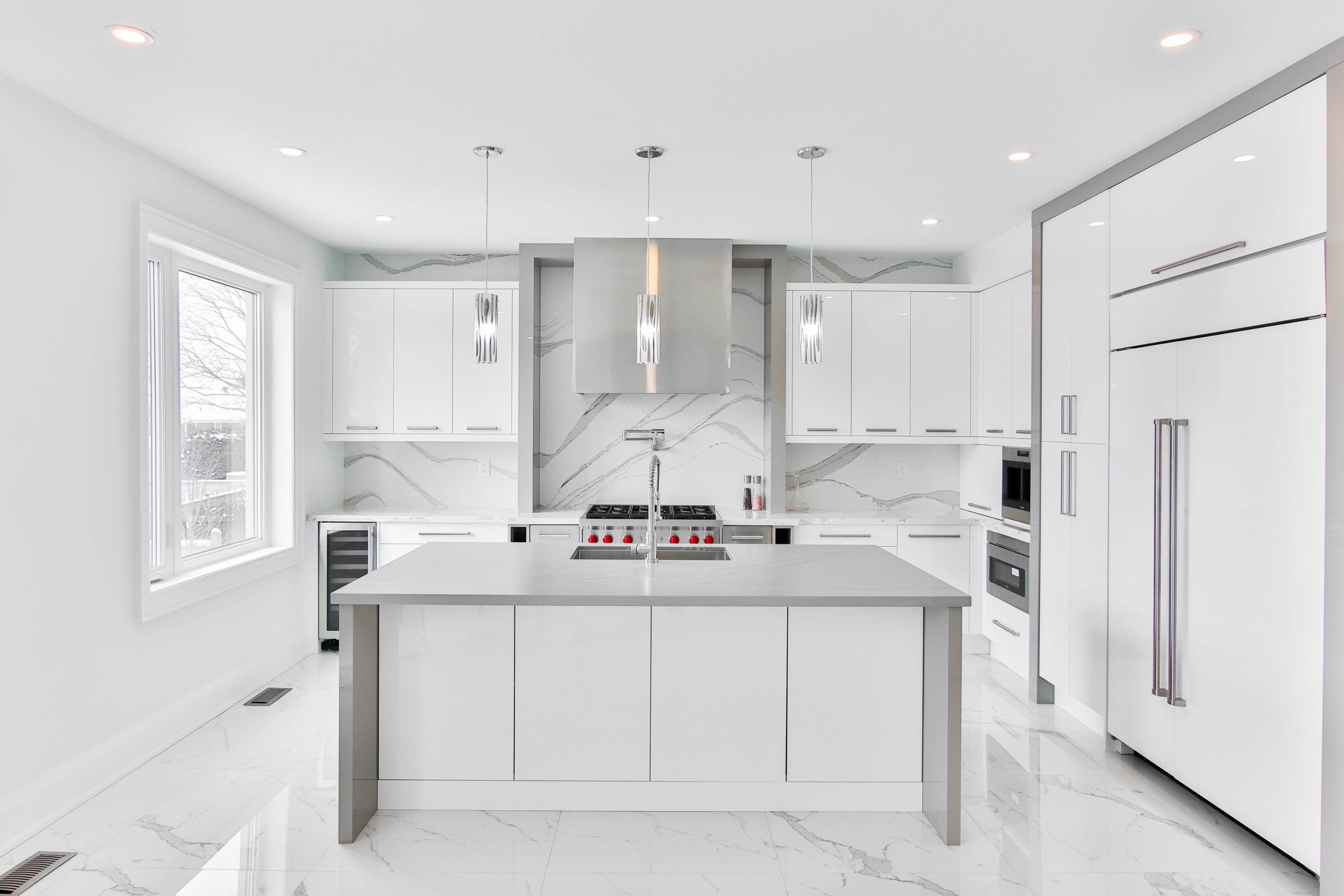 The National Kitchen & Bath Association reports that granite has been surpassed by quartz as the most popular countertop material. Quartz is an artificial material that mimics stone. In addition, quartz countertops don't require sealing and are stain-, scratch-, and chip-proof.
Quartz is available in many aesthetics, many of which successfully imitate the natural variation of marble and limestone, whose authentic counterparts are incredibly high-maintenance options for kitchen counters.
9. Spend Money on Proper Lighting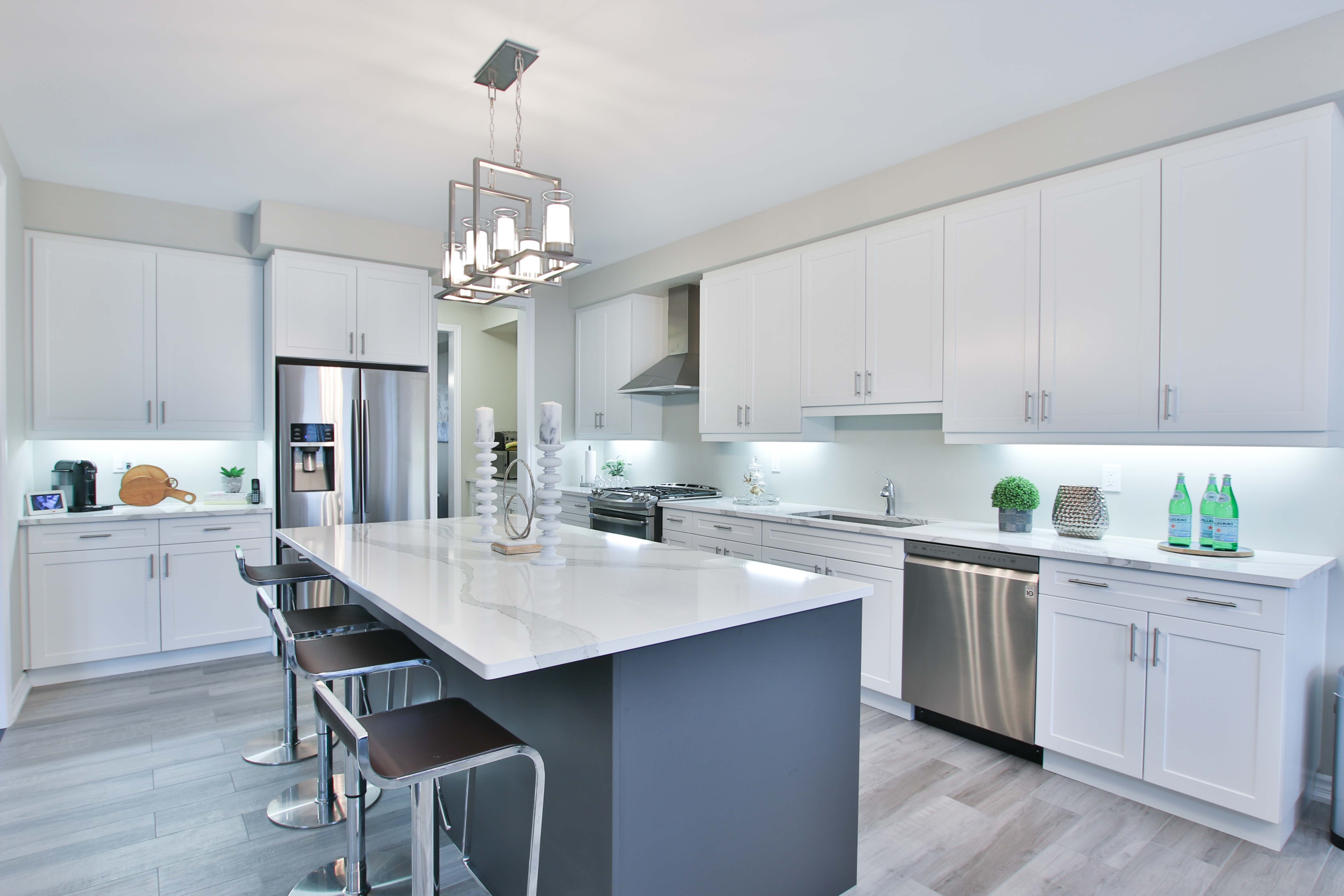 To illuminate your kitchen, you can pick from three distinct options.
Recessed Ceiling Fixtures: All open areas of the floor should have recessed ceiling fixtures installed to give general ambient lighting.
Under-Cabinet Lighting: You can use the lighting from under the cabinets to shed light on your work area or draw attention to your counters, backsplash, and cabinets when they're the only illumination source in the room.
Ceiling fixtures and pendants: Use beautiful pendant lights that emit diffuse light to illuminate work areas like islands, peninsulas, and sinks without casting shadows.
DIY Kitchen Remodel Ideas
A complete kitchen redesign doesn't have to break the bank. These inexpensive kitchen makeover ideas will enable you to create a room you enjoy spending time in, whether you want to make the most of a small kitchen or remodel an outdated one.
1. A Kitchen Drowning in Brown Remodeled into a Modern Kitchen
Before:
Image Source: christinamariablog.com
The brown cabinets and aged tile floor make this kitchen look like it belongs in the Brady Bunch. The floor-to-ceiling cabinets add to the already cramped feeling of the area.
After: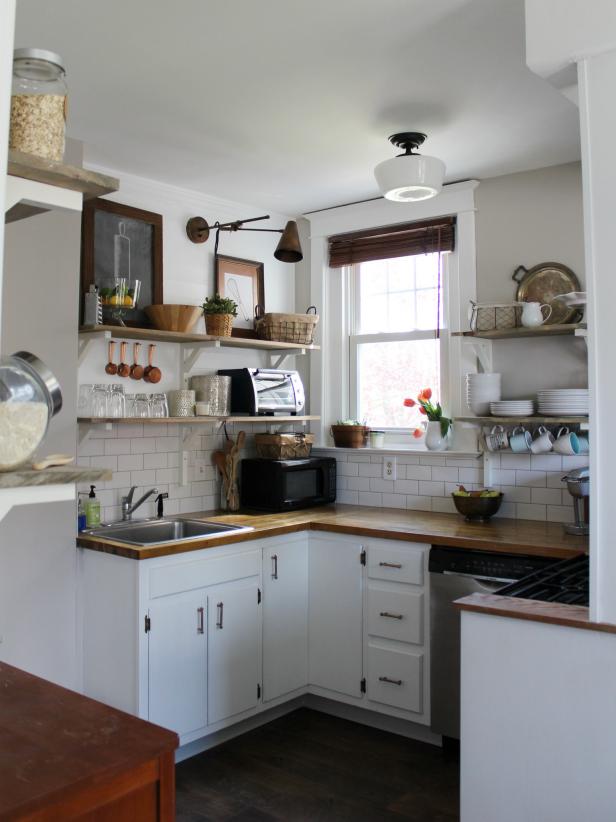 Image Source: christinamariablog.com
Open shelving, new paint on the lower cabinets, and a butcher block counter are some of the updates the homeowners made to their kitchen when they wanted to give it a more modern and airy feel.
Even with a splurge on vinyl floor tiles, they managed to keep the cost within the allotted budget of $3,400.
2. Dull and Outdated Kitchen Turned into Bold Kitchen
Before: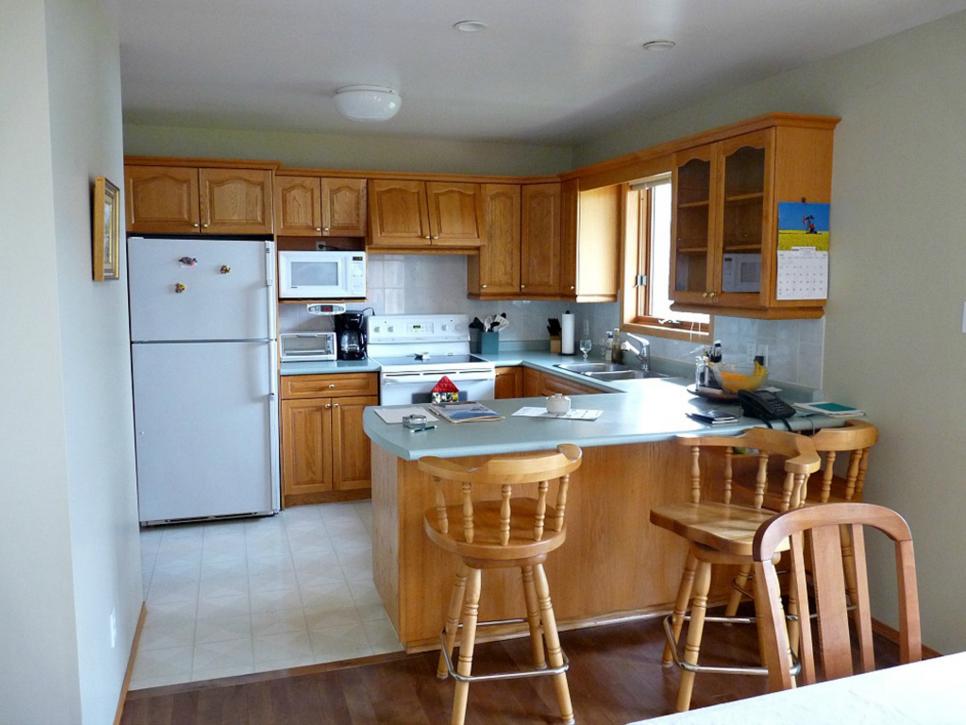 Image Source: danslelakehouse.com
Nothing is memorable about this kitchen, from the cabinets to the counter.
After: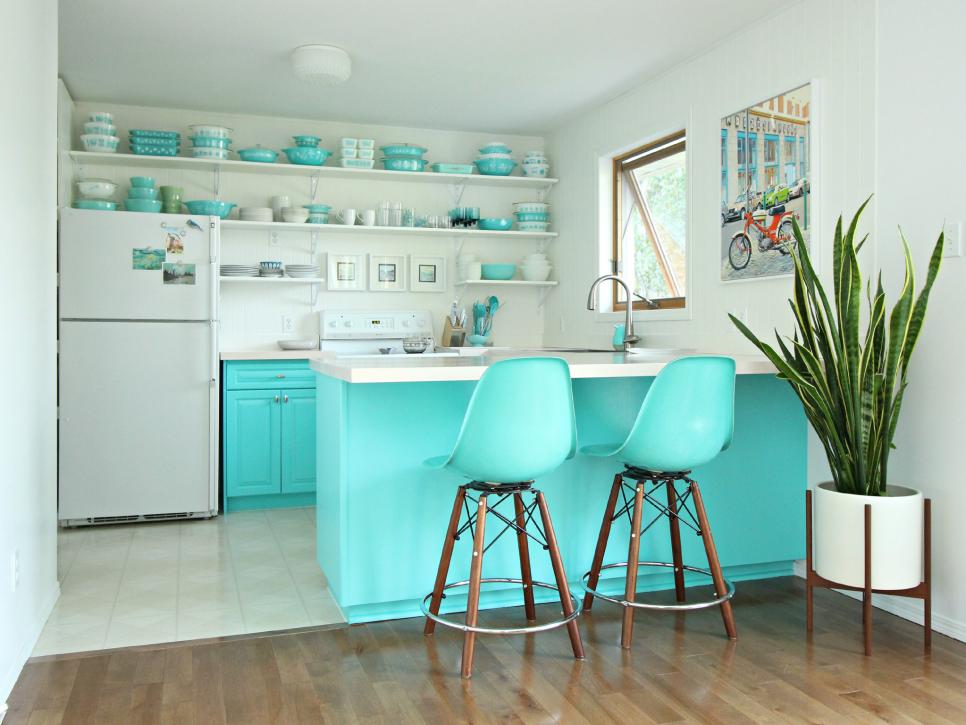 Image Source: danslelakehouse.com
The owners paint the base cabinets in the kitchen a striking turquoise blue to give them some individuality. Open shelves are added, and a real maple wood countertop is installed in place of the laminate one.
3. Basic Builder Kitchen Turned into Brighter Blue Kitchen
Before: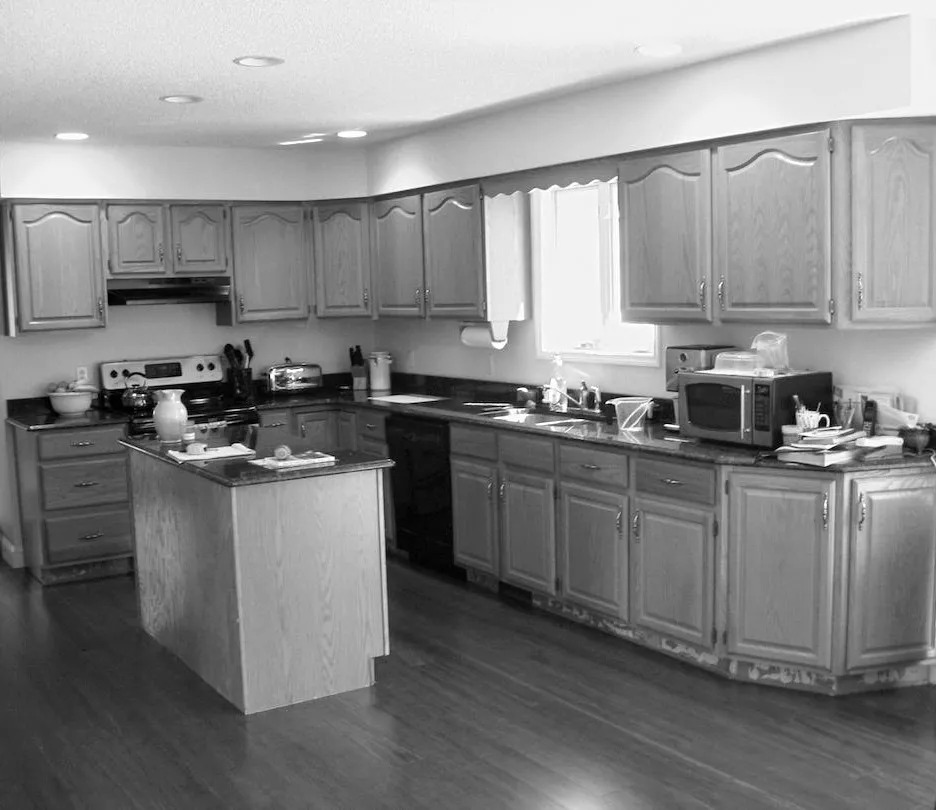 Image Source: bhg.com
This kitchen from a home builder was adequate, but it could have been so much better. Cabinets were already at their optimal widths and lengths, and the layout was already well thought out.
Minor upgrades to the fixtures and the addition of chairs at the island have brought this kitchen to its full aesthetic and functional potential.
After: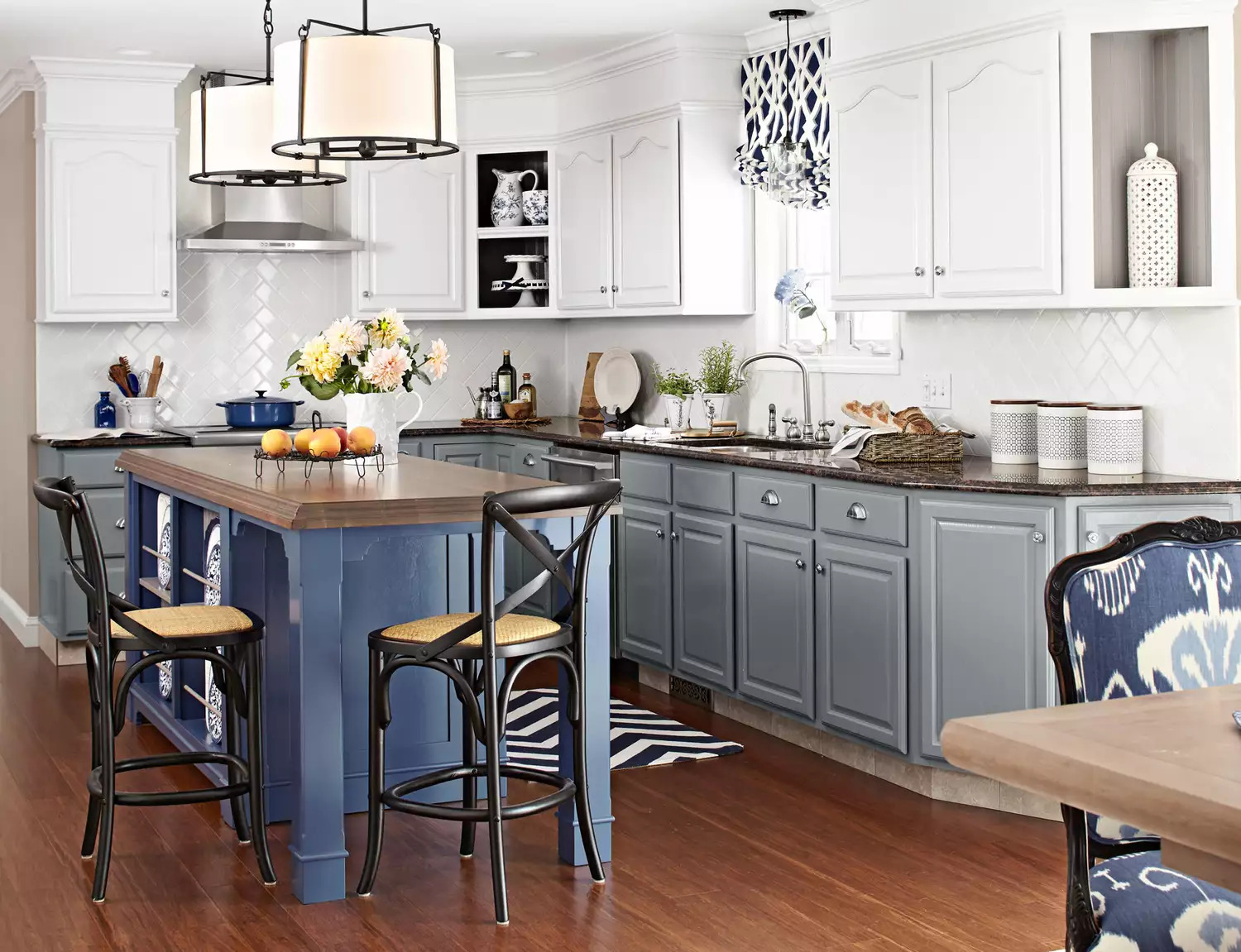 Image Source: bhg.com
Painting and replacing the cabinet pulls gave the preexisting cabinets a new look—this cost-cutting measure allowed for adding features that would improve the kitchen's efficiency.
The old, oversized refrigerator was replaced with a counter-depth one (not seen), and the new, long island has seating and a splash of vibrant blue.
4. Dated and Disorganized Kitchen, Updated with a Customized Kitchen Storage
Before: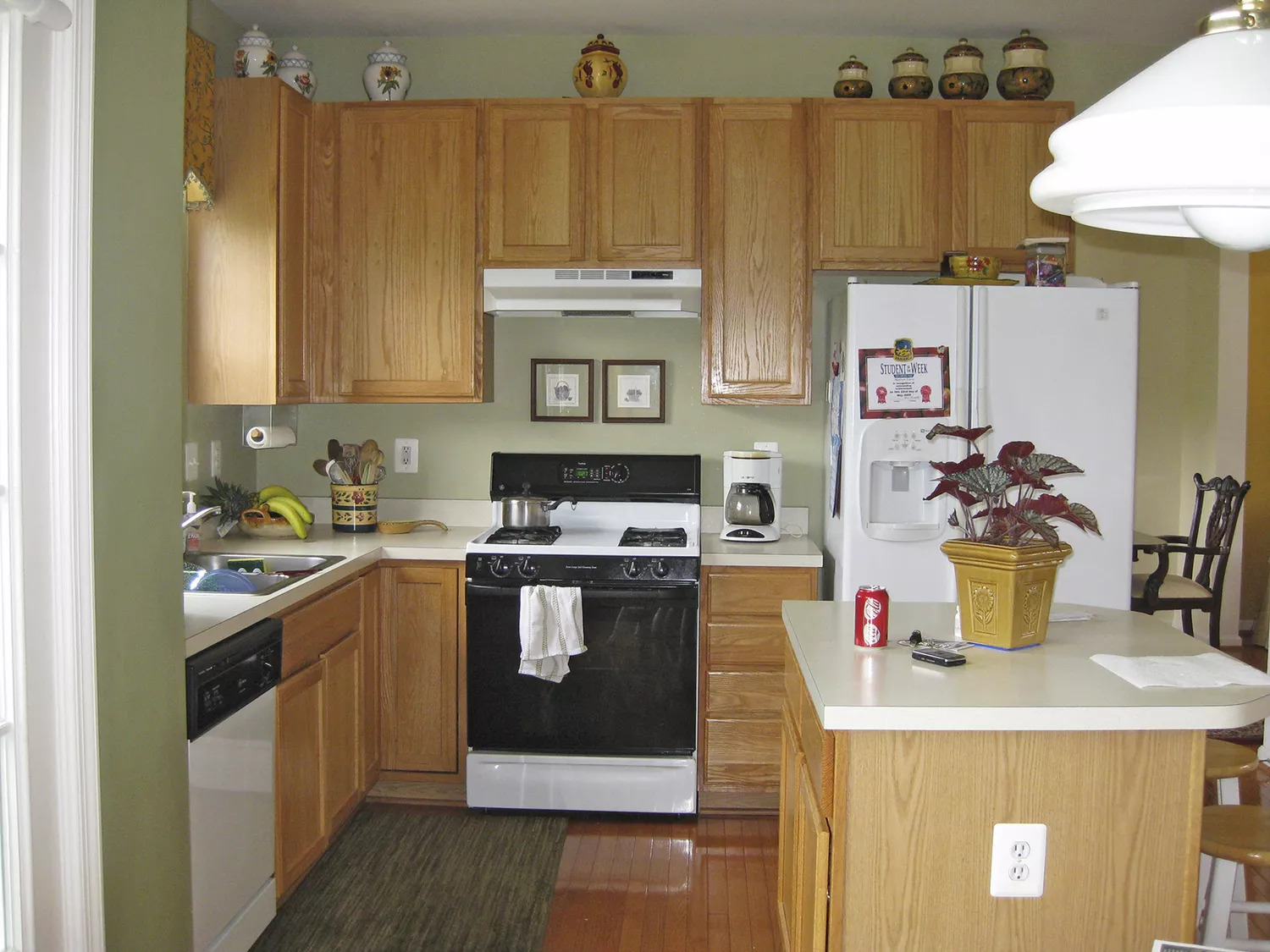 Image Source: bhg.com
This kitchen might have been so much more if not for the outdated design and the lack of storage space. In addition, there wasn't much room for smart organizing due to the poorly sized island and simple cabinetry.
Thanks to a redesign that repurposed some existing fixtures, the kitchen's storage were improved without disrupting the space's original layout.
After: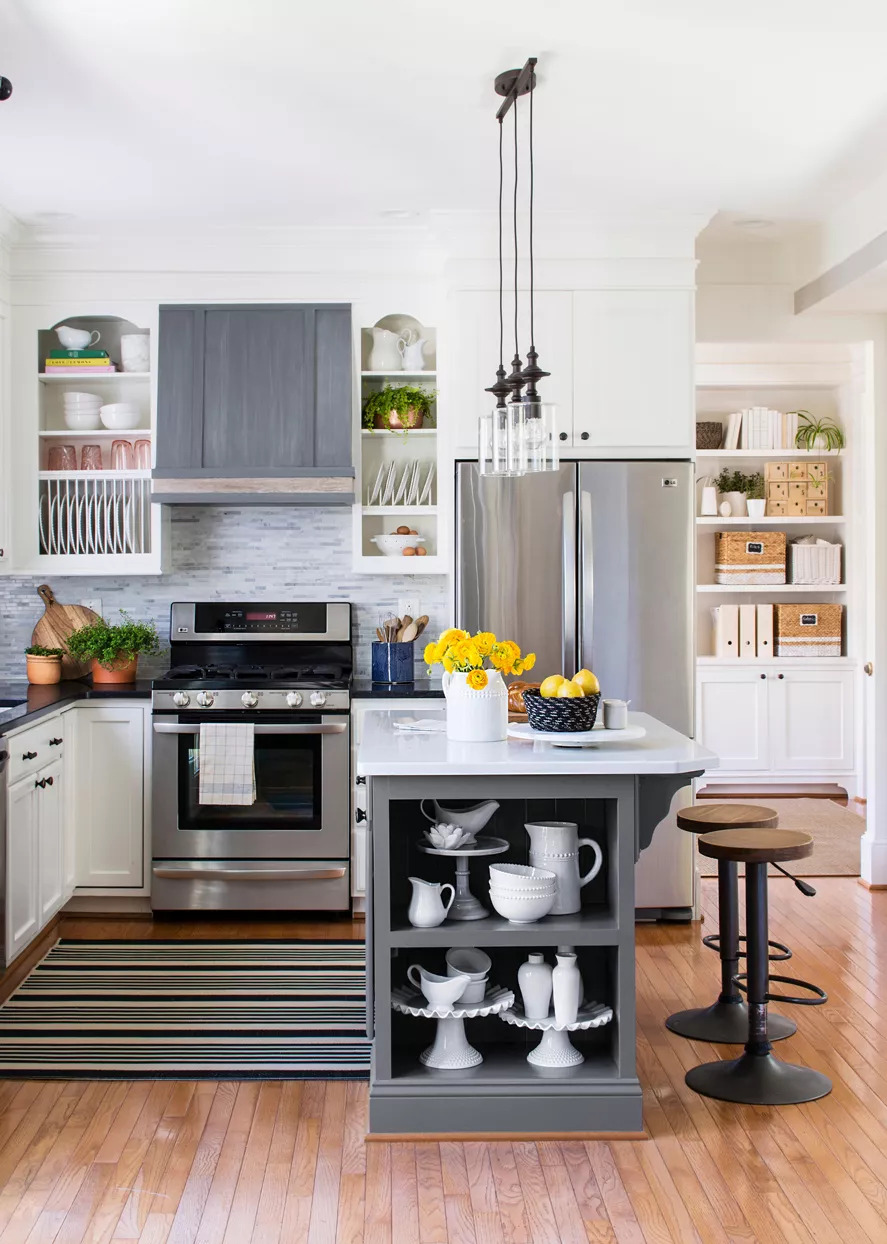 Image Source: bhg.com
Two higher cabinets had doors removed, revealing open shelving now stocked with plate racks for convenient dish storage. As part of its expansion, the island now includes open shelving on one end, perfect for showcasing and storing decorative serving pieces.
A new range hood and other appliances bring the kitchen into the present day, along with the minimalistic color palette of white and gray.
5. Dark, Traditional Kitchen Turned Into a Modern Kitchen
Before: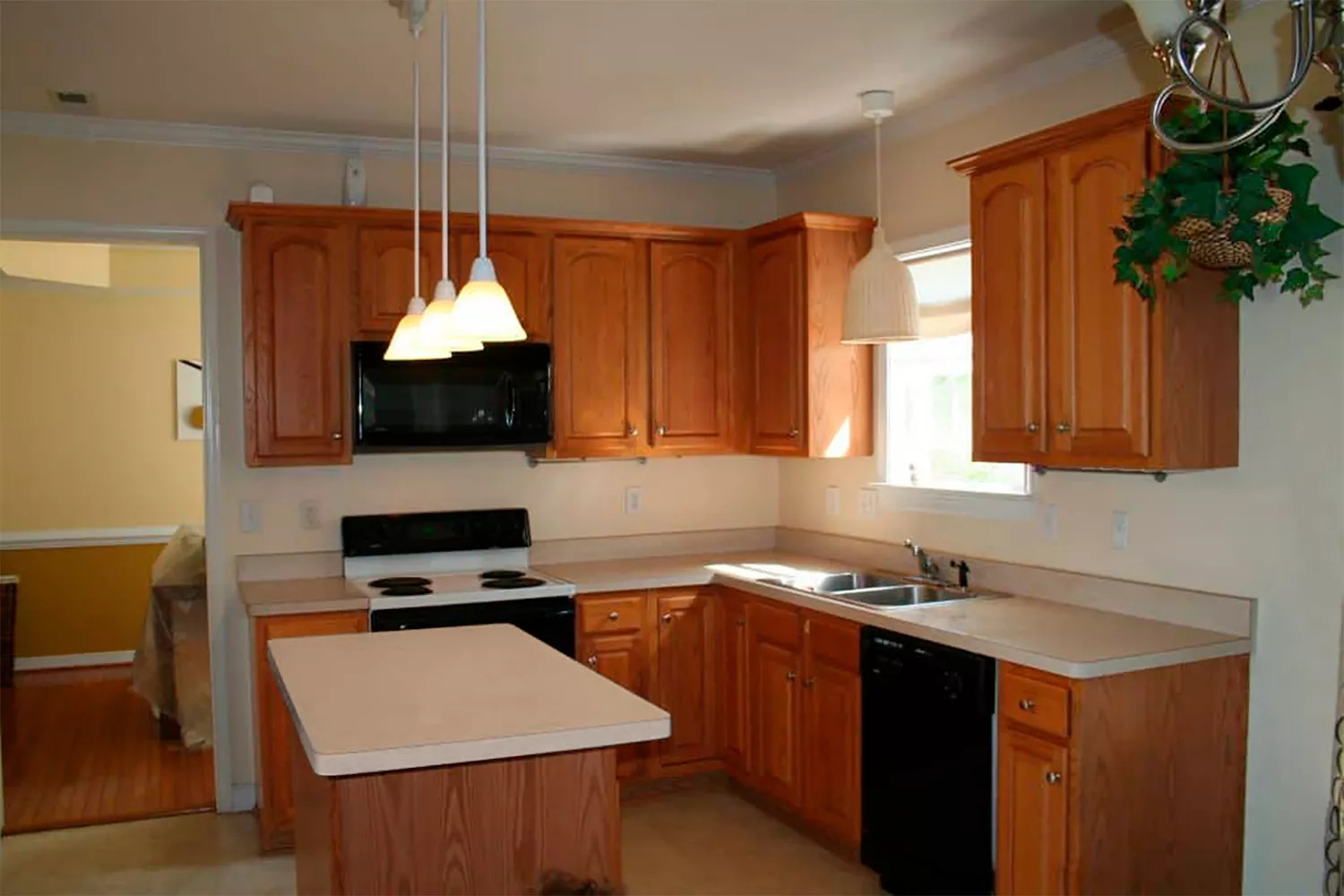 Image Source: bhg.com
Everything about this kitchen screamed "cheap, mass-produced, and uninspired" The kitchen had oak cabinets, laminate worktops, and boring, standard appliances, but it was functional.
The floor design didn't need adjusting because of the convenient flow between the kitchen and the adjacent breakfast nook.
After: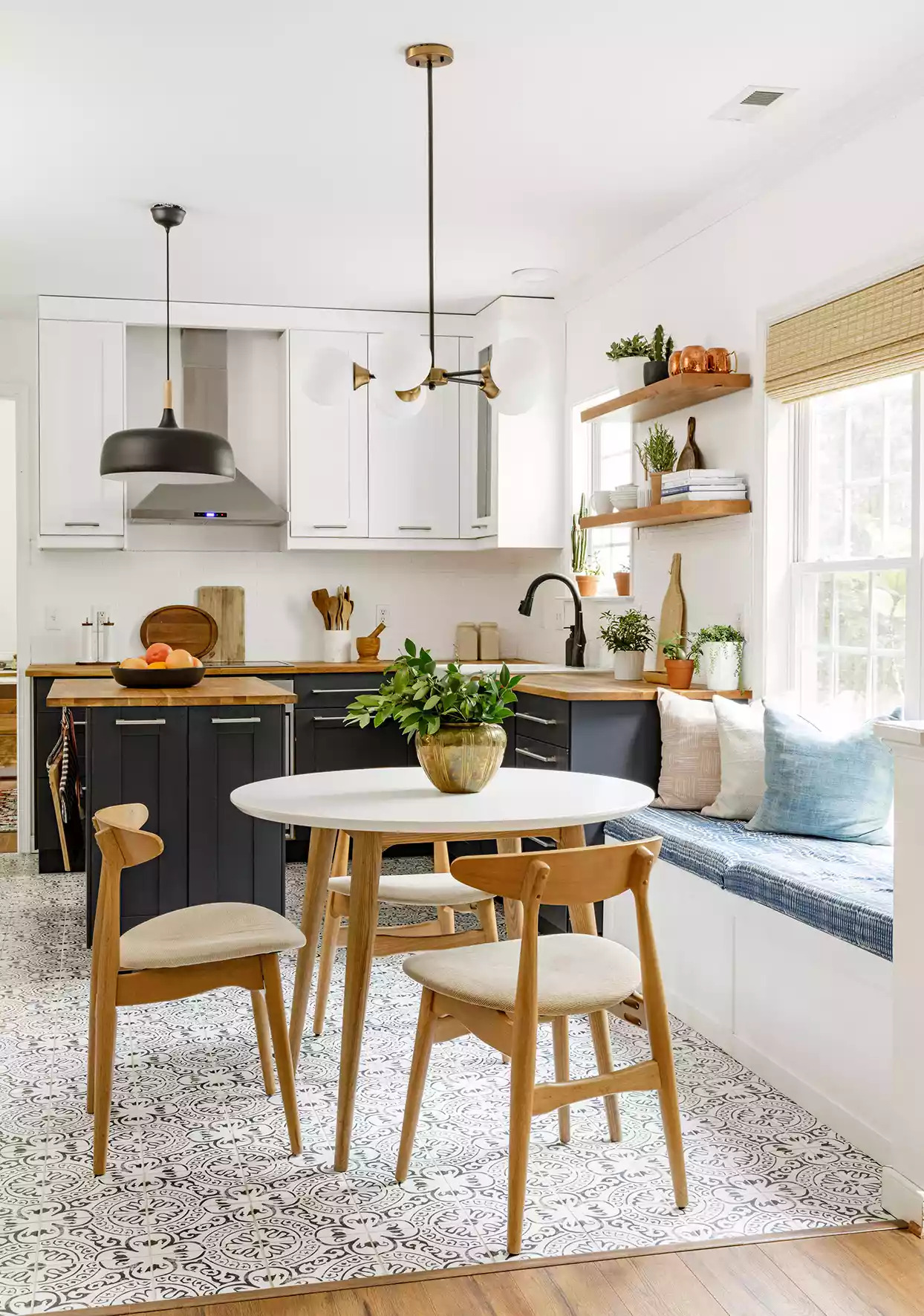 Image Source: bhg.com
The new wood cabinets include a white upper unit that reaches the ceiling to give the illusion of more height, and the walls are painted in two different colors for a contemporary look.
One wall of cabinets was removed and replaced with open shelving to provide a lighter feel. In addition, the kitchen was renovated from top to bottom with stainless steel equipment and butcher block worktops.
6. A Dramatic Kitchen Remodel of a Tiny and Cramped-Up Kitchen
Before: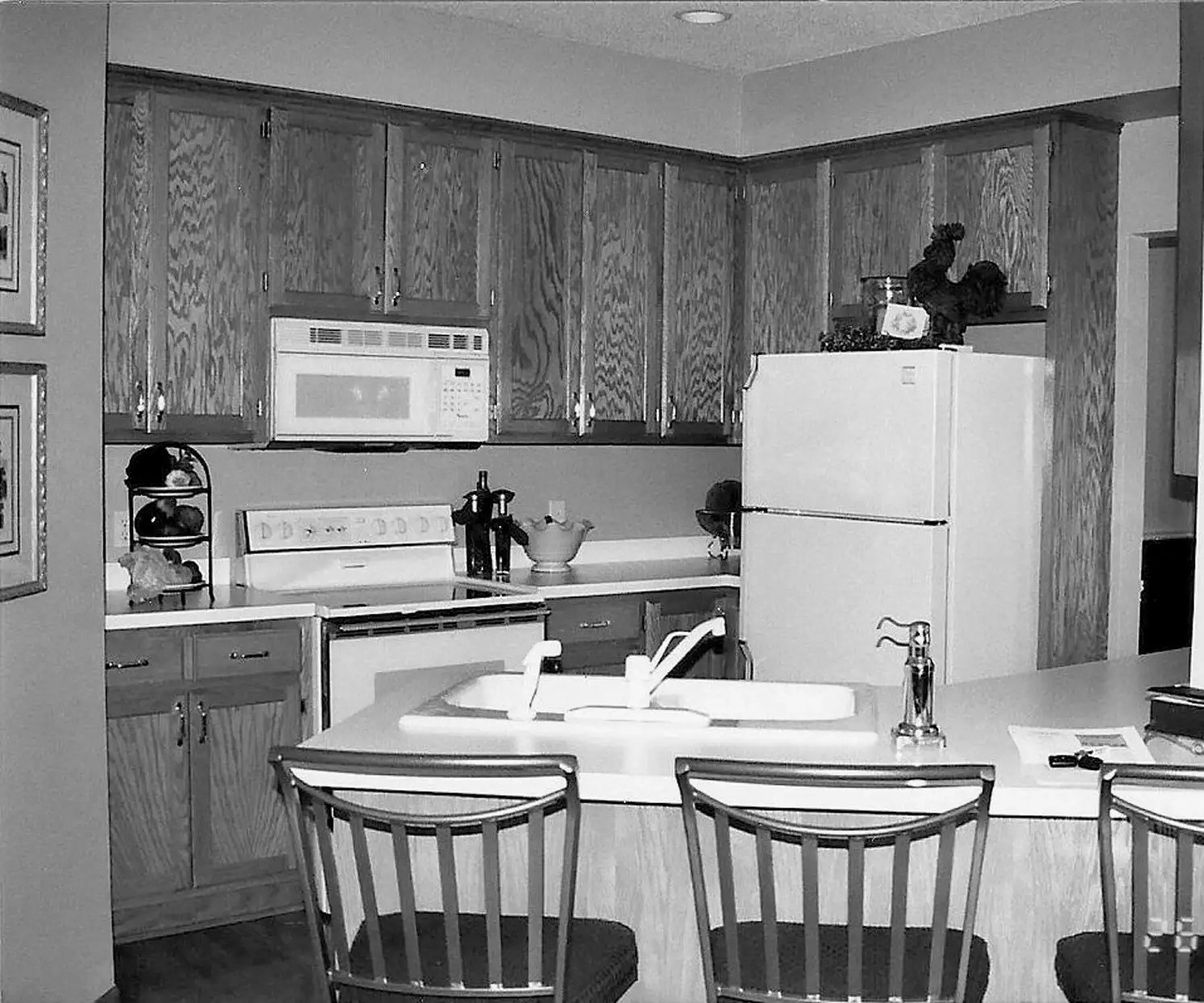 Image Source: bhg.com
Appliances that looked like they were from the 1970s (white) and cabinets that were orange from the 1980s (wood) stood out in an otherwise beautiful home.
The kitchen was revived with fresh cabinet paint and countertop space. The best thing is that all of the work done to update the kitchen was completed on a reasonable budget.
After: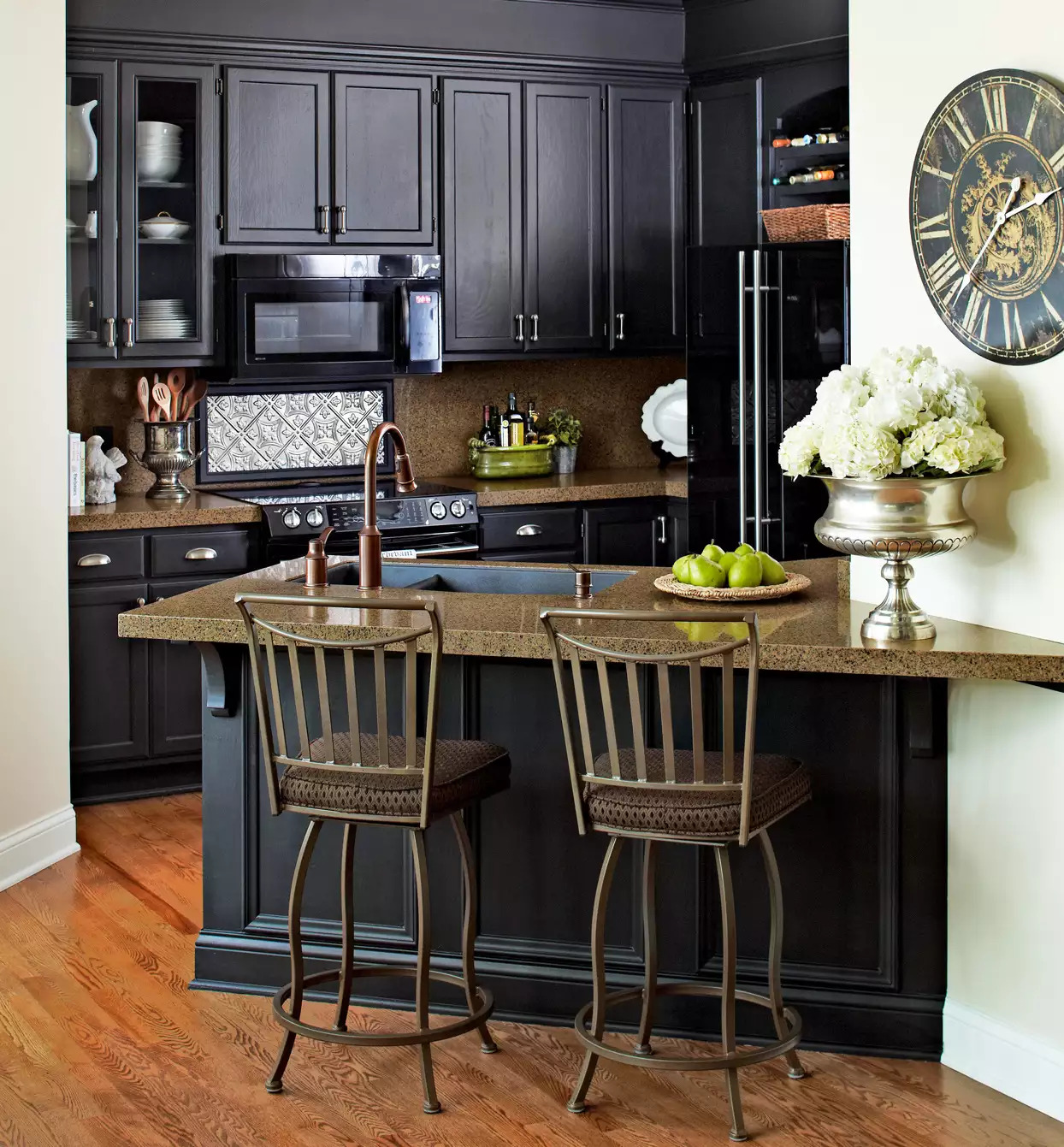 Image Source: bhg.com
The kitchen was renovated for less than $9,000 and now features sleek black cabinets and beautiful granite veneer countertops.
To make it appear as though the cabinets were custom-made, the soffit above them and the recently added molding were painted to match the cabinetry.
The kitchen has been given a luxurious makeover with the addition of a bright white paint job, brushed nickel cabinet hardware, and shiny new appliances.
7. A Functional But Dated Kitchen Remodeled to a High Style Kitchen
Before: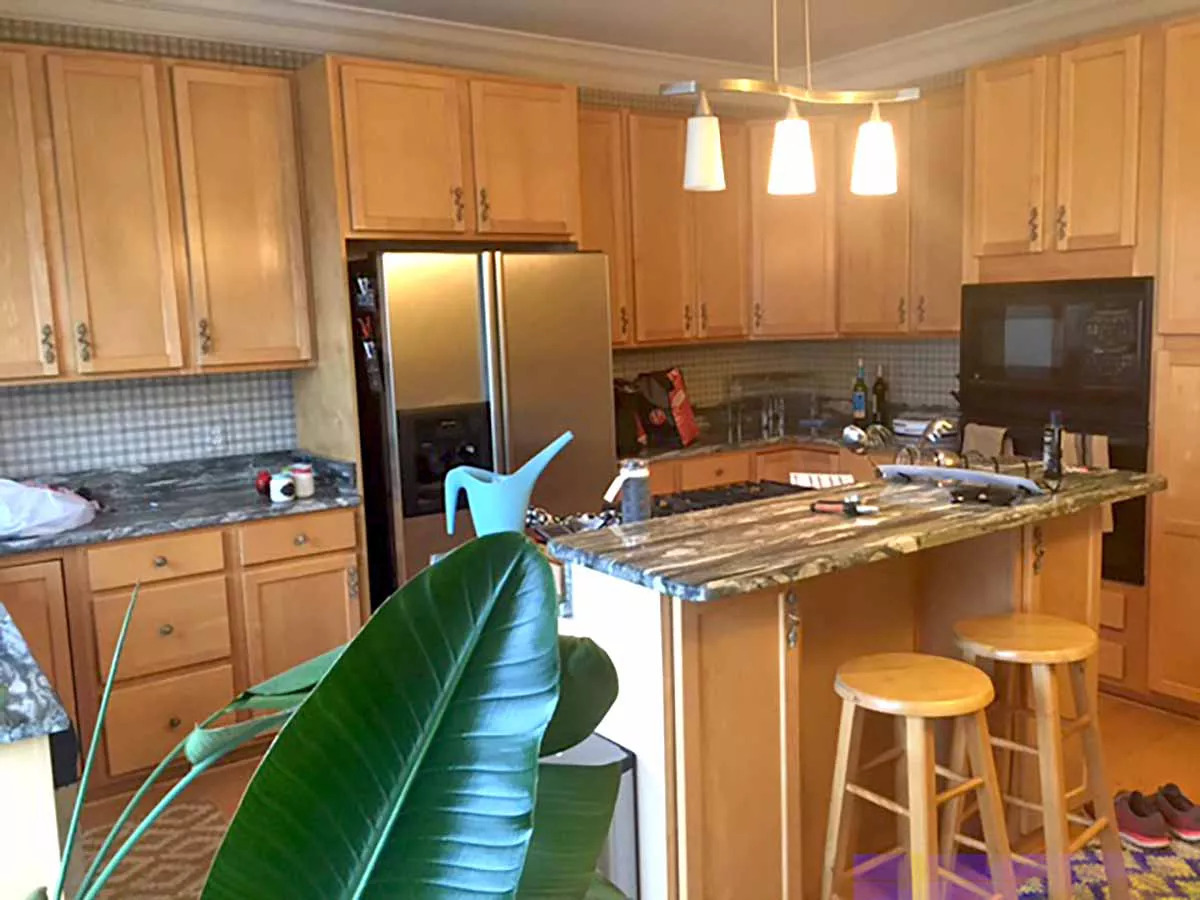 Image Source: bhg.com
The layout of this 300-square-foot kitchen was fine, but it did want some updating. The character was added with plaid wallpaper and intricate iron hardware, but it didn't fit in with the homeowner's taste.
Countertops and cabinets made of dark wood with visible grain gave the space an old-fashioned feel.
After: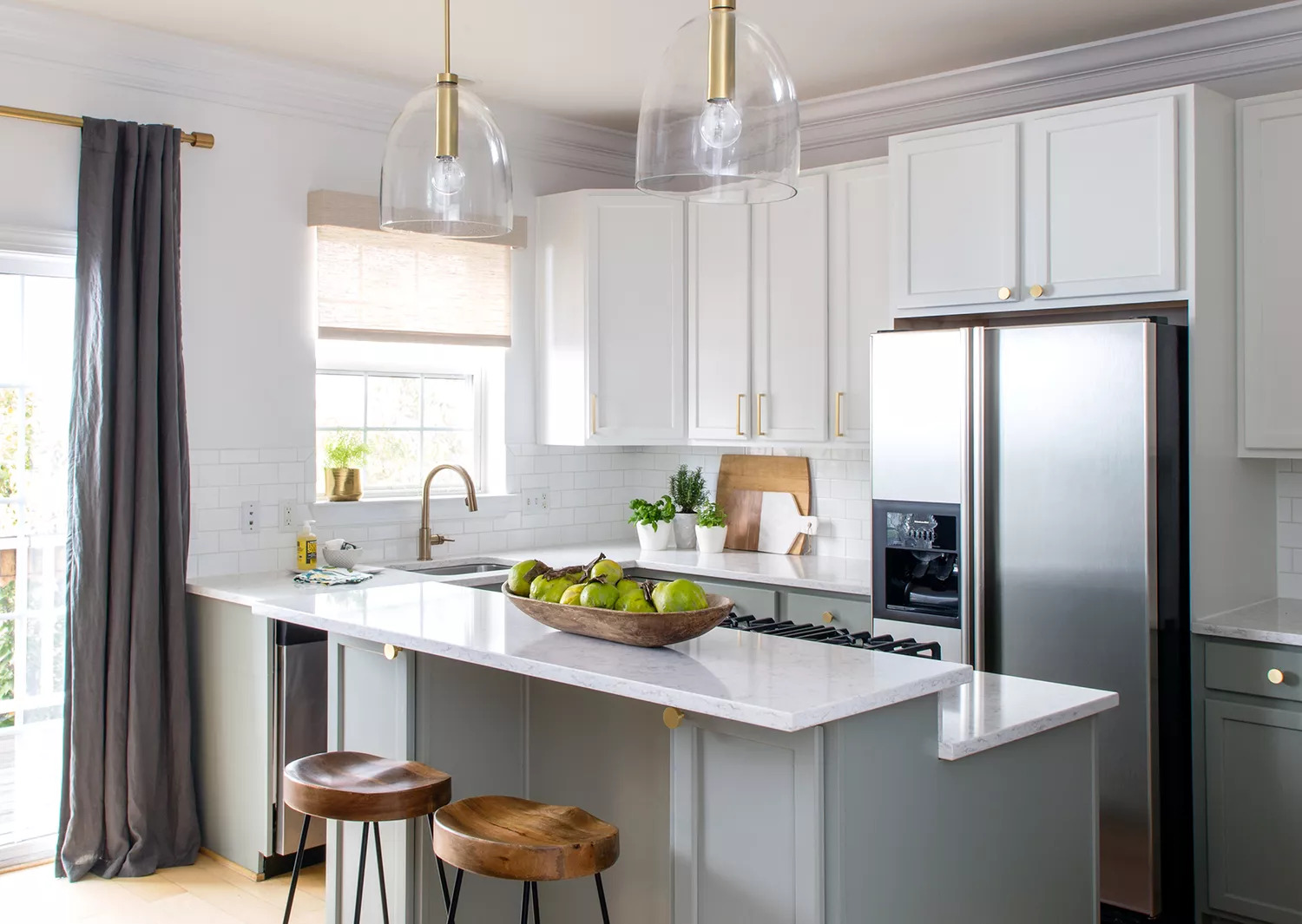 Image Source: bhg.com
The existing cabinets were painted a dazzling white and a pale blue-gray to reflect light and make the kitchen feel more spacious. In addition, the dark granite kitchen countertops were swapped out for white quartzite with veining.
There are now gleaming brass details, such as the new hardware and glass pendants hanging above the island. The outdated wallpaper was taken down to make room for a modern subway tile backsplash.
8. Boxed-In Kitchen Converted into a Contemporary Kitchen
Before: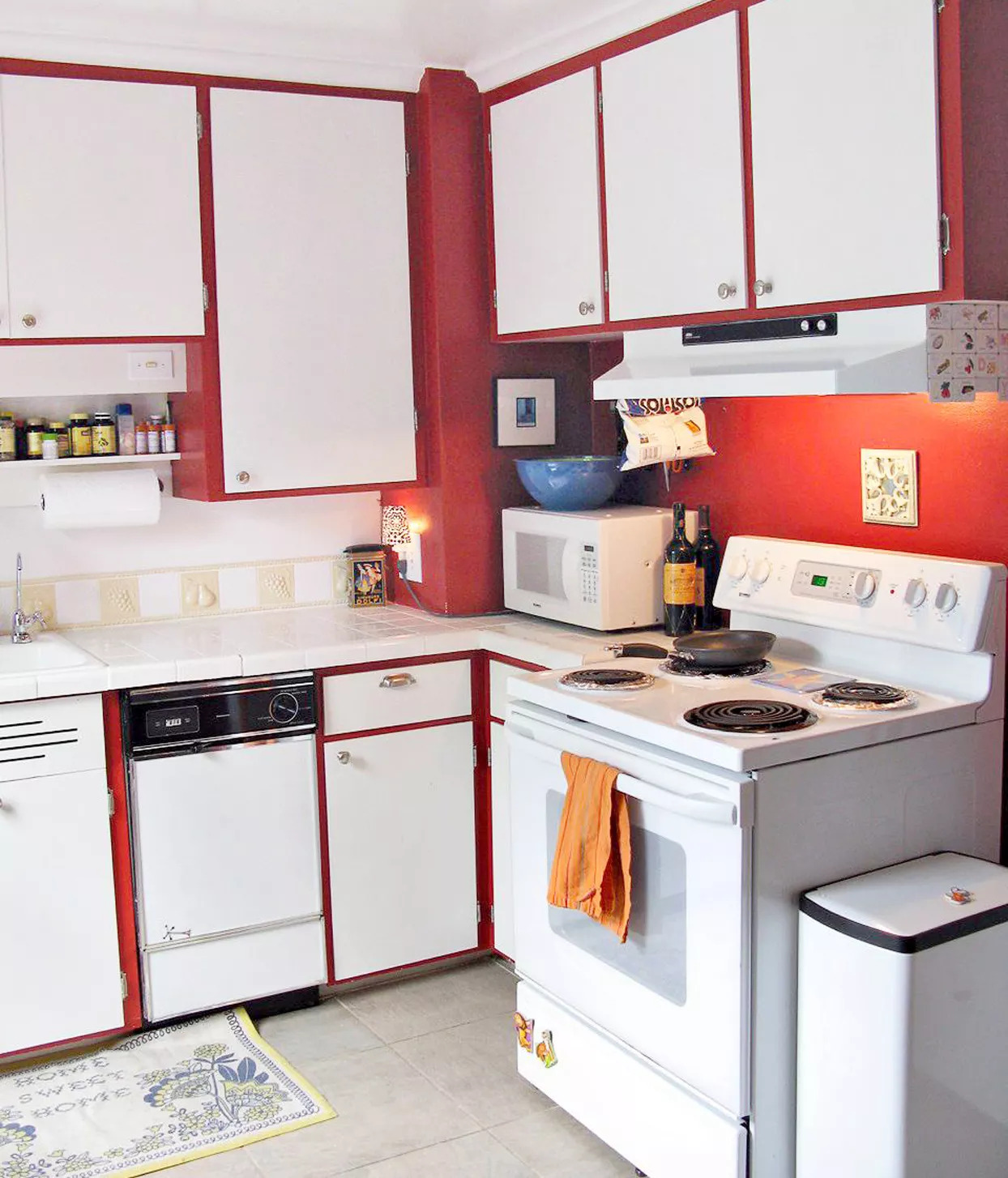 Image Source: bhg.com
This 1943 house's boxy layout required a fresh design to open up the kitchen and dining area. During renovations, a wall was knocked down to make a 26-by-12-foot kitchen out of a previously enclosed 12-by-10-foot area with a single small window.
The homeowners expanded the space's aesthetic appeal by adding three sizable windows and replacing the paint, hardware, cabinetry, and appliances.
After: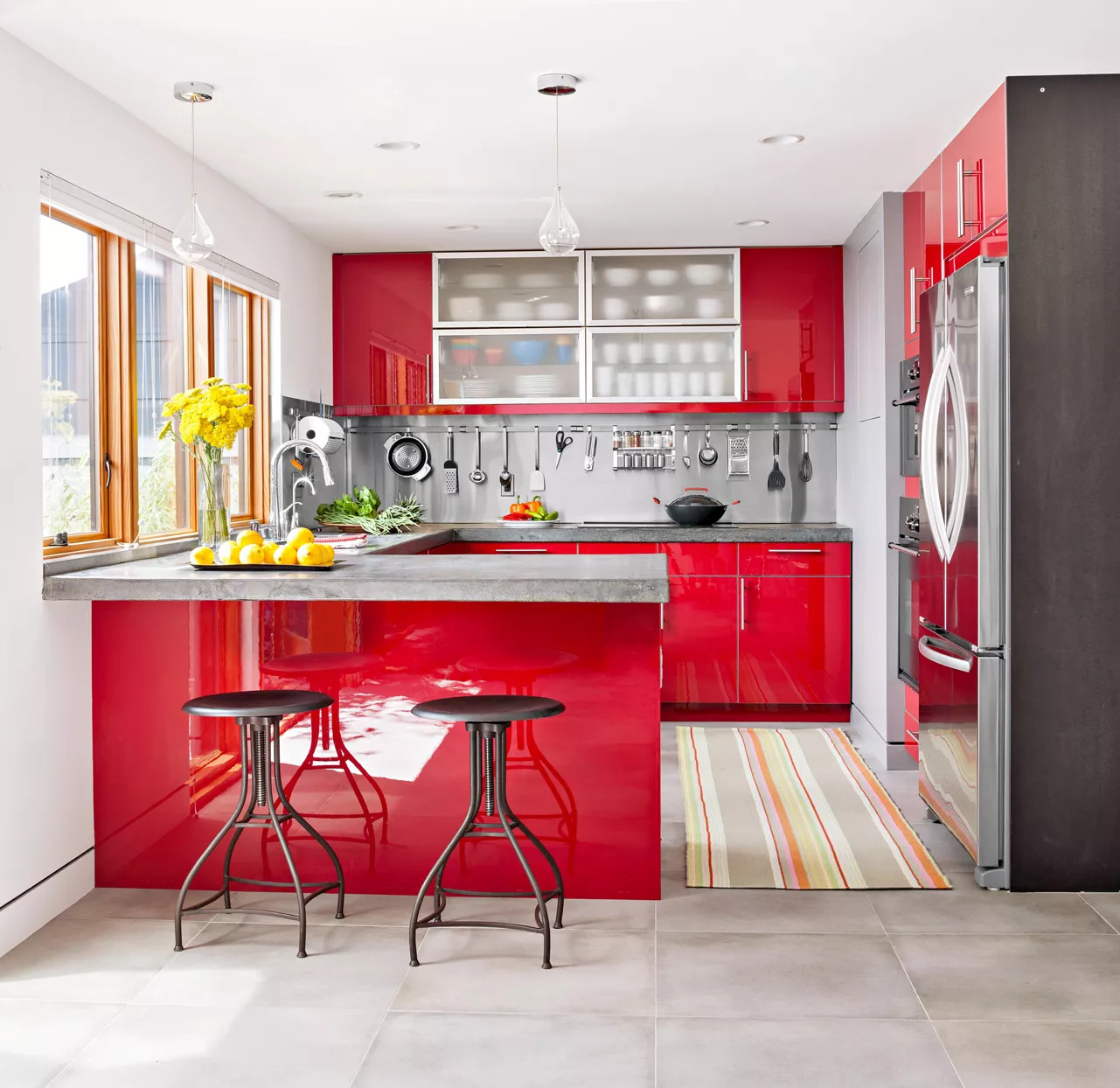 Image Source: bhg.com
With the addition of red accents and a well-thought-out U-shaped layout in the kitchen, this room now seems like a million bucks.
The contemporary kitchen, which blends a slick stainless-steel backsplash and laminate cabinetry, is given a raw, industrial sense by the concrete counters. The counter-depth refrigerator looks like a built-in type but is less expensive.
9. Cramped Kitchen Space Remodeled to a Modern Traditional Kitchen
Before: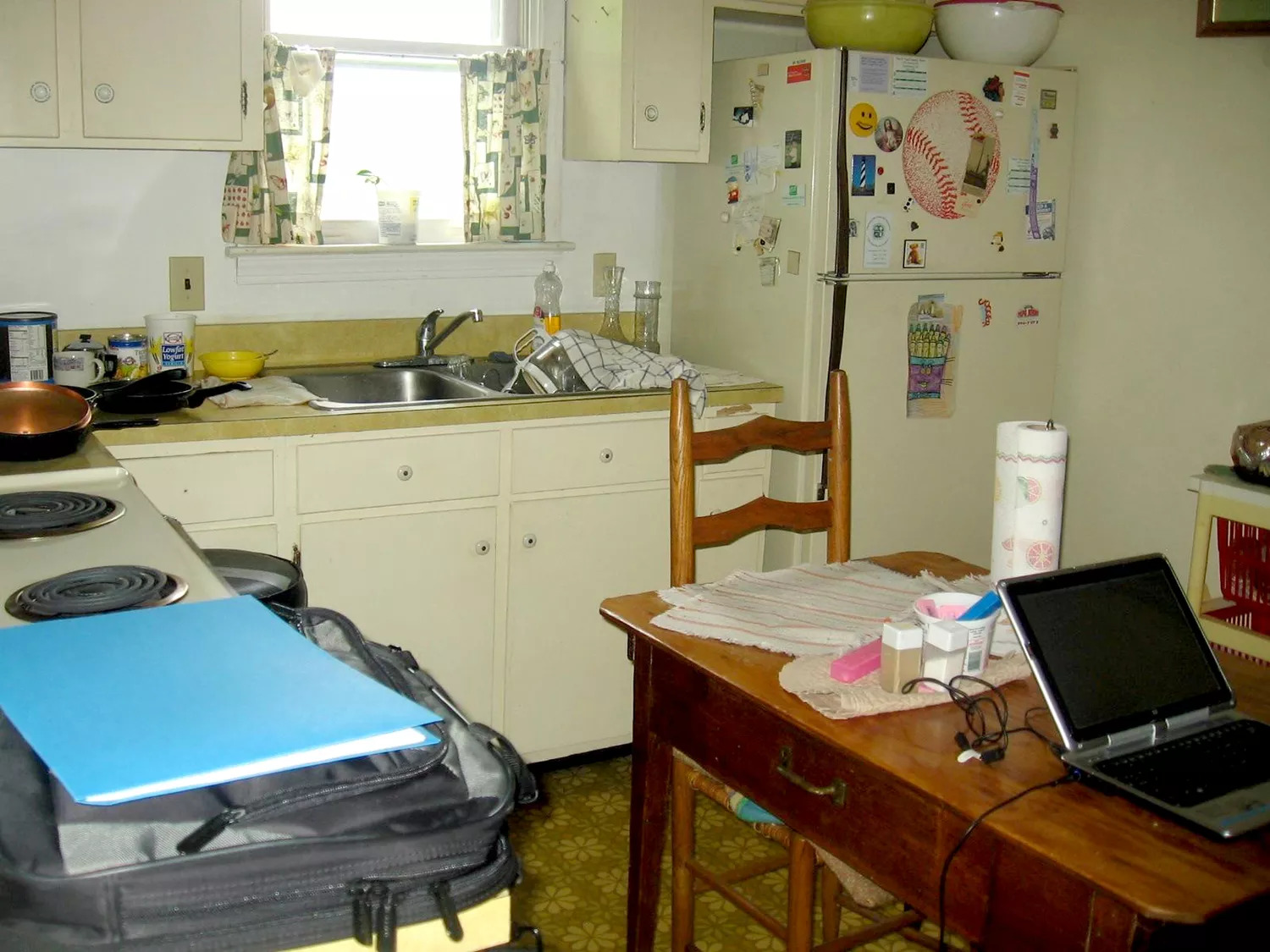 Image Source: bhg.com
Although the kitchen in this lovely Cape Cod house was in dire need of repair, the new owners weren't discouraged by the challenge. They combined the kitchen and dining room into one room so that there would be ample room for their growing family.
Following the installation of the recycled wood floors, they put the standard base cabinets together and finished the job themselves.
After:
Image Source: bhg.com
Now that it has been updated, the kitchen displays the same blend of contemporary and classic features found throughout the rest of the house.
A combination of butcher block and concrete counters was used to top the island, which was constructed using stock cabinetry. Upper cabinets are replaced with stainless steel shelves, which makes the space feel airy and light.
10. An Inviting Island Seating Added to a Standing Room Only
Before: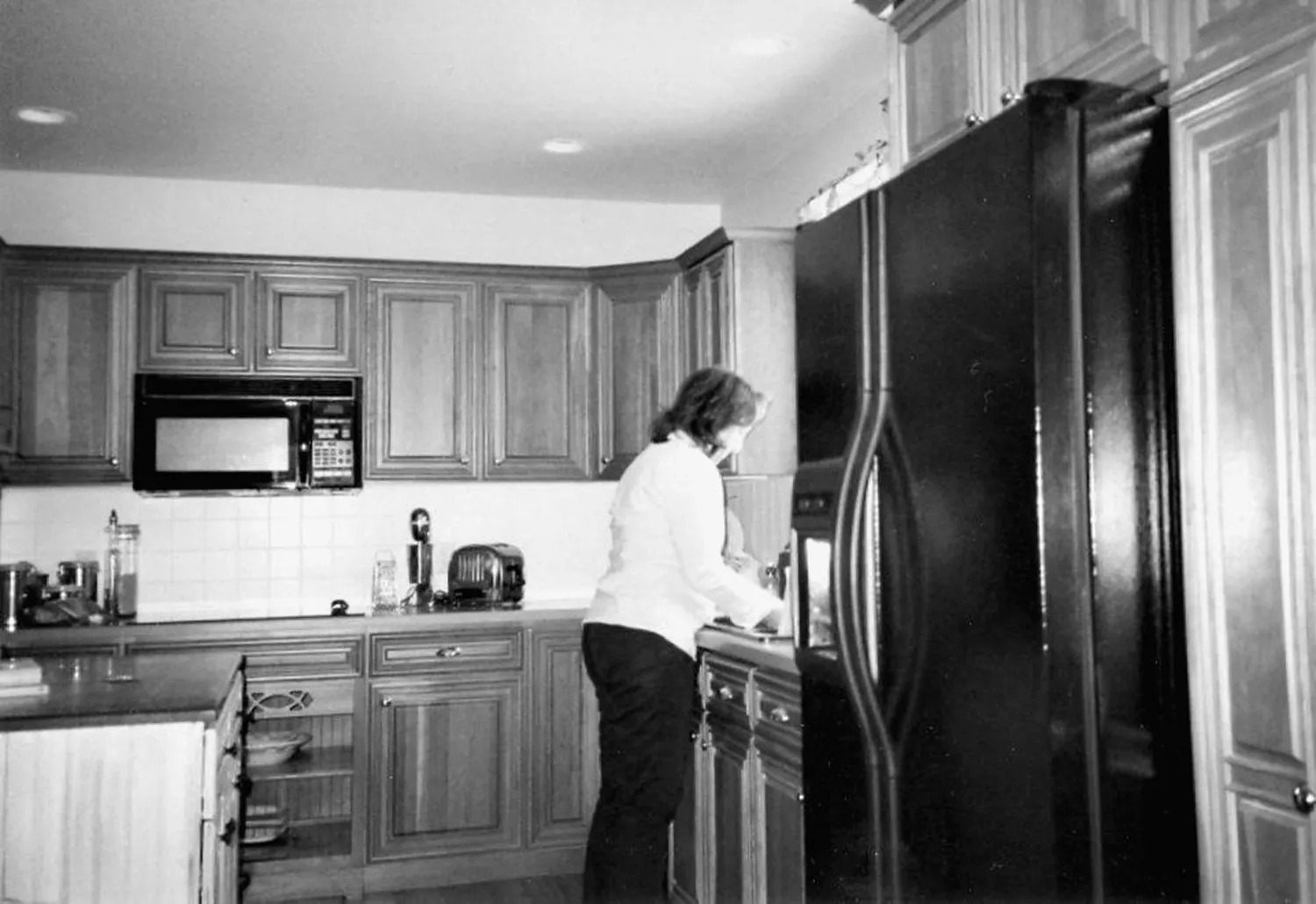 Image Source: bhg.com
The homeowners prioritized living in a desirable area over having a completely renovated property and thus began with the kitchen.
Even though the design as a whole was solid, there was no island in the kitchen where people might enjoy informal meals or have visitors over. The absence of character in the builder-basic room was another issue.
After: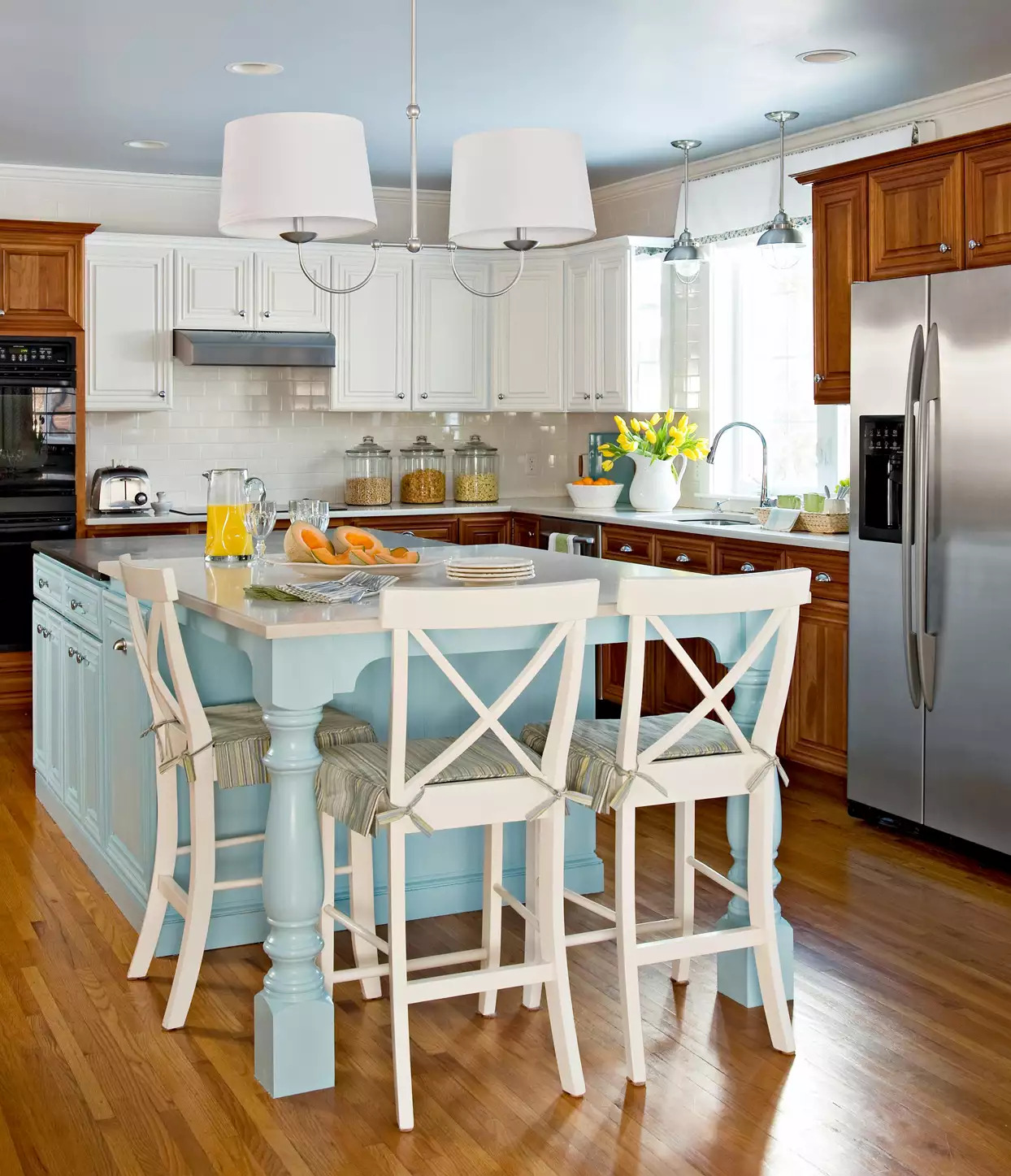 Image Source: bhg.com
The cherry cabinets were already there, and while they didn't like them, the homeowners didn't want to get rid of them. A few of the upper cabinets were painted white, and the island was given a fresh coat of light blue.
The island is expanded, adding a much-needed seating area, with the use of stock cabinets and substantial traditional-style legs purchased online. This kitchen feels spacious and light thanks to a wider window and painted cabinets.
11. Painting Cabinets to Improve a Kitchen With Too Much Wood
Before: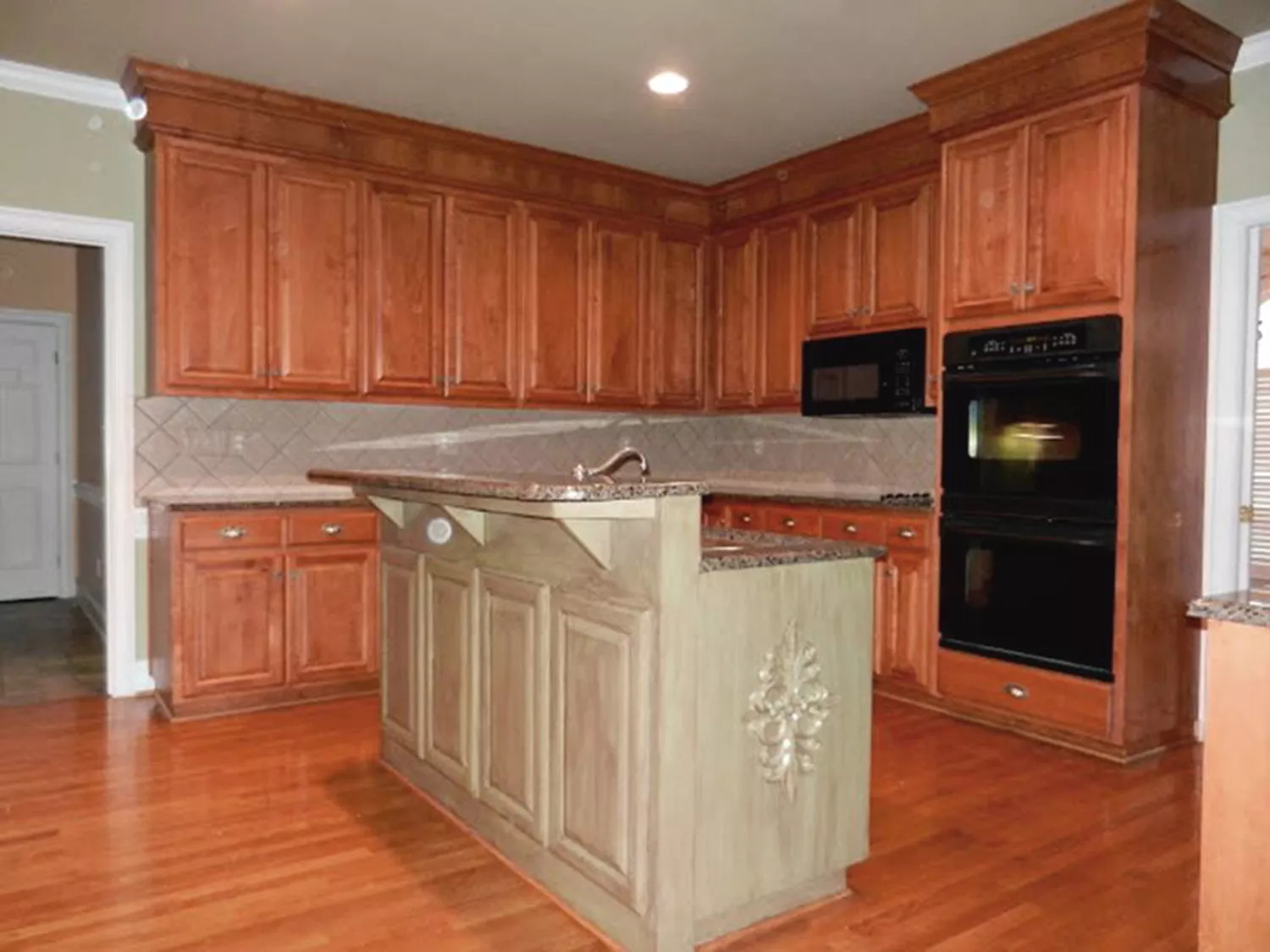 Image Source: bhg.com
The homeowners desperately wanted a brighter, fresher aesthetic and more practical upgrades for their outdated kitchen. The first step in this kitchen makeover was painting the wide plank of wood.
Other essential renovations included expanding the kitchen's window area to let in more light, rearranging the appliances for more efficiency, reworking the island, and setting up a banquette for breakfast.
After: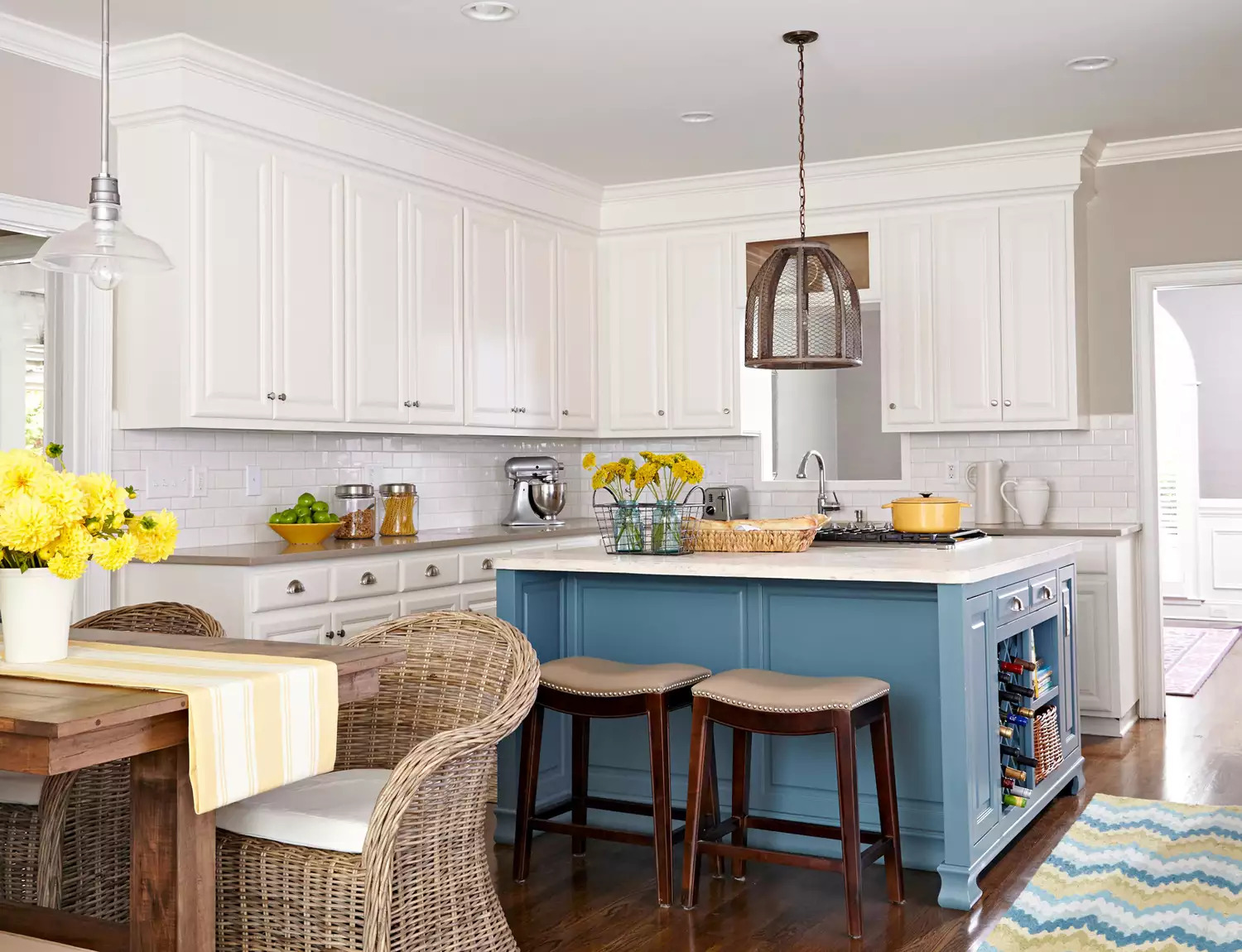 Image Source: bhg.com
The open layout of this kitchen was ruined by the abundance of the same-colored wood finishes; however, a fresh coat of white paint on the cabinets saved the day. Painting the island in a contrasting color allows you to use a favorite shade that might be too daring for the wall cabinets around the room.
The newly installed island is highly functional due to its seating and storage options. A window over the sink that looks out into the bright dining room was made possible by relocating some of the kitchen's cooking appliances to the island during the remodel.
12. Narrow Kitchen Layout Remodeled to Be Open and Airy
Before: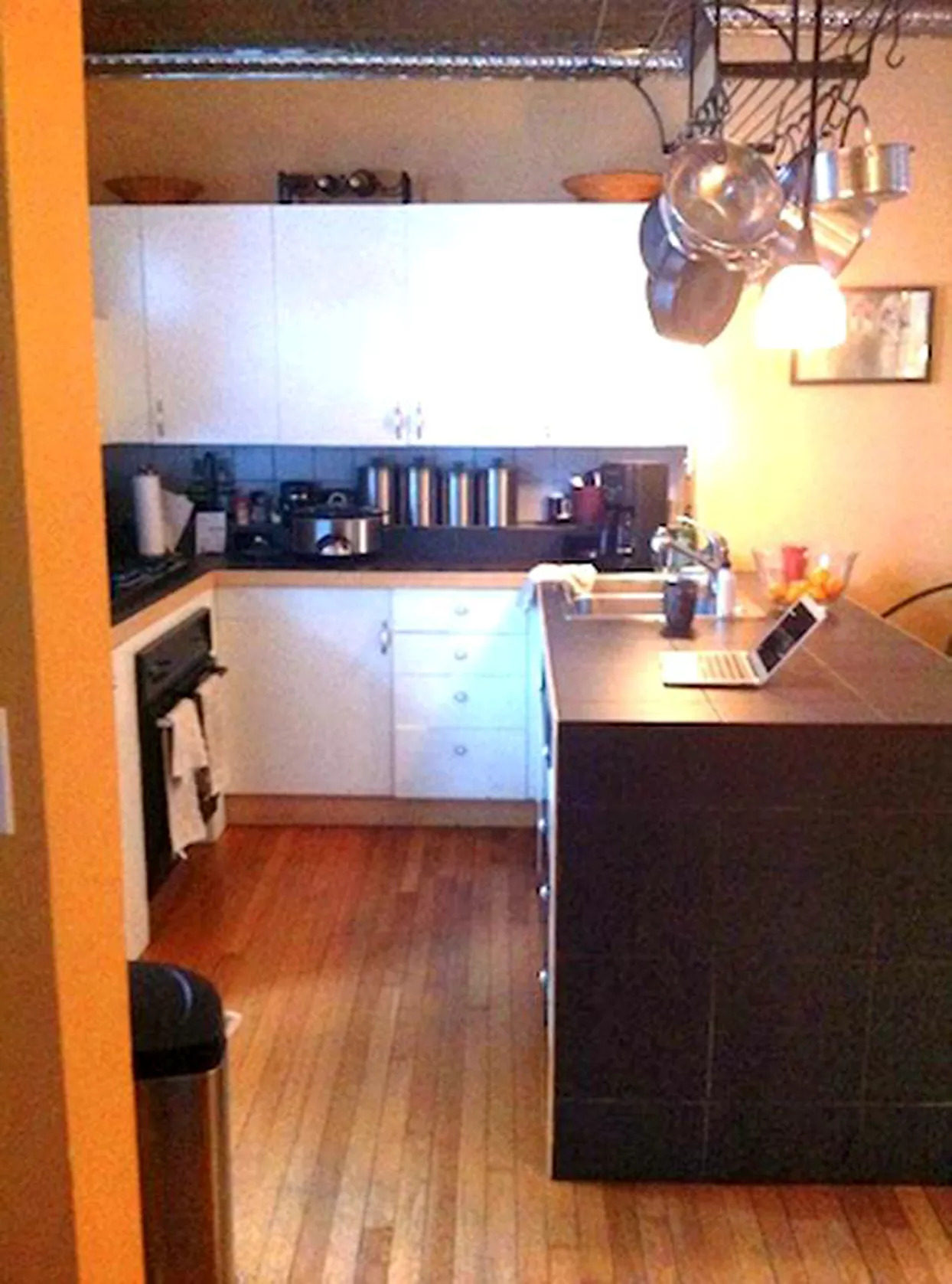 Image Source: bhg.com
The lack of a clear path for people to follow slowed things down in this small kitchen. An awkwardly placed peninsula blocked the path between the kitchen and dining area. The kitchen was remodeled to have an open floor plan, which greatly improved the room's functionality.
After: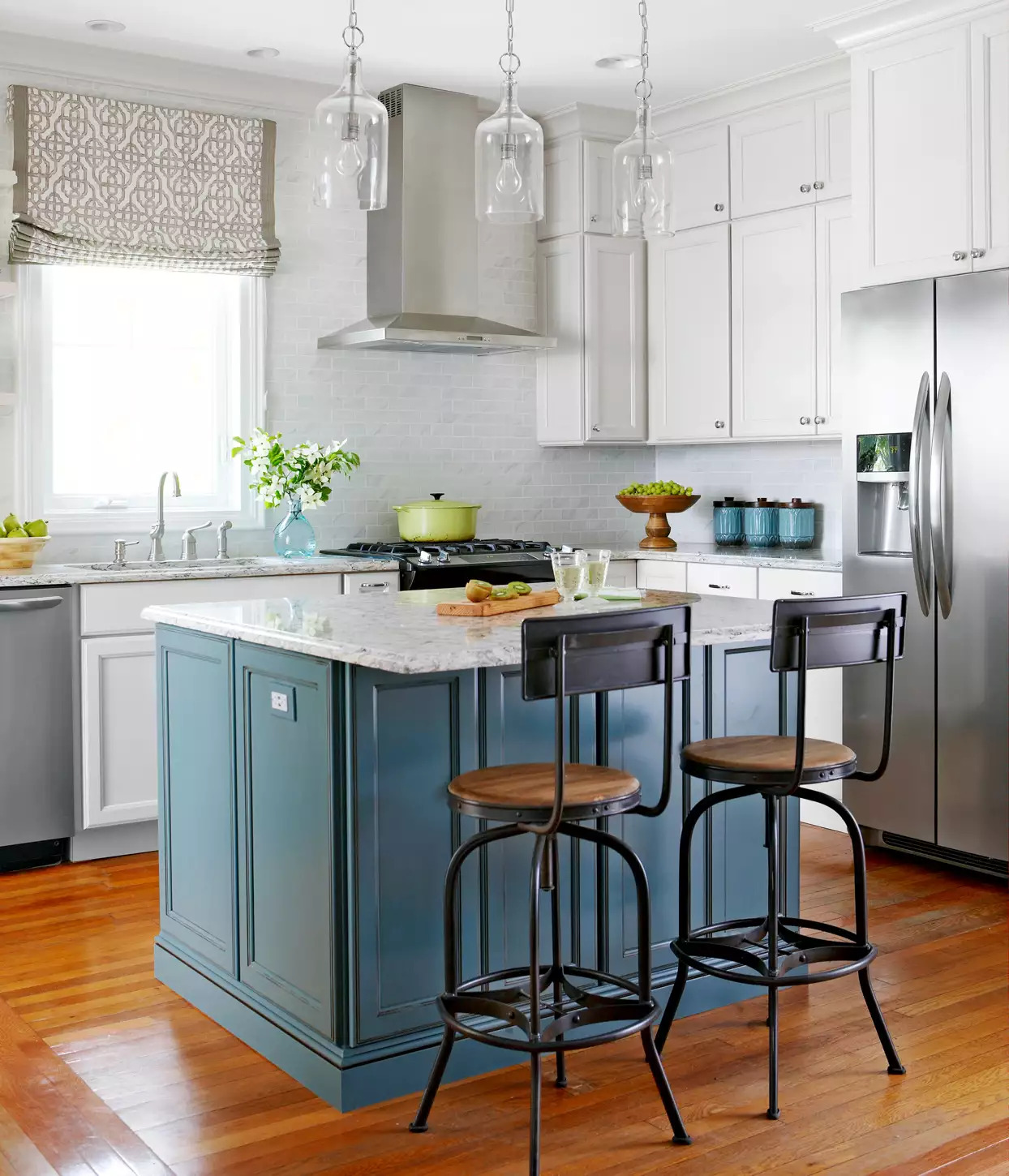 Image Source: bhg.com
The sink and faucet were relocated from the peninsula to the outside wall under the new, smaller window in an effort to improve the room's circulation. In addition, an island was built in place of the peninsula.
The fridge is now situated near the breakfast bar, making morning meals more convenient. The backsplash made of porcelain tiles mimics the appearance of Carrara marble to save money without compromising style and covers the entire wall.
DIY Kitchen Remodel Cost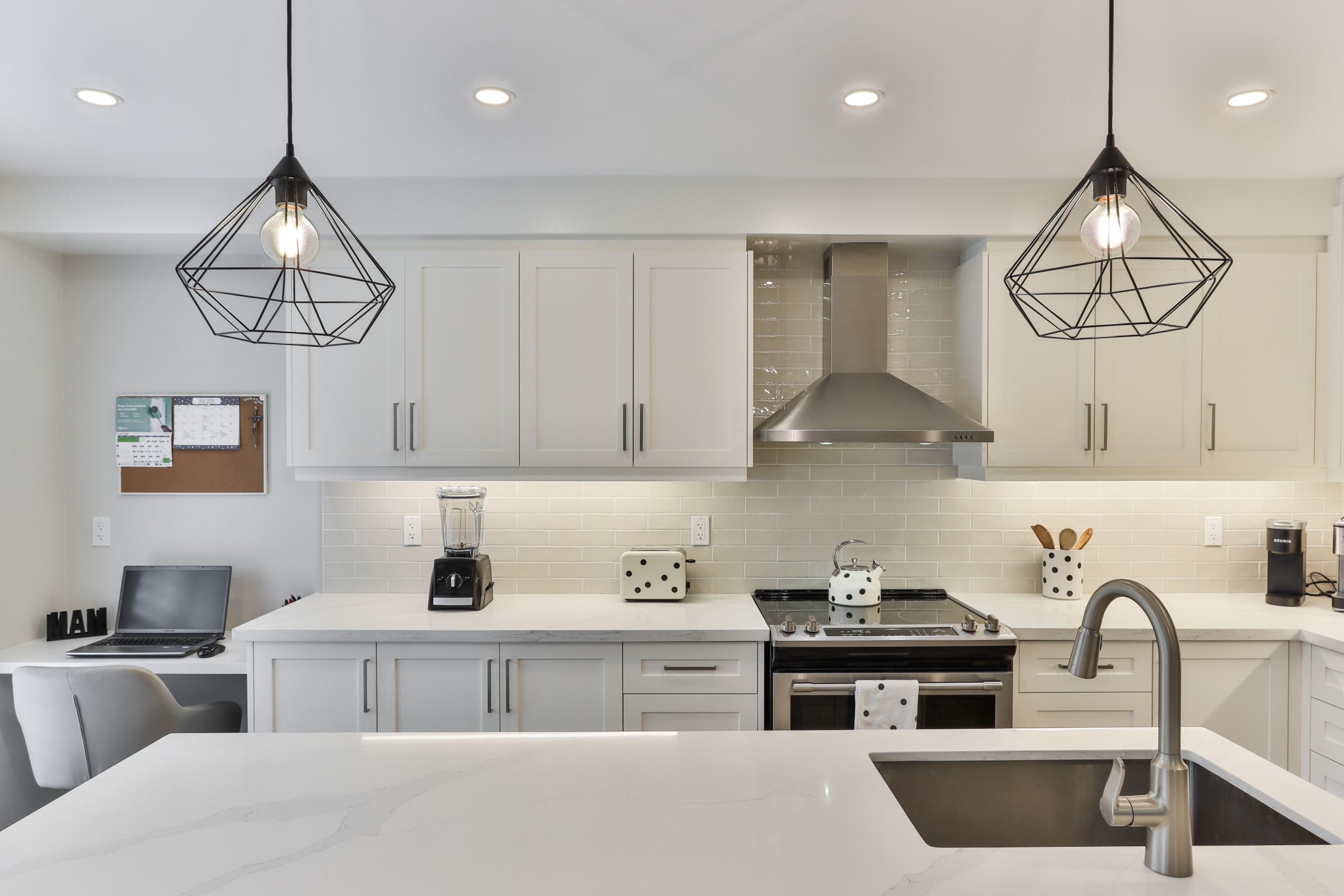 DIY kitchen remodels usually cost around $20,000 on average. The average cost for a home improvement project is $9,000. This equates to a square foot cost of $50 to $200.
The total cost will be determined by the scope of the renovation, the quality of the materials you choose, and the degree to which you choose to DIY the job (you may need help with plumbing and electrics).
If you're up for the challenge, you can save yourself between 15 and 30 percent compared to hiring help.
How to Save Money During a DIY Kitchen Remodel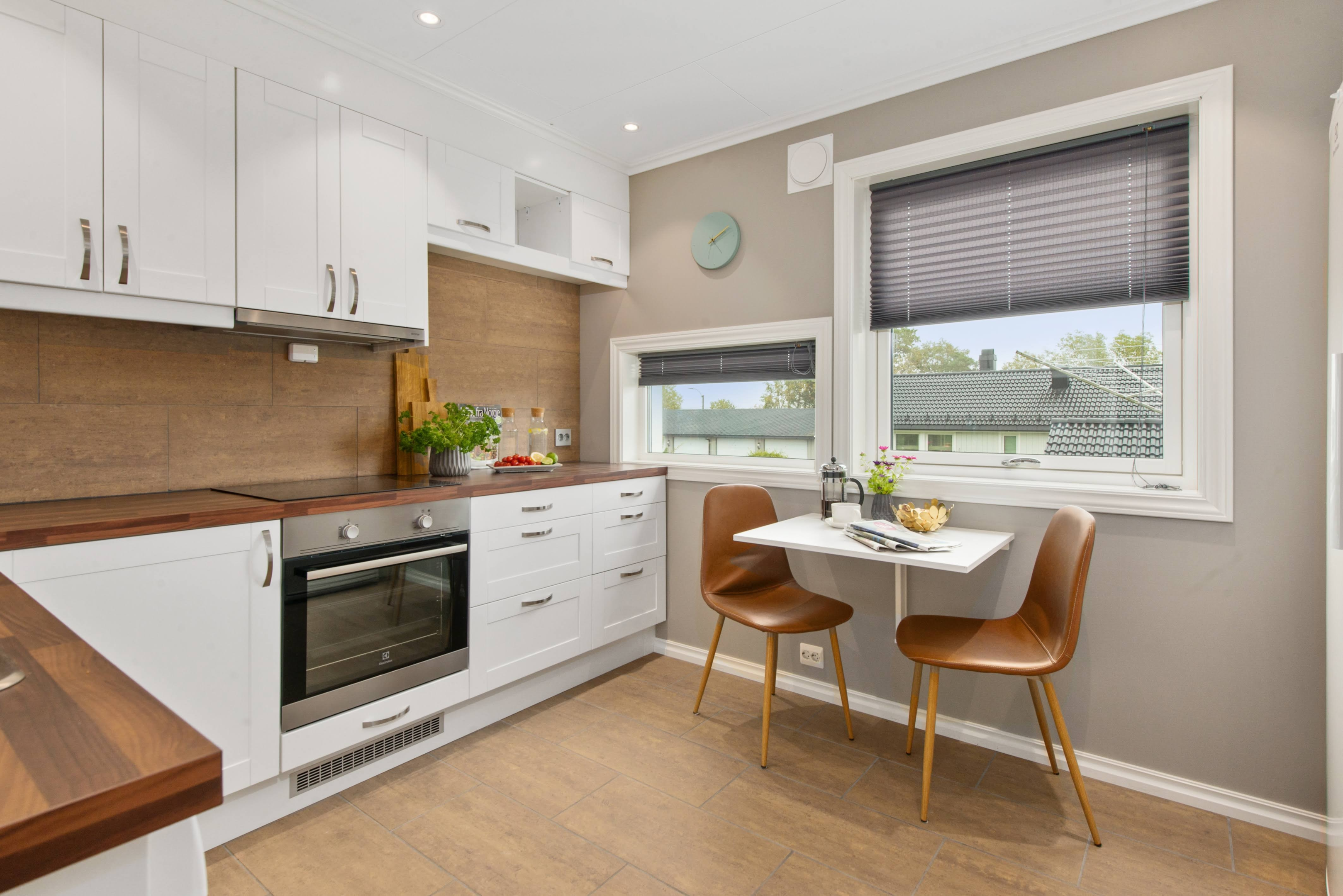 The kitchen remodel can quickly add up, especially when going the DIY route, so it's important to consider how you might cut costs. Here are some;
1. DIY Kitchen Cabinets
Instead of replacing them, try refreshing the cabinets. You can save a lot of money if you can get away with painting or refacing your cabinets and updating the hardware rather than remodeling the entire kitchen. Renovating kitchen cabinets from top to bottom can be rather pricey.
2. Refurbish Your Appliances
Just because a device doesn't function as it should at first glance is no reason to throw it away. Many modern communities have rules in place that make it difficult or impossible to dispose of appliances in landfills.
Due to these limitations, fixing appliances has become increasingly popular. If you want to give your appliances a new lease of life, think about researching how to fix them yourself during your DIY kitchen remodeling.
3. Don't Change the Structure
Kitchen layout changes that need a significant redesign can drive up the cost of a renovation. Maintaining the same floor plan while updating the paint, tile, and other design elements should help you save money because you won't need to pay for expensive plumbing or electrical work.
4. Make an Effort to Do Things Yourself
In light of the data presented above, it is evident how much money may be saved by completing a kitchen redesign on your own.
Interior painting, tiling, replacing outlets and lights, and installing baseboards are all work that novices can successfully complete without the assistance of a professional, in contrast to more complicated tasks like plumbing.
Frequently Asked Questions (FAQs) on DIY Kitchen Remodel
1. Can I DIY a Kitchen Remodel?
You can redesign your kitchen yourself if you have the time and the necessary abilities. Work ethic counts for a lot. You can save money by taking on the project yourself and enlisting the assistance of family and friends. However, it might be preferable to engage professionals for tasks like plumbing and electrical.
2. How Should One Go About Renovating a Kitchen?
Knowing how to remodel a kitchen properly will help you better organize and schedule your activities around it. Here is how the order of events should be;
Demolition and tearing down
Framing and plumbing
Inspection by a professional
Complete the walls
Install windows and doors
Install plumbing fixtures and cabinets
Improve the flooring
Install new appliances