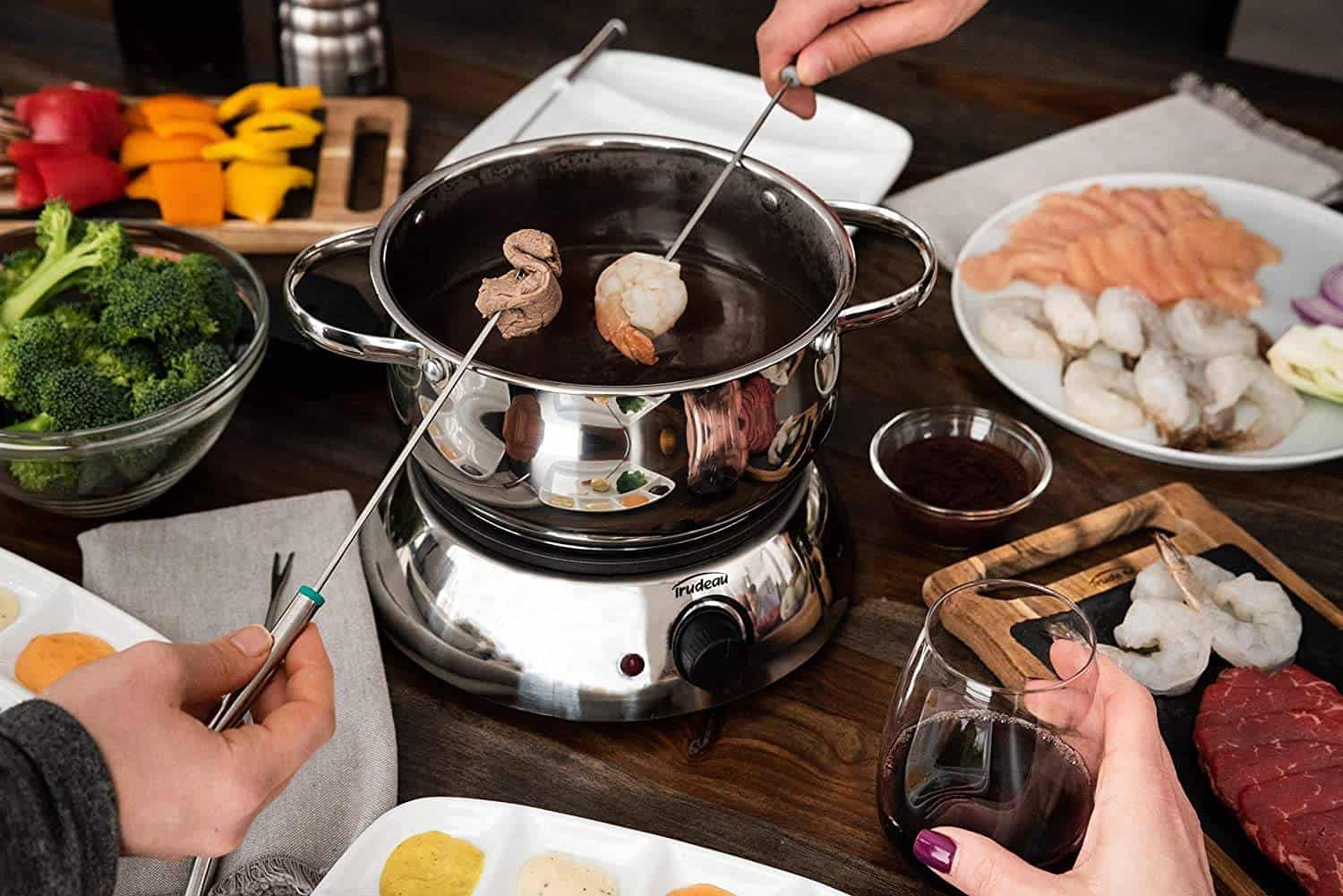 Best Fondue Pot Perfect for Fun Fondue Dinner at Home
Though fondue pots may appear to be a throwback to the 1960s or 1970s, this method of eating may be enjoyable for changing up your everyday dinner routine. Even the better is that fondue pots can do more than keeping your melted cheese at an ideal consistency. They also allow you to savor a steaming bowl of broth and keep delicious appetizers warm for hours. Besides other functionality, the best fondue pot will be worth your investment.
What is a Fondue Pot?
Fondue is a French word that means "to melt." Fondues are a type of cookware that comprises a pot with a heat source, such as an electrical heating element or a portable cooking fuel, that's put beneath the pot and used for a food preparation procedure. A fondue set usually comes in two styles. There are conventional cast iron or stainless steel fondue pots with a burner (electric, alcohol or gel-fueled) under or ceramic variants with a tea light underneath to heat your chocolate or cheese.
Each fondue set has its unique way of use; therefore, ensure you read the instructions thoroughly before getting started. There are two primary types of styles:
Electric burner - Once connected, electric fondue pots will start heating up. Most include adjustable heat-control settings to manage the heat.
Adjustable burner - alcohol or gel fondue packets can be placed into the burner beneath the fondue pot and lit with a match. To control the intensity of the heat, cover a portion of the flame with the burner's lid.
Once the burner is on, lay the pot with the previously melted ingredients (or melt chocolate right in the pot) on top of the stove and dip with fondue forks.
What is the
best fondue pot?
Now that we understand what a fondue pot is, let's check out the best options for a family get-together.
1. Cuisinart Electric Fondue Maker, CFO-3SS
Cuisinart CFO-3SS Electric Fondue Maker, Brushed...
Electric fondue set suitable for chocolate, cheese, broth or oil
Includes base, bowl, temperature probe, 8 fondue forks, and fork...
Elegant, brushed stainless-steel 3-quart bowl with nonstick...
Removable temperature control is adjustable for wide range of...
Dimensions : 6.12-Inch x 10.50-Inch x 7.00-Inch (LxWxH)
For starters, the Cuisinart Electric Fondue Pot set has everything you need to get your fondue party started. With its attractive design and solid construction components, it provides convenience. Besides, the pot has a capacity of three quarts, making it ideal for fondue nights with family and friends. The stainless steel bowl's aperture is also large enough for you and your guests to all dip in some crusty handmade dutch oven bread at the same time.
Furthermore, the pot has a notched fork holder ring to keep your forks secure. The electric fondue set also contains dipping forks, each with its unique color pattern to spare you from the embarrassing situation of mistakenly picking up someone else's fork. Additionally, this fondue maker includes an adjustable temperature probe with eight heat settings, which is quite convenient. You may set it to high or low heat, depending on what you're serving.
The fondue pot set comes with a magnetic power cord, so if someone snags it, it will quickly disengage without unintentionally tugging hot cheese over them. The best part is that this culinary utensil works with every type of fondue, from chocolate and cheese fondues to broth and oil. This pot is fully rust-proof due to its stainless steel construction. Additionally, the interior is treated with a nonstick coating, ensuring that no food sticks to the pot.
2. Nostalgia Stainless Steel Electric Fondue Pot, FPS200
Sale
Nostalgia FPS200 6-Cup Stainless Steel Electric Fondue...
6-Cup capacity - Make up to 1.5 quarts (3 pounds) of your...
Fondue party - Make any get together special. Dip fruit,...
Temperature control - Keep fondues at the ideal temperature by...
Cool-touch handles - Use the cool-touch side handles for safe and...
6 color-coded forks - Allow guests to serve themselves decadent...
If you're looking for the best fondue pot that will sort you out in terms of functionality and design, count on the Nostalgia Stainless Steel Electric Fondue Pot. Its sleek silver style complements both traditional and contemporary dining tables. Aside from its attractive look, this pot has useful functions that allow you to enjoy an irresistible asiago cheese fondue dish with your friends straight away.
Thanks to its six-cup capacity and six color-coded fondue forks, this set is ideal for small parties of up to six people. There are also notches on the rim to keep each fork secure. This pot also includes an adjustable temperature control dial, allowing you to choose your preferred heat setting as your fondue melts deliciously. Besides, lifting and transferring the detachable pot will be easy with its cool-touch handles!
Its high-quality stainless steel construction makes it long-lasting and suitable for frequent usage. This automated pot is unquestionably useful for dipping bread or these savory Domino's copycat chicken wings into any delectable fondue sauces. Also, the removable parts are dishwasher-safe for easy cleaning.
3. Oster Fondue Maker Titanium Infused DuraCeramic
Oster Fondue Pot | Titanium Infused DuraCeramic Fondue...
Cooks up to 30% faster to save Energy and time
Removable, adjustable temperature control
Unique, innovative Titanium infused DuraCeramic non-stick ceramic...
Magnetic breakaway cord for added safety
Includes 8 fondue forks & Fork holder ring
If you're looking for one of the best fondue pots ideal for meat fondue, count on the Oster Fondue Maker. This affordable fondue pot is powered by electricity, so there is no need to purchase or store the fuel for it, and it is ready anytime you need it. The pot has a ceramic interior that is simple to clean after cooking. The temperature control is detachable with a breakaway magnetic cable for safety when the pot is sitting on the table.
This set contains a ceramic fondue pot, eight color-coded forks, and a removable stopper. There is also a sturdy base to keep everything together and a fork-holding ring to keep the dipping forks from getting mixed up. Besides, you can adjust the temperature from warm to 400 degrees Fahrenheit, and the dial specifies which temperature is appropriate for cheese, chocolate, or frying meats and vegetables in oil.
The ceramic pot has a capacity of 3 quarts, so there's plenty of room to store food without having to refill it. In addition, due to the titanium-infused dura ceramic materials, the pot will likely last longer than its competitors. And with the temperature dial removed, you can immerse the pot in water for cleaning; however, it's not dishwasher safe.
4. Swissmar Lugano Cast Iron Cheese Fondue Set
Swissmar Lugano 2-Quart Cast Iron Cheese Fondue Set,...
9-piece fondue set from swissmar
Enameled cast iron fondue pot; rests on rechaud/stand or can be...
Paste burner includes 1 swissmar, 3-ounce fire-gel container
Set includes 6 fondue forks and 1 recipe; use wooden or non-stick...
Set measures 15 by 10-3/4 by 9-inch; weighs 12 pounds
If you are looking for one of the best fondue pots for cheese, count on the Swissmar Lugano Cast Iron Fondue Set. This enameled cast iron pot resembles a traditional fondue pot and is ideal for cheese fondue parties. The strong cast-iron pot usually holds heat effectively, and you can use it directly on the burner, eliminating the need to dirty a second pot to melt the cheese and then transfer it. Besides, the stand consist of wrought iron and holds a heat-producing gel container.
Due to the enamel covering on the cast iron pot does not need to be seasoned before use, though you should use nonstick or wooden utensils to prepare the fondue. You can also use the pot with any heat source. The 2-quart size is plenty for the usual goodness of cheeses and melted chocolate. Also, the cast iron fondue pot is useful for warming sauces or heating milk for hot chocolate, and it's pretty enough to serve with.
Furthermore, the enameled cast iron pot comes with six fondue forks with three tines rather than the more standard two, allowing them to hold food more securely. The package contains a 3-ounce fire-gel bottle to get you started right away.
5. Zen Kitchen Glazed Ceramic Fondue Set
Sale
[Bigger and Improved] Zen Kitchen Fondue Pot Set,...
THE OLD AUTHENTIC WAY – Ceramic is well known for its even heat...
SAFE AND CONVENIENCE – Unlike the electric fondue, there is no...
EASY TO USE AND CARE – This glazed ceramic fondue pot can be...
IDEAL FOR PARTY of 2 to 3 – The heart shape main pot has a...
PERFECT GIFT SET: Our Zen Kitchen cheese fondue set is boxed in a...
Thanks to its cute heart-shaped bowls, this pot set from Zen Kitchen is ideal for an intimate fondue night. This pot set comprises one large dish and six tiny bowls, ideal for serving bite-sized fruits, marshmallows, vegetable slices, and other little delights. Also, the set includes six forks.
Due to it being built for a traditional method of cooking fondue, there is no electric cable; therefore, you don't have to worry about someone accidentally yanking the entire set. And to keep your fondue gooey and warm, all you need is a tea light.
This cherry-red pot is made of solid ceramic materials for consistent heat distribution, resulting in a delicious melting chocolate fondue. It's also strong enough to endure high temperatures in microwaves.
What Are the Fondue Pot Tips?
It is preferable not to serve more than four individuals from a single fondue pot.
When making the fondue, avoid using water. Instead, use delicious liquids like wine or broth.
To minimize splattering, the food you wish to dip should be dry, and you should maintain the amount of liquid inside the fondue to a minimum.
Avoid using the fondue forks to eat since they can become excessively hot and transmit germs. Always offer separate plates and cutlery for dining.
For chocolate fondue, use high-quality chocolate with low melting points and a rich taste. To make your flavor, combine multiple different flavored chocolate bars. However, do not use chocolate chunks since they harden rapidly.
To make cheese fondue, you can use vegetables such as asparagus, broccoli, bell peppers, Brussels sprouts, cauliflower, carrots, and zucchini. Also, you may improve the flavor by sautéing or roasting them.
Factors to Consider Before Buying the Best Fondue Pot
1. Types of fondue pots
When looking for the best fondue pot, you will realize that they come in either manual or electric versions. Some manual fondue pots use an open flame, while others use candles. Newer types feature a bottom that heats up with cooking fuel. Also, manual pot sets can work anywhere, though you must purchase the fuel separately.
Conversely, electric fondue makers can also keep tasty dips heated for several hours with their automated capabilities. Most versions also allow you to change the heat setting based on the sort of fondue you're serving. However, this pot style will require an outlet near your dinner tables to function.
Read also: Best dinnerware sets
2. Material
Before buying the best fondue pot, you need to identify the preferred material; some fondue sets are ceramic, while others are stainless steel or metal. Ceramic fondue pots heat slowly, yet they may retain heat for long. Also, cleaning them is very simple. Conversely, enamel cast iron is extremely long-lasting (same case with stainless steel fondue set ). They heat up far faster than ceramic pots and transmit heat incredibly effectively. However, stainless steel pot models are thin, and your cheese or chocolate may burn easily.
3. Capacity
Before buying the best fondue pots, the fondue pot's capacity is an important factor to consider. We recommend you always choose the one that best meets your requirements. Small fondue pots are ideal for serving any fondue for delightful snacks. Conversely, large pots with a capacity of at least two to three quarts are intended for fondue parties and large gatherings.
4. Additional features
Check if the pot is sold separately or a complete fondue set. Several alternatives are available depending on whether you want an entire set or a specific pot for your existing set.
Many fondue sets include forks for dipping and smaller pots in which you may put your amounts to reduce mess. Therefore, whatever you're looking for, you'll have no trouble finding it.