Floating floors have become an increasingly popular option for many floor coverings. They are time and cost-effective options for individuals looking for a cheap ideal stylish home look. But what is a floating floor? The term 'floating floor'doesn't refer to a flooring material type but rather to a method of installation where the flooring material is installed without using nails or adhesives.
Floating floors can be made with various materials, including luxury vinyl, laminates, and engineered hardwood flooring. The individual planks or tiles of these materials click or snap at the edges, forming a single mat-like surface held by gravity and friction above the subfloor, hence the name 'floating floor.'
Read on for more information about the floating floor and to find out if it is a good option for your home or office.
Types of Floating Floors
Laminate flooring is made from layers of compressed wood material with a photo-realistic image laminated on top to mimic wood and sometimes stone flooring. A key feature that makes laminate flooring an extremely popular option for floating floors is its high durability and scratch-resistant nature.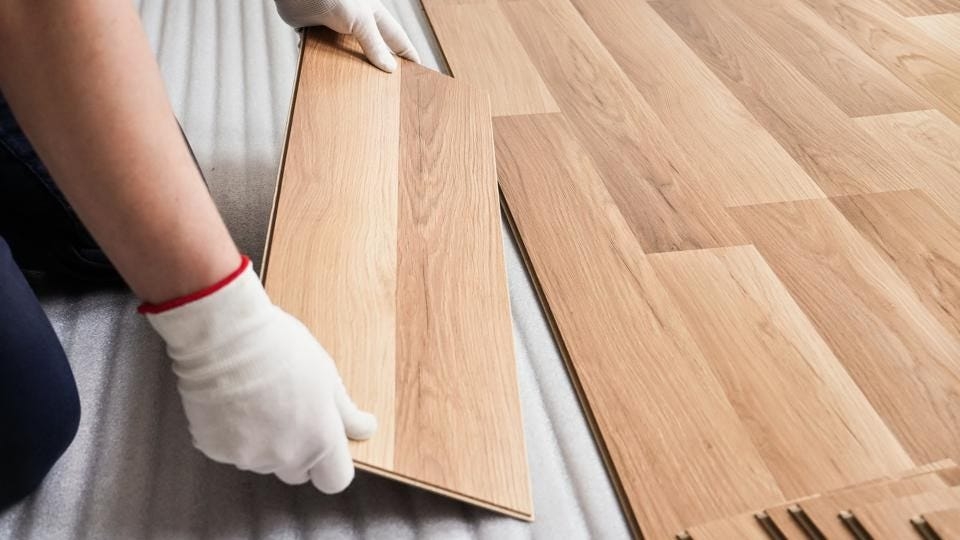 Image Credits: forbes.com
Flooring laminate planks are normally joined together using a tongue–and–groove system, or click-clock, which bonds the planks along the edges instead of the nails and adhesives. Moreover, laminate flooring is durable, and the floating method also allows it to respond to changes in humidity by contacting and expanding without buckling. For best results, ensure you use the best underlayment for laminate flooring.
2. Luxury Vinyl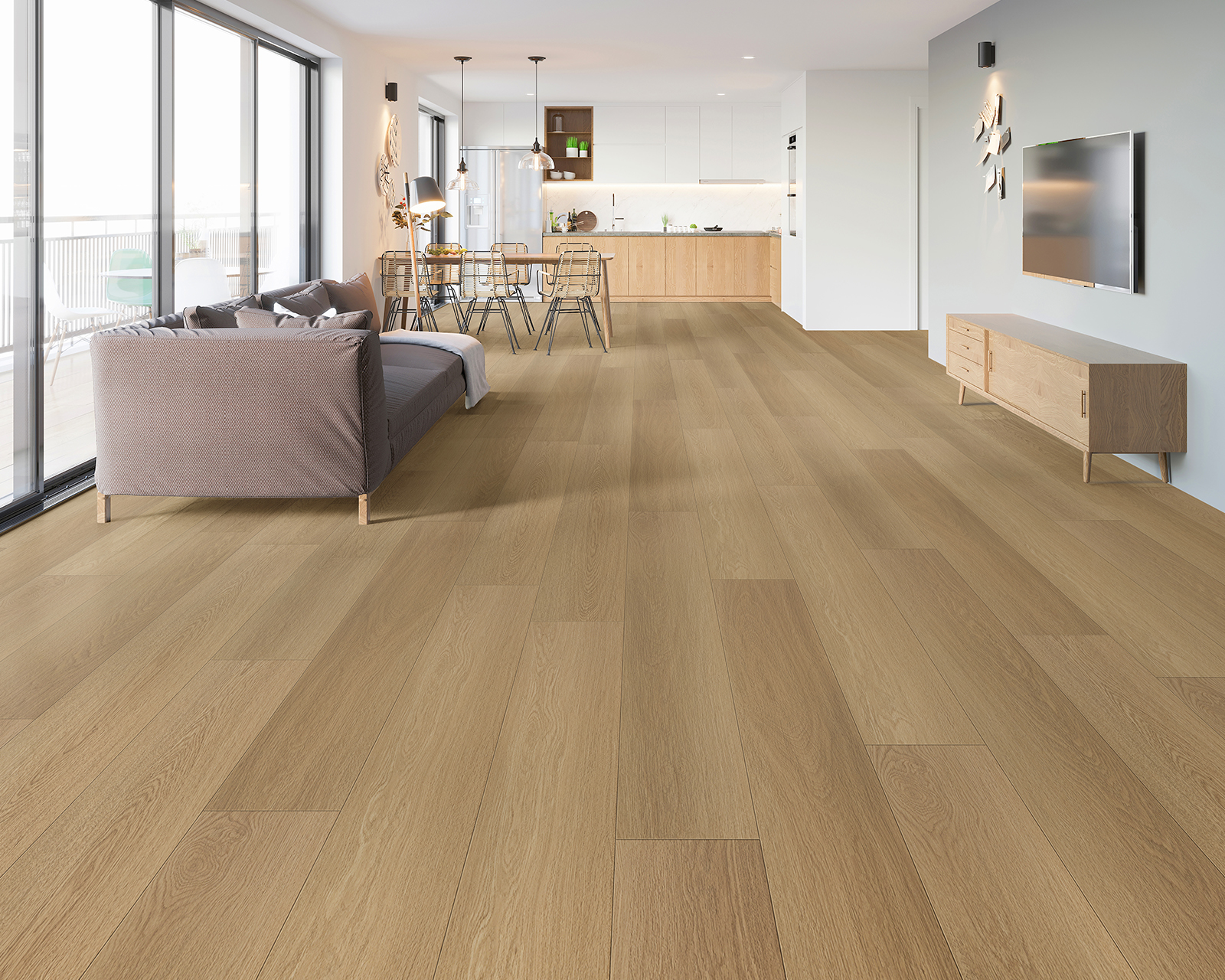 Image credits: lwflooring.com
Luxury vinyl flooring, also known as vinyl plank flooring, can also be made to mimic wood, stone, or tiles. Like floating laminate planks, floating vinyl planks and tiles use tongue-and-groove or "click-lock" systems. The planks are engineered to snap together board to board using tiny tongues and grooves. Some types can also be glued down to the subfloor.
3. Engineered Wood Flooring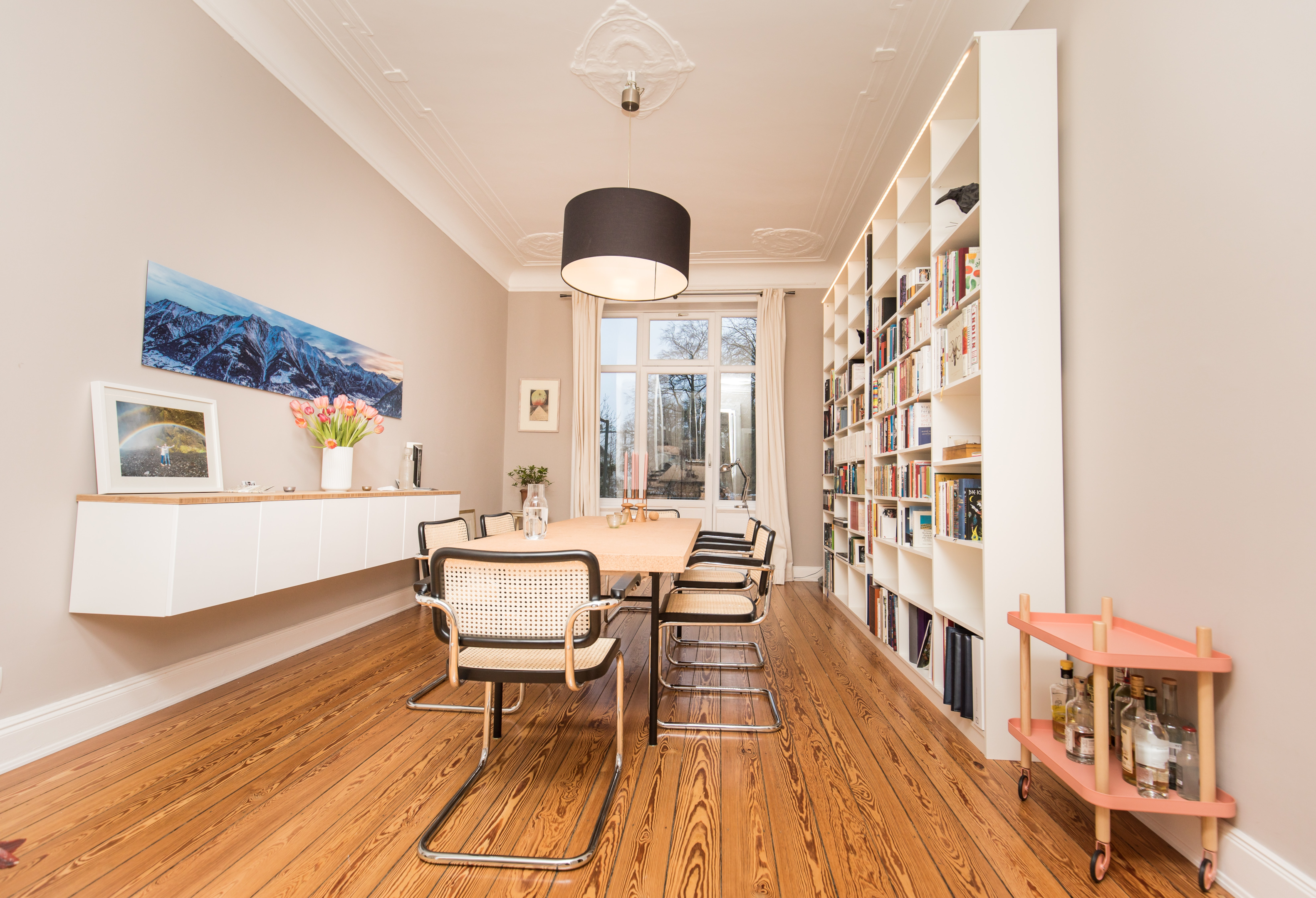 Image Credits: unsplash.com
Engineered wood flooring is constructed using multiple layers of wood with a finished layer of solid wood. This wood flooring is lightweight, durable, and easy to care for. Some engineered wood floorings are installed by stapling or nailing to a plywood subfloor. However, they are also available in a floating click-lock option.
Advantages Of Floating Flooring
i) Easy Removal and Repair
As floating floors are not attached to the subfloor, they are easy to pull off and replace without any adhesive or nails to remove. If the planks are damaged, take off the skirting and remove the floorboards from the perimeter before replacing them.
ii) Simple and Cheap Installation
A floating floor is not only cheaper, but it's typically easier to install. The DIY installation allows you to connect the planks like a jigsaw puzzle, holding them together to form one cohesive floor without using expensive nails, glue, or other adhesives.
In addition, you can choose either a tongue and groove style or a click-lock version, making it simple for installation and hence can be one of the best options for flooring remodel ideas.
iii) Eco-Friendly
Most floating floors use less wood, and others are made of entirely eco-friendly friends. Floating floors can also be easily installed over existing flooring and are highly flexible; hence can be installed on a variety of different materials.
iv) Comfort
The air cushion between the substrate and the floating floor creates comfort and flexibility. As a result, they feel comfortable to walk on and are more comfortable for the knees and back.
Disadvantages of Floating Floors
Image Credits: builddirect.com
i) Structural Durability
Floating floors are susceptible to expansions and contractions from humidity and temperature fluctuations. This is because of the space between the subfloor and the floor. If a lot of moisture accumulates in that space, it may lead to mold growth, warping, or pitting of the planks.
ii) Sound
The space between the subfloors and your floating floors can be troublesome when you need your steps to be quiet. The pressure of your footsteps on the air cushion amplifies your movement hence the noise. In spaces where floors are nailed or glued to the subfloor, the connection between the subfloor and floor layers reduces the sound from footsteps.
So if you are considering installing floating floors in places like a baby nursery, you may need to invest in an acoustic underlay.
iii) Requires an Even Subfloor
Long-term wear or excessive force on a floating floor installed on an uneven subfloor may cause the floorboards to break apart faster. Installing floating floors on an uneven subfloor may also void any structural warranties offered by product manufacturers.
iv) It Can't be Refinished Many Times
Floating wood floors are generally made of engineered wood rather than solid wood. The engineered wood comprises two layers, a thick base layer of HDF or plywood and a thin veneer layer of natural hardwood on top. The thin layer of the veneer cannot be refinished as often as solid hardwood. Solid hardwood rarely comes as floating floors, and laminate and vinyl, which are the major floating floor types, can't be refinished
Floating Floor Installation
The common floating floor materials share a nearly identical installation method. First, the installer prepares the subfloor, making the surface as flat and smooth as possible. Any unevenness of the substrate will be transmitted to the relatively thin layer of the flooring. Therefore, a flat, solid substrate is essential for a good installation.
Image Credits: fantastichandyman.com.au
Next, an underlayment is applied to the subfloor. This thin layer of dense, resilient foam helps absorb any flexing in the floating floor, making it comfortable underfoot. Some floating floorings are constructed with resilient underlayment bonded to the planks. Therefore, no additional underlayment is required.
Finally, the floorboards are arranged, starting along one wall and proceeding across the floor to the opposite wall. Floating floors are usually installed with a small gap at the wall perimeters to allow the flooring to expand and contract with humidity and temperature changes. This prevents the flooring from buckling. Baseboard shoe moldings usually hide these small gaps.
Where should Floating Floors be Installed
Floating floors are the perfect fit for most spaces because all environments can benefit from an easy, efficient and quiet installation process. In particular, it is handy for units and apartments with strict strata policies on noise during installation. Floating floors don't need glue and nails, and this reduces the sound generated during installation.
However, you do need to ensure your subfloor is even. As long as the conditions are right, floating floors can perfectly fit any commercial or residential environment.
How to Maintain and Repair Floating Floor
Cleaning and maintaining floating floors depends on the flooring material. For example, cleaning laminate and luxury vinyl generally requires damp mopping. On the other hand, with engineered hardwood, you should avoid using water.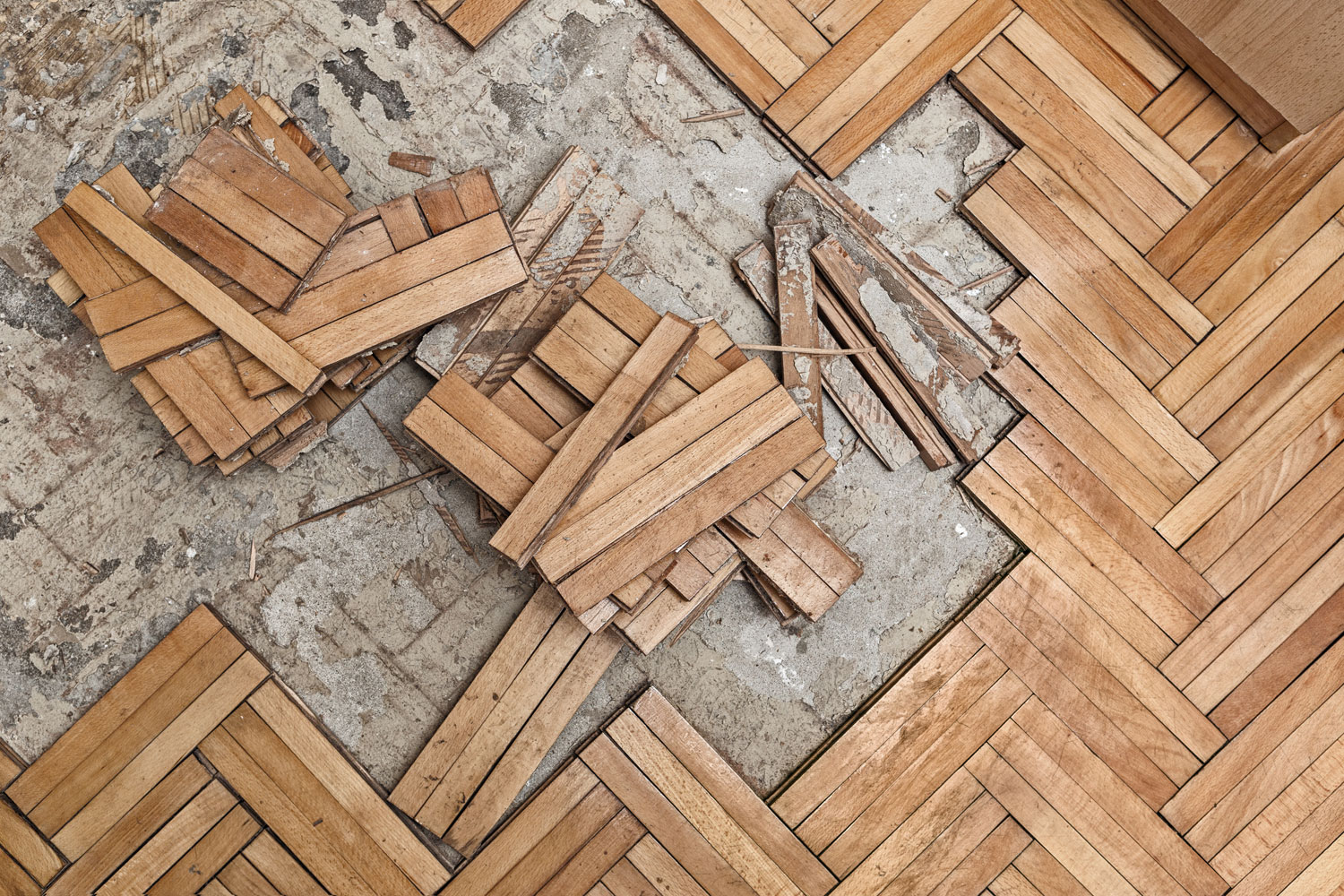 Image Credits: watermoldfire.net
Replacement of damaged floorboards is usually much easier for floating floors than for nail-down or glue-down flooring. It is possible to disassemble the planks and replace the damaged planks without professional tools.
Floating Floor Design
Floating floors are generally considered rather inferior to nail-down or glue-down floors. However, this view is beginning to change because the quality of the floating floor products has improved.
Floating floors also have a reputation for lowering real estate values compared to more premium flooring materials. However, this is not the case with luxury vinyl, which is usually considered superior to glue-down vinyl tiles or sheet vinyl. As a result, luxury vinyl flooring is becoming the most popular material for floating floors compared to plastic laminate flooring.
Despite the stubborn reputation as an inferior flooring, the floating floor gives you vast flexibility in design because laminates and luxury vinyl are available in hundreds of colors and styles. These materials can be found in styles that mimic stone, wood, ceramics, or even metals.
Frequently Asked Questions
a) What is the Difference Between a Floating Floor and Laminate Flooring?
Floating floors are flooring types that don't require nails or glue to be installed. Laminate floors are a type of floating floor. It comprises multiple layers of synthetic flooring products fused with a lamination process.
b) What does Floating Flooring Mean?
Floating flooring means installation is not based on sticking down the planks to the subfloor using nails and adhesives but rather snapping them together like a jigsaw puzzle and then relying on friction and gravity to hold them up and in place. A thin air cushion between the subfloor and the surface floor creates the 'floating' effect.
Bottom Line
A floating floor is a versatile choice suitable for any residential and commercial environment, especially if you favor convenience. This installation system allows you the flexibility of DIY and easy repair and replacement without distracting your neighbors.
Most of the disadvantages can be offset with good preparation and inspection of your subfloors to ensure fitness for installation.
Featured Image Credits: thespruce.com