It's annoying when you have a power outage, and the only thing you can do is sit and wait for the power to come back. But not anymore. A backup generator will offer an on-demand source of electricity if you want to keep all of your important appliances running or disconnect from the grid. If you need a whole house generator for a medium-to-large-sized home, the Generac 20kW generator is an excellent option.
How Does a Generac Generator Work?
Automatic standby generators, also known as backup generators, are a great option to provide dependable, uninterrupted power to your home during a power outage and Generac generators are not exceptional. Generac company was founded in 1959 and is the number one manufacturer of home standby generators providing customers with exceptional comfort and peace of mind in times of need.
Generac generators can run on liquid propane (LP) or natural gas connections from your house. The standby generator, like your air conditioner, stays outside your home, waiting for the signal to turn on. A backup generator, unlike a portable generator, starts automatically. So, if the power goes out, all you have to do is relax and wait for your appliances to restart.
Now that we understand how a Generac generator works let's review the Generac 20kW generator.
Generac 20kW Generator Review
Generac 7038 Guardian Series 20kW/18kW Air Cooled Home...
True Power Technology delivers best-in class power quality (less...
Automatic Transfer Switch sold separately
Generac's Evolution Controller features LED indicators for...
Tough, durable all-weather aluminum enclosure offers 3 removable...
Battery Not Included. Generac battery model 5819 sold separately.
The Generac 7038 20KW generator is run on the Generac G-Force Engine. This Generac's G-Force engine life is sturdy and stable; it can withstand harsh conditions, is pressure-lubricated, and requires less frequent maintenance than conventional engines. Besides, Generac's brand new series of automatic home standby generators boast cutting-edge technology and simple installation. In addition to technology, the 7038 20kW generator has an Aluminum enclosure and a RhinoCoat powder-coated finish that allow it to withstand the weather, such as 150mph wind and other long-term damage.
The Generac Guardian 7038 runs at a good 66 dB, providing a peaceful power solution. Besides, the Generac's G-Force Engine is a purpose-built, pressure-lubricated engine capable of withstanding the thoroughness of generator operation, resulting in more dependable power that requires less routine maintenance interval than any competitive engine. Furthermore, True power technology provides best-in-class power quality with less than 5 percent total harmonic distortion, allowing your appliances and sensitive electronics to have a clean and smooth operation.
The Generac Guardian series 7038 comes with a Direct-To-Dirt composite pad with complex lattice designs, which prevents the generator system from settling or sinking. Also, the generator system is equipped with an integrated sediment trap which prevents particles and moisture from entering the fuel regulator and engine, prolonging engine life. Another feature worth mentioning is the tool-less fuel conversion (automatic transfer switch) which allows you to switch between LP fuel and natural gas in a matter of seconds without the need for any tools.
The generator's evolution controller features a multilingual, two-line LCD text display with color-coded backlit buttons. Also, the home standby generator features a Mobile Link™ cellular remote monitoring allows you to check the generator's current operating status and send maintenance alerts to your smartphone or laptop. However, it's sold separately. Last but not least, the home standby generator has a 5-year limited warranty and a 24-hour customer support team.
Why Should You Choose Generac 20kW generator?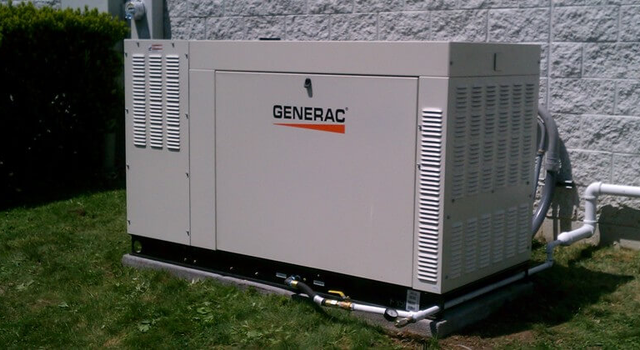 1. Powerful engine
The engines of Generac generators are well-known for their power and longevity. The Generac 7038 generator has a pressure-lubricated engine capable of running for four times as long as other models on the market. In our full evaluation, you can find out how long generators operate. Even the engine of the China Generac portable generator is rather strong. These Generac engines include several safety measures, such as a low-fuel auto-shutoff mechanism and emergency circuit breakers to protect the engine from overloading. Additionally, the Galvanneal steel with a RhinoCoat exterior covering helps in prolonging the engine life.
2. Low maintenance
Generac company manufactures generators that are simple to maintain. This is true for both the portable and home standby generator options. However, you especially want the home standby generator to tip-top form when resolving power outages. Besides, the home standby generators go through a weekly test to ensure that everything is working properly. These tests ensure that you will not have to come out of pocket unexpectedly if something happens and you are unaware of it.
This exercise usually helps you identify problems before you need your generator and can't rely on it. Also, the tests are performed silently, so you won't have to wake up the entire neighborhood while they are running.
3. Eco-Friendly
With global warming, it's no surprise that one thing that distinguishes Generac generators is environmentally friendly. So, therefore, how eco-friendly and ecologically friendly is this Generac Guardian series 7038 generator? The first advantage is that they use less fuel than other generators and emit less pollution.
The Company is performing so well that it has acquired the Good Housekeeping Seal of Approval when it comes to this aspect. This is incredible since only a handful of generator brands have obtained this certification. Moreover, the Company has done an excellent job of ensuring that it is ecologically responsible while manufacturing environmentally friendly products. And as a result, if reducing your environmental imprint is vital to you, the Generac generators are here for you.
Even the production process for the portable and standby generators is designed to minimize environmental impact. This is accomplished by intentionally minimizing the number of materials used as well as the pollutants created.
4. Noise levels
Essentially, this Generac 20kW generator is quiet, and it will emit 66 decibels, which is as loud as your kitchen blended o garbage disposal. Though the generator might not indicate their decibel rating, they're not as loud as most generators.
5. Warranty
The Generac 20 kW generator often comes with a 5 year or 2000 hour limited warranty, usually more than most manufacturers provide. Also, the Company offers all-year-round 24-hour customer support.
6. Additional features
When choosing the generator to buy, the additional features are a plus. Generac 20kW generator usually comes with additional features, which include;
Remote start systems- might be in the form of a switch, a push-button, or even a remote control. This activates the Generac 20kW home standby generator without the need for a trip to the transfer switch, and it may even integrate start orders from mobile devices via suitable apps and Wi-Fi connectivity.
Automatic start systems- often monitor your home's electrical system. The system detects the outage and starts the generator in seconds in a power outage. These systems also run training cycles regularly to keep the starting batteries charged.
Corrosion-resistant enclosures- The Aluminum enclosure we mentioned earlier is handy for your generator. These materials guard the standby generator against corrosion, rusting, and damage caused by harsh weather and conditions like rain, excessive humidity, sleet, and salt.
Generator system status lights- alert the user when maintenance is necessary; thus, you must inspect the generator to stay up to speed in its present state.
Frequently Asked Questions on Generac Generators
1. What makes Generac generators unique?
Generac generators are frequently equipped with exceptionally powerful and dependable engines. The Generac G-Force Engine is widely known as one of the most dependable engines on the market. Besides, Generac generators powered by this engine are more durable and require less frequent maintenance than most other low-cost generators.
The fact that the G-Force engine is pressure-lubricated adds to its allure. The innovative oil filtration systems, superior stress sensors, and a plasma-filled compression ring structure are just a few of the characteristics that set these Generac engines apart.
2. Are Generac engines of good quality?
Yes. Generac engines are available for portable, inverter, and backup generators in various sizes. In addition, they have been manufacturing generators for almost 60 years, so they are extremely dependable and innovatively designed.
3. How much kW of Generac power do I need?
Add up the Total Watts to get an idea of how much power your home would require during a power outage. To calculate kilowatts, multiply Total Watts by 1000. Then, to add a margin of safety and for future power demands, multiply kilowatts by 1.25. The total kW is the minimum for your home's Generator Capacity.