It's important not to underestimate how much the curb appeal of a property impacts not only its saleability but also its average resale value. Even small tweaks that cost very little can increase the asking price of a typical home by thousands of dollars. Our article explains how to increase the value of your home in simple ways.
Read on!
1. Overhaul The Lawn
If you've got any grass area in front of your property, it needs to be kept in tip-top condition so that it isn't an eyesore. As simple as mowing the lawn will work wonders to smarten up the exterior. And if you're not afraid of hard work, more extensive landscaping is worthwhile.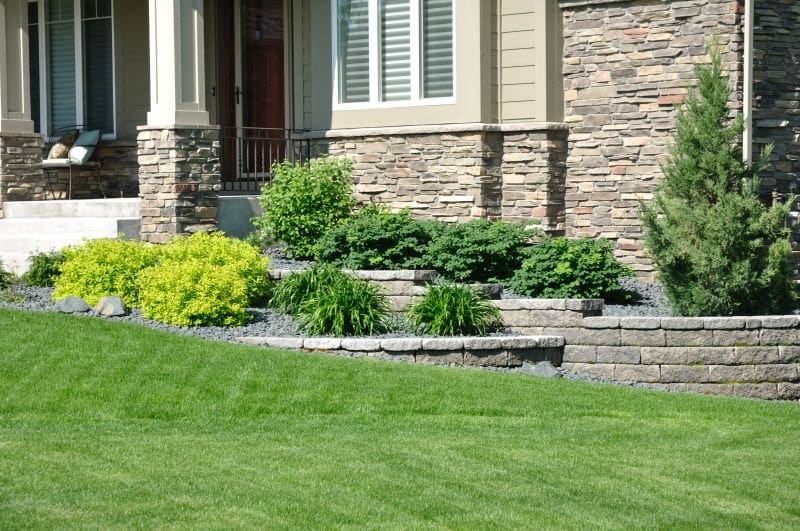 Image source: townandcountryent.com
Adding flowers to neglected borders, planting trees, and clearing weeds from pathways and driveways will bring back the sheen to a front yard in a jiffy.
And if you're thinking of starting your real estate brokerage, this is the advice you can give to your clients who want to sell their homes quickly without breaking the bank.
2. Replace The Front Door
An old, tired, and dated-looking front door can give the wrong impression about the interior of a home before future buyers have even set foot inside it. Replacing it with a newer model doesn't have to cost much and will breathe life back into the facade. Of course, if your existing door is still sturdy, you can revamp it with paint.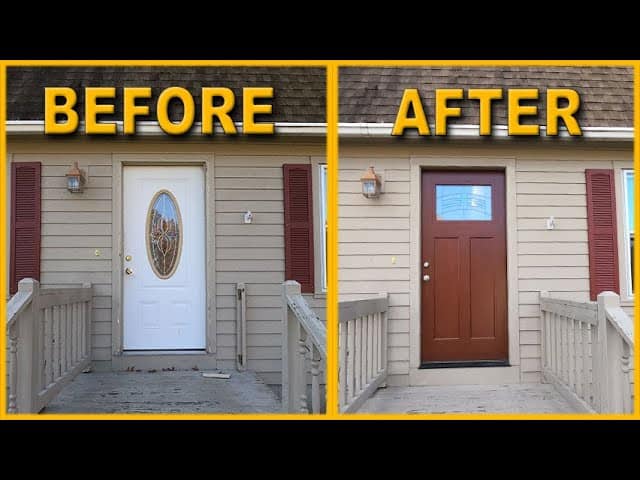 Image source: youtube.com
Wooden doors are easiest to restore with a paint job, but even UPVC doors can also be freshened up in this way.
3. Install Window Boxes
Some properties don't have outdoor areas to jazz up, so you need to focus on the look of the windows. You can add some greenery by installing window boxes, and they'll add a splash of color without requiring any paintbrush.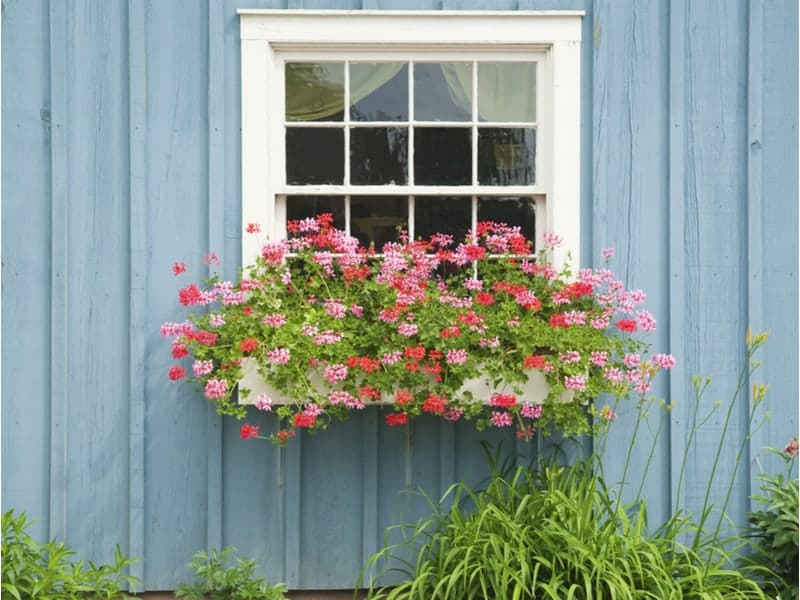 Image source: wcmanet.org
If you're looking for even more window-based enhancements, shutters can bring charm to your home for a tiny price tag compared to major renovation projects.
4. Power Wash Grimy Surfaces
Buying or renting a power washer is a canny move for any would-be home seller. This device can blast away dirt and debris from various surfaces, with paths and drives being the best example.
Even porches, doors, and windows can be cleaned quickly and thoroughly with a power washing device. Just make sure that you aren't using it on any fragile materials or unsuitable surfaces, as this could lead to damage being done.
5. Clear Guttering And Replace Damaged Trim
With time, gutters accumulate all sorts of mulch and matter, so they need to be cleaned to ensure that they remain functional and prevent them from looking less than appealing.
You can do this yourself, or better yet, get a professional to handle this for you, which is the safer option. If any guttering or exterior trim is loose or broken, paying to replace this will cost you a few hundred dollars but will increase your home's value by much more, so it's worth it.
6. Add Lighting To Thoroughfares
The driveway and pathway to your house might look good in daylight but will fade into the background once the sun sets. That's where the lighting makes a difference and will help if you're likely to show interested parties around during the evening.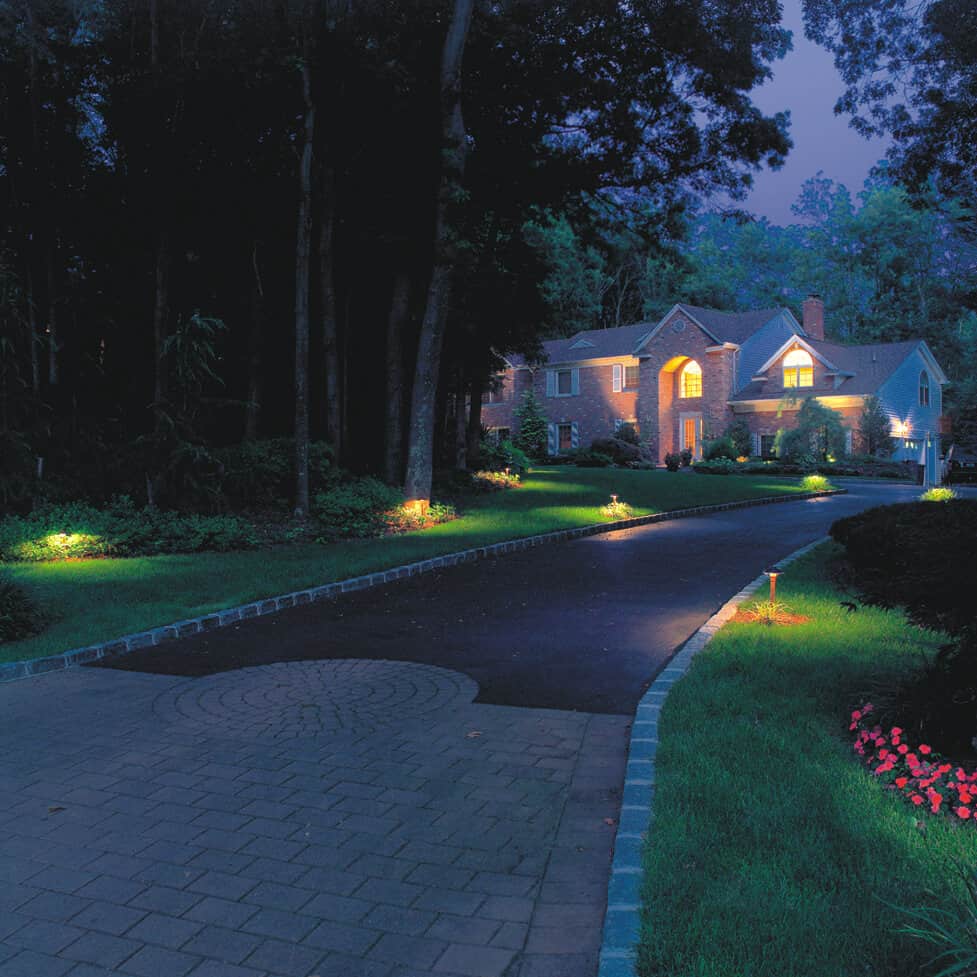 Image source: outdoorlights.com
You could go all-out and install lights along these routes, powered by a mains connection. But with affordable solar-powered outdoor lights easy to procure today, you can get the same effect for a fraction of the price.
7. Paint The Outside Of Your Property
A fresh coat of paint makes your home look newer and more attractive. Choose neutral colours that appeal to a wide range of potential buyers. This could be one of the most expensive improvements to make, but one which will also have the biggest impact on the value of your home. Painting a property that looks long in the tooth will instantly transform it into a more vibrant and welcoming abode.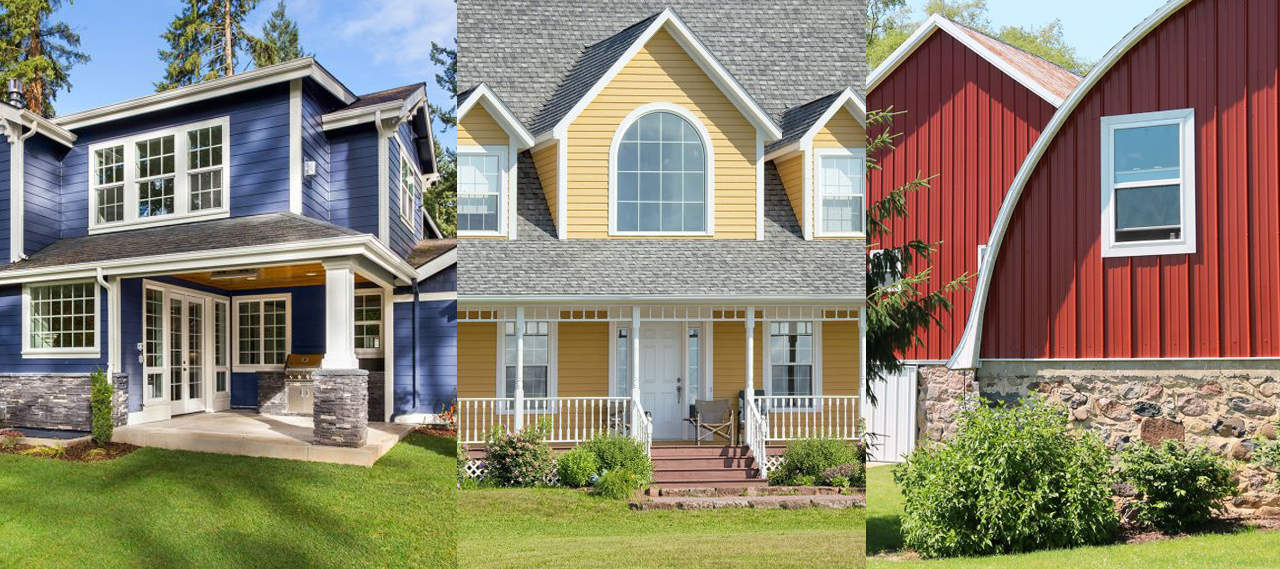 Image source: homesandgardens.com
You can save money here by handling the painting yourself, but again you'll get better results in less time if you call in the pros.
8. Renovate and Update
Among the effective ways to increase the value of your home in the near future is to renovate and update it. Consider upgrading your garage door, master bedroom, kitchen and bathrooms or painting the interior and exterior of your home.
Regular maintenance can prevent small problems from becoming big ones. Keep your home in good repair by fixing leaks, replacing old appliances, and keeping it clean and tidy.
9. Declutter and Organize Your Space
To judge the worth of a purchase, prospective buyers must see the property they will be acquiring. It is challenging for them to inspect the walls and floor because most of it is covered in other people's possessions. You are marketing a lifestyle and a desire when you declutter your home properly, making it easier for the client to visualize living there.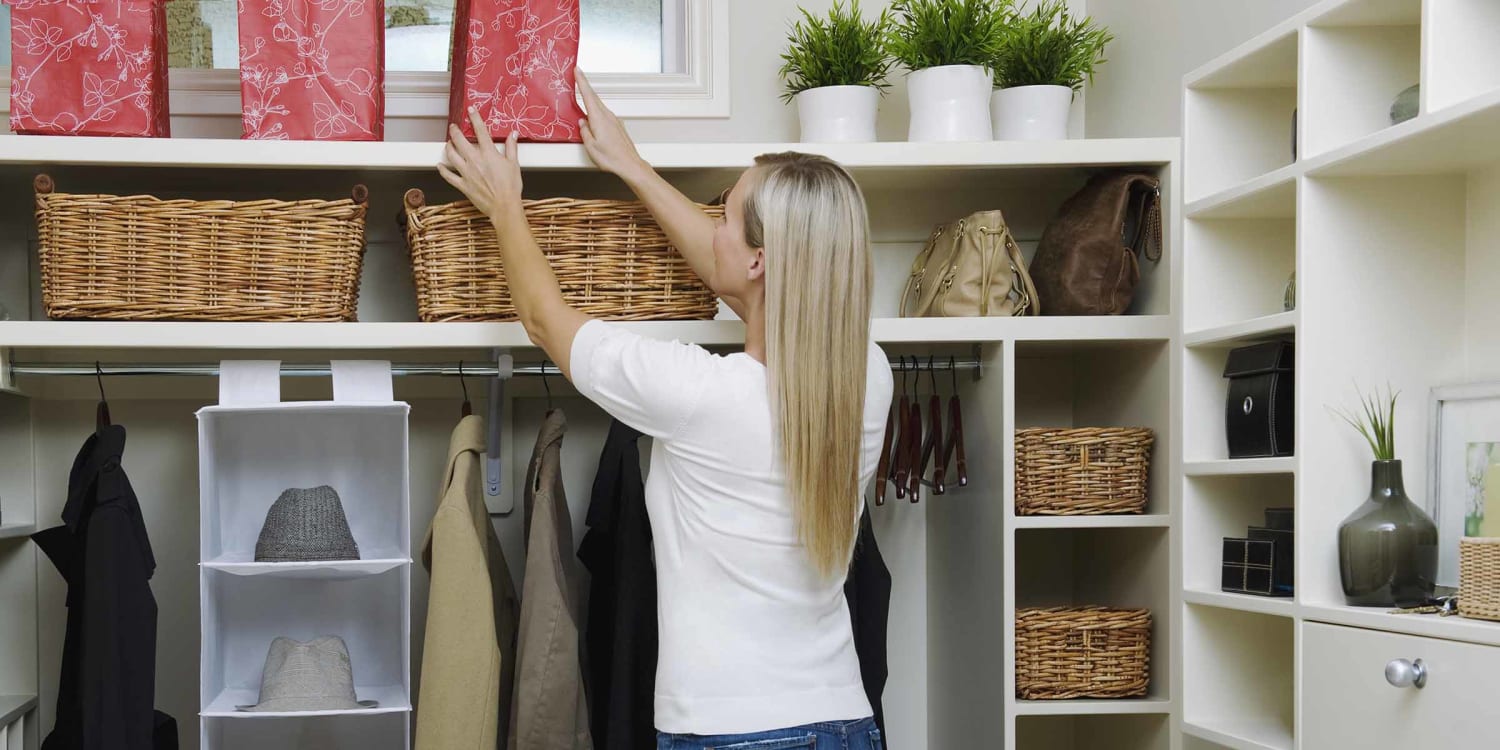 Image Credits: today.com
Anyone's taste in design differs slightly, and prospective purchasers need to be able to picture themselves living in your home, so you should remove any decorations that exhibit too much personality. It's only sometimes true that something that gives a house character and makes it feel more like your home also adds worth to its potential to be sold.
10. Energy-efficient Upgrades
Practising energy efficiency, such as installing solar panels, new window insulation, or remodelling your old electric box, can increase your home's value and save energy costs.
11. Add A Stone Veneer
Image Credits: rocksolidveneers.com
Adding stone veneers is one of the most effective methods for making money from remodelling. The best project for recouping your expenditure is adding synthetic stone veneer. Consequently, if you're searching for conventional yard ideas that are also cost-effective, this renovation is the answer.
12. Improve The Lighting
Good lighting can make a huge difference in the look and feel of your home. Consider adding more natural light or installing new light fixtures to brighten your space.
13. Decorate Your Front Yard
If you've ever passed a house and "stopped to scent the roses," you understand the value of a well-kept front yard. But how can you ensure that the landscaping ideas for your front yard set the correct tone for the remainder of your house?
People are more likely to view a home if the yard is in good shape because it requires less effort and offers better views. The following flora can be added to your front yard to make it more appealing.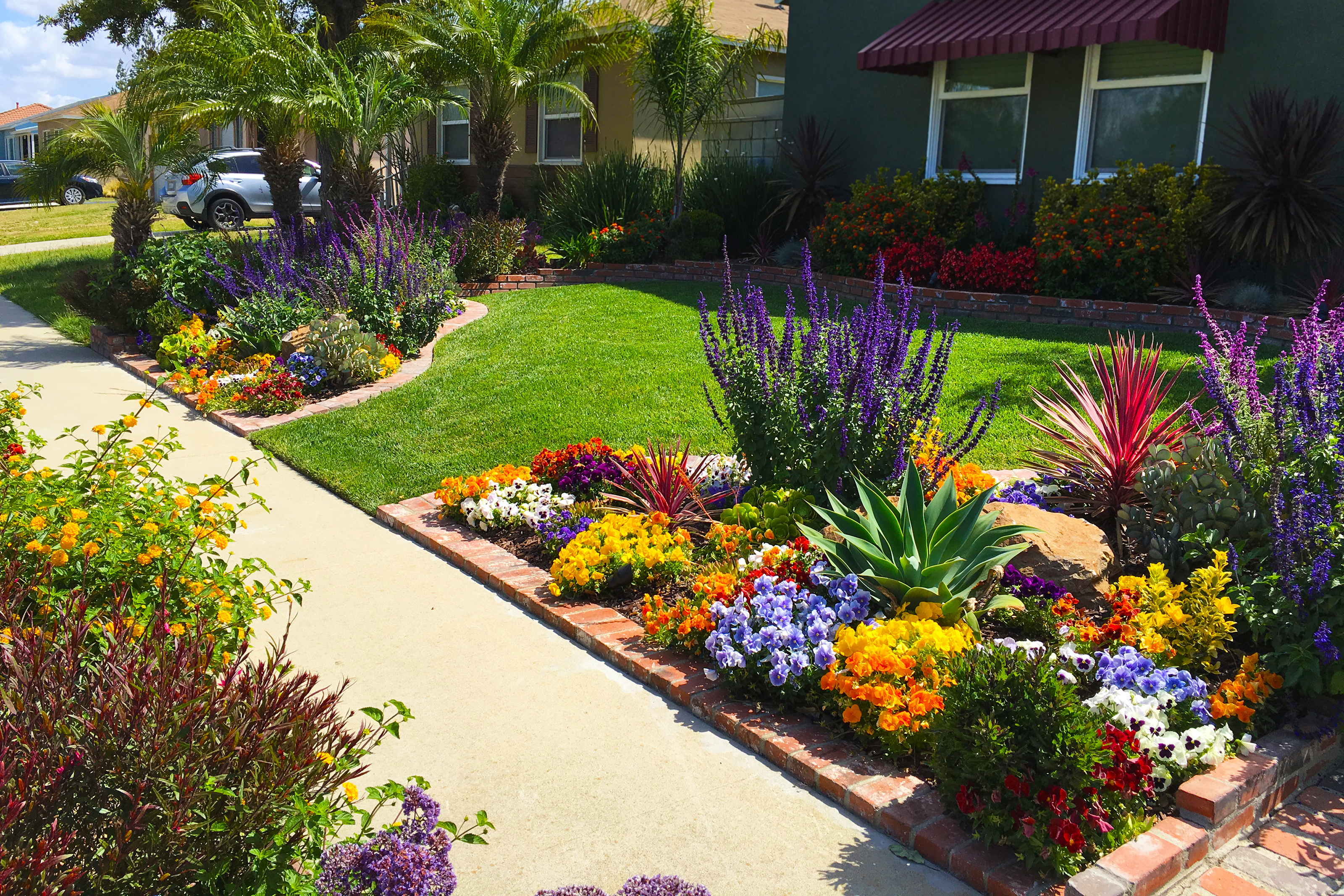 Image Credits: houselogic.com
Hydrangeas are ideal because their striking blossoms and ever-changing blooms give the front yard a new personality. Despite the impression that they require a lot of upkeep due to their stunning appearance, they are reasonably simple to cultivate.
Lilies are a popular choice among most prospective purchasers because they require little maintenance and enhance the appearance of a home's façade. Planting the blooms is worthwhile because they come back yearly and require little maintenance.
Lavender is a fragrant flowering shrub drawing notice. The Mediterranean evergreen plant, which is fragrant and simple to cultivate as long as it is kept out of damp, rainy areas, deters insects. Choosing fragrant plants and flowers that bloom and release fragrance yearly is the key to creating a landscape that appeals to more of your senses.
For instance, lavender grown on either square foot of a walkway is well-liked for a reason—as you pass, you brush the blossoms, releasing the fragrance.
14. Invest In Smart Home Technology
Image Credits: safewise.com
Adding smart technology such as a security system, smart locks, or a smart thermostat increases the value of your home while also making it more convenient and secure. Buy the best programmable thermostats to save time and money.
15. Kitchen Renovation
A DIY kitchen remodel is one of the best ways to increase the value of your home. You can replace old appliances, update countertops, install new cabinetry, and add new lighting.
16. Bathroom Upgrades
Another renovation that can add value to your home is a bathroom remodel. You can update fixtures, install a new shower or bathtub, replace old tiles, and install new lighting.
17. Adding a Deck or Patio
Image Credits: huffpost.com
Adding outdoor living space like a deck or patio can also increase the value of your home. This can provide a great space for entertaining guests and enjoying the outdoors. You can remodel your deck to increase its value and make your outdoors look appealing.
18. Add A Sunroom
Adding a sunroom is one of the most economical methods to increase property value. One will increase the worth of your home by approximately 6%.
19. Additional Living Space
Extra space can increase its value if your home feels cramped or small. Consider adding an extension or converting an unused attic or basement into a functional space.
20. Replace Your Roof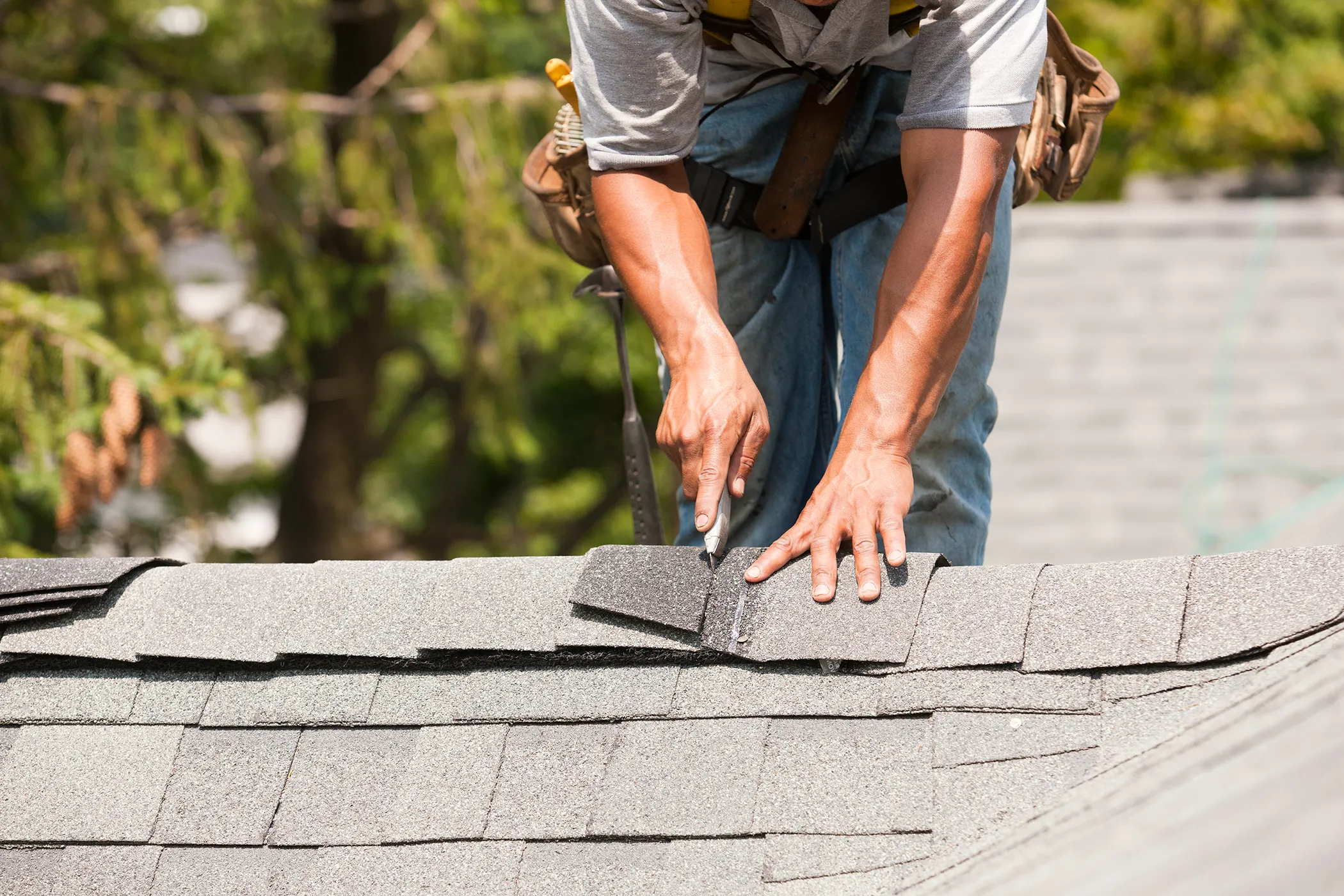 Image Credits: money.com
It's essential to install a new roof for structural and insulating purposes. Therefore, even though it might seem like a pricey expenditure right now, it is preferable to make sure your home is secure and leak-free before asking surveyors, real estate agents, and prospective purchasers to visit.
How Can You Pay For The Value Adds In Your Home?
If you're planning to make improvements to your property that will add value, there are several ways you can pay for them. Here are some options:
1. Cash
If you have enough savings, paying for the cash improvements is the most straightforward option. It avoids accruing debt or interest, and you'll own the improvements outright.
2. Home Equity Loan
If your home has equity, you can take a home equity loan. This type of loan uses your home as collateral, and you'll typically receive a lump sum that you can use for home improvements. Home equity loans pay fixed interest rates and terms ranging from five to 30 years.
3. Home Equity Line of Credit
This is another type of loan that uses your home as collateral. However, unlike a home equity loan, a HELOC is a revolving line of credit you can draw on as needed. You'll only pay interest on the cash you borrow, which is usually variable.
4. Refinance Your Mortgage
If you have a mortgage, you can refinance it to a lower interest rate and take out some cash to pay for home improvements. This is known as a cash-out refinance.
5. Personal Loans
If you don't have equity in your home or don't want to use it as collateral, you can take a personal loan. A personal loan is an unsecured loan that does not require you to put up collateral. However, they usually have higher interest rates than home equity loans or HELOCs.
6. Credit Cards
You could also use a credit card to pay for home improvements, but this is usually only recommended if you can pay off the balance quickly. Credit cards have higher interest rates than other types of loans.
Ultimately, the best way to pay for improvements that add value depends on your financial situation and goals. Consider your budget, credit score, and interest rates before deciding. Getting a financial advisor or mortgage broker to determine which option is best for you is also a good idea.
Frequently Asked Questions On How To Increase The Value Of Your Home
1. What is a fast way to increase the value of my home?
The fastest way to increase your home value is by making cosmetic changes that improve the overall appearance of your home. This can include things like:
Painting: A fresh coat of paint can instantly update the look of your home and make it feel more modern and appealing.
Decluttering and organizing: Clearing out clutter and organizing your home can make it feel more spacious and inviting to potential buyers.
Cleaning: A thorough cleaning can make a big difference in your home's appearance. This includes deep cleaning carpets and floors, scrubbing bathrooms and kitchens, and washing windows.
Lighting: Adding new light fixtures or updating existing ones can make your home feel brighter and more welcoming.
Landscaping: Improving your home's landscaping can also make a big difference in its value. This can include planting flowers or shrubs, trimming trees, and adding outdoor lighting.
2. What lowers home value?
Several factors can lower the value of a home, including:
Poor maintenance: Homes that have not been properly maintained will likely have a lower value. This includes peeling paint, leaking roofs, or broken appliances.
Outdated fixtures and finishes: Homes with outdated fixtures and finishes can also have a lower value. This includes old appliances, worn carpeting, and outdated light fixtures.
Location: The location of a home can also impact its value. Homes in areas with high crime rates or poor school districts are likely to have a lower value.
Structural issues: Homes with structural issues like foundation problems, water damage, or mould can also have a lower value.
Unappealing curb appeal: Homes with unappealing curb appeal, such as overgrown landscaping, cracked walkways, or peeling paint, can have a lower value as well.
3. How can I increase the value of my home cheaply?
There are several inexpensive ways to increase your home's value, some of which include:
Clean and declutter: A clean and organized home can greatly affect how potential buyers perceive your property. It can also make your home feel more spacious and appealing.
Paint: A fresh coat of paint can give your home a new, modern look and feel. Consider using neutral colours that will appeal to a broad range of buyers.
Improve curb appeal: Make sure your front yard is tidy and well-maintained. Consider planting flowers, adding a fresh coat of paint to your front door, or even pressure washing your driveway.
Upgrade lighting: Replace outdated light fixtures with new, modern ones. This can make a big difference in how your home looks and feels.
Add some greenery: Plants and trees can make your home feel more welcoming and add to its aesthetic appeal. Consider adding potted plants or a small herb garden.
Upgrade your kitchen and bathrooms: You don't need a complete remodel to update your kitchen or bathroom. Simple upgrades like new faucets, hardware, and lighting can make a big difference.
Install energy-efficient features: Adding energy-efficient features like LED light bulbs, programmable thermostats, and low-flow toilets can not only make your home more environmentally friendly, but it can also save buyers money on their utility bills.
4. What does not increase the value of my home?
Several factors can decrease the value of a home, including:
Poor condition: A home in poor condition, with significant wear and tear or maintenance issues, can decrease its value. This may include outdated features, structural problems, or cosmetic issues.
Location: The location of a home can have a significant impact on its value. Homes in areas with high crime rates, poor schools, or low demand may be worth less than those in more desirable neighbourhoods.
Market conditions: Fluctuations in the real estate market can impact the value of a home. In a buyer's market, where there are more homes for sale than buyers, prices may decrease.
Economic conditions: Economic factors, such as rising interest rates or a recession, can also impact the value of a home.
Environmental factors: Homes in areas prone to natural disasters, such as floods or wildfires, may be worth less due to the risk of damage or destruction.
Nearby construction: If there is nearby construction, such as a new highway or a commercial development, this can negatively impact a home's value.
Upgrades and renovation: Surprisingly, some upgrades or renovations that need to align with the general style of the neighbourhood or are not done well could decrease the value of a home rather than add to it.
The Bottom Line
Arguably, having a house that looks good from the street is more important than worrying about making interior improvements when the time to sell arrives. Focus on the areas most need addressing, and plough your budget into the parts with the biggest impact.
Featured Image Credits: fix-sell.com