Industrial style interiors appeared out of nowhere and have since become a staple of modern interior design. There are numerous ways to incorporate the industrial style design into your current home, whether you're designing a downtown loft or a big house.
We did extensive research and talked to designers to develop the key elements to keep in mind when decorating spaces.
Over the years, the term "industrial" has been used to characterize interiors, particularly those with concrete floors, brick walls, or naked lighting fixtures. Unfortunately, it's an overused term frequently describing anything over a few decades old.
The term "industrial interior design" denotes a straightforward, fuss-free aesthetic that draws its inspiration from the lofty appearance of factories, warehouses, and other industrial buildings.
Industrial-style interior design is based on various architectural elements such as bare bricks, metals, wood, and reclaimed and recycled materials.
The main benefit of designing homes in an industrial style is that you may personalize the appearance by using unique furnishings and accessories in your house.
How Has Industrial Interior Design Evolved?
Although only a little is known about the history of industrial interior design, it is usually believed that the style emerged in the first half of the 20th century. Then, there was a clear shift toward globalization as the second industrial revolution closed.
Numerous important factories shut down and relocated their operations, leading to the increase of abandoned industrial structures, which left behind a never-ending supply of high-quality resources.
Since the early 1990s, city populations have increased, leading to a lack of housing. In response, gentrification, the process of transforming industrial regions into residential neighborhoods, has emerged as a practical solution to this problem.
Smart architects and homeowners were the first to transform industrial design plans into a continuing trend emphasizing bare walls, architectural details, and the mechanisms of the building's roots rather than hiding the natural beauty of industrial buildings.
What Defines Industrial Interior Design? Industrial Elements to Consider
1. Materials
The key to creating the look of an industrial space is to mix rough, textured surfaces and objects with neutral tones that reference the materials surrounding them.
A lot happens in an industrial room, beginning with particular surfaces filled with character, history, and usefulness.
i. Concrete
Concrete is key in industrial design, from expansive poured concrete floors to walls and ceilings, kitchen worktops, and accessories formed from the gray mixture.
Don't be afraid of cracks, stains, or other signs of wear and tear; they all add to the authenticity and historic feel of the space.
ii. Beams
Remove the ceiling and expose the supporting beams to create an authentic factory atmosphere. If you prefer a more vintage vibe, leave them as is, but if you prefer a more modern, statement-making take on industrial, paint them a bright color.
iii. Vents and Ducts
Ducts and vents, which are frequently hidden, make for an almost aesthetic addition to the ceiling or wall because of their bending, twisting shapes that frequently extend across large areas of space.
iv. Brick
Brick walls, the hallmark of industrial style, should be embraced for their unique texture both indoors and outdoors. Their earthy tones complement any decor, and their rugged looks stand out against any all-white or all-neutral background.
v. Metal
Metal finishes of every kind are welcome in the industrial setting, from polished stainless steel and golden handles to dark black colors and the colorful tarnish that develops over time combined with a hint of rust.
Choose a natural patina to convey functionality and the material's journey through many hands. Alternatively, you can go for a shiny, new look for a modern vibe.
vi. Repurposed Wood
Roughly sawn slabs and wood with dents and evidence of age are typical of timber used in an industrial setting. Flooring, furniture, kitchen worktops, and objects that are many decades old or more are preferable because any markings tell a narrative and provide character.
2. Silhouettes
The primary shapes employed in industrial interior design are blocky shapes and geometric lines, which make your home appear more functional overall.
However, keep the use of organic curves and abstract shapes to a minimum to maintain an industrial vibe that has been thoroughly researched.
3. Accessories
For a minimalist industrial-style home, keep the accessories to a minimum. Again, you must keep surfaces clear of clutter and spotless when designing a bedroom in an industrial style.
Find bedroom furnishings and accents in an industrial style that reflect the past days while still feeling fresh and modern.
Add fascinating metal structures, massive abstract wall art, and other salvaged items from a reclamation yard as accents. Your industrial-style bedroom design should have a cool, masculine overall look with distinctive details.
4. Colors
Be sure to consider neutral color schemes like gray, black, and white when finding industrial-style living room design ideas.
Additionally, don't be afraid to put in some gloomier colors. Put some life and character into your industrial space by hanging some colorful artwork on the walls.
5. Furniture
Most industrial design furniture is a big scale, low profile, and has strong and obvious lines. Moreover, there are no discernible patterns to be found.
In the same way that modern architecture and interior design embrace materiality, so do furniture.
6. Flooring
The best options for flooring in this design are polished concrete, stone, and wood. It is not recommended to use any industrial-style rugs. For a cozier effect, however, try a small rug in a neutral color.
7. Lighting
In this context, the common light bulb is the primary illumination source for industrial lighting. An open-scale cage is one of the unique lighting ideas that helps to emphasize the bulb's sleek appearance.
Additionally, make an effort always to incorporate pendants, table lamps, and floor lamps. You might have a set of hanging bulbs or a studio floor lamp.
How to Make a Room Feel Industrial
1. Use a Neutral Color Palette
Image Source: oliverburns.com
Always keep your color scheme neutral when using contemporary or industrial style. Grays, browns, blacks, and whites will dominate most of your palette.
Image Source: alexmckenziephotography.com
Brick red, burnt orange, and dark green are excellent choices for areas where you want to make a statement. While each has its benefits, using them all at once can be counterproductive. The emphasis should be placed on only one color.
2. Wood and Metal Surfaces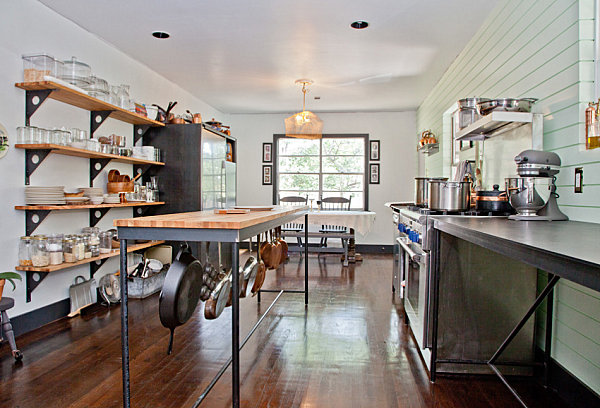 Image Source: decoist.com
Mixing old and contemporary materials is a no-brainer when creating an industrial style. The easiest way to generate this contrast is to include a variety of metal and wood varieties in your design.
In an industrial-style bathroom, for instance, you may have a vintage wooden vanity with a steel-framed mirror.
3. Vintage and Antique Accessories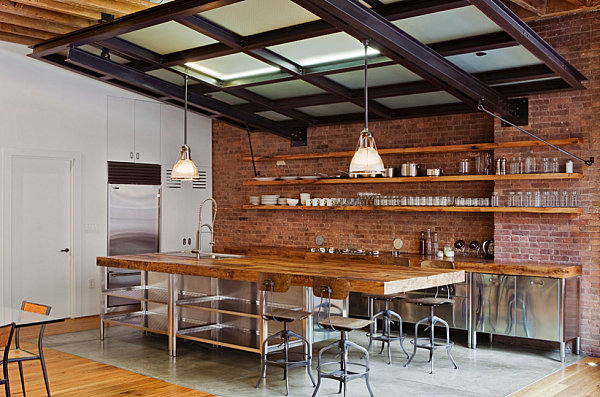 Image Source: decoist.com
We are aware that metal and wood are used in industrial interior design. While some are genuinely antique, others were inspired by historic industry and laboratory items. For an earthy modern aesthetic, metal and wood are combined.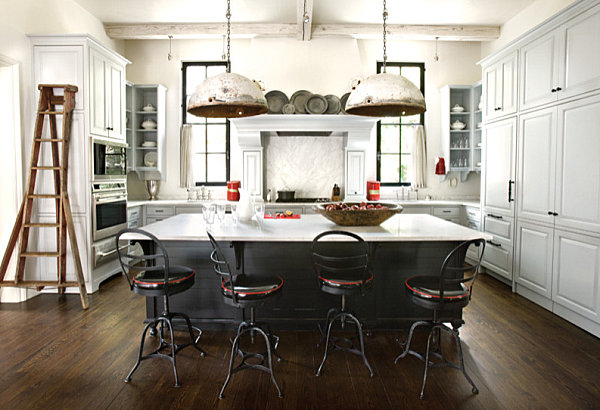 Image Source: decoist.com
Cabinets made of old-school industrial metal are also making a comeback. In fact, many antique dealers stockpile metal furniture from offices and sell it for thousands of dollars.
4. Expose Architectural Materials
Image Source: 2idinteriors.com
With an industrial design and style, you won't be embarrassed about showing off the pieces. Instead of hiding materialism, this fashion prefers to express it. Steel, wood, or even unfinished walls that make up the structure of the building all function as works of art in your space.
Image Source: beyondbeige.com
Metals, including copper, iron, aluminum, and stainless steel, are all acceptable. Other materials include brick, glass, and concrete. Reclaimed or unfinished wood Leather and linen will be perfect for furniture.
5. Open Plan
Image Source: cosentino.com
Homes with an industrial design are typically large and complement open floor plans well. Arrange the industrial-style furniture in clusters to break up the room and make it seem less vast and daunting.
6. Grid Frame Windows
Image Source: belle-imaging.com
Get huge window frames and arrange them in a grid pattern. The best window styles for industrial look resemble those in warehouses and factories. They let in a ton of light as well.
The absence of window coverings is a feature of this design style, which takes inspiration from classic industrial design. The metal framing highlights the window. If you must cover your windows, choose a straightforward roller blind.
7. Repurposed Materials
Image Source: hotelchatter.com
You can introduce natural elements into the metal-heavy components. This may include a wooden coffee table on castor wheels, a bookshelf constructed of reused materials, and repurposed dining tables, all of which are staples of the industrial spaces.
8. Exposed Brick Walls
Image Source: news.yahoo.com
Exposed brick walls are common in industrial lofts, making the space distinctively industrial and even rustic. While most new houses have had drywall applied directly over the brick, the exposed brick walls come back in many non-industrial settings.
9. Bare Light Bulbs
Image Source: homedit.com
Hanging Edison bulbs, either alone or in clusters for a chandelier effect, is a classic of industrial style interior design. Large metal domes, pendant lights, and floor lamps that display the bulb are also common examples of the look.
10. Distressed Leather
Image Source: everyday-man.tumblr.com
Distressed leather is essential in creating a cozy atmosphere in an otherwise cold metal industrial area. In most industrial-style living rooms, the leather sofas are a worn brown color.
11. Copper Cookware
Image Source: mydomaine.com
You may use copper pots and pans to give your kitchen a cozy industrial feel. Your industrial kitchen will also feel charmingly old if you use copper cookware and kitchenware.
12. Exposed Pipes and Ducts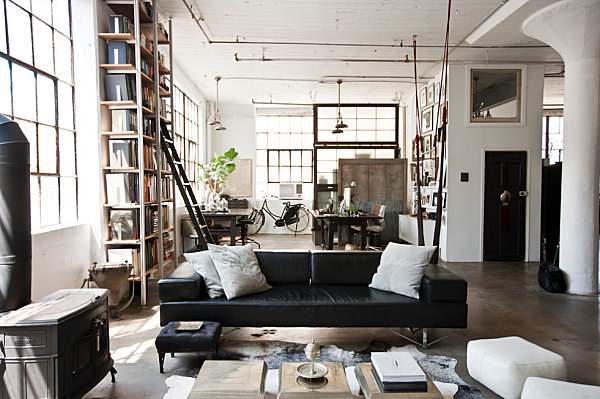 Image Source: decoist.com
One distinguishing feature of industrial interior design is the presence of components like pipes and ducts that people attempt to hide. Since the metal piping contrasts strongly with the whiteness of the walls and ceiling, exposed pipes can also be a brilliant option for completely white spaces.
How to Soften an Industrial Style
Industrial interior design, which has its roots in factories from the 1950s, isn't particularly cozy because it's made of materials like metal, concrete, and brick.
Since coziness is essential, it's time to soften those hard materials and create an inviting atmosphere.
A cozy sofa and antique carpets give contrast while also fostering a cozy and inviting atmosphere.
An eye-catching piece of wall art gives the room color bursts and creates a warm feel.
Soft furnishings in vibrant hues offer charm, and natural fabric roller blinds can soften the angular shapes of a metal-framed window.
Similarly, placing plants at various heights on industrial sideboards or tables gives the piece a soft tumbling appearance.
Try introducing additional organic shapes and textures to give a gentler approach to the typical industrial aesthetic.
Lastly, combining light sources to create nooks and crannies of light is a great way to make a room feel cozy and inviting.
Is Industrial Style Going Out of Style?
For quite some time now, the industrial decor has been all the rage in interior design for homes and restaurants. Everywhere we turn, there appears to be a naked brick wall, a table with rusty metal legs, or some worn-out wooden furniture.
So, is the style here to stay, or will it soon become a thing of the past?
The industrial interior's simplicity, functionality, and worn features are immensely relevant in our busy lifestyles.
This plain look has proven over time to be more fluid and inclusive, blending flawlessly with pieces from various trends while staying true to its roots and maintaining its essential components.
Industrial design is ageless and will never go out of style, but it continually evolves. The emphasis on rusty and rough has clearly shifted in favor of elegant, luxurious, and high-quality materials that will endure the test of time. This look is durable, ageless, and doesn't appear to be going out of style.
Conclusion
As you can see, industrial design is diverse. It combines wood, metal, open areas, neutral colors, and practical objects to provide a rustic and raw appearance. There are various methods to achieve the industrial vibe in your home, some of which we have listed above.