The basement is often overlooked in terms of liveable space. But many basements nationwide do not live up to their full potential regarding being fully-functioning and fully-liveable spaces.
However, with just a few small but effective steps, you can turn your basement into a great room for activities, relaxation, or even a guest room whenever you have people over. The key is to understand your basement's purpose and how it will function.
Do you want it to be a rec room? Perhaps a lounge? Or maybe one of your kids is getting older and needs a separate space for their hobbies and interests. Whatever you want to do with your basement, some comforts are mandatory in turning it into a great living space.
This article clearly explains considerations when turning a basement into a living room and the basement design for a finished basement.
1. Basement Theatre Rooms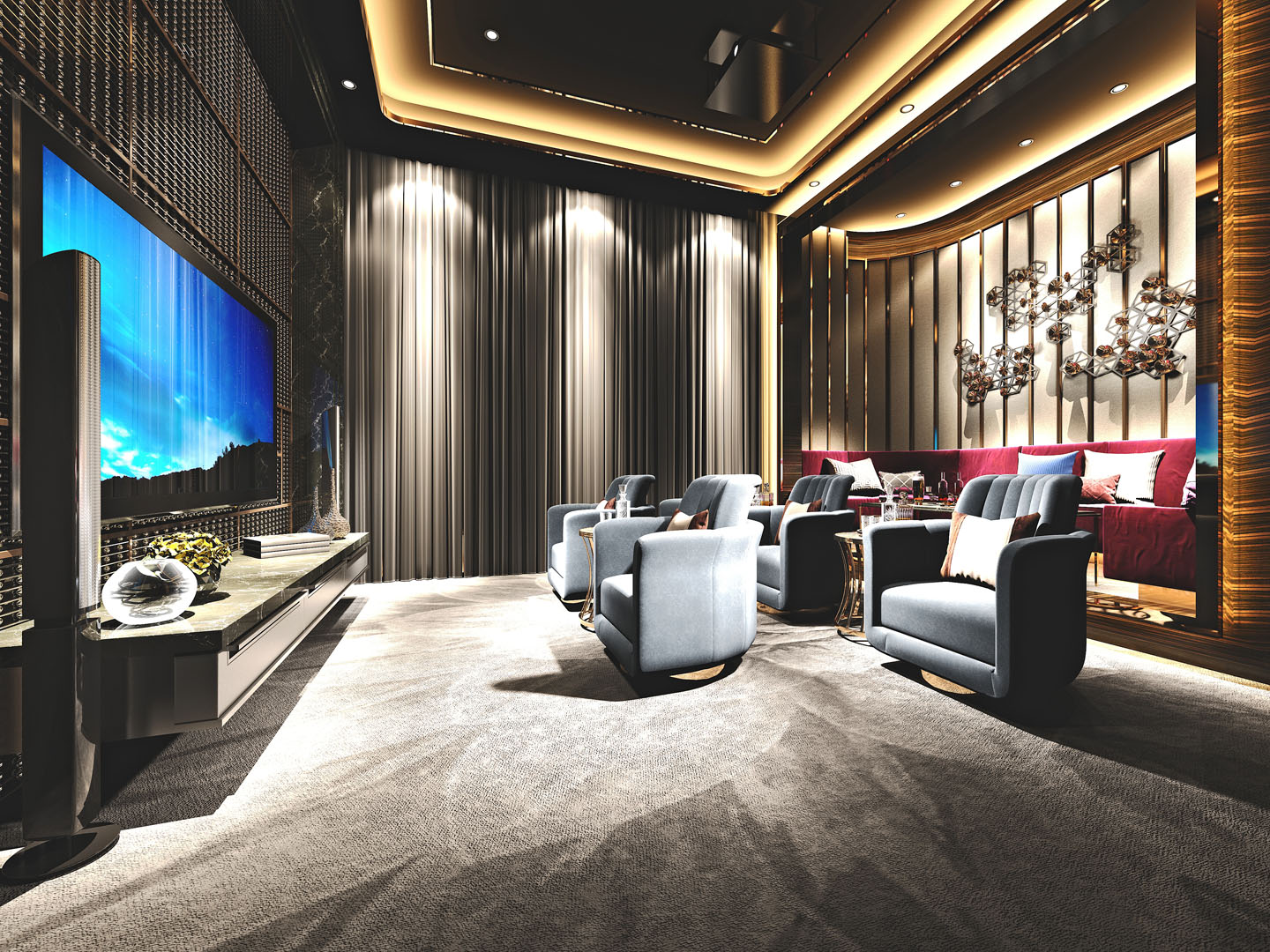 Image Source: moosebasements.ca
A basement theatre room can create an exemplary ambience in your home. Perhaps you've always loved going to the cinema to watch movies. If that's the case, creating a classic home theater might be your style in the basement. Keep the décor simple with a stadium-style seating arrangement emphasized by wall hangings of your favorite movie stars.
Furthermore, add fun touches, like a popcorn machine, to make it feel lively, like a night out at the theater. You can also choose a simpler media room by adding a leather sofa set and using part of the space as an area for watching television.
2. Family Room with a Wet Bar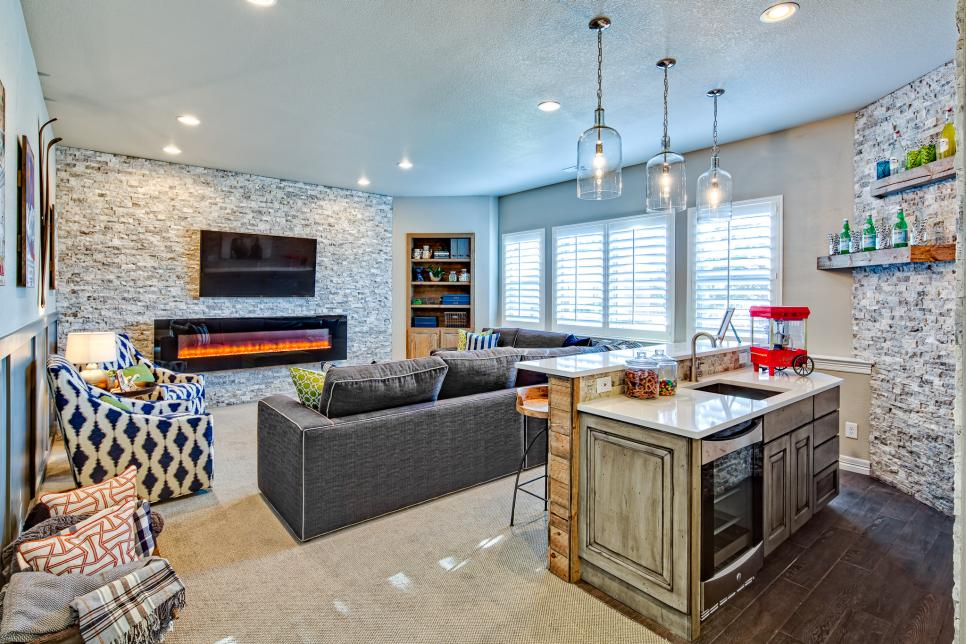 Image Source: photos.hgtv.com
Homeowners who love partying and entertainment should consider a wet bar to bring the basement area to the next level. For instance, add countertops, fridges, shelves and cupboards for storage space. Also, you can choose comfortable lighting by installing fixtures and aesthetic decor paired with wall art.
Include a wet bar, sitting areas, a fireplace mounted on the wall, and a flat-screen for warm and comfortable nights in the basement family room. Consider adding a graphic print on the chairs to help make a visible space and fun.
Check out these wet bar ideas if you're considering adding a bar in your basement:
Add ambient lighting to your bar to set the right mood
Consider going for a kitchen-style bar
Create a distinction between the bar and curved kitchen countertop
Add neon signage to make the bar more lively
3. Basement Bar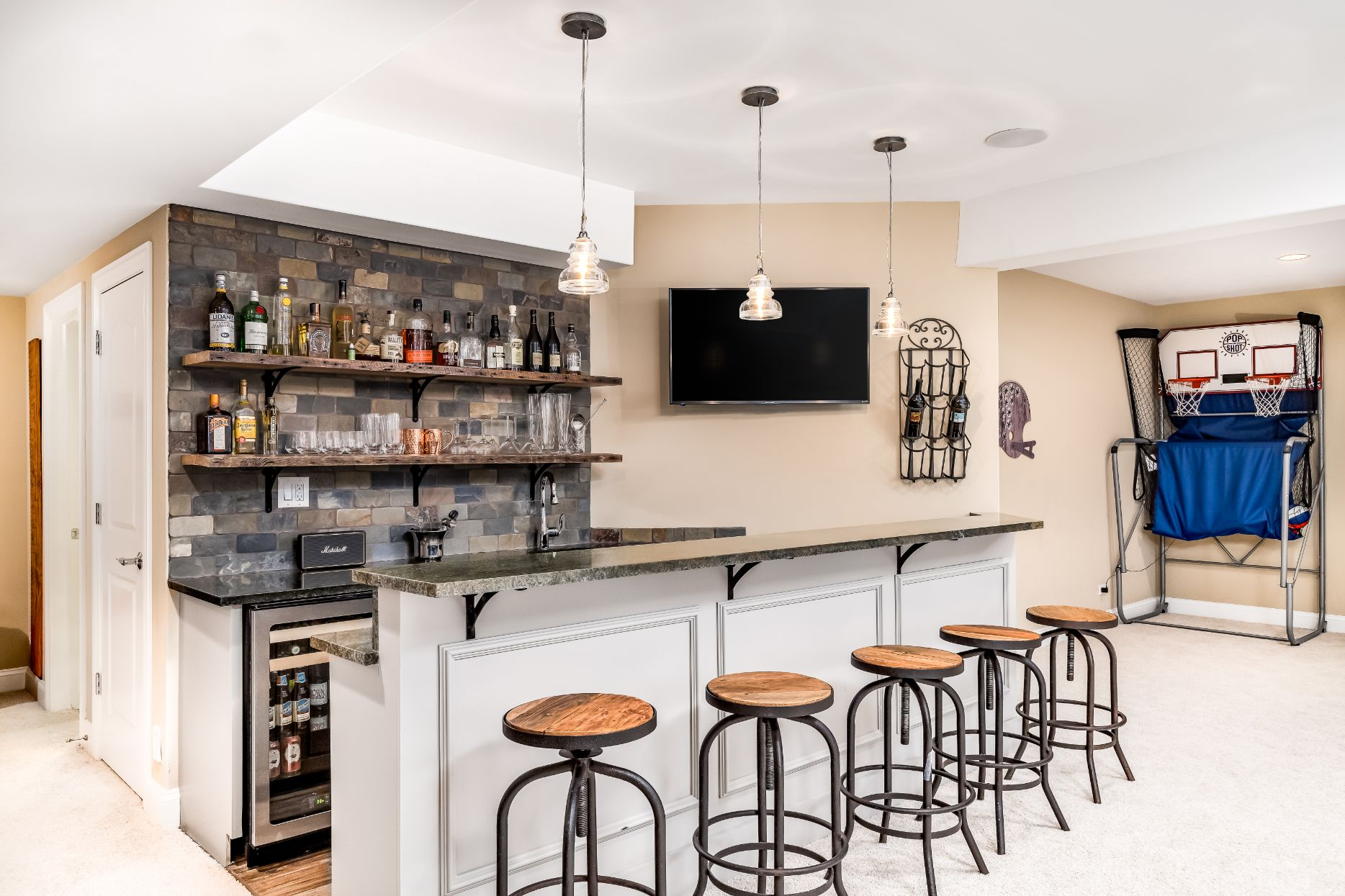 Image Source: magicbricks.com
If you've got the basement space, there's nothing more relaxing than going downstairs at the end of a tiresome day to grab a drink in your basement bar. A modern basement bar should be designed to make your home more entertaining when hanging out with family or hosting friends for a get-together party.
A basement bar design should reflect your style like any other room in your house. Consider incorporating everything you need for entertainment in the basement bar, for example, a fireplace, barware and refrigeration. You can also create an ambiance with neon signs, a marble countertop and a television mounted on the walls.
4. Wine Cellar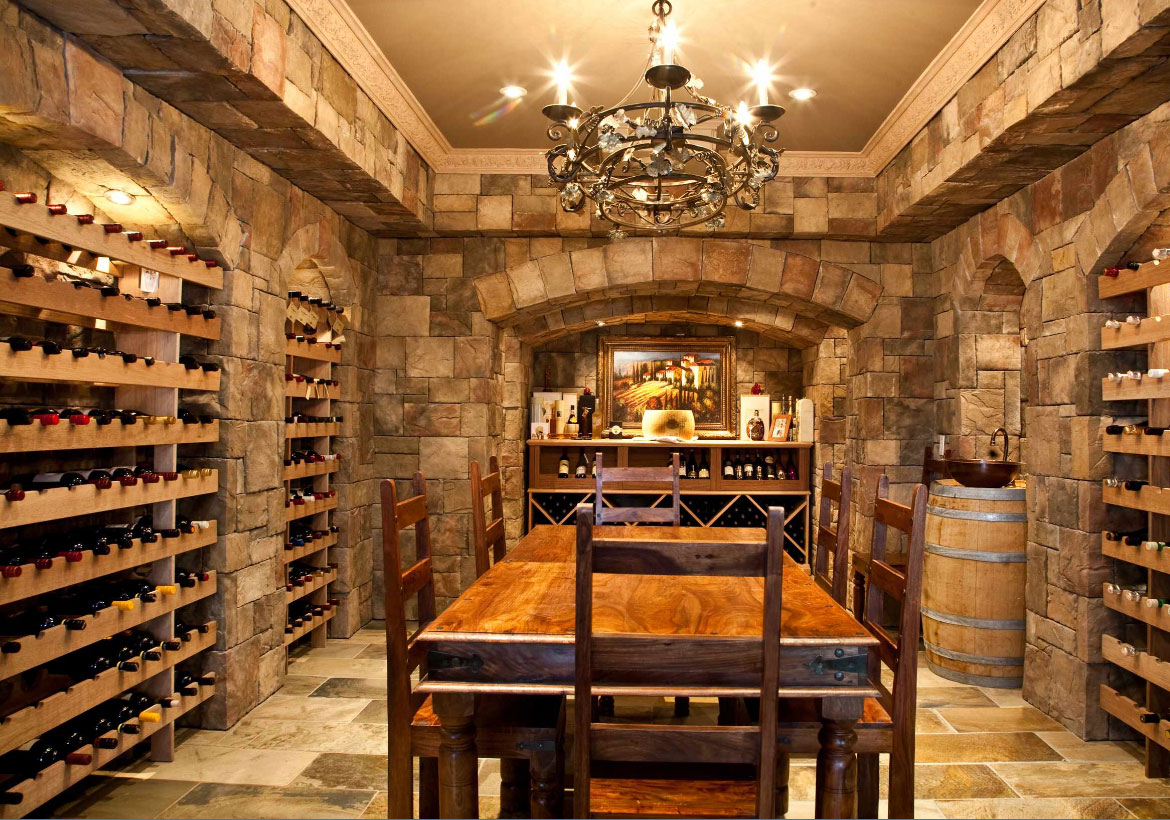 Image Source: dallasdecorativeconcrete.com
The basement is the best space to keep stable wine cellars' temperatures and humidity and cover them from damaging wine elements such as direct light and vibrations. The wine cellar should be in a cool, dry place away from natural light, which is why a basement is ideal.
To give the wine cellar a vineyard feeling, play with colors like green, burgundy, gold, or brown. Extra space in your basement will be an excellent plan to construct a wine cellar. But before you do this, there are a few requirements that you need to put into consideration. Including:
Temperature: The ideal temperatures should be between 45F to 65F
Humidity: Wine cellar humidity levels should be between 50% to 70%
Darkness: The light should not be too bright because direct sunlight can fasten the aging process.
Vibration free: Any vibration can alter the composition of the liquid contained in the wine bottle.
Wine racks: Place the wine bottles horizontally with the cork facing downwards
5. Pool Table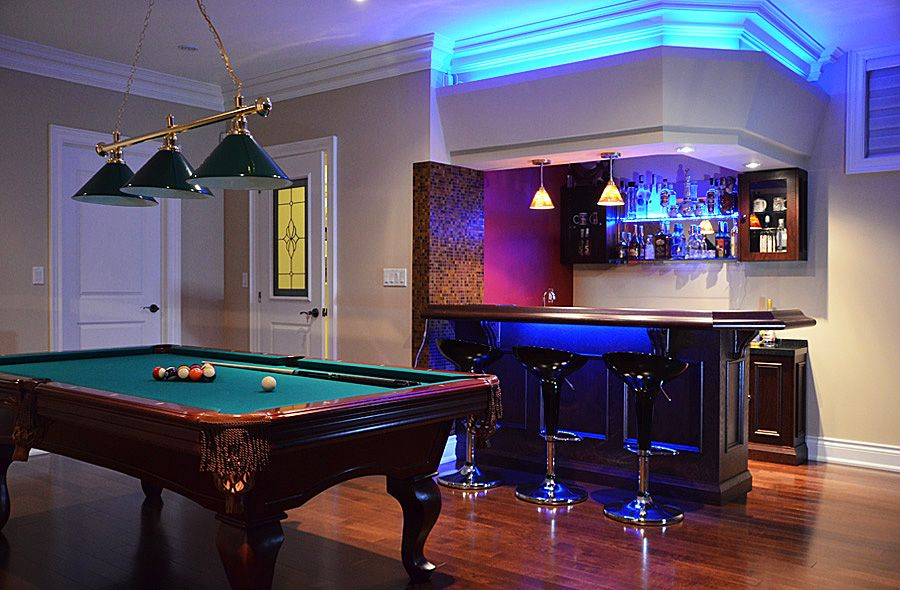 Image Source: pinterest.ca
A pool table is an excellent additional accessory for the basement. You can create a basement game room for the family because a finished basement provides several services—a game room, bar, and extra living room. To brighten the space add recessed lights to bring elegance to the windowless space.
Use a pool table as a centerpiece and pair it with a simple sofa set; leave the rest of the space bare to help create a warm feeling in your basement.
6. Modern Home Gym With Adequate Facilities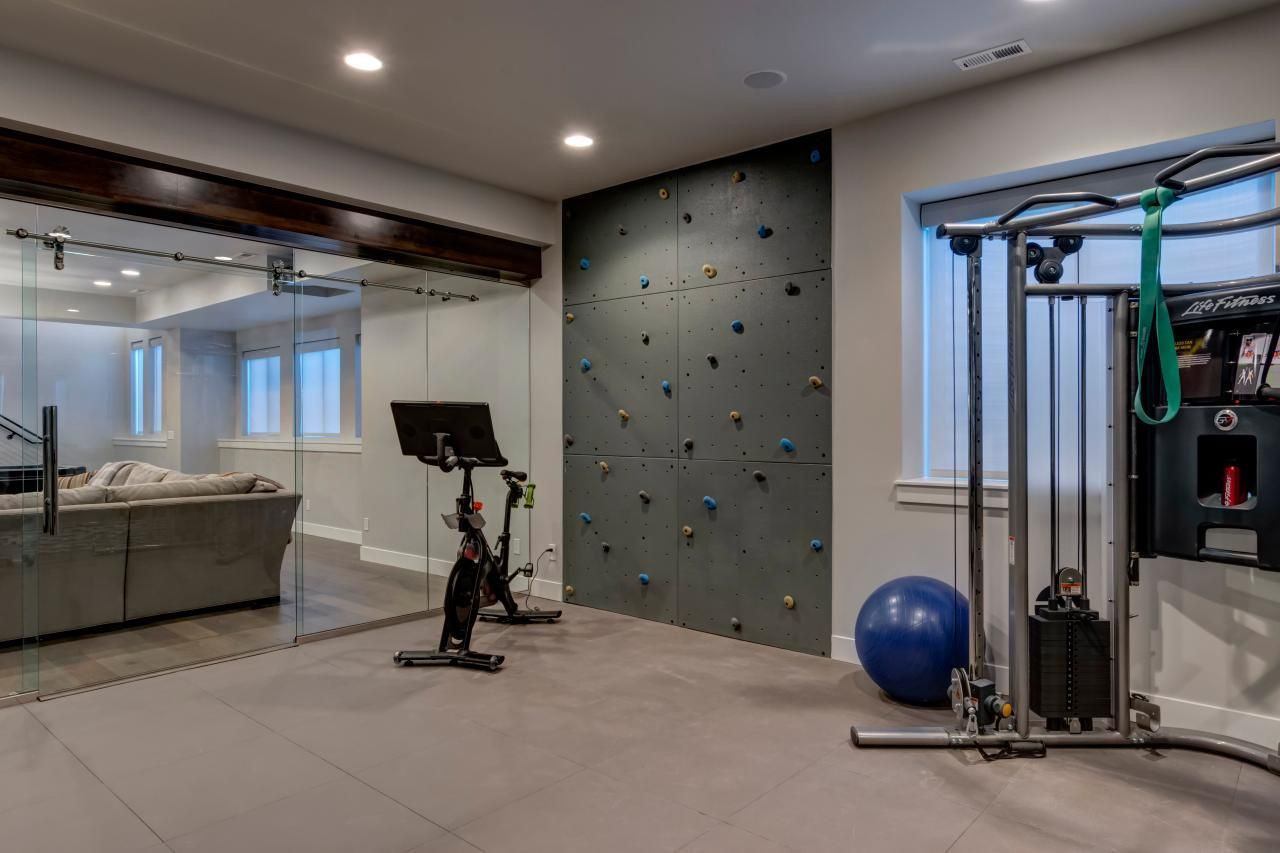 Image Source: pinterest.com
Creating a modern home gym with all the amenities required can be visually appealing to increase your motivation while working out. For example, if you are a yoga person, you can create a basement studio and add some art to hang on the walls and warm candlelight. Similarly, If you prefer a spin class, you can incorporate disco-themed lights and music and add a bike to make it more entertaining.
Also, feel free to add a large mirror on your wall to make the space look beautiful and bright. Mirror's versatile design nature adds glamour and interest to your space. It also reflects the natural light giving the illusion of additional space and a nice touch.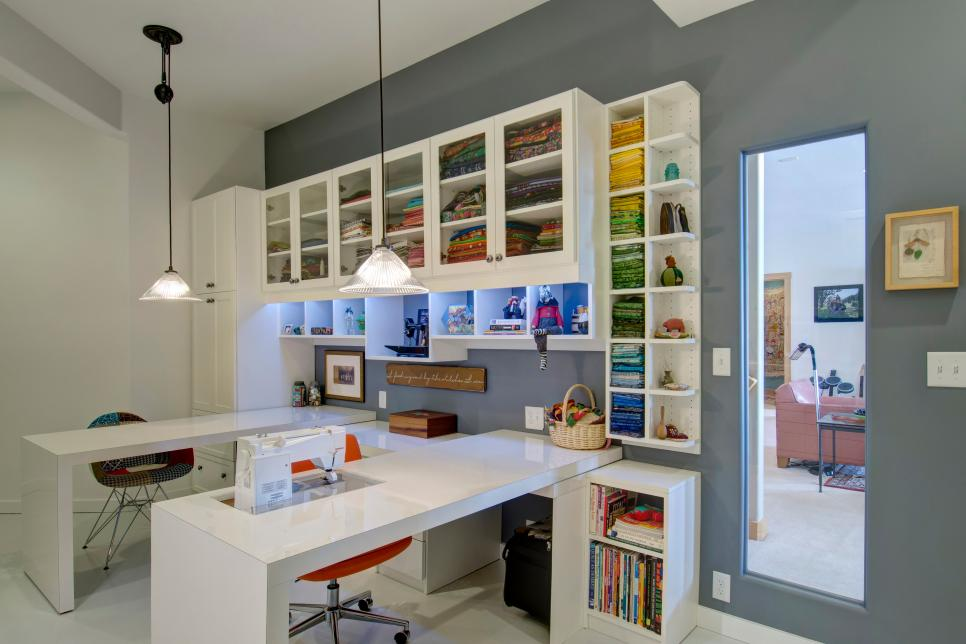 Image Credits: hgtv.com
This is another effective idea to create a special place in your basement to nurture your creative side. Consider adding built-in storage, including customary white cabinets, glass door cabinets, and open display shelving to keep the space organized.
Also, addingspace for movable table panels to slide over the white countertop in the craft room will create a comfortable and suitable workspace. Furthermore, you can attachadjustable pendant lights to allow light control over the tabletops to create a beautiful view.
8. Contemporary Den With a Large Fireplace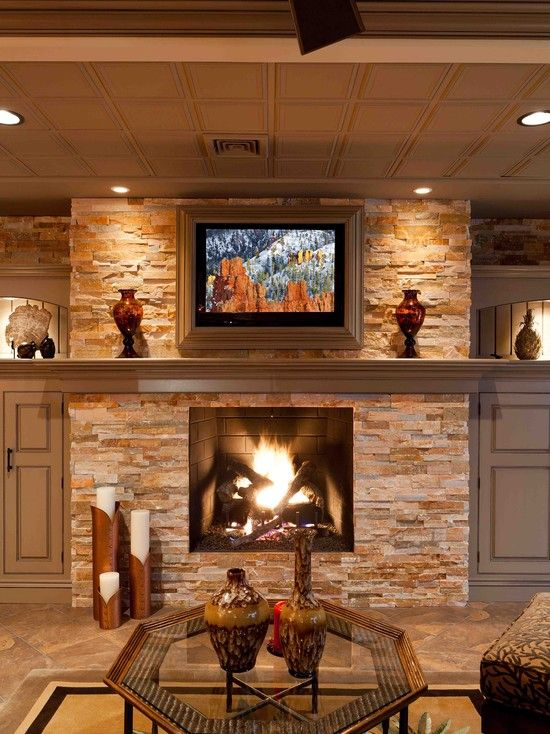 Image Source: pinterest.com
A lovely fireplace and comfy chairs are perfect for a night in, and not forgetting to add recessed lighting to bring excellence to a basement because the ceilings are typically low. Still, for a sophisticated design, position modern chairs and a round coffee table in front of the fireplace. Besides, you can add a large piece of artwork to bring a touch of personality to the space and inspires the color of the cozy rug.
Considerations When Turning a Basement into a Living Room
1. Air
The most fundamental comfort step in a living space starts with the air you breathe. After all, if the air in the basement is stale, musky, and humid, no matter how comfortable the furniture is, you won't have a pleasant time staying down there.
Maintain the level of humidity in the air by purchasing a dehumidifier. This device will suck up the humid air, separate it from the moisture, and output fresh and crisp air, perfect for breathing. This will eliminate that uncomfortable damp sensation in basements and reduce musky odors.
If any odors remain in the basement, consider airing out the room by opening all the windows and doors. Pick a particularly windy day so the airflow will carry the foul odors. Leave the windows and doors open overnight to get as much draft throughout the day as possible. You could also put in a few fans, preferably industrial ones, to help control the airflow and air out the basement more efficiently.
2. Electrics
The best way to ensure comfort in any room is to check the electricity. Often, neglected basements have a problem with lighting fixtures and outlets, as many homeowners don't pay much attention to whether or not they work.
If you have guests staying over, they need all the light they can get, considering how basements rarely get much natural light through the windows. Before you bring in furniture or other living essentials, you must ensure enough light in the basement. Check each light fixture, change the lightbulbs to bright and energy-efficient ones, and if any sockets are broken, hire a professional electrician to fix them.
It's also essential that all the outlets are working. This way, you can bring appliances into the basement and allow your guests or anyone else staying there to charge their phones or connect their computers to the power.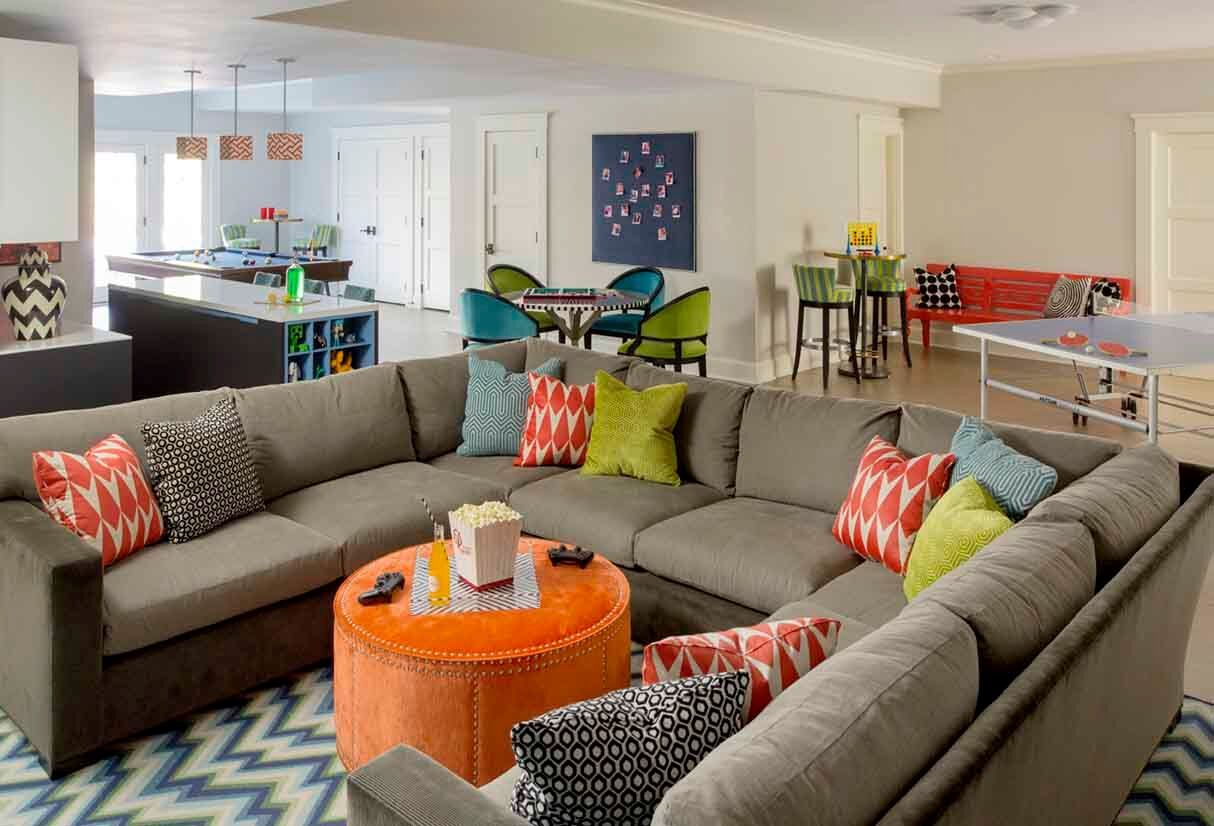 Image Source: elledecor.com
3. Accessibility
A very tricky part about basements is accessibility. Broken stairs, loose floorboards, and a messy interior could jeopardize the comfort of anyone staying in the room. So, to create maximum comfort inside the basement, fix any loose flooring or stairs to ensure no one has trouble getting in and going out of the basement.
It's also effortless to create a messy interior inside the basement. Since not as many people go into the basements, it's common to lose track of the organization in the room and have clutter all over the place. Winter clothes, old toys, broken furniture, and everything else in between can all contribute to the chaos inside the basement.
To open up a room in the basement, start by decluttering the space. Get all your items into a big pile and start sorting them into three smaller ones: need, don't need, donations, and trash. Start sifting through items individually to see which must be kept in the room. Those in the basement don't require things to go into storage for later use. Donations and trash are self-explanatory.
Do this with everything, from furniture to smaller miscellaneous items, and you should clear up a ton of space inside the basement. Ensure that everything is in its place and that everything has a place. This way, you not only reduce the clutter in the room but also create a more seamless room flow that will allow those staying in the basement to move around without any difficulty. You could even map out the room to understand where each piece of furniture should be so no basement corner is left inaccessible.
Frequently Asked Questions on Basement Living Room Ideas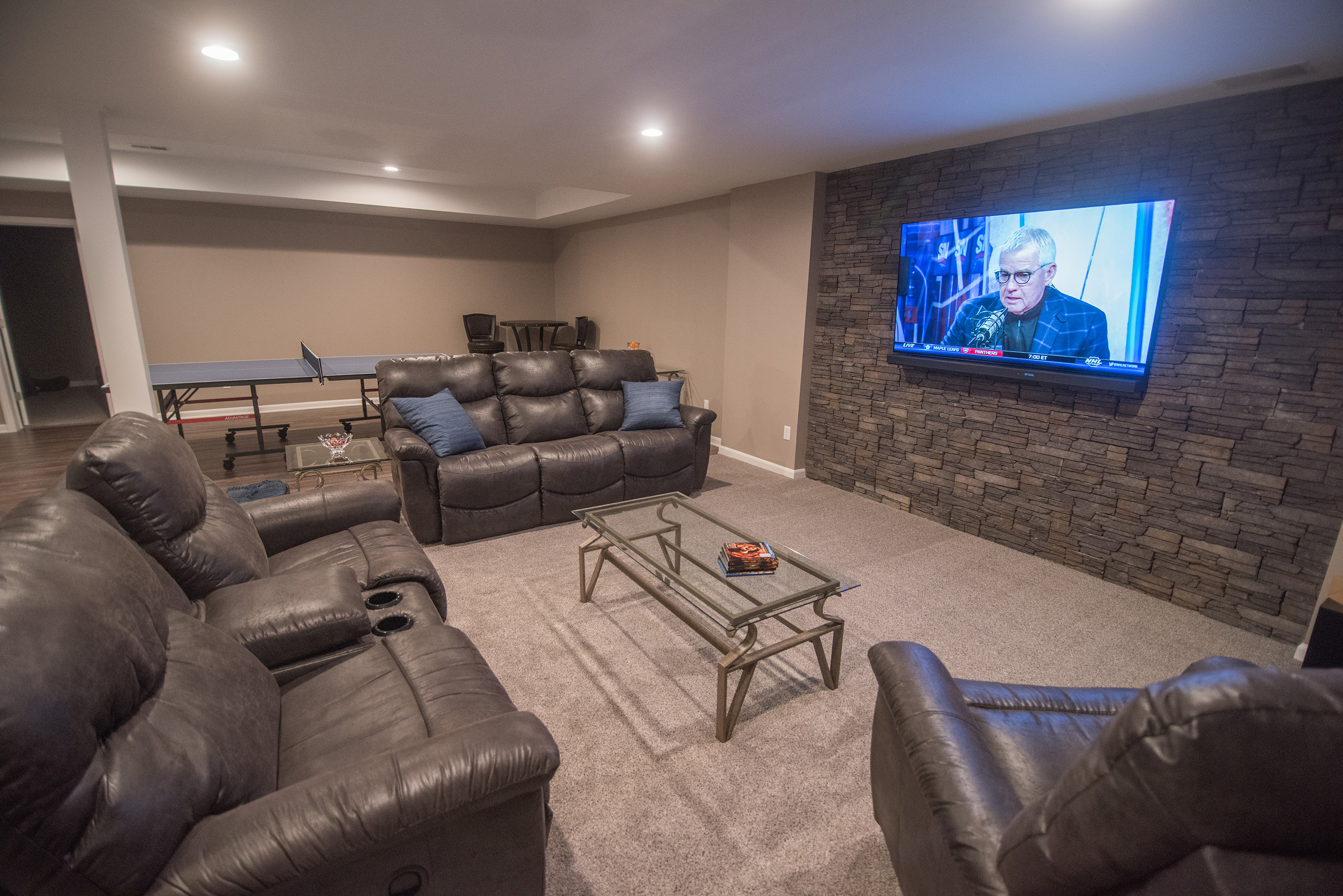 Image Source: finishedbasementsplus.com
1. Can a living room be in a basement?
Yes, because one of the most incredible things about a finished basement is that it can be a spanking-new living room space. Apart from living rooms being in the middle of the house or the front, you can remodel your basement into a living space. Define the living room by creating a large wall of built-ins in the basement. The addition of the sofa makes it a great place to entertain.
2. How do I style my basement?
You can always style your basement in many ways after considering the purpose of the space. These styles may include:
Creating a craft room in the space
You can decide to turn it into a guest room
Creating a lining of warm string lights on the ceiling
Choose recess lighting to give the illusion of higher ceilings
Creating a cinema-themed decor
Adding a modern faux fireplace to warm up things
3. How do I decorate my basement on a budget?
When improving or finishing your basement, it is essential to stay within a budget, and you don't have to break the bank. You can make it simple and classy with these pocket-friendly ideas.
Cover Walls With Storage Units: You need more storage, whereas your basement also needs walls. Alternatively, combine the two for a perfect combination of form and function.
Paint the Concrete Floor: Concrete can be stained or painted. If your basement has a short height, add a concrete floor to give it a maximum ceiling height. Thereafter, paint it with attractive colors to add to the ambiance.
Paint the ceiling a dark colours to avoid exposing unattractive ceilings.
4. How to make a basement a living room?
First, to transform your basement into a living space, maintain the air's humidity level by opening all the windows and doors. Secondly, pay attention to lighting fixtures and outlets by ensuring enough light in the basement. Finally, ensure the basement is accessible by fixing any loose floor or stairs to ensure no one finds it difficult to go in and out.
Final Take on Basement Living Room Ideas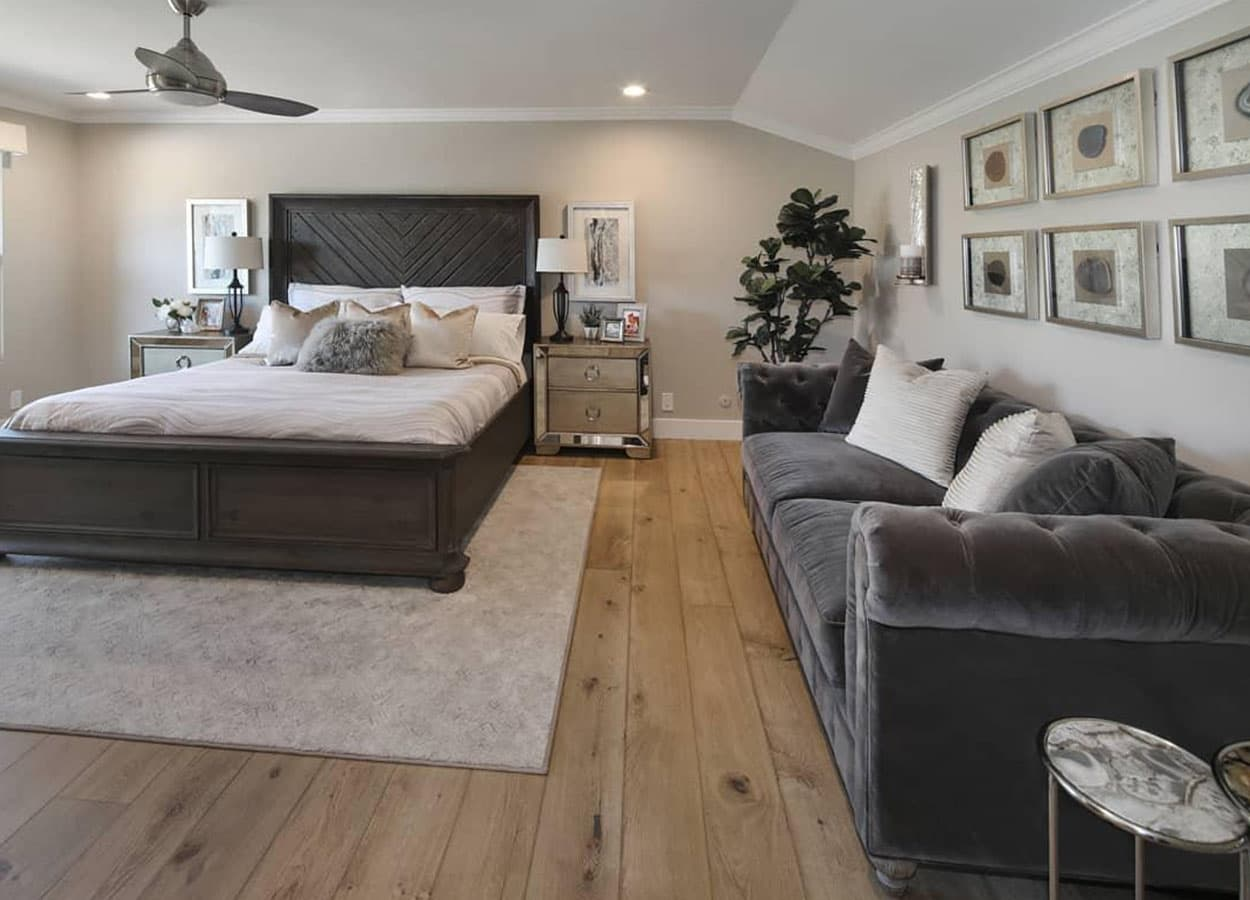 Image Source: livingspaces.com
If your basement is unfinished, you are missing a great space where you can show your creativity and make a living area for your family and friends. You don't have to make your basement a storage room for your unused items. There are plenty of ways to bring a cozier feel to most basements, from easy options such as home theater and a home bar. Therefore, basement areas should not be dull. Add these basement ideas to create an entertaining living room.
Although there are numerous basement designs and ideas, your choice entirely depends on your creative process. Choosing the most stylish basement living room ideas may also depend on your budget and style.