The Mid-century modern architectural style became popular in the 1940s and still has not left, but it's not unusual for styles in another era to come back. With a timeless appeal, the style is defined with clean lines, minimal orientations, high functionality, and organic forms. This style remains a trendy look because it designs the future while looking at the past.
What Is Mid-Century Modern Style?
The term "Mid-century modern" has been used in describing furniture, graphic design, and architecture dating from the mid of the 20th century. The style is characterized by the functionality and simplicity of large glass windows and flat planes.
Background and Influences
The 20th century is the century referred to as mid-century, and it was the years that followed the Second World War from around the mid-1940s to the late 1960s. After World War II, there was suburbanization and expansion of cities, which resulted in a demand for modern finishings for newly built modern homes like the Eichler homes built by Josef Eichler in California. The design movement or aesthetic known as the Mid-Century Modern was started by designers and architects who migrated to America because of Germany's economic changes.
The author Greenberg invented the phrase "midcentury modern" as the title for her book in 1984 called the Midcentury Modern: Furniture of the 1950s. Greenberg says that she made the phrase up like the book's title.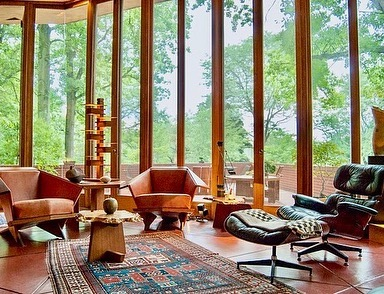 The technological advances led to the production of new materials, making it possible to explore new colors, textures, effects, and forms. The designs were primarily influenced by the urban area migration, which meant smaller living spaces.
Distinguishing Features
Mid-Century modern is one of the most effortless styles to identify even if you don't know its features because of its popularity and uniqueness hence not found in any other design style. The mid-century modern is characterized by a classic understated look with clean geometric shapes and lines with minimal fuss, and to familiarize yourself with style, you can learn the key features that will help you solidify the knowledge of the style, and they include:
1. Glass and Large Windows

The mid-century designers believed and focused on connecting the interior and the exterior worlds, making sure that the mid-century modern homes featured sliding doors, glass walls, and large picture windows. The windows provide great and total views of nature and let in natural light to the homes.
2. Straight and flat lines

Most mid-century modern homes are either split-level or single-story where both the inside and outside of the house are defined by straight horizontal lines and even some flat roofs in other cases.
3. Open and Split level spaces

Most mid-century modern homes use the concept of open floor plans, and to ensure separation, they include elements such as free-standing cabinets and partial walls. Other designers used elevation separating the rooms with small steps either up or down.
4. Minimal ornamentation

The mid-century modern designers believe that form should follow the functionality and not the other way round. Therefore most homes are distinguished by sparse, uncluttered spaces and clean geometric shapes and lines.
5. Immersed in nature

Most of these homeowners have their homes built on large land pieces, which may mean many natural land elements, including gardens and trees. The midcentury designs came from integrating the houses with the natural world, featuring broad views and easy outdoor access.
6. Period building materials

The mid-century modern home is sometimes defined by the building materials used at the time, including different types of stones, plexiglass, exposed wood, terrazzo, glass, plastic, and steel. However, some designers use contrasting materials for the interiors, such as nontraditional buildings or unique experimental materials.
Color and Materials
The Mid-Century Modern design was greatly influenced by the new materials and construction methods as materials like plastic was used for their qualities and not to imitate wood. There were also traditional materials such as wood and nontraditional like glass, vinyl, metal, plywood, or Lucite. Their design used colors ranging from bold to neutral and used black and white for graphic use.
Mid-Century Modern Designers
Various mid-century modern designers have continuously inspired designers up to date. Their mid-century modern furniture designs and their copies are still sought after even currently. Some of the designers and companies are known in America were Herman Miller, who was known for his modern furniture style, and George Nelson and Charles and Ray Eames. Another American company known for its modern furniture pieces and classic furniture is Knoll. There is no exhaustive list of all the best designers because there are many of the time but below are some icons:
Isamu Noguchi
Charles Eames and his wife, Ray Eames
Arne Jacobsen
Alexander Girard
Harry Bertoia
Verner Panton
Famous Example
1. The Philip Johnson Glass House
The Johnson Glass House is a New Canaan house that architect Philip Johnson designed in 1949. The interior space is divided by a brick cylinder with a bathroom and low wall cabinets.
How to Tell if a Piece is a Mid Century Modern style
Identifying a mid-century piece is not the easiest to do, but some things will give you clues. Things like hardware and peg legs are what you can look at. Additionally, you can check the manufacturing country as some countries are authentic midcentury like Italy, Denmark, the US, Yugoslavia, and Japan. Make sure you do enough research before you decide to invest in mid-century modern home decor products.
How to Furnish in Mid-Century Modern Style
Many mid-century modern pieces are bright and bold with few earth tones and neutrals, so you should try and moderate the colors in your space to avoid clutter. The color palette is relatively flexible. You can use neutral colors while adding pops of color like mustard yellow, avocado green, and pumpkin orange, enhancing the retro vibe of your living room or seating area space.
The secret to making your house beautiful is to incorporate iconical elements and balance the texture, size, and color to maintain balance and if in doubt, choose the soft mid-century modern that is less bright and more neutral. Understand the style features, then look for an iconic item or pieces that echo the idea, like a statement table in your dining room.
Frequently Asked Questions
1. What does the Cara Greenberg book briefly include?
This book includes ten of the best chairs of the 50s, impressions of modern collections, photographs from the Herman Miller archives, and designers' collections like for Charles Eames.
2. What is a modernism design movement?
Modernism is a loose collection of many ideas rather than a style, and it is a word used to describe the movements of architecture, art, literature, and design.