Throughout the years, most homeowners have gravitated towards minimalist color palettes such as beige and shades of grey. However, according to research conducted recently by Magnet, a whopping 74% of respondents said they want a pastel kitchen. Over 80% of Brits believe that color impacts your mood and welfare, and so it's, therefore, advisable to surround yourself with pleasant colors that can lift your spirits, brighten your day and provide you with optimism.
This change seems to have materialized over the last two years and could be considered a response to the pandemic. With people cooped up inside for long periods than they used to, many have discovered that their home arrangements don't suit them anymore. Besides, during bleak times, you need all the colors you can get to rid of the unpleasant atmosphere.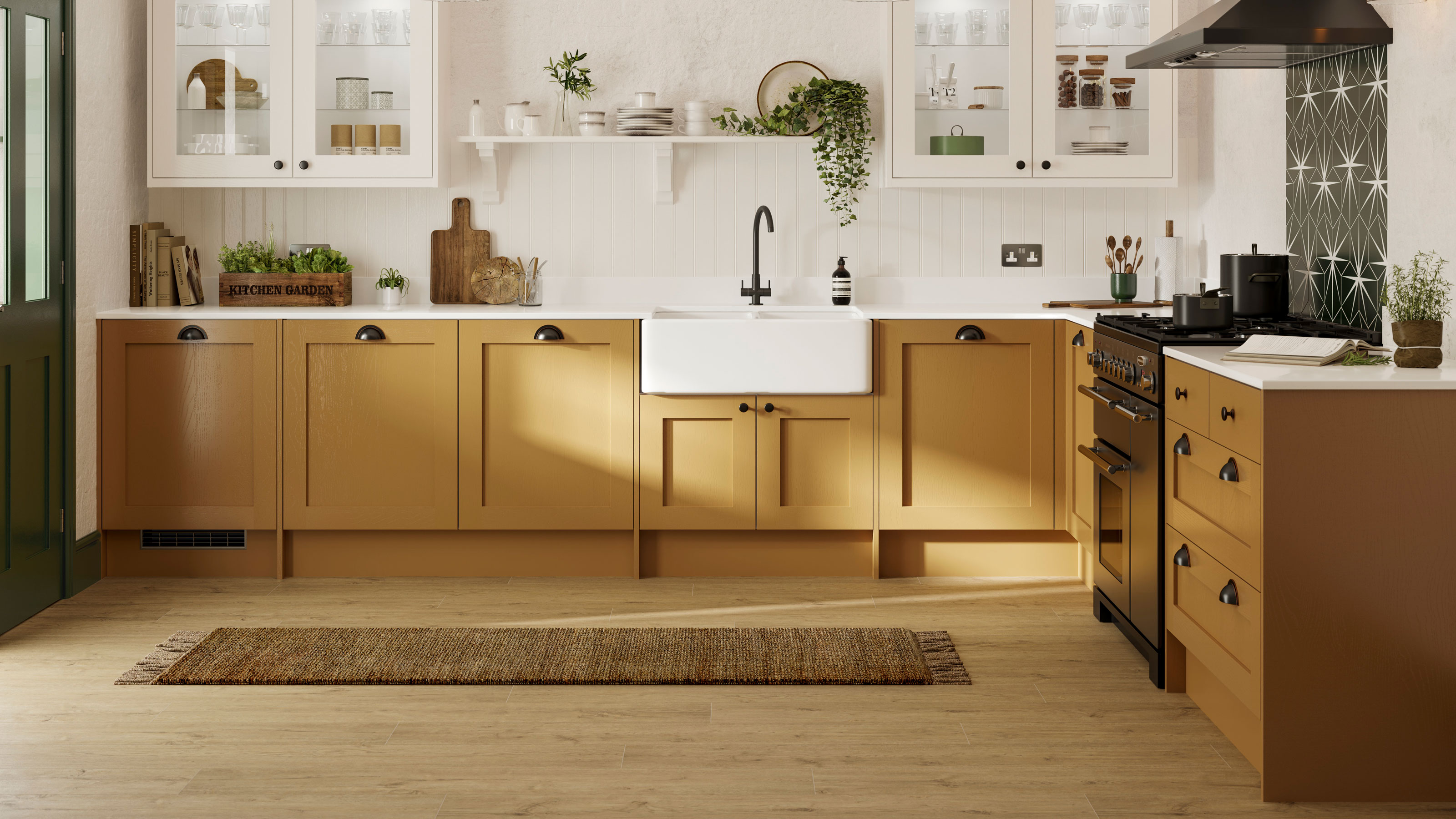 Image Credits: realhomes.com
Therefore, if you're considering adding a touch of pastels to your kitchen, you're not alone. Many homeowners and interior designers are gravitating towards pastel kitchens. However, you may be concerned that things may not turn out as you expected and that, before long, you will regret your decision to redecorate.
But there's no reason to worry. Pastels are surprisingly versatile, meaning the design won't get out of style and feel outmoded the following season. Moreover, you'll fall in love with the peacefulness and tranquillity that come with the design, and you'll start wondering why you haven't made the change earlier.
Here are some styles and arrangements you can consider when redesigning your kitchen.
1. Pastel Pink Kitchen
As with all interior decorations, you need to decide on the type of colors you want to use. It's critical to be as cohesive as possible to create a harmonious ensemble and achieve the calming, healing vibe you want to achieve. To achieve this, you can choose a monochrome design, in which all items are in the same pastel color scheme but offers different pastel shades, or go for other colors that go well when put together.
A popular choice is a millennial pink, the balmy, delicate shade with the hex code #F3CFC6. While this type of pastel pink is commonly associated with late 2010s fashion, it is also perfect for interior compositions. A light pink kitchen signifies youth and innocence and will fill you with joy the moment you lay your eyes on it. Mix the light shade with a wooden table and chairs for a pleasant contrast.
But if an all-pink kitchen would make you think more about candy floss than the quiet of a home, the good news is that you can mix and match. One of the best options is mint green. If it doesn't sound good, picture a retro pink fridge with green wallpaper in the background. The contrast is perfect because the colors don't clash; each color stands out in harmony.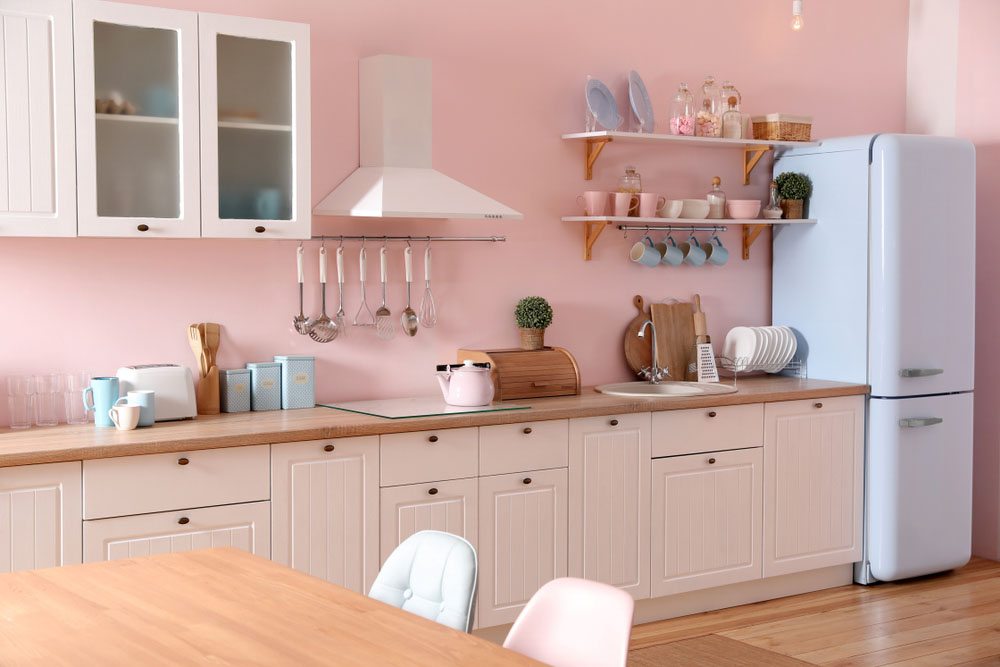 Image source: loveproperty.com
Anyone seeing this combination can focus on both items and not fixate on one to the detriment of another. If you're interested in interior design, you know that no piece should overshadow others. Instead, they should be complementary.
To create this charming atmosphere, you may need to find replacement kitchen doors to fit into your new design. When you order new cabinets, ensure you choose items from high-quality materials that can last you a long time and are resistant to abrasions and stain-resistant. After all, even if you're changing your kitchen for design purposes, you must not forget that it's still a place that must serve a practical purpose. When you choose cabinets from a trustworthy brand, you don't have to compromise on either looks or functionality.
2. Play Around With a Pastel Yellow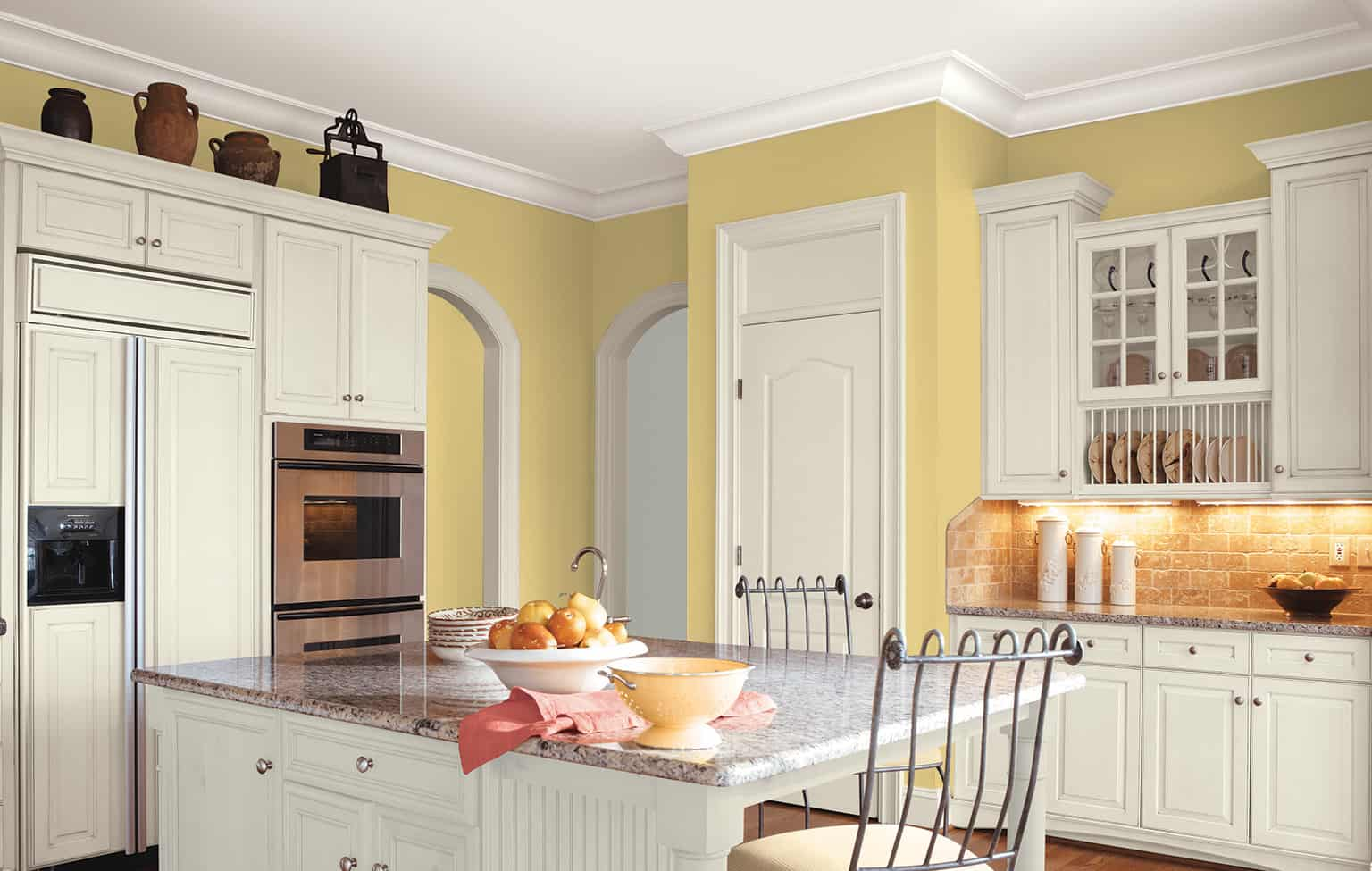 Image Credits: trendir.com
Yellow was popular in the 70s and is now making a serious comeback in the kitchen. Yellow evokes happiness and adds warmth to an otherwise plain pastel kitchen. Consider a yellow backsplash if you want a subtle approach to using yellow.
On the other hand, if you opt to go all in, you can ground the pastel yellow using more dramatic shades. You can ensure your pastel kitchen doesn't date too quickly by pairing pale hues with darker colors.
3. Retro Energy
When you think of pastels in interior design, your mind is probably going to the kitchens of a few decades ago. Either your parents or grandparents likely had something reminiscent of that, and the thought of bringing that kind of energy into your own home can fill you with nostalgia. Even if your appliances are as high-tech as they come, pastel colors will create a retro atmosphere.
One of the most common advantages of a retro design is that the furniture is smaller and more compact, meaning that your place will seem lighter and airier. Another feature you can utilize if you're ready for bigger-scale renovation work is to use natural light as much as possible. Wide windows can achieve that effect and help make the colors you choose for the kitchen even prettier.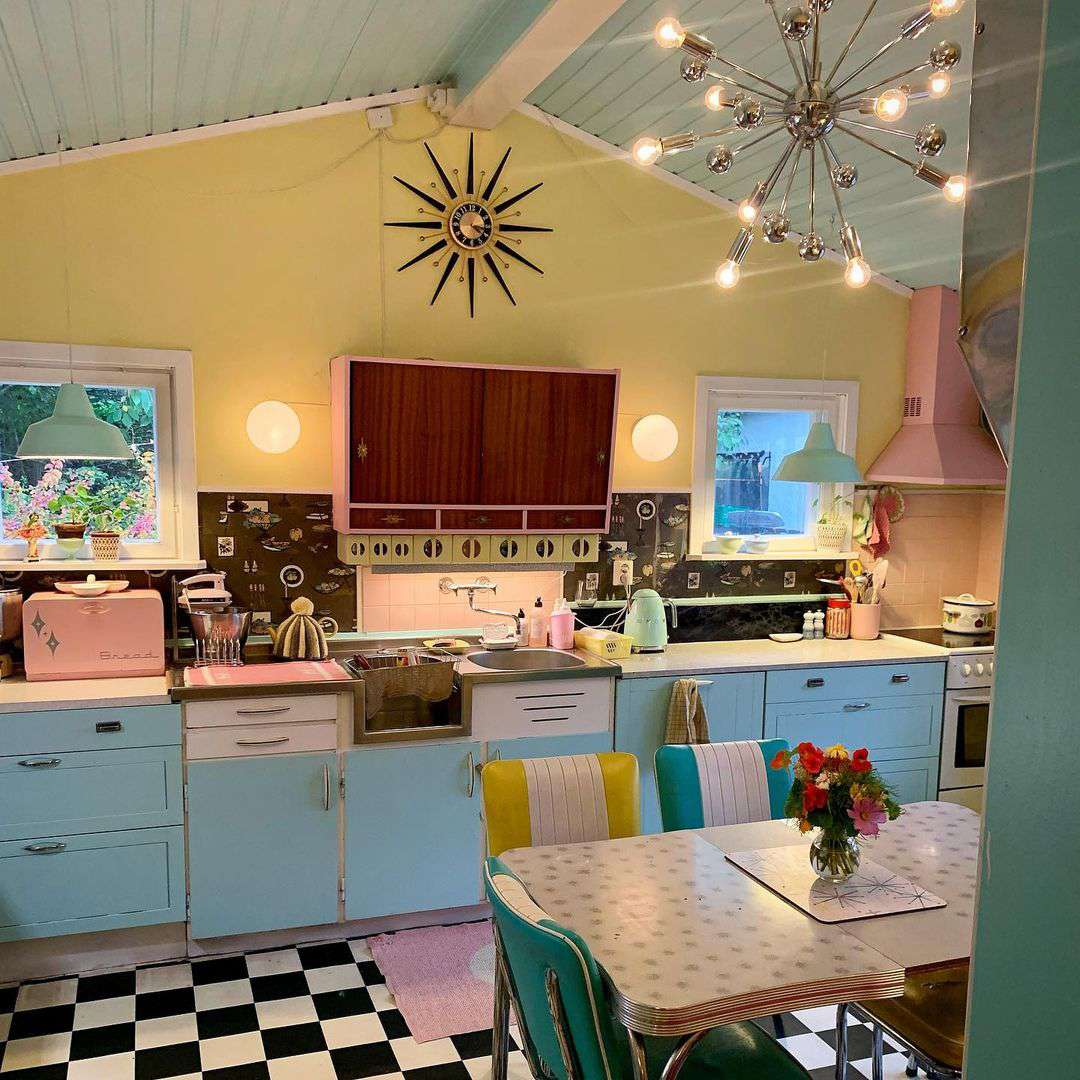 Image source: thespruce.com
For instance, pale blues or lilac tones look sophisticated and eye-catching, particularly if you use them on old-school glass cabinets where you can display fine china and porcelain items. However, when you ensure that your kitchen gets plenty of light, you also ensure that it doesn't eventually look stuffy or overly formal. And if you want to take it up a notch, you can look for popular patterns during the time. The popular designs in the 50s to the 70s are particularly effective and can provide liveliness to the room.
4. Choose Dusty Pastels For A Sophisticated Feel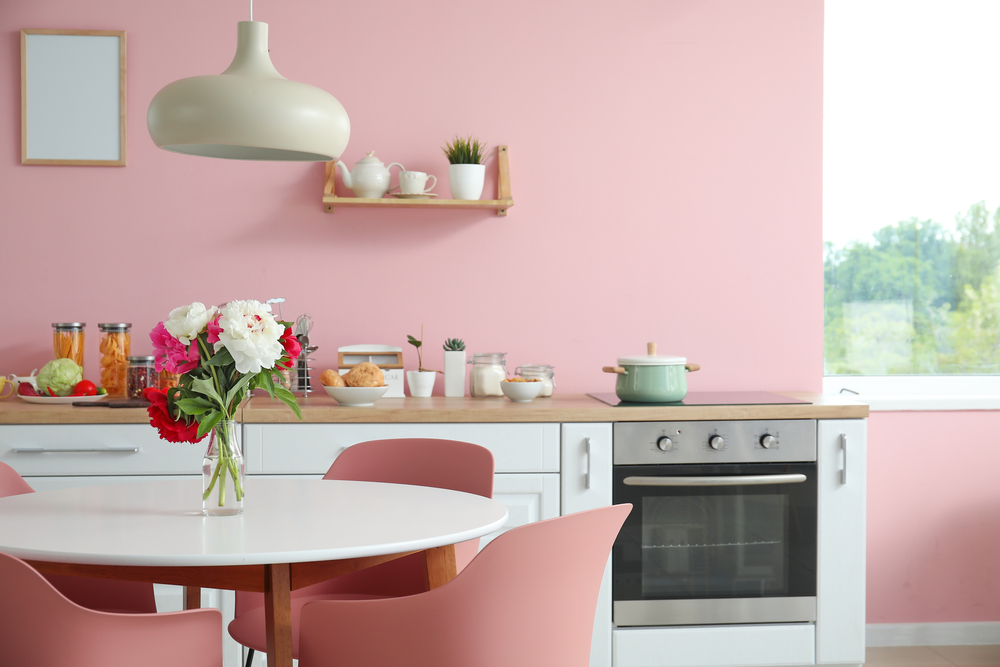 Image Credits: homelane.com
Dusty pastels remain pretty and sophisticated with a grey undertone that would make any color choice acceptable to many. For instance, pink kitchens are fast becoming popular because they fit well even in a neutral kitchen. However, some can't stand pink, a dusty pastel hue is a to-go-to choice when you need to make the space livable. By going for a dusty pastel, you will avoid an intense look that is most of the time associated with nurseries. The secret to making any color livable is choosing dusty pastels for a sophisticated and calm feel.
5. Original Touch
While it's important to fit within the trends, if that's what you like, you should also try and add your personal touch. After all, this is your kitchen, so it wouldn't be advisable to take designs straight out of the pages of magazines without adding anything to them. When you design the space the way you want, it gives you a feeling of accomplishment and it'll translate into it feeling welcoming and inviting to the guests you have over.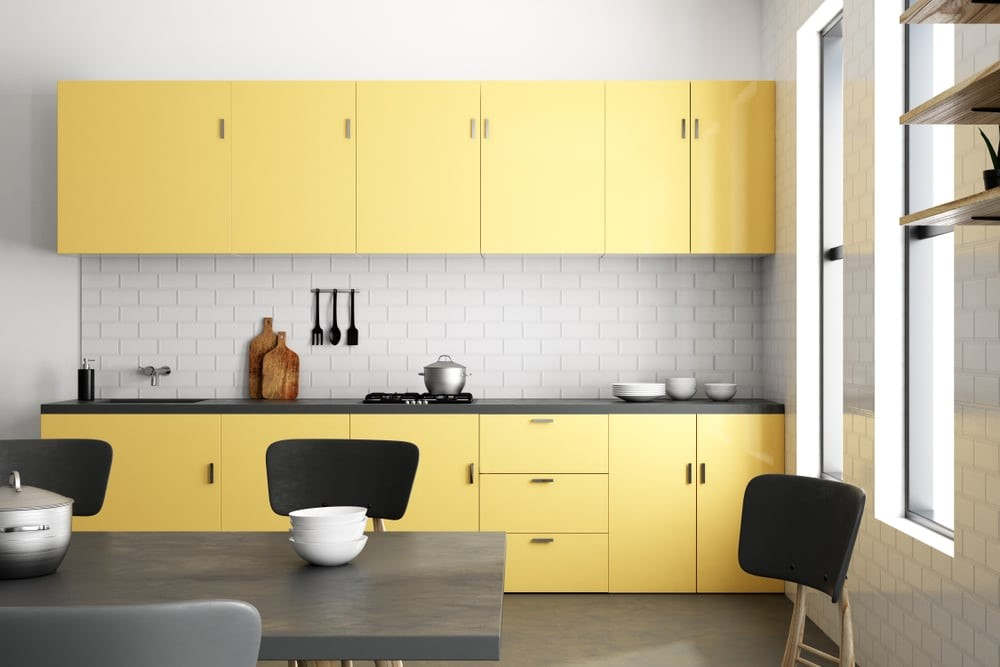 Image Credits: pinterest.com
Pastels are very easy to work with because they're subtle. Since the design is subdued and understated, you have more freedom regarding the type of furniture and arrangements you want to make. Different types of kitchens will look good in pastels, from the shaker to the more modern, futuristic-looking options, so you don't have to settle on a specific aesthetic just because everyone else is following it.
When designing a pastel kitchen, deciding what you want can prove to be quite a task. After all, there are so many options out there. But once you've established what you want and made it a reality, you'll instantly fall in love with the ensemble.
6. Soothing Green Shades
One of the most popular color trends is the pastel green kitchen. Interior designers opt to go for different shades of green when designing pastel kitchens. If you are looking to create a calm and relaxing space, nourishing greens like mint green kitchens are very trendy.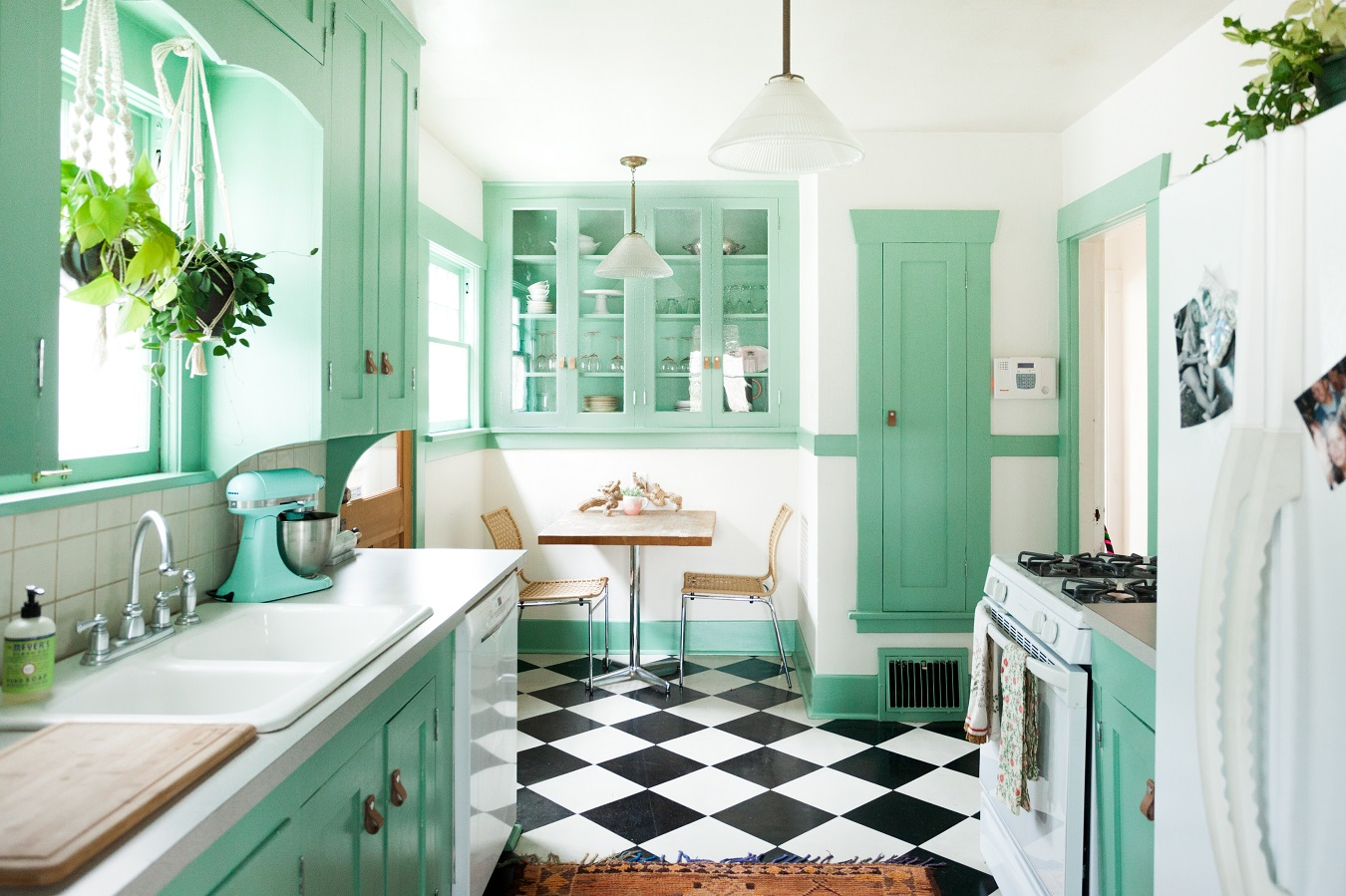 Image Credits:homelane.com
7. Perfectly Blue Hues
Pastel blue is a more muted shade than baby blue and has a totally different hex code. One of the best ways to use blue is in a classic white pastel kitchen. You can have a touch of baby blue light fixtures, light blue cabinets, or even in patterned blue backsplashes. And the best thing about pastel blue is that it cuts across preferences, fitting in perfectly with majority of individuals.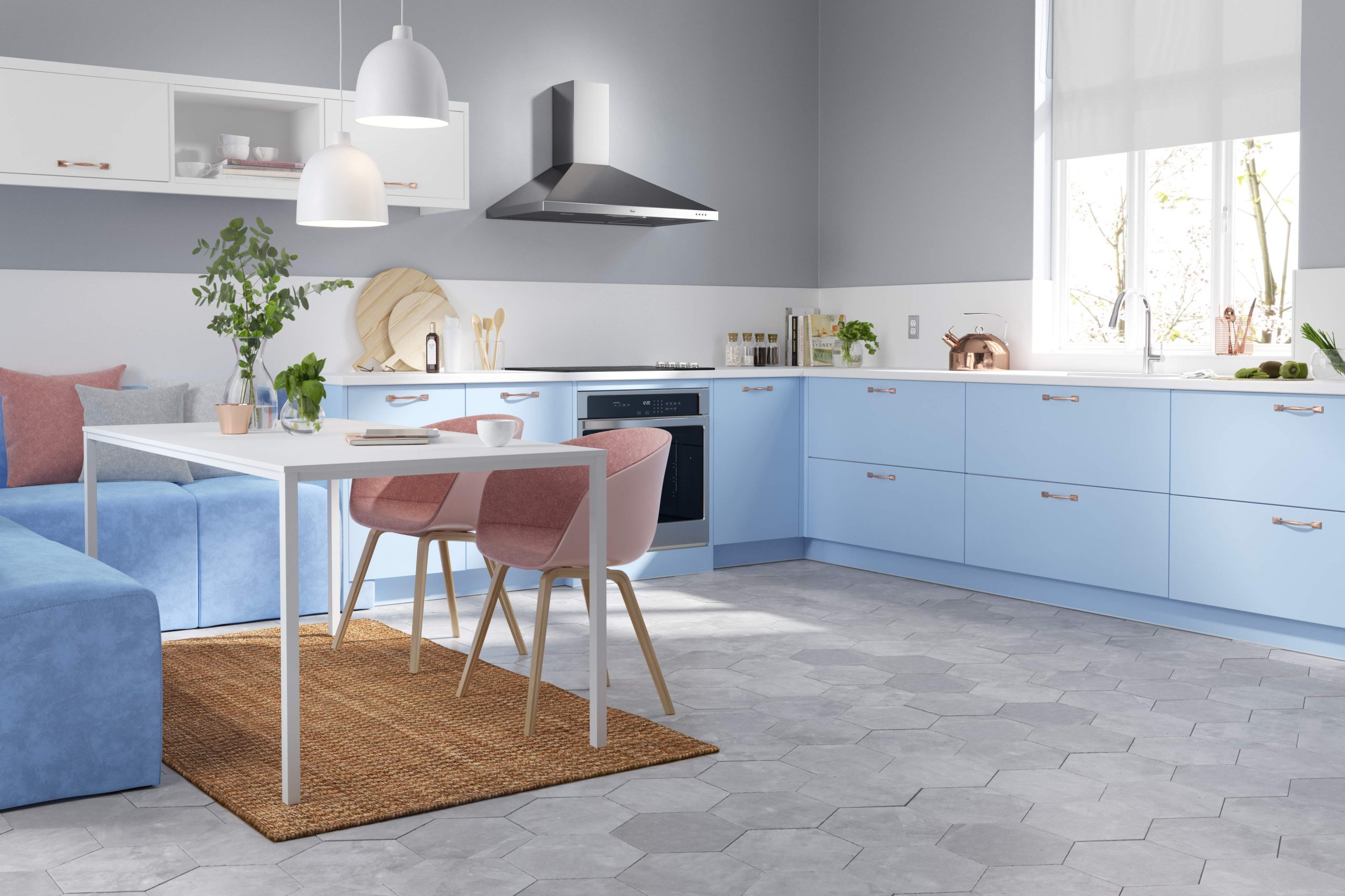 Image Credits:wrenkitchens.com
FAQS On Pastel Kitchens
1. Are pastels on trend for kitchens?
Pastel shades are timeless colors that always seem to be on trend in one way or another. Current trends are gravitating towards a more grown-up edge, with less retro.
2. What pastel colors are trending in 2023?
Pastel kitchens are gaining popularity, and the pastel tones that are most preferred are:
Mint green Kitchen – You are most likely to see light green cabinets in pastel kitchens
Millennial pink kitchen – Especially the pale pink and other pink pastel kitchen ideas
Pastel blues – Most commonly baby blue cabinets
Neutral colors – For example, a white tile backsplash with light blue cabinets
3. What pastel colors go well together?
The most popular pastel colors that are easily used together are pink and green or pink and blue. What you need to do is focus on the pastel hue that matches your design, whether it is a contemporary or classic pastel kitchen.
Ensure that when picking out pastels, you go for undertones that compliment each other. Additionally, avoid colors that create too much contrast, especially true blacks.
4. Should the kitchen with pastels be lighter or darker?
Color plays a central role in bringing personality to a pastel kitchen, and while we have different color preferences, finding the correct color shade can be tricky. Marrying pastel shades with darker colors is the best way to go when designing. The whole point should be to create a balance that results in a warm space.
5. What are pastel colors?
Pastels are pale colors that come as a result of adding a high amount of white to an original color to make it look pale while maintaining its original colorful personality.
6. Which kitchen design is best?
The L-shaped kitchen design remains popular because of the options it presents. Plus, designing an L-Shaped kitchen with pastels is easier, offering several options to personalize the space into own preference.
7. What are pastels weaknesses?
Pastels can easily get damaged and should be handled with lots of care. It is very easy to smudge a pastel resulting in a messy work area.
8. What makes a kitchen look classy?
Depending on the individual kitchen, there are several ways to make your space look classy.
If you want to achieve an expensive and elegant look, then use creams and beige to design your pastel kitchen
On the other hand, a modern kitchen with pastels uses blacks and greys to bring out an extravagant look.
For a small kitchen, you can go for white to make the space look bigger.
Conclusion on Pastel Kitchen Ideas
We all need some color in our lives, and what better way than to have a kitchen that is not only functional but also fun? Pastel kitchens are trending with both homeowners and interior designers. Nonetheless, it can be daunting when trying to decide on which pastel hue to use in your kitchen. A little research and consultation can make it easy for you to settle on a color that will bring out your personality.