Do you have a sectional sofa you want to accessorize with a beautiful rug but don't know how to place it? While sectional sofas are designed to host more people in a smaller space, they are not very easy to align with carpets or area rugs. But, not to worry, I will show you how to place a rug under a sectional sofa regardless of the couch or rug size and shape.
What You Need to Consider for the Best Rug Placement Under a Sectional Sofa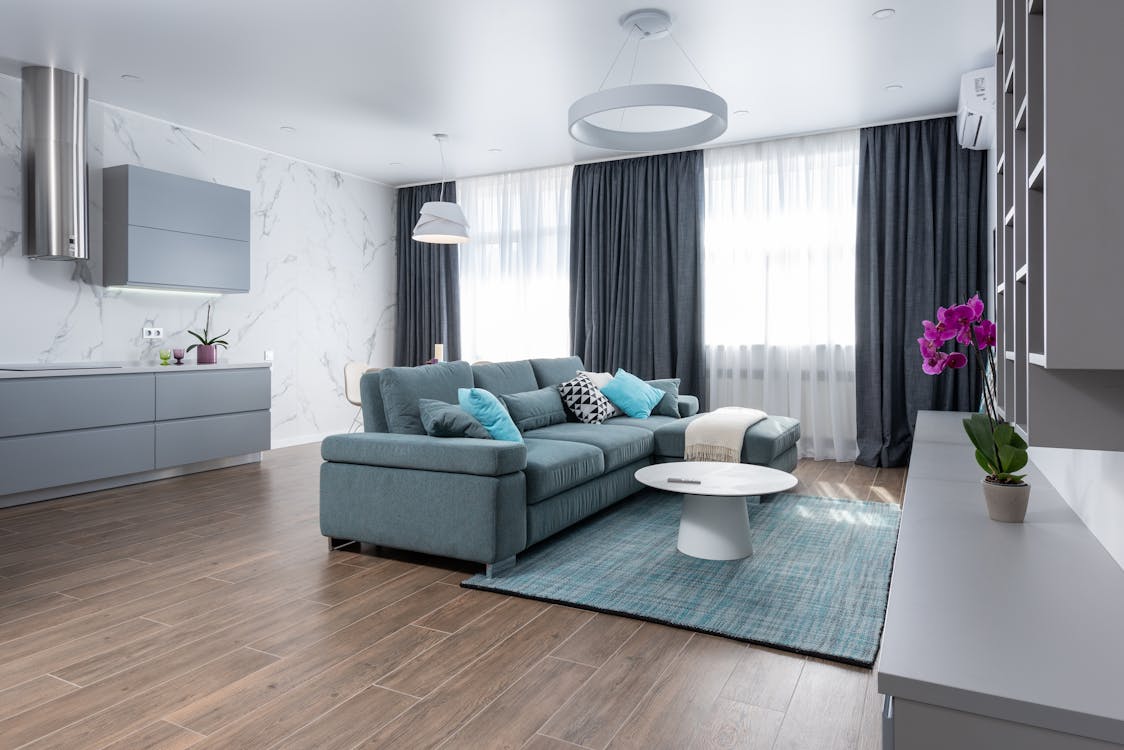 Image Credits: pexels.com
A sectional sofa comes in two or more pieces, including a chaise, to form an L-shape. Depending on the lounge setting you want, you can separate the pieces to create individual seating spaces or join them to create a central one that can accommodate more people. The sectional design dates back to the 1930s with famous American Industrial designer Russel Wright.
With the often uneven design of the sectional sofa, it is not the easiest piece to accessorize with a decor rug. To get it right, it is imperative that you consider the shape and size of the rug and understand how that could pair well with your sofa when you join it into one piece.
If you have a coffee table, it is also vital to ensure you can align the rug centrally to it to create a balancing effect. Another factor to consider is the sofa legs, especially if they are tall, as you need to expose the rug more for a unique display.
Finally, you can choose an eye-catching rug that takes most attention from the sofa. However, even when making the rug the main attraction of your living room, you will need to align it to certain features of your sofa for the best look.
Still unsure how to go about it? Here are 10 ways to place your rug under a sectional sofa for a unique, balanced, and classy look.
1. Use a Large Rug to Cover Most Space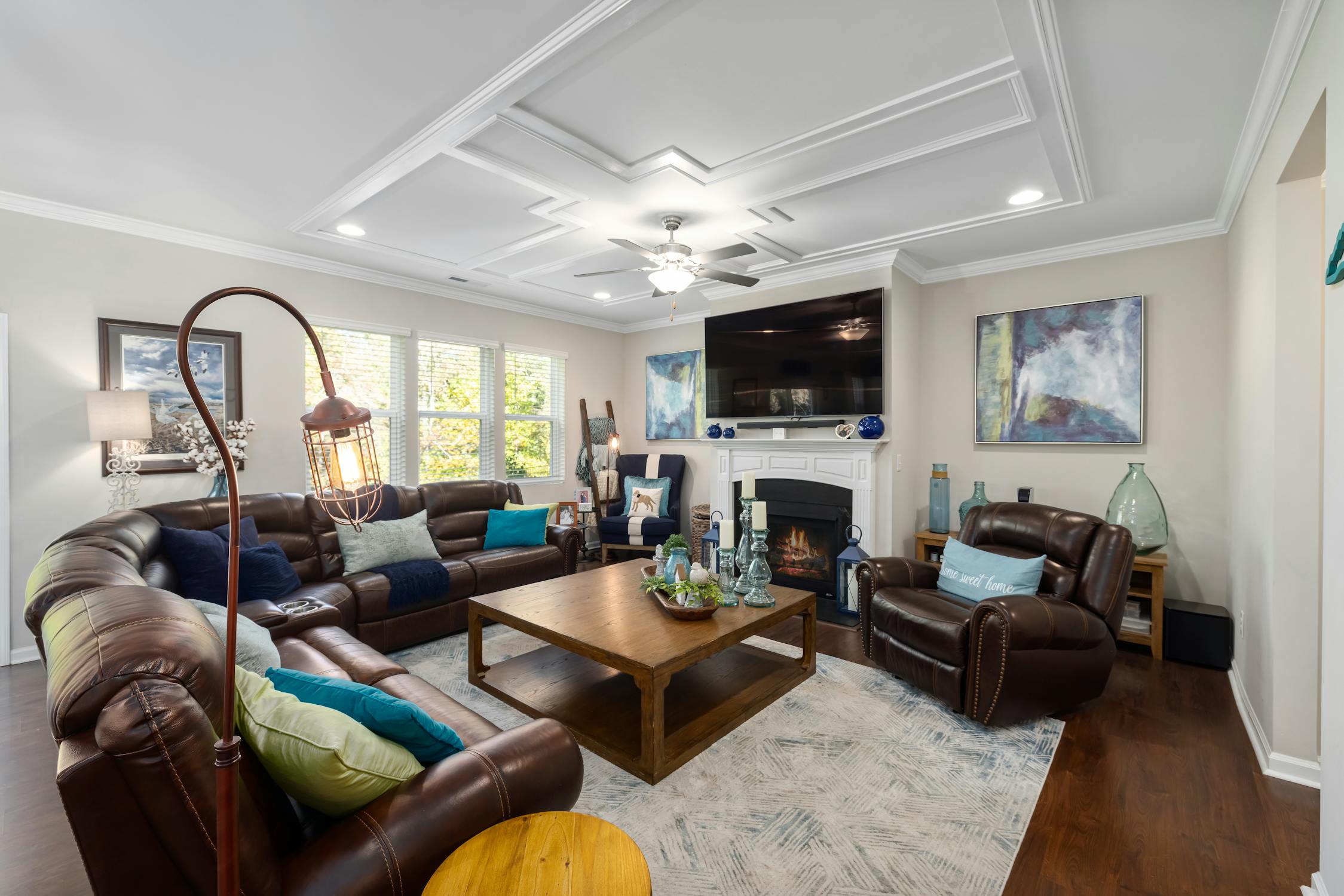 Image Credits: pexels.com
Thanks to the uneven shape of a sectional sofa, you can avoid most rug placement stress by going for a large one. Naturally, this rug will take up a lot of space so that you can place most of your furniture, including the sectional sofa, on it. For this look, I suggest looking for a carpet color that complements your decor. Additionally, ensure the rug size is at least 8 feet by 10 feet.
In most cases, a large rectangular rug makes placement easy as you can align it to the longest edges of your sofa.
The above image gives ideas of how easy it is to place a large rug under a big sectional sofa, coffee table, and accent chairs. The modern rug marries well with the brown room decor. It complements the entire sectional sofa but is still aligned to the sofa edges to create a balanced look.
I recommend this look for a larger room because you will also need to leave lots of floor space visible. While ideal for an open-plan space, this look will apply to a traditional living room, especially when the seating space is arranged in front of the TV or fireplace.
2. Use a Smaller Area Rug to Accessorize the Sectional Couch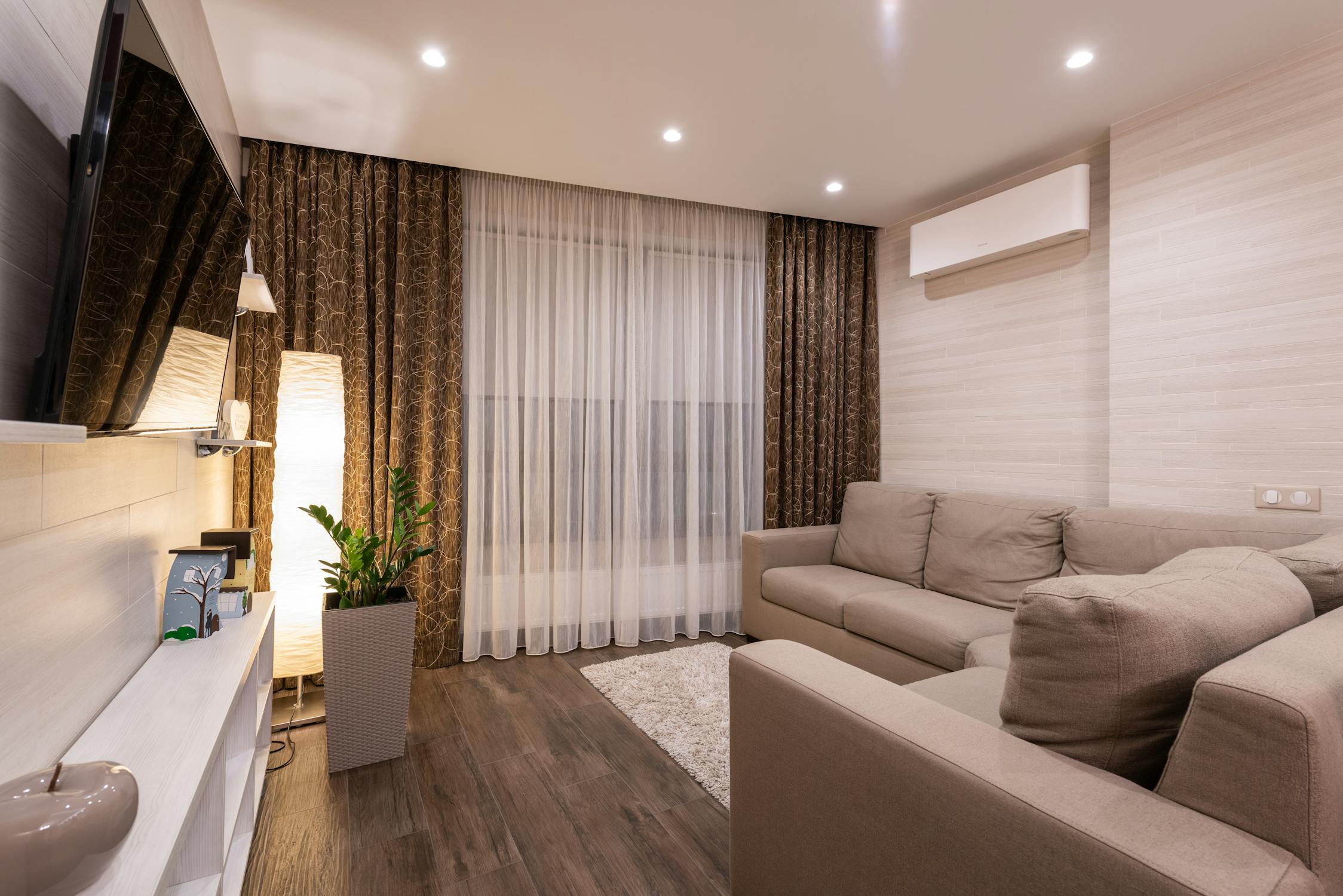 Image Credits: pexels.com
If you do not fancy large rugs or live in a warm area, you can use a smaller rug to add more color to your seating area. The small carpet will provide somewhere to step on as you lounge, but leave enough floor space where you can place other decors like house plants or more.
The image above can help you place a rug under a sectional couch in a small living room. The long, rectangular rug is aligned to the sofa's longest section and adds a pop of color and texture to a rather basic floor. If you go for this design, ensure your carpet complements the room decor and theme, as in this image where the cream rug also matches the sofa and curtains.
3. Extend the Rug to the Back Legs of Your Sectional Sofa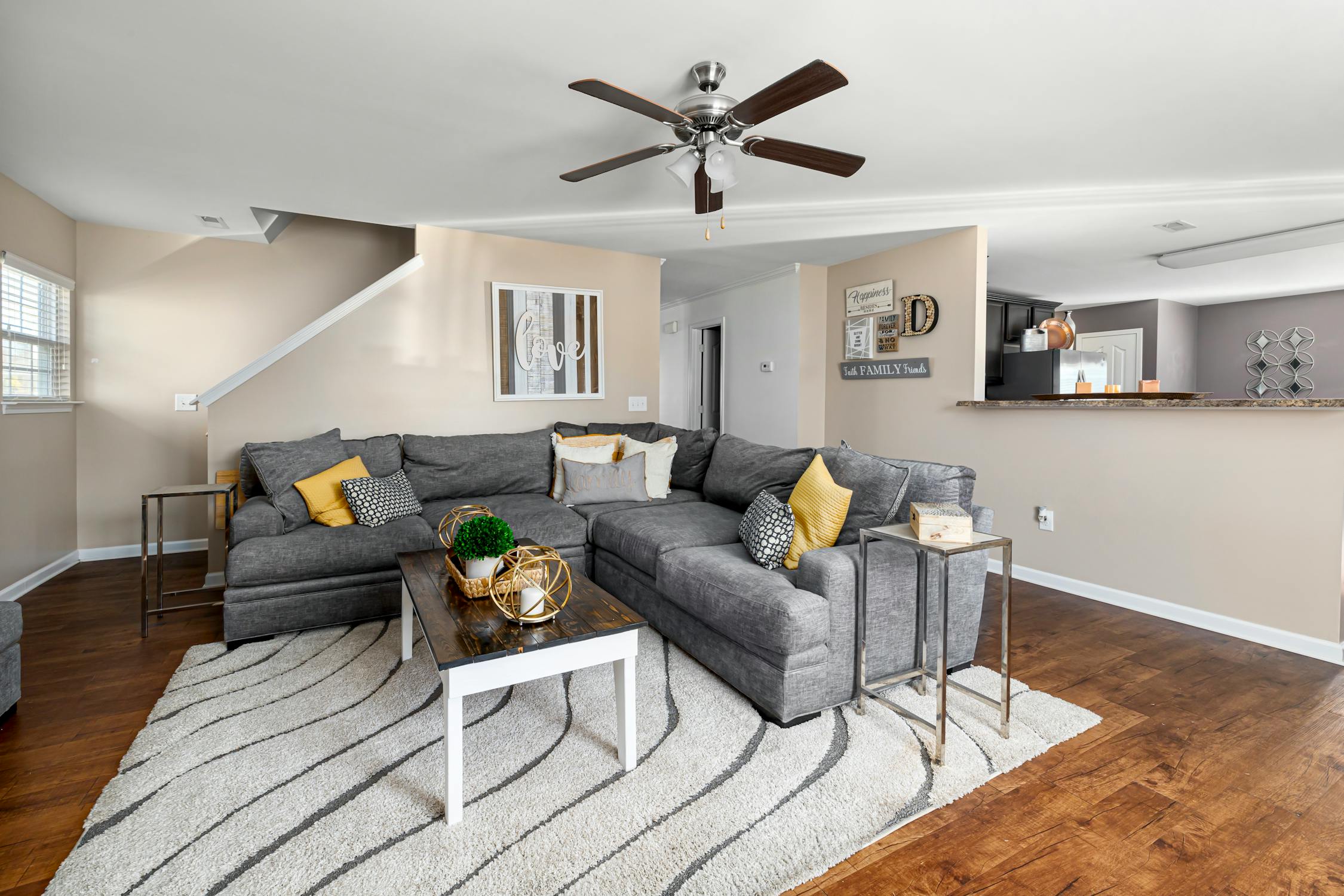 Image Credits: pexels.com
If you have a small living space and still want to get a somewhat larger rug, the best placement includes sitting the sectional sofa on top of the rug but still making sure to align the edges perfectly to create balance. I recommend this look for areas where the floors tend to get a bit cold, so it is better to get a thick, fluffy, or warm rug.
In the image above, the sectional sofa is sat on the heavy carpet. The low legs on one section of the sofa are sat perfectly on the edges of the rug to create a refined look fit for most living room styles, such as traditional and minimalistic. Rather than extending the rug further on the other section of the sofa, this look leaves enough carpet space to hold a side table, while a coffee table is also perfectly sat at the center.
I advise going for a look such as this when you want to create a traditional and cohesive lounging experience in a smaller living room. It is a highly functional rug placement that will accommodate different sectional sofa arrangements. You can also opt for a round coffee table that won't consume a lot of space.
4. Off-Center Your Rug A few Inches from The Sofa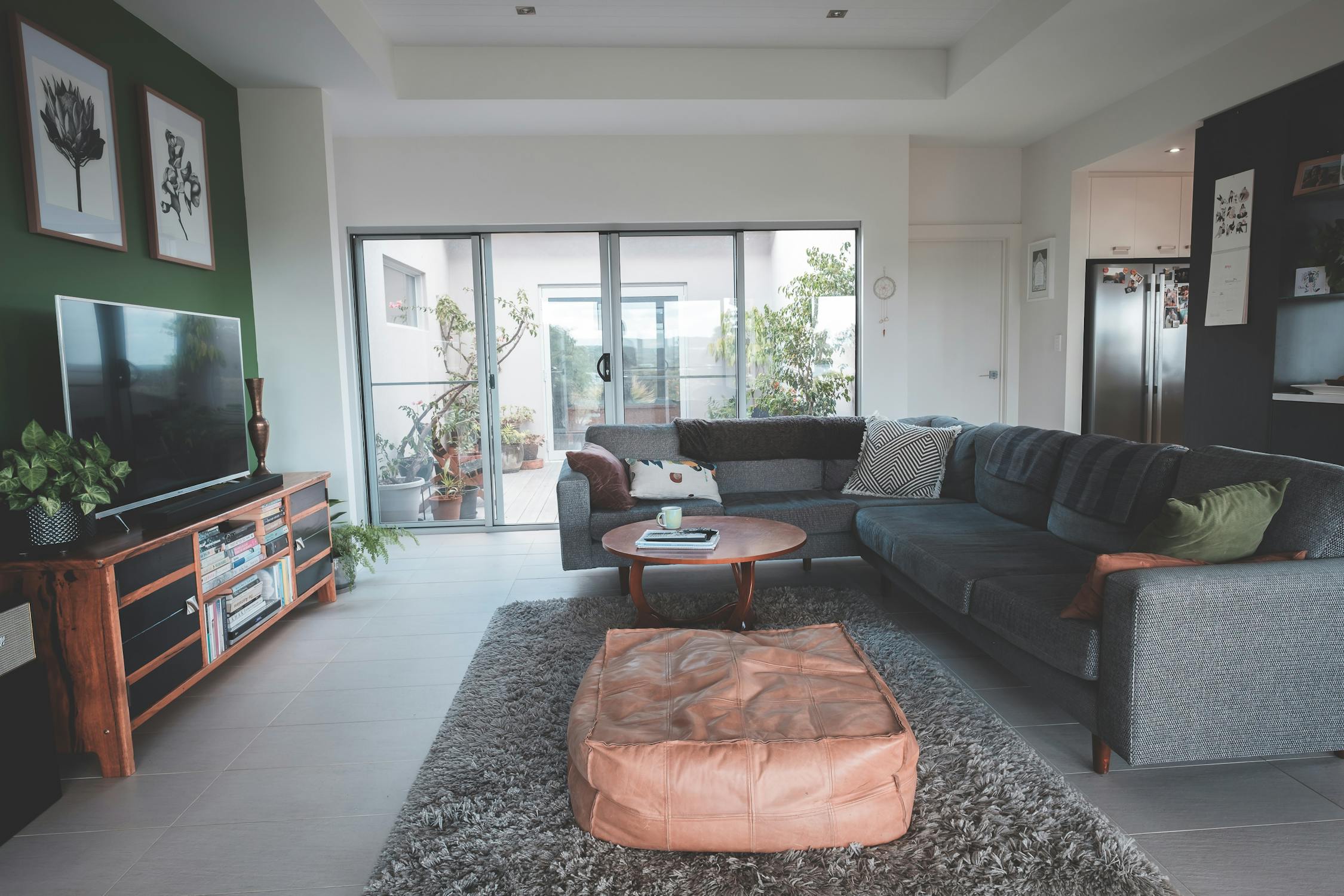 Image Credits: pexels.com
If you don't want to get a large or oversized area rug, you can also create good balance by accessorizing your living room with a smaller carpet that does not touch the legs of the sectional sofa. For this look, you only need to match the rug to all the room decor, and if you want to, proportion the rug size to the sofa.
The image above depicts this look rather nicely. The rug leaves around 6 inches of room from the sectional sofa perimeter. In addition, it matches the room decor and even runs longer than the sofa to make it versatile if you ever want to tuck it under the sofa. Finally, the brown coffee table and pouf add a needed dash of color.
While this look is easy to achieve, I recommend it for a contemporary theme where you only want to decorate the center space. I also love that you can use the rug placement style with long or short sofa legs.
5. Make the Rug the Center Piece In the Room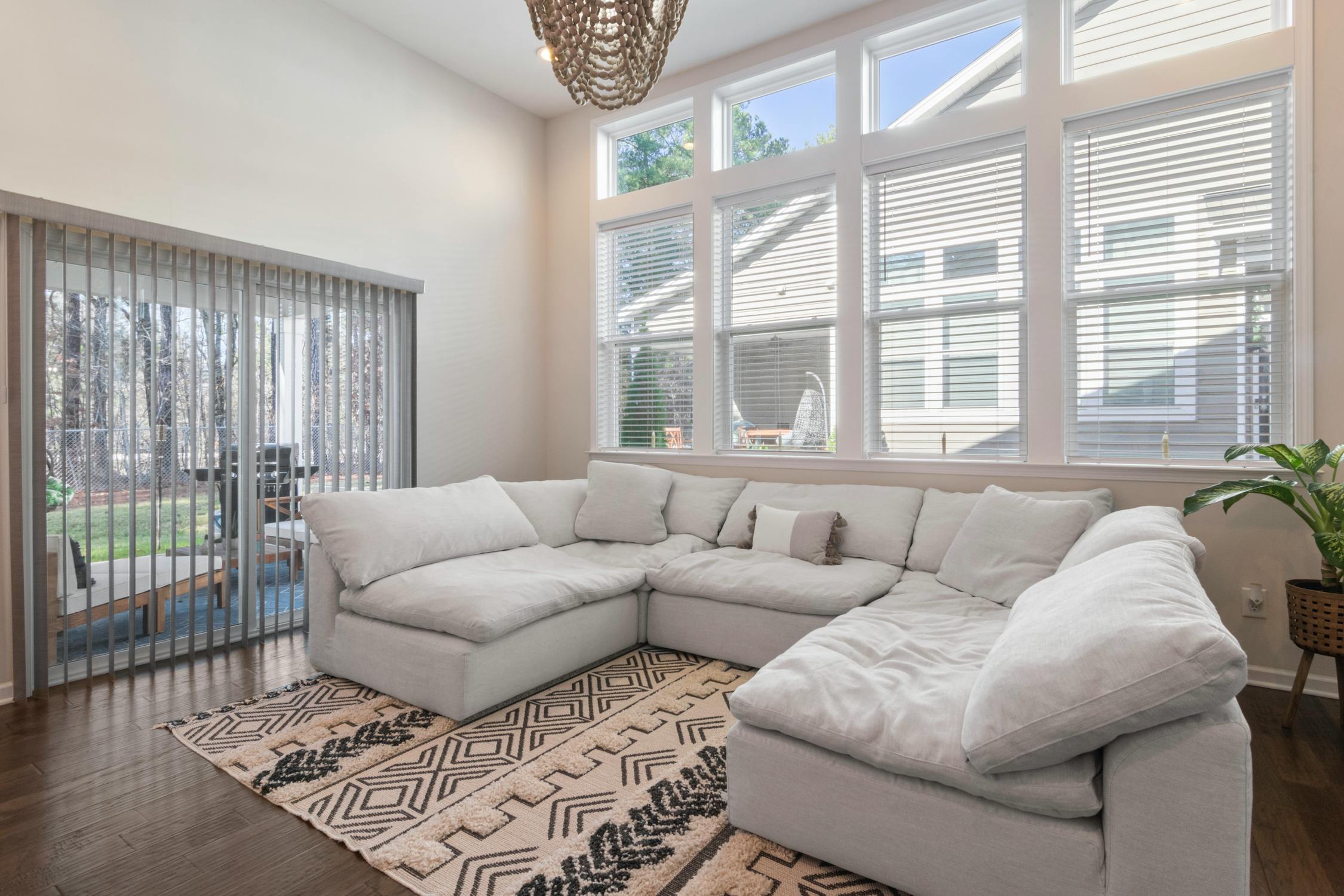 Image Credits: pexels.com
Accessorizing a sectional sofa is about creating comfort and adding style and uniqueness to the room. If you have a plain-looking sectional sofa, I recommend getting an eye-catching rug to accentuate the area. For this, I'd advise getting a colorful vintage or Bohemian rug.
In the image above, the Bohemian rug adds a pop of character, color, texture, and patterns to accentuate a plain, cream sectional sofa. Since the sofa design does not leave enough room for other decor pieces, including a coffee table, the decision to place the entire sofa atop the oversized rug creates a welcoming, warm, and seamless lounging experience.
If you want to decorate this way, choose a rug that complements the sofa and room colors. Also, get a bigger-size carpet that can hold the entire sectional sofa for a lounging area that takes up less floor space.
6. Place a Sheepskin Rug Next to The Sofa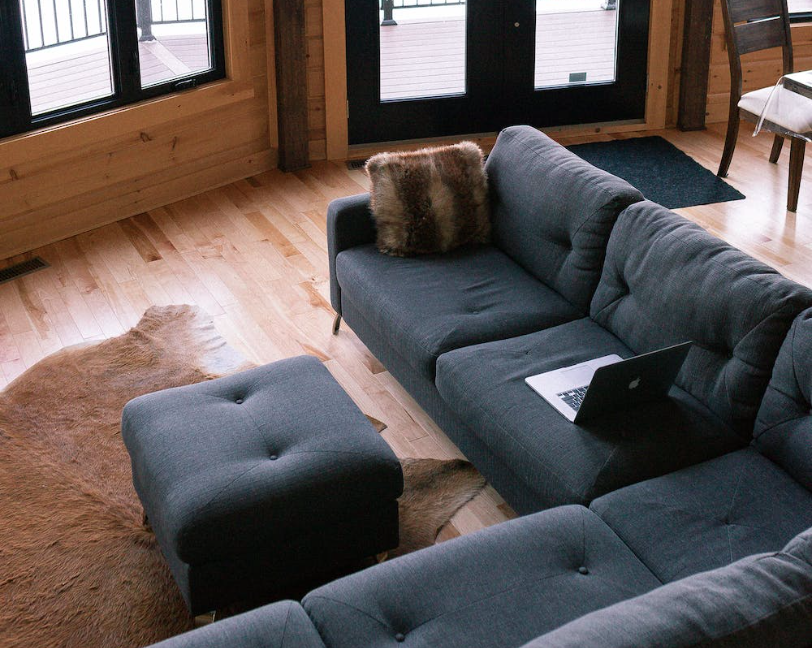 Image Credits: pexels.com
One feature that makes a sectional sofa hard to accessorize is its shape. As a sofa that comes in more than one piece, your intended seating arrangement might create a shape that makes rug placement impossible. If this is your challenge, I advise getting a sheepskin rug that will be easier to layer on whatever bare floor space you are left with after arranging the sofa.
The image above shows creativity for accessorizing a large sectional sofa with a unique and space-saving sheepskin rug. The brown rug barely touches the perimeter of the sectional, but it still adds color and style to the area. The carpet also makes it easier to veer from the expected central rug placement, thus creating a vivid backdrop.
If you use this idea, don't forget to choose a rug or sofa color that marries well with the entire room decor. For example, in the image above, the blue sectional sofa adds more life to a brown theme in a minimalistic house.
7. Align the Rug With the Sofa Front Legs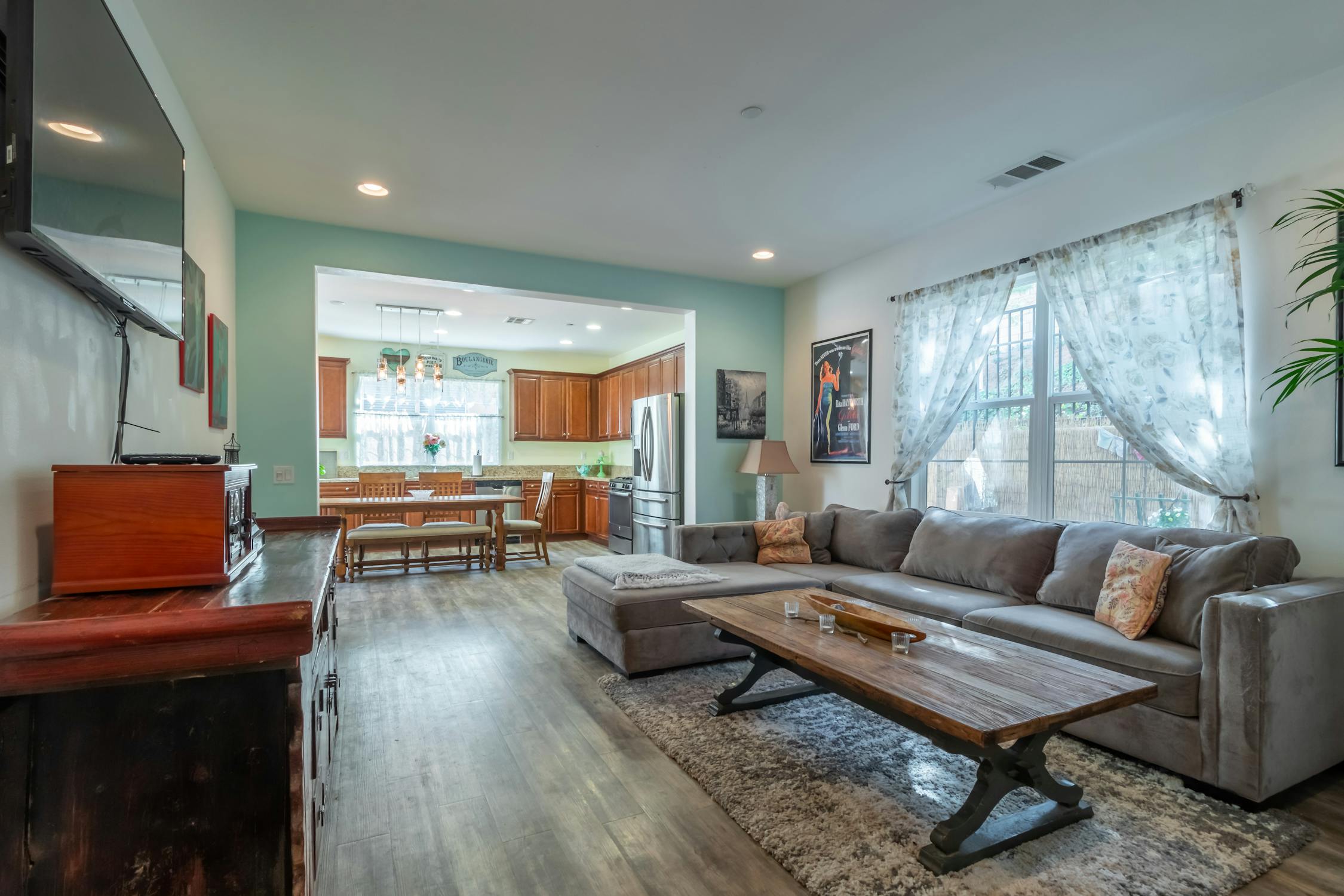 Image Credits: pexels.com
This style applies when you have a larger living room or a smaller rug to place. The seamless and timeless design has its perks, including creating the best and most even visual balance while designing the best floor space and shape to place a rectangular coffee table.
In the above image, placing the front legs of the sectional sofa on the rug gives more character and warmth to the lounging space. Moreover, it makes everything about the room furniture look even and clean. In addition, the arrangement makes the rather small space fit for a large coffee table that all people on the sofa can share.
8. Place a Round Rug In Front Of The Sofa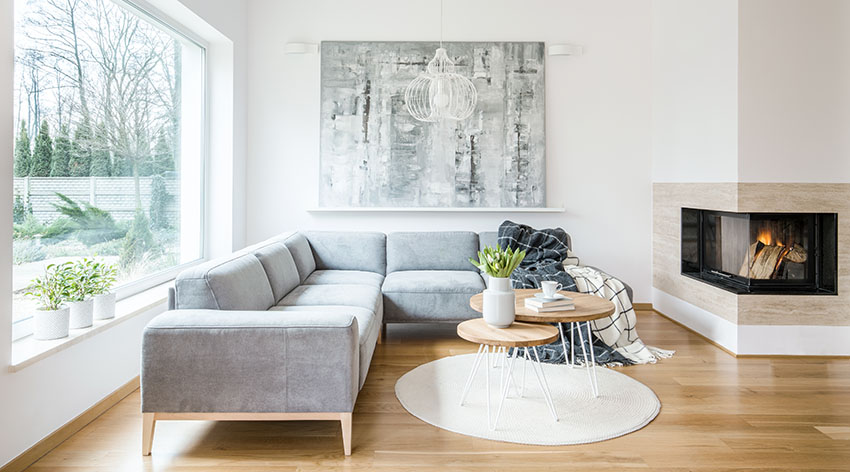 Image Credits: designingidea.com
If your sectional sofa creates an uneven shape at the center, you might find more success by placing a round area rug that touches all the corners of the sofa perimeter. Alternatively, you can place your round rugs in front of the sofa, leaving a few inches of space to the sofa perimeter if you only want to decorate the center space or place a coffee table.
The image above shows the latter design, where a small round rug is placed in front of the sectional sofa, leaving lots of room for the couch perimeter. This look is ideal for a minimalistic appeal where you want to leave ample floor space. Like in the image, ensure your round rug complements not only the sofa but the entire interior design theme of your room.
9. Layer Two Rugs for Perfect Balance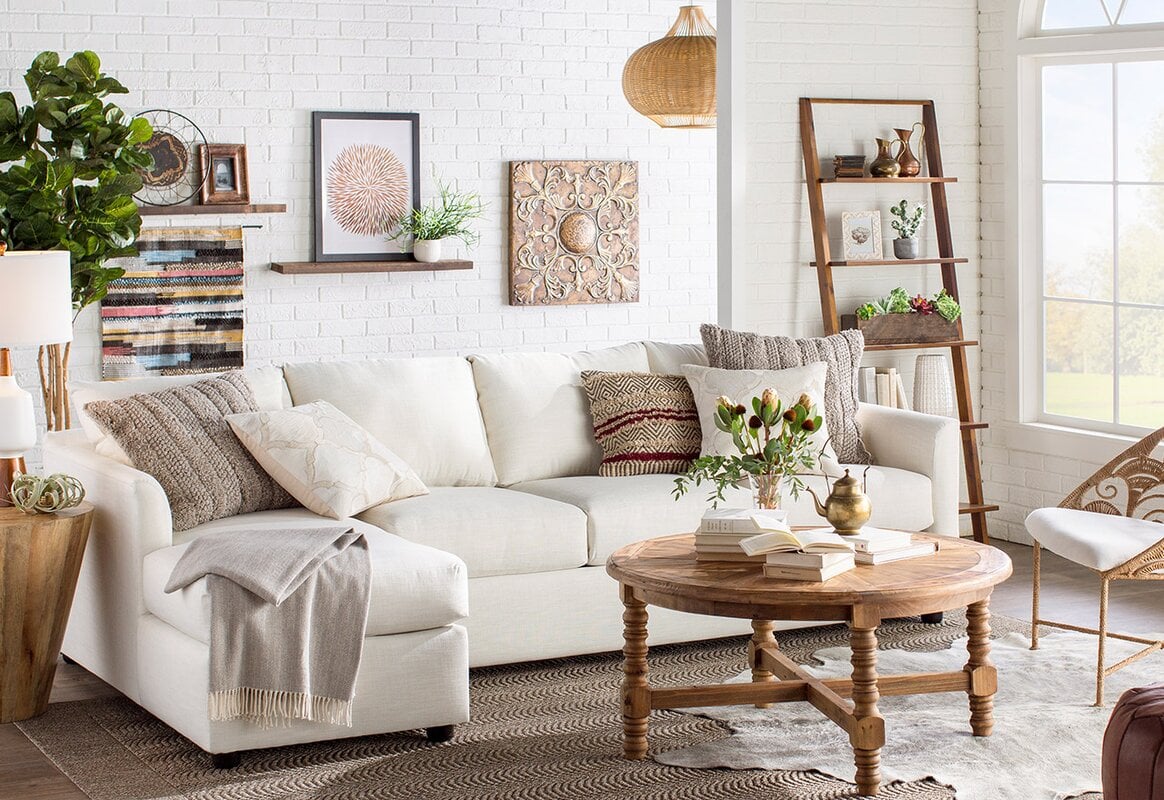 Image Credits: decoratedlife.com
Considering you place a sectional couch in a room with other furniture like coffee tables and TV units, you might not always find it easy to make your rug the focal point of the room. So, my best solution for struggling with rug size and shape is to use two rugs.
The layered rugs will create a unique and eye-catching lounging space, but you need to choose different textures, sizes, and colors to achieve the look.
The image above shows a white sectional paired with the layered rug design. The two rugs have different textures, and the main carpet is placed under the sofa. The second, a sheepskin rug, is placed over the bigger one and under the coffee table to make it the focal point.
10. Install a Wall To Wall Carpet
Image Credits: pexels.com
If you still cannot choose the best rug size, texture, or shape to place under a sectional couch, I recommend going for a wall-to-wall carpet for your living room space. This large carpet makes it easy also to choose an extra large sectional sofa and pair it with other types of couches or accent chairs without worrying about the floor space.
In the image above, the wall-to-wall carpet marries well with the interior decor. In addition, it creates a welcoming, seamless, and clean lounging experience while allowing versatility when rearranging the sectional sofa pieces.
Summary
Home decor improves the quality of life for all people, and as this article proves, decorating your home can have positive mental and physical health benefits. So, if you love your sectional sofa, do not be afraid of experimenting with different rug placement styles. You will eventually find the most satisfying arrangement that will make your sectional, rug, and entire room worth being in.
So, I hope these 10 living room rug ideas for a sectional sofa can improve your decor creativity if you don't have many rug placement ideas. The styles are easy to perfect and work around your sectional to give the area more character and a welcoming vibe.