Pocket doors are popular among designers and homeowners looking to save space and add elegance to their homes. Frequently, we see pocket doors linking a bedroom to a bathroom or connecting a utility room to a kitchen, and there is something rather sleek and cool about them.
These doors can be used in traditional and modern settings and are a real space winner. However, what should you consider before picking this type of door for your bathroom? Are pocket doors for bathroom entrances a great idea?
 Read along to determine if this door style is right for your bathrooms.
What Is a Pocket Door?
A pocket door is a sliding door design that, when fully open, disappears into a gap within a framing or wall. Pocket doors are installed from the ceiling and glide along an overhead track or on the floor. This design is ideal for a sophisticated architectural effect in a bathroom or when there is no space for the swing of a hinged door. Single and double-door versions are used depending on how wide an entry is desired.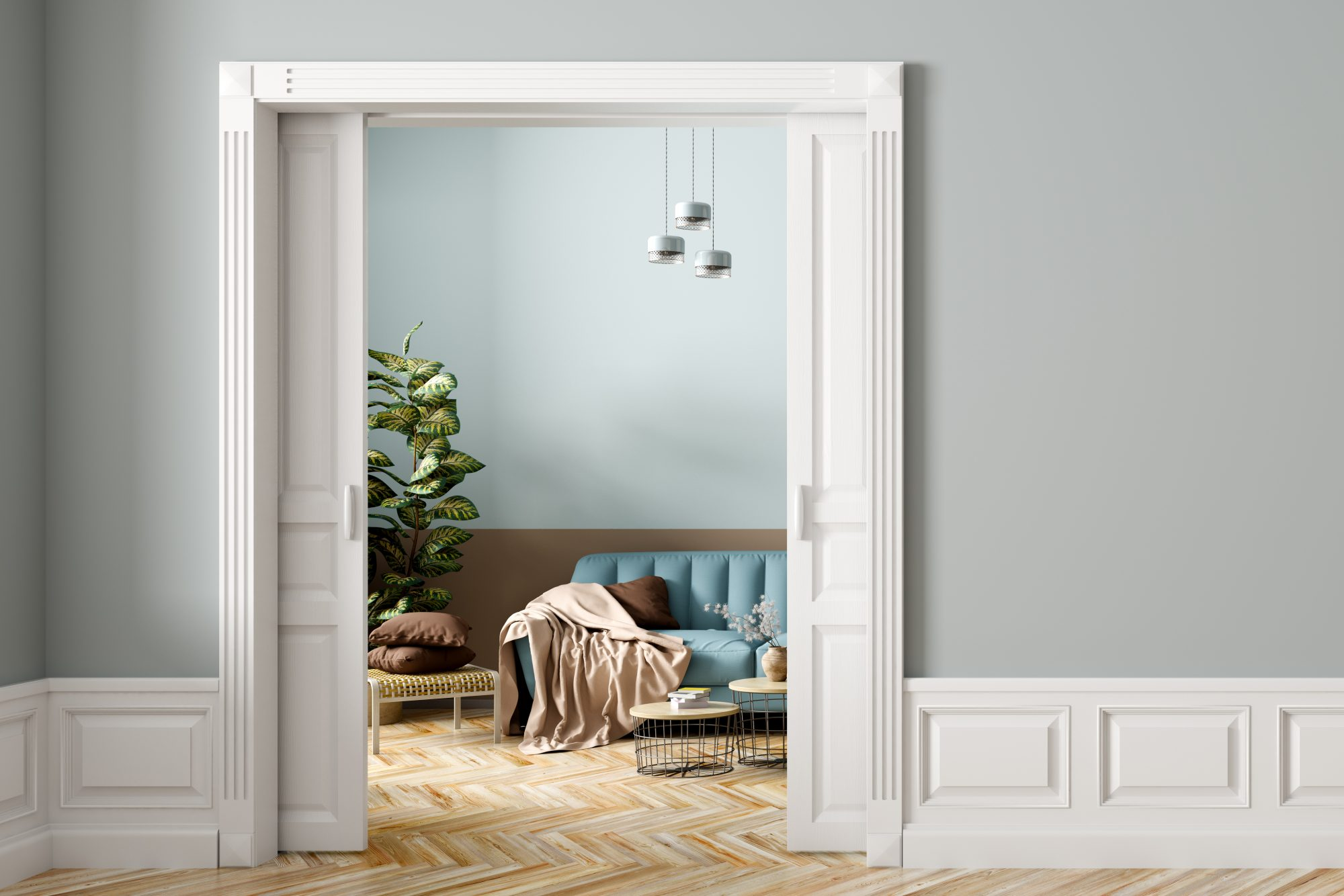 Image Source: marthastewart.com
Pocket doors are great for areas with limited square footage because they add up to 10 square feet of functional floor space that an open swing door would otherwise cover. There may be additional considerations regarding installation, but the space saved from where a traditional door swing could make a great difference between one bathroom setup and another.
Moreover, a pocket door links the bathroom and other rooms without utilizing the space required for a hinged door to swing inward or outward. So, you might use the extra space obtained for a bigger room layout. This can translate to a larger shower, a bigger floor area in both the bedroom and the bathroom, or allow for better overall décor. 
A pocket door is also excellent for downstairs or basement bathrooms where more space and elegance are needed. It is also one of the best choices for interior door design.
Types of Pocket Doors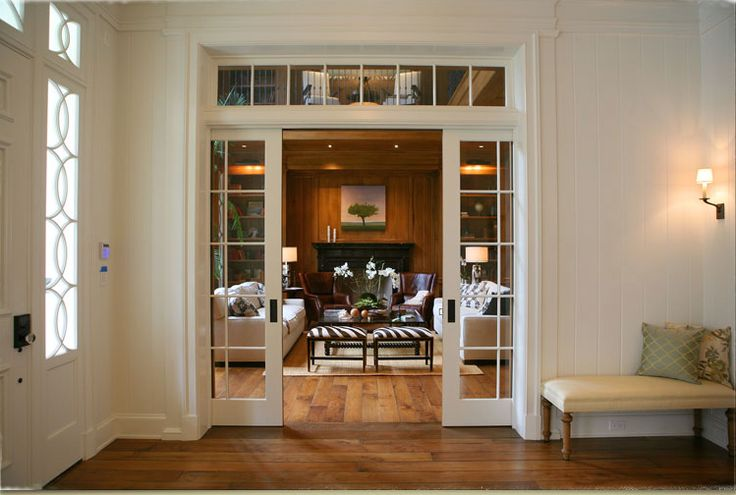 Image Source: pinterest.com
There are different types of pocket doors you can consider for your space. Your choice will depend on your privacy needs and the opening size where you want to install your door.
1) Solid Doors
Most pocket doors have solid panels fitted into a standard 36-inch opening.
2) Double Doors
Double doors are a better option if you have a wide opening. These doors slide into the opposite side walls to open and come together to close in the middle.
3) French Doors
French pocket doors are similar to double doors because there are two doors. But French pocket doors fit into a standard door opening, unlike double doors. These doors also have glass panes as a part of their construction.
Bathroom Pocket Doors Design
1) Bathroom Pocket Door with Frosted Glass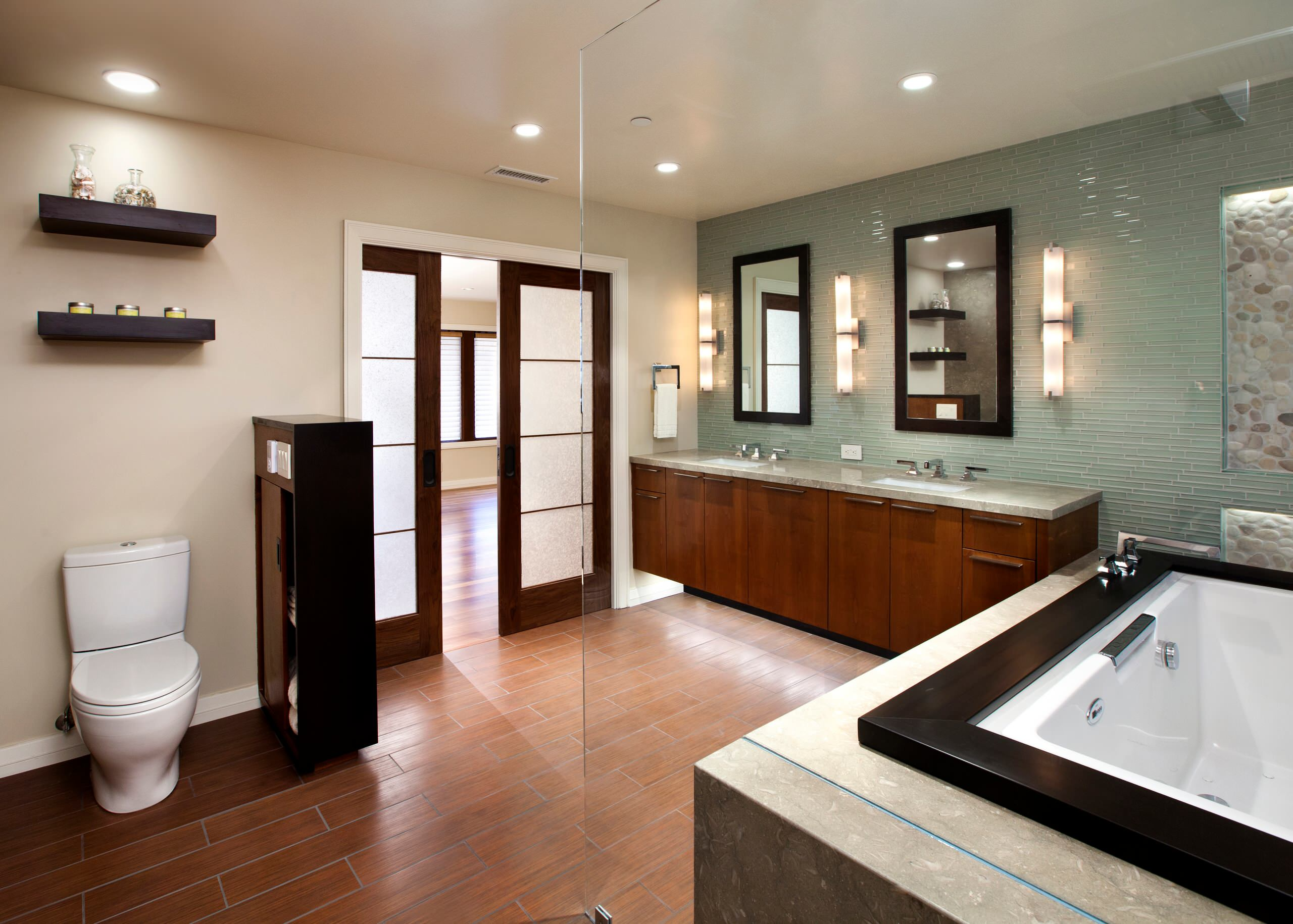 Image Source: houzz.com
A frosted glass bathroom pocket door is an excellent option to maintain the light, airy, and spacious bathroom sensation while zoning off specific areas. To add greater privacy, the translucent nature of the frosted glass pocket door controls the amount of light passing through and blurs visuals.
2) Mirror Bathroom Pocket Doors 
A mirrored pocket door functions as other doors but takes up no floor or wall space. When not used, a mirrored pocket door can be glided into the wall pocket. These doors can separate walk-in showers from other parts of the bathroom.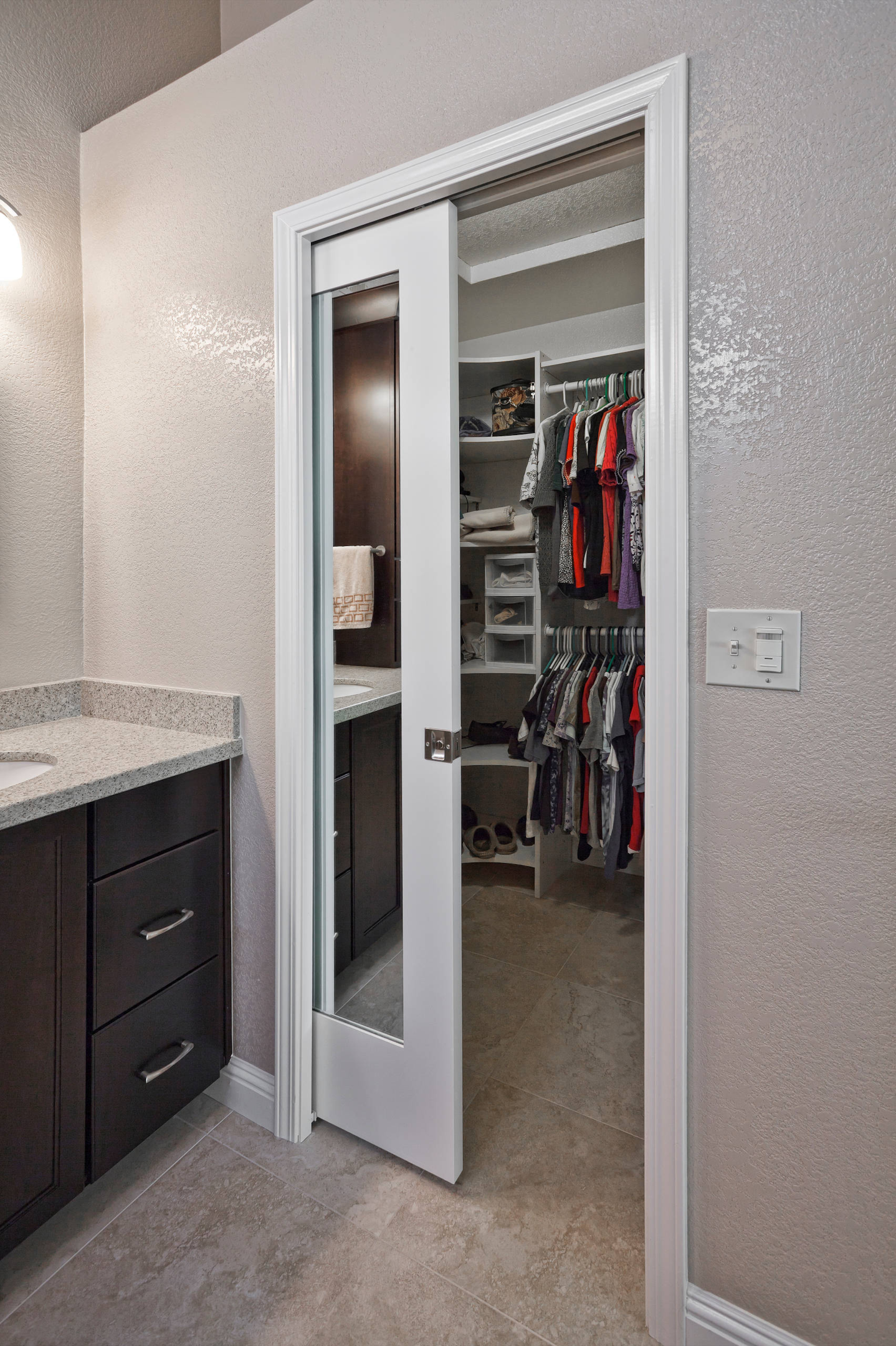 Image Source: houzz.com
Mirror pocket doors provide a quick enhancement for updating a bathroom, and interior designers usually employ them to conserve space and make the bathroom look bigger. They enhance the passage of light through the space giving the impression of a larger space
Moreover, mirror pocket doors are well-known for their sleek, stylish, and visually pleasing appearance. They complement every interior décor and give the bathroom a classy, luxurious feel.
3) Glass Bathroom Pocket Door 
A glass pocket door is a sliding glass door that disappears into a recess in the adjacent wall. Glass pocket doors can conserve space while also improving the appearance of your bathroom. They can help to open up and modernize the look of your bathroom due to the streamlined effect of glass. Moreover, it allows plenty of natural light into your space.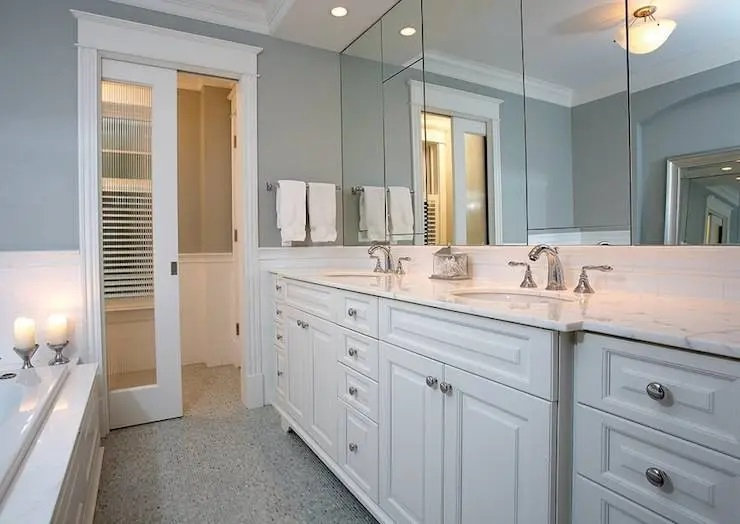 Image Source: reviewjournal.com
The good thing about a glass pocket door is that you do not lose out on the illumination and the advantage of an open-plan lifestyle even when the bathroom door is closed. This is common with the pocket doors linking the bathroom to a bedroom.
However, when used in bathrooms, glass pocket doors are only advisable for shower rooms with a separate main bathroom door since these glass sliding doors will not provide the needed privacy.
4) Wooden Bathroom Pocket Doors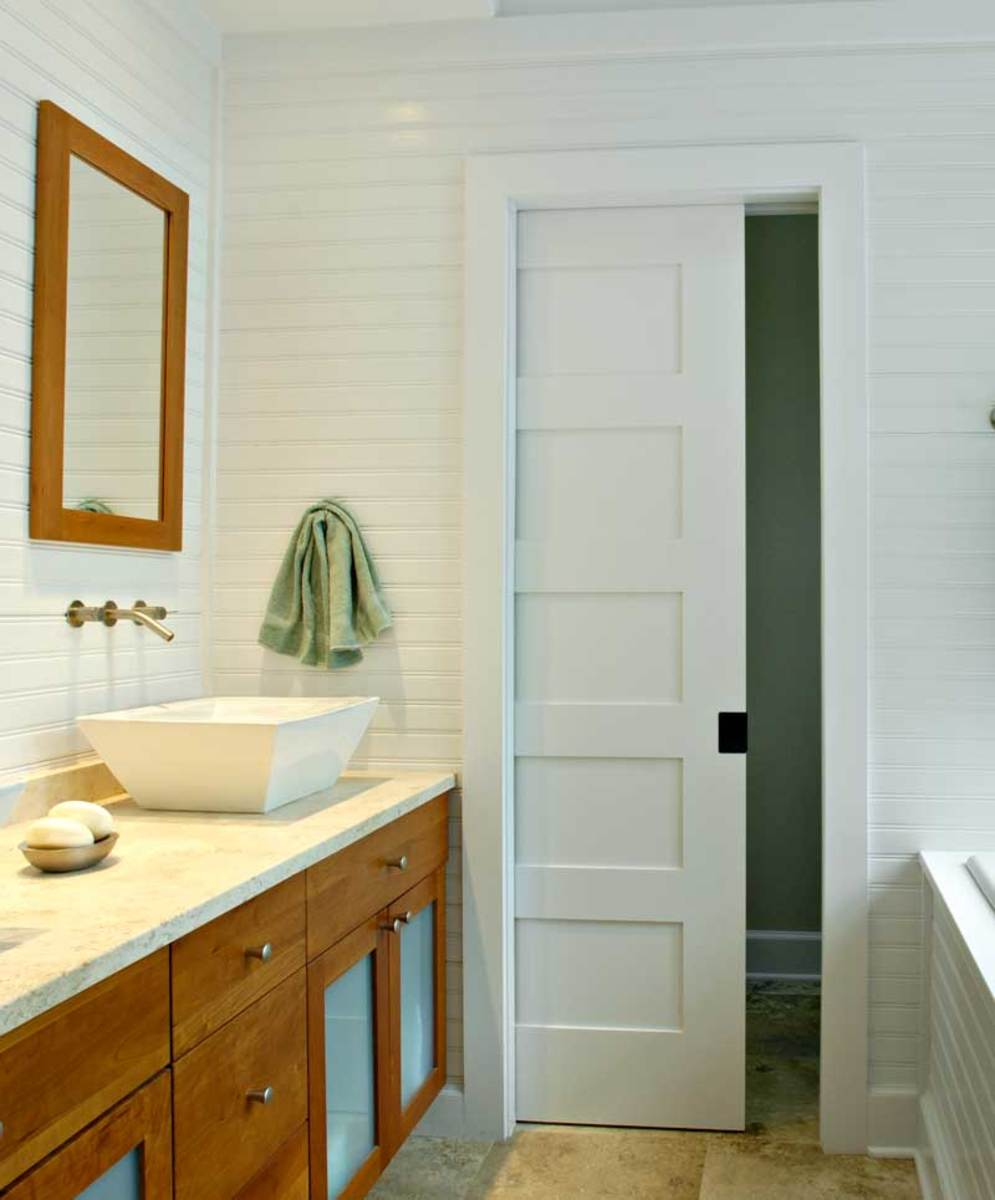 Image Source: artsandcraftshomes.com
With over 20 wood species types, you can create a unique and perfect natural aesthetic for your space. Also, wooden bathroom pocket doors are elegant and provide great functionality to your space. A solid core pocket door provides better insulation and sound sealing than a hollow door.
Advantages of Bathroom Pocket Doors
1. Pocket Doors Maximize Space in Your Bathroom
Regarding bathrooms, constructors seem to focus on maximizing profits rather than your convenience. This is specifically true when it comes to the hinged doors. A traditional hinged door normally requires up to 10 square feet of area to open and close the door.
Installing pocket doors can free up this area for new furnishings, such as additional sinks and larger cabinets. It also offers more wall space for hanging towel racks, artwork, and other items. So, when thinking of big ideas for your small bathrooms, include pocket doors in the list.
2. Pocket Doors Improve the Bathroom's Outlook
The primary reason anyone thinks about pocket doors is that they look fantastic. Pocket doors improve the appearance of both conventional and modern bathroom layouts. A swinging door takes the focus away from the aesthetic feel of a room, whereas the disappearing pocket door gives style and interest to even the most basic bathroom.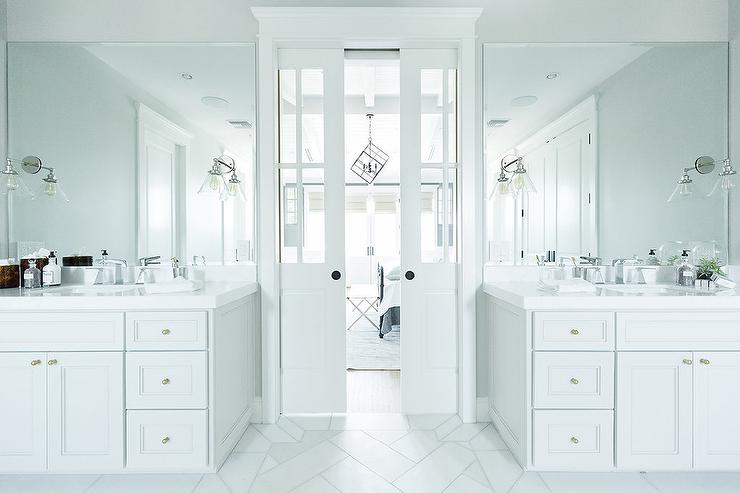 Image Source: decorpad.com
Pocket door designs such as glass are modern, contemporary, and aesthetically appealing to enhance the bathroom décor. Additionally, open pocket doors disappear in the adjacent walls preserving a minimalist appearance.
3. Pocket Doors Complement any Bathroom Décor
Pocket doors function equally well in traditional and modern bathroom designs. They can accentuate any décor and do not detract from the overall appearance of your interior design.
Disadvantages of Bathroom Pocket Doors
1. Pocket Doors Do Not Close Tightly
Unfortunately, pocket doors do not close as tightly as conventional swinging doors. They also have a bigger gap to the floor and do not settle well like traditional doors. Therefore, they are not as efficient in preventing noise from the splashing water in the bathroom.
Bathroom pocket doors also perform ineffectively in blocking off a bathroom's odor and light. However, you can prevent the noise by soundproofing your door but ensure you use a method that will not interfere with the pocket door's functionality.
2. Pocket Doors are Difficult to Maintain
Pocket doors operate on tracks, and fixing the hardware can be extremely difficult whenever anything goes wrong. Hence, you should purchase and install the best hardware to avoid difficulties. Check out the hardware's functionality before installing a bathroom pocket door to ensure you are satisfied with how the door will function.
3. Not Suitable for the Physically Impaired
Pocket doors can also be more difficult to operate than traditional swing doors for individuals with particular physical impairments.
Bathroom Pocket Door Dimensions
Standard bathroom pocket doors are usually 30 to 36 inches wide and 80 inches tall, just like traditional hinged doors. However, you need to consider the rough aperture dimensions, which are significantly larger. Single-pocket door panels measure 24 to 40 inches wide, and 80 inches tall, and double-pocket door panels are typically 86 inches tall and provide an opening of 82 inches.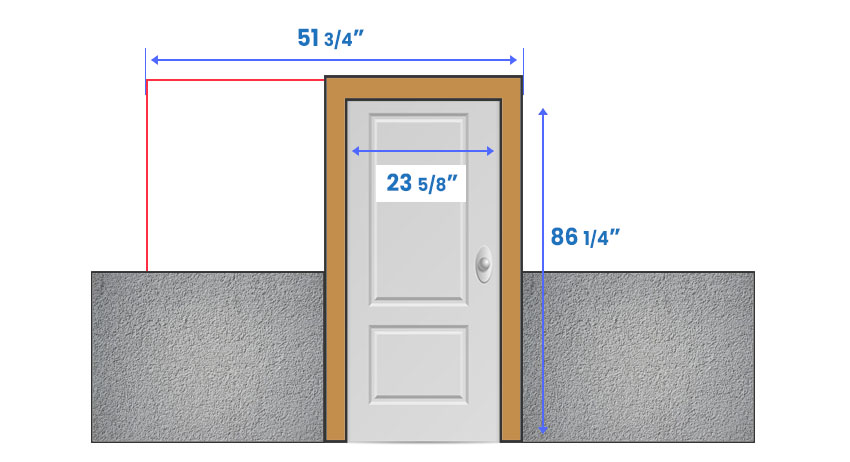 Image Source: designingmedia.com
A rough aperture is a space required between the studs to construct the pocket door system. The general guideline for rough aperture is to double the width of the pocket door panel. Then you can add 1 to 1.75 inches to the aperture length and 2.25 inches to the height, depending on your door size. Pocket door apertures can be 51 to 162 inches wide and 86 inches in height or higher.
Similarly, for a single-pocket door panel of 24 inches wide, a rough aperture of 49.75 inches wide would be needed. The panel's height is normally 80 inches and fits a rough aperture of 84.5 inches. A rough aperture for a 30-inch bathroom pocket door would be 61 inches in width, and a 36-inch pocket door would have a rough aperture of 73.75 inches wide.
Before preparing your wall for a pocket door, you should verify the product's specifications. 
Frequently Asked Questions
i) Can a bathroom pocket door lock?
Yes, you can secure the bathroom by locking pocket doors. Pocket doors can lock on either one or both sides. You can also secure your bathroom pocket doors by using pocket door locks with keys.
ii) Do bathroom pocket doors block sound?
Bathroom pocket doors do not provide much sound insulation. They might not sit or seal as tightly as standard doors. As a result, they may not effectively prevent noise from spreading from the bathroom to other rooms.
Pocket doors open and close by sliding on a track; no matter how you delicately push the door, it will make little noise as it slides. 
Bottom Line
Bathroom pocket doors are becoming popular because people are discovering how much more space and flexibility they gain when replacing the hinged door with a bathroom pocket door. Pocket doors also provide a clean visual style giving your bathroom a more custom look. They can be expensive and difficult to repair, but the beautiful style is worth the trouble.
Featured Image Source: designingidea.com