What once went into landfills now adorns homes and businesses across the world. Whether it's recycled wood for remodeling or a custom-made furniture piece, the reclaimed wood frenzy is taking over the world.
The welcoming ambiance provided by wood details is incomparable to new construction. Reclaimed wood raises the bar on authenticity and preserves a lot of history with beauty and character evident in every grain. This quest for character-filled antique timber has evolved into a profitable industry.
The use of reclaimed wood has not been limited to remodeling only, but some daring architects and homeowners have adopted it for full construction. One thing for sure is that whether it's in landscaping or interior decoration, an antique rustic wood addition definitely gives an edge to your space.
What is Reclaimed Wood?
Reclaimed wood is old repurposed wood. This means that you can use the wood to do something else. This type of wood is also called vintage timber or antique wood. However, not all reclaimed wood is antique.
The reclaimed wood features a rustic style and unique characteristics that make it popular among architects, decorators, and property owners. It requires some work to get it ready for reuse, and even then, it still has a worn-out appearance. But that's a benefit, not a disadvantage.
The greatest reclaimed wood comes from buildings constructed before the post-World War II building boom. This wood is of higher quality and denser. In addition, it was frequently quartersawn or heartwood-selective milled. Both improve grain look, but today they would be viewed as wasteful.
Although you can reclaim any wood, Douglas fir, redwood, pine, and oak are the most often reclaimed wood species.
Reclaimed wood has many uses, which we shall discuss below.
Reclaimed Wood Examples and Ideas
1. Reclaimed Wood For Construction: Seresin Retreat At Waterfall Bay, New Zealand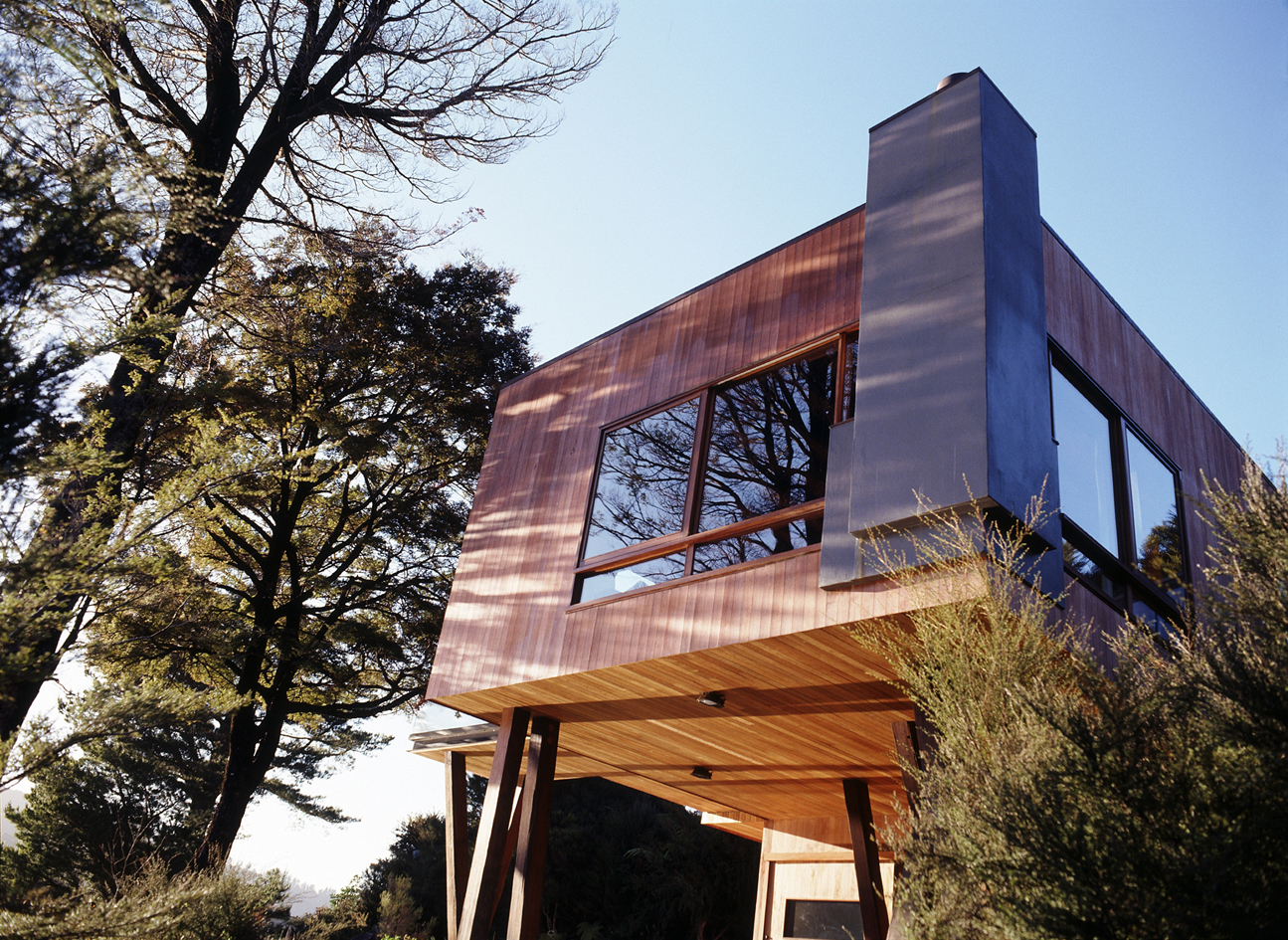 Image credits: Bossleyarchitects.com
This award-winning home was recently featured on BBC's World's Most Extraordinary Homes. Located in a remote bay in Marlborough sounds, this house emphasizes using reclaimed wood wholly for construction. The wood that pervades the house responds to the lush forest that backdrops it.
Image credits: Bossleyarchitects.com
Different types of timber across the house, with varying grains and textures, create various moods.  Complementing all this is the owner's unique collection of furniture and utensils juxtaposed on the architecture of the building.
Image credits: Bossleyarchitects.com
Big, heavy ironbark columns and beams recycled from an old bridge form the main structural support for the house. This type of wood (jarrah) is difficult to machine because of its high density and interlocked grain, so you must use a metal drill.
Image credits: Bossleyarchitects.com
2. Reclaimed Wood For Landscaping
It is hard to beat the lovely patina of old wood when it comes to the outdoors. Reclaimed, rustic wood brings warmth, texture, and character to your planting beds, borders, outdoor furniture, and fences.
If you're looking to give your backyard some history, here are a few inspirational ideas.
a) Outdoor Shelves
Plain and simple weathered outdoor shelves can be used for anything from gardening tools to plants and more. Make sure it's perfectly mounted to get a nice straight top.
Image credits: Pro.com
Create tiny, tiny corner tables on your balcony with leftover pieces.
Image credits: homesthetics.net
b) Artistic Dividers And Fences
Reclaimed wood planks could be the best choice when separating your yard or building a fence. You can mix it with other materials, such as ceiling tiles, for an artistic and unique feel.
1) Materialize a geometric path from salvaged wood and river rocks.
2) Repaint your small wood planks fence and emphasize it them with planters.
Image credits: homesthetics.net
c) Outdoor Station, Kitchen, Or Bar
1) This is for those who love entertaining. A great alternative to installing a full outdoor kitchen, this can be used as an outdoor barbecue area or just for serving drinks and snacks
Image credits: hometreeatlas.com
2) Another option could be an outdoor gardening station as well.
Image credits: Pro.com
d) Timber Frames
Swap new timber with reclaimed wood to create a country vibe on your pergolas and set them apart from the landscape. You can also throw in some climbing plants; your space is rich in color and texture from the vibrant greens and yellows.
Image credits: Houzz.com
e) Retaining Walls And Beds
Reclaim your backyard's natural look with rustic gardening beds and reclaimed wood walls, making it feel less installed.
Image credits: Houzz.com
f) Outdoor Furniture
The possibilities here are endless, from benches to tables made of tree stumps.
1) Playful outdoor bar from scrap timber and wooden palettes.
Image credits: Houzz.com
2) Exquisite tree stump side table.
Image credits: storymixmedia.com
3) Log bench emphasized by up-cycled wooden chairs.
Image credits: dishfunctionaldesigns.blogspot.com
4) Create an outdoor lamp stand with logs or tree stumps.
Image credits: lynneknowlton.com
4) Branches and twigs used to realize portable privacy screens.
Image credits: lynneknowlton.com
5) Tree stamp mosaic stools.
Image credits: Dmahomes.com
3. Reclaimed Wood For Warm & Vibrant Interiors
a) Exquisite Feature Walls
An accent wall crafted from reclaimed wood is undoubtedly the subtlest addition to a home or office. A well-crafted feature wall adds natural texture to a setting dominated by man-made elements. The room's existing color scheme dictates the grain of the wood be selected.
1) Gorgeously lit shelves and reclaimed wood walls create a stunning mid-century modern home office.
Image credits: vanillawood.com
2) Accent wall crafted from reclaimed wood is perfect for the industrial home office.
Image credits: BlakelyInteriorDesign"
b)Bespoke Furniture
1) A Rustic wooden desk can bring style to the room, whether it's a corporate office or a living room.
Image credits: UrbanWoodGood.com
Pipes, reclaimed wood, and vintage crates are used to create a lovely DIY work desk.
Matching shelves and cabinets crafted from similar wood can create a more curated and coherent home office and give the room a distinct style of its own.
Reclaimed wood shelves fit in the home office just as much as they do in industrial and rustic designs.
2) This kitchen features reclaimed oak open shelves, a tile backsplash, and a farmhouse sink.
Image credits: Oberto Gili
Reclaiming Wood Process
The lumber goes to the reclaiming process once it has been harvested. Once harvested, the wood can be in many different conditions. These include having nails and rotting, among other issues that need to be addressed before the wood is used.
a) De-Nailing
One of the first processes in reclaiming wood is de-nailing. De-nailing is the process of removing any metal from the wood, including any that may be present in addition to the nails. For example, ancient wood may still contain screws, hinges, or other metal fragments from its past existence.
Image credits: lawsonsyard.com
This is one of the most crucial parts of the process, so be sure to pay close attention if you ever decide to do your wood reclamation. Missing even one nail could have serious consequences for the subsequent procedures.
b) Cleaning
Cleaning partly starts during de-nailing. The time and effort required to clean the reclaimed timber will mostly depend on where the wood was harvested from and what condition it is in.
Image credits: YouTube.com
In other instances, the wood will need to be sanded down to eliminate significant flaws and irregularities or remove the paint. To ensure that you are only taking the wood into your home, it is crucial to clean it carefully.
c) Milling and Sorting
Milling involves shaping and forming the wood into different products. First, the timber is stripped down and divided into pieces that are better suited for installation during milling. An example is cutting a huge board into smaller pieces to make it suitable for flooring or wall paneling. Although the milling procedure doesn't take very long, it is laborious.
Image credits: woodbasedpanels.com
The wood is then sorted after milling to ensure you know the different types of wood available and that they are arranged accordingly. Once you know the types of wood, you are dealing with, treating and preparing becomes easy.
d) Kiln Drying and Treating
Before it gets to the customer, every wood has to be kiln-dried. A kiln dryer is comparable to a sizable oven for wood. The dried wood is then baked.
Image credits: tuscarorawood.com
The moisture is drawn out of the wood during baking, making it even more rigid. Doing this ensures that the reclaimed wood is stable and that its quality won't degrade.
e) Installation
It's great to have the wood installed by someone with experience working with it. They should guarantee that everything is handled and cared for properly when working with high-end reclaimed wood that has undergone an intensive reclaiming process. However, making it a DIY project is acceptable if you have some experience.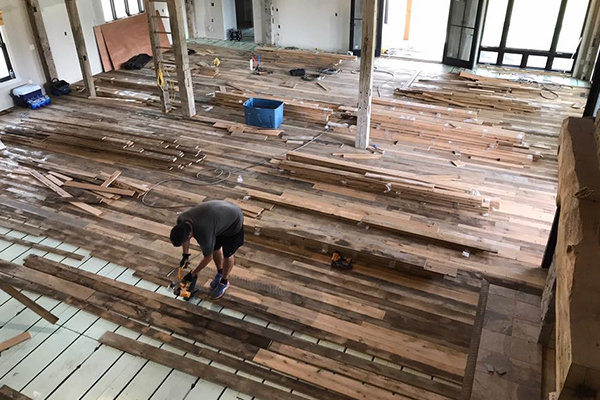 Image credits: barnstormerswood.com
Harvesting Process and Where to Get Reclaimed Wood
Getting or locating the wood is referred to as harvesting. The time required to gather the wood might vary greatly depending on where it is harvested. Harvesting can take a lot of time, depending on where the wood is.
In a high-end lumber yard, you should be able to ask about the origins of the reclaimed wood and learn about the steps taken to secure it. Additionally, before installing the wood, you can determine its age. Reclaimed lumber is frequently considerably tougher and more secure than regular wood because of how much time it has been exposed. Below are some of the places where you can find reclaimed wood.
a) Old Barn
Weathered beams or siding from abandoned barns can be your answer to that renovation project. With some scrubbing and a warm patinated finish, it looks new!
Image credits: grist.com
b) Shipping Crates
If you have a garden or yard project that needs an authentic feel, then shipping crates could be what you're looking for. Local companies normally buy these and resell them to customers. However, ensure you know what the crate was previously used for, as some may have been used to carry toxic or hazardous materials.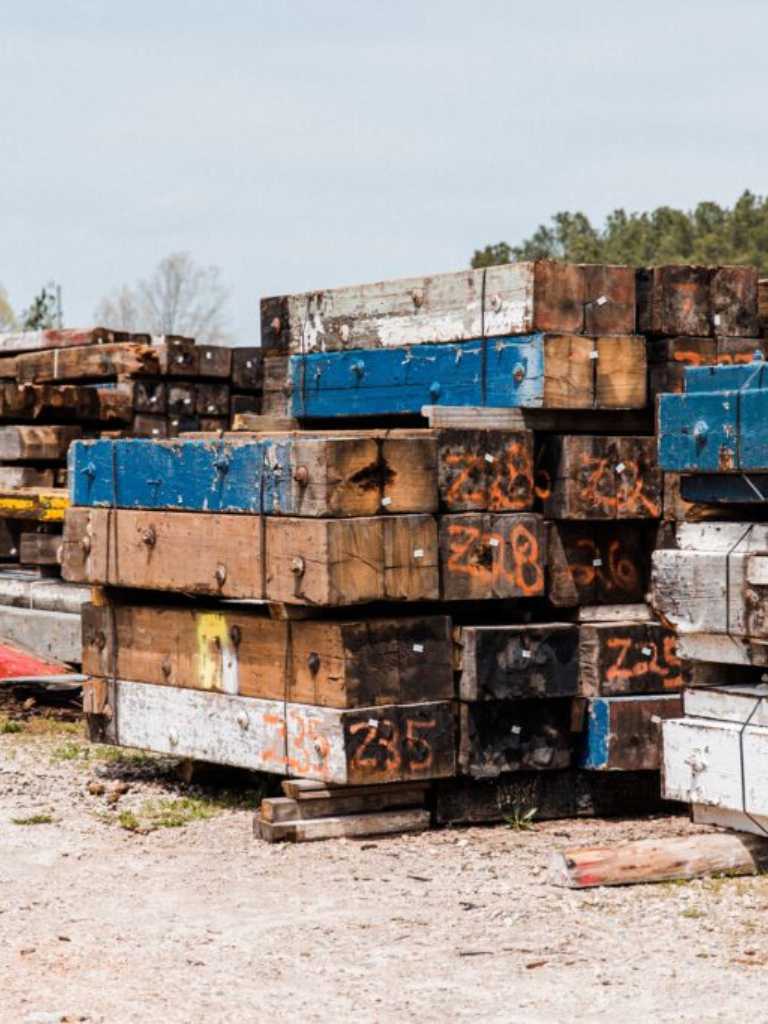 Image credits: southendreclaimed.com
c) Salvage Yards
A trip down to a salvage yard can land you some beautiful weathered pieces that can be reused around the home or office.
Always hire a professional to finish these wood pieces and remove any toxic paint containing lead.
d) Boat Yards
Some companies purchase ships and salvage the wood. Reclaimed teak popular on old boats gives a unique rustic character full of elegance and durability.
Image credits: antiqueboatamerica.com
e) Remodeling Contractors
Express your interest in reclaimed wood to remodeling contractors, and they'll be happy to give you antique wood torn out of a house. This saves them the disposal costs and gives you.
Get in contact with some remodeling contractors in your area. Tell them you will haul away any wood they tear out of a house. Contractors will be happy to give the antique building materials to you; it will save them a bunch of money on disposal costs. This works best if you are in an area where there are a lot of old houses.
Make sure to let the contractor know you are recycling the wood and only take wood. No drywall, insulation, or other debris; only wood; nails are okay if they are in the wood. If it becomes a problem and you find a lot of debris, you can start charging a disposal fee.
f) Direct from the Owner
There might be a rusted-out barn near the town or on the outskirts. Negotiate with the property owner, who can typically be located by looking up the property's address at the county planning office.
Image credits: thecolumbusdispatch.com
You might discover that the owner is only pleased to permit you to transport wood away for nothing or at a low cost. On the other hand, you can negotiate using anything other than cash if the owner happens to be a neighbor or someone you know.
g) Recycling Centres
You should start there if you're fortunate enough to live close to a local company that recycles unwanted building materials.
You'll probably find any item there already de-nailed and ready to move. Additionally, since you can see it yourself, you'll avoid wood with issues like warping, decay, or significant insect damage.
h) Reclaimed Wood Retailers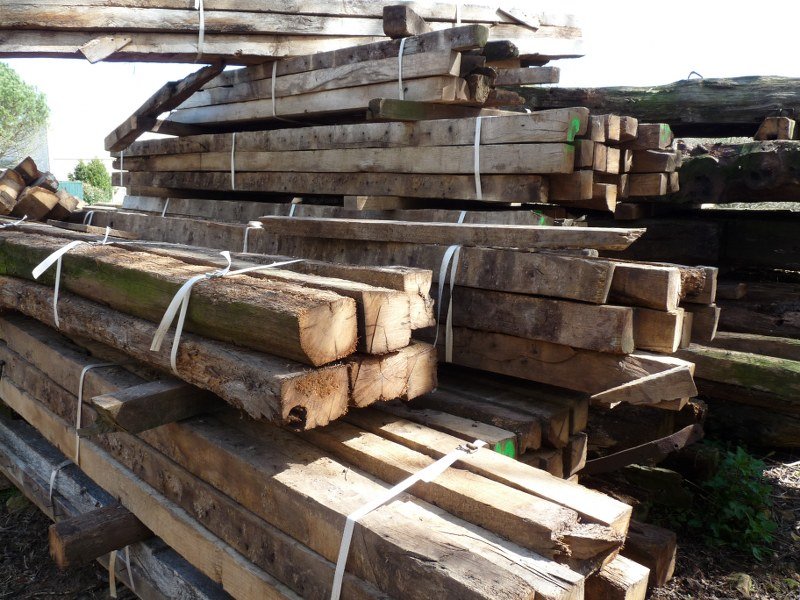 Image credits: thereclamationyard.com
Retailers specializing in this product are the most trustworthy suppliers of salvaged wood, and locating them online is simple. There may be one nearby if you're lucky enough.
i) Online Sources
You'll find many results when you search "reclaimed wood" on Amazon and other major websites like The Home Depot. But take note: Not all wood purchased from major merchants is truly reclaimed. Instead, it is brand-new wood that has undergone distressing, staining, or other processing to make it appear older and more aged than it is.
Real reclaimed wood typically has numerous nail holes, is unpolished, and isn't stained. You may be certain that the wood you buy is reclaimed if it has the Forestry Stewardship Council (FSC) certification label.
Reclaimed wood from an independent vendor can be risky to buy without first seeing it. You might obtain some lumber that is insect-infested or partially rotting. A large dealer's reclaimed wood is more likely to be FSC-certified. Even if some of it is unsightly, it will all be functional.
Top 10 Reasons to Use Reclaimed Wood
Reclaimed wood comes with many advantages.
a) Versatile
This lumber can create anything made of wood, including reclaimed hardwood flooring, decks, wall paneling, tables, countertops, cabinets, and shelving.
b) Eco-Friendly
Utilizing reclaimed wood reduces the need for newly sourced wood, reducing deforestation. In addition, reclaimed wood is a sustainable resource that, when obtained sustainably, cuts down on landfill trash as well as the need to create new items using environmentally hazardous processes.
For instance, installing an engineered reclaimed wood floor is better for the environment than installing a carpet made of petroleum.
c) Added Interest
The appeal of your finished product is increased by the history of the reclaimed wood you use. Old barns, ships, crates, demolished structures, schools, residences, railroads, pallets, and other structures are sources of reclaimed material.
d) Guilt-Free Exotics
Some now see exotic woods in the design industry as unsustainable unless made from salvaged lumber.
e) Strong
Because it frequently originates from old-growth trees rather than young woods, reclaimed timber is up to 40 Janka points tougher than virgin wood.
Your home will benefit greatly from purchasing reclaimed wood furniture. It's the ideal choice if you want things that will last a long time. Most salvaged wood is treated with oils and waxes to highlight and improve the wood's original character.
Treating the wood enables it to maintain its distinctive appearance for many years. However, you can also use stains and varnishes can also be used for a more durable finish, which may cause part of the wood's original appearance to disappear.
f) Unique
Everyone wants something unique in their house. Furniture made of reclaimed wood is full of character, and no two pieces will ever be alike. Your furniture is a one-of-a-kind work of art with a special backstory.
Your visitors will ogle your furnishings and enquire how they may imitate the style you have so expertly perfected. Whether you want to use it in your living room or kitchen, you may discover furniture made of salvaged wood that is both distinctive and lovely.
g) Preserves History
You are preserving our country's heritage and the United States' legacy by choosing reclaimed wood. It comes from a variety of sources. For example, you might buy wood from a renowned industry that formerly employed hundreds of people, a great old bridge, or a lovely old barn.
Utilizing recycled wood allows you to connect to the past while moving forward. Using historical reclaimed lumber is the best approach to honor your love of history if you share this passion.
h) They are Original
So many products we purchase today are mass-produced. As a result, finding something unique for your home will be really expensive. But when you purchase reclaimed wood, you can be certain that every single piece is unique and wasn't mass-produced like other contemporary wood goods.
i) Are Stable
Old-growth wood has a higher degree of dimensional stability than recently harvested wood. This results from the numerous humidity variations that aged wood has experienced over extended periods.
This makes items of old wood much more stable than new wood, making them particularly attractive for use in high-traffic areas like your floors. Reclaimed wood is a great option for flooring because it has already undergone extensive expansion and contraction over many years, if not decades.
The wood has also endured numerous weather extremes and climatic variations and reclaimed wood benefits from this stability and ability to withstand wear and tear from daily life. Consequently, your furniture or flooring will remain looking good for years.
j) Inspiration
Making something new and functional out of old, worn wood has a certain enchantment and motivation to it. It touches a nerve in our collective spirit and reminds us all that life not only has a cycle but that life may also be prolonged through resourcefulness and ingenuity. Reclaimed wood is ideal for innovative home designs, whether you are building a new addition or simply refurbishing an existing space.
What are the Disadvantages of Using Reclaimed Wood
Although reclaimed lumber has numerous advantages, it also has some downsides that you may need to know. This will ensure that you know what you are doing before getting any product made from reclaimed timber.
a) Price
Because of the processes involved, reclaimed wood could cost more than virgin wood. To make the wood safe for customer use, a dealer must first sort and prepare it, which frequently entails more effort than fresh lumber. You can reduce this expense in some circumstances by disassembling wood goods yourself if you have prior experience working with lumber.
b) Pests
A variety of pests prefer to live in wood. Look for indicators of an infestation before buying salvaged wood or disassembling something to get your wood.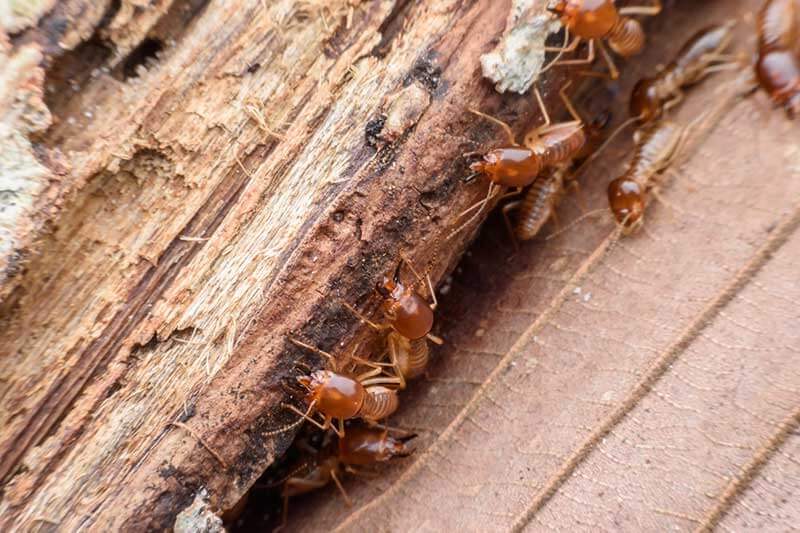 Image credits: amdro.com
Asymmetrical holes in the wood, the presence of insects, or timber that crumbles when touched are all warning signs. In any event, recovered wood should be kiln-dried before being used as a building material to eliminate invasive pests.
c) Toxins
Companies may treat lumber with chemicals and paint containing volatile organic compounds, adhesives, preservatives, pesticides, or lead or may have done so in the past.
Image credits: makefromwood.com
Check the wood for toxins if you're getting the recycled wood yourself. You can learn about any treatments the wood has received by knowing about the wood's previous life.
d) Legitimacy
Some traders exaggerate the origins of their products due to the demand for salvaged lumber. Purchase lumber from a trustworthy merchant with certifications from groups.
e) Other Dangers
You can encounter hidden threats like nails or other organic debris if you don't buy recycled wood from a company that separates and processes it.
Image credits: urbanlegacy.com
Before beginning a project, handle the wood with gloves and look for potential problems.
The Average Cost of Reclaimed Wood Products
Reclaimed wood products differ in pricing depending on different factors like;
Let's go through the costs of different reclaimed wood products.
a) Reclaimed Wood Flooring
Flooring is one of the most typical reclaimed wood products commonly sold and installed in homes across the United States. Additionally, it is simple to recover from buildings when owners decide to change the flooring, or the floors become dated.
Image credits: timberhomeliving.com
Depending on the type and quality of wood you choose, you can anticipate spending from $9 and $15 per sq foot for installation and materials.
b) Reclaimed Wood Beams and Timbers
Given the scale of the sculpture, the cost of the timbers and beams varies substantially. For example, a single, solid piece of lumber 12–15 feet long will cost significantly more than a smaller beam that is 8 feet long.
Image credits: superiorhardwoods.com
c) Reclaimed Lumber Doors
Sometimes reclaimed wood doors receive a bad rap. However, if they are managed properly or rebuilt, you will receive a lovely wood door ideal for your house. Choosing the right door can make a huge difference in your remodeling or updating job.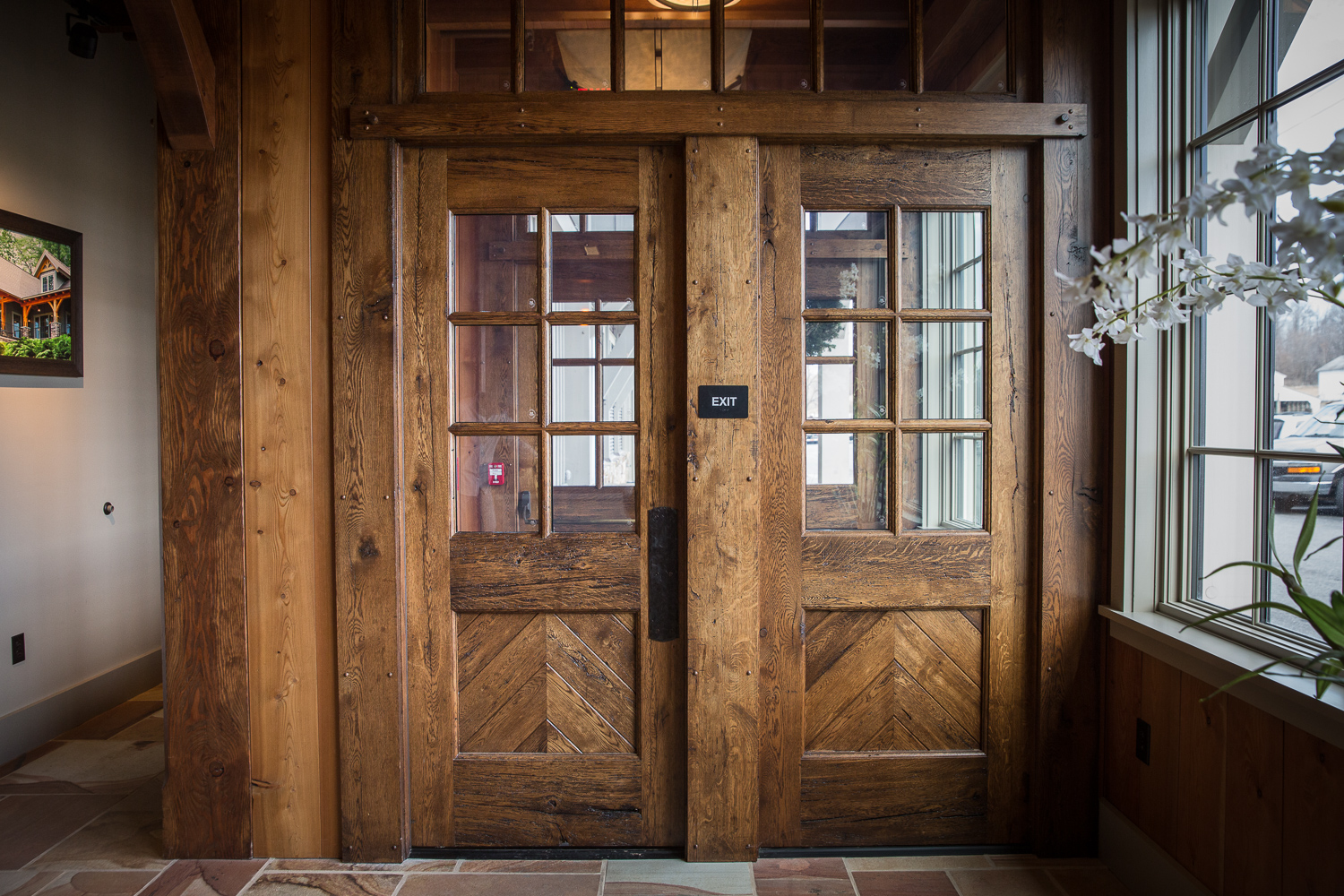 Image credits: architecturalmillworkandrestoration.com
These doors typically cost between $300 and $1,000. Some doors that are more substantial or have more character will cost a little extra.
d) Reclaimed Wood Mantels
There is a wide difference in the price of reclaimed wood mantels, beams, and other materials. Therefore, it's essential to do a little comparison shopping to locate the greatest product at a price you can afford.
Image credits: woodtouchllc.com
Finding a product that will fit your budget and selecting the proper one for your home are both crucial. For example, wood mantels can range in cost from $300 to slightly more than $3000.
e) Reclaimed Wood Paneling
Another typical item is wood paneling, which, despite being extremely similar to flooring, sometimes has a lower price.
Image credits: dimensionalimpact.com
Ultimately, the price of paneling will depend on where you get it and the wood used to make it. Reclaimed wood paneling typically costs between $5 and $7 per square foot.
Helpful Tips For Buying Reclaimed Wood
As we mentioned earlier, reclaimed wood is old wood whose function has been redirected. This means that it could be hard to get the best if you do not look well. However, with these tips, you can get what you need.
a) Select Dry and Tight Wood
Make sure there is still enough usable wood present before making a purchase. While most repurposed wood may have some cracks or splits, be sure they are tiny enough to retain as-is or fill with epoxy. This ensures they don't detract from the finished product's aesthetics or structural integrity. Make sure it is rot-free and totally dry as well.
b) Examine for Inner Stability
You must ensure that the wood isn't rotten or damaged in any other way because it's impossible to know how long reclaimed wood has been exposed to improper handling, elements, or other unfavorable circumstances.
Image credits: arcararesidential.com
Look for soft areas, rotten or moldy patches, or pieces that appear to have sawdust on them because these are signs that wood-eating insects may be present. Wood that demonstrates decay should be thrown away. The inside will almost certainly be sound if the outside is.
Rough-sawn barn wood is a terrific choice if you're striving for an old appearance. Choose reclaimed wood from an old floor that has been smoothed out over time if you want a more finished job. If you find wood with some paint worn off, you can avoid the DIY hack of painting and sanding younger lumber, which is very popular now.
c) Wise Distributor Selection
Suppose you're serious about getting the greatest reclaimed wood goods. In that case, you should steer clear of broken-down barns and classified advertisements in favor of a business that specializes in recycling materials.
Image source: mountainmodernlife.com
Many distributors are concerned about their brand, and their clients carefully select wood that still has a lot of life before processing it to ensure that it is dry and free of objects like nails and staples.
Ensure to investigate reclaimed wood distributors if you decide to pay the additional prices connected with doing business with them.
d) Your Safety Matters
If you're not careful, some ancient wood can have lead paint on its surface and may be harmful. Always sand outside; stay out of the house when it's windy because it can bring particulates inside. Wear a mask at all times and sand with a HEPA-filtered sander to collect paint dust.
Image credits: instructables.com
Reclaimed wood that hasn't been processed and might contain lead-based paint should be kept away from children. Don't use the paint if there's a remote chance it contains lead. Because they perform the cleaning duties, utilizing a "middle man," such as a salvaged wood provider, is a good idea.
Frequently Asked Questions On Reclaimed Wood
1. Is reclaimed wood safe?
Reclaimed wood is wood, which is a natural organic substance. LEED regards solid wood as a VOC-emitting source that is inherently non-emitting. Therefore, anything added to the wood, such as a finish, fire retardant, substrate, or glue, must be considered.
The environment is safer and healthier when VOCs are kept to a minimum since the finished wood product emits little or no contaminants into the air. The majority of salvaged wood businesses are concerned with sustainability and the environment. Therefore, they probably use low or no VOC materials, although it is always a good idea to double-verify.
2. How is reclaimed wood milled?
The wood is examined for defects and other flaws before being assessed for damage, and any metal objects, like nails, are removed. The milled material's final dimensions will depend on the measurements of the wood used for the construction.
Certain planks may need to be removed depending on how thin or narrow they are. As far as equipment is concerned, different processes are comparable to milling fresh wood. The corporation will specify how the material will be produced, and quality will be verified at each step.
3. Does reclaimed wood fade?
The wood may change somewhat or significantly based on the species, milling, finish, and installation site. There might be some color variation from plank to plank if the weathered face of the recycled material is exposed to reveal fresh wood beneath.
As with teak, this color variation might become less noticeable with time. Over time, the initial color difference in the boards will homogenize, making the teak brown color of all the planks more consistent.
Reclaimed wood used outdoors for siding or decking will weather more and more quickly than lumber used indoors because of placement.
4. Is reclaimed wood FSC certified?
Not all reclaimed wood can be FSC Certified Recycled, even though a lot of it can. Only post-consumer recovered wood is certified FSC. Post-consumer wood refers to wood that users have used in some way, such as fences, bridges, or other constructions like aging buildings. There are other additional ways to obtain recovered wood that keep materials out of landfills, but the FSC does not govern them.
5. Does reclaimed wood prevent deforestation?
Reusing old wood lessens the need for newly cut trees. However, deforestation may result from the continued cutting of numerous new trees. People must be informed about the roughly 18 million acres of forest lost each year and the effects of deforestation on the environment, animals, and general quality of life. Customers can make wise purchasing selections by being aware of its impact.