Since I added a sofa table behind my couch, I realized that was all I had missed the whole time. The furniture brings pleasing contrast in more ways than one. To achieve this, one must know how to decorate a sofa table to give the eyes something nice to rest on and round up the room well.
What is a Sofa Table?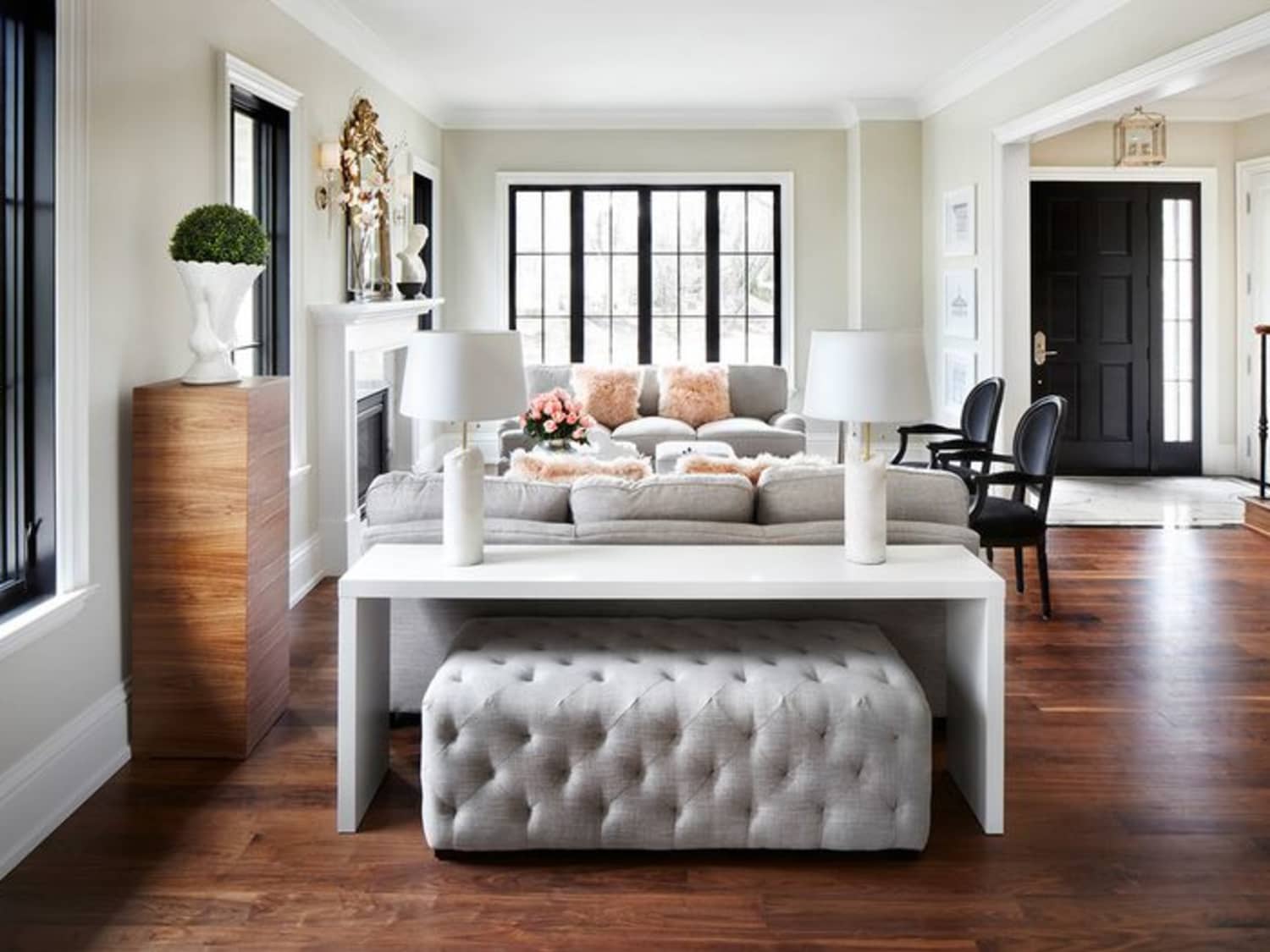 Image Source: ApartmentTherapy.com
Often in open floor plan living rooms, the back of the couch tends to be empty because most couches are designed to have their backs face the wall. Luckily, there are sofa tables to take care of just that by adding a touch of design to hide the back of the couch. The table brings a sleek and clever addition to the room's interior design.
Here are some sofa table ideas that you will love.
Sofa Table Ideas
a) Instant Bite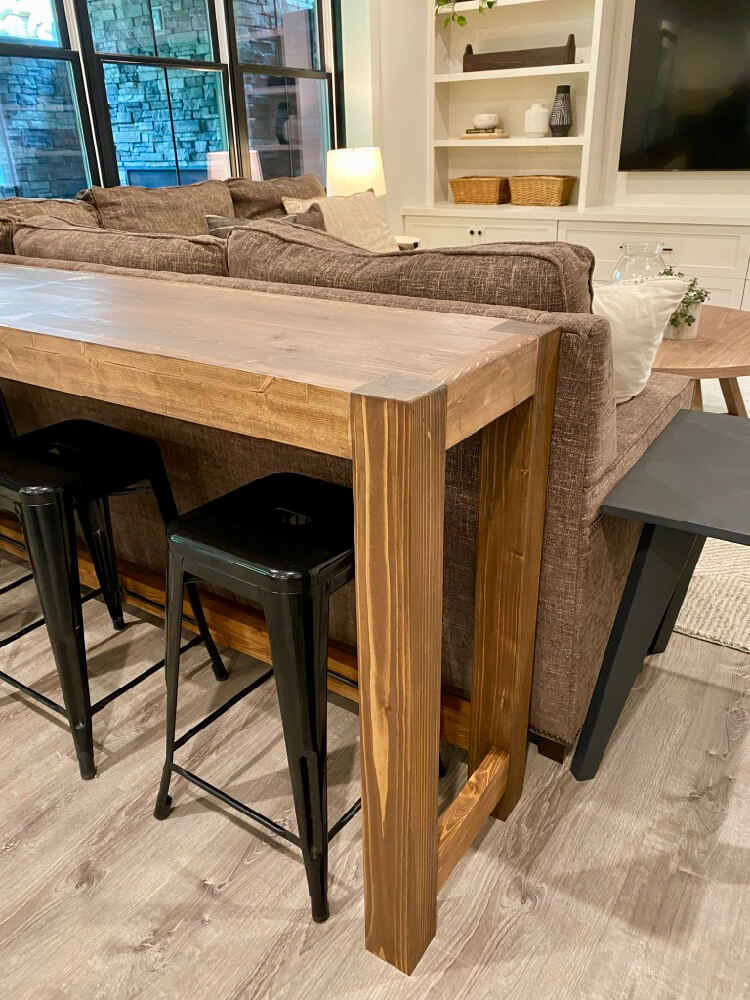 Image Source: RogueEngineer.com
This was my preferred setup when I was designing my living room. This design is like having the best of both worlds where I can either recline or have the mid-morning shake while having the same view. The sofa table does not overwhelm the couch but rather brings the room together in aesthetic and useful ways.
Here is one thing I enjoy most with this setup. Whenever I am having a conversation or watching tv with someone, I am not restricted to having a bite in the dining room. After all, the sofa table comes in handy.
b) Light Up My Mood
Image Source: Pinterest.com
Whenever I think of chic interior design ideas, the first thing that comes to mind is whether it achieves practicality. Once I can answer that question, the idea works out naturally.
Having lamps on the side table will make a huge difference in how the room is lit up. Here is the best part. I never enjoyed the trips to the light switches on the wall and back. But, this setup allows me to stretch my hand back and take care of the light situation.
As an ambient solution, table lamps would work perfectly because they are placed behind the couch, which is most likely at the center of the room. This is the most strategic spot to have the light in any room. Look at where the ceiling light is to confirm this point.
c) Off-Center-Piece
Image Source: homedit.com
Centerpieces are the nail that holds together a room visually. A simple sofa table with a centerpiece of choice is one of the most thoughtful statements you can make in your living room. This is probably the thing that will catch the eye first, and you can infuse your personality into the home decor with decorative items on the sofa table.
d) China and Around the World
The one thing that I find very satisfying is a piece of china under matching lamps. Ceramics have some magic to them that is undeniable. With this design, you are creating a grounded look because of how much harmony a piece of china creates.
Image Source: thespruce.com
The great thing about having china mixed in with furniture is that you can achieve a similar result with the largest or the smallest pieces you can find. Think of how both a bonsai and a massive tree have an overwhelming effect.
e) More than Words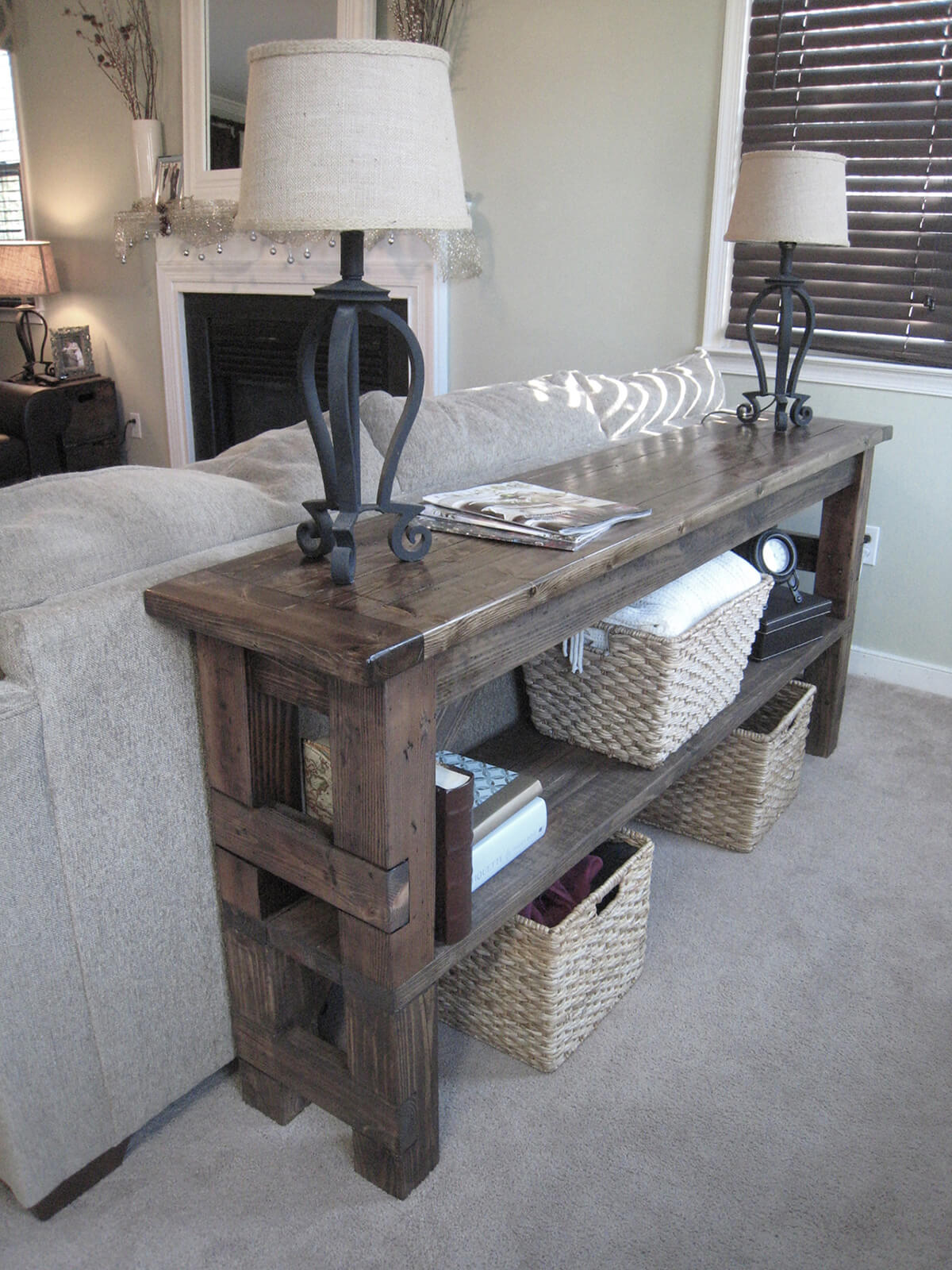 Image source: homesandgadens.com
There is nothing more soothing on a couch than having a good read. Additionally, nothing looks more classic with wood than books. So, this is a chance to get the best look while never getting bored on the couch. You can reach for a magazine, and your next two hours will be sorted out. After all, this setup is a great choice to keep your guests busy whenever they sit on your couch.
f) Game Night Antique
I love having game nights. Whenever we play monopoly, getting people to sit together around the table is hard when I only have a couch. This setup allows me to keep an ottoman or two under the table. I can save on space and put the area beneath the table to good use.
Image Source: the spruce.com
Please take a second to think of how convenient and stylish it is to have ottoman stools in the house. I can go with matching china on top of the table to keep the look tight and on point.
g) Family Basket
Nothing brings more joy than having your family as the first thing you see when you get home. Of course, this is never physically possible most of the time, but this setup gives you are chance to keep a real connection with your loved ones. You can have photos of your loved ones on the sofa table for constant reminders.
Image Source: Pinterest.com
Underneath a rustic wooden table like this is where you add the homely feeling by adding a basket. Our goal is to get a warm and cozy home and a reminder that we all are in the same basket regarding family.
h) Bold
Sometimes it is good to make a statement and set your intentions right. This sofa table perfectly combines a counter and a storage space right over your shoulder. You can have a set of drinks, and where better to have them than next to the couch?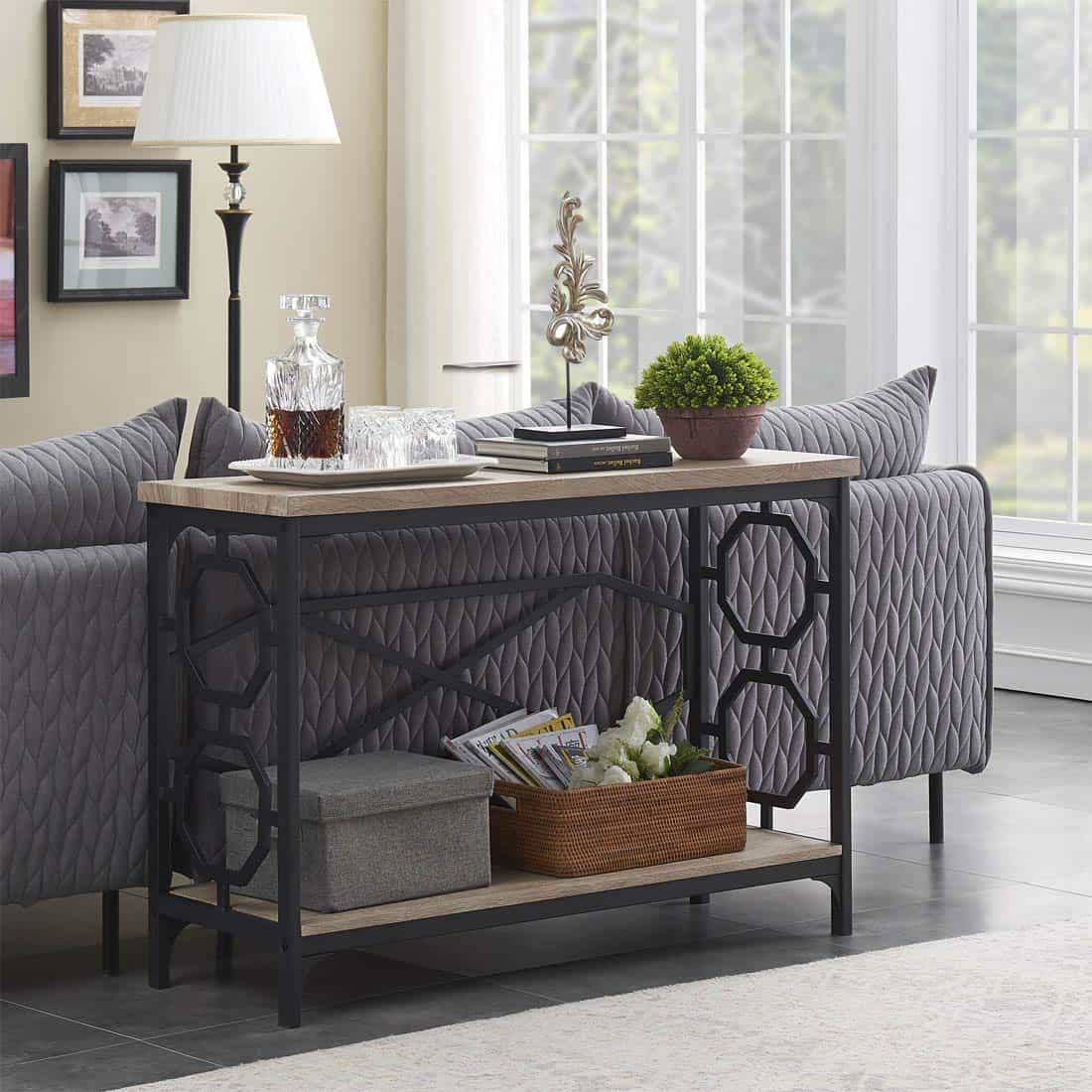 Image Source: decorsnob.com
One of the kindest gestures when having a word with someone on the couch is to offer them a drink. Here, we are all about convenience. So you will not have to make that thousand-mile trek to the nearest cabinet for a drink.
Console Table Ideas
You can use the sofa table interchangeably with the console table. The console table is the piece that sets the mood for the house, and you have to get it right because the ambiance in the house is everything. So here are some console table ideas you have to try out.
1) Lines and Circles
Lines and curves have a way of working together to come to a great outcome. This is one way to achieve a console table design. The furniture creates order and saves time when you leave or come back home since you can keep things like keys on it.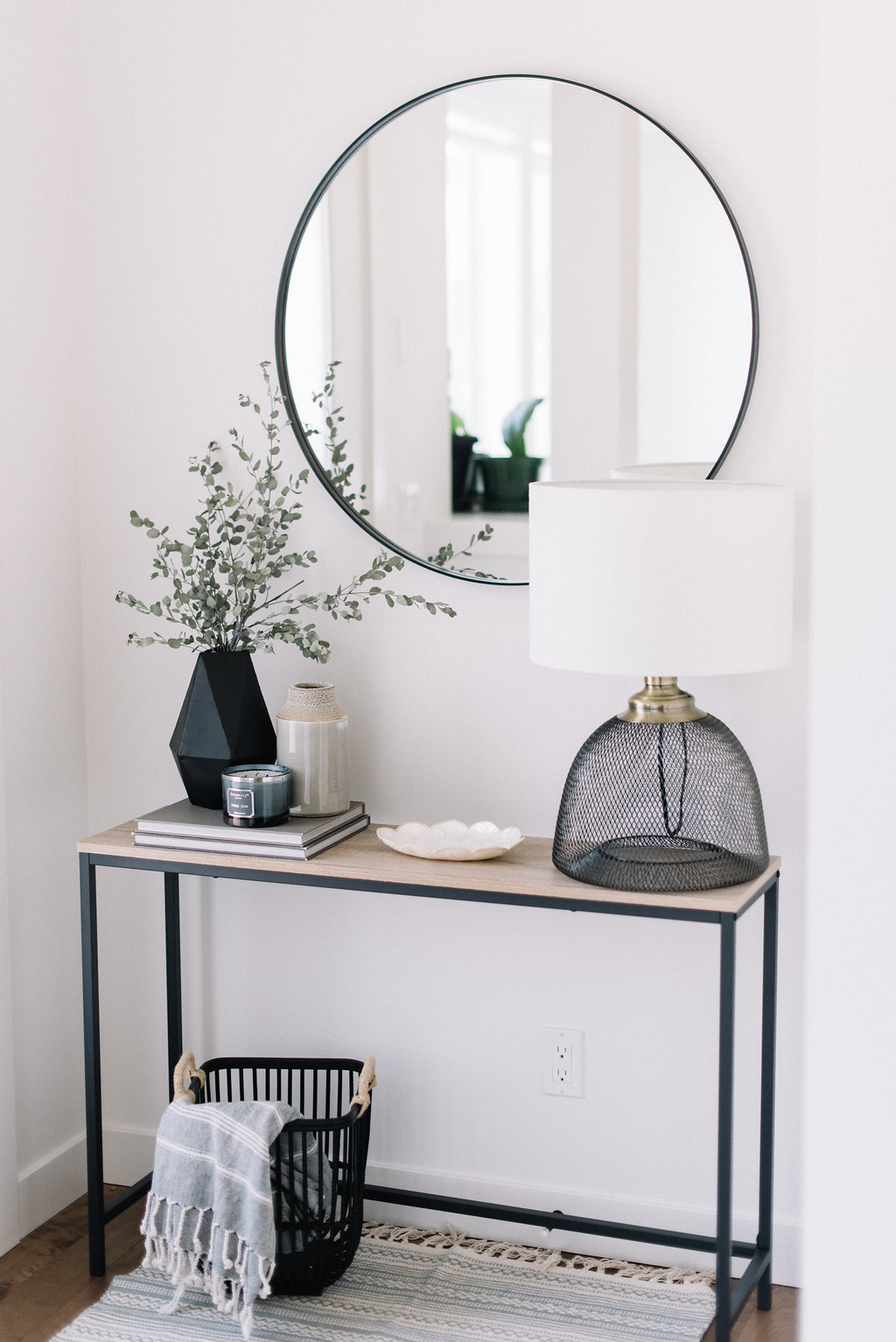 Image Source: decoist.com
You can achieve the circle by having a mirror or a stylish wreath for your interior. A circle and a square or a rectangle would work perfectly if the design is minimal to create a neat outcome.
2) The Ark
I love calling this console table and mirror combination the "ark" to keep reminding myself how much an arc can result in a nice design.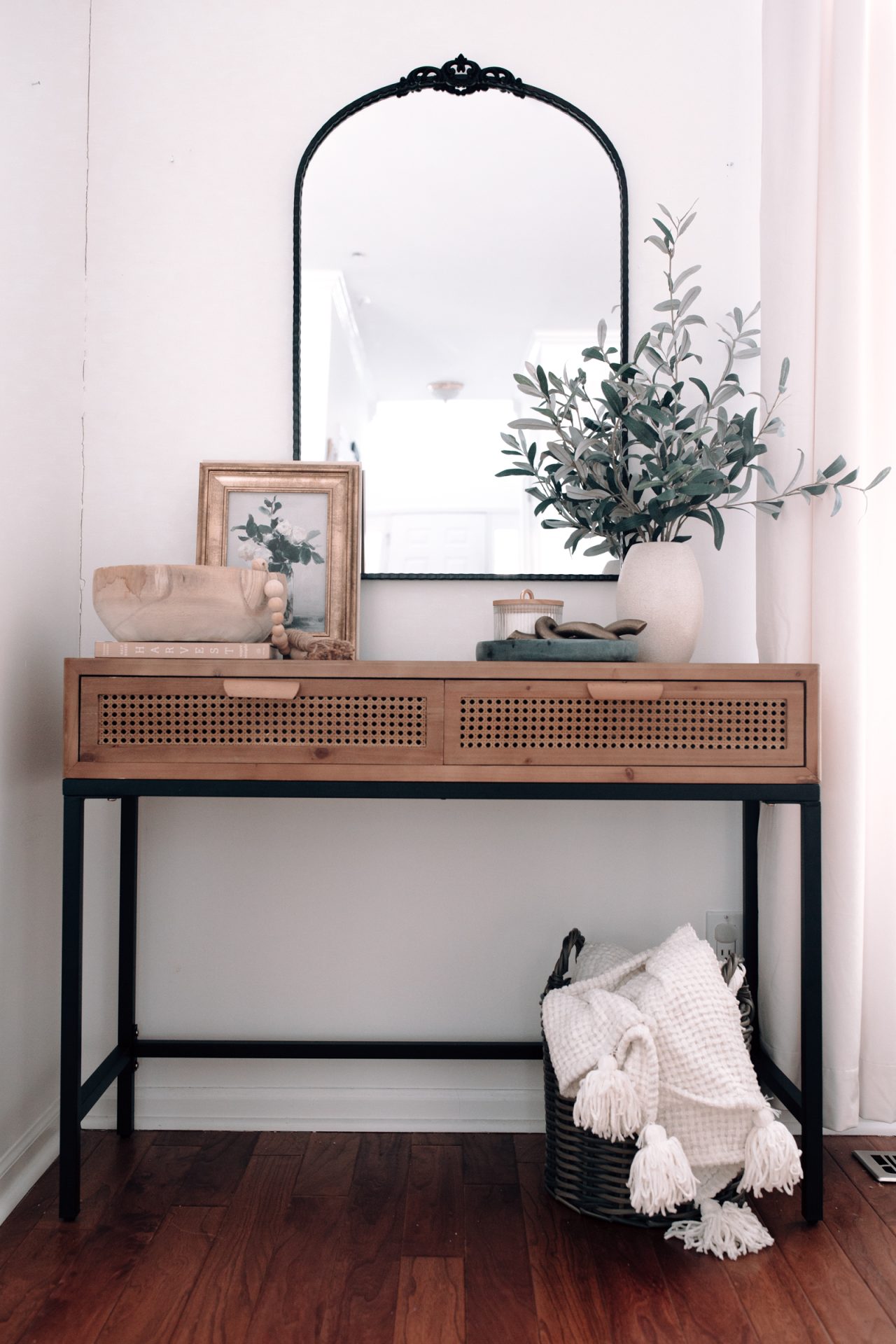 Image Source: universo.mobonline.com.br
This combination is more like the circle and the square, except here, the circle is not complete. You can have a neat outcome by having the arc on the wall and the solid shapes on the console. Few styles can be as satisfying as this.
3) Framed Console
A console table is a great way to have your car keys and morning running shoes in the most convenient spot. However, as long as the console table is in the house, it makes sense to make more out of it. Large frames have always worked for long surfaces. The massive design of a picture or art makes everything harmonious, regardless of how scattered the keys and coins will be on the console's surface.
Image Source: pinterest.com
The console table can have hidden storage space to make the entrance look neat and less distracting.
4) Greenery
Nothing is more satisfying than getting in the house and being met with some greenery. After all, you can have a little bit of the pacific forest inside your house. This idea works even if you have one tiny plant. As long as the plant has life, it will fit perfectly on the console table.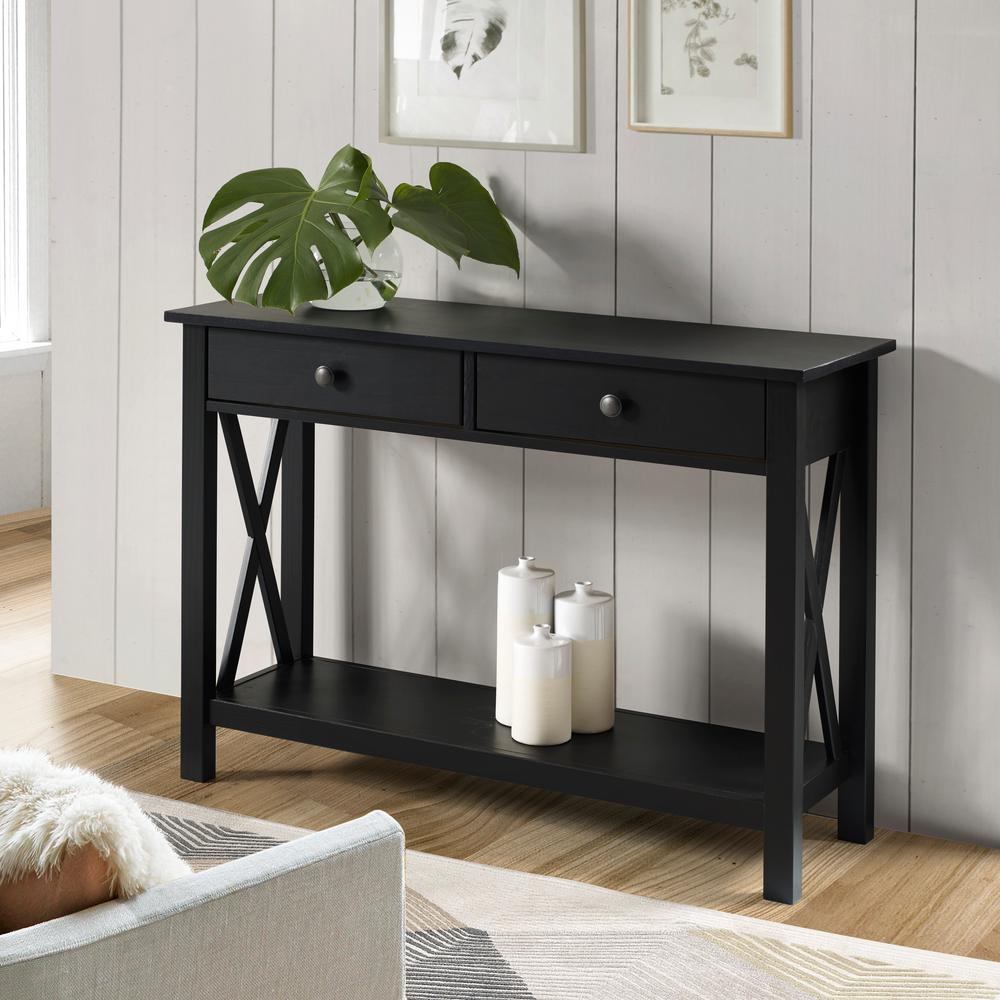 Image Source: newman.nsw.edu.au
All you need to do is make the plant stand out by having it against a white and neat background. This will bring the focal point to the plant and calm the nerves of whoever walks through the door.
5) Console Drawers
Drawers never lose their magic. Opening a drawer is like opening an app. It rewards you with a dopamine shot. Drawers work perfectly for a console table because they make the space around it neat. You can put the car keys and the torch in the drawers, not on the table. It is important to keep the entrance of your house as neat as you can because this determines whether it will feel welcoming or not.
Drawers are a functional design that has been around for millennia. While it is busy keeping your items conveniently, the surface will lay bare for any form of display. This is your chance to have a china vase with flowers in them.
6) First Light
When you enter the house at night, you want it to welcome you gradually and warmly. Having a table with a lamp at the door lets you focus on transitioning from the outdoors into the house. This way, you are not overwhelmed by everything you left all over the place when you left the house hurriedly.
Image Source: Veronicasolomon.com
Console table lamps add to the aesthetic of the entrance because light has something about it when used properly.
7) Rubik's Console Table
Image Source: Veronicasolomon.com
Having a 3-by-3 collection of frames put together on the wall will always go right. This design is like having a window that opens you to a world of art or photos.
This design balances nicely with the long or circular shapes below the console table lamps and decors. The console shelf can get busy, and you need something else to keep the order. This is where the frames come in.
8) Rustic Console Table
Rustic designs are the best and easiest to work with. What's better is that you can make the setup a DIY project as long as you have the right DIY tools for your home projects. The rustic feel never grows old because it already has an old and rugged look. You can have a lot of fun working with this design.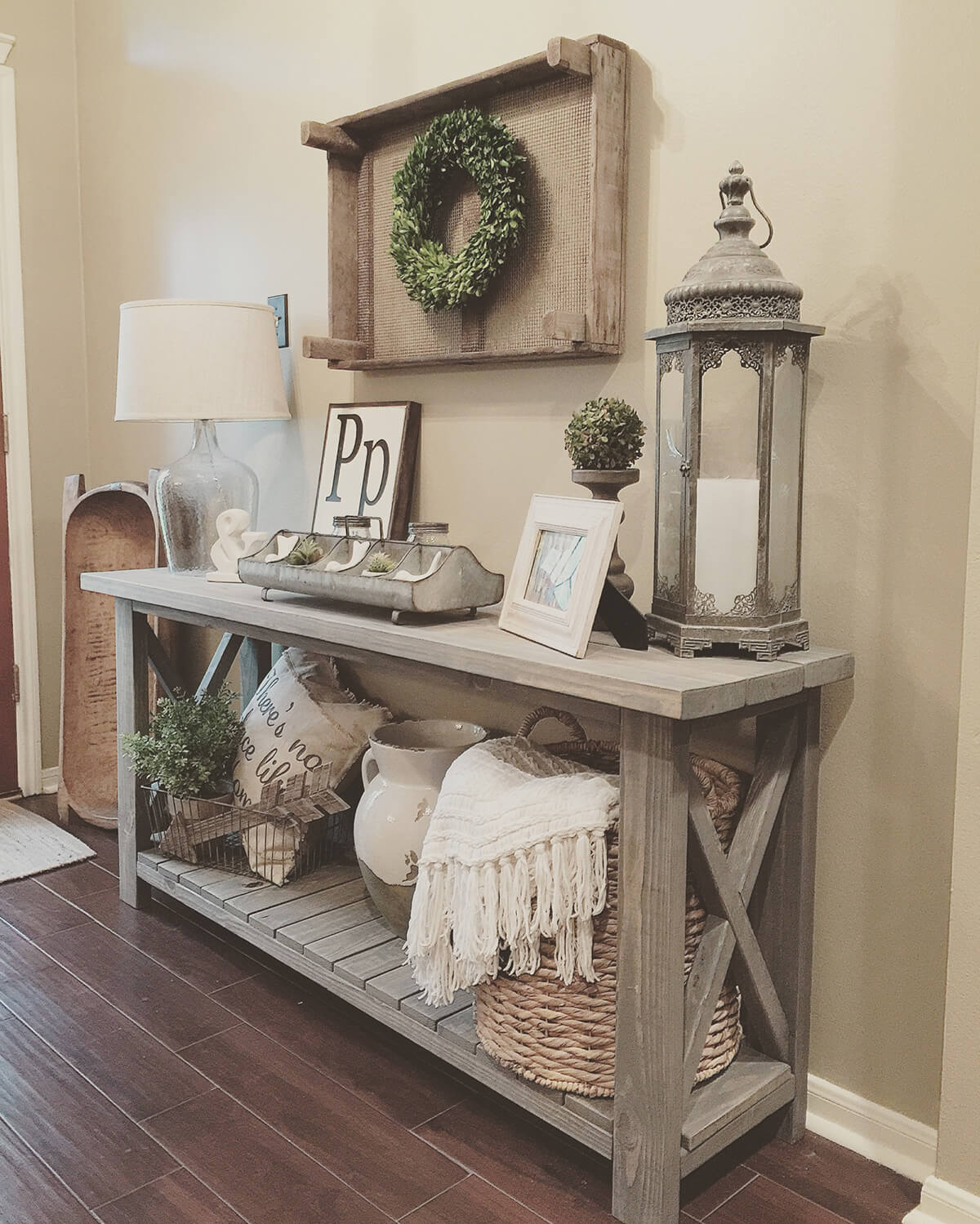 Image Source: homebnc.com
9) Color on the Wall
You can use the color on the entrance wall to make the console table stand out. You will be good to go if you know how to match color combinations. There is a thing about colors that makes the mood change if the painting is done correctly.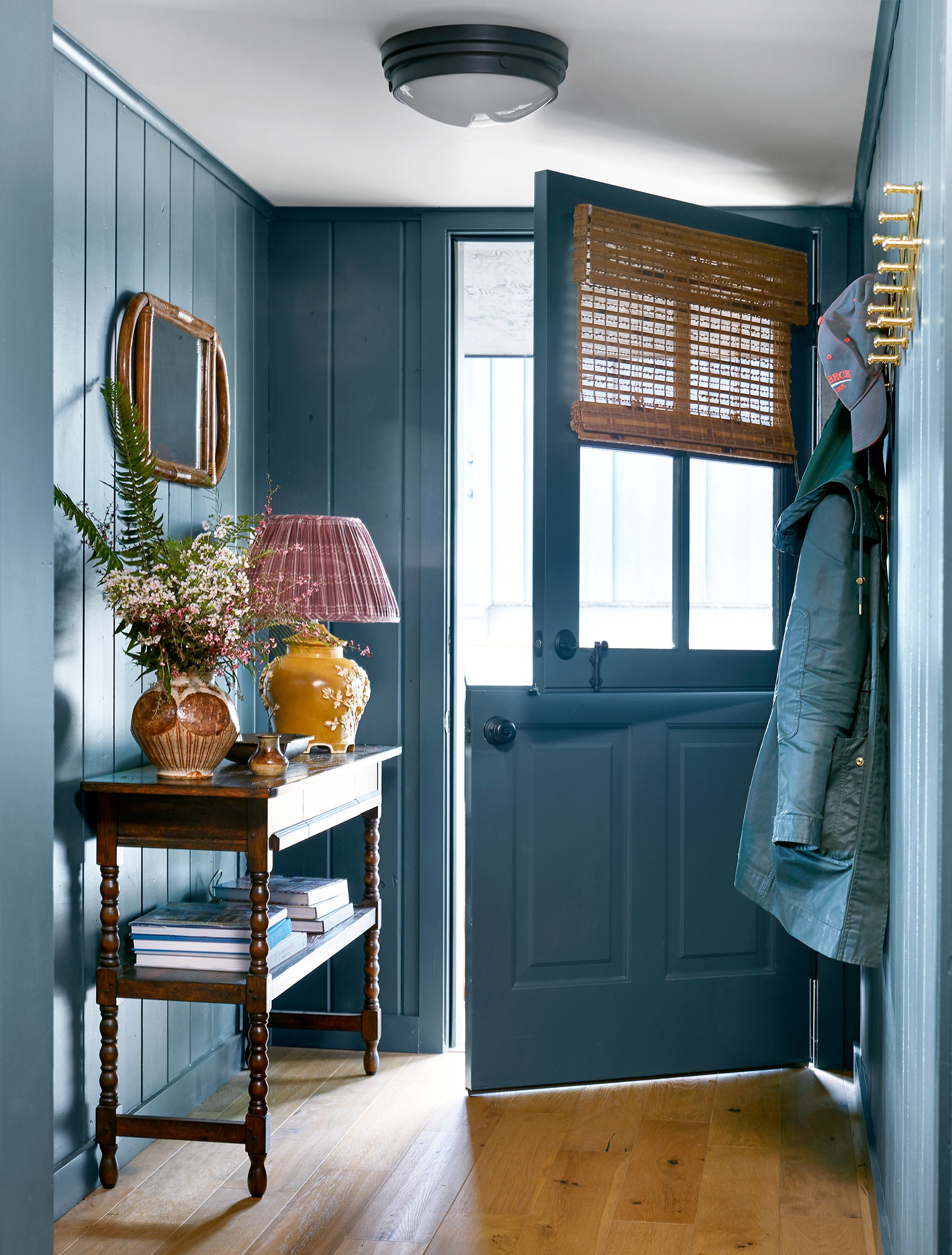 Image Source: housebeautiful.com
There is a high chance that the console table you will pick is honey oak. To keep the new look, you must look at colors matching honey oak.
Final Thoughts
A traditional sofa table can do the much-needed magic to your interior design. If used properly, a slim sofa table will be the ambient item that is responsible for everyone's love for your space.
The point of having furniture in your house is to be able to use them. This is why you can use a sofa table as a bar, shelf, rack, dining, or coffee table. These tables also give you the chance to have extra seating.