Our homes have different types of windows, and not all window treatment options will work for all of them. Window blinds are a practical addition to your window treatment options since they are cost-effective, energy-efficient, and contemporary. Read through this blog post to learn what types of window blinds are in style and find the most suited for your home.
What's the Purpose of Window Blinds?
The main purpose of using window blinds and shades is to provide privacy and control the light that enters your home. They restrict those from the outside from seeing things on the inside and let you keep the sun out while still limiting internal light from escaping.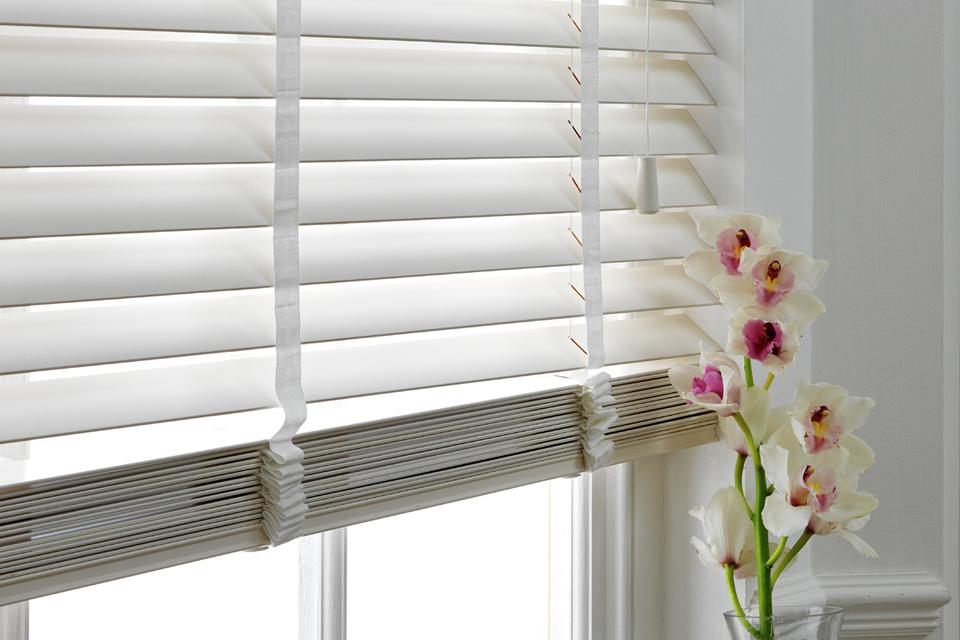 In addition to that, the binds are also known for their ability to insulate. Any type of window blind can insulate the window it is on to an extent. However, other types, such as the thermally efficient blind, are specifically designed with energy conservation in mind.
Finally, they are used to add style to your home. Window blinds are hugely diverse in terms of types available and what they look like. This means you can easily get them in different colors, finishes, and sometimes, designs or patterns to match the existing decor of your home.
What Types of Window Blinds and Shades Are in Style?
1. Wood Blinds
Wood blinds and shades provide elegance and bring the beauty of nature to your space. They will also create a warm, cozy, and energetic vibe in your room. These blinds and shades are mostly best suited for a boho style or mid-century spaces.
Image Source: terrysfabrics.co.uk
In addition to bringing a natural touch you your space, these light-filtering window treatments are environmentally friendly. They are also perfect for blackout blinds since the wide wooden slats deliver a tighter close for darkness and more privacy.
The best part is that the wooden blinds come in different designs, and you will find motorization options for a contemporary space. In additional, you can easily get woven wood shades or faux wood blinds for your bathrooms and kitchens.
2. Cordless Blinds
Most traditional window blinds are usually operated with cords, requiring you to pull or release to raise or lower the blind slats. Fortunately, there is a cordless window treatment trend available for every homeowner.
Image Source: blindstogo.com
These window blinds are operated using a simple mechanism that lets you raise and lower the slats without cords dangling down. Additionally, you will find some options that are operated using a rod that swings vertically on the left or right side and others that require you to push and pull on the bottom rail.
4. Vertical Blinds
Vertical blinds are blinds specially designed for windows with vertical slats hanging from top to bottom instead of side to side. They allow maximum control of light and privacy.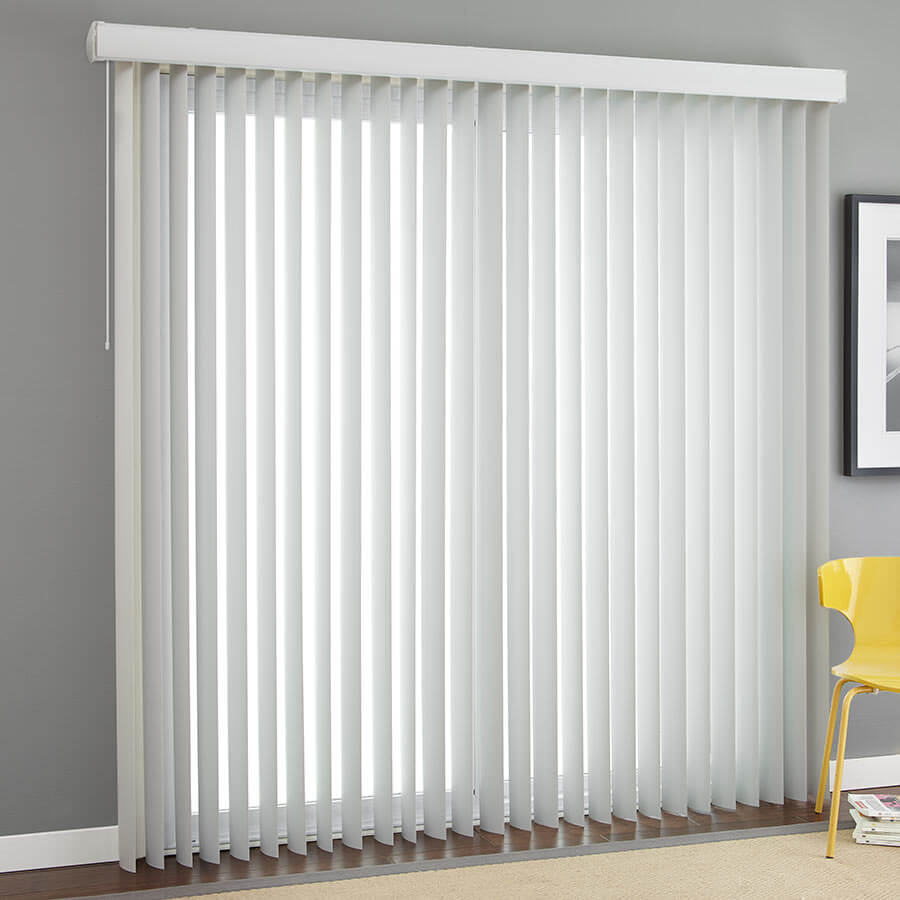 Image Source: selectblinds.com
The amazing bit is that these blinds are flexible and economical, making them perfect for large windows, odd-shaped windows, or sliding glass doors such as patio doors. Mostly these vertical blinds are made from PVC, wood, and fabric.
5. Smart Blinds
The most delinquent trend in types of blinds is smart blinds or motorized blinds. These types of blinds allow you to operate them with the click of a button. These Programmable, automated blinds can be controlled through an application on your phone or any other smart home device.
Image Source: appealshading.com
The best bit about these motorized window treatments is that you can set them to open or close automatically at certain times. Plus, you can also program them to adjust according to the amount of sunlight. Again, not only are these best smart window blinds super convenient, but they are also energy-efficient.
6. Eco-Conscious Blinds
Speaking of trends, an eco-conscious window shade is another great option. These types of window blinds are usually made of sustainable, energy-efficient materials such as jute, bamboo, or wool.
Image Source: zebrablinds.com
These window treatments are also usually free of any harmful volatile organic compounds or chemicals, so you are assured that you're helping make the world better. Beyond that, these blinds will help insulate your home, which saves energy and money in the long run.
7. Roller/Solar Shades
Roller and solar shades are not new in the market, but thay are definitely trendy. These window treatments provide excellent privacy and light filtering and are still relatively affordable.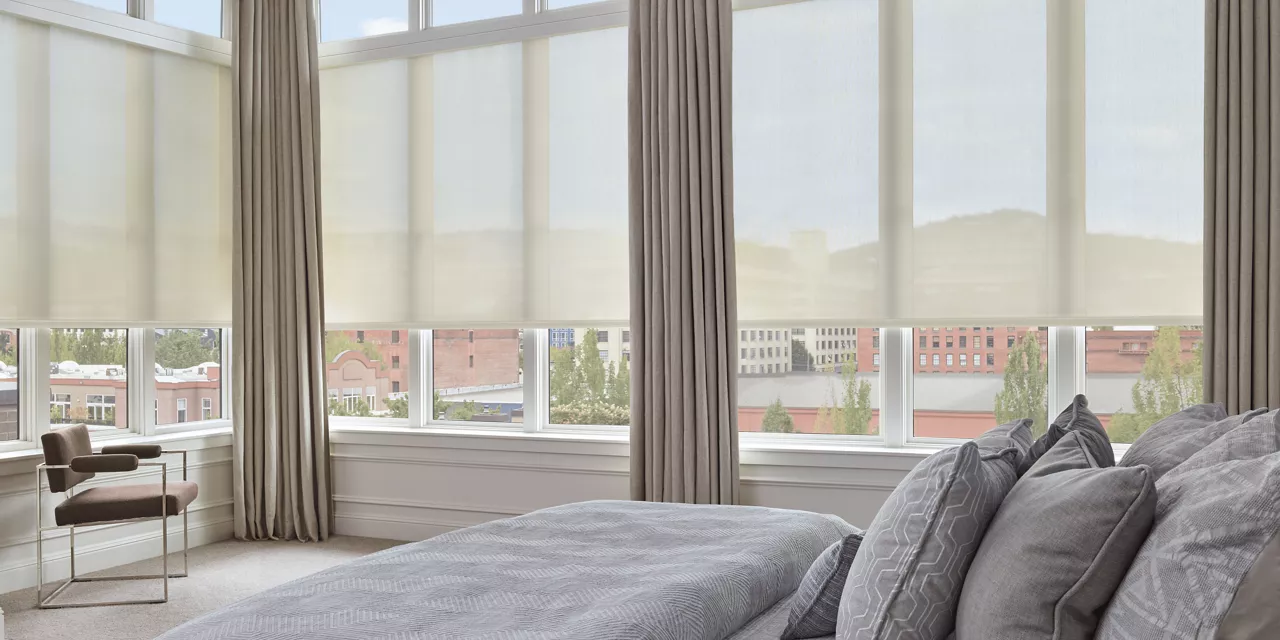 Image Source: hunterdouglas.com
Roller blinds are usually made from a single piece of material that is rolled up or down to cover the window. As a result, they are usually perfect for contemporary or minimalist decor. And since they come in a wide range of materials and colors, you can easily customize them to fit your needs.
Solar blinds are made from a UV-resistant fabric that blocks harmful sun rays while allowing natural light to come through to your room. This makes them ideal for rooms with a lot of direct sunlight. These roller shades are popular for those simple styles with minimal window treatments.
8. Vision Blinds
Vision, zebra, or double roller blinds combine the perfect balance of privacy and light control with the fashionable trend of bold stripes and color blocking. They are easy to operate since only a single control slides the opaque and translucent woven stripes above each other. The same procedure is used to raise or lower these window blinds.
Image Source: sublimeblindsandshutters.com.au
Additionally, these blinds tend to have a front layer that moves independently of the back, allowing the stripes to glide between each other, creating an open and closed effect with limitless light control.
9. Roman Blinds and Shades
Roman shades effortlessly add a classic and soft feel to your space, especially if it is made of linen fabric. Although these window treatments are abit expensive, they are aesthetically most luxurious, making them ideal if you are looking for a luxurious feeling in a room.
Image Source: selectblinds.com
Roman blinds come in a vast range of colors, fabrics, textures, and patterns, meaning you can get one that fits your decor desires. Again you can get automated roman blinds, making them more convinient.
10. Traditional Venetian Blinds
Venetian blinds or horizontal are the most popular window blinds today. The popularity of the stylish Venetian blinds is because of their effectiveness in keeping the heat out while still letting in the muted light.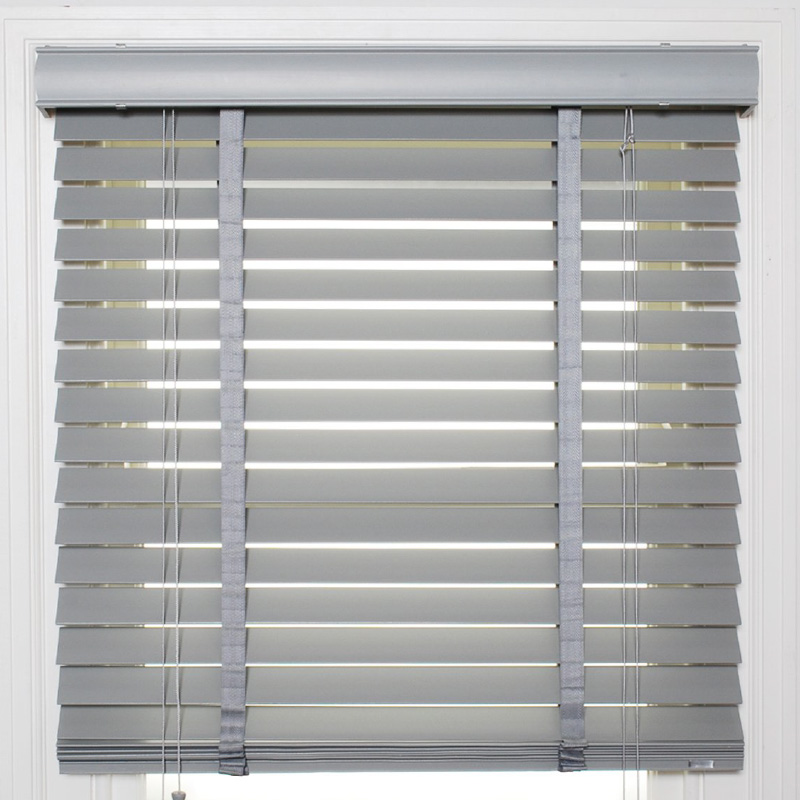 Image Source: vitendi.co.ke
Manufacturers craft multiple varieties with plastic, wood, or metal slats, meaning you can get whatever material you want. In addition, these blinds allow you to tilt the slats to let in light as you desire.
11. Mini Blinds and Micro Blinds
The mini blinds and micro blinds are similar to the Venetian blinds in function and form, but they have narrower slats about one inch thick for the mini blinds and one-half of an inch thick for the micro blinds.
Image Source: Blindsterblog.com
Mostly these blinds are made of aluminum, making them more affordable than Venetian blinds. Moreover, the mini blinds are usually much easier to clean. The mini and micro blinds work best for small windows, such as bathroom windows or other rooms that need small-scale options.
12. Panel Track Blinds
Image Source: select-blinds.ca
Panel blinds are another trendy choice for patio doors, sliding doors, and very large windows. They are usually mounted to the wall or ceiling. The large fabric panels slide on a track for easy operation. Plus, they can stack completely clear of the window or door when in the open position.
13. Outdoor Blinds
The outdoor blinds and shades protect outdoor living spaces from the sun and other elements. Also, they keep a patio area or barbeque space covered by rain. The best bit is that they are made of durable materials such as reed or woodgrain.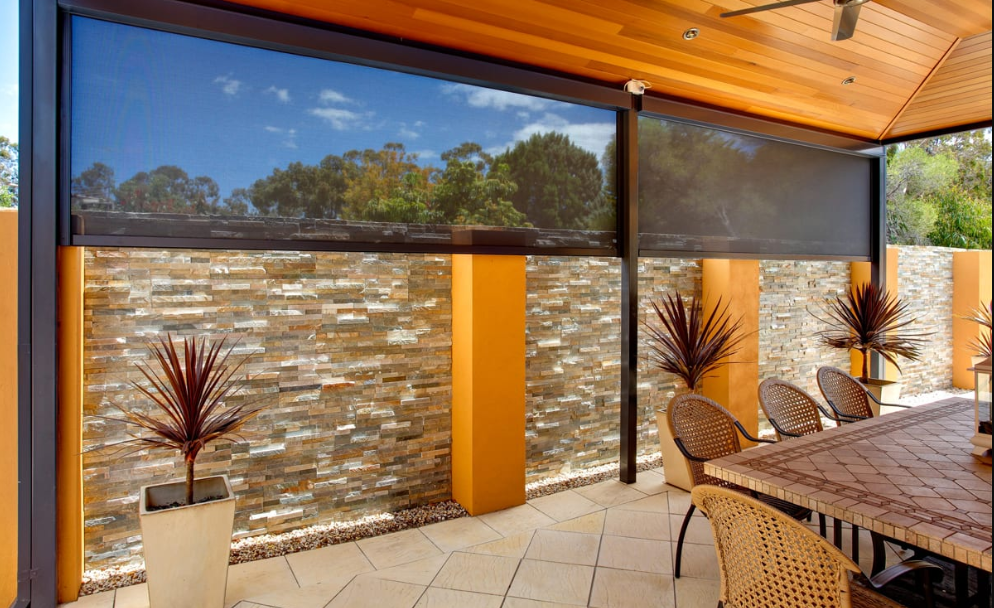 Image Source: outdoorworld.com.au
Again they are made of high-quality fabrics like clear or tinted PVC or mesh shade weaves, allowing you to optimize your outdoor space while still providing a sheltered space for customers or entertaining family and friends all year around.
14. Matchstick Blinds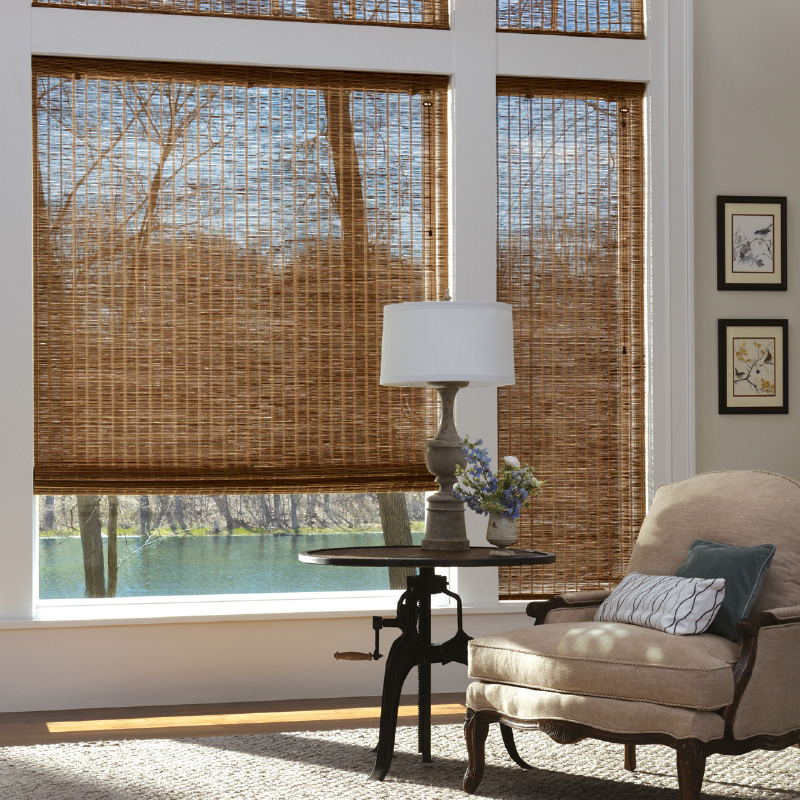 Image Source: vitendi.co.ke
Matchstick blinds are usually made of bamboo. They are called matchsticks because they look like several thin, rounded pieces of wood like matchsticks that are bound together to create a flat surface.
While you can order bamboo blinds in different custom sizes, you can cut or trim them down yourself if you want to save money.
15. Cellular Day and Night Shades
Cellular shades, honeycomb shades, or honeycomb blinds look like pleated shades or Venetian blinds, but they have combs that pull down to cover the window. These shades are trending thanks to their endearing combination of style and practicality. They can dramatically reduce the heat or cooling lost through your windows.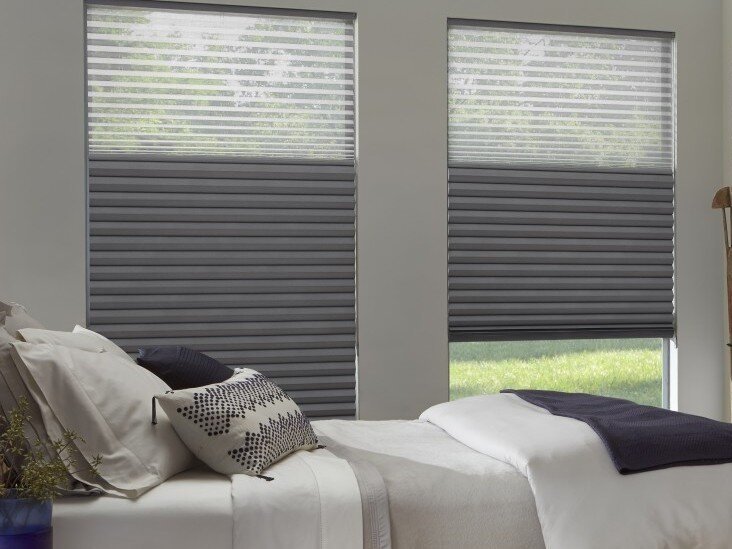 Image Source: solanashades.com
In addition, these blinds make your windows more energy-efficient, providing sound insulation and complete privacy coverage. These window treatments usually have two layers of material with cells in between, which form an air pocket that enables it to insulate the room. Furthermore, they effortlessly fit in with any type of decor.
16. Pleated Shades
Image Source: madeintheshadessi.com
Pleated shades and blinds feature a piece of pleated material that forms a shade with an accordion-like pattern. Baicallically it's a continuous layer of fabric. The amazing bit is that it can be raised or lowered easily.
Pros and Cons of Blinds
Image Source: homestratosphere.com
Not all window treatments are made the same, but each window is unique and needs thought and planning concerning which window coverings are the best for you.
Pros:
a) Privacy Control
In the same way they help you control the amount of light coming through, you can modify the blinds to provide you more privacy as your needs demand.
b) Light Control
Window blinds allow you to control the light coming through your window. You can gradually adjust the louvers of blinds to modify the light in small degrees compared to drapes or curtains.
c) Blinds Are Less Expensive
Blinds are relatively cheaper than most window coverings. Therefore, the blinds may be the most affordable choice for those desiring a financially conscious decision.
d) Smart Blinds
Unlike curtains or window treatments, some motorized blinds help you control them, allowing you to use them from a distance or program them to automatically open, close, or adjust at different times of the day.
e) Come in Different Styles
The blinds come in different styles and materials; they usually have various fabrics, patterns, and colors. Blinds have an easy and unfussy type that works well with contemporary decor.
f) Blinds Last Longer
Well-maintained blinds can last for more than 15 years. They are made of durable plastic, vinyl, aluminum, or polymer-coated wood, making them resistant to discoloration and staining.
g) Blinds Are Also More Hygienic
Unlike other window treatments, the blinds don't collect dust so easily and won't attract dust mites.
Cons:
a) Maintenance
Since the blinds have many moving parts, including louvers, ladder string, and cords, they need more maintenance if they break.
b) Style
Even though blinds come in different styles, they don't work well with some types of houses or home designs, such as traditional or classic style homes.
c) Water Damage
Water can also damage some types of blinds, especially those made from wood or aluminum.
d) Lengthy Cords
Blind cords can be a hazard around young children.
Featured Image Source: hips.hearstapps.com