Music is an art that unites all people globally. And, to enjoy music, you need your favorite songs, and, inevitably, favorite musicians will come to mind. One of the biggest names in music is Dolly Parton. The American country music queen has been in the industry for over five decades. But, if you want to know more about her, it sounds probable also to want to know about her home. So, where does Dolly Parton live?
Dolly Parton is known to insinuate she rarely lives at home due to her busy music schedule. As a habit, she mostly lives on her tour bus, which contains all her tour essentials. One of her reasons for staying on a tour bus is that she does not fancy packing and unpacking for hotels. But, besides the tour bus, Dolly Parton has a beautiful home outside of Nashville, Tennessee, that she shares with her husband.
Who is Dolly Parton?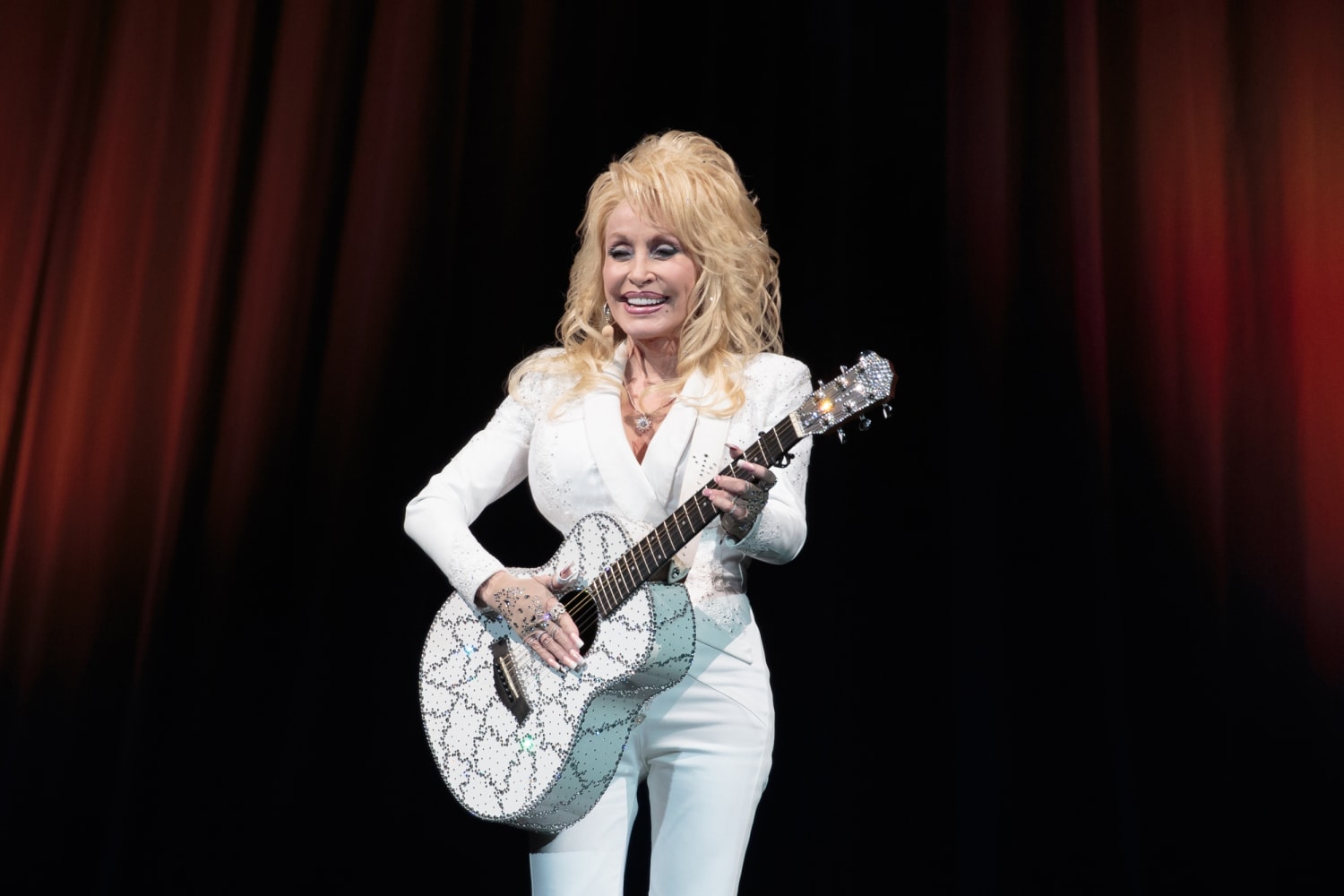 Image source: nbcnews.com
Dolly Rebecca Parton was born on January 19, 1946, in Pittman Center, Tennessee. She is a country music icon, singer, songwriter, author, actress, businesswoman, multi-instrumentalist, and humanitarian. Dolly Parton was born to the late Robert Lee Parton Sr and Avie Lee Parton with eleven other siblings.
She started her singing career early, releasing a successful debut album in 1967. Since the album was released, Dolly gained international fame with many country music hits like Jolene, Islands in The Streams, 9 to 5, and I Will Always Love You. Dolly also worked with other great musicians like Kenny Rogers, Porter Wagoner, Brad Paisley, Miley Cyrus, and more during her career. In addition, Dolly Parton has starred in many movies, including Joyful Noise, Christmas on The Square, and Hanah Montana.
Unlike other famous singers like Rihanna, Adele, and Beyonce, Dolly Parton has never wanted to buy many real estate properties. Instead, she has always insisted on living close to Tennessee, which is why she has only owned two homes in the state.
She currently owns a large home near Nashville that she shares with her husband of more than 50 years, Carl Dean. Before moving into this home in 1999, the couple lined in Nashville's Glencliff neighborhood for about a decade. This article will introduce you to Dolly Parton's Brentwood home and share details about her former homes. So, let's get started.
1. Dolly Parton House in Brentwood, Tennesee
Image source: yen.com
Dolly Parton is one of the most iconic artists of this era. She has won almost every award possible, including 11 Grammies and a Grammy Lifetime Achievement Award. So, it is unsurprising that Forbes estimates Dolly Parton's net worth to be around $350 million. With such staggering net worth and knowing Dolly Parton's love for style, we are curious to find out what her house looks like.
Although she had not allowed cameras into the property for almost two decades, we finally got a peek into the vast property as Dolly Parton allowed in a film crew working on the Shine On series in 2020. The house sits on a large piece of land protected by a large iron gate that blocks a driveway that leads to the house.
Image source: alforja.cat
The house itself spans 3,324 square feet, and Dolly Parton is believed to have bought it for around $400,000 in 1999. While it remains unclear how many rooms the house has, we understand it comes with a laid-back kitchen with white wooden cupboards, white marble countertops, and wooden furniture. The kitchen has a simple brown central island and is furnished with silver appliances, including a visible dishwasher.
Image source: closerweekly.com
The sitting room is also laid back and traditional with cream walls. The sitting area boasts a brown sofa decorated with burgundy scatter cushions plus a floral mat. In a video Dolly Parton shared online, she also showed another side of her living room featuring a cream armchair matched with a gold side table with a lamp and butterfly ornament on it. A large succulent plant is also visible.
Her hallway is painted light yellow next to a wooden staircase, and she has decorated the area with a retro wooden side dresser with bright flowers and a glass candle lantern placed on it. In another sneak peek, Dolly Parton showed her music room which features a grand piano, while another image she shared showed an area dedicated to her career awards and certificates.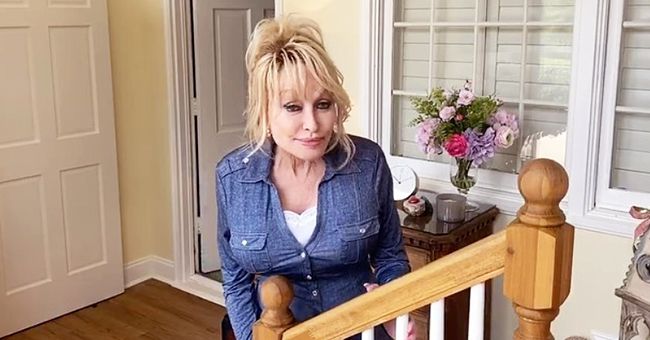 Image source: amomama.com
Dolly Parton's home sits on a large piece of land and features up to 10 structures. All structures are visible from an aerial view showing the couple's tennis court, a swimming pool, a farm, a chapel, and a gazebo.
2. Dolly Parton's Former Glencliff Home
Image source: dailymail.co.uk
Before moving into her permanent house in Brentwood, Dolly Partons and Carl Dean lived in Nashville's Glencliff neighborhood for nearly two decades. The house sat on 2.4 acres of land and featured four bedrooms, three bathrooms, an eat-in kitchen, walk-in closets, and a four-car garage. They listed this house in 2017 for $1.2 million.
3. Dolly Parton's Childhood Home
Image source: propertylistings.ft.com
Dolly Parton was born in Locust Ridge, Sevier County, Tennessee. She grew up alongside 11 siblings in a tiny 1-bedroom house in the then remote area. As Dolly says, her beginning shaped who she is today. So, she created a replica of the original house in her Dollywood theme park. However, the original house still stands today after she bought it back long after her parents moved out.
Wondering what the original cabin looked like? Dolly Parton recreated the house to allow her fans to visit and understand how most families lived in the 1940s. She took her mother's approval to recreate the house, and her Brother Bobby designed it.
The cabin looks simple from the outside, with a sign that reads,
"This cabin is a replica of the Parton Homeplace where Robert Lee and Avie Lee Parton raised Dolly and her 10 brothers and sisters. Most of the items on display are original family treasures. The original cabin still stands at its location in Locust Ridge."
Image source: flickr.com
The cabin's interior features two beds, a crib, a rocker chair, and an old dresser in the bedroom, and a wash basin near the bathroom. The kitchen walls are covered in floral wallpaper and newspaper, and there is also a small dining table with plates and cups. The kitchen also has an area with baskets filled with firewood. The replica cabin gives a sense of how Dolly grew up, with old photographs of the family placed around the house to improve the experience.
Image source: thesmokies.com
Frequently Asked Questions About Where Dolly Parton Lives
a) How many homes does Dolly Parton own?
If you are looking for a Dolly Parton address, she owns a permanent home near Nashville that she shares with her husband. Besides this home, Dolly Parton also holds custody of the original 1-bedroom cabin she and her siblings grew up in, which she recreated in her Dollywood foundation theme park. In addition, Dolly Parton recently listed her former home in Glencliff for sale.
b) Where is Dolly Parton's original home located?
Dolly Parton grew up in a small 1-bedroom cabin in Locust Ridge, and the Tennessee mountain home still stands there. 
c) How much is Dolly Parton worth?
Dolly Parton's net worth is estimated to be around $350 million. She amassed this wealth through her successful music career and is also an established businesswoman. One of her biggest investments is the Dollywood company that owns the Dollywood theme park, Dollywood Parks and Resorts, Dolly Parton's Imagination Library, and Dollywood cabins.