From hosting Family Feud and the Steve Harvey Show to owning many estates, Steve Harvey is nothing short of impressive. But, of course, we can all agree that his comedy specials will always be top-tier. So join us as we try to figure out where does Steve Harvey live?
Who Is Steve Harvey?
Steve Harvey was born in 1957 in West Virginia. He started his career when he took a leap of faith and performed at an open-mic comedy show. It wasn't easy to gain stardom, as the TV host lived in his car. However, after he won a national comedy competition in 1990, his career took off.
Apart from receiving 2 Emmy awards for Outstanding Game Show Host, he has also received 14 Emmy award nominations. Additionally, Steve Harvey is known as the busiest man in Hollywood. Just like Gautam Adani and Eco-activist Ted Turner, he is also an active philanthropist and humanitarian.
Inside Steve Harvey's Main Home in Atlanta:
In Atlanta's upscale neighborhood, Steve Harvey purchased the home at a cool $15 million. This is the home where the Family Feud host spends most of his time with his wife, Marjorie. The estate is the former home of Atlanta Fine Homes Sotheby's International Realty Tyler Perry. He later sold it to televangelist David turner. Also, the magnificent Atlanta mansion sits magnificently on a 17-acre estate.
If you want to know more about where Tyler Perry lives, here is a tour of his massive estate.
Harvey purchased the residence and added the highest-priced home in the history of Atlanta to his real estate investment portfolio. Here are some features of the Atlanta mansion that caught our eye:
a) Interior
The main gourmet kitchen has two marble islands with ample cooking space and state-of-the-art appliances. Additionally, two massive chandeliers also light the kitchen. The 2-story foyer houses a large terrace and a grand double staircase. The large house also contains a two-story formal dining room and a 2-story library and family room with a rear staircase.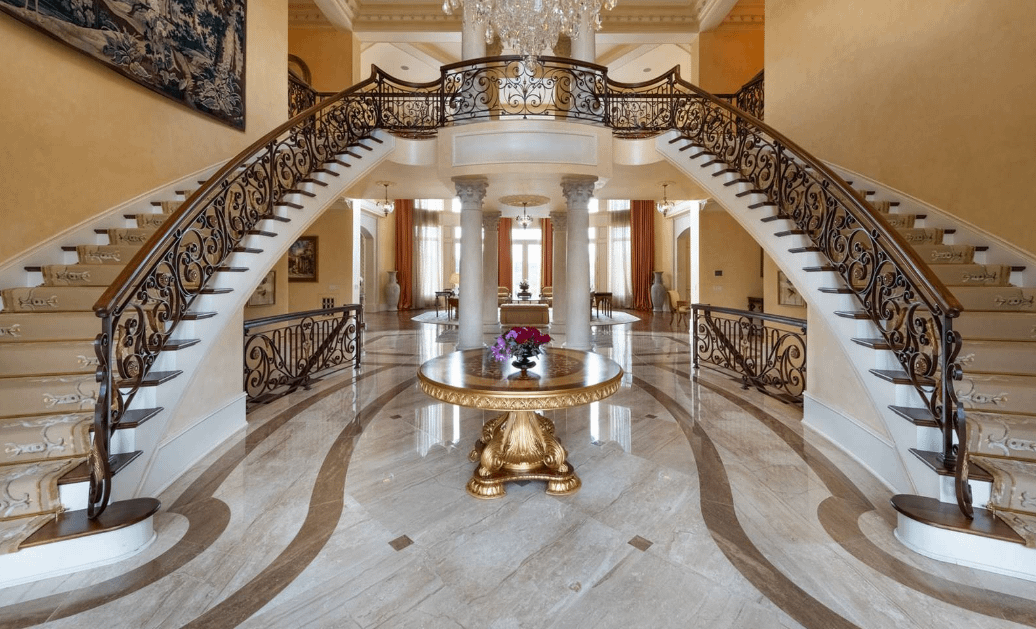 Image Source: homesoftherich.com
Steve Harvey's Atlanta home also houses a home office and a home theater that can comfortably seat at least 12 people. The resistance indoor swimming pool, built into a grotto-like space, is fully equipped with a kitchen. The home's best features are the two-story library, billiards room, spa, game room, and walk-in wine cellar with a built-in bar.
Image Source: theussun.com
For being the highest-priced home in Atlanta, it's not too shabby. We also loved seeing the high ceilings and arched cemented hallways that add to the house's regal and Versailles-style painting. Plus, the outdoor terraces house multiple outdoor dining areas.
b) Amenities
Overlooking the Chattahoochee river, Steve Harvey's home is 35,000 sq feet. The well-manicured gardens, topiary shrubs, and remodeling initially cost Tyler Perry a whopping $40 million. However, he did not hold back. The grounds also include a massive 70,000-gallon infinity-edge swimming pool with a bar. Plus, in the backyard, you can find a private sauna.
Additionally, the lighted tennis court sits on a two-story parking garage. A fully equipped gym, spa, hobby house, theater, and an underground ballroom, complete with a catering kitchen, lie adjacent to the garage. The estate also hosts some of the most expensive and luxury cars worldwide. Furthermore, the daytime talk show host is the proud owner of both formal and informal gardens.
Image Source: theussun.com
The estate also boasts an advanced security system, an entire estate generator, a caretaker's suite, and a guardhouse. The generator can power the entire estate if there is no electricity. In addition, 2 exterior entrances are on opposite sides of the property with a presidential security system.
It's also fully equipped with a large terrace and many entertaining spaces with fountains around the outdoor swimming pool. The grand entryway is steeped in grand architecture, and we could borrow entryway décor ideas from it.
In addition, the adjoining guest house for visitors to stay during their visits. If you think all this is cool, did we mention the runway for remote control airplanes?
c) Bedrooms
This palatial mansion in Atlanta houses 7 bedrooms and 14 bathrooms. The large main suite includes a beautiful hardwood walk-in closet and a built-in vanity with inspiring master bedroom ideas you can't miss out on. Both are adjoined to the master suite. Additionally, the master suite offers multiple stunning views of prime land overlooking the Chattahoochee river and Atlanta greenery.
Image Source: theussun.com
All seven bedrooms have different and beautiful views of the lush greenery surrounding the estate. The stately formal rooms are designed for hosting and entertaining spaces. This Steve Harvey house can also host at least 100 people at any given time, with plenty of space left over.
Other Steve Harvey Estates
Besides an amazing collection of high-end vehicles, Steve Harvey likes buying real estate. So naturally, it's no surprise that he has multiple properties all over America. Here are a few of the houses he owns.
i) Steve Harvey House in Chicago
During filming the Steve Harvey Show, he bought this luxury condo on the 88th floor of the sophisticated Trump International Hotel. The 5,500-square-foot condo is impressive, with 16-foot ceilings, three bedrooms, five and a half bathrooms, and three fireplaces. The bedrooms have large walk-in closets for an array of clothing.
Image Source: newyorkpost.com
The Trump International Hotel kitchen also has a butler's pantry equipped with Wolf, Sub-Zero, Bosch, and Miele state-of-the-art appliances. After Steve Harvey moved his show, the house was back on the market.
ii) Steve Harvey House in Texas
Inside Steve Harvey's Little Elm Texas home that he shared with his wife Marjorie is a 5-bedroom executive house with 6 baths. The estate sits on 3.6 acres of prime land. Additionally, the expansive entry with a dual staircase is one of the many incredible features of this house. Additionally, the catering kitchen has a large island for ample cooking space, double ovens, gas cooktops, and a bar area. The swimming pool and separate spa are great ways to relax.
Image Source: velvetropes.com
Furthermore, the master bedroom features a luxurious bath. The upstairs area features 4 bedrooms and a game room with a balcony. Additionally, the back staircase leads to the second study and a large flex room. Finally, the detached garage with an upstairs guest section overlooks the outdoor pavilion with a fire pit. The Little Elm Texas home has great memories. Unfortunately, however, it is currently off the market.
iii) Steve Harvey House in California
After Steve Harvey moved his show to California, he purchased an 11,000-square-foot home in the Beverly park neighborhood of Los Angeles. The traditional-style home has 5 bedrooms and 8 bathrooms. However, the best and most unique feature of the house is its all-blue kitchen since the whole house is white.
Image Source: velvetropes.com
The estate features a large library, chef's kitchen, maid quarters, and a screening room. Additionally, the 1000-foot guest house and pool are also quite impressive. Finally, the great patios, landscaping, and lush lawns make this property one of the most beautiful homes.
FAQ
1) What is Steve Harvey's net worth?
Steve Harvey has a net worth of $161 million. Besides being a radio and talk show host, Steve Harvey is a writer and producer and owns a production company called Steve Harvey Global. The company is focused on creating and delivering entertaining and motivational content.
2) What shows does Steve Harvey host?
Steve Harvey hosts multiple shows, including; celebrity family feud, Miss Universe competition, family feud, family feud Africa, court comedy judge Steve Harvey, and the Steve Harvey morning show.
3) Is Steve Harvey's obsession with suits real?
Yes, it is. Steve Harvey dresses well and has over 1000 suits. In addition, he has a clothing line that sells his trademark suits and ties. The line is for both men and women. The retailers authorized to sell his suits include; JCPenney, Kohl's, Belk, Sears, and Amazon.
4) How much did Steve Harvey drop on his Atlanta house?
Steve Harvey bought the house from David Turner for $15 million. It was previously owned by Tyler Perry, who sold it to David Turner for $17 million.
5) What is Steve Harvey's most famous philanthropic work?
Steve Harvey and his wife Marjorie launched and founded the Steve and Marjorie foundation, which aims to help communities with limited resources receive tools that could enable their success. The duo has also launched mentoring programs through the foundation, such as The Steve Harvey Mentoring Initiative for Young Men and Girls Who Rule the Word.
Steve Harvey is also an author and has written several books, including his top best-seller, Act Like a Lady, Think Like a Man. He also has several other ventures and non-profit investments.
The Bottom Line
After gaining fame for his keen sense of observational humor, Steve Harvey's path was made. However, with all his fame and success, the 65-year-old talk show host has no intention of slowing down. As a result, his real estate portfolio is impressive, as indicated by the beautiful homes and condo we have highlighted above.
Featured Image Source: pinterest.com