If you spend a lot of time in your backyard, you probably want to invest in making it as beautiful and inviting as possible. Enhancing your backyard can be as simple as creating a picnic area and planting flower beds or purchasing structures that can help add a unique flair.
You'll also likely want guests to marvel at your backyard, which will require additional touches. However, you don't want to spend more time laboring on repairs than enjoying your space. So, these four backyard structures we've highlighted are low-maintenance, easy to install, and will make your backyard the prettiest, most relaxing one in the neighborhood.
Reasons Why You Should Buy a Backyard Structure
Some of the reasons why you should consider purchasing a backyard structure include the following:
Protection from the sun: They can be an excellent option for those looking for a lovely shade location to take in the warm summer weather without getting burned. To protect you from the sun's rays, backyard buildings can offer a roof, a canopy, or a convenient place to hang drapes, flowers, and plants.
Increase the Value of Your Home: Good landscaping can increase the value of your house by up to twenty percent.  If you choose to sell your property, backyard constructions can improve the attractiveness and intrigue of your outside space.
Host Guests: Everybody enjoys an excellent outdoor gathering. Additionally, gazebos, a pool house, pergolas, and a pavilion are lovely and functional spaces to host family gatherings in the backyard.
Some Backyard Structures That Are Easy to Maintain
1. Arbor
Decorating with arbors is a terrific way to make your backyard stand out. Arbors often have arched frames but can sometimes have square corners. When you build pathways in your garden, they are frequently used to assist in creating and defining an entry/exit point.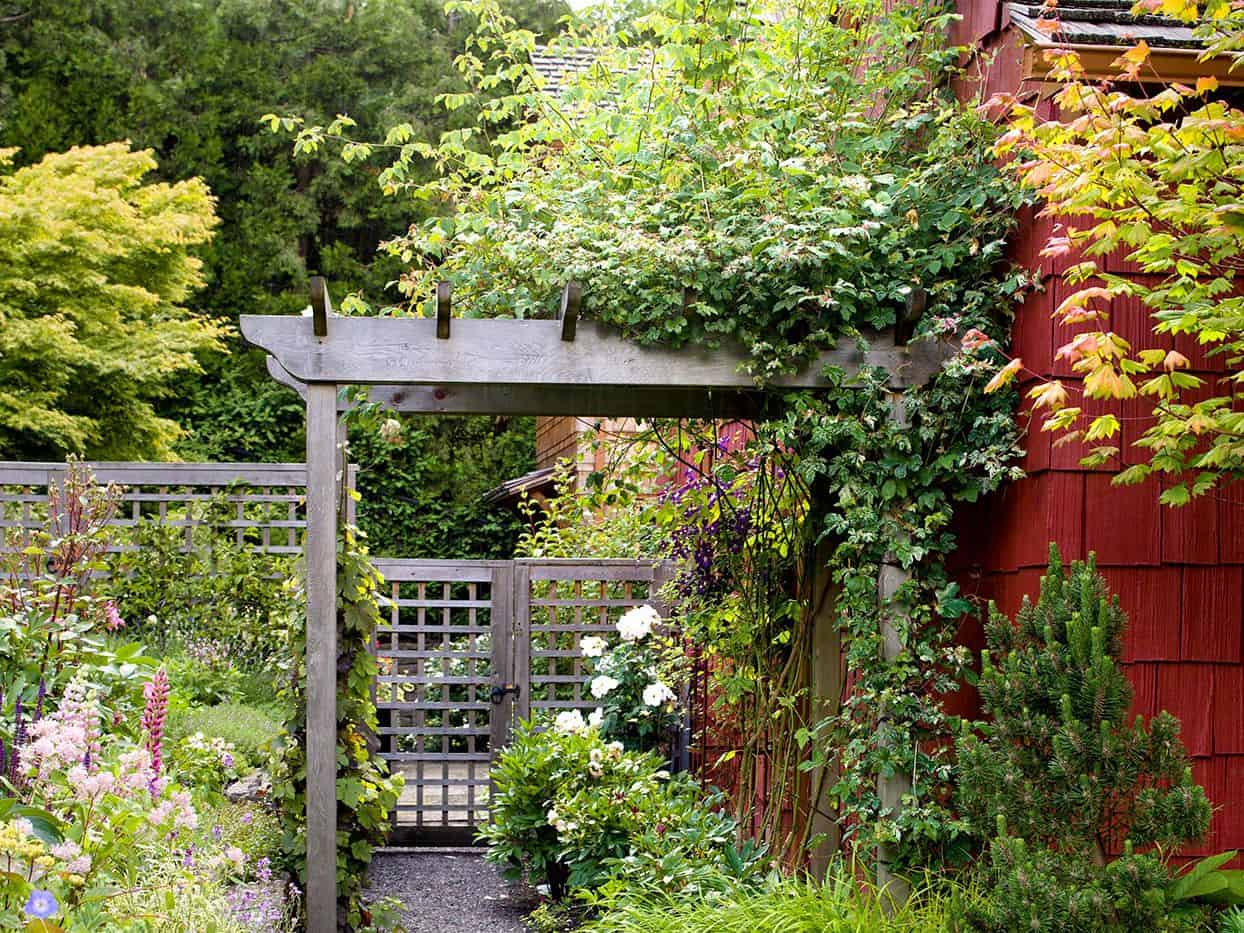 Image Credits: bhg.com
You can pick an aesthetically lovely arbor and allow the building to enhance the beauty of your backyard. On top of offering a space for plants to grow, an arbor can become a unique architectural feature. Whether you want it climbing with vines or as a path marker, an arbor can provide you with an eye-catching element that matches your home and will set it apart from the rest.
2. Pergolas
A pergola's slim posts and distinctive lattice top make it easy to identify them. Although a pergola's standard top is open, you can install a customized parasol or complete roof to transform it into an enclosed space. The slender pergola structure requires fewer materials and is typically more affordable than the other options.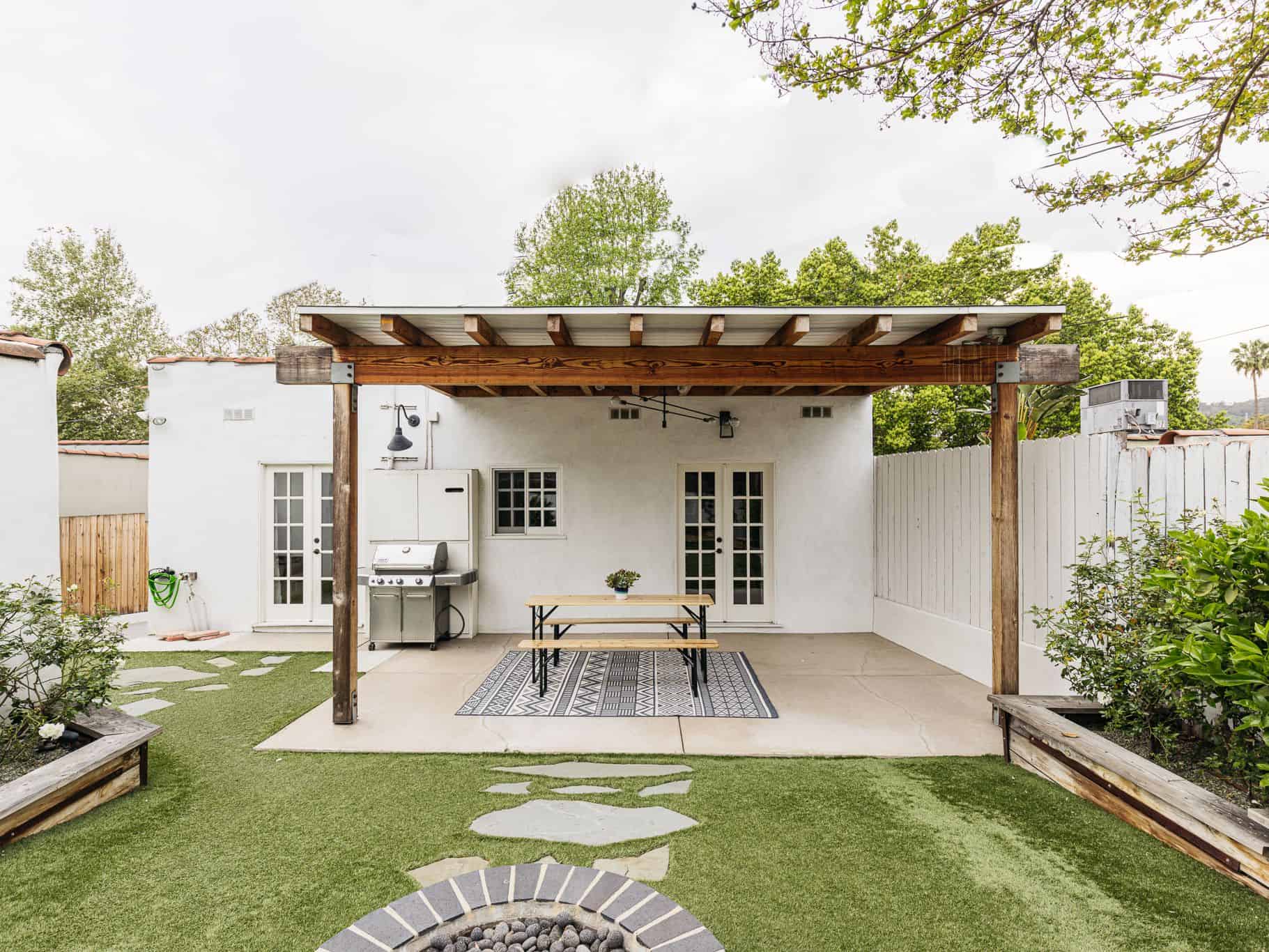 Image Credits: thespruce.com
3. Gazebos
A gazebo is one of the larger and more robust backyard structures in various styles. They make incredibly versatile and practical garden structures. They can adapt to various projects with careful design, from casual seating to a drop-down garden for vegetables and herbs.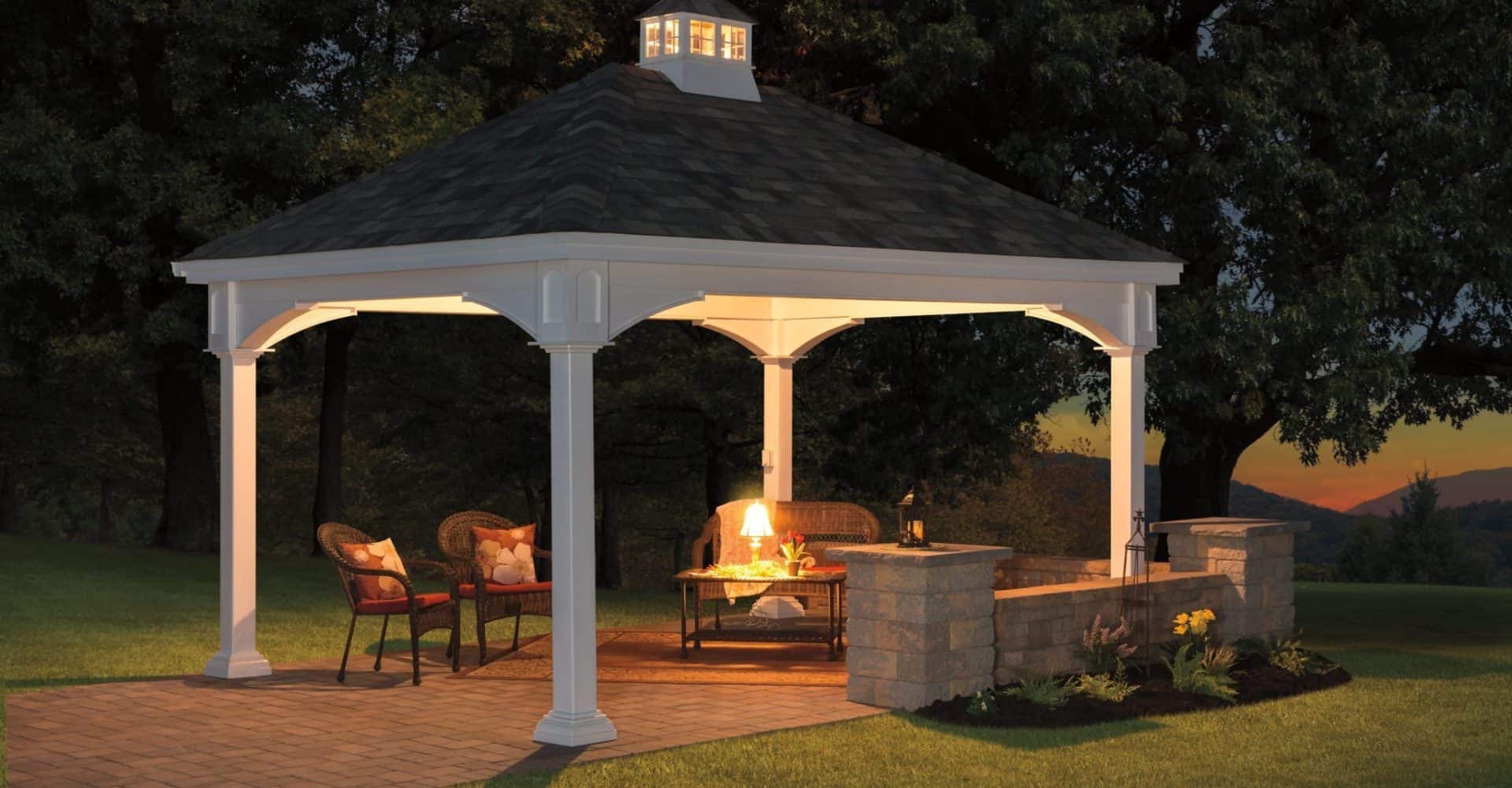 Image Credits: creativegazebos.com
With these additions, this area might become a standout choice for a cozy outdoor dining or seating area. You can utilize a gazebo for many purposes if it helps your backyard take on the style and feels you want. 
4. Patio Covers
Patio covers are affixed to the house and can take many different shapes. They might be designed to offer only partial coverage or to have a straightforward, solid roof. One of the traditional patio ideas for family farm homes — a design that also suits other types of homes—is to cover the patio with a roof or other covering.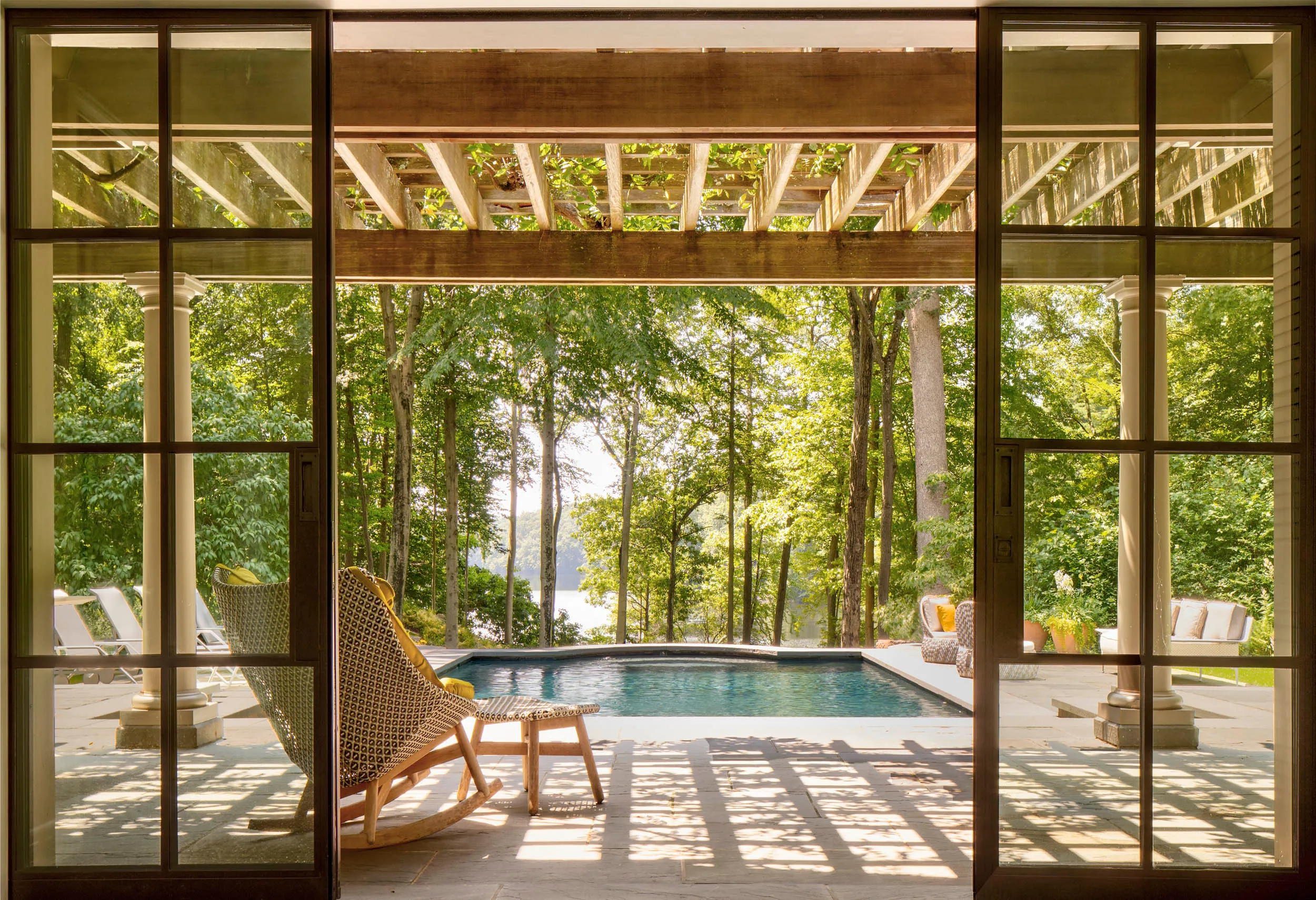 Image Credits: architecturaldigest.com
5. Pool House
A pool house is one of the pool landscaping ideas and can be a simple storage shed for supplies. It is generally considered a freestanding structure located next to or near a pool and can be small or large.
Tiny pool houses are often used to store equipment, supplies, and other pool-related items; however, large ones are more complex and could include kitchens, bedrooms, bathrooms, living areas, and game rooms. The pool house is different from other outdoor structures, like a pergola or cabana, in that it is permanent, has walls, and is not a tent-like construction that can be moved around or taken down.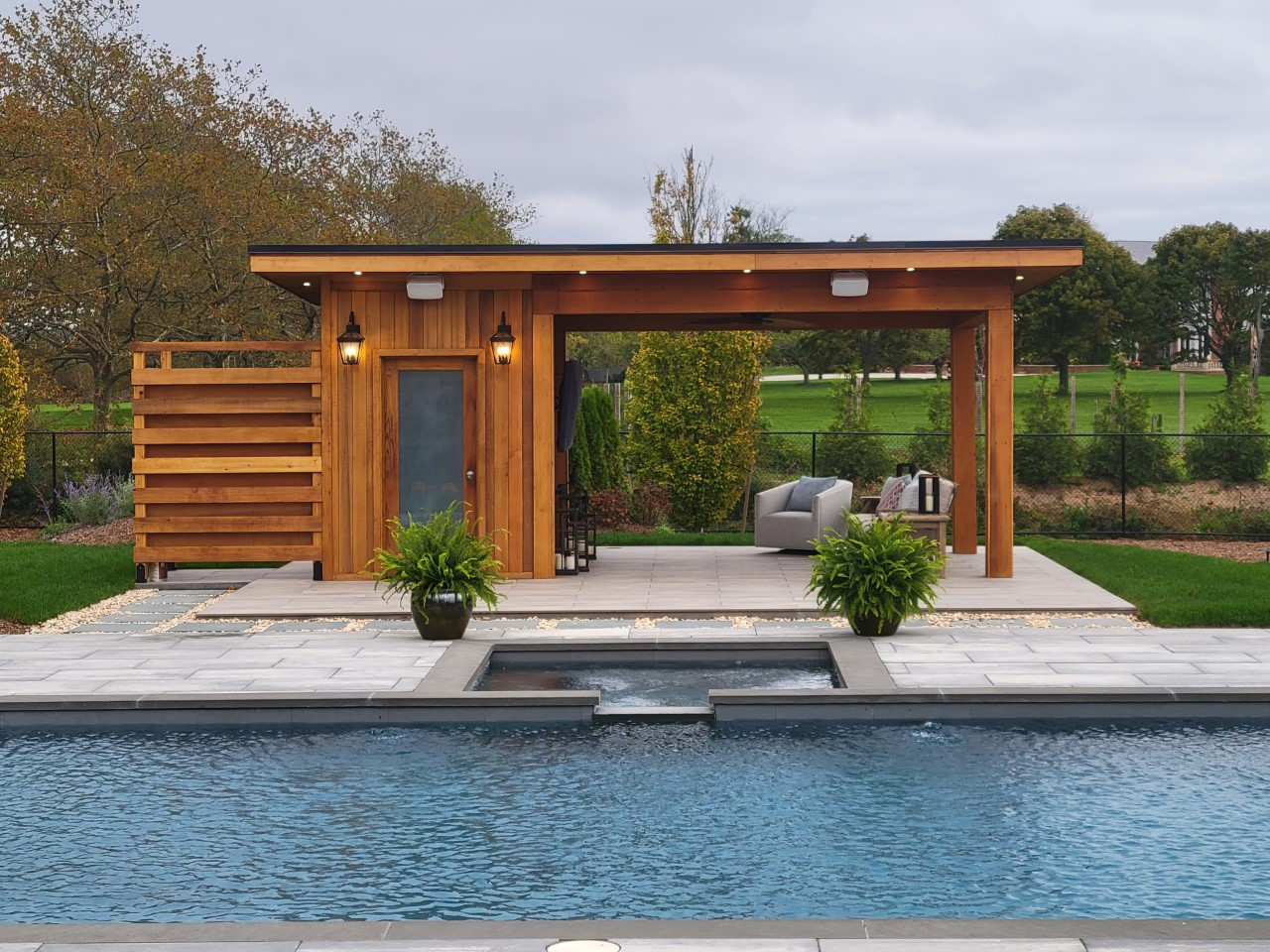 Image Credits:summerwood.com
6. Trellis
A trellis is a simple, geometrically-shaped backyard structure that provides a surface and guide for climbing plants and fruit-bearing trees. Trellises can be used as a standalone structure or as part of a garden because they help create and maintain boundaries for plants and can help you keep your garden organized.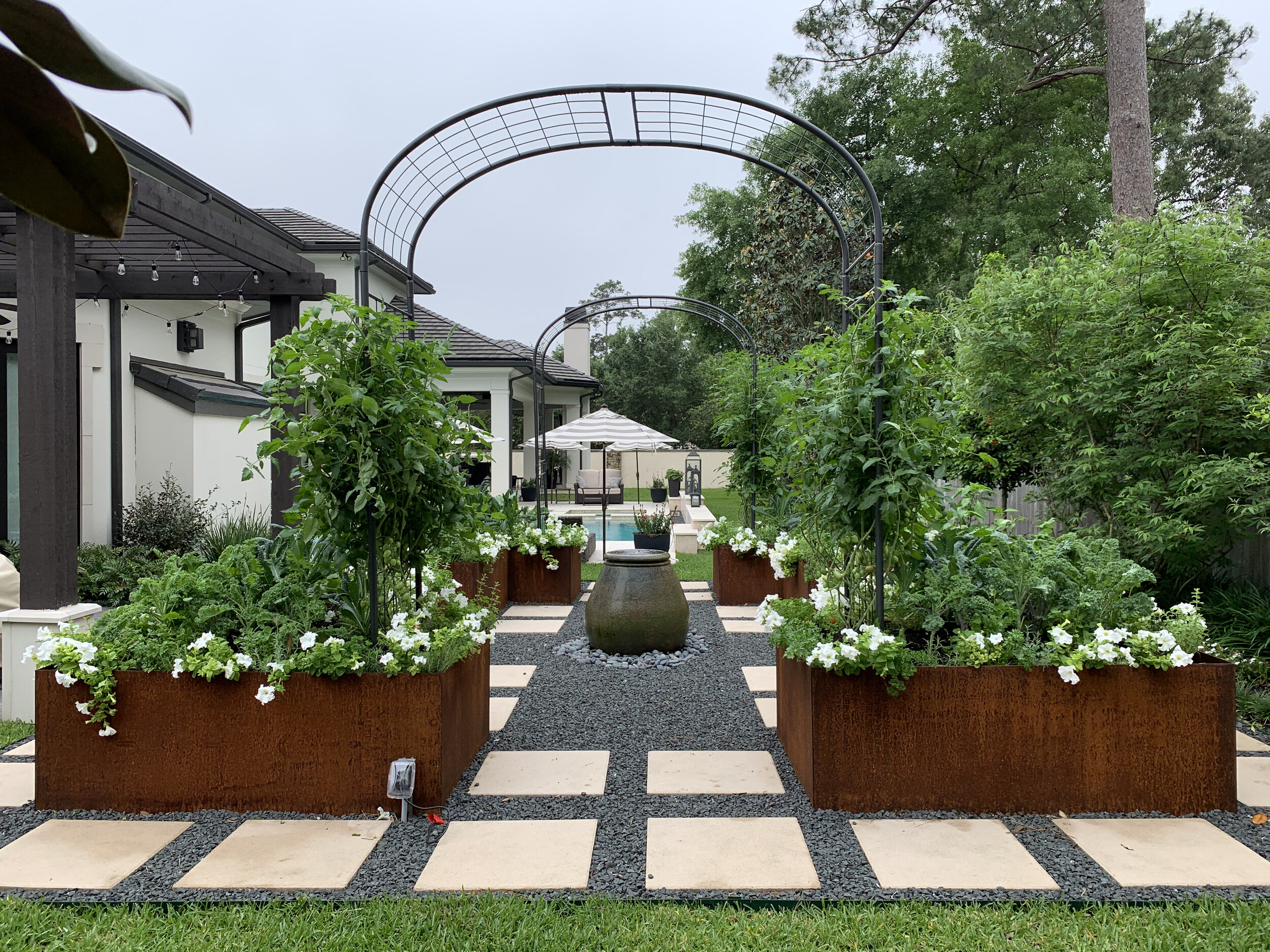 Image Credits:rootedgarden.com
7. Ramada
A ramada, also known as a pavilion, is freestanding and supported by four columns or attached on one side to another structure. Unlike a pergola, a ramada has a closed roof.
It provides complete shade and some protection from the weather. Because of this, it is a popular option for full coverage of patios and other outdoor living spaces. They are often built to protect an outdoor fireplace or range over an outdoor kitchen.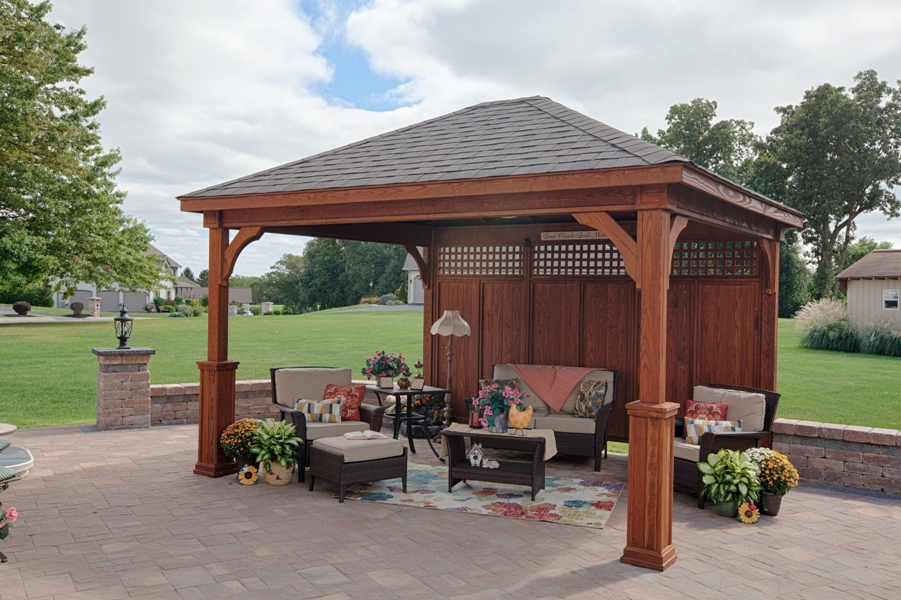 Image Credits:pleasantrunstructures.com
Frequently Asked Questions
1) What is an outdoor structure?
Outdoor structures mean permanently installed outdoor equipment that is a multifunctional and multi-seasonal addition to exterior living spaces. They can either be artificial permanent or semi-permanent structures. Outdoor structures can be beautiful additions as stand-alone pieces full of craftsmanship and precision.
2) What is an outdoor overhang called?
An outdoor overhang is called an awning. It is a roof-like cover that extends over a space to offer shade and shelter from rain, wind, or snow. Furthermore, it is often found over the windows and doors of homes and commercial buildings.
Awnings are available in various shapes, materials, and sizes to accommodate all kinds of uses and styles. For example, canvas, wood, and metal outdoor overhangs could be located above a window, a door, or the area along a sidewalk. Regardless of the material used, awnings can be fixed or retractable.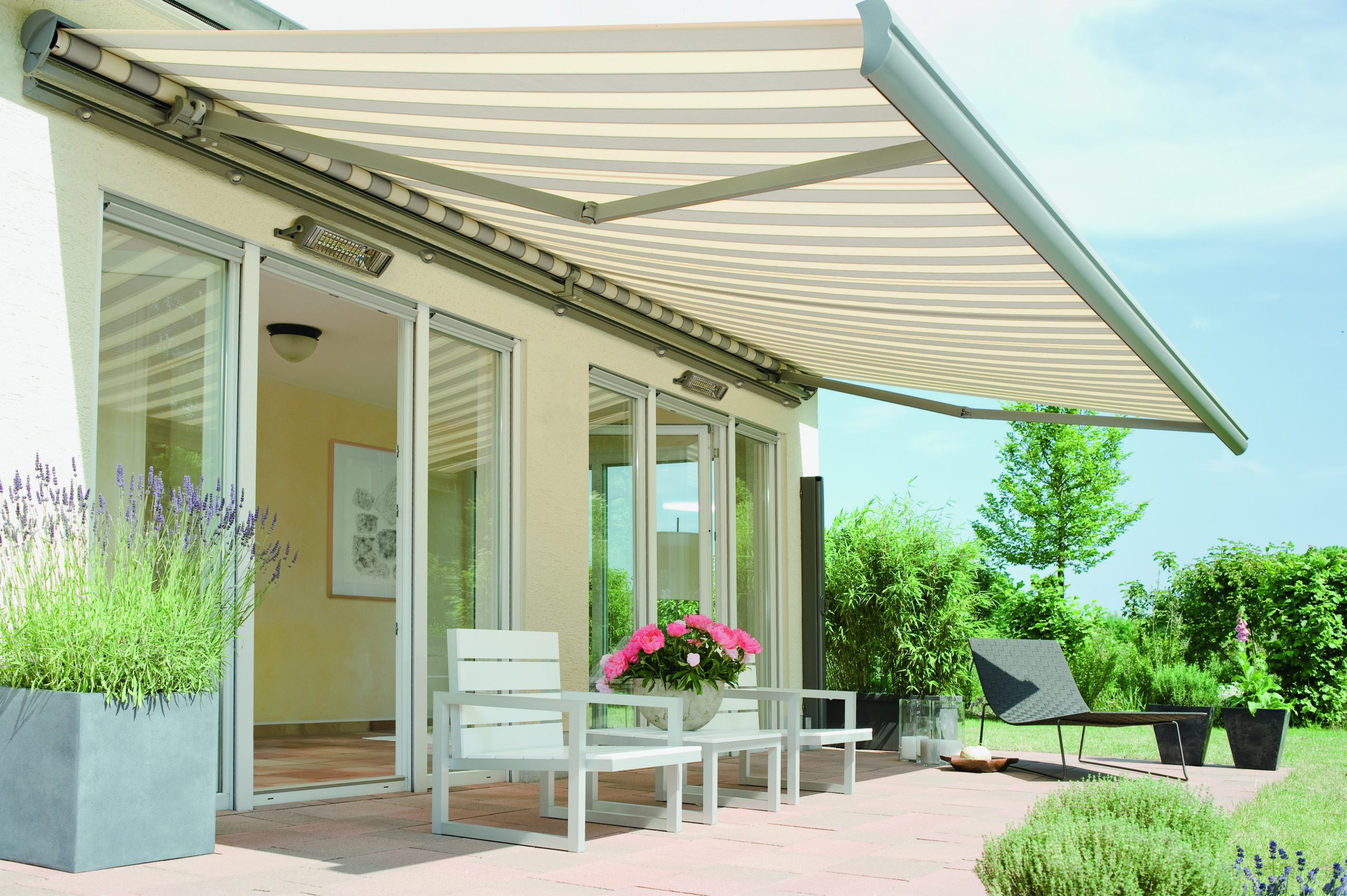 Image Credits:google.com
3) What is a covered outdoor area called?
A covered outdoor area is called a pergola. These are structures with a square or rectangular shape consisting of columns that support a roofing grid of beams and rafters. They can either be freestanding or attached to the house. Typically, it provides a distinctive artistic accent to a home and some amount of filtered shade for the outdoor living area below it.
4) What's the difference between a pergola and a gazebo?
The main difference between a pergola and a gazebo is the roof design or canopy. A pergola has an open or opening roof canopy, while a gazebo has a permanent canopy.Pergola offers some shade but little protection from the rain. Unlike the Gazebo, which has a pitched roof so that any rain runs off, it is fixed rather than retractable.
5) Why is it called backyard?
A backyard means the ground in the back of your house. It gives multi-functional and multi-seasonal additions to an exterior living space. These features provide protection from the elements, define space, and offer refuge from the stresses of daily life, giving you a space to reconnect with nature and unwind in the fresh air.
Conclusion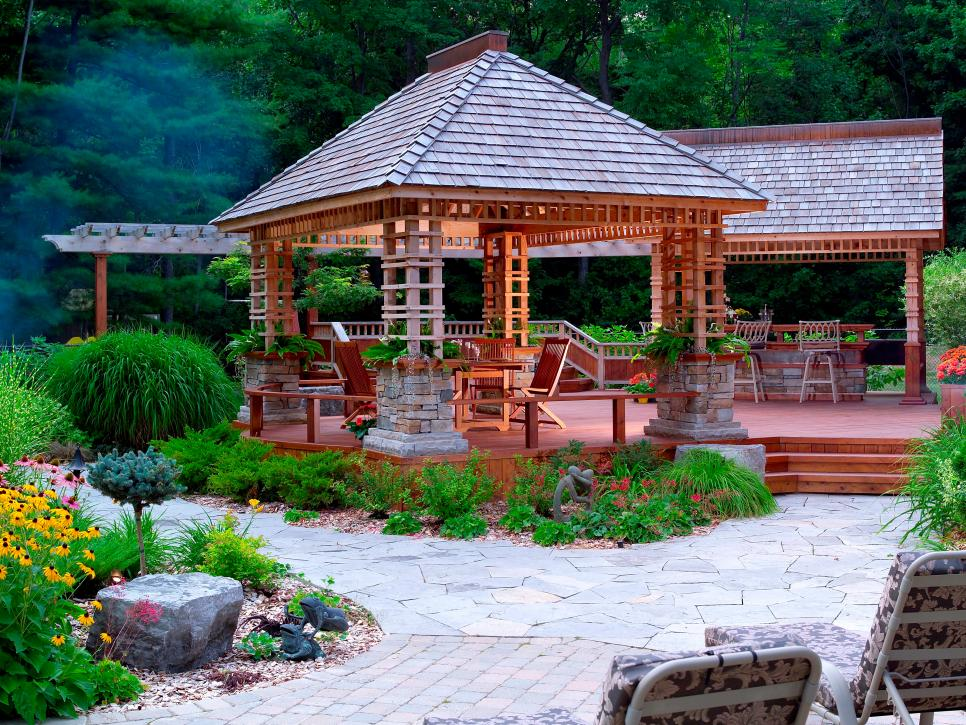 Image Credits:hgtv.com
A distinct outdoor space offers convenience, flexibility, and privacy, whether you're seeking a room for your new work-from-home lifestyle or want to host family events. Nonetheless, it is essential always to consider the ease of maintenance to avoid problems in the future.