A home with fresh air is welcoming and a safe space away from the highly contaminated outdoors. Therefore, eliminating bad odors at home is a good idea, especially if you aren't satisfied with masking fragrances. To do this, you will need to use the best dehumidifier and air purifier combos to keep your indoor air clean and safe.
This article will provide insight into how combined dehumidifiers and air purifiers work. Our first pick is the Midea Combo Unit, which is Energy-star certified and works with a reusable air filter that's easy to remove, clean, and replace. Our second choice, is the Ternergy Sobi which has the best simple plug-and-play operation and comes with an affordable price tag. To round up our top three, the Afloia Q10 Dehumidifier And Air Purifier comes with a H13 True HEPA filter for a well-rounded unit.
Air Purifier Vs. Dehumidifier
Both air purifiers and dehumidifiers are appliances that maintain the clean and healthy air quality in our households. On the one hand, dehumidifiers remove excess moisture in indoor spaces, and dehumidifiers protect your household from dampness, mildew, and mold.
On the other hand, air purifiers get rid of air contaminants using air filters. Therefore, air purifiers are responsible for removing nanoparticles such as dust, allergens, spores, pet hair, smoke, and pollen.
In this case, we have taken a special interest in the best air purifier and dehumidifier all in one. Hence, let's look at the five best products in this category.
1) Midea Dehumidifier and Air Purifier Combo Unit
Sale
MIDEA MAD50C1ZWS Dehumidifier for up to 4500 Sq Ft with...
4, 500 SQ FT DEHUMIDIFIER – Our dehumidifier are able to...
INNOVATIVE FEATURES – Auto restart function limits disruption...
QUIET OPERATION – Quiet enough for use in bedrooms to maintain...
EASY MAINTENANCE – Easily empty the included tank when it's...
WORLDWIDE - Midea is the world's largest provider of air...
Our first choice goes to this dehumidifier and air purifier combo, the Midea machine. Right off the bat, we set it up, and by end of the day, it had collected 50 pints of moisture. That's not all, we also noticed that it could adjust relative humidity between 35% and 85%. So this makes it ideal in spaces like bedrooms, bathrooms, or basements, and it can take on 4500 sq ft without a problem.
Image Source: varoujenterprises.com
Additionally, we were especially hyped up with its air-purifying function since this air purifier and dehumidifier also has a reusable filter. Furthermore, we tried out all its smart attributes, such as an auto-restart feature for uninterrupted dehumidification and air purification. Safe to say, all the attributes worked exceptionally well.
Considering it is Energy-star certified, you should expect this machine to save on energy. It has a quiet operation at an estimated maximum of 51 decibels, and it is easy to maintain. However, the team noticed that the instructions for use were poor since we couldn't tell the difference between Comfort and Continuous modes.
2) Tenergy Sorbi 1000ml Air Dehumidifier
Tenergy Sorbi 1000ml Air Dehumidifier w/Air Purifying...
Breathe better - Reduce excess moisture and make your living...
Dehumidifier and air cleaner – Tenergy's portable...
Portable, safe, and easy – Weighing 7lbs, this convenient and...
True HEPA filtration – The true HEPA filter means this...
Ultra-quiet operation – The Sorbi silent dehumidifier works at...
The Tenergy Sorbi dehumidifier is another excellent air purifier dehumidifier combo model that is small and portable. Of course, the team had to confirm that this energy-efficient dehumidifier applies the HEPA Filtration systems and Peltier technology, which they do. These systems are also known to remove excess moisture and remove air pollutants such as molds, mildew, allergens, and musty odors.
Image Source: body+soul.com
Moreover, after we tested the dehumidifier, we confirmed that it has a tank capacity of 1 liter. The device capacity can remove 750 ml of water per day in spaces with 86º Fahrenheit and 80% humidity. Furthermore, this combo unit also has a water level sensor for auto shutoff and an LED indicator for easy use.
We liked that the machine is a simple plug-and-play that is safe and has an ultra-quiet operation. You can use it in 200 sq ft spaces like basements or offices and enjoy a 2-year extended warranty.
3) Afloia Q10 Dehumidifier And Air Purifier
Air Purifier and Dehumidifier, Afloia Q10 True HEPA Air...
????[Air Purifier & Dehumidifier 2 in 1]: Afloia Q10 combines the...
????[H13 HEPA Filter]: The H13 HEPA filtration system can trap...
????[Simple & Smart Design]: A Rounded appearance with touch...
????[Ultra Quiet]: Our portable dehumidifier has adopted advanced...
????[Purchase with Confidence]: 45W low-energy consumption and...
Unlike other air purifier dehumidifier combos we have mentioned, the Afloia dehumidifier and air purifier can apply their functionalities combined or separately. We did make sure that it applies the Peltier technology for reduced noise and HEPA filtration system, with an H13 True HEPA filter that traps 99.97% of air pollutants.
Image Source: afloia.com
Furthermore, this Afloia dehumidifier has a smart design for easy application, which left a mark on the team. For example, you get reminders when the air filter needs replacement, or the reservoir is full. Furthermore, we had to make sure that the unit was energy efficient and could absorb an estimated 750 ml of moisture per day with a holding capacity of 1 liter.
We tried it in different rooms and gathered that it is better to use it in a small room of 215 sq ft or smaller to get the maximum out of it.
4) THECOSKY Dehumidifier and Air Purifier Combo
Dehumidifier and Air Purifier Combo with Negative Air...
Effiecent Dehumidifying for Rooms:The DH16 dehumidifier can help...
Most Pratical Dehumidifier:If you're looking for a practical...
High Performance HEPA Filter:The DH16 dehumidifier and air...
Simple Control and easy Functions:The bedroom dehumidifier comes...
Ultra-quiet operation: There are two modes running speeds.The...
The DH16 dehumidifier and air purifier combo has a strong filtration system, thanks to its high-performance HEPA Filter. If you're looking for a small and practical solution to your humidity and air quality problems, this unit is it. This is one of the best small dehumidifiers for small rooms of roughly 300 sq ft.
Image Source: islandcrematorium.ie
During the preliminary test, the team discovered that the True HEPA filter removes 99.97% of air pollutants, pollen, pet dander, dust mites, and allergens as tiny as 0.3 microns. We were also super impressed by its reusable filter that helps remove unpleasant odors through its carbon-activated granules.
Additionally, it also has a permanent PlasmaWave filter that helps remove chemical vapors, allergens, foul odors, and other airborne pollutants without any harmful ozone. Furthermore, you can conveniently use this combo model within rooms no more than 420 sq ft. It can remove 700-800ml of water per day in indoor spaces such as family rooms, kitchens, and kids' bedrooms.
On the noise scale, we were a little skeptical, but it blew that out of the water. It is a low-noise ( 35 dB) combo machine equipped with two-mode running speeds. The lower speed works at very low noise levels for working at night. The higher speed for high dehumidifying effect work in the daytimes.
5) Ivation Large-Capacity Dehumidifier
Ivation 4,500 Sq Ft Large-Capacity Energy Star...
This Compressor Dehumidifier Keeps Spaces Up to 4500 Sq. Ft. Cool...
Built-In Humidity Sensor - The LCD accurately displays the...
Low Maintenance & Easy Operation; Simply Plug-In, Select Settings...
Bright LED Display Indicates Humidistat & Setting, Fan Speed,...
Highlights Include Eco-Efficiency (ENERGY STAR Certified),...
This Ivation dehumidifier made it to our best air purifier and dehumidifier list because of how versatile it is. The dehumidifier is meant for large rooms, so if you have a large indoor coverage, this is the ideal dehumidifier. Of course, we ensured that it could cover up to 4,500 sq ft as advertised, and it didn't disappoint.
Image Source: ivationproducts.com
In addition to dehumidification, this compact machine can get rid of odor, air particulates, and allergens, and its reservoir can collect up to 75 pints of water per day. The team tested this by setting it up in a large room for a whole day. After a while, we could tell the water levels in the tank through its transparent level indicator. Furthermore, we also noticed it also has an auto shut-off feature for detecting water limits.
Moreover, it has a humidity meter and an LCD for the prevailing humidity levels. Additionally, the unit is lightweight, has caster wheels, and has a six-foot-long cord for easy placement in your living space. It is a portable dehumidifier that every team member agrees is the perfect dehumidifier and air purifier combo unit.
Benefits and Drawbacks of Dehumidifier and Air Purifier Combos
You can easily find a dehumidifier or an air cleaner independently, but let's highlight the essence and drawbacks of buying them as one.
Benefits
Cleaner air free of unwanted particles such as allergens, pet skins, and dust mites
Removes moisture and eliminates the occurrence of mildew and mold
Prevents air condensation
Removes bad odors
Preventing dust from settling on household items
Saves money and indoor space
Drawbacks
If not operated properly, it might cause condensation
It might cause mold development if left running for long
Both sides considered a dehumidifier air purifier combo to be a worthy investment for a safer abode and should be operated as recommended.
How Do Dehumidifier Air Purifier Combos Work?
A dehumidifier and an air cleaner can be bought separately with the same effectiveness as dehumidifier air purifier combos. Accordingly, let's identify how these combo machines work.
a) Air Purification
Image Source: theeconomictimes.com
This function is handled by the air-cleaning component of the combo machine. Essentially, the air in the target space is forced through installed filters in the combo machine for trapping harmful particles. Clean air then comes out on the other filter end for the recirculation of fresh air. Subsequently, you should obtain a combo machine with the appropriate filter grade for the intended purpose.
b) Dehumidification
Image Source: cnet.com
Moreover, a combo machine also applies the function of a dehumidifier through absorption and refrigeration. Contingent on the combo model, dehumidification happens either before or after the particle filtration is done.
c) Absorption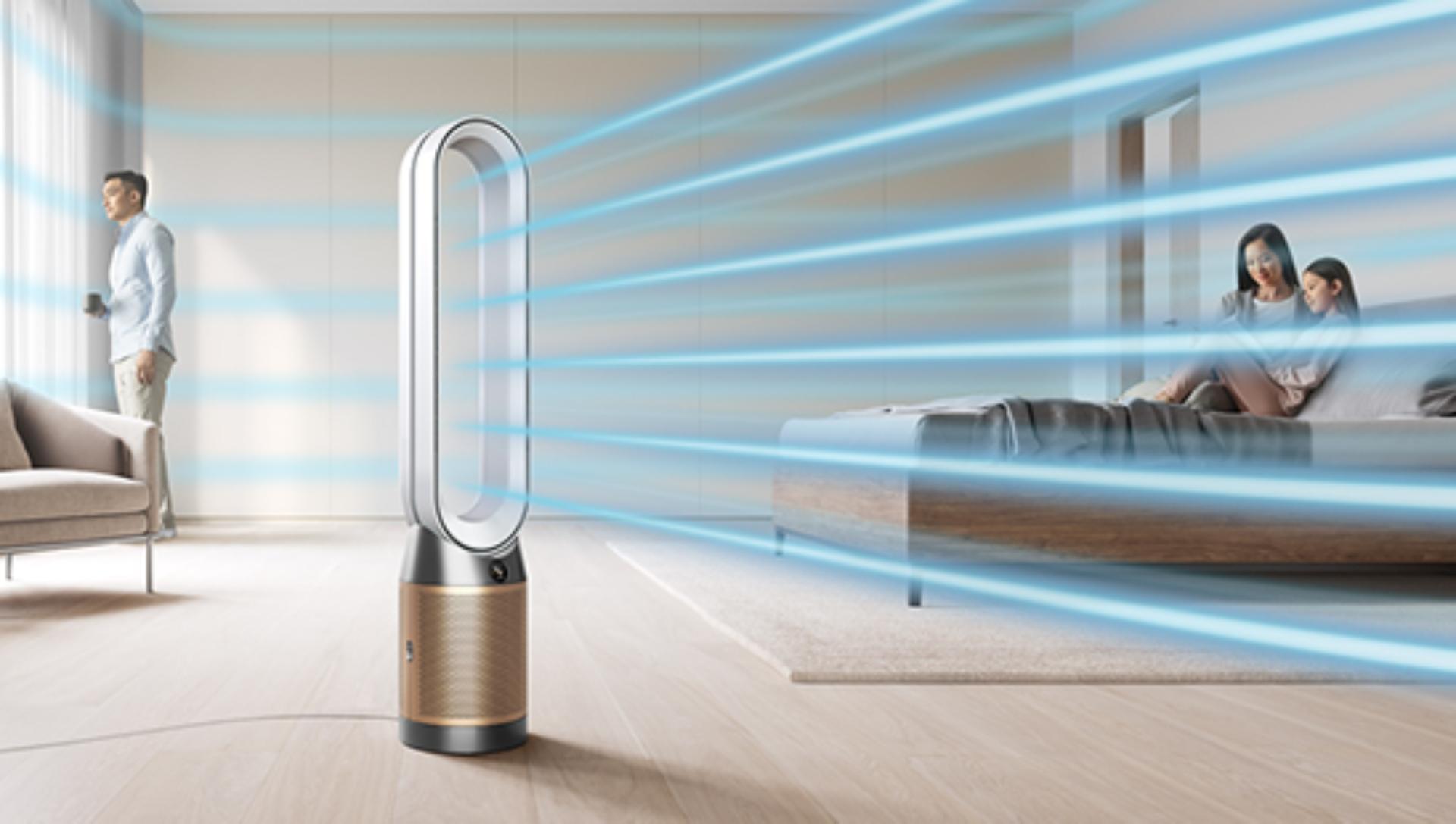 Image Source: dyson.com
Moisture is absorbed after the air passes through the dehumidifier part of the combo machine and is passed through a material wheel that sucks the moisture from the air. Then, the now-wet material wheel is dried by an electric heater, and the hot, humid air is blown out through a duct.
d) Refrigeration
Image Source: crossrentalservices.com
The other process of refrigeration involves the cooling of warm air after it is sucked into the combo machine. Consequently, the moisture condenses, turning into a liquid that is collected in a water tank. Eventually, humid-free air is recirculated into the room.
Factors to Consider Before Buying the Best Air Purifier and Dehumidifier All-in-One
1) Tank Capacity
Before choosing the dehumidifier air purifier combo, you must consider the water collection capacity of the device. Different brands have varying capacities depending on the target space size. In most cases, the larger the reservoir capacity, the better for longer utility without emptying the collected water.
Moreover, the water tank capacity also indicates the ability of a combo machine to remove excess moisture from the air. For instance, you might have an air cleaner combo with a tank capacity of 1,000 ml with the ability to collect 750 ml of atmospheric moisture. Consequently, the size of the space intended for the dehumidifier combo determines the reservoir capacity to choose.
Any dehumidifier model can be emptied, and the best dehumidifier air purifier should have the auto shutdown feature when the tank is full. However, if you forget to empty the machine's water tank, you will not get the benefits of a dehumidifier. The humidity removal rate is measured in pints per day (24 hours). Therefore, the size of your room is directly proportionate to the size of the dehumidifier with air cleaner.
2) Easy to Use
Also, a dehumidifier air purifier combo should be easy to use with the help of automatic functions. For instance, you should not be rushing home to turn off your dehumidifier. The easy utility works to ensure that the process of air purification is a breeze. One of the functions that make work easy is the ability to set a timer which ensures that both a dehumidifier and air cleaning machine works within a set time, after which it turns off.
Additionally, the automatic shut-off feature also makes the best dehumidifier air purifier combo easy to use without the worry of cleaning water tank overflow. In the end, you have the option to make depending on the available brands and their tank capacities. 
3) Operating Temperature
While removing the excess humidity, dehumidifiers and air purifiers require appropriate operating temperatures for optimal indoor air quality. Depending on the season and climate, you should get a combo that can be effectively used at different times of the year. The best dehumidifier and air purifier should operate in a wide range of temperatures with the maximum benefits of clean air.
4) Filters
Besides removing excessive humidity in your living space, an air dehumidifier with an air purifier also does air purification. Air purification involves trapping allergens, molds, pet dander, pet hair, and other undesirable particles in the surrounding air. Most dehumidifier air purifier combos are built with standard HEPA filters that effectively trap a wide range of undesirable particles from your indoor air. Also, you can choose between a washable filter (reusable) or a non-reusable filter under this consideration.
When it comes to the HEPA filtration system, it is considered the highest air-purifying standard for its versatility in getting rid of almost all harmful indoor atmospheric particles. The HEPA filters come in different grades for installation in different dehumidifier air purifier combos based on different spaces and air cleaning demands. A standard True HEPA filter is either H11 or H12, with H13 being a medical-grade filter but with higher filtration effectiveness. All in all, the best dehumidifier air purifier is one with a HEPA filter for over 99.97% removal of air contaminants.
Frequently Asked Questions on the Best Air Purifier and Dehumidifier All-in-One
1. Does an air purifier dehumidifier combo purify and dehumidify air at the same time?
Yes, this household appliance can perform both functions simultaneously. Depending on the model, the purification or dehumidification functions can follow each other for an effective air-cleaning process.
2. Can I get a humidifier and air purifier combo? 
Yes, you can find an appliance with both a humidifier and an air cleaner. Similar to the reviewed best dehumidifier and air cleaner combos, a humidifier-purifier combo will help you save space and money. To get the best humidifier and air cleaner combo, you seek guidance from product reviews.
3. Is there a combination of an air purifier and a dehumidifier?
Yes, there is. Multiple combo units exist on the market today. Additionally, you can use the units in any room to add moisture and reduce unwanted particles.
4. Should you use a humidifier and an air purifier simultaneously?
Using air purifiers and humidifiers together is perfectly alright, and neither one will affect the other. Air purifier filters are designed to work in wide humidity ranges, ensuring that the extra moisture in the air won't do any filter damage.
5. Can one air purifier work for the whole house?
If you live alone or with just one other person in a large home, only one air purifier might work for you. If your kitchen is separate, you'll need a second one. On the other hand, if your home is full of people, it is wise to purchase an air purifier for each room.
6. Can an air purifier remove mold?
By removing mold spores from the air, air purifiers help keep your home free of spores. Air purifiers are an excellent technique to stop the spread of airborne mold particles. However, they can't assist in treating active mold that is already present on surfaces.
The Bottom Line
A dehumidifier/air purifier combo improves quality of life, particularly if you reside in a humid area with dirty air surrounding your home. As their name suggests, dehumidifiers lower the air's relative humidity, and your home's atmosphere becomes less humid as a result.
On the other hand, air purifiers are more crucial because they enable breathing while removing a wide range of pollutants, bacteria, and contaminants. If you don't already have either of these items, you can choose a dehumidifier and air purifier combo to combine their functions into one.