A good painter knows that painting is more than applying color. Painting is therapeutic and art of non-verbal communication; it allows you to express your creativity and feelings for all to enjoy. In woodworking, painting relies on your skill and tools. Paint brushes are some of the most important tools to have so you can apply your paint evenly across the surface. So, here is how you can find your best brush for polyurethane paints.
Why Do You Need the Best Brush for Polyurethane?
Image credits: pexels.com
If you have selected polyurethane for your paintwork, you have made the best decision to protect your surfaces from elements and damage. You have three options for your paint project: spray paint, wipe the paint on the surface, or use a brush. Using a brush is the best method for essential projects as you can apply the paint better for durability. Here are the benefits of using a paintbrush for polyurethane;
It will give a smooth finish without leaving marks or bubbles behind
A brush allows you to reach detailed nooks and crannies
You can clean the paintbrush and reuse it for another project
As you can see, using a brush makes application easier and more effective. However, you can use different types of brushes for your project, depending on the type of polyurethane paint you want. You will need to consider the brush's bristles, handle, ferrule, and width. In addition, you will need to decide which brush features to go for depending on your paint's characteristics.
The best paints can be water-based or oil-based. While both polyurethane paints provide excellent sealing and protection to your wooden surface, they will need different brushes for the best application.
Not sure where to start? We tested five paintbrushes for you so you can easily buy them. During testing, we looked for the easiest-to-use, high-quality brushes that guarantee a beautiful, smooth finish. Read on as we will also tell you more about choosing paintbrushes below!
1. Pro Grade Paint Brushes - 5 Ea - Paint Brush Set
Sale
Pro Grade - Paint Brushes - 5 Ea - Paint Brush Set
Paint Brush Set Includes 1 Ea of 1" Flat, 1-1/2" Angle, 2" Stubby...
Paint Brushes For Interior Or Exterior Projects. Use Angle Sash...
Professional Results On Walls, Trim, Cabinets, Doors, Fences,...
Premium Quality Paint Brushes At A Cheap Price! No Cardboard...
The SRT filament blend holds more paint to save time, less...
We make this first recommendation if you paint a lot since this is an affordable set with high-quality brushes. The set came with five brushes ranging from a small 1-inch flat brush to the largest 2.5-inch tapered brush. With the set, we found it easy to decide the scope of painting to undertake, and we had a brush for each task.
As mentioned above, your brush will help you achieve a smooth finish, but that is only if you choose the best brush bristles. This set of five comes with synthetic bristles held in place by a stainless steel ferrule. The ferrule holds the bristles tightly in place, and it won't rust even after washing the brushes after painting.
Finally, the hardwood handles are helpful if you want a good grip for a long project. The grip, combined with the way bristles hold more paint, made these brushes our favorite since we could easily attain a smooth polyurethane finish for our projects- and our hands were never calloused, nor did we get uncomfortable fatigue. The only dealbreaker we can report is that the brushes tend to leave brush marks, which is also something to overcome with good painting skills.
2. Bates Paint Brushes - 4 Pack
Sale
Bates Paint Brushes - 4 Pack, Treated Wood Handle,...
PROFESSIONAL QUALITY: 100% Satisfaction Guaranteed, Trim Paint...
FIT FOR COMFORT: Treated wood handle brushes are lightweight and...
THICK FILAMENTS: These synthetic filaments are designed hold more...
AFFORDABLE: Don't waste your money on a brush that will last you...
ANYONE CAN USE: It doesn't matter whether you are a professional...
Our second recommendation is also budget-friendly. The Bates set comes with four paint brushes for polyurethane, all made for easy painting and ergonomics.
The four brushes have multi-colored synthetic bristles that should make any painting project easy. In addition, the bristles are thick filaments that hold more paint, so you don't have to keep returning to the paint can so often. By holding more paint, the brush also allows you to concentrate more on painting to achieve a smooth finish.
Image Credits: bateschoice.com
Having painted many times, we know nothing kills a painter's morale more than hand fatigue. So, when testing this set, we wanted to understand how much control the wooden handle gives. Luckily, we found the handles lightweight yet grippy enough to feel natural in your hands. As a result, you will withstand long periods of painting without suffering any fatigue.
These brushes also come with stainless steel ferrules to keep the bristles firmly together, guaranteeing durability. However, we found we had to be skillful when painting to avoid leaving brush marks.
3. Purdy 140853100 XL Brush 3 Pack
Purdy 140853100 XL Brush 3 Pack
-3 piece value pack, includes 1 inch XL Dale, 1-1/2 inch XL Glide...
-Purdy's XL is the most versatile brush series,
-Designed for use with all paints and stains.
-Ideal for interior and exterior projects with all types of...
-Work great in all types of environments.
With our two recommendations above, we realized it was easier to leave brush marks with unflagged bristles. So, we sought brushes with flagged bristles and found our best recommendation in this set of three from Purdy. If you wonder, flagged bristles take on a bushy look with splintered ends.
With the flagged nylon bristles, we found the brushes held more paint and distributed it evenly without leaving brush marks. This design worked best with our oil-based polyurethane, which was thicker and tougher to distribute. In addition to giving a smooth finish, these bristles also helped us save more paint.
Image Credits: purdy.com
The premium quality paint brushes come with Alderwood handles which feel lightweight and comfortable in your hands. In addition, the brushes come with rust-resistant brushed copper ferrules to hold the bristles firmly in place for comfortable painting.
While you will get the best brush strokes to apply thin coats of polyurethane to your surfaces, the set is also quite expensive compared to others on this list. We also thought the handles felt a bit small in our hands while painting, a feature we know can cause discomfort if you have a big painting project to complete.
4. POL Brush Professional Flat Paint Brushes
Set of 5 L Sizes European Professional Flat Paint...
THE SET INCLUDE: 5 flat paint brushes in 1 inch, 1.5 inch, 2...
MADE IN EUROPE: POL BRUSH brand paint brushes are made in Europe,...
100% NATURAL BRISTLE: Natural bristle paint brushes are more...
SUITABLE FOR: Natural bristle paint brushes work effectively with...
GOOD WITH: Paint brush is suitable for creativity, construction,...
If a synthetic bristle brush does not yield good results, we recommend replacing it with a natural-bristle brush. The latter is made from natural materials like bamboo, animal hair, corn, and the Hala tree. As you know, it is becoming more evident that using natural materials is good for the environment as we look to combat the effects of climate change. So, if this is what you want, we recommend trying out these brushes from POL Brush that are made with bleached pig hair.
The affordable set comes with five flat paintbrushes of different sizes, thus giving you more painting versatility. They are comfortable to use, thanks to the wooden handles cut into a beautiful shape to feel natural in your hand. In addition, the handles are good for grip since the wood will absorb moisture, including your sweat, so you can paint for longer periods.
Image Credits: brushexpert.com
The stainless steel ferrules keep the bristles in place, thus guaranteeing good durability. We chose these brushes to try out the natural bristles. After testing, we can confirm the bristles make a good quality brush that works well with oil-based and water-based polyurethane. The brush strokes are smooth and have a flagged design that ensures a smooth, satin finish.
We noticed that some bristles came off with water-based polyurethane jobs. But still, the brushes do a good job of painting oil-based polyurethane, and they come at an affordable price for five brushes.
5. Wooster Brush 5221-2 Tip Angle Sash Paintbrush
This is your best brush for polyurethane if you want one that promises value for money, ergonomics, easy cleaning, and easy painting. Unlike the recommendations above, this polyurethane brush from the Wooster Brush Company is sold separately but has a lot to offer.
Image Credits: woosterbrush.com
Firstly, it is a 2-inch flagged bristle brush designed for precision strokes. With the size, you can quickly complete a big painting project while the bristles leave no marks on your surfaces. During testing, we were impressed by how comfortable the wooden handle felt. The handle is long and made with a high-quality wood grain to give you a good grip in all conditions.
As with other natural and synthetic brushes, getting the best ferrules is imperative. This Wooster brush comes with a stainless steel ferrule that keeps the synthetic bristles in good shape, thus guaranteeing durability. And, speaking of durability, we loved how easy to clean the brush was after many painting sessions, and never did the ferrule show signs of rust.
Factors to Consider for Your Best Brush for Polyurethane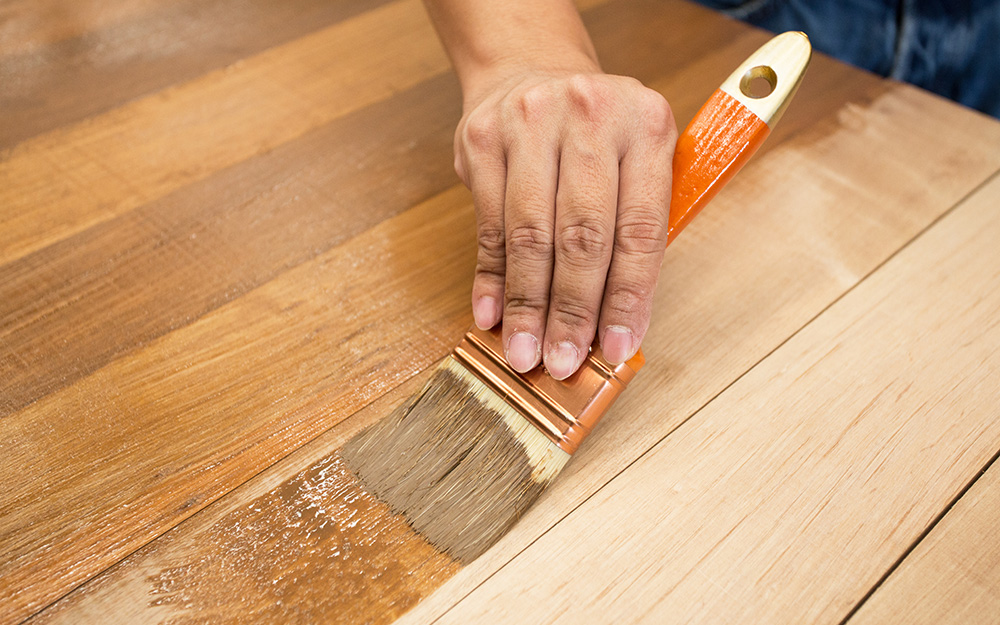 Image Credits: homedepot.com
So, there you have it. Above are five paintbrushes we tested for effectiveness with polyurethane coatings. However, if you are still trying to decide what features to look for when painting, here are some parameters to observe when purchasing.
a) Bristles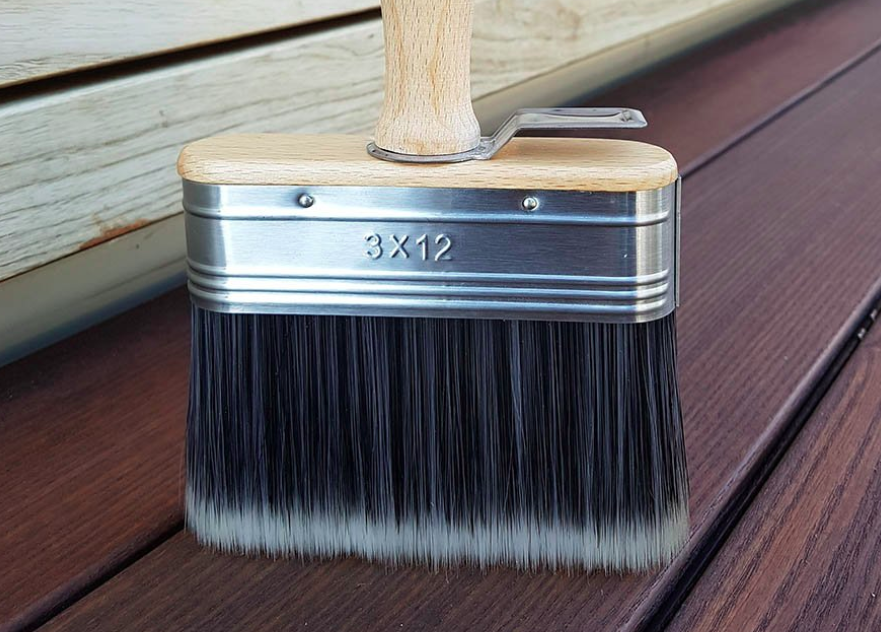 Image Credits: perdurabrush.com
You need to scrutinize the bristles if you want a high-quality brush. After all, you need the bristles to spread the paint, so they must be of high quality and designed to handle the weight of your polyurethane paint. When buying your best polyurethane brush, here are the types of bristles you can find.
Natural bristles made with natural materials like animal hair, bamboo, and other plant materials
Synthetic bristles made with nylon and polyester
Foam brush for a wiping technique
b) Handle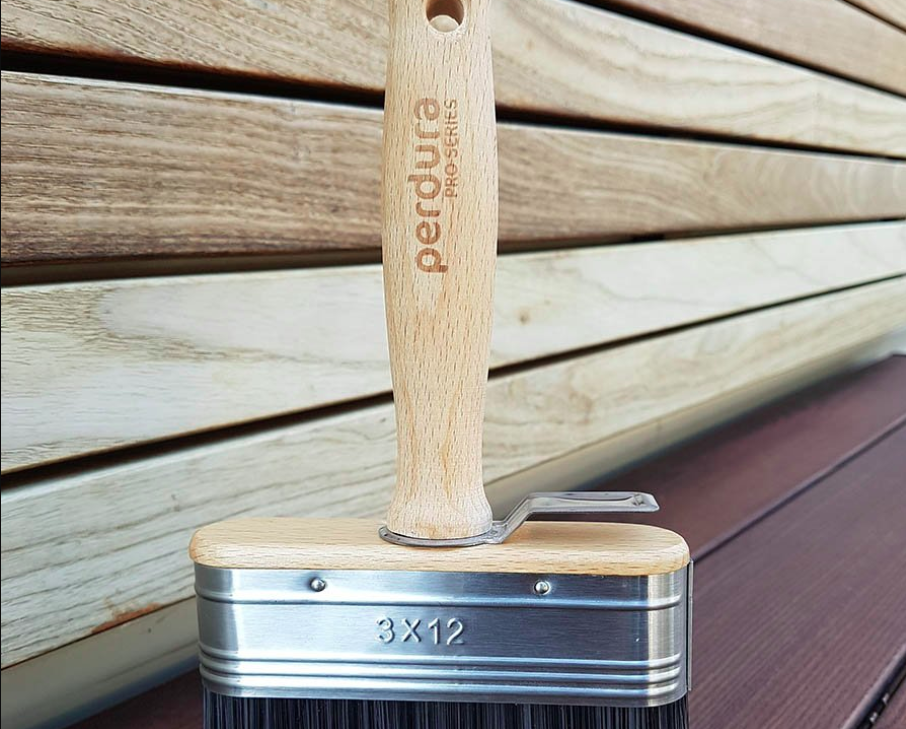 Image Credits: perdurabrush.com
When you apply polyurethane, you need your brushes to have comfortable handles that prevent hand and wrist fatigue. When testing, we found that flat hardwood handles provide the best grip, especially because they tend to absorb moisture like water and sweat. In addition, when the handle is ergonomic, you can achieve more precise strokes that lead to a smooth paint finish.
c) Ferrule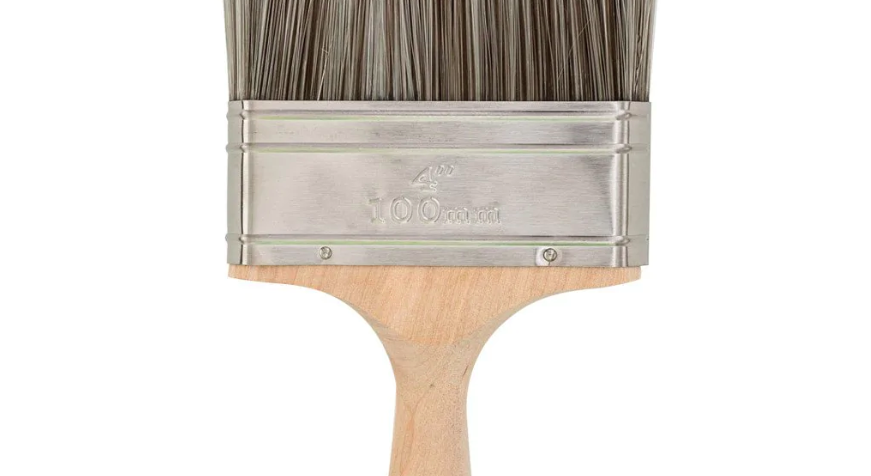 Image Credits: paintdepot.co.uk
Ferrules are often metallic and keep the bristles and handle joined firmly for effective painting. When choosing ferrules, understand how durable they are and how firmly they keep the bristles together. When you buy a durable poly brush, you will want to clean it to use it in another project. So, ensure the ferrule material is well treated to prevent rusting and more damage.
d) Brush Width
When choosing brush width, consider the type of project you want to complete. Brushes range in size between 1-inch, 1.5-inch, 2-inch, 2.5-inch, 3-inch, 3.5-inch, and 4-inch, and you can consider this size chart for small to large paint jobs. For example, 1-2 inch brush sizes are ideal for painting well-hidden nooks and crannies, while the bigger brushes are ideal for larger surfaces.
e) Your Polyurethane Base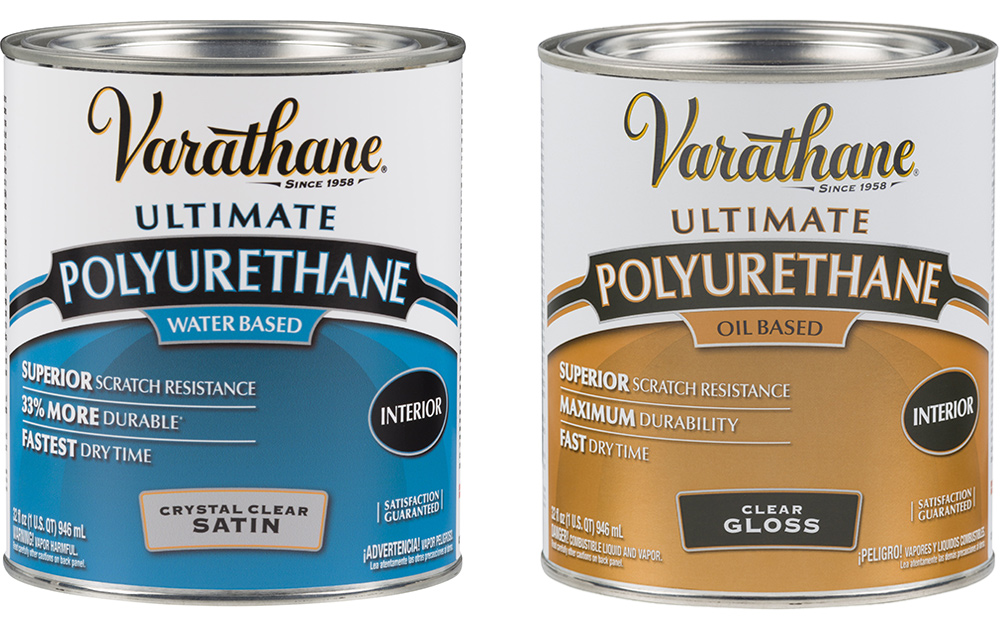 Image Credits: homedepot.com
Polyurethane is a good sealant for your wood surfaces; it will protect your wood from water, dirt, and other damaging elements. However, before you buy a paintbrush for the job, you will want to consider which polyurethane base you want to use. Here's how:
It will be best to get a natural bristle for oil-based polyurethane. If you can't find one, you can also use a foam brush that will spread the sealant evenly.
Use a foam or synthetic bristle brush for water-based polyurethane. However, a synthetic brush is the best option for larger surfaces.
Conclusion
Painting is therapeutic and a way of communicating your creativity and skill through all your interior and exterior paint projects. And as you can see, you can use different types of brushes for applying different polyurethane bases. You will need a brush that applies the paint smoothly to dry quickly while transforming your surfaces. If you struggle to make the right choice, we hope our recommendations can help you.