Whether you need more storage space or a simple piece of furniture to elevate your bedroom décor, having a sleek and modern dresser will never go out of style. To save you countless hours of scrolling for the perfect dresser, I have compiled a list of the best dressers on the market to give you a head start on style and functionality without sacrificing your entire paycheck. Continue reading to find the best dresser under $100.
The first dresser on this list is the WLIVE Fabric Dresser which is a great addition to any bedroom and comes with a lot of space for storage. Next is the YITAHOME Dresser that fits well in many living spaces and is easy to move around. Lastly, the WLIVE Dresser is a gorgeous choice with easy-pull handles, not to mention it's super easy to clean.
Best Dressers Under $100
1) WLIVE Fabric Dresser for Bedroom
Sale
WLIVE Fabric Dresser for Bedroom, 6 Drawer Double...
Multifunction Dresser: This fabric dresser is great for bedroom,...
Sufficient Storage Space: The storage tower measures 31.5" L x...
Sturdy Structure: Strong steel frame and water-resistant wood top...
6 Drawer Chest: The Chest of Drawers features easy-to-pull arch...
Easy Assembly: The double dresser is easy to assemble with tools...
This rustic brown dresser is a great addition to any bedroom. It comes with six roomy drawers, and it's the ideal size even for small spaces. It measures 31.5" L x 11.8" W x 30.9" H and can also fit in a hallway, walk-in closet, or entryway. Additionally, I find it very stylish, especially since it goes with most other furniture and doesn't stand out.
Image Source: capcityoutlet.com
Surprisingly, the drawers hold a lot of clothes and don't seem to be coming apart as I expected. It's also light so you won't have a problem moving it between rooms should you need to. Additionally, it makes a great nightstand, and the waterproof wooden top can easily hold a TV. Furthermore, the drawers are easy to pull out, so you don't have to struggle with a stuck drawer.
Furthermore, the assembly instructions are clear, and once assembled, it has a sturdy construction, thanks to the metal frame. You can also anchor the dresser to the wall to prevent movement since it comes with the respective hardware and extra screws and handles in case you need to use them. Lastly, this dresser can also be used for temporary furniture as you settle into your new home.
2) YITAHOME Dresser with 7 Drawers - Fabric Storage Tower
Sale
YITAHOME Dresser with 7 Drawers - Fabric Storage Tower,...
QUALITY CONSTRUCTION- Made of reliable metal frame and durable...
DURABLE FABRIC- The front side is made with high quality cationic...
EASY TO ASSEMBLE- Detailed instructions and installation video...
UNIVERSAL MATCH- Premium dark grey fabric drawers, sturdy white...
HIGH CAPACITY- 7 drawers of different sizes provide more storage...
Fabric dressers are great when you need temporary storage solutions, not to mention they fit well in most living spaces. This fabric dresser is an excellent addition to any bedroom since it has 7 drawers perfect for extra clothes or bed sheets. Furthermore, the dark-grey fabric drawers are easy to wipe down with a damp cloth in case of dust.
Image Source: ebay.com
The metal frame is well made and ensures the dresser is sturdy enough to handle the weight of clothes or kids' toys. Additionally, the drawers are removable and foldable, which is a plus in case I have to move or clean the dresser. The drawer handles and dresser top are made of wood, which gives the dresser a unique and beautiful look. The dresser legs are made with plastic to ensure you don't scratch your floors, which is a bonus.
Putting the dresser together is fairly easy, but it takes a while if you're alone. It would be easier if I had a helping hand with the shelving since fastening the screws also takes time and requires some elbow grease. Aside from that, this is one of the best bedroom furniture pieces, and the assembly instructions are clear.
3) WLIVE Dresser for Bedroom
Sale
WLIVE Dresser for Bedroom with 5 Drawers, Wide Chest of...
MULTIFUNCTION DRESSER: Match perfectly with other WLIVE storage...
LARGE STORAGE SPACE: The dresser for bedroom is ideal for...
STURDY ORGANIZER UNIT: Strong steel frame offers stable support...
5 DRAWER CHEST: Features 5 removable foldable drawers; Easy pull...
EASY ASSEMBLY: This storage drawer unit is easy to assemble with...
This gorgeous charcoal black quality dresser looks great in the bedroom. The overall dimensions are 39.4" L x 11.8" W x 21.7" H, which is very accurate. This means this dresser is small, and the same applies to the storage drawers. However, it still works very well to hold clothes, toys, or books, just not in the quantities I hoped for.
Image Source: ebay.com
The dresser has a metal frame for added stability, and the five fabric drawers with easy-pull handles are easy to remove and clean. This horizontal dresser has moderate-sized drawers and a simple but stylish design. The dresser has four adjustable legs that won't scratch your floors, even if you drag the dresser across the floor. The wooden top provides a place to keep items you want to display (including a small-sized TV).
The assembly was easy and only took 20 minutes, not to mention the instructions are well-detailed, so there are no hiccups. The hardware pieces are included, and you don't have to worry about the shelves coming apart.
4) AZL1 Life Concept Extra Wide Dresser
Sale
AZL1 Life Concept Extra Wide Dresser Storage Tower with...
MULTIPURPOSE: The modern design storage dresser cabinet with...
SPACIOUS STORAGE:Light weight design to easily fit into smaller...
STURDY & DURABLE: This drawer organizer made of non-woven fabric,...
EASY ASSEMBLY: This dresser for bedroom can be assembled about 15...
CUSTOMER SATISFACTION GUARANTEE — Feel free to email us in case...
Made with a beautiful and unique design, this dresser is an excellent addition to any home, and it can fit into small spaces while offering storage space. If you only have space in your bedroom for a dresser, this would be the dresser you want. Additionally, the color of the dresser goes with my minimalist bedroom décor.
Image Source: ubuy.com
The strong steel frame supports the woven fabric drawers, which do a good job of holding clothes without distorting them. The fabric drawers are also easy to open and close, making storing clothes and other items easier. The drawers also have sturdy handles that won't rip out with repeated pulling and pushing.
Assembly was a little hard since the instructions are in picture form and quite challenging to follow. However, you will figure it out after a while, and it comes together beautifully. You don't even need extra help.
5) LINSY HOME Dresser for Bedroom
LINSY HOME Dresser for Bedroom with 5 Drawers, Fabric...
Trusted Material: With sturdy frabric material, LINSY storage...
Sturdy and Durable: Water resistant wood top with natural wood...
Easy to Assemble: Detailed instructions and installation video...
What You Get: 5 drawers of different sizes provide more storage...
This beautiful dresser boasts five drawers with ample storage space. Additionally, it looks good in the corner of any bedroom or nursery, especially for the price point, not to mention the whole dresser can be taken apart and stored without a problem. This is due to the collapsible drawers that can be stored flat and has an insert to ensure they don't collapse when in use.
Image Source: wayfair.com
While the dresser can't hold any bulky items, it's a great storage option for clothes I don't wear often, like winter clothes. The top is made of wood which gives the dresser a beautiful look. Additionally, with the wooden top, it seems heavy to carry. However, it's very light and doesn't pose a problem when you need to carry it. This also means the dresser might move when you tug a drawer, but a rug solves the problem. Furthermore, the higher ground clearance ensures no dust is trapped under the dresser, and you can easily clean under it.
The assembly was easy, but the instructions were unclear. However, as long as you identify the back and front ends of the frame, you will get through it pretty easily. The dresser measures 11.61"D x 38.4" W x 24.7"H and is true to size. This means it's very short, so be prepared when assembling it.
Factors to Consider Before Buying the Best Dresser Under $100
Here are a few things to look at before buying a dresser that's under $100
a) Determine the Size You Prefer
It all boils down to the size of the dresser you prefer and the space designated for it to occupy. Therefore, measuring the width and depth of the space you plan to be in is crucial for it to fit well. A small bedroom will need a small dresser, and a large bedroom would do well with a bigger dresser.
Image Source: abunda.com
Remember, as you select the dresser of your choice, there also has to be space for the drawers to open fully. Dressers commonly have overall depths between (46-61 cm), heights between (76-127 cm) and widths between (76-188 cm). However, that's not to say that you can't find smaller dressers or get a customized one made to your specifications.
b) Determine the Style You Like
There are numerous types of dressers available today, each with its unique design, style, and function. Dressers are versatile and can be used for much more than storage. When it comes to style, you can opt for something a little bit more contemporary or a classic traditional style. Traditional style dressers are large and heavy and might need a fresh coat of paint every year, while modern styles have a minimalist edge.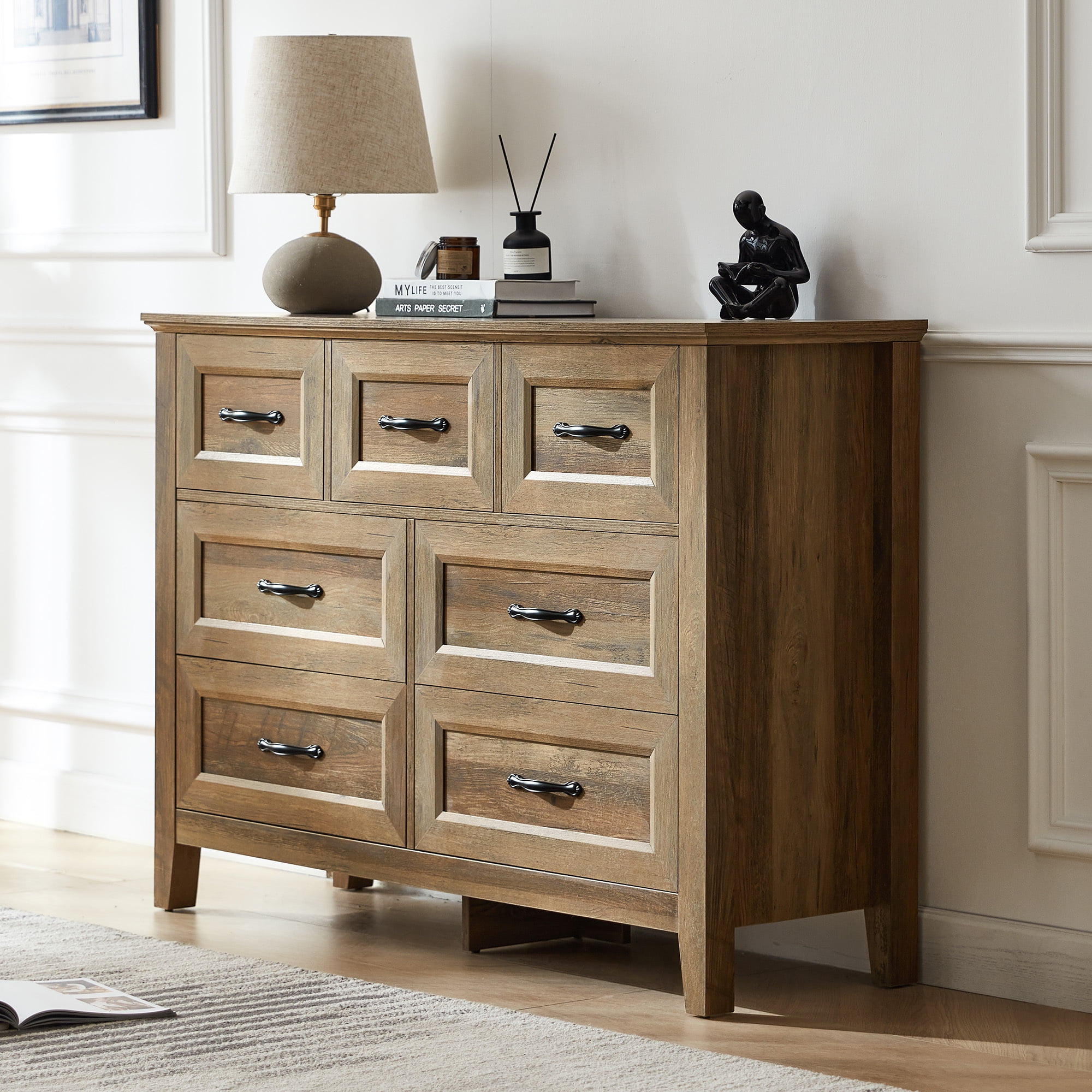 Image Source: walmart.com
Determining the style that best fits your décor is the best way to select a dresser. You can also select a dresser based on form or function. If you're going for functionality over form, then any type of dresser can fit your purpose. Narrowing down your choices from a list of dressers is another way to select the best fit for your bedroom.
c) Dresser Material
The dresser you select should last you for a while. Therefore, you need to consider the dresser's material. Most dressers are made of wood, metal, plastic, or glass, each with pros and cons. A wooden dresser is an excellent choice if you're going for a classic or traditional style. Additionally, if you dislike how wooden furniture looks, you can select a dresser with a metal frame.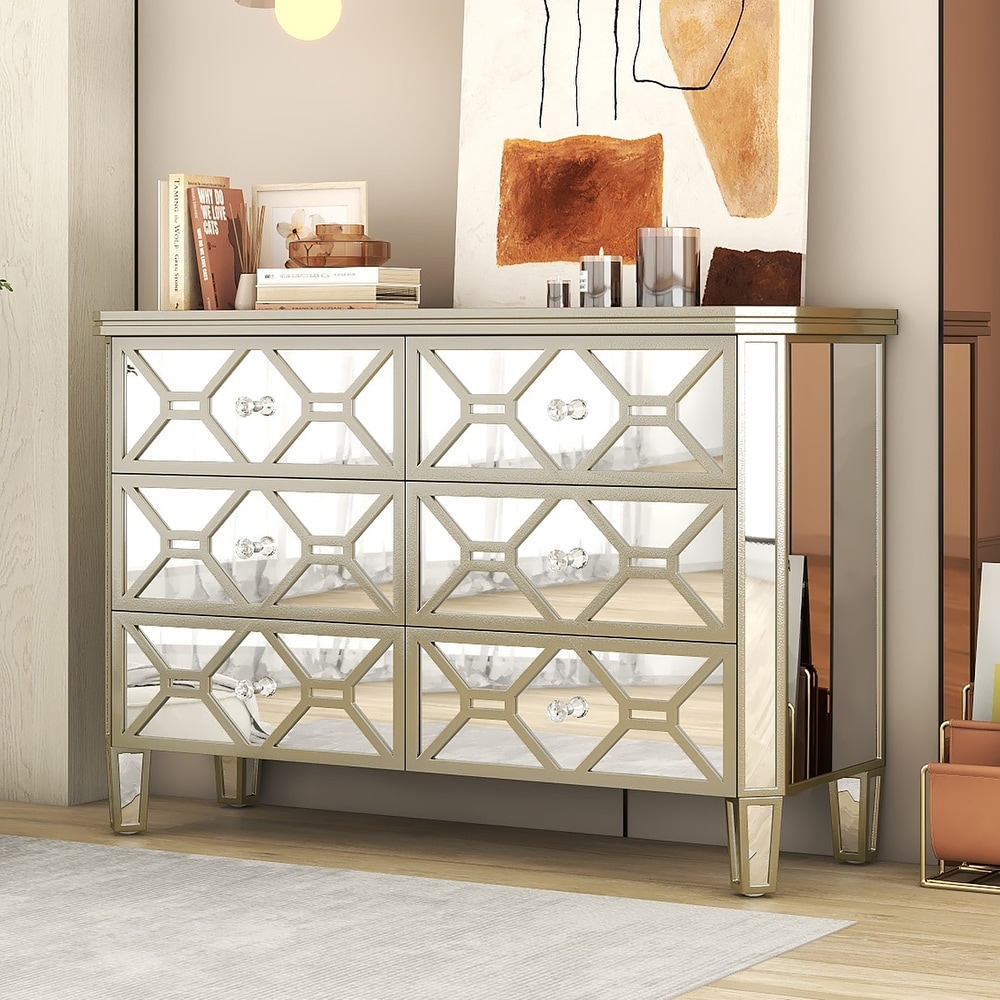 Image Source: overstock.com
Most wooden dressers are durable and more expensive compared to their metal or glass counterparts. Additionally, with wooden dressers, there are more finishings to choose from. Keep in mind that the material of the dresser also determines its weight, so it makes sense that wooden dressers are usually heavier than most materials.
d) Function of The Dresser
Before you buy a dresser, it is important to ensure that it can take what you want to put in it. If it's a wooden dresser, then it should be strong and durable. Additionally, the bottom of the pull-out dressers should also be sturdy. The most common materials for the bottom of the drawers are Masonite or plywood, which are weaker than normal wood.
Image Source: hennenfurniture.com
Plywood bottoms are fine if you plan to store clothes in the dresser. However, if you store heavier stuff, you might have to reinforce the bottom. Furthermore, you might need a dresser to fill up negative space in your bedroom. A sturdy fabric dresser does the job quite well in such a case. Not to mention, it still provides storage space for some clothes.
Frequently Asked Questions About the Best Dresser Under $100
i) What is the best dresser under $100?
There are many dressers under $100. But the best one is the WLIVE Fabric Dresser for the bedroom, which has six drawers and ample storage.
ii) What is a fair price for a dresser?
Dressers are great pieces of furniture and can cost as little as $100 or as much as $5,000, depending on where you get them. So it's difficult to determine an average cost. However, a good dresser that lasts at least a few years typically costs between $100 and $600.
iii) What is the difference between a chest of drawers and a dresser?
A chest of drawers is distinctly different from a dresser in shape and form. Instead of being long, short, and deep, they are tall and narrow. Dressers also feature multiple columns of drawers; a chest of drawers has just one single row stacked vertically.
The Bottom Line
The best dresser is a bedroom's best friend. Additionally, research is key when searching for a great dresser under $100. The more you know about the design, quality, finish, and construction you should expect for your money, the more likely you are to find one of the best dressers for your purposes.